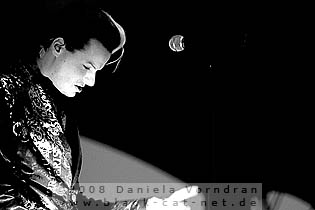 Amphi Theater, Gelsenkirchen, Germany
4th to 6th July 2008
Blackfield Festival Day 3: Solitary Experiments, Schelmish, Reaper, Heimataerde, Assemblage 23, Spetsnaz, [:SITD:], Crüxshadows, Schandmaul, Lacrimosa
Already the last festival day has arrived. This day offered – again with very nice weather – lots of electronic acts such as REAPER or [:SITD:] as well as THE CRÜXSHADOWS performing with a totally new line-up. Furthermore you could enjoy the fresh inspiring show of SCHANDMAUL. The evening and with this, a perfect festival, ended with headliner LACRIMOSA.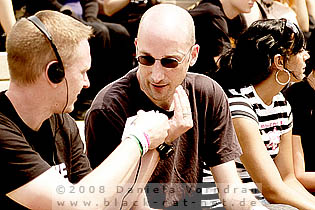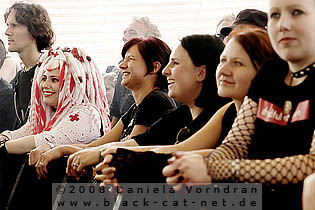 Solitary Experiments [JU]
When the two worlds of a music junkie and a computer freak collide, it leads to unpredictable results, so happened when Dennis Schober and Michael Thieleman met one day and made their first musical experiences under the name PLAGUE, before they decided to form the project SOLITARY EXPERIMENTS in 1994. Their first two releases 'Final Approach' and 'Paradox' were released by German label Maschinenwelt Records. For their third album 'Advanced into Unknown' they signed with the well-known electro label Out of Line which also released their most recent full-length 'Mind & Matter' in 2005. Right now the band is working on new songs. SOLITARY EXPERIMENTS are Michael Thielemann (sampling, programming, engineering, recording), Dennis Schober (lyrics, vocals, effects, performance) and Steve Graeber (programming, sampling).
http://www.solitaryexperiments.de/
/
http://www.myspace.com/solitaryexperiments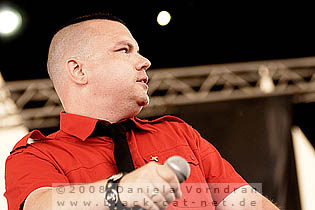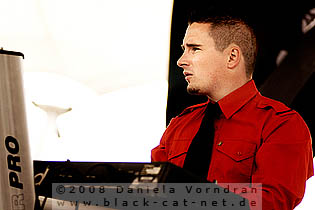 Music & Performance

Four gents in starched red shirts with black ties… well, of which legendary pioneers of electronic music does this remind you? If you think KRAFTWERK you are spot on! SOLITARY EXPERIMENTS make electronic music too and are from Germany too, but there are not too many other similarities with the grandfathers of Techno Pop. Sonically they are much more influenced by Belgian EBM and Canadian Electro. But their nice tribute outfit-wise made sure that they look good on stage – unlike KRAFTWERK, SOLITARY EXPERIMENTS move *a lot* on stage. Especially shouter Dennis Schober never stood still, making sure that everybody gets a good wake-up call. It was still early morning for a festival, after all! ;-) There was already a pretty good crowd at the venue; it seemed that quite a few people were up for some stomping EBM beats to get rid of the weariness after a long night before. Schober, Thielemann, Graeber and additional musician Frank Glassl (drums) were the perfect team for this and enthusiastically made their way through a short set which featured old, new, and unreleased, finishing their gig with the German-tongued 'Seele Bricht'. Thanks guys, your gig saved me the money for a coffee! ;-)
Setlist

01. No Surrender
02. Delight
03. Road to Horizon
04. Rise and Fall
05. Pale Candle Light
06. Seele Bricht
Rating

Music: 7
Performance: 8
Sound: 8
Light: - (daylight)
Total: 7.7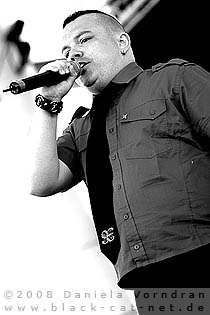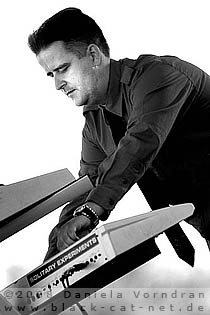 Schelmish [JU]

With the next band we move a little back in time to the medieval ages as SCHELMISH is a medieval rock band from Bonn, founded in 1998. The musical roots of the band lie in the Irish Folk, which is barely audible anymore, considering their releases. On their first CD 'Lumpen und andere Shelmen' from 2000 only traditional medieval songs could be found. With time additional influences were added such as the Hip-Hop influenced 'Ich war ein Chint' out of their 2004 release 'Igni Gena'. As of 2006 and with their 6th album, the focus was mainly placed on Rock instruments, what was also continued on their 7th and most recent album 'Wir werden sehen', released in 2007. SCHELMISH are Dextro (vocals, bagpipes, bouzouki, flute, symphonia, bombarde, schalm), Des Demonia (vocals, bagpipes, bouzouki, percussion) Rimsbold von Tiefentann (vocals, bagpipes, bombarde, flute, schalm and more) Luzi das L (bagpipes, schalm, trumscheit, bouzouki), Marquis de Guis (E-guitar), Samtron (drums, percussion), Picus von Corvin (percussion) and Alexis de la Vega (bass)
http://www.schelmish.de/
/
http://www.myspace.com/schelmishband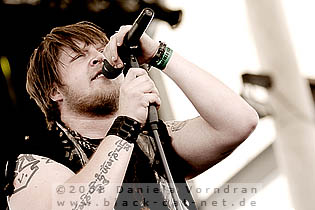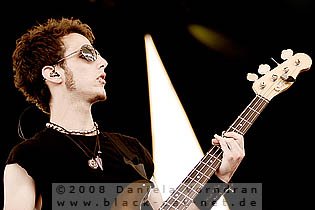 Music & Performance

Whoa, what a radical change compared to the first band of the day! The stage was full of instruments, from guitars to drums to medieval instruments, and other stuff. Eight people entered the stage – and SCHELMISH gave all those warm good morning who were rather into medieval music and Rock than into clean Electro beats. Founding member Dextro welcomed everybody and promised that they would not talk much between songs to use the short time for playing music as much as possible – a promise he didn't exactly live up to during the gig, as he talked quite a lot! *g* SCHELMISH live is a strange experience which includes a musical rollercoaster through various centuries, a little dancing in Italian Renaissance style and a weird semi-striptease by band member Luzi.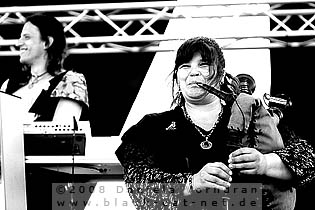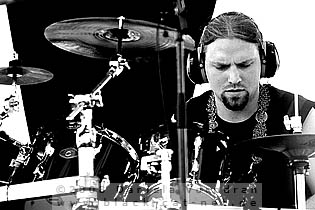 Okay, musically not always up to my personal taste but admittedly an entertaining gig – which was well received by the audience, as many people who came to see SUBWAY TO SALLY or SCHANDMAUL this weekend appreciated SCHELMISH's gig a lot. Or, to say it more accurately, after the loud and banging wake-up call of the band before, SCHELMISH made sure that everyone was tickled-pink. ;-) They are weirdos, they are proud of it, and the money I saved from not buying a coffee was now well spent for a cold beer. Entertaining!
Setlist

01. Moor
02. Der Narr
03. Rotta
04. Kreuzzug gegen die Verlogenheit
05. Marionette
06. Der letzte Kuss
07. Tanz mit mir
08. Wir werden sehen
Rating

Music: 7
Performance: 7
Sound: 8
Light: - (daylight)
Total: 7.2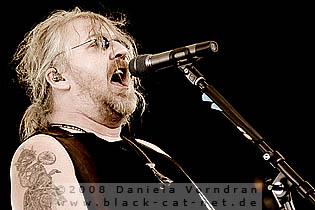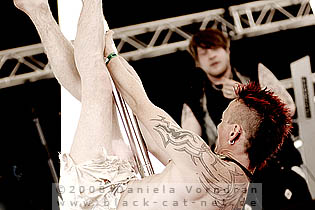 Reaper [JU]

The project was founded by Vasi Vallis, known through NAMNAMBULU and the follow-up project FROZEN PLASMA, as side project just for the sake of fun. The harsh industrial club music he produces with REAPER is on heavy rotation in the clubs. His latest release is called 'The Devil is Female' and hit the stores in November 2007.
http://www.reaper-music.de/
/
http://www.myspace.com/reapermusic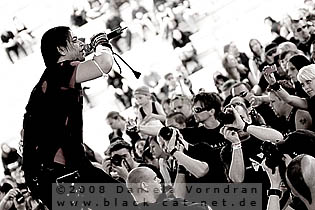 Music & Performance

Boom boom boom – the electro beats are back! SCHELMISH fans probably ran for shelter but all Electro heads rushed to the stage. If you are a NAMNAMBULU fan you might be disappointed by REAPER, as this project is much harder and more in-yer-face than Vasi Vallis past Electro Pop band. The technician seemed to have forgotten to get the earplugs out of his ears, as REAPER blasted their sound incredibly loud through the loudspeakers! But for music some call 'Hellectro' these days it's probably the desired sound level. Musically I wasn't too impressed, but the personable Vasi Vallis delivered a good show and his comments between songs showed that he doesn't take things too serious.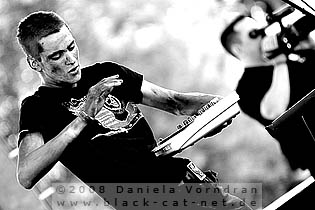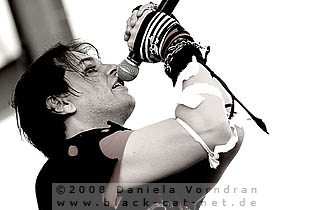 Favourite moment of the show, besides Ronan Harris serving draught beer on stage again (good fella!), was when Vallis asked people to raise their hands if they are over 30 or, god beware, even over 35 – adding that they will surely remember the early days of Rave and Techno and that REAPER will teach the youngsters a lesson in how things sounded back then. And then the most retro sounding Techno track I have heard in years followed – now, what a treat! In parts I found REAPER's performance a little bland, musically, but with this little sonic trip back in time they won my heart! And their fans loved the show from end to start – so not too much to complain. Apart from sound level. ;-)
Setlist

01. Angst
02. Execution Of Your Mind
03. Robuste Maschine
04. Twisted Trophy Hunter
05. X-Junkie
06. She is a devil and a whore
Rating

Music: 6
Performance: 7
Sound: 7
Light: - (daylight)
Total: 6.7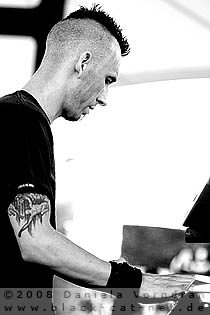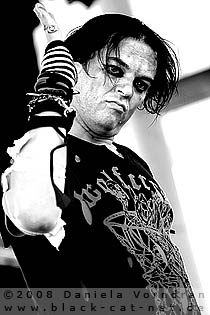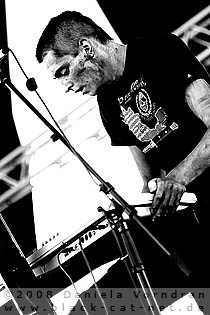 Heimataerde [JU]

This project goes a fairly unusual way with its fusion of medieval sounds like bagpipes for instance with electronic sound, what was causing a stir, when the project released the track ' 'Du fehlst mir' on the first compilation of the label Infacted Recordings, HEIMATAERDE later signed a contract with. Behind this project stands a man with the alias Ashlar von Megalon and his appearance remained a secret, because Ash initially refused to play live to let the music speak for itself, but in 2007 on the Wave Gotik Treffen, the fans could finally experience HEIMATAERDE live. Until today, the project has released two singles, two albums and as their most recently the EP 'Leben geben Leben nehmen'. HEIMATAERDE is Ashlar von Megalon (vocals, instruments, concept)
http://www.heimataerde.de/
/
http://www.myspace.com/heimataerde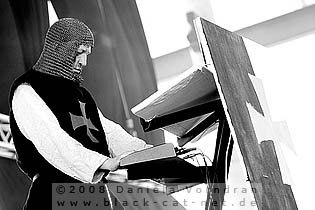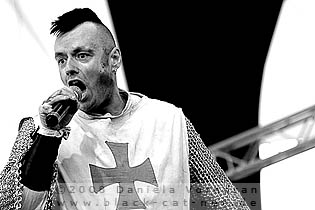 Music & Performance

Okay, HEIMATAERDE has a genuinely interesting concept! There's a myriad of bands which combine medieval music and bagpipes with Rock and Metal – combining it with 'Techno Body Music' and having keyboarders in chain mails and stuff like that is really something new. The idea behind HEIMATAERDE is unique and promising – it is shocking that they make so little out of it. It's cool that they have knights and palisade on stage, but most of the time they just stand around and do nothing but trying to look darksome. In fact they actually rather looked bored. I had a bored face fairly quickly as musically it was not too interesting. The more the beats stomped, the more it became clear that the medieval elements and the chivalry is nothing but a gimmick.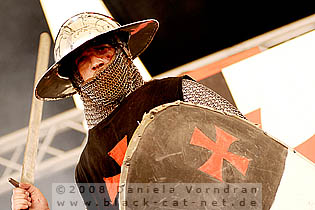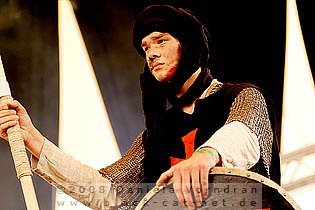 Having SOLITARY EXPERIMENTS-front man Dennis Schober on stage for some guest vocals was a nice gimmick but did not help much in the end. If you want an exciting and interesting combination of electronic and medieval elements go for QNTAL, O QUAM TRISTIS or HELIUM VOLA. You might miss the techno beats though! HEIMATAERDE have a good concept and waste it. Disappointing!
Setlist

01. Intro
02. Der Verfall
03. Vater
04. Gib mir
05. In alle Ewigkeit
06. Heimataerde
07. Sie zerrt an mir
08. Lebloser Körper Ritter auf dem Boden
Rating

Music: 4
Performance: 5
Sound: 8
Light: - (daylight)
Total: 5.1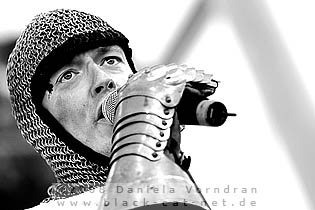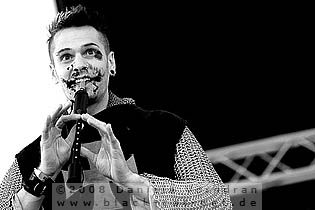 Assemblage 23 [CL]

ASSEMBLAGE 23 was officially born in 1988, after Tom Shear experienced the industrial dance music played by an opening DJ for DEPECHE MODE. At that time Shear already had musical experiences with his instrumental project MAN ON THE STAGE, by playing bass in a punk/rock band and working on synth pop tracks as well. It took some time for him to gather enough acclaim to attract the attention of a record label. In 1999, he signed with the Canadian Gashed label to release the two albums 'Contempt' and 'Failure', also released in Europe through Accession Records. After falling out with Gashed, he signed with Metropolis Records, which re-released the first two albums. The next regular album was 'Defiance' in October 2002, preceded by the single 'Document'. The follow-up 'Storm' received mixed reactions from the fans. This was to change a few years later with 'Meta', his fifth and most diverse album to date, released in 2007. ASSEMBLAGE 23 is Tom Shear (vocals, lyrics, music).
http://www.assemblage23.com/
/
http://www.myspace.com/officialassemblage23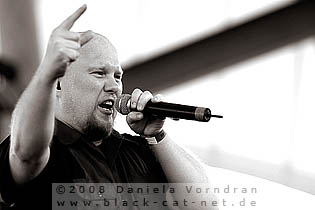 Music & Performance
Five minutes earlier than announced ASSEMBLAGE 23 entered the stage, like usual Tom Shear was supported by two live musicians who played keyboard and e-drums. Quickly the crowd was infected by the danceable pushing rhythm and the first rows were clapping hands, singing and dancing along. The set included 8 songs from different periods of band history, starting with 'Binary' from the latest album 'Meta', followed by the older songs 'Naked' and 'Opened'. 'Sorry' taken from the current album followed and then older songs were on the list again. After 40 minutes the show finished with 'Disappoint' - the first single release. All in all it was a solid show, but the three guys looked a bit lost on that big stage and the daylight did not add to the show either. A smaller dark club would fit much better to the sound and show of A23.
Setlist

01. Binary
02. Naked
03. Opened
04. Sorry
05. Drive
06. Document
07. Let the Wind Erase Me
08. Disappoint
Rating

Music: 8
Performance: 8
Sound: 8
Light: - (daylight)
Total: 8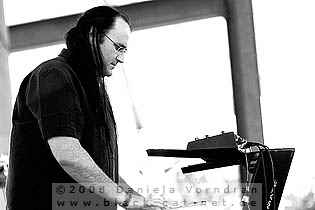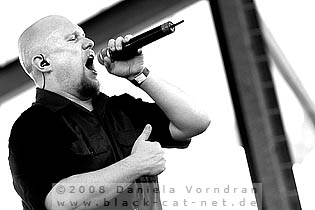 Spetsnaz [JU]

Swedish electro-berserkers SPETSNAZ were formed by Pontus Stålberg and Stefan Nilsson in Örebro, Sweden in the autumn of 2001. Both being fans of the electro scene for many years, they didn't like the tendency of all the old bands getting replaced by a style called Future-Pop and after their more or less serious individual involvements in other projects, they decided to form a single one to put all their power into. Some months of intense studio work followed, whose end result was the first 4-track demo which was handed out to Swedish labels and promoters. The duo's first album 'Grand Design' was the release by SubSpace Communications in 2003 and re-released by Out of Line in Germany a year later after the band attracted their attention with their intense and energetic live performances. The duo released two EPs - 'Perfect Body' and 'Degenerate Ones' - before the new long player 'Totalitär' unleashed a storm onto the crowd in 2006, just to get reinforced by another attack in the shape of the third album 'Deadpan' in 2007. SPETSNAZ is Pontus Stålberg (vocals) and Stefan Nilsson (synths, programming).
http://www.myspace.com/spetsnazebm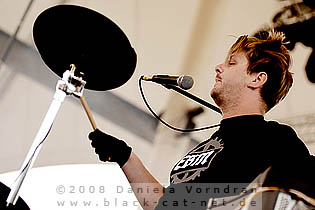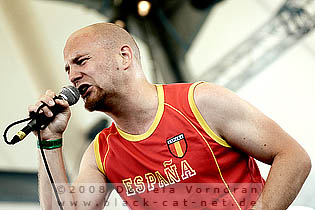 Music & Performance

Well, it was funny to watch the clones after having the original on stage the night before. NITZER EBB are clearly more than just an influence for the Swedish duo SPETSNAZ. Not that Stålberg and Nilsson would try to deny that. And if you grin a mischievous smile like front man Stålberg you might get away with anything, anyway. Even with wearing an "Espania" football shirt only a week after the German team lost against the new European champion, and commenting it with a "Fuck you, Germany!" in a football-crazy city like Gelsenkirchen. Yes, SPETSNAZ do give a fuck indeed. And they have fun! On this particular day they seemed to have a lot of fun, and this translated 100% to the crowd. And to be fair, musically they are more than just the "b-side" to NITZER EBB, those who followed the Swedes' career will have noticed that SPETSNAZ have by and by upgraded their sonic world and started to create an identity of their own. But it has to be suspected that SPETSNAZ don't give a fuck even about that – they do what they want to do. At the Blackfield they wanted to have a little party on stage. The fans wanted to have a little party in front of the stage. Old cynical bastards thought this were the encore NITZER EBB couldn't play the night before, and some drunks simply forgot to stop dancing after the bands before, and discovered soon that SPETSNAZ is fucking danceable too. Yes, this was a little party!
Rating

Music: 7
Performance: 7
Sound: 8
Light: - (daylight)
Total: 7.2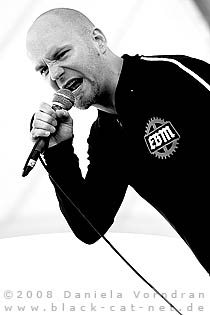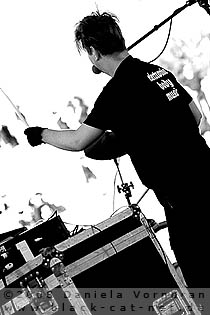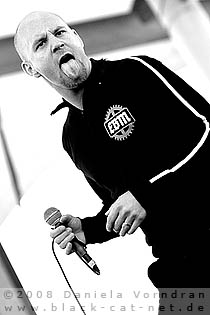 [:SITD:] [JU]

[:SITD:] was founded in 1996. The shortcut [:SITD:] stands for "Shadows in the Dark" and is a metaphoric effigy for the musical and textual content of the band. Their first album 'Stronghold' released in 2003 and including the club-hit 'Snuff Machinery' was the most successful band album at the German alternative charts in the same year. After being preceded by the single 'Richtfest' the new album 'Coded:Message 12' was released in 2005 followed by a tour through Germany and several gigs in Greece, Brazil, Sweden and France. In-between the EP 'Odyssey 13' was released. The most recent album 'Bestie:Mensch' was released in September 2007. [:SITD:] are Carsten Jacek (vocals and lyrics), Thomas "Tom" Lesczenski (keyboards, programming, sampling and backing vocals), Francesco "Frank" D'Angelo (keyboards and backing vocals).
http://www.sitd.de/
/
http://www.myspace.com/xsitdx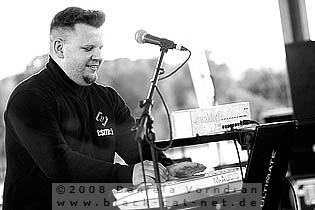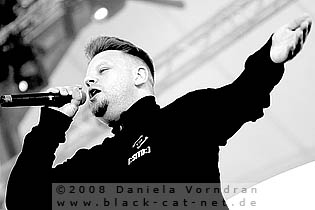 Music & Performance

For me personally, the gig of [:SITD:] at the Blackfield festival suffered first and foremost from one thing – SCHELMISH aside, we got four-to-the-floor electro beats all day long. By the time [:SITD:] entered the stage it was already an overdose of straight beats. Not the fault of [:SITD:], admittedly, and those who cannot get enough of this omnipresent beat didn't care anyway. And the good news is: [:SITD:] were much better than the last time I saw them! I'm still not a big fan of front man Carsten Jacek, who ridicules pretty grave and sincere lyrics like 'Lebensborn' or 'Snuff Machinery' with a SCOOTER-ish "Heyho, let's party, I love you!" attitude. But this time he didn't overact and musically everything seemed to be in the right place. For 'Suffering in Solitude' mastermind Tom Lesczenski grabbed the mike to deliver lead vocals, and once again he proved that he's the better front man.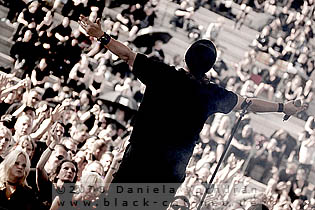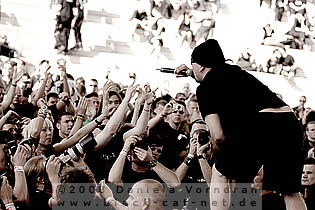 On this particular occasion he even got a little emotional, as Gelsenkirchen is the city in which he was born and to have a successful gig at a huge festival was apparently a bit overwhelming for the chap. I for one support emotionality in context with music! ;-) Jacek returned for a threesome of the hits 'Laughing Stock', 'Richtfest' and the above mentioned 'Snuff Machinery' (in a new version, btw). The crowd went wild; I spent my time sitting on the tiers, thinking about the lyrics of the last song. Each to his own! [:SITD:] have one strength (Lesczenski) and one weakness (Jacek having a SCOOTER day every now and then), I just wish third member D'Angelo would direct the band a little more into the right direction. Their gig at the Blackfield was a step into the right direction, and I have to admit that on this day Jacek's sometimes slightly awkward onstage behaviour came across as what it is deep in his heart – passion.
Setlist

01. Herbsterwachen
02. Stammheim
03. Rose Coloured Skies
04. Lebensborn
05. Suffering in Solitude
06. Laughingstock
07. Richtfest
08. Snuff Machinery
Rating

Music: 6
Performance: 7
Sound: 7
Light: 6
Total: 6.5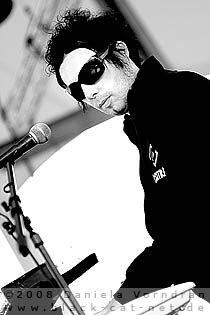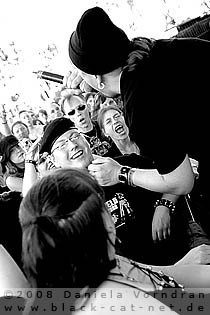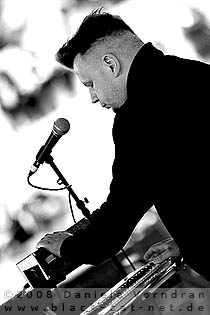 Crüxshadows [CL]

The band was originally formed in the early 1990s by Rogue, Sean Flannigan and Tim Curry in Florida. Soon afterwards, they came up with their first album '…night crawls in', a self-release under the "Black Widow Music" label. It took three years for them to release their first real CD 'Telemetry of a Fallen Angel' in 1996. It was at that time, when Curry and Flannigan left the band. Rogue assembled a new line-up and recorded the two next albums from 1998-2000. With every of the following releases - and not less because of extensive touring throughout the years, they reached global popularity, adding to this surely was the performance of the charismatic front man Rogue, who's barely standing still for a minute.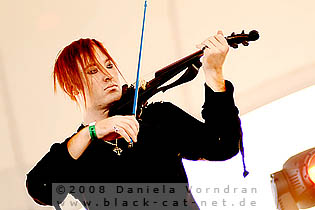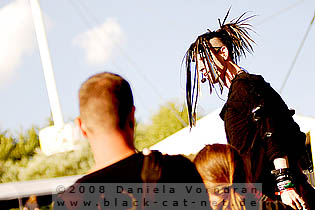 Today, the band can look back in an impressive discography of several singles and EPs, as well as eight albums with 'DreamCypher' being the latest one, released in 2007. THE CRÜXSHADOWS are: Rogue (vocals, violin, music), Pyromantic (keys, synths, backing vocals), Valerie Gentile (guitars, backing vocals), David Wood (violins), Johanna Moresco (violins), Jessica Lackey (lead dancer, backing vocals) and Sarah Kilgore (dancer, backing vocals).
http://www.cruxshadows.com/
/
http://www.myspace.com/cruxshadows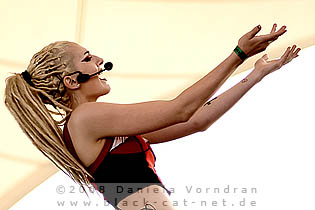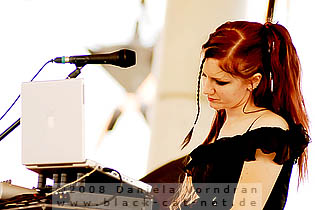 Music & Performance

THE CRÜXSHADOWS are one of my favourite bands for some years now and I felt sad last year when I found out that Rachel Mc Donnel will quit the band. Meanwhile, Sarah Poulos and George Bikos had left the band too and four new members joined in. The show started like usually without the singer on stage; Rogue walked through the crowd during the intro and entered the stage from the crowd. The setlist was starting with the upcoming single 'Immortal' followed by some all off well-known songs like 'Foreverlast', 'Sophia', 'Deception' or 'Winterborn' and right from the start the crowd was infected by the rousing performance. The new band members matched perfectly to THE CRÜXSHADOWS, Sarah, the new beautiful dancer, looks like a twin of Jessica and both did a great dancing performance. The both new violin players Johanna and David convinced me too, sometimes I missed some violin parts of Rachel, but the double violin play had given the violins more power and presence.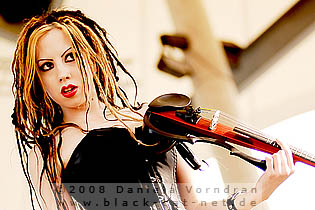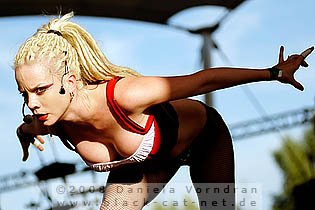 Valerie, the new sexy guitarist, played her guitar dedicated and was posing for the crowd several times. In the background sexy Jen "Pyromantic" played the keys passionately like usual and Rogue - the charismatic front man - like usually was dancing the whole time; he was posing, walking through the crowd, shaking hands and hugging fans during the concert. His distinctive voice is one of the trademarks of CXS and his powerful performance impressed the crowd once again. Altogether a great show with new faces but the approved rousing and powerful sound and live performance.
Setlist

01. Intro
02. Immortal
03. Foreverlast
04. Sophia
05. Dragonfly
06. Deception
07. Marilyn my Bitterness
08. Winterborn
09. Happy Birthday
Rating

Music: 10
Performance: 10
Sound: 9
Light: - (daylight)
Total: 9.7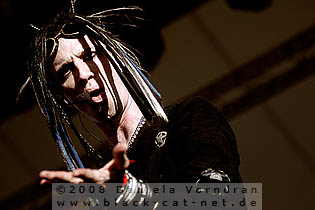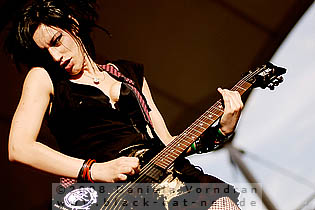 Schandmaul [JU]

The band has been founded in 1998, when six musicians from Munich and adjacency decided to organize a concert with Folk songs, but mere covering of songs was not their cup of tea and so they started to write own songs, resulting in the self-release of the first CD 'Wahre Helden' in 1999. Due to lots of creative energy, the band was able to release the 2nd album 'Von Spitzbuben und Halunken' only a year later. In 2001, a record company took notice of the band, leading to the recording of their third album 'Narrenkönig' in a professional studio, followed by their first big tour. Now, in their 10th year of existence, they've gathered an incredibly big fan base around them and the newest album 'Anderswelt' was just unleashed. In November, the band will play a special show in Munich to celebrate their 10th anniversary. SCHANDMAUL are: Thomas Lindner (vocals, accordion, acoustic guitar, piano), Anna Katharina Kränzlein (violin, symphonia), Stefan Brunner (drums, percussion, fanfare), Martin Christoph "Ducky" Duckstein (guitar), Birgit Muggenthaler (bagpipe, wind instruments) and Matthias "Hiasl" Richter (E-bass, string-bass).
http://www.schandmaul.de/
/
www.myspace.com/schandmaulmusic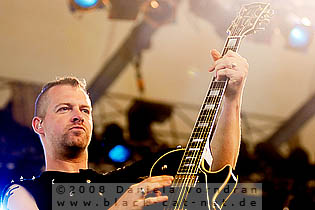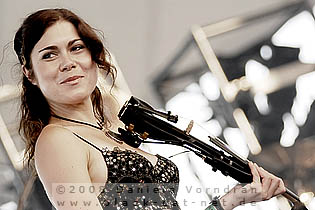 Music & Performance

The winner takes it all… and SCHANDMAUL were the surprising winners of the day and took the audience by storm! I have to admit that I'm not too familiar with their music, I just have a fistful of singles for deejaying purposes, and their mixture of Folk, Rock and medieval instruments is usually something which doesn't appeal too much to me, although I'm always ready to acknowledge the musical skills of the bands of this kind. I had no expectations. But when SCHANDMAUL marched onto the stage, already playing (!) music, it was like an eye-opener. A few songs into the set I got up and made my way through the (packed!) venue to dance and party in the middle of the crowd on the floor (on a side-note, I can recommend this for anyone who ran out of drinks as during a SCHANDMAUL show there's always a long-haired Viking boy who is happy to share his red wine with you, heh!).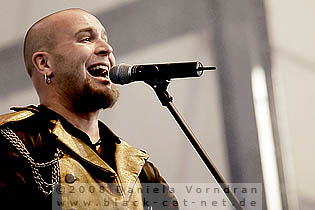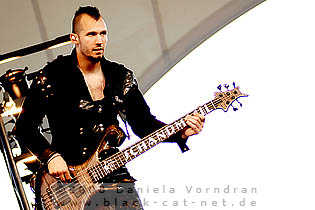 Vocalist Thomas Lindner welcomed everybody after the first song and stated that to him SCHANDMAUL seems to be kinda the antithesis of all the Electro bands before – and pointed to the drum kit adding "For your interest, this is a drum kit! A drum kit is not a small box with a monitor, just in case you forgot that after *this* afternoon". Not the last side blow towards his synthesized fellow musicians but even the most die-hard Electro heads would forgive a man with such a charm! A man that managed to make even the folks in the upper tiers to get up the butts from their seats to jump around and cheer! And a band which makes guys in Front 242- or Metallica-shirts jump around in circles with a big happy smile and lost in Folk Rock (!) music!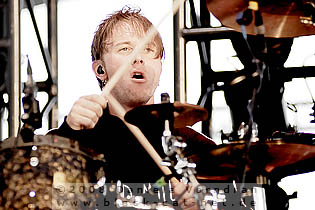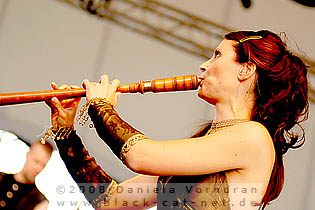 To me, it was the surprise of the weekend, and somehow a relief after a little too many Electro bands in one go. It was the right combination of instrumental perfection, brilliant vocals, wonderful band-crowd interaction, impressive sing-alongs, musical substance and plain fun. Not to mention sharing red wine! ;-) I expected nothing and got everything. If it weren't for my old faves NITZER EBB then SCHANDMAUL were the band of the weekend for me. Quite surprisingly!
Setlist

01. Herren der Winde
02. Leb!
03. Lichtblick
04. Wolfsmensch
05. Das Tuch
06. Die letzte Tröte
07. Missgeschick
08. Fiddlefolkpunk
09. Frei
10. Gebt acht!
11. Der letzte Tanz
12. Walpurgisnacht
13. Dein Anblick
Rating

Music: 9
Performance: 10
Sound: 9
Light: 8
Total: 9.2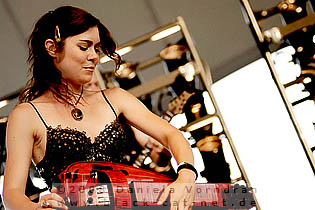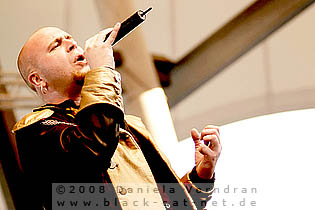 Lacrimosa [CL]

LACRIMOSA is one of those bands, no one officially listens to, but strangely they're selling lots of records. LACRIMOSA began as the solo project of Tilo Wolff, who founded it in 1990, but with his first demo tape 'Clamor' he couldn't convince any record label, so he founded his own label "Hall of Sermon" and released the first album 'Angst' on it in 1994. In the early days, electronic elements were a favourite stylistic mean of Tilo Wolff, becoming less important with every of the following albums. The fourth album 'Inferno' marked a turning point for LACRIMOSA. Anne Nurmi joined the line-up and the style of LACRIMOSA constantly develops ever since. Rocking elements as well as English lyrics and classic arrangements found their way into the sound. 'Elodia', one of their most successful albums, even was recorded with the London Symphony Orchestra. Since the release of 'Lichtgestalt', their most recent album, a few years have passed, but in this year's March, the band officially announced, they've started working on a new one. LACRIMOSA is Tilo Wolff (vocals) and Anne Nurmi (keyboards, vocals).
http://www.lacrimosa.de/
/
http://www.myspace.com/lacrimosaofficial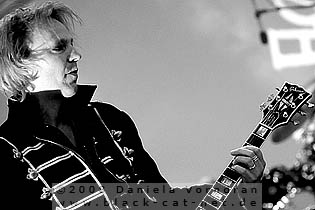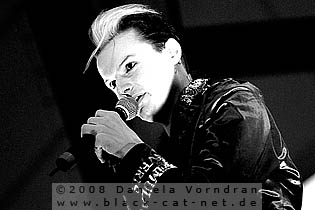 Music & Performance

Sunday evening at sunset the headliner entered the stage, some people had left the venue already but a good part still was present to enjoy one of the most known bands in the German Gothic scene. As usually, Anne Nurmi and Tilo Wolff were supported by a live band, consisting of two guitars, bass and drums. Most of the songs were sung by Tilo; Anne played the keyboard, gave some backing vocals and took over the lead vocal part during 'Not every pain hurts'. The show was started with 'Ich bin der brennende Komet', followed by 'Schakal' and quickly the audience was captivated by the soulful lofty performance. In the background of the stage a large screen was arranged which was used for nice background projections.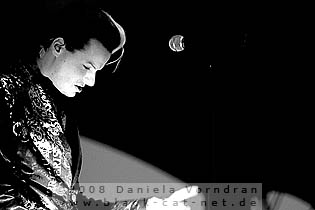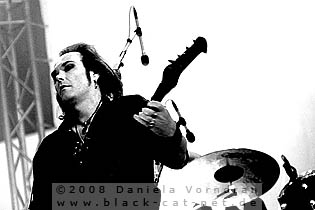 After 'Allein zu zweit' and 'Satura', 'Kelch der Liebe' followed - a newer song from the last album 'Lichtgestalt' - before Tilo and Anne changed their places for one song and Anne sang 'Not every Pain hurts'. The show went on with older songs like 'Alles Lüge' or 'Der Morgen danach' and songs from the last album like 'Letzte Ausfahrt: Leben' and 'Lichtgestalt'. After 'Lichtgestalt' the band left the stage, but they came back for one more song and after 70 minutes the last sound was fading away and a fantastic festival was over.
Setlist

01. Ich bin der brennende Komet
02. Schakal
03. Allein zu zweit
04. Satura
05. Kelch der Liebe
06. Not every Pain hurts
07. Alles Lüge
08. Letzte Ausfahrt: Leben
09. Der Morgen danach
10. Lichtgestalt
---
11. Copy Cat
Rating

Music: 8
Performance: 8
Sound: 9
Light: 7
Total: 8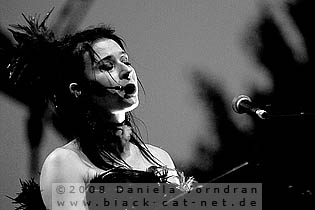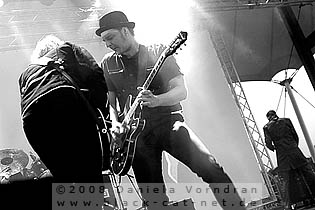 All pictures by Daniela Vorndran (
http://www.vorndranphotography.com/
/
http://www.black-cat-net.de/
/
www.myspace.com/vorndranphotography
)
Written by Daniela Vorndran [DV] and overall editor, Sebastian Huhn [SH] and all band intros, J. "Niggels" Uhlenbruch [JU] and Carsten Leopold [CL]
{jos_sb_discuss:18}