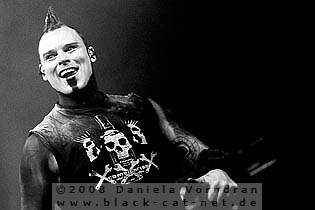 Tanzbrunnen, Cologne, Germany
19th to 20th July 2008
Amphi Festival Day 1 Theatre Stage: Noisuf-X, Nachtmahr, Grendel, Ashbury Heights, Haujobb, Tactical Sekt, Rotersand, The Klinik, CombiChrist

While the main stage on the first day offered a mixed program, the second stage was totally in the hand of the electro bands. So, HAUJOBB celebrated their very last show there - much too early if you ask me - and with THE KLINIK you got another old-school act. But there was also place for the newer generation with bands like ROTERSAND or COMBICHRIST.
Noisuf-X [JU]

NOISUF-X presents the other face of Jan L, who is very successful with his Dark Electro project X-FUSION. The first official appearance of this project was the track 'Happy Birthday' on the Alfa Matrix compilation 'Bunkertracks', followed by the first album 'Antipode' and the EP 'Tinnitus'. The project's most recent release is the album 'The Beauty of destruction' from 2007, which became a great success and reached #2 of the German Alternative Charts. NOISUF-X is Jan L. (composing, production).
http://www.noisuf-x.com/
/
www.myspace.com/noisufx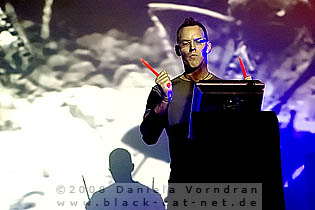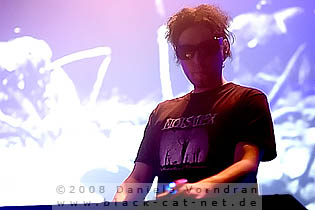 Music & Performance

Some call it Industrial; to me music like NOISUF-X is simply noisy and distorted Techno. However, this kind of music is made for the clubs and works just as well in a live setting. And that NOISUF-X can get people dancing even at a pretty early time of the day was proven at the Amphi festival! Although the theatre stage was simply too packed and too sticky during most of the weekend, it has the great advantage that it is indoors. The lack of daylight gives you the impression that it was a club gig at night, and not a festival gig at around lunch time. NOISUF-X proved that they can get people dancing at this early time, and the huge video screen behind the four performers made sure that all those who'd rather watch a gig than moving their feet have something to look at. The band, which featured Andreas Davids (XOTOX) and
Francesco
D'Angelo (SITD) as additional live musicians, was rather indiscernible most of the time because of the dark stage lighting, preferably dark red or dark blue. Shadows in the dark and the neon-red drum sticks of the percussionist were all I could catch a glimpse of from the back. But no complaint, it actually enhances the dark and apocalyptic sound of NOISUF-X, which blasted loud and clear through the PA. Unfortunately other appointments made sure that I missed a good part of their performance but when I exposed myself to daylight again I at least had the cognition that NOISUF-X can put on a good show.
Rating

Music: 7
Performance: 7
Sound: 9
Light: 8
Total: 7.5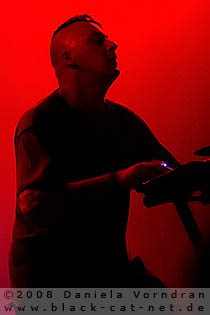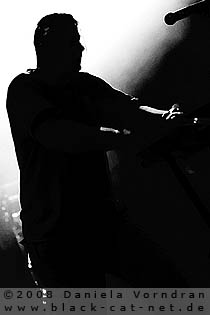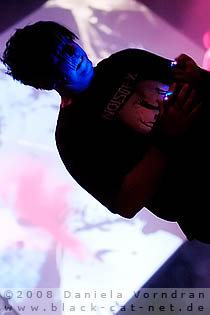 Nachtmahr [KM]

The only purpose of NACHTMAHR is to make people dance. The song 'BoomBoomBoom' makes that perfectly clear: "I don't care whether you live or die. I only want to see you dance". Thomas Rainer, known as a member of L'AME IMMORTELLE, unleashes a full force of Electro/Industrial beats on the clubs with his new project. The first EP 'Kunst ist Krieg' is meanwhile sold-out but the album 'Feuer Frei' will soon follow in its footsteps.
http://www.myspace.com/nachtmahrprojekt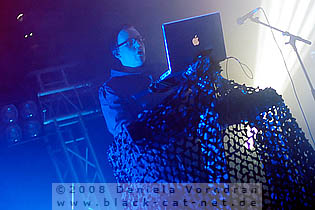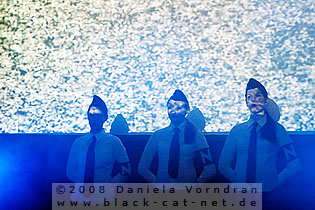 Music & Performance

NACHTMAHR, the project of Thomas Rainer, is, as far as I'm concerned, one of the most skilled at mixing danceable rhythm with intelligent visuals and thus producing a captivating and invigorating effect. Military tinge added to the show (the uniforms the artists wear, the net covering the equipment, samples) increases its visual attractiveness whereas the music being a somewhat combination of fast pace, distorted sonic torture and fine, dynamic knack is a real knockout. The fine choice of presented songs - like 'Schwarzflug', 'Deus Ex Machina', 'Boomboomboom', 'Einhundertacht', 'Ein Spiel' or 'Feuer frei! ' - stood for most wonderful discotheque.
Rating

Music: 10
Performance: 8
Sound: 10
Light: 9
Total: 9.3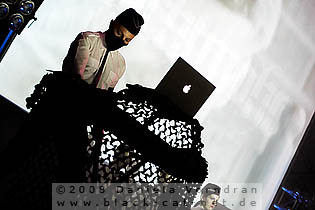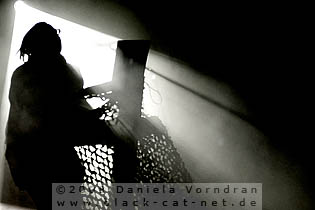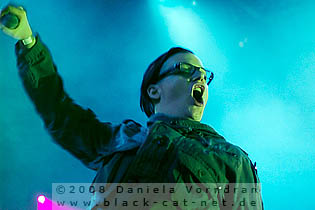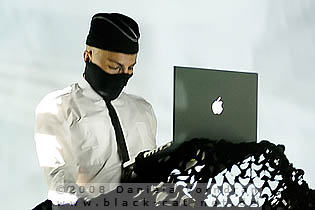 Grendel [JU]

After his former band split up, [VLRK] decided to continue making music under the new name GRENDEL, which originates from a character from the old Anglo-Saxon tale 'Beowulf'. Meanwhile grown to a duo, the project released its first promo with the club hit 'Strangers', followed by the first demo 'Inhuman Amusement' a half year later, which came to the attention of NoiTekk Records, who signed GRENDEL immediately. After some intensive re-work the demo became the first album. GRENDEL took their sound to new levels with each of the following releases such as the pretty melodic 'End of Ages EP' and the following album 'Prescription Medicide' which combines destructive beats with orchestral arrangements. In 2007, GRENDEL signed to the renowned German label Infacted Recordings and released their third album 'Harsh Generation'. GRENDEL is [VLRK] (vocals, synths, programming, sampling), [M4RC] (live drums/percussion, programming (Studio)) and [MRKO] (live synthesis, engineering).
http://www.myspace.com/grendel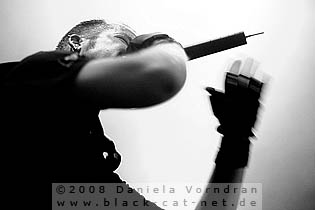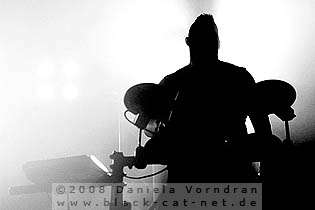 Music & Performance

GRENDEL are named after a mythological beast, and front man [VLRK] proved at the Amphi that he's an aggressive beast on stage just once more. I was quite pleased that he abdicated the ultra-heavy distortion of his vocals, which was a nice surprise for me and showed that his voice can carry a performance without this gadget. In my opinion the same old vocal distortion throughout an entire performance gets easily a bit boring after a while. GRENDEL were surely not boring, they rather delivered a very vivid and energetic Endzeit-EBM show, which started with tracks from their recommendable current album 'Harsh Generation' to older tracks like 'Pax Psychosis' (from their 'Prescription:Medicide' album) and 'Soilbleed' (from the EP of the same name) back to 'Harsh Generation' with the stomper 'Hate This'.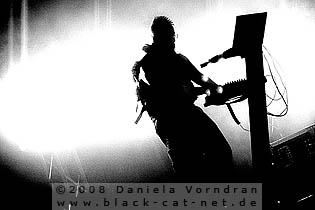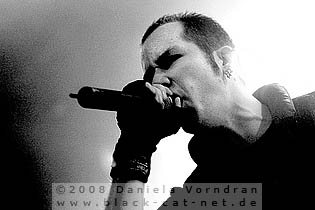 Setlist

01. Void malign
02. The judges ones
03. Pax psychosis
04. Remnants
05. One.Eight.Zero
06. Soilbleed
07. Dirty
08. Hate this
Rating

Music: 7
Performance: 7
Sound: 9
Light: 7
Total: 7.3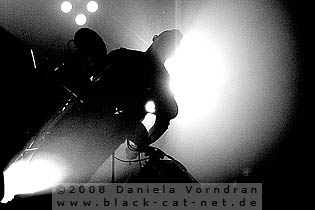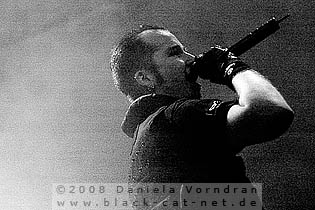 Ashbury Heights [KM]

The history of this Swedish duo is rather short yet eventful. The release of their first demo in 2005 remained unnoticed by most people. Three months later when the twosome handed out its second demo it was approached by German top label Out of Line and became one the fastest signing in the label's history with the contract signed within an hour. With the following release of the 'Cry Havoc' promotional CD and later the limited single, they cracked the German Alternative Charts. The album 'Three cheers for the newly dead' produced in collaboration with John Fryer and released in October 2007, received rave reviews from fans and press alike. ASHBURY HEIGHTS are Anders H (lead vocals, programming, synthesizers) and Yasmine U (lead vocals, synthesizers).
http://www.myspace.com/ashburyheightsmusic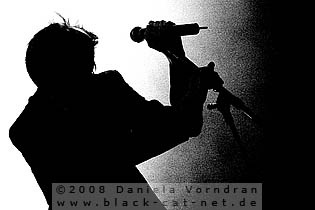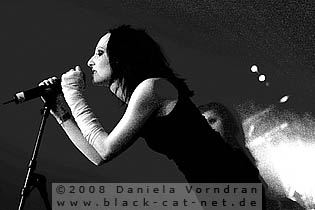 Music & Performance

Before Amphi Festival I'd seen ASHBURY HEIGHTS once (at WGT) and even then their show was somewhat strange and disorganized. Still I though it was a coincidence - after all anyone may have a bad day or the energy fall. Still, after seeing them in Cologne I came up with the idea that such a rambling, uncoordinated and 'improvisational' way of playing gigs seems to be the rule for them. I don't know whether the band forgets about doing rehearsals beforehand or simply loves acting unprepared (at least that's what their 'show' looked like) - that's what I assume, for I don't have a clue how to explain a lady appearing out of a sudden onstage and producing pseudo-erotic (pathetically poor) dance with Yaz, or the artists forgetting (or simply skipping... God knows…) parts of the lyrics and them both looking hella tired (with what, mikes too heavy?) and overworked (perhaps a before show nap would be a good idea?) All that looked rather pathetic: seems like we should consider ourselves lucky the band spared us the sight of them landing in the pit - that would be the crown of such type of the show, indeed.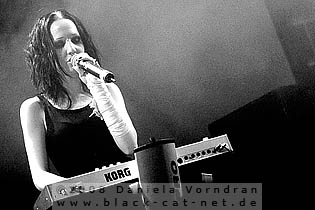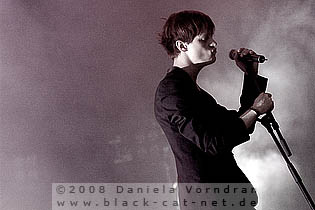 It's even more pity to see such a poor performance that the music ASHBURY HEIGHTS play is really fine in itself: great speed, pop arrangements that capture attention, fine dynamics and lyrics: both of 'Three cheers for newly dead' and the new EP 'Morning Star in a black car' such as 'Morningstar In A Black Car', 'Bare your Teeth', 'Cry Havoc', 'Smaller', 'Die by numbers', 'Stormbringer', or 'Spiders'... why, WHY presented in SUCH a way? OK, I understand, the artists feel like having "fun" with their music, but if that's their understanding of "having fun" than I'd suggest choosing any disco instead of a stage. I might be missing something here, or not getting the "specific" sense of humour, well, my bad, but what I saw didn't make me laugh at all.
Setlist

01. Illusion
02. Morningstar in a black car
03. Bare your teeth
04. Die by numbers
05. Cry Havoc
06. Smaller
07. Stormbringer
08. Spiders
09. World coming down
Rating

Music: 10
Performance: 1 (at least they were ON stage)
Sound: 5
Light: 8
Total: 6.3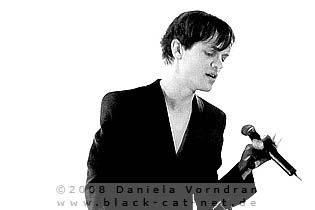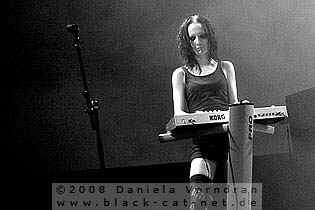 Haujobb [KM]

A project that can be counted to the most creative and innovative in the electronic music scene; in the early days of the formation has been compared to SKINNY PUPPY; mostly referring to the first album 'Homes & Gardens' from 1993, but already with the subsequent outputs 'Freeze Frame Reality' and 'Solutions for a Small Planet' the evolution of the sound had so much progressed, that comparisons to other bands neither were suitable nor necessary anymore. The following years saw the releases of two new HAUJOBB outputs; the 'Matrix' Double EP in 1998, the electronica excursion 'Ninety-nine' as well as first outputs of the side-projects NEWT and CLEEN. A regular new album had to wait until 2001; and 'Polarity' came with a bang. Only eight months later those creative heads returned with a new single 'Penetration' already giving an insight on the forthcoming album 'Vertical Theory' which then was finally released in 2003. Fast forward to 2008 and we sadly have to experience the farewell concert of this great band at this year's Amphi Festival. HAUJOBB is Daniel Myer (arrangements, vocals) and Dejan Samardzic (arrangements, production).
http://planetmyer.de/
/
http://www.myspace.com/haujobbmusic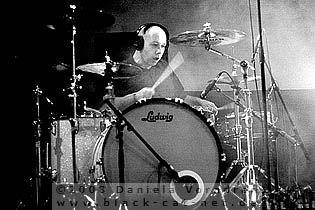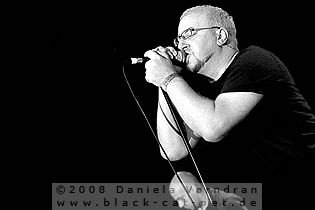 Music & Performance

Additionally on stage together with Daniel and Dejan were Guido Fricke (LA FLOA MALDITA, SECOND VOICE, sound for i.e. DIARY OF DREAMS) and drummer Achim Färber, who's i.e. playing the drums within PROJECT PITCHFORK. The concert of HAUJOBB was like an emotional and sonic whirl: starting from the most unbelievable vocal being a combination of the lyrical warmth and noisy scream reminding me of a sound of torn metal and, through the most dynamic and overwhelming sonic matter to the flood of lights and smoke attacking the eyes of the audience. The mixture of fine speed and uncontrollable changes in atmosphere: from wild and neurotic to dangerously pulsating and gloomy plus a charismatic and most energetic manner of Daniel Myer made a good show that was as entertaining as energy draining. The applause was deafening! It is so sad that the band quits playing on stage to make room for "the younger generation".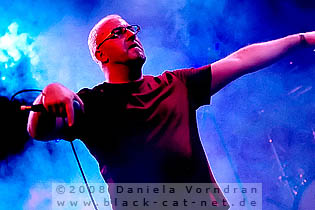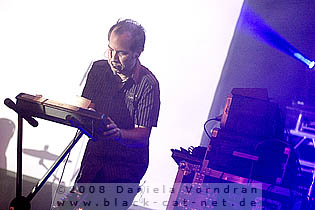 Setlist

01. Anti/ Matter
02. World Window
03. Unseeing
04. Dream Aid
05. Penetration
06. Yearning
07. Eye over You
08. The Noise Institute
09. Subsonic
10. Boom Operator
Rating

Music: 10
Performance: 10
Sound: 10
Light: 10
Total: 10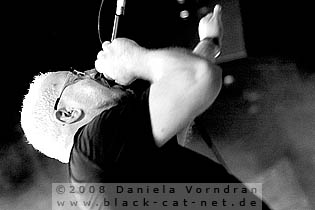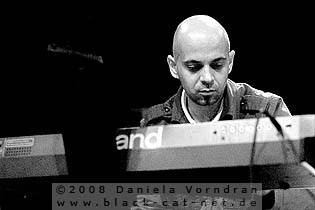 Tactical Sekt [JU]

The project was conceived by Anthony Mather in 2002, who already had musical experience with his project ASLAN FACTION which stopped its activities in 2003, so Mather devoted all his creative energy to the new project. The first result was released soon afterwards with 'Geneticide' in 2003. Shortly after that release, during the same year the second album 'Burn Process' followed, including much ore Euro Trance influences. After years of touring and remixing for other groups, 'Syncope' finally came out in 2006. TACTICAL SEKT is Anthony Mather (vocals, keyboards, programming & propaganda), Marco Gruhn (live synths) and Jay Taylor (live drums)
http://www.tactical-sekt.com/
/
http://www.myspace.com/uktacticalsekt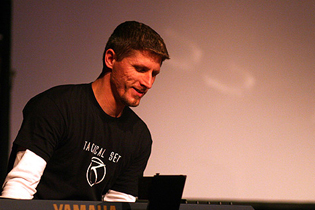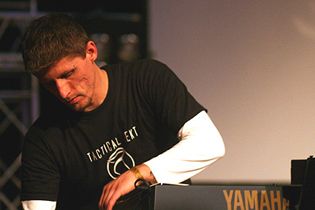 Music & Performance

The organisers of the Amphi festival should think twice next time to avoid the mistake to have bands who definitely share parts of their respective audiences playing at the same time. While COVENANT pleased with their poppier Electro sound a huge crowd at the main stage, TACTICAL SEKT played their harsh EBM-Industrial at the theatre. Surprisingly the UK act still draw a good crowd to the second stage of the festival despite this competition - well, maybe an advantage of a sold out festival? TACTICAL SEKT decided to perform harsher, wilder and more aggressive than the other bands of the same kind which performed at the second stage on this day, like GRENDEL or NOISUF-X. The fans absolutely loved it but I have to admit that the magnificent gig of the much more sophisticated HAUJOBB before them made me hard to impress.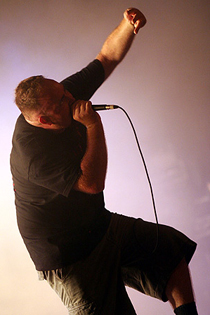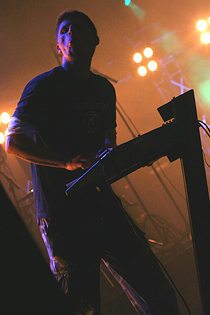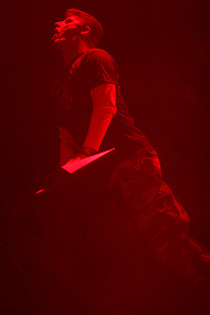 TACTICAL SEKT is good stuff, yeah, but they were a little over the top with their extreme distortions and their harshness for its own sake. Maybe my personal impression of their performance was a little distorted by TACTICAL SEKT's unfortunate placement in the line up but I was happy to return to the poppy sounds of COVENANT after a while. Although it's regretful that I missed TACTICAL SEKT members climbing up the construction of the stage and other merry activities of the wild at heart. Next time I will try to see all of the show, boys, promised!
Setlist
01. Awaken the ghost
02. Bring me violence
03. Soulless
04. Not entertained
05. Damage limitation
06. Devils work
07. Xfixiation
Rating

Music: 7
Performance: 7
Sound: 9
Light: 7
Total: 7.3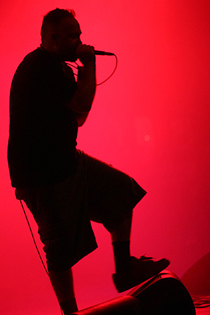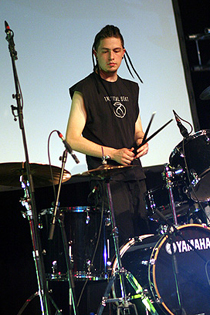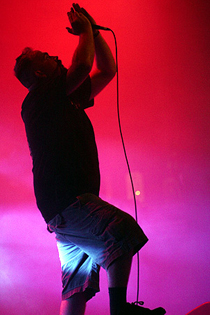 Rotersand [CL]

ROTERSAND released their first EP 'Merging Oceans' in 2003. The EP immediately entered the German alternative charts and also became a big club hit. The debut album 'Truth is fanatic' was released in the same year and expanded the bands position even more. In October 2004 they switched over to Dependent Records and the new album 'Welcome to Goodbye' was released in June 2005 preceded by the single 'Exterminate, Annihilate, Destroy' and followed by the Remix EP 'Dare to Live: Perspectives on Welcome to Goodbye' in 2006.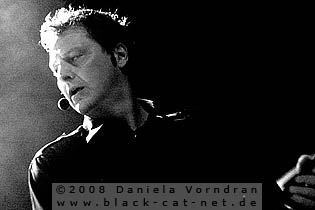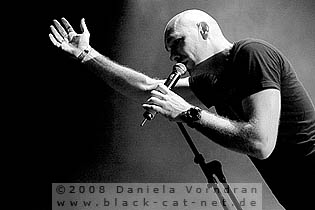 The most recent album is called '1023'. It is named after the hotel room in which the guys lived during their last year's USA tour in Detroit. Both, the album and the preceding DJ-Single 'Lost', climbed up to the top positions of the German Alternative Charts. Meanwhile, their former label Dependent Records had to close down; no reason for the band to be sad, as it was recently announced that they found a new home with the Trisol label and will release a new EP this autumn. ROTERSAND are Rasc (vocals, guitar), Gun (keyboard, guitar) and Krischan (turntables).
http://www.rotersand.net/
/
http://www.myspace.com/rotersand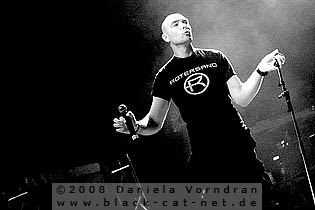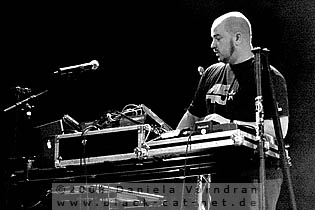 Music & Performance

I missed the start of the show because COVENANT at the main stage overrun a little bit and when I entered the crowd of the second stage, the show of ROTERSAND already ran. Just yet the crowd was infected by the rhythmic and danceable sound of ROTERSAND; people were dancing and clapping hands, two large flags were flying in the crowd and the temper was high. ROTERSAND performed a powerful electro set; outstanding was a nice acoustic version of a new song - 'I am with you'.
Setlist
01. Intro
02. Lost
03. Almost Violent
04. Electronic World Transmission (SITD Remix)
05. I am with you
06. Merging Oceans
07. I Cry (Rework)
08. Exterminate Annihilate Destroy
---
09. Undone
Rating

Music: 8
Performance: 8
Sound: 7
Light: 7
Total: 7.7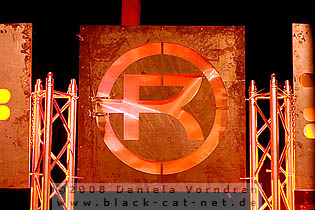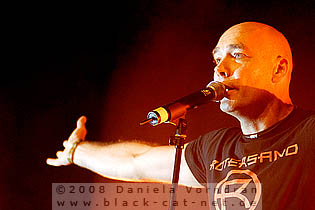 The Klinik [JU]

Absolute Controlled Clinical Maniacs, does that ring any bell? No? That's the initial name of the project subsequently changed to THE KLINIK, the legendary industrial music act, formed in 1982. Not only was their music something unheard-of and revolutionary at that time, Dirk Ivens hissing vocals and minimalist lyrics were complemented by a claustrophobic stripped down EBM sound enriched by distorted trombone play, their live performances also were something extraordinary, showing the protagonists wrapped in gauze and wearing black leather coats. Albums like 'Plague' or 'Face to Face' are unrivalled to this day. However, nothing lasts forever and o it happened that after the release of 'Time' neither of the members was satisfied with and the differences became too big, they decided to go separate way. Dirk Ivens focussed in his own project DIVE and Marc Verhaeghen continued under the name KLINIK without being able to link to the past successes of THE KLINIK. Both members briefly came back together for a few shows in 2003/04. THE KLINIK is Dirk Ivens (vocals, lyrics) and Marc Verhaeghen (synths).
http://www.myspace.com/dirkivens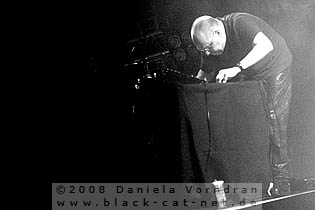 Music & Performance

On the first day of the Amphi festival we saw a good number of (relatively) young electronic bands who produce harsh, dark, aggressive and noisy electronic music. The main ingredients were loads of effects, fast beats, and speed. And now the seniors entered the stage, two gentlemen from Belgium who were among those who invented this sound (this genre!) back in the 1980s: THE KLINIK! And they taught the youngsters a lesson: The art of doing it
slowly
! Both visually and musically, THE KLINIK are live as minimal as it could be, and still they achieve to make a greater impact than all excessive effects in the world. Many of their tracks hardly hit the 100bpm mark but it shows that *speed* is not the panacea to achieve the desired effect. However, the music nevertheless definitely moves you - in all senses of the word! Unfortunately the start of THE KINIK's performance suffered from technical problems and a low volume but thankfully such problems were solved in the course of the show. As usual, Marc Verhaeghen stayed in the back behind his equipment to relinquish the void stage to the hyperactive and charismatic Dirk Ivens, whose presence easily fills a huge stage without needing fancy stage design or something. A singularity of THE KLINIK is Verhaeghen playing the trumpet every now and then (like during the opener 'Surviving in Europe') but he only plays single notes and extends them with a reverb to create an atmospheric effect. Once again, sometimes less is more!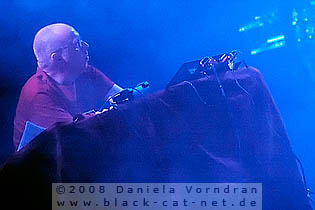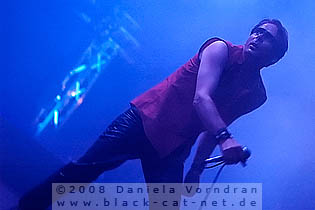 The fans, many of them already well in their thirties and following the band since their heyday, surely appreciated this concept. THE KLINIK performed many old classics from their 1980s and early 1990s back catalogue such as 'Walking with Shadows' or 'Pain and Pleasure' but didn't rely too much on the obvious hits for most of their performance. The most exciting thing - THE KLINIK did perform a new track called 'Stay', which of course boosts the rumours that there will be a new THE KLINIK album featuring both Verhaeghen and Ivens! After such happy news it was time for merry jumping around for the fans, and 'Moving Hands' came in like a sudden explosion. Yes, THE KLINIK have danceable, upbeat stuff too in their back catalogue, and they saved their old club hits for the end of the setlist. For the encore, 'Black Leather' was simply a must, followed by the beat-driven 'Go Back' from 1987. Despite the difficulties at the start of the show, this was just another excellent gig by THE KLINIK which showed that the roots of the EBM/Industrial scene are still alive and kicking and easily sound as fresh as ever.
Setlist
01. Surviving in Europe
02. Braindamage
03. Walking with Shadows
04. Quiet in the Room
05. Talking to a Stranger
06. Pain and Pleasure
07. Mindswitch
08. Obsession
09. Stay
10. Moving Hands
11. Memories
13. Feel the Evil
---
14. Black Leather
15. Go Back
Rating

Music: 10
Performance: 9
Sound: 7
Light: 7
Total: 8.8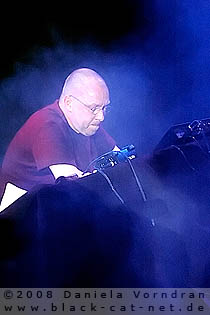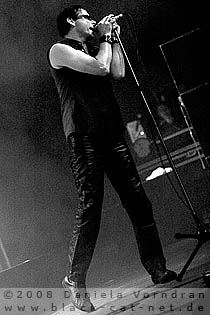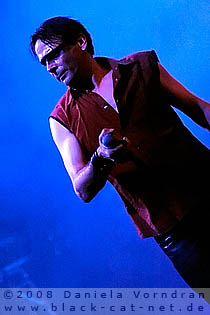 CombiChrist [KM]

COMBICHRIST is the project of ICON OF COIL singer and mastermind Andy La Plegua who's presenting a much more hard-edged side of industrial with this project. The two first releases, the album 'The Joy of Gunz' and the limited Halloween special 'Kiss the Blade', both being released in 2003, conquered the clubs and dance floors in a storm. Only a year later, Andy unleashed the next assault entitled 'Sex, Drogen und Industrial' which marks a change in the sound of COMBICHRIST to more electro and less distortion dominated sounds, yet the tracks remained as energetic as ever.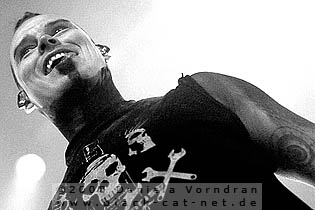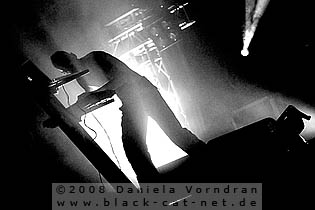 In spring 2005 it was finally time for the new album 'Everybody Hates You' whose description can be summed up as follows "A journey through hell and high water, through the eyes of a serial killer, sex, violence and plenty of Jack Daniels on ice." 2006 saw the release of a new EP that even took the project to the Hot Dance Billboard Charts and as Andy is a workaholic, he released the next album 'What The F*&$ Is Wrong With You People?' in March 2007. Right in time for the summer, Andy released the 'Frost EP' at the end o June 2008 with new tracks as well as remixes. COMBICHRIST is Andy La Plegua (vocals, lyrics, production).
http://www.combichist.com/
/
http://www.myspace.com/combichrist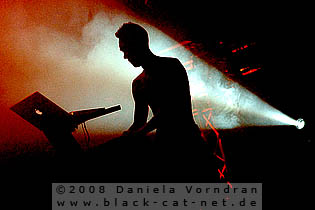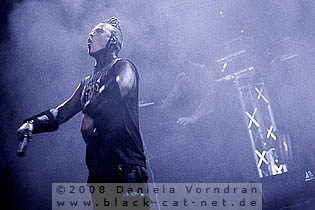 Music & Performance

COMBICHRIST show proved Andy La Plegua's condition is more than fine: he appeared on the stage kicking and rocking it as ever and made the whole theatre audience move, dance, scream and sing wildly. The old hits such as 'This shit will fuck you up' or 'Shut up and swallow', 'Today I woke to the rain of blood', 'Electrohead' as well as those of the new EP 'Frost' and the album 'What is wrong with you people' secured an energetic, hard-hitting and smashing overflow of wild, danceable sounds.

Rating

Music: 10
Performance: 10
Sound: 10
Light: 10
Total: 10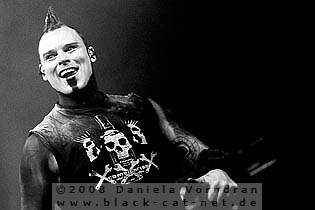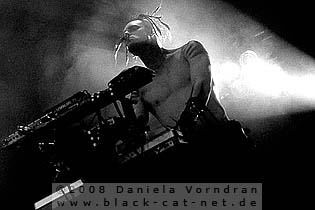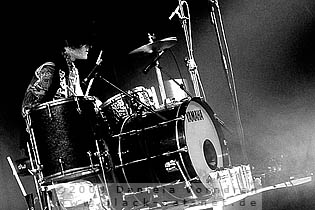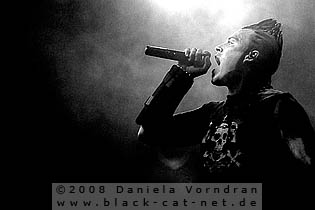 Written by Daniela Vorndran [DV] and overall editor, Sebastian Huhn all band intros, Karolina Moszkowicz [KM], J. "Niggels" Uhlenbruch [JU] and Carsten Leopold [CL]
All pictures by Daniela Vorndran (
http://www.vorndranphotography.com/
/
http://www.black-cat-net.de/
/
www.myspace.com/vorndranphotography
) except TACTICAL SEKT by Karsten Thurau
{jos_sb_discuss:18}