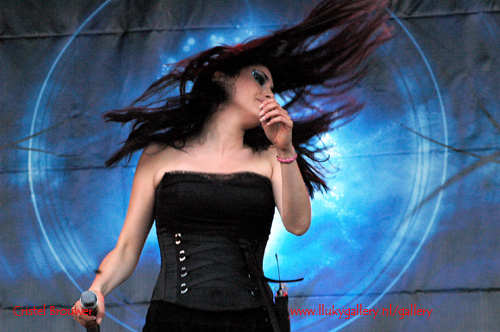 Parkpop, The Hague, the Netherlands
June 26th 2005
Within Temptation, Drowned, Killing Joke
On a hot summers day 350.000 people had gathered in the park to enjoy the sun, enjoy the music and celebrate this 25th edition of Parkpop. A wide range of musicians came here to entertain the audience. For instance the Tokyo Ska Paradise Orchestra, a group of Japanese men shaking things up with their cheerful ska, Fish who used to be the singer of Marillion had brought along many fans who could sing along with each of his sensitive and warm notes and many more bands ranging from local bands to bands from all over Europe.

Killing Joke
This band has been around for quite a while; their first album was released before I was even born in 1980. They have just been touring with Motley Crue on their UK tour. Today they were playing at the green stage at Parkpop, there was a huge crowd awaiting them in the shade of the trees.
Music
Jaz Coleman has a very raw voice, which is not always as audible. Later this is adjusted and it seems he has quite a pleasant voice, singing mixed with some grunts. The music is a heavy but has a relaxing constant flow of beats and vocals, which easily takes you along, heads are nodding everywhere. Though after a while a change would be nice, this change is only cased by the vocals. Even though the sounds might have been a bit dispersed at the further ends of the field, close by it sounded good, the mix was well made.
Performance
At first I thought I'd die laughing during Killing Joke when I saw the lead singer come on stage wearing overalls and having a white painted face with black stripes on it. The bass player had sunglasses on but when he took them off he showed black painted eyes (there was hardly a difference), he had some black markings too but those were not to be seen from a further distance and their keyboard player looked as if he had been fixing a car, he had black smears on his face. Jaz Coleman has very distinctive moves, he looks as if he is in a trance, sometimes you might even say he moves like a robot. His eyes are mostly spread wide open, and his hands full of tension as he marches up to the audience. There is no interaction on stage, the only contact is between Jaz and his audience.
The lights hardly had any effect, they were there but not to be noticed. A pity cause they could have added some extra movement to this show.
Rating
Music 7
Performance 7
Sound 7
Light 6
Total 7 (6,9)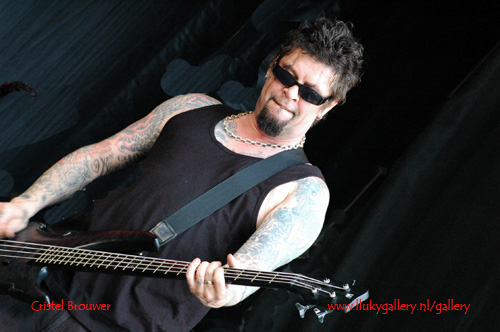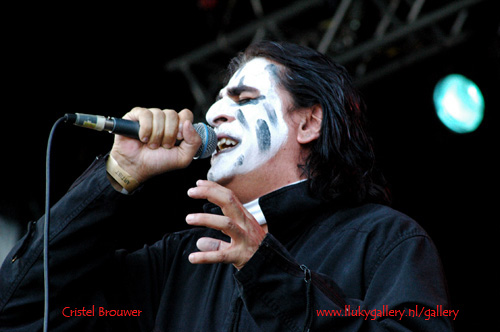 Drowned
They had received some 700 votes and thus had the honour to play at the locals only stage on Parkpop. This band comes from a small town and is used to playing small venues but today they might have had a small stage as well but the audience was quite a bit bigger than what they are used to.
Music
The music of Drowned may be called rock, but it is quite diverse within that name. They do as they please. Form heavy rock songs to sweet and soft ballads and everything in between. When they sing together it sounds great, their voices fit well together. When there were more sensitive parts in the song and the vocals were softer they were out ruled by the guitars, which is a shame for something beautiful was lost there. All in all the sound was ok, but it could have done them more justice, during the ballads.
Performance
They had dressed sharply for this performance, two guitarists in white stands out of course especially if you play this kind of music. There was a huge space between band and audience which made it hard for them to reach their people. But they don't let this get in their way and give their all, they make good use of this chance and show what they are made of. Drowned gives the audience a great and fun rock show. it is good to see them have so much fun! I can't really say anything about the lights for they could just not be seen.
Rating
Music 7
Performance 7
Sound 6
Light 6
Total 7 (6,7)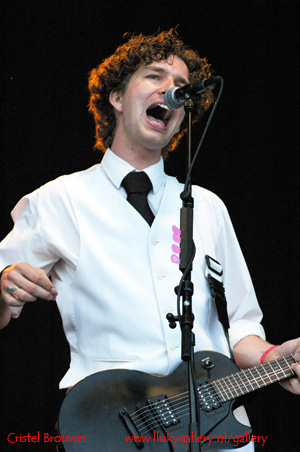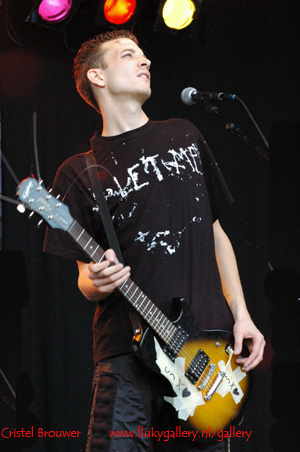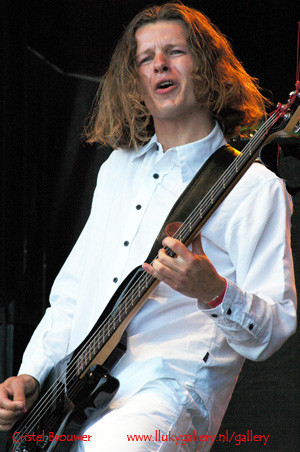 Within Temptation
It was exciting day for the band members of Within Temptation, but not because of their performance at Parkpop. Today they had to play without their drummer Stephen, for his girlfriend was having their baby. Luckily he could be replaced by a familiar face, their old drummer Ivar came to support the band today. We would be kept posted if anything would happen but the baby wanted to wait another day and on Monday a little drummer was born.
Music
It seemed Sharon was not up to her full power today. During 'Forsaken' she had let the audience sing along and when she took over again herself she missed her note. She adjusted very quickly and could go on without any problems. At the end of the song she hit the powerful notes as we are used to hearing from her. Still it seemed as though some of her usual power was missing. Ivar did a good job today especially since he had to drum along to many songs he had never performed with the band before. The sound was not quite in balance; Sharon's vocals could have been tuned in a bit louder.

Performance
No projections today but a huge backdrop with the Silent Force logo on it, the always faithful angels were at the sides of the stage again. The guest area between the audience and the stage had filled up nicely, as had the photo pit. Besides the surprise of Ivar joining in on stage another surprise was there when Sharon entered the stage; she wore a short skirt instead of a gown. Robert and Ruud were running al over the stage, they seemed to enjoy themselves. This band consists of team players, together they cover the entire stage and make sure no part of the audience is left out. Sharon some times even seeks personal contact with members of the audience. With their flames and bangs the show was given some extra power. There was no light during the first song but when it finally set in, it only had it's effect on the angels, which of course made a pretty sight.
Set list
01. See who I Am
02. Jillian
03. Stand My Ground
04. Angels
05. Forsaken
06. Memories
07. Running Up That Hill
08. Caged
09. Mother Earth
10. Deciever of Fools
11. Ice Queen
Rating
Music 7
Performance 8
Sound 7
Light 7
Total 7 (7,3)