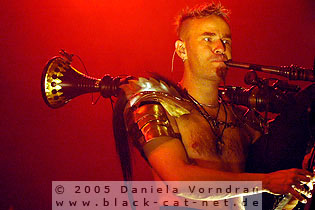 Amphi Theater, Gelsenkirchen, Germany
2nd July 2005
Amphi Festival 2005 – Day 2: Staubkind, Psyche, Lacrimas Profundere, Welle:Erdball, Suicide Commando, Blutengel, Die Krupps, Camouflage, In Extremo

After only some hours of sleep and with a terrible headache I made my way back from Muenster to Gelsenkirchen for the second day of the new Amphi Festival which I really enjoyed so far. I arrived quite early in Gelsenkirchen fearing there would be again a long queue. But today everything worked very smooth and I found myself in the Amphi Theater after only some minutes of waiting time. The weather wasn´t as good as the day before but luckily the weather god was quite nice to us and we only had very little slight rain during the whole day and night. The area began to fill up quite fast that day and at the end there should have been about 4500 people attending the festival on Saturday. Looking at all the shirts people wore most of them came probably for the headliner "In Extremo". But all the other bands had their fans too and the nicely mixed line up promised another great festival day.




Staubkind


First band today was "Staubkind", the band of Louis Manke who played 1994 in the metal band "Trojan". 2000, he formed the band "Goldrush" which he left 2002. Since 2001 he is member in Chris Pohl´s (also "Blutengel") band "Terminal Choice" and debuted on the maxi single "Animal". After leaving "Goldrush" he moved to Berlin to concentrate on his work within "Terminal Choice".
www.staubkind.de
Music
With "Staubkind", Louis formed his solo project in 2003. His music is influenced by bands like Oomph!, Linkin´ Park, Evanescence and Zeraphine and can be described as a catchy mixture of harsh guitars, bombastic melodies and emotional chant. The band just gained a lot of fans with their debut release "Traumfänger" and so harder music of the band found it´s friends in the audience.
Performance
The space in front of the stage was quite good filled even though the very early hour. It seemed that the band found it´s followers there. They presented songs like "Keine Sonne", their first single, "Schlaflied" which handles a quite difficult topic, "Viel mehr" or "Mein Herz". Surely gigs in bright daylight are visually not that extraordinary if there are "only" the musicians performing on stage not supported by a great light show. But musically "Staubkind" was definitely a good opener. Even more because of the fact that I don´t like the stuff Chris Pohl is doing very much and his band mate Louis surprised me with his output.
Rating
Music: 6
Performance: 6
Sound: 6
Light: 4
Total: 6 (5.7)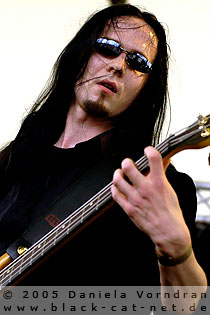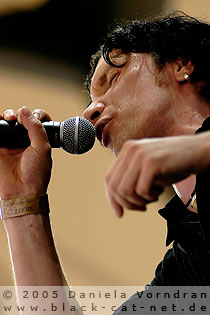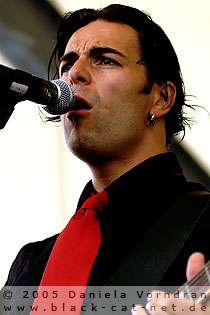 Psyche


Nothing seems like it used to be after you have listened to "Psyches" lateste release "The 11th hour". This album is the rediscovery of qualities from the great past days of an institution. There are people who think that this is the best "Psyche" album since a very long time. The whole sound characteristics and the structure of the single tracks on "The 11th hour" tie in with the album "The Influence". A huge amount of accurate elaborated new ideas, sound elements and vocal variations not only impress true "Psyche" fans. On that day, the cult band was back on short notice. They took over the place of "NamNamBulu" which split up short before the festival.
www.psyche-hq.de
Music
Psyche was announced by Andy Krüger (vocalist of "Melotron" and moderator for the festival) with the words "We found something better" according to the cancellation of "NamNamBulu". And in my opinion he was not that wrong. The German-Canadian Darrin Huss (vocals) brought two keyboarders with him. One of them was "Mr. Bastards of love" himself. Darrins voice often reminds me of "Soft Cells" Marc Almond; and that is a big commendation. Unfortunately not that many people seemed to know about that gig and so the audience in front of the stage was quite manageable.
Performance
But that was no reason for Darrin to give less than usually. He started with the powerful song "The brain collapses". As he likes to include parts from other bands songs into his performance, he just linked some parts of "DAFs" "Als wars das letzte mal" into this song. Later in the set he also used the refrain from "Nitzer Ebbs" "Let your body learn". While his mates on stage stay quite motionless behind their keyboards, Darrin is a real life wire when he moves and dances like crazy across the stage. Watching and listening to him means you cannot stand still as well. The energy he produces on stage is directly transferred to the audience. Highlight of the set was once again his cover version of "Goodbye horses" which is a favourite of his fans and accompanied with singing and clapping. "Psyche" were definitely a worthy alternative for "NamNamBulu".
Setlist
1. The brain collapses
2. Yearning
3. 15 minutes
4. The belonging kind
5. Sanctuary
6. Tears
7. Goodbye Horses
8. Unveiling the secret
Rating
Music: 8
Performance: 8
Sound: 6
Light: 4
Total: 7 (7.1)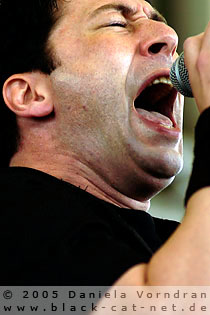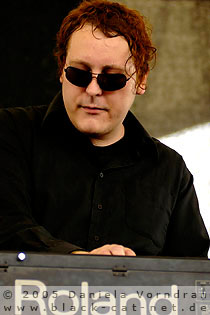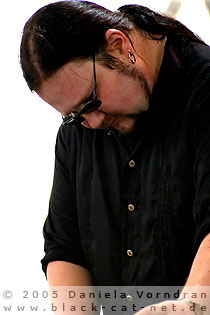 Lacrimas Profundere


"Lacrimas Profundere" was founded in 1993 by Oliver. At taht time not many bands combined doom-metal with gothic elements and "Lacrimas Profundere" became one of the first ensembles to weave an intricate pattern of violins, flutes, and classically oriented vocals. The band quickly stepped into the limelight following the release of their 1994 debut album "… and the Wings Embraced Us". With their release, "Fall, I will follow", the band has once again embarked on a new journey. Recorded at Klangschmiede Studio by Markus Stock, this release blends the style of preceding albums with melancholic rock. A deeply emotional atmosphere leads to a new dimension of sadness. Partly melancholic, partly refreshingly rocky, and captivating at all times.
www.lacrimas.com
Music
For my ears (and for the ones of others too), the band sounds like a mixture between HIM and bands like Secret Discovery. A big stake in that has surely the voice of Christofer which sounds very similar to Ville Valos (vocalist of HIM) voice. A very good musical combination is presented through guitars, bass and drums together with a keyboard. That gives some kind of electronic note to the metal music. The melodies are dark and somehow dirty. New ideas, rocking songs between melancholy, hope, anger and aggression is what they present.
Performance
Not only the music reminds me partly of HIM. Also singer Christofer presents himself as a brother of Ville Valo when he appears on stage with the cigarette nonchalant hold between his lips. And the girls in the audience seem to admire him as much as Mr. HIM himself. It is a fact that he obviously enjoys it. Songs like "Sarah Lou", the actual video "Amber girl" or the last song of the set "Ave end" out of the actual album are welcomed with loud screams and heavy applause. The performance was a bit too clichéd for my taste, but it was all in all nice entertainment.
Rating
Music: 7
Performance: 6
Sound: 6
Light: 4
Total: 6 (6.4)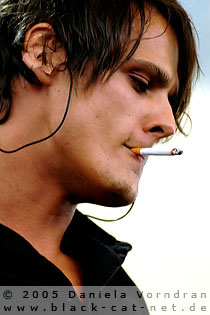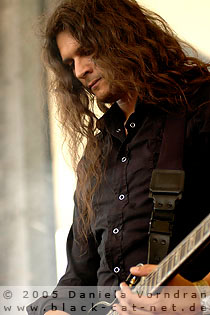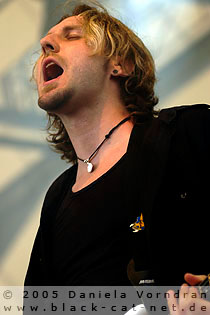 Welle:Erdball


"Hello, this is Welle: Erdball, symphony of time. Out of the ether it vibrates and swells into the eternity! Turn your radio on! Welle:Erdball broadcasts nonstop, 28 hours a day, with 1000 gigawatt."
www.welle-erdball.de
Music
Do you also want to listen to the sounds of the 80's again and maybe even feel them? All this in a modern outfit, which left the future behind for a long time...? Then Welle:Erdball is the right thing for you! They are presenting pure electronic sound mostly based on sounds of the old Commodore 64; an analogue sound that fits to the music. Even though there were some of the great hits missing, songs like "Arbeit adelt", "23" or "VW Käfer" compensated that lack.
Performance
The stage line up was the same as we know it from many shows before and also the crew on stage was it: Honey, Alf, KayCat and Soraya. Soraya? No, what a surprise it wasn´t the girl on stage we know. After the departure of Soraya the band found a very nice looking blond girl as replacement. The guys were as usually dressed up in fancy suits and sun glasses while the girls wore their nice petticoat dresses. The show started with Honeys announcement: "Ladies and Gentleman, this is Welle:Erdball!".
The show wasn´t something new, but great and experienced as usually with the obligatory gimmicks: the barrel Honey is beating at during "Arbeit adelt", the big red balloons with the print "Synthetic Symphony" during "VW Käfer", the big plates with the printed word "buy" in different languages during "Mensch aus Glas" or the paper planes before the song "Starfighter F-104G" started. Before the song "23" started, Honey told the audience some stuff about their favourite music instrument: the C64. He threw one into the audience. Unfortunately it crashed at the fence but anyway it found its new happy owner. Honey also asked the audience to sign for the animal rights organisation PETA. At the end of the set they throw new hot looking girlie shirts into the audience what was appreciated a lot.
Even people who do not like Welle:Erdballs music had to agree that this was a great performance. What else left for the band than to leave with the often heard words: "Ladies and Gentlemen, you listened to Welle:Erdball"!
Setlist (probably not 100% correct order)

1. Wir wollen keine Menschen sein
2. Fliegen
3. 23
4. Walkman
5. Arbeit adelt
6. VW Käfer
7. Mensch aus Glas
8. Starfighter F-104G
9. Wo kommen all die Geister her
Rating
Music: 7
Performance: 9
Sound: 6
Light: 5
Total: 7 (7.2)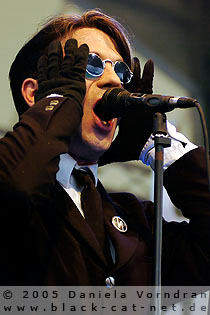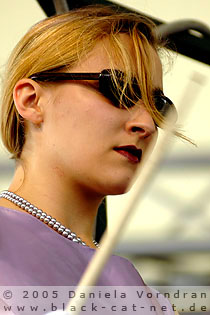 Suicide Commando


Suicide Commando is the project of Belgium's electronic musician Johan Van Roy, who began releasing cassettes in 1986 but soon became part of Belgium's EBM scene with "Critical Stage" (Offbeat, 1994). "The brutal style of Traumatise", "Necrophillia" and "Where Do We Go From Here" bridged the gap between techno, industrial and gothic the way Belgium had been doing for a decade.
www.suicidecommando.be
Today Suicide Commando was the band where I was going for food and do some conversations. Seeing them quite often last time and having no surprises in their show, it was a good decision to choose that gig for that. Again they presented a powerful show, starting with 2 real hits: the newer "Cause of Death: Suicide" and the dance floor filler "Hellraiser". On keyboards were again Torben Schmidt and Johan van Roys girlfriend Tanja. It was a solid show: loud, energetic and as always with Johans protruded tongue.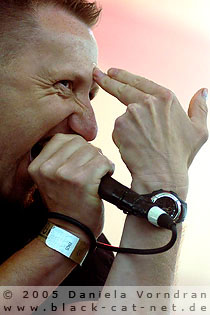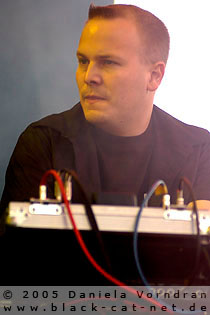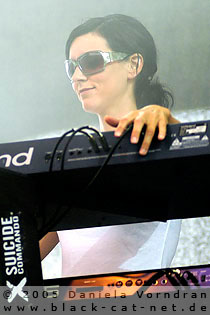 Blutengel


Blutengel was formed in 1998 after Chris Pohl had decided to give up the preceding project Seelenkrank. Just as its predecessor Blutengel uses melodious electronic tunes in combination with both female and male voices. However, the topics of the songs have been expanded and now cover all sides of love and romance. That´s the official statement and anyone has to find out, what is Blutengel for himself.
www.blutengel.de
Music
Characteristic for the band are catchy and electronic melodies with male and female chant. Blutengel divides the people in the Gothic scene: some are devoted fans and the others totally hate it. There is nothing inbetween (and I don't tell you to which side I belong…). The sound during the show wasn't that good and during "Love Killer" Chris Pohl forgot the lyrics.
Performance
The Blutengel performance fulfils any cliché you might have about a gothic show and it's really a matter of taste. I have the impression that the show has to belie the weak music. The show started with two men in black cowls and masks in their faces. Chris enters the stage leading 2 girls on a leash and takes his place behind the microphone stand which looks like a metal cross. Totally the band has four female dancers but mostly only 2 of them are on stage. The others change clothes in the meantime. With their performance to every song, the band tries to tell a story. So there are two black dressed girls on stage during the song "Die with you". One of them is drinking from a goblet and dies… the other one does the same to die with her. A white angel is watching over the both. During "Gone to hell" a "fight" between good and evil – a black and a white angel – happens on stage. But also other Goth clichés are served: blood, half naked female dancers or reversed wooden crosses. Death, devil and love are always present on stage.
Rating
Music: 4
Performance: 6
Sound: 5
Light: 7
Total: 5 (5.2)
On this place we usually present some pictures we took at the show. Unfortunately we cannot show you ones of this band because it was forbidden for all photographers to take pics out of the pit and we don´t want to bother you with bad pictures from a far distance.
Die Krupps


"Die Krupps" - 25 years metal-machine-music! Critics worldwide call them in the same breath with pioneers of electronic music like "Kraftwerk" or "Einstürzende Neubauten". Bands like "Nitzer Ebb" and "Front 242" name them as their inspiration and paragon. In nearly 25 years, "Die Krupps" developed their innovative and distinctive personal style from album to album. The German group "Die Krupps" stands as one of the innovators of the subgenre of Euro-rock dubbed body music, a sound characterized by its dense electronic makeup as well as its harsh, visceral execution. The new chapter in the history of the band mastermind Jürgen Engler calls 25 years metal-machine-music.
www.dkay.de/krupps_index.html
Music
In stage, there were Jürgen Engler on vocals, 2 guitars players, keyboarder and drummer. So a loud mixture of electronic and guitar sound was guaranteed. Harsh riffs and the electronic machine sound are as fresh as in the older days. The energy that was brought to stage was incredible. Old classics like "Machineries of joy" or "To the hilt" which was developed with "Nitzer Ebb" made the audience going wild. As an additional instrument Jürgen used a steel construction which worked a bit like a xylophone. He was beating at it with an unbelievable energy to add new musical elements to some the songs. Was the sound during Suicide Commando to loud and booming for my taste it was now perfect mixed up for the music.
Performance
Jürgen Engler looks no day older than 30. And he also acts like that with an energy and joy on stage you haven´t believed before. The audience joins into the energetic atmosphere dancing and jumping around to the beat of the music. The show was a real triumph. After they ended their set with "Fatherland" they were forced to an encore – "Bloodsuckers" – by the audience. Definitely the best show I have seen during that festival.
Setlist (probably not 100% correct order)

01. High Tech - Low Life
02. Crossfire
03. Isolation
04. Volle Kraft voraus / Goldfinger (Medley)
05. Germaniac
06. Odyssey Of The Mind
07. Alive
08. Machineries Of Joy (Wahre Arbeit, wahrer Lohn)
09. To the Hilt
10. Metal Machine Music
11. Dawning Of Doom
12. Fatherland
13. Bloodsuckers
Rating
Music: 9
Performance: 9
Sound: 7
Light: 6
Total: 8 (8.3)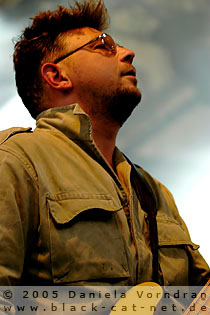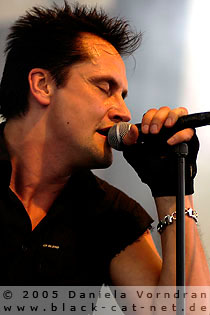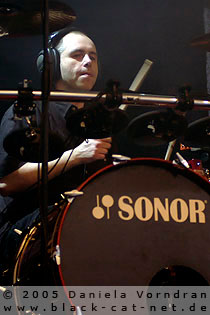 Camouflage


The German synth-pop trio Camouflage was officially formed in 1984 by vocalist Marcus Meyn and keyboardists/programmers Heiko Maile and Oliver Kreyssig. The group took first place in a radio-sponsored song contest in 1986, and before long, their debut single, "The Great Commandment," was scaling the German charts. Their full-length debut, Voices and Images, was released in 1988, reflecting the group's classic new wave synth-pop influences, but most of all Depeche Mode. 1989's Methods of Silence began to broaden Camouflage's sonic palette, yet the Depeche Mode sound still remained at the forefront. Oliver Kreyssig then left the group, leaving Maile and Meyn as a duo augmented by several studio musicians. By the time of 1991's Meanwhile, Camouflage had garnered a not insignificant following on college radio; the album moved still farther away from synth-pop and incorporated greater instrumentation. However, with the advent of grunge, synth-pop lost a great deal of its footing on college radio; Camouflage soon found itself without an American record deal. 1993's Bodega Bohemia, available only as an import, moved back towards synth-oriented music and took a darker tone than much of their previous work. The mostly instrumental Spice Crackers followed in 1995, after which the future of the band was cast into doubt; a best-of compilation, We Stroke the Flames, was released in Germany in 1997. (by Steve Huey, All Music Guide)
www.camouflage-music.com
Music
The trio (Marcus Meyn – vocals, Oliver Kreyssig and Heiko Maile – keyboards) is supported on stage by Jochen at the drums. The sound of Camouflage was quite different to the band before even though both were electronic acts. Camouflage presents calm and melodic synth pop at it´s finest. The electronic sound lines receive more power through the pushing live drums. This was made totally clear when Jochen plays some kind of drum solo in the middle of the set. The sound was quite good as well so Markus´ voice came out very clear and caused goose bumps within the one or another ballad. Besides actual songs from the latest album they played of course quite old songs too. A very good cover version of Human Leagues "Being Boiled" caused enthusiastic reactions within the audience.
Performance
The live performance of Camouflage was much calmer than the one of "Die Krupps" - music to relax and dream. Because it was finally dark, the light show supported the mood of the songs now really well. After some well known songs, Marcus announced a new song called "Conversation" from the upcoming album. It sounded very fresh and danceable with some coltish synth lines. It was catching the audience immediately. During the club hit "The great commandment" Markus acted a bit like "Depeche Modes" David Gahan, holding the microphone wide into the audience to let them sing the refrain on their own. The last song "Love is a Shield" ended with an a cappella part where the band was supported by the audience which knows every line of the lyrics.
Setlist
01. Intro / Follow Behind
02. Perfect
03. That smiling face
04. Me & You
05. You turn
06. Conversation (new unreleased song)
07. Harmful
08. Thief
09. Suspicious love
10. They catch secrets
11. I can`t feel you
12. The great commandment
13. Being Boiled (HUMAN LEAGUE cover)
14. Love is a shield
Rating
Music: 8
Performance: 8
Sound: 7
Light: 7
Total: 8 (7.7)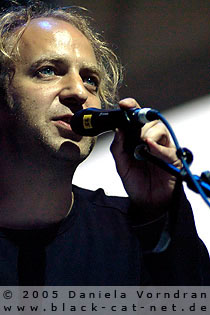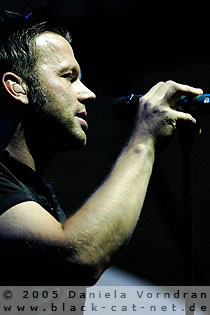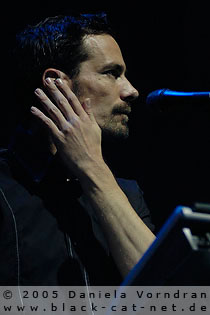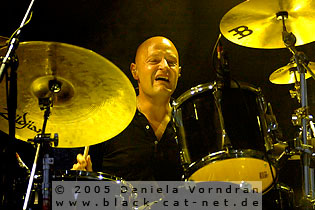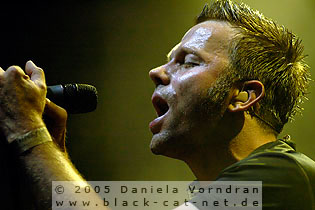 In Extremo


In Extremo was founded in 1996 and consist of 7 members (Dr. Pymonte – flute, bagpipes, harp, shawm; Der Lange – guitar; Das Letzte Einhorn – vocals, lyrics; Der Morgenstern – drums; Fles der Biegsame – flute, bagpipes, shawm; Die Lutter – bass; Yellow Pfeiffer – flute, bagpipes, shawm, harp). They play a mixture between mediaeval and rock music with some metal influences. During their shows they combine their music with a lot of show elements like fire-eating or pyro effects. The so far biggest success for the band was their 7th album. The singles "Küss mich" or "Erdbeermund" were showed very often in German music television. In 2004 they were nominated for the German music award "Echo" as "best artist national alternative".
www.inextremo.de
Music
The mixture of mediaeval music and rock is realised with a lot of modern and old-fashioned instruments. So the band is using guitars, drums and bass as well as hurdy-gurdy, back pipe, harp and some kind of flute. Nowadays singer Micha (das letzte Einhorn) doesn't only look like a bit like Campino from "Die Toten Hosen", he also sounds a bit like him. Harsh guitar riffs invited to dance and sing along. Songs like "Erdbeermund", "Wind", "Spielmannsfluch" or "Küss mich" are welcomed with great enthusiasm.
Performance
Singer and entertainer Micha not only knows to impress with the music but also with his statements. So he released the photographers from the pit with some nice words. The show consists not only of the musicians themselves. A big backdrop creates the right feeling and a lot of pyro and fire effects are added to the show. During "Vollmond" a rain of glitter drops down. That the audience is really infected by the music you could hear as they all were singing like one big choir during "Es regnet Blut". At the end of the show, Micha asked all very nice but demanding to go back to their tents and have sex and think of a great festival.
Rating
Music: 7
Performance: 7
Sound: 6
Light: 8
Total: 7