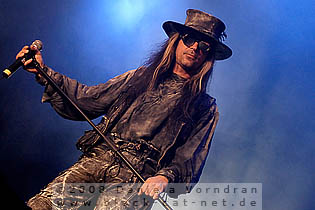 Flugplatz Drispenstedt, Hildesheim, Germany
9th to 10th August 2008
M'era Luna Festival Day 2 Main Stage: Mono Inc., End of Green, The Other, Blitzkid, The Vision Bleak, Lacrimas Profundere, Saltatio Mortis, Apoptygma Berzerk, New Model Army, Fields of the Nephilim

When we woke up on the second day and had a look outside our hotel window, we already spotted a grey cloudy sky. And soon after, rain started pouring down. Anyway, already several people showed up in early times at the festival side to watch the early bands hidden under their umbrellas. The main stage on this festival day was dominated by more punk-ish music like presented by THE OTHER or BLITZKID or the Goth rock of LACRIMAS PROFUNDERE or NEW MODEL ARMY. But highlight of the day was surely the headliner performance of FIELDS OF THE NEPHILIM, now playing in a wonderful coloured dawn you could even spot in Carl McCoy's sun glasses… [DV]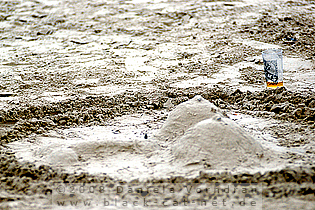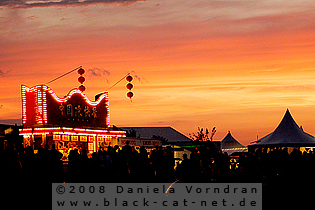 Mono Inc. [SH]

The group that would later be known as MONO INC started in 1998 under the name MONO69. The name changes around the year 2000. Beginning of 2003 bassist Manuel Antoni completes the line-up. The self-released debut 'Head under Water' followed then in autumn 2003. The year 2006 ended with a bad surprise. The band departed from their former singer. But eventually they had an idea and put the drummer and songwriter Martin Engler behind the mic and for him Katha Mia took over drums. AS it urns out, the idea to put Martin to the front wasn't a bad one at all; ever since the band has grown more popular than ever expected. 2007 sees the release of the next record 'Temple of the Tom' to be followed only one year later, exactly in June 2008, with the third album 'Pain, Love & Poetry'. MONO INC. are Martin Engler (vocals), Manuel Antoni (bass, vocals), Katha Mia (drums), Carl Fornia (guitar, vocals). http://www.mono-inc.com/ / http://www.myspace.com/monoincmusic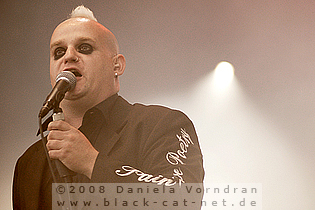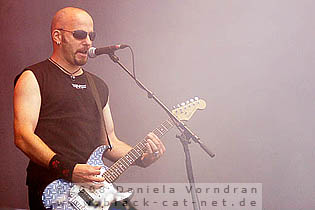 Music & Performance

Invited as a surprise guest to the M'era Luna, this German band had the lucky task to open this not really friendly Sunday morning on the Main Stage, but even though it was raining cats and dogs this morning, you could spot quite a few people at the stage and maybe these mixture of rock and catchy melodies, paired with the clean voice of singer Martin was just the right thing to start the day and to forget the bad weather around one. Personally I think that it sounded rather generic; not bad but also not really good. The audience couldn't manage to move a lot either and after 20 minutes, the whole performance ended without real highlights for me.
Setlist
01. Temple of the Torn
02. In My Heart
03. Get Some Sleep
04. Sleeping the Day away
Rating

Music: 6
Performance: 7
Sound: 6
Light: - (daylight)
Total: 6.3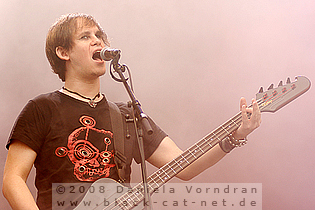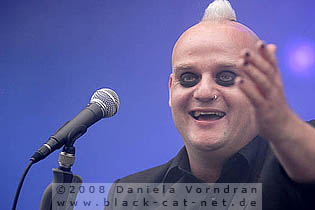 End of Green [SH]
The German band END OF GREEN founded in 1992 in Stuttgart and back in the beginnings they played a mixture of Goth Rock and Metal. According to singer Michael Huber, the band name symbolizes the end of hope, associated with the colour Green. A few line-up changes and demos later, they eventually signed a deal with Nuclear Blast and released the debut 'Infinity' in 1996. Soon afterwards the band and the label broke up again and unleash the next album on the new Subzero Records label. Constant touring with acts like PARADISE LOST, IN EXTREMO or IGGY POP provides for a growing fan base that waits until 2002 until 'Songs for a Dying World' is released, finally. It just takes one year for them to come up with the next record 'Last Night on Earth' in 2003. By now the sixth album 'The Sick's Sense' is ready to hit the shops in mid August 2008. The current line-up is as follows: Michael Huber (vocals, guitar), Michael Setzer (guitar), Oliver Merkle (guitar), Rainer Hampel (bass) and Matthias Siffermann (drums).
http://www.endofgreen.de/
/
http://www.myspace.com/endofgreen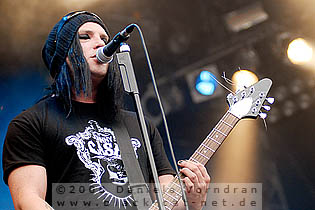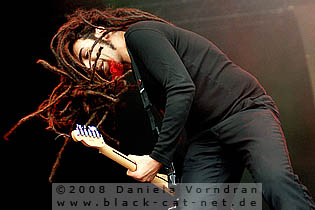 Music & Performance

A bit more movement came into the game when the formation END OF GREEN took their positions on stage to serve the crowd, still armed with their umbrellas, a meal with a fair dash of Metal, a pinch of Goth Rock, garnered with a raw & powerful voice to even wake up the last one. Like I mentioned before, the spirits of the audience seemed to have revived and when Michelle Darkness wanted to get them involved, they obeyed and reacted with raised arms or clapping; some even sang along with him. Also the guitarists spread enough energy to get infected by it. Sad Sir of course was an eye catcher with his Rasta pigtails and the outlandish seeming red beard. Almost like a freaky pirate…
Rating

Music: 6
Performance: 7
Sound: 7
Light: - (daylight)
Total: 6.7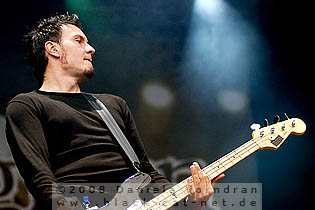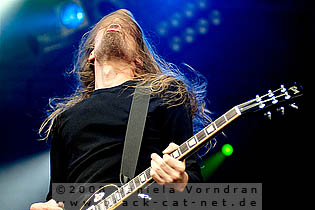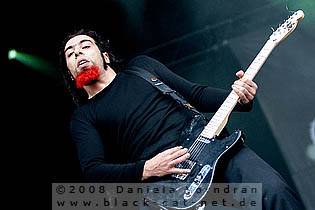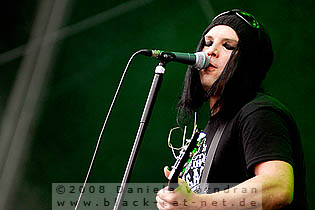 The Other [SH]
The band was founded in 2002. All the band members have been active musicians before. Since 1999 they were known as THE MISFITS cover band GHOULS. They could quickly build up a reputation with their creepy outfits, inspired by old horror movies. Following their debut release 'They're Alive' in 2004 they went on tour with Misfits, Wednesday 13 or Balzac and in 2006, with the second album 'We are who we Eat' they strengthened their status. In 2007 the band toured the US for the first time and their first comic was published as well. In this year's May, the third album 'The Place to Bleed' has seen the light of day and proved to be a major improvement in the band's sound. THE OTHER are Rod Usher (vocals), Sarge von Rock (guitar), Migore Drake (bass) and Dr. Caligari (drums).
http://www.theother.de/
/
http://www.myspace.com/theother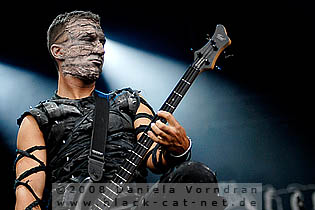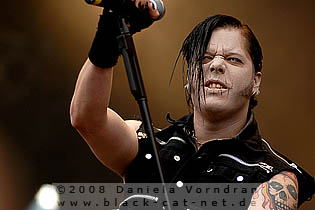 Music & Performance

Well, what was coming up now, really was something special; and optically a bit unlike the other music ensembles before as the four guys of THE OTHER belong to the horror punk genre and visibly orient themselves on old horror movies. Just look at the blood-sprinkled Dr. Caligari behind his drum kit. I believe some people there in front of the main stage, maybe were a bit irritated about the foursome, but they perfectly convey the energy they create on stage onto the audience and soon they were tangled in the web and besides nodding heads and teetering legs, people danced, or in better words rocked a lot to the powerful tunes that, despite their pushing attitude, still harbour some dark overtones and a good many times really are reminiscent of these old horror movies, they impressively embody on stage; and I have a penchant for those classics, did like the music and was enjoying the show a lot .

Rating

Music: 7
Performance: 8
Sound: 7
Light: - (daylight)
Total: 7.3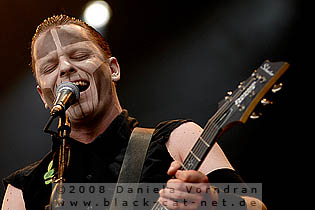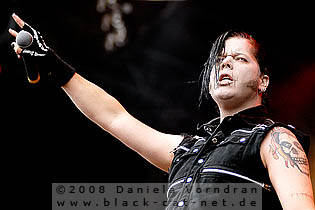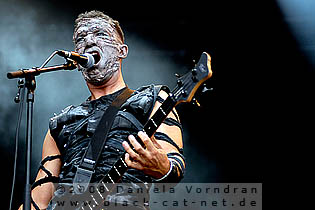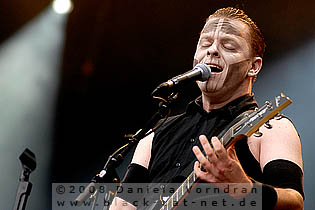 Blitzkid [SH]
BLITZKID, a horror punk 3-piece from Bluefield, Virginia, started their career as a duo back in 1997 and after recording a 10 track demo, titled 'Songs for the Aesthetically Challenged' was joined by its third member. In May 1999 after a period of soon writing, rehearsing and the playing of some local gigs the 'Revisited' EP, showcasing what was to become the band's trademark sound. The first full-length 'Terrifying Tales' released in 1999 enabled them to also tour the surrounding states for the first time. Soon they went on to produce 'Let Flowers Die' unleashed on the crowed in December 2001. Through constant touring and a few more albums they're able to increase their popularity a lot and bestowed them a growing and loyal following. The latest album 'Five Cellars Bellow' hit the stores in 2006. BLITZKID is TB Monstrosity (E-guitar, vocals), Argyle Goolsby (E-guitar, vocals) and Rhea M. (drums). During M'era Luna, the position at the drums was taken by Dr. Chud.
http://www.blitzkid.com/
/
http://www.myspace.com/blitzkid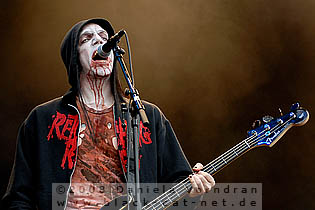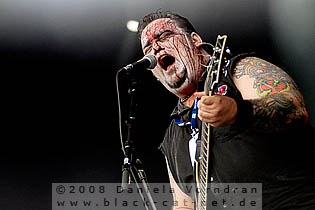 Music & Performance

THE OTHER shouldn't stay the only Horror Punk band on the main stage this Sunday, as the American trio BLITZKID is another representative off that genre and it didn't take long for me to realize that they've something in common with CINEMA STRANGE, a completely freaked out stage presence; in another way, I have to add. It seemed like they've turned on a switch short before they went on stage, on which they played awesome tricks with their guitars and one of the coolest jumps I've ever seen. ;-)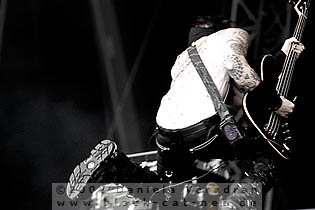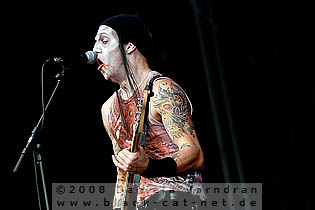 Besides that, their outfits; and especially their make-up made them look like the living dead on tour with pale faces and covered with lots of artificial blood. The songs, the bloody trio played, partly broke the speed record at the M'era Luna, ok they had to go shares with SAMAEL, who also set a considerable pace the other day; and another (positive) surprise for me was the voice of singer Argyle Goolsby, managing melodic chant just as good as he does with the in-ya-face, bolshie ones. I really liked what I saw and I decided to take a closer look on BLITZKID
Rating

Music: 8
Performance: 9
Sound: 7
Light: - (daylight)
Total: 8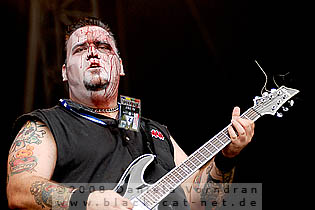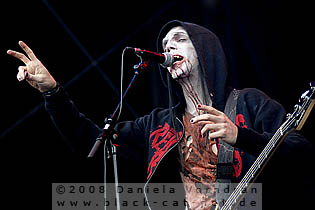 The Vision Bleak [SH]

The band whose style is being described as 'Horror Metal' was formed by Ulf Theodor Schwadorf also known as the mastermind of the formation EMPYRIUM which was dissolved in 2002 to solely focus his musical activities on THE VISION BLEAK and to carry out the ideas he couldn't use with EMPYRIUM. Grown to a duo, the band debuted with the album 'The Deathship has a new Captain' in 2004 and crashed in like a bomb with it, followed by the second studio album 'Carpathia' in 2005 that deals with a business man travelling to 'Crapathis' to accept his in-heritage and is closely tied to the literature of H.P. Lovecraft. Following a studio period of seven months starting in January 2007, the duo releases its thirds album 'The Wolves Go Hunt Their Prey' to be released in August that same year. On it they opted for a much harder approach regarding the guitar work. THE VISION BLEAK are Ulf Theodor Schwadorf (guitar, bass, keys) and Allen B. Konstanz (vocals, drums, keys).
http://www.the-vision-bleak.de/
/
http://www.myspace.com/thevisionbleak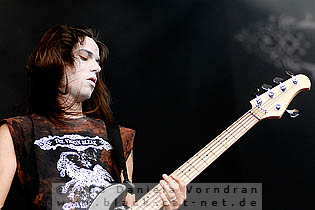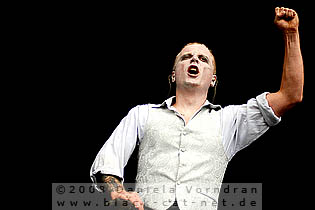 Music & Performance

It's not exactly Punk, what THE VISION BLEAK play, but it's got something to do with horror after all: Horror Metal. The costumes, the protagonists on stage wore, radiated 19th century flair; really fine antique suits; and we had pale faces again. Many fans attended the gig as well, as you could see on the Kutullu shirts, they were wearing. Konstanz took on the role of the narrator and the commander of the audience, while Schwadorf was providing some backing vocals and apart from that, was very busy in playing his guitar full of verve and head-banging a lot, but what was a pity was that the orchestral parts came from the HDD. Would have been really nice, if some of these musicians had been included into the line-up.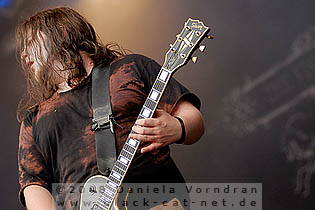 I like the music anyway regardless of that. I was so happy to hear one of my favourite tracks 'Carpathia' was in the setlist as well. Before the next song came, Konstanz had a question for the waiting crows "Can you say Kutullu?" and with the second try, he was satisfied and the roundelay could finally start and everyone was shouting and singing along with the band. A more than well done show!!!
Rating

Music: 9
Performance: 8
Sound: 7
Light: - (daylight)
Total: 8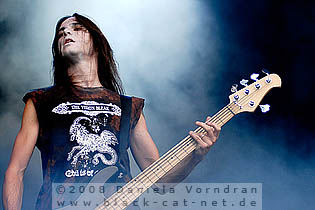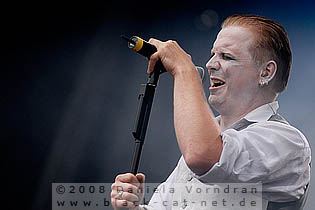 Lacrimas Profundere [JU]
They're the inventors of a very unique style, the Rock'n'Sad, like they labelled it themselves. I'm speaking of LACRIMAS PROFUNDERE, the band that has been founded in 1993 by Oliver Niklas and soon he was joined by his brother Thorsten, complemented b y two guitarists, a bassist and a drummer soon afterwards. After the bands first two outputs '…And the Wings Embraced Us' and 'La Naissance d'un Rêve' on two different labels, the band attracted the attention of the renowned label Napalm Records and who would be surprised, signed a record deal with them. If we now take a look into the future then we'll notice that much has changed, the line-up has completely changed, except for Oliver and the style change d to an emotive mixture of Dark, Rock, Gothic and Doom Metal and just released their eighth album 'Songs for a last vie' at the end of June 2008.LACRIMAS PROFUNDERE is Oliver Nikolas Schmid (guitar), Tony Berger (guitar), Peter Kafka (bass), Korl Fuhrmann (drums) and Roberto Vitacca (vocals).
http://www.lacrimas.com/
/
http://www.myspace.com/lacrimasprofundere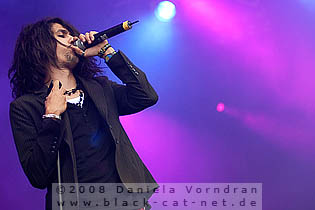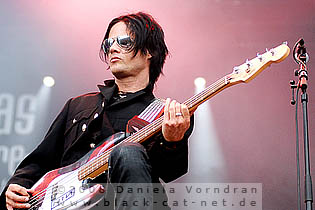 Music & Performance

Another encounter with LACRIMAS PROFUNDERE, who had a number of festival appearances this summer. Well, is there any better way to promote a new album than playing to hundreds and thousands of people who probably haven't heard much about your band before? At the M'era Luna LACRIMAS PROFUNDERE played at the main stage and to a pretty large audience. Bright daylight is perhaps not optimal for the band's gloomy Goth metal but at least the abiding sound problems at the main stage on the day before were pretty much solved by now. LACRIMAS PROFUNDERE's wall of sound hammered nicely through the round and singer Roberto Vitacca, who entered the stage as the last one of the band members, started to stroll around on stage shaking his long hair.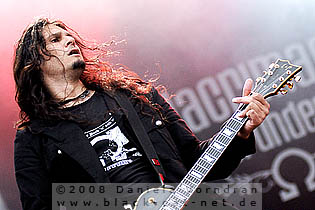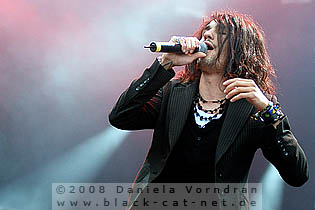 LACRIMAS PROFUNDERE probably incarnate all the stereotypes of Goth and Doom Metal stereotypes a bit too much but they are on their way, and I have to say that each time I see them live I like them better than the time before. And with vocalist Vitacca, who joined the band only last year to replace former singer Christopher Schmid, things sound more TYPE O' NEGATIVE than HIM. LACRIMAS PROFUNDERE are on a good way, and their audience at the M'era Luna seemed to share this appraisal. As it wasn't the first time for the band to perform at the M'era Luna I'm sure we will see them again in Hildesheim in the future - climbing up the running order slowly but surely. Especially with a little improvement in the song writing department - LACRIMAS PROFUNDERE surely know how to write a catchy hook but not all of their material is strong enough to keep up the momentum for more than 40 minutes.
Rating

Music: 6
Performance: 7
Sound: 7
Light: - (daylight)
Total: 6.6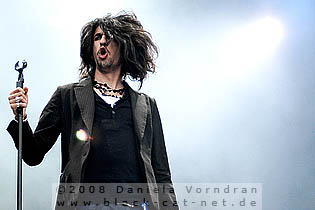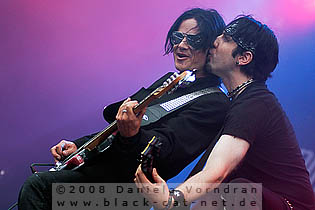 Saltatio Mortis [JU]
The German Medieval Rock band is considered one of the leading bands in their genre. Their second album 'Das zweite Gesicht' (2001) caused a scene-wide burst of popularity and established themselves besides bands like IN EXTREMO or CORVUS CORAX. For a certain period of time, the band also integrated electronic techniques into their sound; by now those elements have fully disappeared and made way for a more rock oriented direction. Also the older tracks are now being presented in a new sonic costume. In October 2006, it was announced that four members of the band would leave the line-up, luckily for the band they quickly found some new minstrels. In August 2007, the band released their most recent album 'Aus der Asche'.
http://www.saltatio-mortis.com/
/
http://www.myspace.com/mittelalterpunk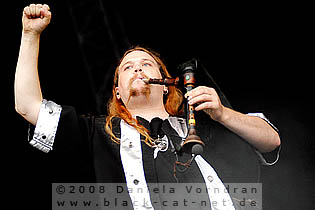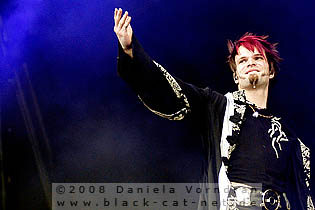 Music & Performance

As all the previous festivals in Germany this summer proved well enough, bands which combine Rock and/or Metal with medieval music and/or Folk are always a popular addition to the line up, and always well received by the audience. And such bands are always a guarantor to get spirits up high! SALTATIO MORTIS are no exception here - as soon as they entered the stage the crowd was in party mood. There seem to be so many people who apparently have a "party hard" switch which is activated as soon as they hear bagpipes and e-guitars at the same time. ;-) Well, nothing wrong about that, especially when this readiness to party hard in front of the stage meets skilful musical craftsmanship on stage. SALTATIO MORTIS had several changes in their musical style, evolving from authentic medieval music spiced up with electronic elements (which are by now completely gone) to heavier, more Metal orientated sound.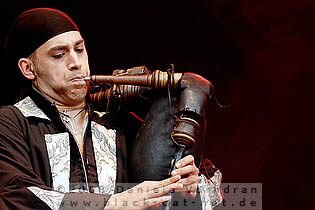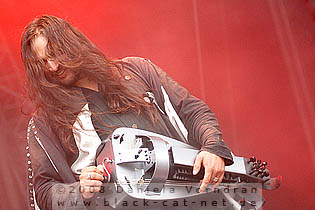 During their gig at the M'era Luna they reminded me even on RAMMSTEIN at times, and their performance included Metal/Rock standards like stage diving and the like. Well, the crowd loved things like this for sure, but although I cannot deny the high entertainment factor of SALTATIO MORTIS' gig I have to admit that I enjoyed SCHANDMAUL a few weeks before or RABENSCHREY just the other day a little more.
Setlist

01. Prometheus
02. Tod und Teufel
03. Worte
04. Salz der Erde
05. Wirf den ersten Stein
06. Koma
07. Varulfen
08. Tritt ein
09. Uns gehört die Welt
10. Falsche Freunde
11. Spielmannsschwur
Rating

Music: 7
Performance: 8
Sound: 7
Light: - (daylight)
Total: 7.6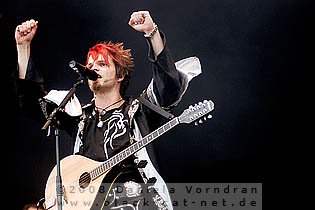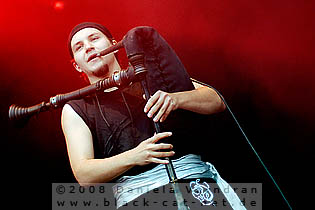 Apoptygma Berzerk [JU]
The Norwegian music project APOPTYGMA BERZERK began in 1989 founded by Stephan Groth and Jon Erik Martinsen. Jon left the project some time later and so Stephan continued as solo artist. Already with the first album 'Soli Deo Gloria' (1993) he's able to chalk up more than remarkable successes, he could extend even more with the follow-up '7'(1996). The people just couldn't get enough of his way of combining dense atmospherics with danceable beats but they had to wait until 2000 for the new album 'Welcome to Earth' (Due to Groth having to fulfil his alternative service). The album took a dancier direction then the previous releases, yet also included a few tracks that sound experimental, getting away from the band's roots slightly.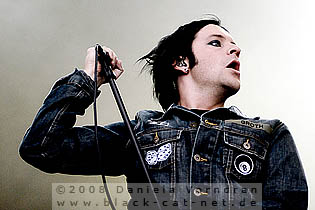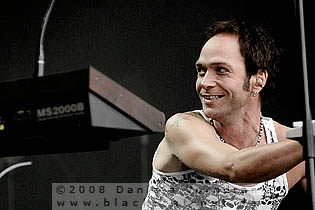 Spring 2002 saw the band's return with 'Harmonizer' combining all strengths but despite it having a bunch of potential hits it never got that successful, also receiving a lot of bad critics. The latest album 'You and Me Against the World' represents an almost complete change in style for the band. It features a more mainstream, rock-oriented sound, and the complete departure from the band's traditional electric synth pop and EBM roots that started with
7
. A new album called 'Rocket Science' is due for release in October 2008. APOPTYGMA BERZERK is Stephan Groth (vocals), Audun Stengel (guitar), Geir Bratland (keys) and Fredrik Brarud (drums).
http://www.theapboffice.com/
/
http://www.myspace.com/apoptygmaberzerk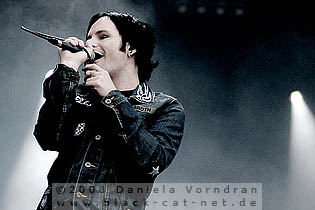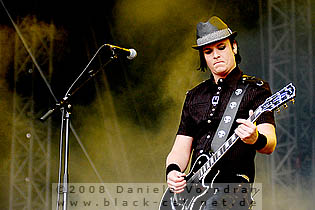 Music & Performance

Oh, what a happy day for APOPTYGMA BERZERK mastermind Stephan Groth! The day of his band's gig at this year's M'era Luna was also his birthday, and this was celebrated with a big birthday cake which was presented to him in the middle of the set, and by a nice "Happy Birthday" sing-along by the audience. But first of all APOPTYGMA BERZERK started their show with some old classics - the epic 'Love Never Dies' and the throbbing electro beats of 'Deep Red', just to go straight to much more Rock-orientated and more recent material like the hit single 'In This Together' from their last proper studio album 'You And Me Against The World' (released in 2005). After the little birthday party in-between APOPTYGMA BERZERK returned to their Electro days with 'Starsign' and 'Unicorn' and presented us a brand new song called 'Green Queen', which according to Groth's introduction will be released as a single later this year. The audience seemed a bit divided during APOPTYGMA BERZERK's show - one half enjoyed the show a lot and did not stop to dance, the other half was rather calm and almost indifferent.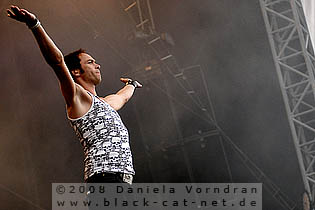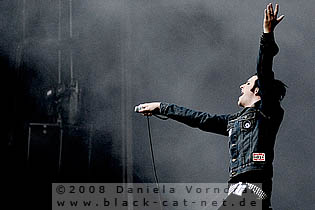 Divided are also the opinions on 'Shine On', APOPTYGMA's cover of the HOUSE OF LOVE classic. Some see their poppy interpretation as blasphemy, others love APOP's version to death. At the M'era Luna the latter were definitely the majority, as 'Shine On' was one of the highlights of the show. Stephan Groth and his band finished their performance with the trancy 'Until The End Of The World' and the all-time fave 'Non-Stop Violence', which was another highlight in terms of party mood. But after this one - and ten minutes before the scheduled end of their gig - APOPTYGMA BERZERK left the stage! Perhaps they rushed backstage to celebrate Groth's birthday a little more, perhaps they waited for people screaming for more - but this simply did not happen for some strange reason. This premature end of the show did leave a few mixed feelings indeed. All in all it was a very enjoyable gig but if I'm honest there were more exciting gigs by this band. A good performance, some fun moments, sure, but perhaps a few too many Rock moments and instead of album tracks from 'You And Me Against the World' a crowd pleaser like 'Kathy's Song' would have been advisable for a festival set. At the M'era Luna APOPTYGMA BERZEK proved that they can deliver a good show - let's just hope that they will be brilliant again next time! ;-)
Setlist

01. Intro
02. Love never Dies
03. Deep Red
04. You keep me from breaking apart
05. In this together
06. Mercy Kill
07. Starsign
08. Unicorn
09. Green Cream
10. Shine on
11. End of the World
12. Non Stop Violence
Rating

Music: 8
Performance: 7
Sound: 8
Light: - (daylight)
Total: 7.8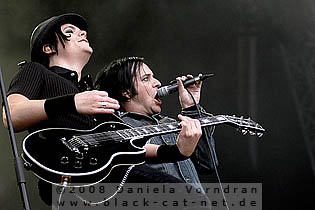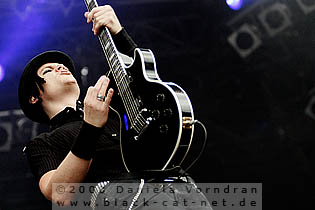 New Model Army
The English rock band NEW MODEL ARNY, established in 1980 named itself after the English revolutionary army of Oliver Cromwell. On their first album 'Vengeance - The Independent Story' (1984) the material could more or less be defined as modern Punk rock with a healthy doze of melody and a great emphasis on the rhythmic section what makes them stand out of the crowd of other genre bands. However, in the course of their meanwhile over 25 years spanning career, they've experimented with various styles and drawn their inspiration from many different sources, but the core virtues of their sound, being intense, angry, and powerful remained intact, albeit their repertoire includes quieter, more emotive and softer material as well. In 2007 they released their tenth studio album 'High'. The current line-up is as follows: Justin Sullivan (vocals, guitar), Marshall Gill (guitar), Peter Nice (bass), Dean White (keys) and Michael Dean (drums).
http://www.newmodelarmy.org/
/
http://www.myspace.com/newmodelarmymyspace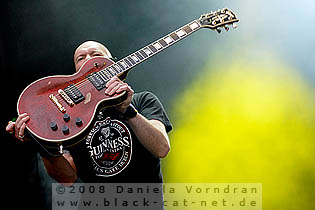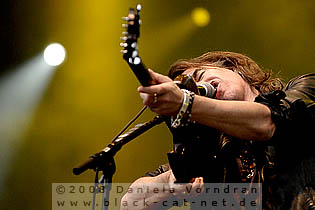 Music & Performance

Indestructible, authentic, thrilling; all of which applying perfectly on the British NEW MODEL ARMY; not being a Goth-tinted band, it was clear to me from the start that the islanders really would wake up Hildesheim at this early evening. The band, already active since the late 70s, around the overly charismatic Justin Sullivan can convince with their Folk /Punk / Rock blend in front of every audience at every time of the day. With the breaker 'Here comes the War' the audience fairly got blown through their ears; and subsequently Drispenstedt turned into a polyphonic choir, singing old and new hits without any errors.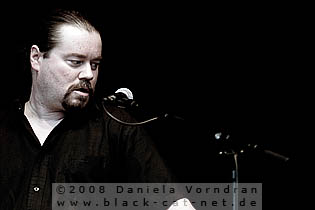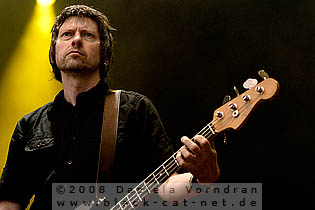 There wasn't much frippery on stage, no overacting, just honest rock music and anthems which made history in their very own way; for instance "Get me out", "Vagabonds", "No Rest", "No Mirror, No Shadow" or the acoustically presented 'Green & Grey'. Pure goose- bump feeling and definitive the real highlight on that Saturday.
Setlist
01. War
02. Nothing dies easy
03. Island
04. No mirror
05. Whitecoats
06. High
07. Bloodsports
08. Get me out
09. Green & Grey
10. Ocean
11. Chosen
12. No rest
13. Vagabonds
14. W W T G
15. I love the world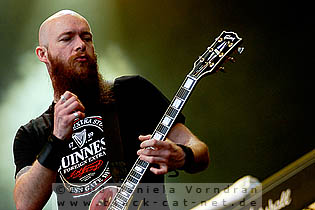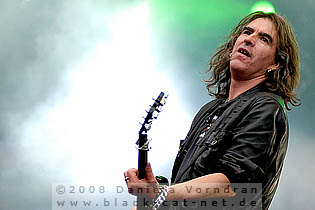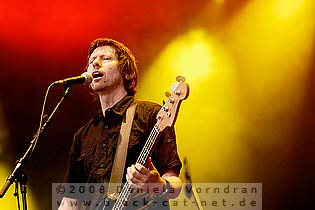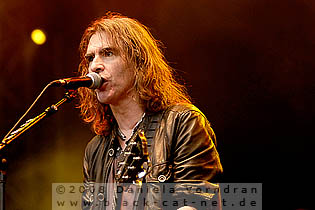 Fields of the Nephilim
This name is bound to the traditional Gothic Rock and by many people from the press as well as from the fans this band is praised as a legend. The FIELDS OF THE NEPHILIM have been founded by Carl McCoy in 1984; the original line-up consisted of vocalist Carl McCoy, saxophonist Gary Whisker, Tony Pettitt on bass, guitarist Paul Wright and drummer Andrew "Nod" Wright. Subsequent to the release of the first EP 'Burning the Fields' the first line-up change took place and Whisker was replaced by Peter Yates; already in 1986 they switched record companies to release the debut 'Dawnrazor' . The following 'Blue Water' was the first FIELDS OF THE NEPHILIM single to reach the UK charts. The year 1990 brought the release of the second album 'Elizium' and in 1991 Carl McCoy left the band after paying the rest of the band's members for the rights to the NEPHILIM name and the remaining members formed other projects.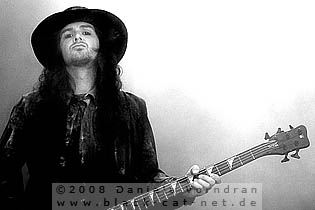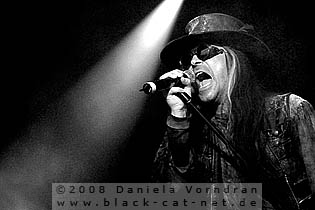 This seemed to be the end for the FIELDS OF THE NEPHILIM, as Carl McCoy focussed on his own projects until one fateful day in August 1998 when Carl McCoy and Tony Pettitt held a press conference at the Zillo Festival in Germany, announcing their future plans to collaborate under two separate monikers, FIELDS OF THE NEPHILIM (along with the Wright brothers) and THE NEFILIM (an altered spelling of McCoy's solo project) and a "new" single was released, containing reworked tracks from the debut. Eventually in 2005, when no one really expected something new, McCoy released the fourth album 'Mourning Sun' and proved he's still able to put all the wannabes in their places.
http://www.fields-of-the-nephilim.com/
/
http://www.myspace.com/fieldsofthenephilim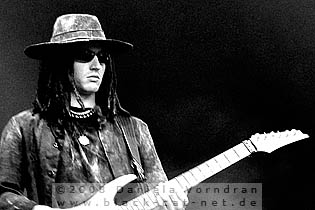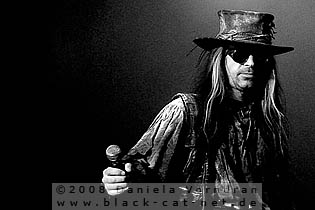 Music & Performance

The main difference between the FIELDS OF THE NEPHILIM gig in Hildesheim and their gig at the Gothic Festival in Waregem two weeks before was the fog machine. Aaah, the good old fog was back again! A sigh of relief for the old fans perhaps, but the most pleasing thing about the FIELDS' show at the M'era Luna was that it was a mind-blowing, awe-inspiring wall of sound which totally carried you away. Exactly like their gig at the Gothic Festival! Headlining the last day of the M'era Luna 2008, the FIELDS OF THE NEPHILIM had an incredibly huge audience in Hildesheim. It can be assumed that the majority of the 23,000 attendees of this year's M'era Luna saw their show - apart from a few unlucky people who had to leave early on Sunday night, and some Electro heads who jumped around like crazy at the hangar to the minimal beats of DAF. But the latter had at least the opportunity to watch the second half of the NEPHILIM gig. Right in time for the classic 'Moonchild'!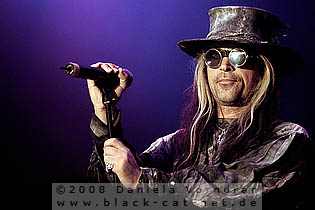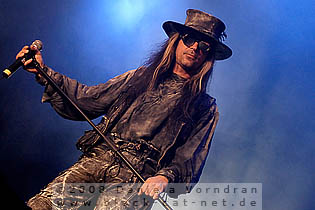 It is interesting that the FIELDS OF THE NEPHILIM performed at the M'era Luna a few years ago with their original(!) line-up, and they were only granted a slot in the late afternoon. This year Carl McCoy and his new band featuring John "Capachino" Carter (who joined the FIELDS in 2005), Gizz Butt, Gav King, and Lee Newell (all members of the band since 2007) have managed to get a few headlining gigs at some of Europe's most important alternative festivals. The popularity of the FIELDS has increased, apparently, and this can only be a good thing. However, it was simply amazing to see such a huge crowd at show of FIELDS OF THE NEPHILIM and with their intense, loud and yet atmospheric performance they surely met every expectations of old and new fans. Quite aptly they finished their set with the epic classic 'Last Exit For The Lost' - one song which was almost as long as the entire gig of the first band of the day! An impressive gig and a brilliant finale for the M'era Luna 2008!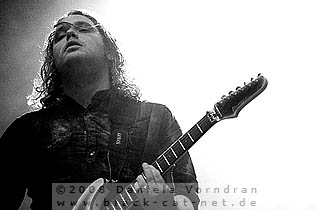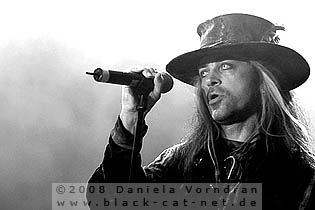 Setlist

01. Shroud
02. Straight into the Light
03. Watchman
04. Trees
05. From the Fire
06. Penetration
07. Endemoniada
08. Moonchild
09. Dawnrazor
10. Sequel
11. Psychonaut
12. Last Exit
Rating
Music:10
Performance: 10
Sound: 9
Light: 9
Total: 10
The M'era Luna 2008 was again Europe's biggest open air festival for the Goth & Dark scene, and it showed the variety of this heterogeneous subculture. The music on this weekend was just as diverse as the people who attended the M'era Luna, and with one of the highest attendances ever it was proven once more that, at least in Germany, *Gothic* and all its facets is almost a mass phenomenon - with all its advantages, but also disadvantages. A disadvantage and true nuisance at times was the occasional bad sound at the main stage - something which simply must not happen at a festival with such a high profile. But even though there are still a few things which could be changed for the better until next year, the M'era Luna 2008 was surely again quite an experience with a lot of great music, many nice people to meet, a few new camping skills *g* and new records in partying hard. M'era Luna 2009 may come! [JU]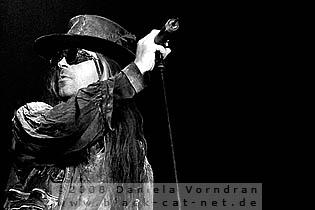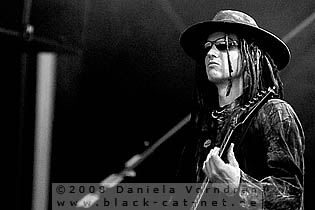 Additionally I might add a few points regarding the press support. Some things have changed according the past years. And especially the photographers did not always feel welcome. Paying a lot of money for lockers to keep the gear safe - gear that you need to work in a good way - is not very nice. Other events can do that much better. Also that you had to fight through the crowd into the hanger to reach the photo pit was hard. Luckily at least towards the end of the second day promoters found a way to guide us into the pit on a "safe" way. So, there are some things to improve. Anyway it was a gain a great festival for all of us. [DV]
Written by: overall editor Daniela Vorndran [DV], all band intros Sebastian Huhn [SH] and J. "Niggels" Uhlenbruch [JU]. Translations by Sebastian Huhn [SH] for New Model Army with friendly approval from the articles published at
http://musik.terrorverlag.de
[TV]
All pictures by Daniela Vorndran (
http://www.vorndranphotography.com/
/
http://www.black-cat-net.de/
/
www.myspace.com/vorndranphotography
)
{jos_sb_discuss:18}