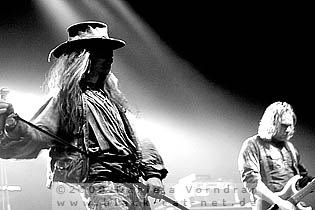 Expo, Waregem, Belgium
25th to 27th July 2008
Gothic Festival Day 2: Empusae, Stin Scatzor, Jesus and the Gurus, Spetsnaz, Spectra*Paris, Combichrist, In Slaughter Natives, Les Tambours du Bronx, Ordo Rosarius Equilibrio, Suicide Commando, Sonar, Fields of the Nephilim
After a great electronic final with VNV NATION on the first festival day, the second days had something in stock for all the old-school Goth rockers. FIELDS OF THE NEPHILIM were headlining the main stage and it was a real pleasure to see this band in front of a smaller crowd. So, it was much more intense. Besides the good old Goth rockers, this day had of course much more to offer, like a surprisingly great gig of JESUS AND THE GURUS or the fabulous percussion performance of LES TAMBOURS DU BRONX.
Empusae [Club Stage - JU]

Well, except for the fact that this project was started back in 1995, there's no more particular information to find about the past of EMPUSAE. Nicolas Van Meirhaeghe aka Sal-Ocin is the sole member and describes his music as a soundtrack for the listener's personal fantasies. The first mentioned appearance I could find was the track 'Stonehenge' on the 'Elektrauma Vol.4' compilation back in 1998. The first album 'Funestus' date back to 2002 and was only the beginning of a long series of releases not only under the name EMPUSAE as Nicolas is involved in various other projects, supporting AH CAMA SOTZ live, being a fixed member of THIS MORN OMINA and one half of the TZOLK'IN project together with FLINT GLASS. His newest album is called 'The Hatred of Trees' and was just released a couple of months ago.
http://www.empusae.com/
/
http://www.myspace.com/empusae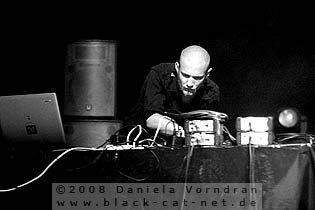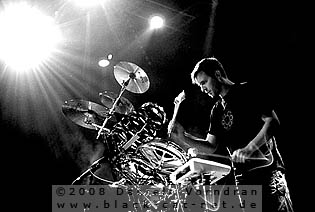 Music & Performance

In 2007, Nicolas van Meirhaeghe performed with THIS MORN' OMINA at the Gothic Festival in Waregem, headlining the club stage at one of the nights. It's probably the most successful project he is involved in - and live on stage a sweaty experience with tribal Industrial beats which are simply irresistible. In 2008, Meirhaeghe opened up the second day of the festival at the club stage with his project EMPUSAE, which is in some ways the direct opposite of THIS MORN' OMINA. No sweaty tribal beats but rather beautiful soundscapes, twiddling with knobs and buttons and creating interesting sounds. The atmosphere oscillates between dark and somewhat romantic and only sometimes the music gets a bit more beat-driven. There's not much of a show to look at (in fact none) but EMPUSAE gave us a nice launch of the second day of the festival, and all those who partied a little too hard the night before could chill out a little to the music of EMPUSAE.
Rating

Music: 8
Performance: 7
Sound: 8
Light: 6
Total: 7.5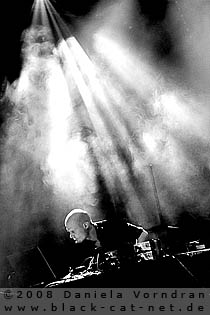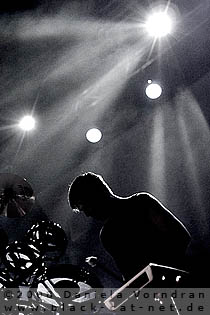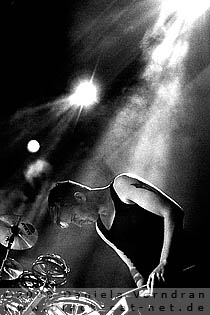 Stin Scatzor [Main Stage - JU]

The rather strange name of the project came about during a boring moment at school. A year later Stefan Bens began experimenting with his first gear and releases his first split-tape 'Industrial Rape' with SUICIDE COMMANDO following a long series of tape and vinyl releases throughout the years as well as many appearances on compilations like the 'Awake The Machines' series. However material wasn't pressed on a CD until 1998 with the first MCD 'Industronic' with the live hit 'Let me Rot'. In 2000 the second CD 'Industrology' appears on German label Out of Line and after three years and another label change to the now defunct label Black Flames Records 'Industrogression' could be finally released in October. STIN SCATZOR is Stefan Bens (vocals, noises) and Kris Peeters (guitars & additional noises).
http://users.skynet.be/stinscatzor
/
http://www.myspace.com/stinscatzor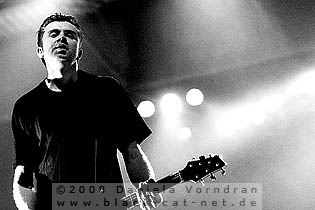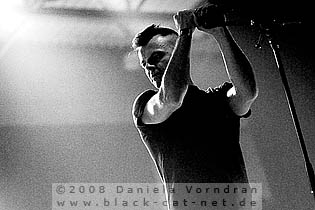 Music & Performance

Well, the show of STIN SCATZOR started somewhat funny. Unintentionally funny I might say. The music started (full playback!) and singer Stefan Bens entered the stage, grabbed the mike and screamed into it as loud as he could. At least that's what his face expression and the movement of his lips implied - because no one could hear him! Apparently Bens could hear himself on stage very well, as he did not seem to notice that his vocals are not audible in the audience room, and so it took a moment before he stopped and walked to the technician at the side of the stage. The music stopped, the problem was being solved, and so after a minute the STIN SCATZOR show started again and the aborted start before was soon forgotten - it was a charming little glitch, and the fans took it easy and with a smile. Halfway through the first song, Bens was joined by Kris Peeters and his guitar on stage. The stage looked still pretty empty but the two made sure that there's enough movement and action on stage. Their EBM sound sounds raw and direct and although it's often a bit simple structured it doesn't fail to have the desired effect.
Rating

Music: 8
Performance: 6
Sound: 8
Light: 6
Total: 7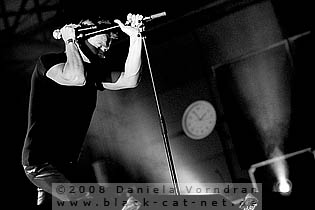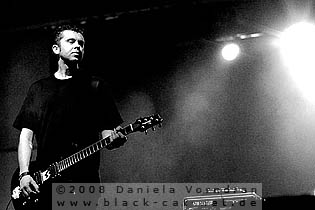 Jesus and the Gurus [Club Stage - JU]

JESUS AND THE GURUS embark on a mission to save the children because this world is on the edge of mental enfeeblement. Due to their engagements on various Techno, Fetish and Rock parties the band attracted the attention of the media, but it only resulted in dubbings of the band being fetishist-Satanist musicians. In 2003, they've signed to the Fear Section label of Chris Pohl and released and debuted with the album 'Hammering on the Gates of Heaven' on 31st October 2003.and only reaped praise for it. The next highlight in their career surely is the headliner concert at the Moritzbastei, during the 13th Wave Gotik Treffen, followed by concerts in Germany and Switzerland and in 2005 the remix CD 'Satan's little helpers' is released before the second album 'King ov Salo' sees the light of day in October 2006. JESUS AND THE GURUS are Son ov David (lead vocals), Gabriell Medicine Man (keys & sampling), Tom Alien (guitars & bass) and Lila Magila (live drums).
http://www.jesusandthegurus.com/
/
http://www.myspace.com/jesusandthegurus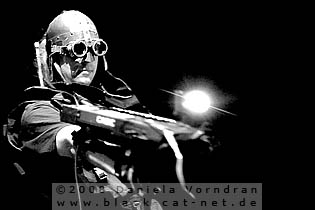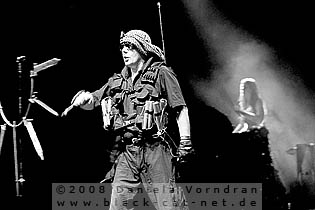 Music & Performance

Well, this was easily the weirdest band of the whole weekend! Please note: *weird* in the most positive sense! JESUS AND THE GURUS are like a bizarre mix of LAIBACH, DEATH IN JUNE, RAMMSTEIN, SLAYER, and late period THE SISTERS OF MERCY. They surely have a strong grotesque, tongue-in-cheek element to them, as they proved at the club stage of the Gothic Festival in Waregem. The first ones to enter the stage were keyboarder Gabriell Medicine Man and guest musician Jean van Eisentanz - and this guy alone was enough that my jaw dropped to the floor! Jean van Eisentanz, responsible for percussion and various noises, had metal pads taped to both forearms and both legs, and these pads were connected with a synth. Drumming on these pads on his body throughout the entire show, this unusual construction allowed him to produce strange grooves with metallic sounds or to trigger samples of all kinds. Well, what a cool idea extraordinaire! Gabriell Medicine Man on the other hand, dressed in some kind of pilot's outfit, had a little Casio keyboard in his hands, to which some sort of handhold was applied at one end. This allowed him to hold the Casio like a machine gun - and he didn't leave a doubt that the Casio was absolutely supposed to look like that, and a little torch fixed on the upper end of the instrument supported this impression.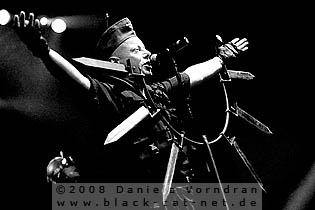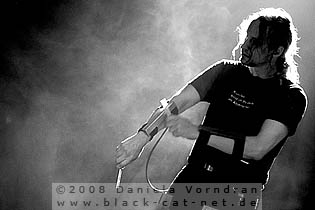 While blinding people in the first row with this torch he began to create some noises, and during this "jammed intro" guitar player Tom Alien rushed on stage - complete with a white guitar whose guitar body was shaped like a crucifix. Finally vocalist Son ov David entered the stage, in a fully-fledged army uniform including side cap. The song 'Storms of Steel' sounded, and just in case you wonder - yes, the song does sound like storm of steel! 'Panzerlied', a brand-new song, followed and Son ov David changed the side cap for tank driver's helmet. How adequate! In the course of the show Son ov David would often change his costumes, from military uniforms to a straightjacket, and for the song 'Pedo Pedro' he dressed like a bishop and a nurse (who assisted him a couple of times during their performance) drove him onto the stage in a wheelchair. Sic! Or should I say *sick*?!! An absolutely crazy performance; JESUS AND THE GURUS surely do have something to say but they wrap their messages in cynicism, sarcasm and burlesque overstatements. And it's not just all about image and show, their electrified Industrial Metal is quite infectious as well. This scene needs freaks like that! To me, JESUS AND THE GURUS were the surprise of the weekend, and a great discovery!
Setlist

01. Intro
02. Storms of Steel
03. Panzerlied
04. Pedo Pedro
05. Proud Of Switzerland
06. Kill 'em all
07. We will love you
08. Gib mir Kraft
09. You (?)
Rating

Music: 8
Performance: 10
Sound: 9
Light: 7
Total: 8.8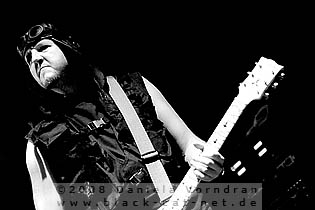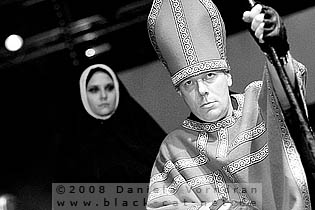 Spetsnaz [Main Stage - JU]

Swedish electro-berserkers SPETSNAZ were formed by Pontus Stålberg and Stefan Nilsson in Örebro, Sweden in the autumn of 2001. Both being fans of the electro scene for many years, they didn't like the tendency of all the old bands getting replaced by a style called Future-Pop and after their more or less serious individual involvements in other projects, they decided to form a single one to put all their power into. Some months of intense studio work followed, whose end result was the first 4-Track demo which was handed out to Swedish labels and promoters. The duo's first album 'Grand Design' was the release by SubSpace Communications in 2003 and re-released by Out of Line in Germany a year later after the band attracted their attention with their intense and energetic live performances. The duo released two EPs - 'Perfect Body' and 'Degenerate Ones' - before the new long player 'Totalitär' unleashed a storm onto the crowd in 2006, just to get reinforced by another attack in the shape of the third album 'Deadpan' in 2007. SPETSNAZ is Pontus Stålberg (vocals) and Stefan Nilsson (synths, programming).
http://www.myspace.com/spetsnazebm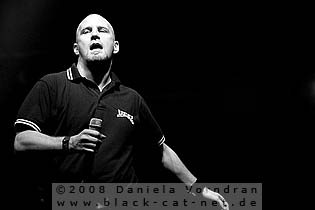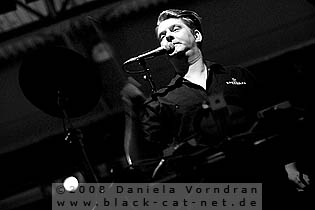 Music & Performance

After their successful gig at the Blackfield festival in Gelsenkirchen a few weeks before, the next encounter with SPETSNAZ was already in store for us at the Gothic Festival. In the past often dismissed as a mere NITZER EBB clone, SPETSNAZ have managed to shape an own identity and an individual sound. It's still hard-hitting EBM but introducing more melodic elements and, for some songs, clean vocals instead of shouting enhanced the sound of the Swedish duo. The good thing - they are still as energetic as ever! SPETSNAZ proved this once more in Waregem, and they did this with confidence and pride. And if you are up for heavy dancing at an Electro show, then SPETSNAZ will always meet your needs.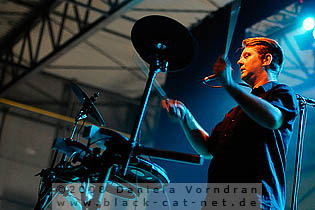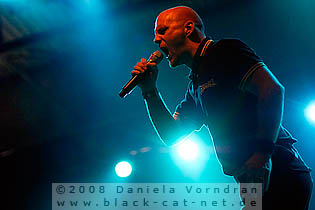 The Expo hall was a little more than half-filled - it was still mid-afternoon after all - when SPETSNAZ entered the stage but Stålberg and Nilsson made everyone dancing in no time. Front man Stålberg made a nice comment how proud he is to perform in Belgium, the "sweet motherland of EBM" and quite apparently enjoyed himself a lot on stage. Just like Stefan Nilsson, who once again did not hesitate to get off his shirt for the track 'That Perfect Body', shouting out loud "This song is about me!". Well, beauty lies in the eye of the beholder ;-) but however, SPETSNAZ delivered a powerful and entertaining EBM show.
Rating

Music: 7
Performance: 8
Sound: 8
Light: 7
Total: 7.5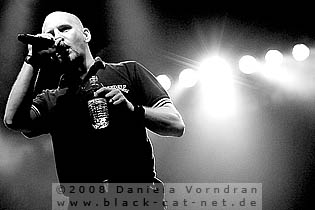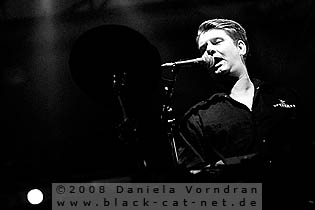 Spectra*Paris [Club Stage - JU]

The woman who founded this project back in 2006 is no unknown person in the Goth Scene. It's Elena Alice Fossi from KORLIAN CAMERA founded SPECTRA*PARIS as a replacement for her former project SIDERARCTICA. The all-girly group has released one album so far. It's called 'Dead Model's Society' and was released in 2007 via Trisol.
http://www.myspace.com/spectraparis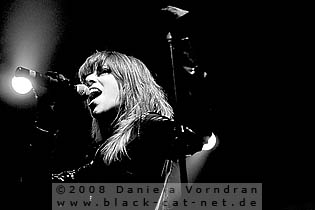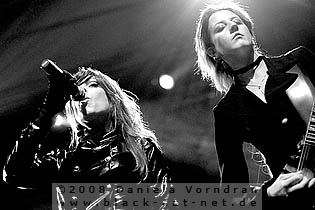 Music & Performance

I really looked forward to the show of SPECTRA*PARIS at the Gothic Festival, being curious how KIRLIAN CAMERA singer Elena Fossi would present her new project. And quite clearly SPECTRA*PARIS is all about Elena Fossi, who was also visually the focus of the performance with her skin-tight rubber coat and her hot pants. Yes, she does love to look sexy and she does look sexy indeed. In the background was a mix of video clips shown on the huge screen, from models walking on the catwalk or posing for a photographer to excerpts from cheesy Hollywood movies to animated graphics and yet more posing models. I have to admit that I couldn't see the point of this mixed bag of video scenes as they didn't seem to be linked to each other, nor linked to the music. Okay, models walking on the catwalk surely do fit the "Dead Model's Society" concept; nevertheless the overall impression was as if the images were pretty arbitrary and random. However, the show was about the music in the first place and the music of SPECTRA*PARIS is very alluring and intriguing.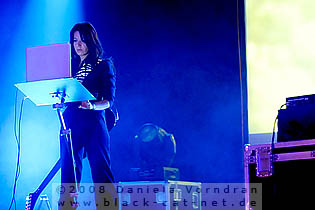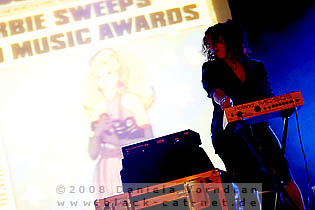 Elena Fossi lets out her Pop soul with SPECTRA*PARIS but as you would expect from the KIRLIAN CAMERA singer it is rather the dark and obscure side of Pop. The opener 'Spectra Murder Show' set the tone for 45 minutes of excellent Electro Pop with a dangerous, gloomy element. Elena Fossi's voice sounded brilliant, and with SPECTRA*PARIS she indulges in even more posing than at KIRLIAN CAMERA performances. She is a true diva, in the best sense of the word. Highlight of the show was for me the song 'Mad World', a cover version of the TEARS FOR FEARS classic and which sounded much darker than the original. Not a big surprise for all who know Elena Fossi's musical output. This was a very good gig of the new project of one of the scene's most fascinating woman. CLIENT and LADYTRON should watch out for SPECTRA*PARIS, as Fossi's all-girl troupe might outdo them soon!
Rating

Music: 8
Performance: 8
Sound: 8
Light: 7
Total: 7.8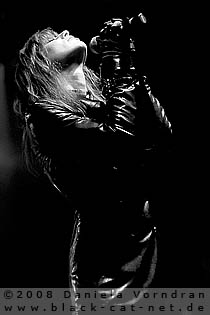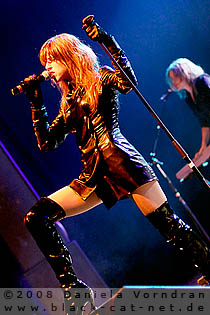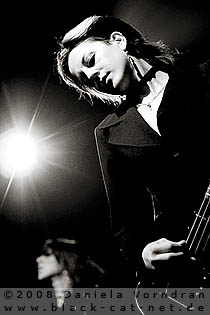 Combichrist [Main Stage - PS,JU]

COMBICHRIST is the project of ICON OF COIL singer and mastermind Andy LaPlegua who's presenting a much more hard-edged side of industrial with this project. The two first releases, the album 'The Joy of Gunz' and the limited Halloween special 'Kiss the Blade' both being released in 2003, conquered the clubs and dance floors in a storm. Only a year later Andy unleashed the next assault entitled 'Sex, Drogen und Industrial' which marks a change in the sound of COMBICHRIST to more electro and less distortion dominated sounds, yet the tracks remained as energetic as ever. In Spring 2005 it was finally time for the new album 'Everybody Hates You' whose description can be summed up as follows "A journey through hell and high water, through the eyes of a serial killer, sex, violence and plenty of Jack Daniels on ice." 2006 saw the release of a new EP that even took the project to the Hot Dance Billboard Charts and as Andy is a workaholic, he released the next album 'What The F*&$ Is Wrong With You People?' in March 2007. Right in time for the Summer Andy released the 'Frost EP' at the end o June 2008 with new tracks as well as remixes. COMBICHRIST is Andy LaPlegua (vocals, lyrics, production).
http://www.combichist.com/
/
http://www.myspace.com/combichrist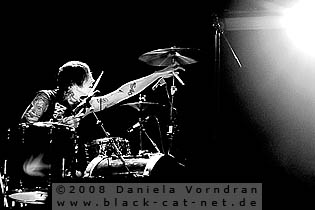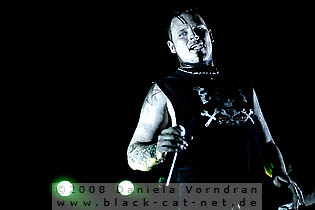 Music & Performance

One thing is for sure when COMBICHRIST gets on the stage… This is going to be loud, aggressive and hard. Even as an avowed non-fan of COMBICHRIST I have to say it - when do festival promoters finally realize that COMBICHRIST deserve a headlining slot? After the full-to-bursting theatre stage at the Amphi in Cologne the week before, COMBICHRIST did draw one of the biggest crowds of the weekend at the Gothic Festival in Waregem. At five o' clock in the afternoon! Whatever you think about the music of Andy LaPlegua's Techno Body Music project, you should give COMBICHRIST credit as a true crowd puller. And while I find most of COMBICHRIST's records a bit too one-dimensional - although I enjoy a COMBICHRIST song once in a while - the energy they create on stage is stunning. They wanna be wild and extreme, they are wild and extreme and it surely does not come across as some kind of image or gimmick. Those guys are maniacs! The stomping beats did not fail to have a massive impact, and soon you saw dancing people, swirling dyed dreadlocks (yeah, cyber-Goth time!) and glow sticks in the air all around the place.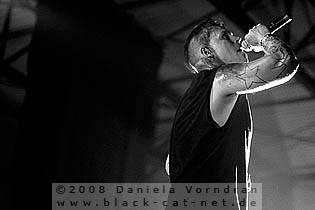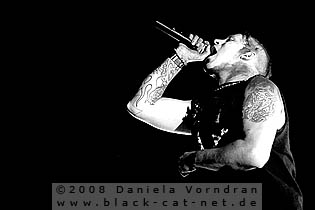 Head honcho Andy LaPlegua started by thanking the Belgians for creating EBM and the show started off its merry way. He is an animal onstage - his only problem is that many COMBICHRIST songs do not have many vocal parts (often none of them) but playing an instrument on stage would stop him running around on stage as if he were on the prowl - no option! LaPlegua rather commands the audience, heating them up and showing them what he wants them to do - to move their f*cking bodies! Musically COMBICHRIST's live performance benefits a lot from their live drummer, who ferociously bangs on his drum pads. At the end he freaked out so much that he even destroyed the drum kit - as it was a rented one I guess the owner was not to happy about that! *g* A wild and aggressive gig, and although it did not make me turn to a die-hard COMBICHRIST fan it gave me an idea why this band attracts such huge crowds to their shows. Not exactly the kind of stuff for musical gourmets but a kick-ass show for sure! All the heat and action clearly was too much for much of the attendants as once halfway the dehydrated bodies started to limp towards the bar - not that it was the band's fault, it really, really was scalding hot in the Expo hall.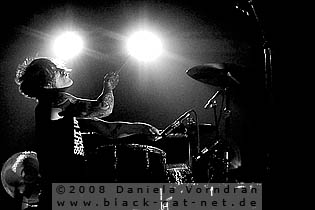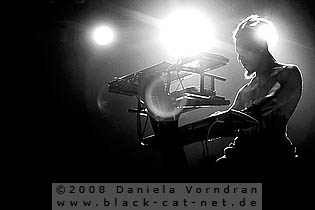 So was there nothing more worth mentioning about the set? Well yes... Some bands try to add a realistic value to their set by adding real instruments, drums being one of the favourites. But sometimes your drummer goes over the top and instead of bringing something extra wastes time by doing "unnecessary" show elements and some thought this was one of the cases with a useless pouring of water over the drums and kicking everything over in a predictable fashion - always near the end of a song before the last chorus repeat. But do not let this one irritating fact ruin the entire set at the Gothic Festival. The set was there and didn't need the drums to be kickass.
Rating

Music: 9
Performance: 8
Sound: 9
Light: 8
Total: 8.5
In Slaughter Natives [Club Stage - JU]

This project is one of the most renowned representatives of the Cold Meat Industry label. Formed in 1985 by Swedish artist Jouni Havukainen and influenced by pioneering bands such as SKINNY PUPPPY he started to build his own cosmos made of martial, cold electronics and creepy chorals swells mixed with ambient atmospheres. Since its foundation 'In Slaughter Natives' has released five regular albums with 'Resurrection – The Return of a King' being the latest one from 2004 since when the project remains dormant but appears live now and then. IN SLAUGHTER NATIVES is Jouni Havukainen. He's supported on stage by Tomas Petterson and K. Binder.
http://www.inslaughternatives.com/
/
http://www.myspace.com/inslaughternativesofficial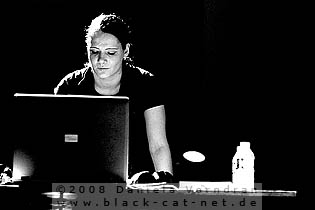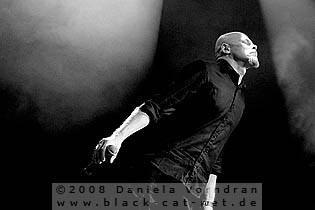 Music & Performance

It was quite a change from the beat-driven, loud performance by COMBICHRIST at the main stage to IN SLAUGHTER NATIVES' dark ambient soundscapes at the club stage only ten minutes later. The first thing I did was searching the venue for a seat but the only chance was, unfortunately, only to sit down on the floor… which would've meant that you don't see anything anymore. So I watched the show leaning against the wall in the very back of the venue to enjoy the doomy and very symphonic performance of IN SLAUGHTER NATIVES. Their music seemed like slow-motion after all the high-speed electro beats at the main stage before, but musically I found it much more interesting.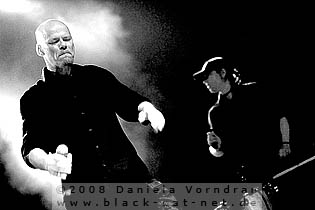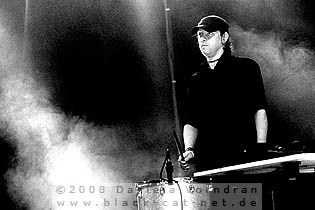 The music is slow and incredibly dark but then there happens so much in IN SLAUGHTER NATIVES' sound - you just have to listen closely! Martial drums, orchestral loops, precisely arranged sound samples, deep vocals, and a thoroughly apocalyptic atmosphere which was also backed up by selected films shown on the backdrop - Jouni Havikainen's long-running Doom Industrial project, which was one of the first signings on the legendary label Cold Meat Industry in the late 1980s, didn't fail to impress at the Gothic Festival. If there only were seats to enjoy this kind of music a little more! ;-)
Rating

Music: 8
Performance: 8
Sound: 8
Light: 7
Total: 7.8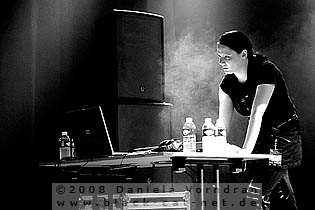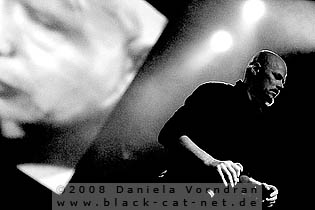 Les Tambours du Bronx [Main Stage - JU]

An act that surely doesn't belong to what the usual attendee of the Gothic Festival might expect and can by no means can be categorized as ordinary. LES TAMBOURS DU BRONX was born in 1987 in Varennes-Vauzelles, parish of Nevers, Nievre, France. Their name comes from a Varennes-Vauzelles district called "The Bronx" because of its square patterned streets, and lines of identical dark houses. It was from this district primarily inhabited by steel workers where their first 'Instruments' 225 litres barrels, chosen for their resonance and softness, came from. Over 20 years and several albums later, they've travelled half of the world and are loved for their amazing live shows.
http://www.tamboursdubronx.com/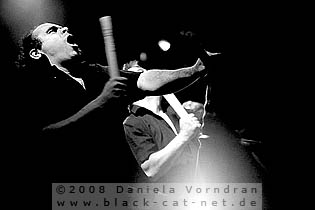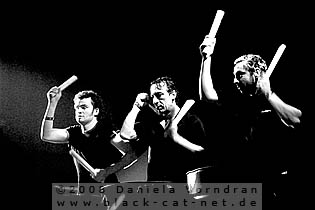 Music & Performance

LES TAMBOURS DU BRONX were one of the last additions to the line-up of the Gothic Festival 2008, and the most unusual one for sure! The organisers of the Gothic Festival in Waregem deserve credit for their boldness to bring the exceptional LES TAMBOURS DU BRONX to Waregem. I assume that it was also a financial risk - with 16 musicians on stage plus the associated crew LES TAMBOURS DU BRONX can't be a cheap booking. However, any money was well spent, as their performance was truly mind-blowing and awe-inspiring! 13 percussionists in a semicircle, plus two drummers in the back and keyboarder Yann Lavocat in the centre of the rearward part of the stage is an impressive sight, just to begin with. But when they start to perform you are simply blown away! The 13 percussionists have each an individually painted metal barrel in front of them and start to bang on them like crazy with big wooden sticks, while the two drummers in the back hit on metal pipes which are connected with samplers to generate deep bass drum sounds or special electronic effects, while Lavocat's samplers deliver synthetic layers or some Techno elements. To anyone who might think now that this kind of setup would mean total chaos - it surely is not! The performance of LES TAMBOURS DU BRONX is perfectly structured and choreographed, and if you watch all the percussionists behind their barrels you will soon notice that they form groups with individual parts - the band call the different sections of the semicircle "basics", "middles" and "rhythmics", though the roles are often swapped from one track to the next.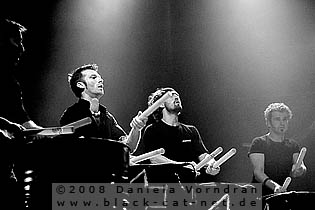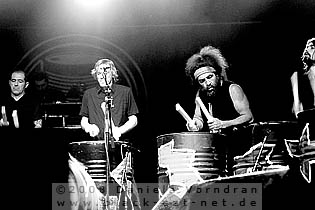 The show of LES TAMBOURS DU BRONX is also not a static one, quite the contrary! Changing roles and positions make sure that there's a lot of movement on stage, in fact the keyboarder is the only one who has a fixed position throughout the set. In the middle of the semicircle are two further barrels for "solo performances", and for a few tracks of the set one of the percussionists stepped forward to deliver vocals. A few minutes into the show most of the musicians were topless, no surprise considering that their performance must be pretty sudorific and physically demanding. Most people in the audience stood still - perhaps it is simply a little too difficult to dance when your jaw just dropped to the floor. ;-) But the enthusiastic applause between the track showed how much everyone loved the performance by LES TAMBOURS DU BRONX, and I'm sure that those who didn't know them before and had no idea what LES TAMBOURS DU BRONX are doing on stage were absolutely overwhelmed - a truly exceptional band with the most powerful performance. If you ever have the chance to see LES TAMBOURS DU BRONX live, then simply grab your chance and go!
Rating

Music: 8
Performance: 10
Sound: 10
Light: 9
Total: 9.2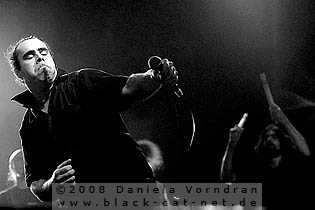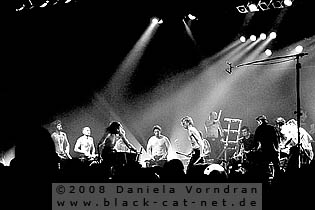 Ordo Rosarius Equilibrio [Club Stage - JU]

ORDO ROSARIUS EQUILIBRIO is an aesthetic constellation situated somewhere on the illusive boundary between the impending apocalypse & the orgies of ancient Rome, besides that it's the sonic outlet of Tomas Petterson, who founded the project in 1993 after his former project ARCHON SATANI had ceased to exist and ORDO ROSARIUS EQUILIBRIO is his way to canalize his remaining creativity "…through the aesthetic portrayal of the undivided spiritual and intellectual kinship between Light and Dark, Life and Death, Male and Female, Love and Hate, Beauty and Depravity, War and Peace" With all of its works starting with the debut 'Reaping the Fallen, The First Harvest' from 1995 the project meanwhile grown to a duo enchanted his listener's every time anew. ORDO ROSARIUS EQUILIBRIO is Tomas Pettersson (music, lyrics, vocals) and Rose-Marie Larsen (vocals).
http://www.ordo-rosarius-equilibrio.net/
/
http://www.myspace.com/ordorosariusequilibrio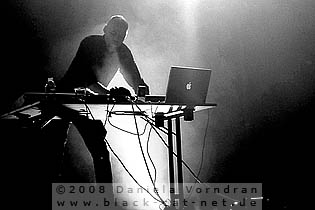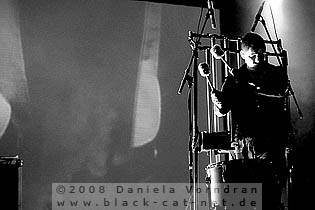 Music & Performance

After IN SLAUGHTER NATIVES the next Cold Meat Industry band entered the stage in Waregem. The Swedish band seems to have a good reputation and many fans in Belgium, as they had quite frequently appearances at Belgian festivals in the past, for example the Eurorock fest. Petterson and Larsen, backed up by further live musicians, presented their interpretation of Apocalyptic Folk at the club stage of the Gothic Festival, but I have to admit that I've seen more stirring performances by ORDO ROSARIUS EQUILIBRIO before. I'm not sure what was wrong - the vocals did sound a bit too "dry" and not well mixed, and ORDO ROSARIUS EQUILIBRIO's performance did suffer from the same problems as the one by IN SLAUGHTER NATIVES before.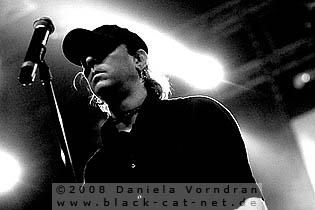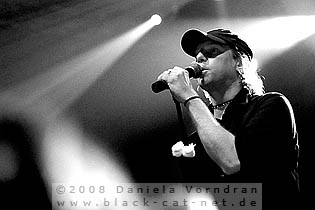 This kind of music is better to enjoy in a calm atmosphere and preferably on a nice seat, and when you just experienced an ear-banging, most exciting show it is not easy to get ready for a stripped down, acoustic Neo Folk performance with sprechgesang and an overall calm sound and not much variety in the songs. To me it seemed that previous ORDO ROSARIUS EQUILIBRIO shows were stronger than the one at the Gothic Festival. Or I was not in the right mood for it - as the music of ORDO ROSARIUS EQUILIBRIO is still excellent, in general. Next time I will give them another try!
Rating

Music: 8
Performance: 6
Sound: 6
Light: 7
Total: 6.7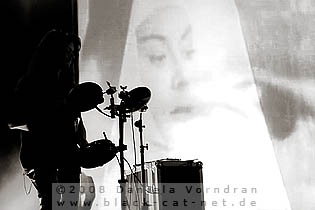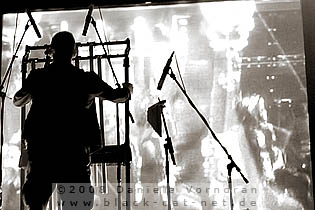 Suicide Commando [Main Stage - PS/JU]

Over 20 years in the business and still no sign of resignation for Johan van Roy who founded SUICIDE COMMANDO in 1986 and till 1993 remained a pure studio project until he signed to German Label Off-Beat and started his victory march through the clubs and in the hearts of many music fans. His first two albums 'Critical Stage and 'Stored Images' already included two of his biggest club hits 'Where do we go from here' and even more 'See you in Hell', but that wasn't the end of the line in the years to come, one club hit followed the other and SUICIDE COMMANDO toured extensively through Europe and the US. In 2006 his seventh album 'Bind, Torture, Kill' was released on the now defunct label Dependent Records, named after the serial killer Dennis L. Rader also known as the "btk-strangler" and in 2007 he celebrated his anniversary with a special box called 'X20'.
http://www.suicdecommando.be/
/
http://www.myspace.com/suicidecommando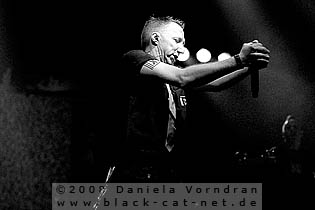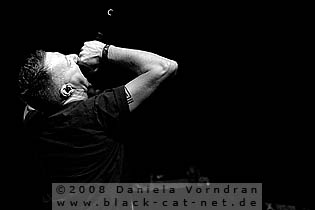 Music & Performance

If you want to define a home-game if ever for Johan Van Roy and Suicide Commando, this was it. The people came for the band and the band was on stage for the people bringing a strong set accompanied with matching visuals. This went together with the singer running up and down the stage, in and out of the front stage, never stopping for close to a second hyping the people in front of the stage up to a maximum. Usually I can always find something negative to say about a set. The light, the sound, a band member not doing something or doing too much but not with SUICIDE COMMANDO... Yes I am a Belgian so call me biased but let's not care. SUICIDE COMMANDO was one of the highlights of this festival if you came for this hard mix of electro-industrial and aggrotech.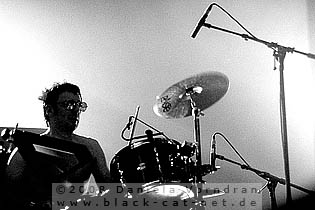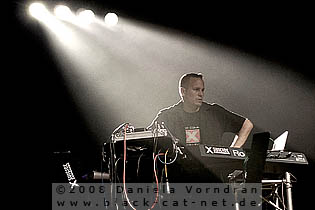 I remember a time when a rather shy Johan van Roy performed with his SUICIDE COMMANDO in small clubs to barely 100 people - this must have been around 1994, and what a difference is this to today's SUICIDE COMMANDO! One of the biggest crowds of the weekend gathered in front of the main stage to witness the sonic (and visual!) attack of van Roy and his collaborators, featuring a drummer - INSEKT's Mario Vaerewijck - and LIGHTS OF EUPHORIA-mastermind and Infacted label boss Torben Schmidt playing the keys. There were not too many new things for all those who saw SUICIDE COMMANDO in concert since their 'Bind Torture Kill' album - its title track was once again the opener of the show - but no one could deny that SUICIDE COMMANDO's show is one of the most consummate in the Electro scene. Also thanks to the perfect video show! Starting with somewhat disturbing images of bleeding flesh during the opener the video screening also animated SUICIDE COMMANDO graphics, Johan van Roy acting in a clip for a song (if only MTV would be interested to show it!) and other scenes which fit the respective songs perfectly.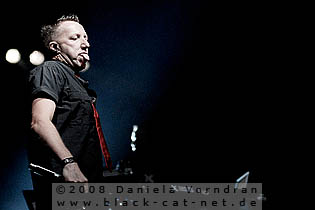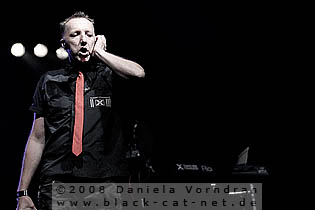 The animated graphics were even in sync with the electro beats! Johan van Roy used the entire stage to run around, a pretty aggressive stage presence which makes you think that he could jump off stage to attack people in the first rows. In fact it didn't last long until he actually jumped off the stage into the pit but don't worry, he didn't bite anyone. ;-) The set featured mostly songs from the 'Bind Torture Kill' album but also the new song 'Hate Me' and older songs from the albums 'Axis of Evil' (2003) and 'Mindstrip' (2000), whose single release 'Hell Raiser' was of course the crowd pleaser of the night. Unfortunately SUICIDE COMMANDO didn't go back to their very early material; I would have loved to hear 'Save Me' or even 'Traumatize'. You can't have everything and after all it was another great gig by SUICIDE COMMANDO, though after seeing them a couple of times in the last two years it's time for new material and a re-designed show concept.
Rating

Music: 9
Performance: 9
Sound: 9
Light: 8
Total: 8.8
Sonar [Club Stage - JU]

When he left his former project, the legendary THE KLINIK, Dirk Ivens, the distinct vocalist firstly concentrated on his solo project DIVE, but that isn't enough for such a creative head so he started SONAR in 1996 together with Patrick Stevens from HYPNOSKULL with the aim to create rhythmical noise and dark soundscapes, music with a combination of analogue and digital instruments. In 1998 Patrick left the project and was replaced by Eric van Wonterghem, who he had already worked together with on ABSOLUTE BODY CONTROL and THE KLINIK. SONAR has also become famous for his performances, where they're mixing their songs live what has become a seldom thing these days. The newest SONAR release is titles 'Alien Overdrive' and was released in 2006.
http://www.dirkivens.com/
/
http://www.myspace.com/sonarbelgium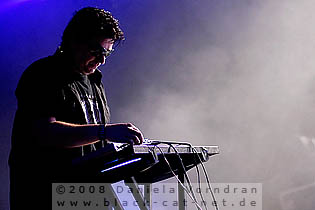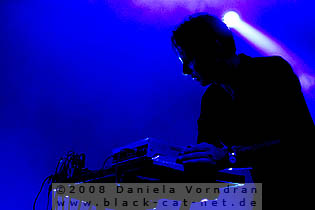 Music & Performance

After Johan van Roy's SUICIDE COMMANDO at the main stage one of van Roy's musical heroes entered the club stage. THE KLINIK was surely a major influence for SUICIDE COMMANDO, just like Eric van Wonterghem's work with projects like INSEKT. Both, Ivens and van Wonterghem, had a musical project called ABSOLUTE BODY CONTROL in the early 1980s and which was reactivated a few years ago. Those who have read the RoD reviews closely already know that ABSOLUTE BODY CONTROL did a highly acclaimed show at the first night of the Gothic Festival. One day later they entered the stage under the moniker of SONAR to perform their vision of very danceable but still pretty raw and noisy and Industrial.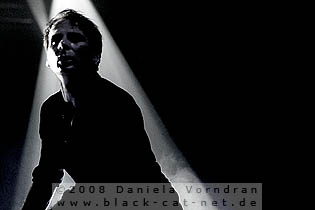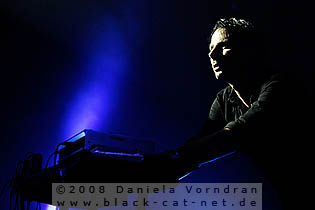 Their equipment was very minimal again, just a couple of small controlling devices in front of each other, and again van Wonterghem and Ivens stood face to face to each other with their sides to the crowd. It was fun to watch them interacting with each other, picking up a noise the other just created or answering it with another noise or some modulation. Those who had not the chance to get this close to watch them could at least frantically dance to the distorted beats, and most of the attendees surely did so. It surely takes such two highly creative minds to create such raw, energetic and awe-inspiring soundscapes. Cool gig!
Rating

Music: 8
Performance: 8
Sound: 8
Light: 6
Total: 7.7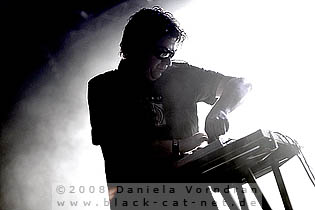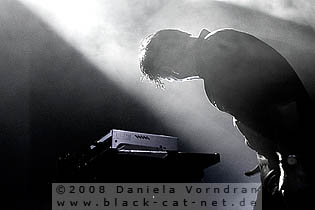 Fields of the Nephilim [Main Stage - JU]

This name is bound to the traditional Gothic Rock and by many people from the press as well as from the fans this band is praised as a legend. The FIELDS OF THE NEPHILIM have been founded by Carl McCoy in 1984; the original line-up consisted of vocalist Carl McCoy, saxophonist Gary Whisker, Tony Pettitt on bass, guitarist Paul Wright and drummer Andrew "Nod" Wright. Subsequent to the release of the first EP 'Burning the Fields' the first line-up change took place and Whisker was replaced by Peter Yates; already in 1986 they switched record companies to release the debut 'Dawnrazor'. The following 'Blue Water' was the first FIELDS OF THE NEPHILIM single to reach the UK charts. The year 1990 brought the release of the second album 'Elizium' and in 1991 Carl McCoy left the band after paying the rest of the band's members for the rights to the NEFILIM name and the remaining members formed other projects.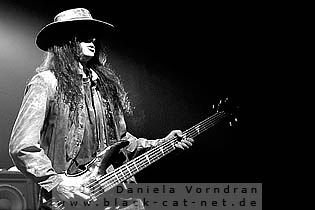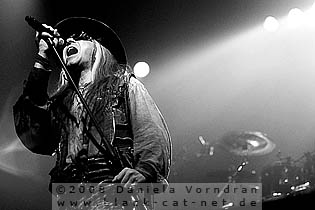 This seemed to be the end for the FIELDS OF THE NEPHILIM, as Carl McCoy focussed on his own projects until one fateful day in August 1998 when Carl McCoy and Tony Pettitt held a press conference at the Zillo Festival in Germany, announcing their future plans to collaborate under two separate monikers, FIELDS OF THE NEPHILIM (along with the Wright brothers) and THE NEFILIM (an altered spelling of McCoy's solo project) and a 'new' single was released, containing reworked tracks from the debut. Eventually in 2005, when no one really expected something new, McCoy released the fourth album 'Mourning Sun' and proved he's still able to put all the wannabes in their places.
http://www.fields-of-the-nephilim.com/
/
http://www.myspace.com/fieldsofthenephilim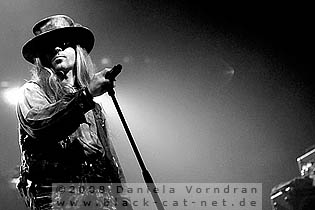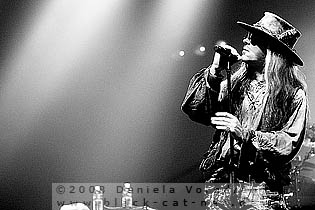 Music & Performance

The concert of FIELDS OF THE NEPHILIM at the Gothic Festival started with an absolute novelty for the band - bright stage lights, and the total absence of fog on stage. Well, this might seem like a silly remark, but those who were lucky enough to attend one of the rare FIELDS OF THE NEPHILIM concerts in the past will remember that this band was always covered by heavy fog - an essential stylistic element for any FIELDS show, apparently. But not in Waregem! Carl McCoy, John 'Capachino' Carter, Tom Edwards, Gav King and Lee Newell stood there on stage in perfect light and of course in their dusty "spaghetti western" outfits. But before we could even consider if the bright light and the lack of fog would mean the beginning of a new and brighter chapter for the FIELDS, the music pressing through the loudspeakers let us stood correct. A dark wall of sound embosomed us, loud and intense.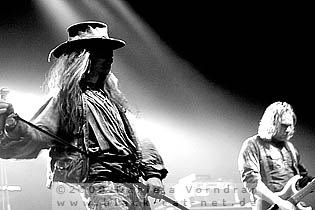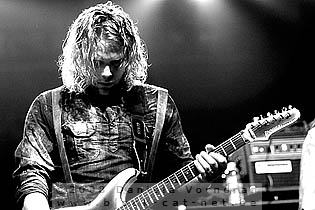 This was no lacklustre comeback show for the Gothic Rock legend; this was FIELDS OF THE NEPHILIM on a total high! They sounded heavier than ever before, and McCoy's growled deep vocals sent shivers down my spine. They performed little material from 'Mourning Sun' and many classics from 'Dawnrazor' to 'Psychonaut' to 'Moonchild' - a must at any FIELDS show. The individual songs easily hit the eight-minute mark; each and every one was a dark psychedelic trip with multiple layers of Gothic Rock guitar lines. The volume of the sound was so loud that I almost feared that my chest might be pushed in. Whoa! Such a vigorous, towering performance of course had to be crowned with an encore, so the FIELDS returned to perform two more songs. Two songs - and more than 25 minutes of music! As a matter of course, the closer of the night simply had to be the epic 'Last Exit For the Lost'. This song alone was more than 15 minutes long in its performed version, and the long and slow build-up towards the roaring climax of the song is simply mind-blowing.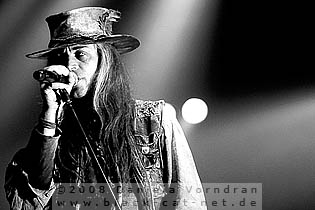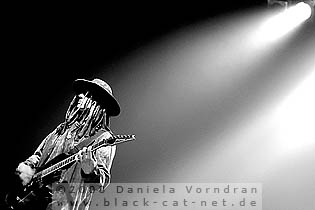 Yes, this was absolutely not some kind lame show; it was rather as if the FIELDS OF THE NEPHILIM gave us a visit from another dimension to carry us away with their symphonic, pompous Gothic Rock. An unearthly, spooky experience! And the FIELDS did not even need endless fog to achieve this!
Setlist
01. Shroud
02. Straight to the light
03. Penetration
04. Trees come down
05. Dawnrazor
06. The sequel
07. From the fire
08. Moonchild
09. Psychonaut
---
10. Zoon III
11. Last exit for the lost
Rating

Music: 10
Performance: 10
Sound: 9
Light: 9
Total: 10
Written by: overall editor Daniela Vorndran [DV], all band intros by Sebastian Huhn, J. "Niggels" Uhlenbruch [JU] and Peter Smets [PS]
All pictures by Daniela Vorndran (
http://www.vorndranphotography.com/
/
http://www.black-cat-net.de/
/
www.myspace.com/vorndranphotography
{jos_sb_discuss:18}