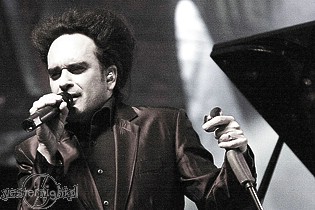 Castle, Bolkow, Poland
26th to 27th July 2008
Castle Party: Colony 5, Cinema Strange, 32Crash, Garden of Delight, In Strict Confidence, Anne Clark, Red Emprez, Reaper, The Crüxshadows, Deine Lakaien


According to end-of-July tradition, the biggest Polish festival Castle Party took place in a little city in the south – Bolkow. Once again the streets at the castle become crowded with black/pink/red clothed people and the air of the (usually) quiet town got filled with the sound of gothic music. Extremely hot weather, fine atmosphere, new clubs for the after-parties, gorgeous line-up and hundreds of guests from many countries proved the festival is developing and its popularity is growing.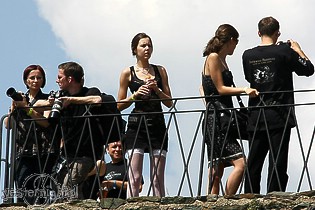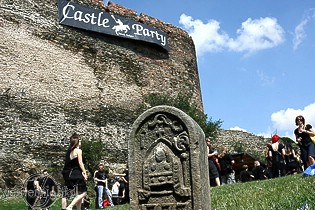 In 2008 the line-up covered many "scene-giants" like DEINE LAKAIEN (for the second time at the festival), GARDEN OF DELIGHT, CINEMA STRANGE, PATI YANG AND THE FLYKILLER, DIE KRUPPS or ANNE CLARK, as well as yet-to-be-acclaimed bands like THY DISEASE, RED EMPREZ or XSESS. I'm not going to present all of the bands, for, as I mentioned the temperatures that hit Castle during the festival were tropical indeed and made me run away in search of heat-release more than once.
http://www.castleparty.com
/
http://www
.myspace.com/castleparty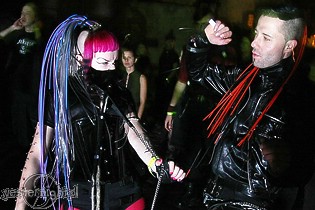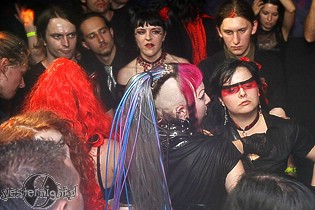 Saturday, 26th July 2008

Colony 5

COLONY 5 is today one of Scandinavia's most successful artists on the electronic pop scene! Their techno-pop with beautiful refrains and electrified dance beats today has many fans! A new album is on its way and you can get a first taste of what's to come on the new hit single 'Plastic World'. Red more about the band
here
!
http://www.colony5.com
/
http://www.myspace.com/weseekcolony5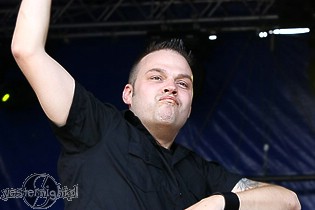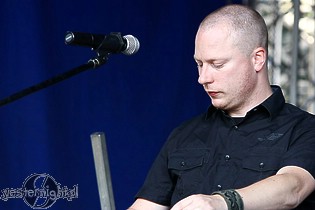 Music & Performance

COLONY 5 had a good, energetic start and kept the pace throughout the whole gig: fine pieces combing synth-pop traces with those of EBM proved a good way to move the audience. Danceable, dynamic melodies, great, lively beat and front man's energetic ways stood for a fine, invigorating show. Indeed I admired the vocalist's stamina t stand the heat and yet dance and encourage the people to join in the party. The songs presented 'Get of my back', 'Plastic world' or 'Ghosts' were gradually enhancing the party spirit resulting in a nice discotheque that spontaneously started just by the stage. Good sonic shot and electronic sifting.
Rating

Music: 7
Performance: 7
Sound: 7
Light: - (daylight)
Total: 7 / 10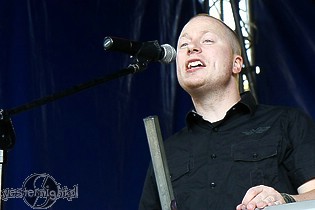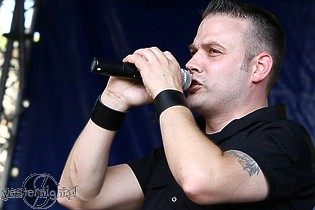 Cinema Strange

CINEMA STRANGE is a Death Rock Band from California, established by both Ribiat brothers in 1994. They roots get Gothic Rock of the '80's, with bands such as the VIRGIN PRUNES or the SEX GANG CHILDREN. Their influences are also LONDON AFTER MIDNIGHT and SOPOR AETERNUS.
http://www.myspace.com/cinemastrange
/
http://www.cinemastrange.nightmarezone.de/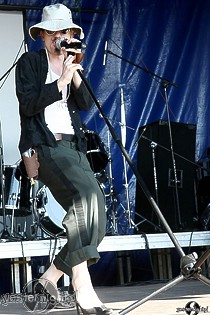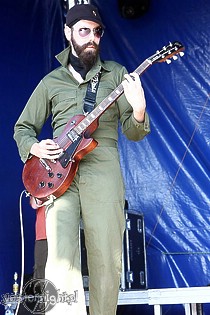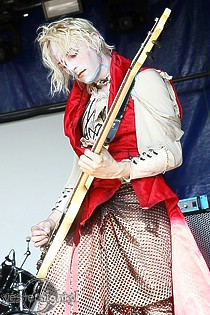 Music & Performance

First show of the Los Angeles based trio proved to be as successful as expected, however, its extravagance and impact was a bit restrained by the fact that it was taking place during the day, so that the light effects couldn't add to its fine, refined quality. Nevertheless, the music, being a somewhat combination of astounding L. Lanthier's voice and guitars, and the extravagant disposal of outfit (lesson on how to combine battle-trousers, tropical hat and stilettos or how to put together Muslim and Manga style and still win) gave a highly interesting show.
Rating

Music: 10
Performance: 9
Sound: 8
Light: - (daylight)
Total: 9 / 10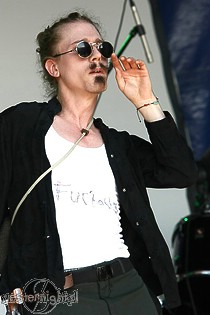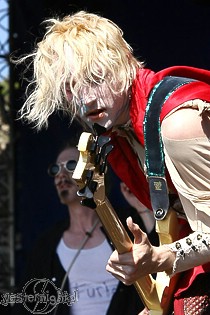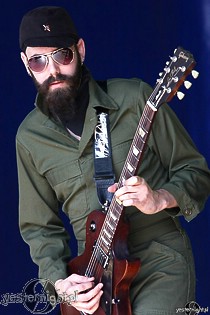 32Crash

32CRASH is a project of Jean-Luc de Meyer (FRONT 242), Len Lemeire (IMPLANT) and Jan d'Hooghe (ex-VIVE LA FETE, IMPLANT).
http://www.32crash.com/
/
www.myspace.com/32crash
Music & Performance

The appearance of such widely-acknowledged artists as those of FRONT 242 and IMPLANT in Poland was quite the event, so it was not surprising the crowd by the stage got so thick it was hard to move when the time for 32 CRASH came to play. The strong points of their music were definitely the voice reaching the thrilling level and moderately fast, trance and hypnotic melodies. However, there were times the pace speeded up to a highly lively and invigorating level. Pity the sound set didn't let the vocalist show his vocal range (at times he was being totally 'silenced'), but still a certain aggression, hoarseness and a moderating melodiousness of the pieces presented balanced the whole to such an extent that I may justly mark it very highly.
Rating

Music: 10
Performance: 9
Sound: 5
Light: - (daylight)
Total: 8 / 10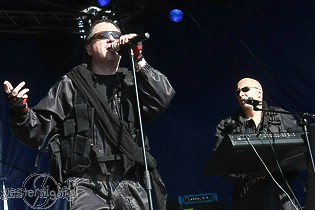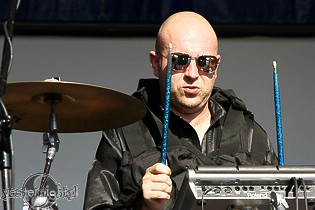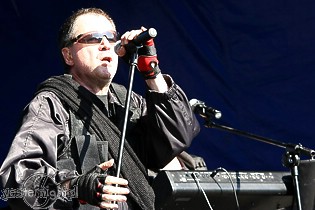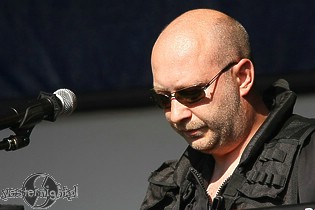 Garden of Delight

The German gothic-rock band was formed in 1990. Being extremely successful on releasing several albums they decided on splitting up finally. Their final concert will take place on 1st November 2008. GARDEN OF DELIGHT is Artaud Seth (vocals, programming), Jawa Seth (bass), Nils Herbig (guitar) and Mik York (guitar).
http://www.garden-of-delight.com/
/
http://www.myspace.com/lutherion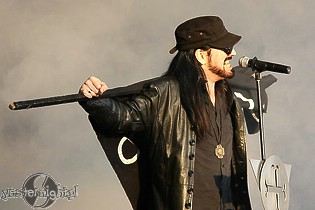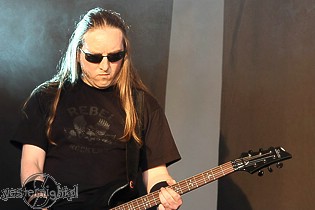 Music & Performance

It was the first I ever saw GARDEN OF DELIGHT live, so it was quite an experience. Though, as I imagine, the music presented would requite a wider stage with more movement possibilities, the concert yet evoked enthusiasm. Mythical and insightful begging, passing onto hard-hitting, fantastically speedy and energetic tone with the very second piece, the concert stood for a marvellous mixture of charisma display, devilish bass sounds and thrilling melodies moving from cold to hot and back. Fine guitar passages and somewhat eclectic character of the music coalescing melancholy with the irresistible power evoked a descend dose of enthusiasm among the fans.
Rating

Music: 10
Performance: 10
Sound: 10
Light: 10
Total: 10 / 10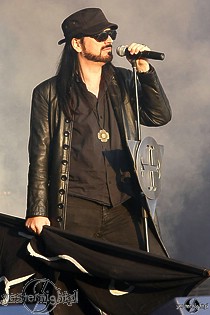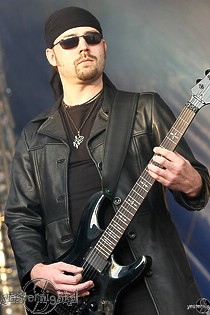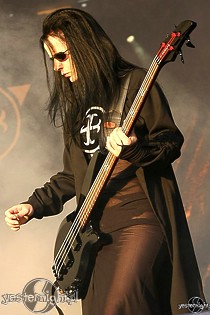 In Strict Confidence

IN STRICT CONFIDENCE is a German band formed in 1990. The members of the band are: Dennis Ostermann (vocals), Antje Schulz (vocals), Jörg Schelte (programming) and Stefan Vesper (drums). Their music could be described as electronics and industrial.
http://www.instrictconfidence.de/
/
http://www.myspace.com/instrictconfidence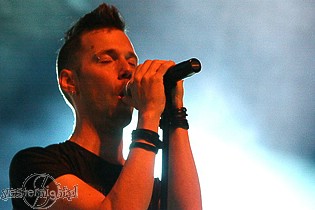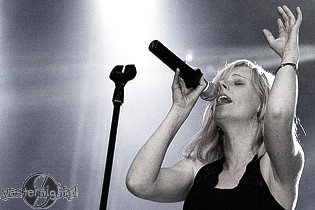 Music & Performance

During their show at Castle Party, IN STRICT CONFIDENCE made a good use of spectacular fire show combined with most affecting, moving music. Energetic and lively melodies (such as cult 'Zauberschloss'), hoarse and a bit lyrical vocal of Dennis plus sweet and feminine one of Antje battling freely and reaching a quality so characteristic for ISC formed a fine, dynamic melodic line. The concert was very good: both musically and visually.
Rating

Music: 9
Performance: 10
Sound: 9
Light: 9
Total: 9.3 / 10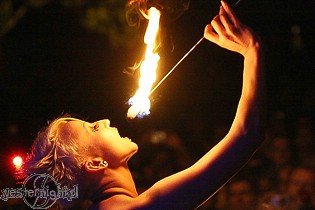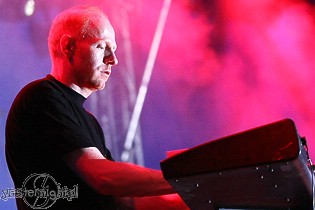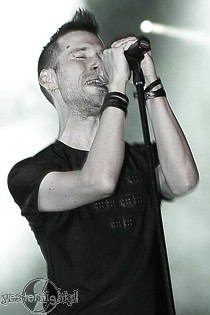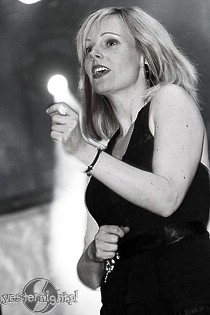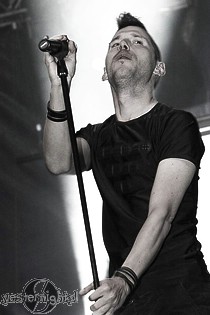 Anne Clark (feat. Implant)

ANNE CLARK is an English poet and song writer, who debuted in 1982 with the recording 'The Sitting Room' in 1982, and continues creating the music set in electronic, dance and other electronic genres.
http://www.myspace.com/anneclark%20anneclark.com
Music & Performance

In Bolkow, ANNE CLARK performed in the company of gentlemen of IMPLANT (Len Lemeire and Jan d'Hooghe) which added to the dynamic and extremely rhythmical quality of the whole show. Recitation rather than singing and spectacle rather than a gig, ANNE CLARK's performance moved both minds and bodies with its innovative and yet catchy form. Extremely dynamic and danceable melodies combined with poetic, emotionally presented lyrics stood for a surprising and very moving show.
Rating

Music: 10
Performance: 10
Sound: 10
Light: 10
Total: 10 / 10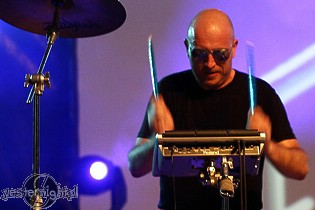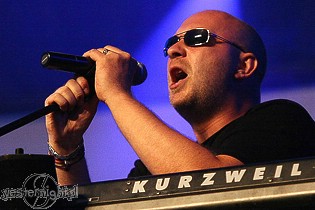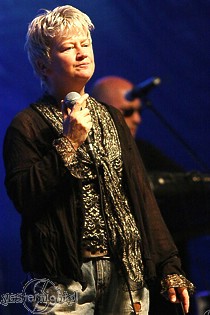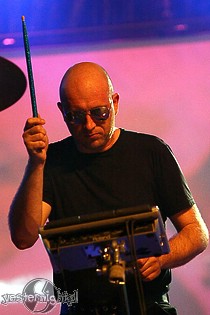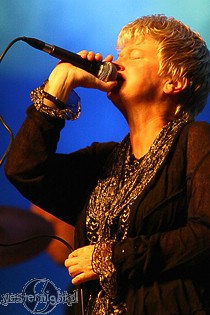 Sunday, 27th July 2008

Sunday round of concerts was taking place in full sun, so again only the most avid fans managed to come to the opening of the festival day number 2. The first band that I saw was the Polish duo RED EMPREZ.
Red Emprez

RED EMPREZ is a polish duo playing EBM, Electro and industrial music with a touch of ever green 80s. They mix light, smooth pads of classic analogues with a variety of noise and harsher and overdriven tones. Their actual form (two men: voc plus electronics) exists since June 2004.
http://www.myspace.com/redemprez
/
http://www.redemprez.com/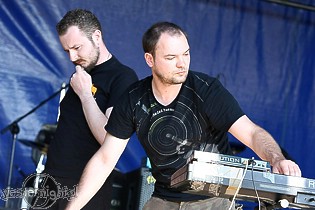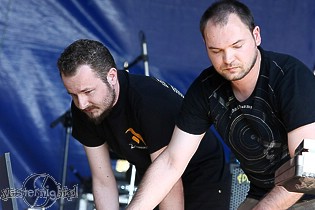 Music & Performance

As far as I could hear (though the concert was relatively short) RED EMPREZ music gained a new, more rapacious quality. Together with their new material the sound they reached is wilder, hoarser and stronger - which in fact, does them a lot of good. Strong, specific vocal of Adam together with hard-hitting melodies give a fine, very interesting entity. Pity they had so many technical problems in Bolkow, otherwise the concert would've been even better.
Rating

Music: 10
Performance: 4
Sound: 4
Light: - (daylight)
Total: 6 / 10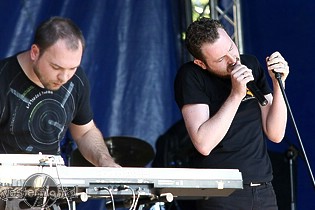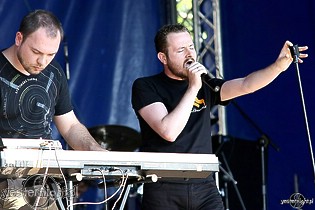 Reaper

In 2005, Vasi Vallis, the author of the project REAPER released the first CD. The CD called 'Angst E.P' was planned as a side-project but became more important because of the split of NAMNAMBULU. It stayed in the German Alternative Charts Top Ten for 6 weeks and reached number 1 at the Dutch Alternative Charts. The recent release is 'The Devil is female'.
http://www.myspace.com/reapermusic
/
http://www.reaper-music.de/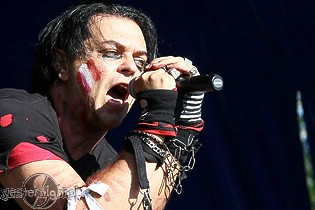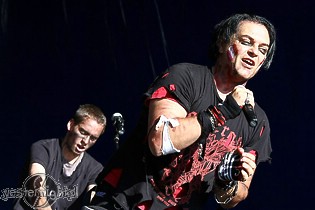 Music & Performance

What I always associate with REAPER's concerts are loads of hard-hitting, overwhelming danceable sounds, masses of smoke, wild make-ups and Vasi Vallis' unbeaten ways of establishing contact with the audience. Castle Party show was no exception to that (minus smoke) - thought the temperature was murderous, the band managed to encourage the people to dance - it was simply amazing. Lengthy conversations with the audience, dynamic, slashing pieces like 'Twisted Trophy Hunter', 'She's the devil', 'Junkie XL' or 'Robuste Maschine' and extremely party-like atmosphere were definitely something the fans enjoyed and appreciated.
Rating

Music: 9
Performance: 10
Sound: 8
Light: - (daylight)
Total: 9 / 10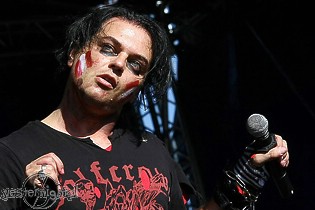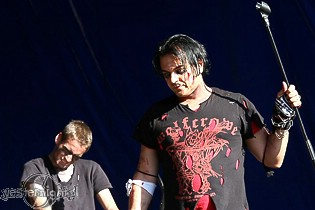 The Crüxshadows

One of the most popular Dark-wave bands internationally, THE CRÜXSHADOWS started in the early 1990's in a little town in North Florida. Over the last 15 years their success among the gothic, EBM, new wave, & dark electronic genres has earned them a near legendary underground status. The band's dark electronic rock and introspective lyrics quickly earned them a fan base beyond the United States, particularly in Europe. With a constant and ambitious release schedule, and a dizzying live performance itinerary, they have turned conventional wisdom on its ear & maintained their position among the scenes elite from each year to the next.
http://www.cruxshadows.com/
/
http://www.myspace.com/cruxshadows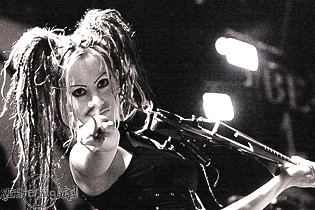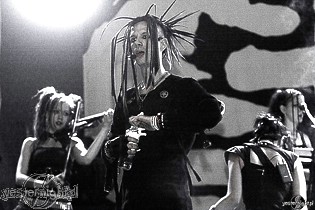 Music & Performance

At Castle Party, THE CRÜXSHADOWS presented all what they are loved and appreciated for: fine energetic show consisting of fine violin sound, danceable, dynamic melodies, characteristic vocal and great, amazing dance show. After the cancellation of their concert in 2005 (due to the thunderstorm and the risk of accident) now the band proved it was worth waiting for them and the energy sparkling gig was definitely a visible and audible proof it'd been worth waiting for them.
Rating

Music: 10
Performance: 10
Sound: 10
Light: 10
Total 10 / 10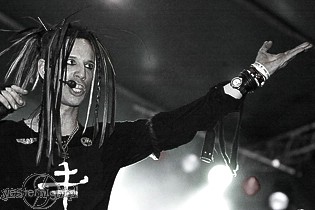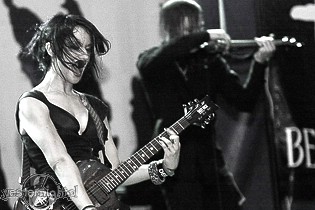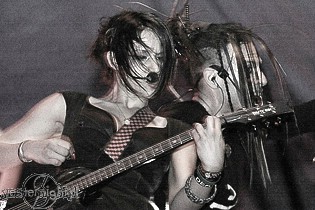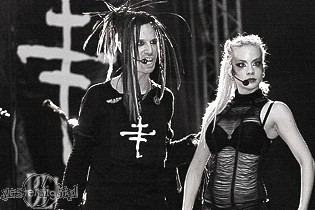 Deine Lakaien

DEINE LAKAIEN are an exceptional appearance in Germany's music landscape. Their music, which tastefully and self-assuredly balances between classic, folk, techno, rock, industrial, Goth, wave and ambient soundscapes, does not follow any current trends and is not oriented on any commercial guidelines whatsoever. More
here
.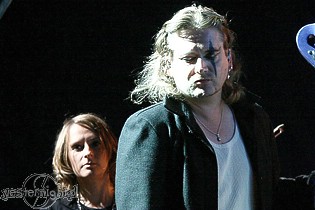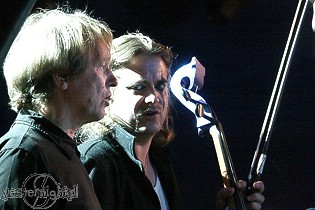 Music & Performance

After DEINE LAKAIEN's concert at Castle Party (acoustic) in 2006 many fans experienced a kind of "sense of insufficiency" hence the happiness when it turned out the band was coming again - in company of the band this time was enormous. Magical atmosphere, concentration and unbeatable beauty of the show, being more like a theatre stage than anything else enchanted and hypnotized the thick crowd that was gathered b the stage. Absolutely special ambiance and the music were the most wonderful ending of the festival anyone could think of. Three encores proved it fully.
Rating

Music: 10
Performance: 10
Sound: 10
Light: 10
Total 10 / 10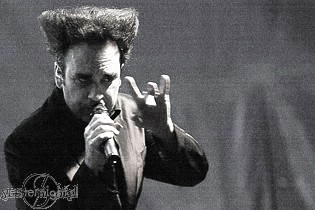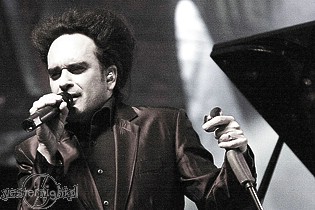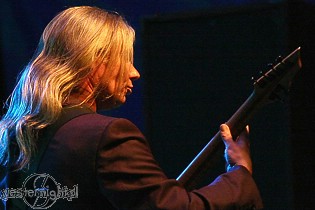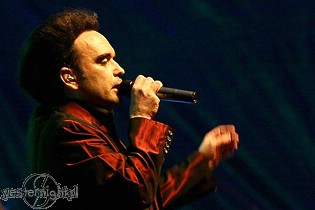 And so the festival came to an end - the next edition will take place on 24th to 26th July 2009 in Bolkow; the fist confirmed bands are Front 242 (be), Covenant (se), Crematory (de), Dreadful Shadows (de), Deathcamp Project (pl), Variete (pl), Moon Far Away (ru), NOT (pl), Solar Fake (de), Vic Anselmo (lv) and Irfan (bg).
All pictures by
yesternight.pl
{jos_sb_discuss:18}