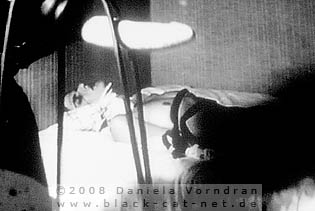 Eisenlager, Oberhausen, Germany
3rd November 2008
Die Form, Agonoize, Ashbury Heights, Amduscia, Auto-Auto


Another year, another Out of Line Festival and as I couldn't attend last year's due to a strike with the German Railway's I was pleased it worked out this time without problems. Some highly interesting acts were on the agenda like the Swedes from AUTO-AUTO and ASHBURY HEIGHTS and above all one of the rare performances of DIE FORM…



Auto-Auto

The multi-art project AUTO-AUTO whose "main purpose is to try to change and encourage change in your local community, thus from small changes ultimately making the world a better place for all of us to live in" was born in 2004. In 2005, work on the first album 'Sounds of a New Generator', the album then was released in May and received positive critics from all over Europe due to which the band started to play local gigs around Gothenburg. In late 2005, the guys completed the 'Totem' EP, released under the Creative Commons license, which is still freely available for download on the band homepage. In 2006, the band released the 'Totem Remixed' EP and was nominated for best newcomer at Scandinavian Alternative Music Awards.2008 sees the release of their second album 'Celeste' on Out of Line. AUTO-AUTO is Johan Hellqvist & Erik Frankel.
http://www.auto-auto.se/
/
http://www.myspace.com/autoautose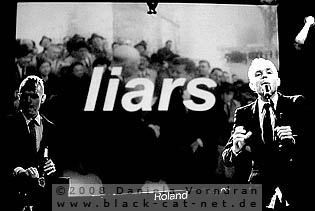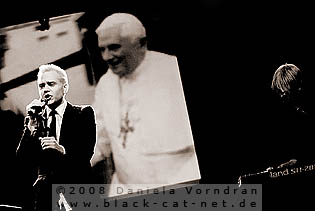 Music & Performance

What I could hear so far from the two Swedes was very promising, so I was looking forward their performance. Several synths were built up and in the back a huge video screen had been placed showing several video footage and mash-ups to accompany the songs. On stage the two were accompanied by a third man doing some keys and additional synth as far as I could see that. Mostly standing and moving behind their gear, they presented song by song all of which encouraged to dance, but all where somewhat different - some more EBM, others with a synth pop impaction. From a vocal point of view you could be more than satisfied. They were clean but with the needed portion of power. After half an our it was already time to leave the stage to make room for the next act
Rating

Music: 8
Performance: 7
Sound: 7
Light: 6
Total: 7 / 10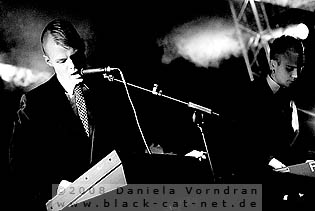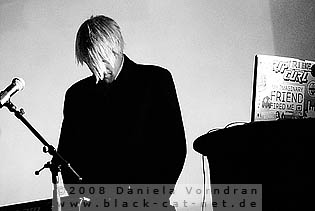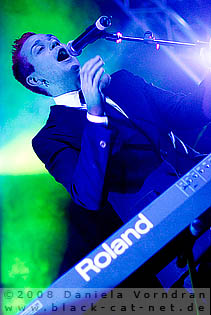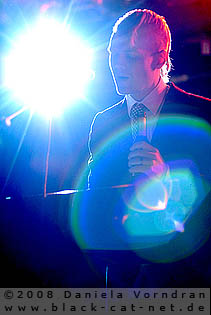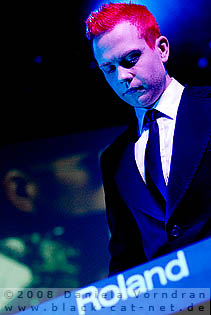 Amduscia

AMDUSCIA just as well-known HOCICO originate from Mexico and had their first-time meeting with the public in 2003 with the debut 'Melodies for the Devil' receiving good critics, followed by the 'Dead Or Alive' EP in 2005 presenting a refined yet still mainly club focussed sound. The second album 'From Abuse to Apostasy' came out about a year later and their success as well as their fan base increased further. The Ltd. Edition of this album comprised a bonus CD with truly different tracks of the project. Now, just two years later they push out their third full-length 'Madness in Abyss'. AMDUSCIA is Polo (vocals, lyrics, arrangements), Edgar (composition, programming, mastering) and Raul (lyrics, live keys).
http://www.amduscia.de/
/
http://www.myspace.com/amduscia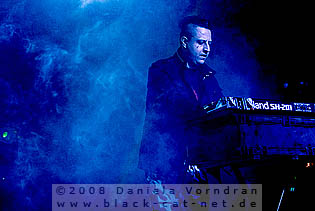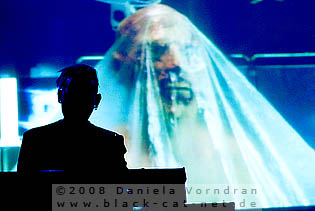 Music & Performance

AMDUSCIA, admittedly not an act I prefer musically, but you can't say they didn't boost the audience. While the people stood some metres away from the stage, during the gig of AUTO-AUTO, this had considerably changed by now, the room was filled and the crowd was willing to dance. Front man Polo, dressed up in some kind of modified black overall and with what looked like a cybernetic eye replacement, sending out blue light rays all the time, ran from one side to the stage to the other and screamed out his lungs and even did some little acting. The other two stood almost motionless behind their synths and turned the knobs or hit the keys. You see the similarity to HOCICO don't you? The set grasped songs from the new album 'Madness in Abyss', as well as some tracks out of previous releases.
Rating

Music: 4
Performance: 7
Sound: 6
Light: 6
Total: 5.5 / 10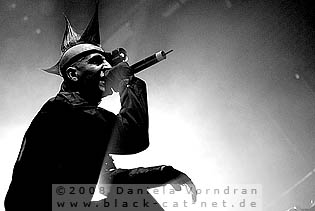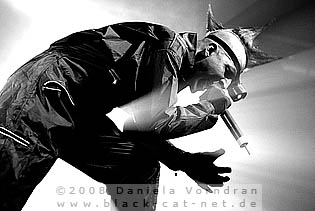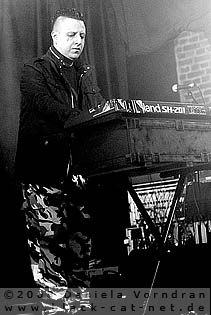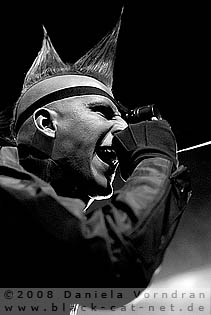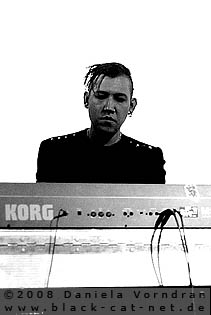 Ashbury Heights

The history of this Swedish duo is rather short yet eventful. The release of their first demo in 2005 remained unnoticed by most people. Three months later when the twosome handed out its second demo it was approached by German top label Out of Line and became one the fastest signing in the label's history with the contract signed within an hour. With the following release of the 'Cry Havoc' promotional CD and later the limited single, they cracked the German Alternative Charts. The album 'Three cheers for the newly dead' produced in collaboration with John Fryer and released in October 2007, received rave reviews from fans and press alike. ASHBURY HEIGHTS are Anders H (lead vocals, programming, synthesizers) and Yasmine U (lead vocals, synthesizers).
http://www.myspace.com/ashburyheightsmusic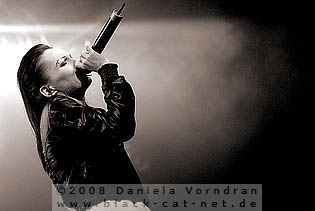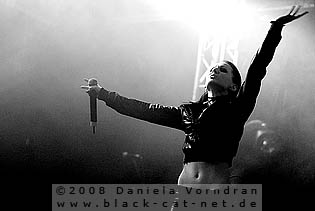 Music & Performance

Now something musically pleasing came along the way, again from Sweden. This year they pleased mine and many other ears with their new 'Morningstar in a Black Car' EP and just the same-titled track should open the set. Besides Anders and Yasmine, there was a third man on stage, doing the keys. I would have expected someone looking like him in a Metal band, rather than in an electronic combo with his long hairs, but he did quite a few strange looking moves back there, especially pleasing the photographers. Even though I actually didn't have the feeling of them feeling that uncomfortable on stage, the whole thing seemed a little shaky and uncoordinated to me and is definitely improvable.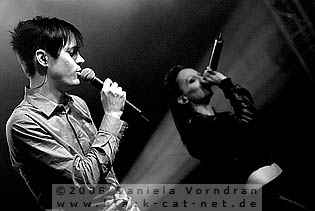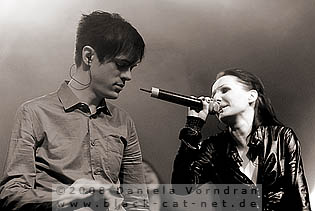 But the music made up many things. The set went on with 'Christ' and 'Smaller' from the debut to be followed by the driving 'Die by Numbers' from the EP. Later Yasmine opened her jacket much to the likes of the male spectator, but one highlight was to follow yet with the overly spherical and wonderful 'Spiders' before the show already ended with 'Eternity at the End' where both fucked up the lyrics a little. In hindsight and regardless some "difficulties" it was a good show and we had a good time and some laughs as well.
Setlist

01. Morningstar in a black car
02. Christ
03. Smaller
04. Bare your teeth
05. Die by numbers
06. Stormbringer
07. Illusion
08. Spiders
09. Eternity at the end
Rating

Music: 9
Performance: 7
Sound: 7
Light:7
Total: 7.5 / 10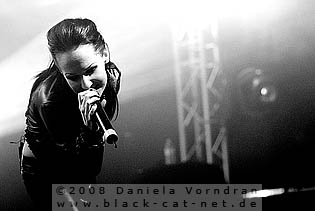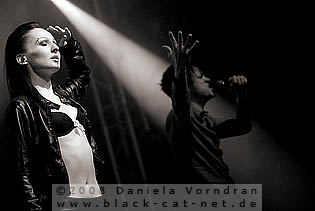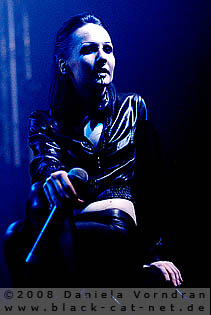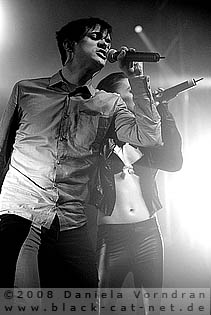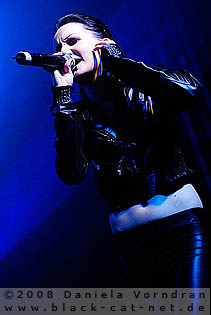 Agonoize

AGONOIZE are one of those projects representing the so called "Hellectro" genre, which basically means harsh and angry and in most cases distorted vocals, sinister lyrics and club-friendly beats. The German project was founded in 2002 by Mike Johnson and Oliver Senger. The line-up was later completed by Chris L. Their first album 'Assimilation: Chapter One' was released in 2004 followed by several EPs in the same year. It shouldn't take long before a new musical prove of life in the shape of an EP called 'Evil gets an Upgrade'. The second album '999' was then released in October 2005. In 2006 they re-released their first album which was only available in the US under the title 'Assimilation: Chapter Two'. Their new album is called 'Sieben' (Seven), released in November 2007 and on Halloween 2008 they've released a new EP, called 'For the Sick and Disturbed'. AGONOIZE are Chris L (lyrics, vocals), Mike Johnson (synths) and Oliver Senger (synths).
http://www.agonoize.de/
/
http://www.myspace.com/agonoize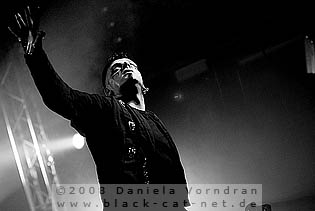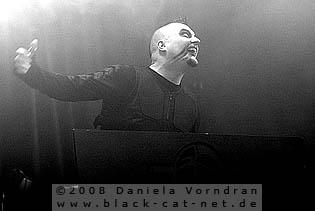 Music & Performance

And now we come to my "favourite" band of the evening - the Berlin-based trio AGONOIZE. Like on the M'era Luna' they played songs from children's series during the changeover. Meanwhile the space in front of the stage was quite packed and soon the Halloween theme sounded to announce their coming and with the first tracks 'A Cut Inside My Soul' from the new EP 'For The Sick and Disturbed' and with 'Sacrifice' we got the whole nine yards of uncompromising harsh dark electro with (opinion) cliché-laden lyrics, sometimes drifting away too much into the disgusting on songs like 'Femme Fatale' or 'In deinem Grab', here with a balladry touch, or 'Koprolalie' where the title is program.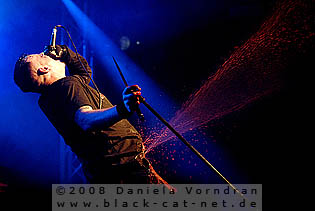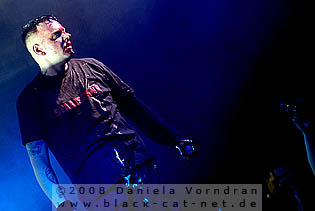 Besides that, AGONOIZE have a distinct penchant to play with artificial blood and spread it along the audience and not only photographers looked for cover when shouter and stage dervish Chris L. came along with the knife and symbolically slit his wrists. See, there are bands like SKINNY PUPPY who do something like this as well, but not for the sake of mere provocation as it happened here, however my "favourite" was the gimmick with the artificial cum. I've never seen such a thing before and I've no desire to see that again. But most people liked the show and had lots of fun I guess. For me the whole phenomenon AGONOIZE both in its studio and live incarnation remains redundant.
Setlist

01. Intro
02. A Cut inside my Soul
03. Sacrifice
04. Fight
05. Femme Fatale
06. Staatsfeind
07. In deinem Grab
08. Glaubenskrieger
09. Schaufensterpuppenarsch
10. Death, Murder, Kill.
11. Koprolalie
Rating

Music: 2
Performance: 2
Sound: 6
Light: 5
Total: 3.8 / 10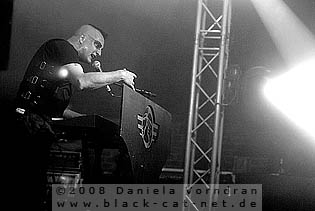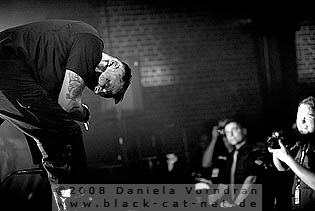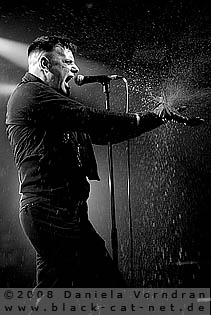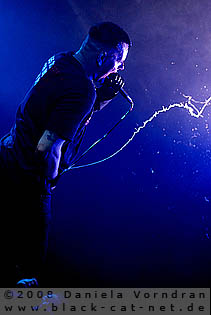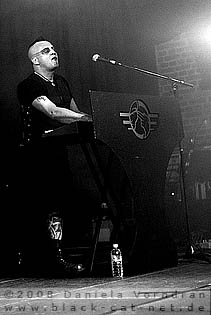 Die Form

This extraordinary project was formed in 1977 by Philippe Fichot, initially planned as BDSM live act, but DIE FORM evolved to an artistic synthesis of arts, blending photography, performance arts and music together and especially the live performances with their, let's call it an eccentric character weren't uncontroversial and had to be cancelled more than just once. S/M, Necrophilia and violence are recurring visual themes in their work. In 1982, the project debuted with 'Die Puppe', preceded by various mostly experimental tape releases. Two years later 'Some Experiences with Shock' was released. In the meantime, Eliane P. joined the line-up and was the new focus point during live performances. The album 'Poupee Mecanique' (1987) marks a turn of the project to more technoid yet still playful tunes.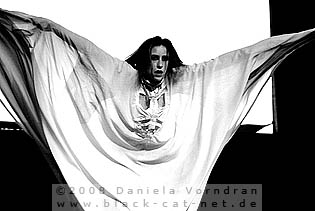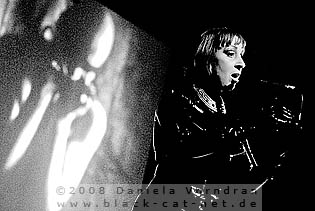 The next DIE FORM releases saw the poetic, emotional side of their sound via 'The Trilogy of Passions', starting with 'Suspiria De Profundis' in 1994, followed by 'L'âme électrique' the following year. 1997's 'Duality' does not complete the trilogy, Phillipe Fichot choosing to leave the project open-ended. The next album 'Extremum/XX' appeared in 2000. Then followed the 'diptych' of 'InHuman' (2004) and 'ExHuman' (2006), continuing their release of interrelated concept albums. IN 2008, DIE FORM left their former label Trisol to join the ranks of renowned German label Out of Line. A new single 'Her(t)z Frequenz' and a collection with reworked and re-mastered songs of the past 30 years have been release din October.
http://www.dieform.net/
/
http://www.myspace.com/dieformofficial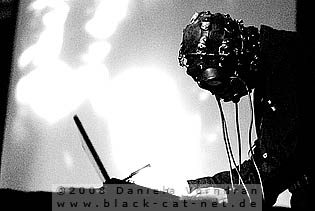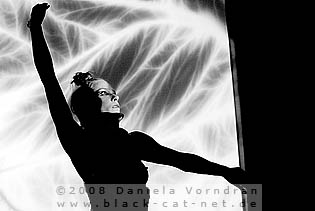 Music & Performance

And now came what I was curious about the whole evening already. DIE FORM, a formation in the business for over 30 years now and famous for the unconventional stage shows. Remarkable was that roughly 80 of the people left after AGONOIZE. One can only speculate about the reason and we had reason to speculate as well when a construction fence was built up on stage and especially the photographers were quite happy about it, but found a working way nonetheless. A wide cloth was spread upon the stage floor whose purpose remained in the dark but got revealed when a dancer/actor came on stage to veil herself into the cloth with varying artistic movements while an instrumental track was played. For the first real song, 'Bite of God', one of the project's most known tracks Philippe Fichot appeared behind the desk with the analogue synths, wearing slavery mask and Eliane P, dressed in tight lacquer and leather came from the other side.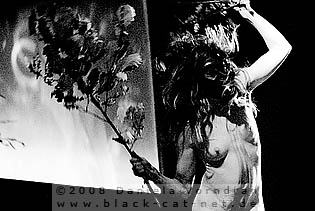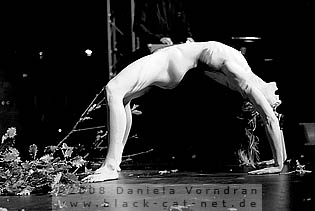 I admit I found it somewhat disconcerting at first but later the fascination and eventually excitement prevailed as DIE FORM don't need to provoke for the provocation's sake like bands as AGONOIZE do, there's a deeper sense behind the performance arts on stage even if it's not obvious at first you have to face up with it. The nameless female actor on stage changed her appearance several times. At one point she came on stage with an abstract form of a ballet dress half of which she dropped during her performance or another time she was completely naked and worked with branches swirled them around and bashed them on the ground. Due to the lightshow that very moment it looked like they were glowing or burning and she just wanted to choke the fire. All this and more happened while Fichot blended his sometimes cold and minimalist, other times melodic but always eclectic tunes with Eliane's extraordinary voice.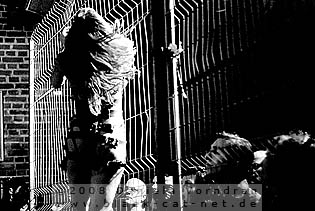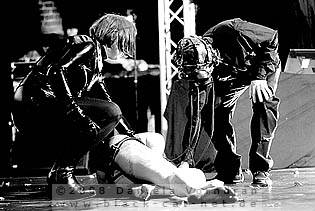 And if you have the opportunity to see such a cult formation in action you need an encore of course of course and so we clapped them back on stage and would be rewarded with another couple of songs after which Eliane and Philippe brought round the prostrated actress again and disappeared with her to return to take a bow under loud applause. This was a worthy closing of a mixed festival and if any show deserves the predicate art than this one.
Rating

Music: 8
Performance: 9
Sound: 8
Light: 9
Total: 8.5 / 10