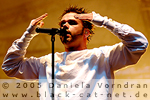 Anröchte, Germany
06th August 2005
Oomph! and MIA.

"Big Day Out" is a quite small festival in the German area "Sauerland". This year it was organised for the third time on 5th and 6th August. But even though it's not comparable with the big festivals like M´era Luna or Rock am Ring, they managed to sign some top-class bands like Oomph!, Farin Urlaub Racing Team, MIA., Silbermond, Exilia, Juli, H-Bloxx or Fettes Brot for the two days. So, about 6,000 people each day made their way to the small town Anröchte to see all that bands on two stages what means that the festival was sold out. With 37 EUR for a festival ticket the process were very moderate what is also true for beverages and food. On the festival area there were also a chill out and info area. Camping was also possible. The organisation was perfect though and anything (at least as far as I can say) worked without any problems. http://www.jzi.de/events/2005/bdo3/bigdayout_frm.htm




Unfortunately we only were able to be there on the Saturday. We left Muenster at half past three as it just started raining again. Luckily the rain wasn't that bad at the whole evening. Only during MIA. it was raining from time to time, but we stayed dry during Oomph!. In between the concerts they organised a Punk Karaoke in the second stage which was quite funny. There were some real performers on stage. But we weren't there to see the karaoke but two very good bands: MIA. and Oomph!.
MIA.


The electro-punk band from Berlin/Germany started in 1997. 1998, they were signed from the label R.O.T-respectortolerate-. They are fighting hard and with a lot of energy to reach their goals. 2001, they released the first single "Factory City". MIA. and their label were instrumental in inventing the electro-punk genre. The first album was released in 2001 as well and 2002 they were supported by MTV as Newcomer. So, they were playing a lot of gigs and concerts and even managed to play the big festivals. But the year 2003 even outclasses that success. The single "Was es ist" was released and cares for sold out concert halls. The second full album was released in summer 2004 and the taken single "Hungriges Herz" is a real smash hit and got a lot of air play. MIA. are: Mieze (vocals), Andi (guitar), Bob (bass), Ingo (guitar) and Gunnar (drums).
http://www.miarockt.de
Music

Music and lyrics represent the real punk attitude. The music is loud and Mieze´s voice is shrill, the lyrics are provocative and full of paroles. MIA. are rocking against small-mindedness. Who visited MIA. concerts knows that they are very powerful. All band members are rocking and handle their instruments very well. For two songs ("Kill 4 You" and "Was es ist") they are even using something uncommon like a horn. The sound technicians did a very good job that evening and produced a very good and clear sound.
Performance

Just in time for the show it started raining again. But no one cared… besides some people opening umbrellas. Just fitting the non-mainstream attitude of their music, Mieze was dressed up very flashy. It seems that Mieze isn't able to stand still for one moment, running and jumping across the stage from one end to another. But also her companions are rocking as much as they can to fight the rain. In the middle of the set Mieze is leaving the stage for a while to complete her outfit with some kind of a cape. As we know it from former concerts, some people out of the audience were pleased onto stage during "Himmel". The quite young audience was very much into the music, jumping the whole set long. The lightshow supported the progressive music with well added smoke and fast moving scanners in the background. Unfortunately it was still a little too bright outside so it couldn't make the planned impact. All in all again a very good show.
Setlist

01. Mein Mädchen
02. Machtspiele
03. Ökostrom
04. Verrückt
05. Kill 4 You
06. Poem
07. Himmel
08. Hungriges Herz
09. Hoffnung
10. Was es ist
11. Sonne
Rating

Music 8
Performance 8
Sound 8
Light 7
Total 8 (7.85)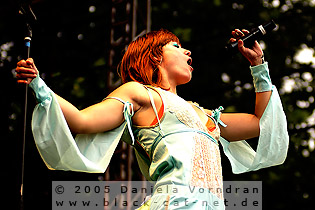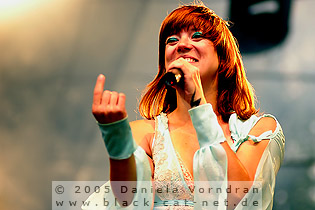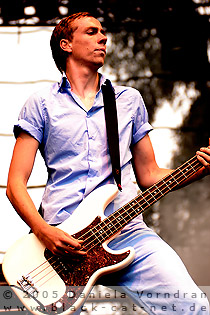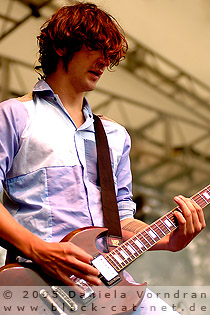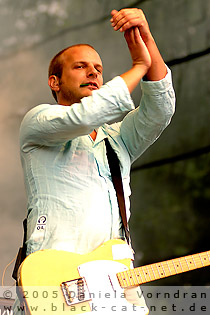 Oomph!
The rock-year 2004 presented just at the beginning a real highlight for the scene: Oomph! were releasing their eighth studio album "Wahrheit oder Pflicht" and proof that their masterpieces "Plasik" (1999) and "Ego" (2001) weren't the highlights of the 15 years lasting band career. Rather the trio from Braunschweig has lasting established. With the second single out of "Wahrheit oder Pflicht" – "Brennende Liebe" – they made it to place six in the German charts and showed that the number one hit "Augen auf" wasn't a flash in the pan. As a third single they released "Sex hat keine Macht". The song was welcomed by the audience on triumphal festival gigs like on M´era Luna, Dynamo or Highfield. Since that single was released in September 2004, there was no musical news from the band. But anyway they played some shows and festivals and are as actual as a year before. Oomph! are Dero (vocals, studio drums), Crap (guitar, studio keyboards) and Flux (guitar, sampling). Additional live musicians: Leo (drums) and Hagen (bass).
http://www.oomph.de
Music

Like expected the main focus was on songs out of the latest release. So Oomph! played all the singles as well as a few more songs out of it. It was very obvious that there were not many fans from the old days. The band started with a few older songs and the audience stayed quite reserved. Even though there were some boys and girls… in fact much more girls than boys… that started crowd surfing right at the beginning. People were waking up as with "Burn your eyes" the first song from the recent released was played that evening. Of course Dero, Crap and Flux are acting in the foreground while the additional live musicians Leo and Hagen are acting more in the background. But anyway these additional live instruments give the power which the songs need. The sound was perfect. "Das weiße Licht" started with very intense guitar sounds and the synth lines during the refrain were very clear (even though they came only from tape).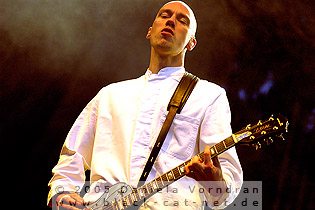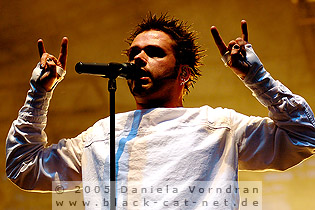 Performance

The guys entered the stage full of enthusiasm again in the well known white suits. While Leo and Hagen too their places in the back of stage, Dero, Crap and Flux moved to the very front. The only song Hagen comes to the stage rim is "Fieber". From the very beginning the band and especially Dero has a very good contact to the audience, firing them up all the time or holding the microphone over the audience to let people sing into it. As we know it from former concerts, Dero is waving his arms during a few songs (i.e. "Sex hat keine Macht") that heavy that you might think the power is ripping them off from his body. And of course people are joining into the waving. As the 1-2-3-4 at the beginning of "Keine Luft mehr" sounds through the night, band and audience start jumping at once. At the end of the song Dero just dares to climb down from the high stage to start crowd surfing.
The light show is very well harmonised with the songs; i.e. for "Dein Feuer (your fire)" the stage is covered with red light and for "Das weiße Licht (the white light)" bright white lights cover stage and audience. Well dosed smoke supports the effect. After a few newer songs, it's finally with "Gekreuzigt" time for some old stuff. For that song very gloomy green and blue light is used. Over and over again, Dero encourages people to jump with statements like "Ich will euch springen sehn (I wanna see you jump)" or "Und jetzt will ich genau jeden hier springen sehen (and now I wane see every single one here jumping)". And so people on stage and down in the audience are giving everything. At the end of "Niemand", Dero again goes down to surf the crowd. Well… somehow in former times he managed to go much further into the audience… and to be back on stage before the song is over ;)
The main set ended with "Brennende Liebe" and the Nr.-One hit "Augen auf" which was known also by people who can not be called fans. So, even guys in the very back at the beer stands sang along. For the good bye also Leo and Hagen came to the front of stage to wave good bye and Crap was handing out water bottles for the exhausted audience. As encore the band prepared a funny special… an a-capella medley from songs of the bands playing before (Silbermond) and after (Fettes Brot) Oomph!. In fact the lyrics were totally x-rated so I won't write them down here. ;)
All in all a very good concert with a very young but enthusiastic audience, too many new and too little old songs, a seldom (or maybe never?) heard political statement: "Nazis raus!" and a very funny encore.

Setlist

Intro
01. Viel zu tief
02. Wenn Du weinst
03. Unsere Rettung
04. Fieber
05. Burn your eyes
06. Sex hat keine Macht
07. Keine Luft mehr
08. Dein Feuer
09. Supernova
10. Das weiße Licht
11. Gekreuzigt
12. Dein Weg
13. Niemand
14. Brennende Liebe
15. Augen auf
-------------
16. A Capella Medley


Rating

Music 8
Performance 9
Sound 8
Light 8
Total 8 (8.3)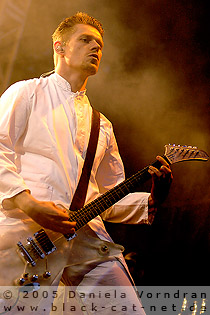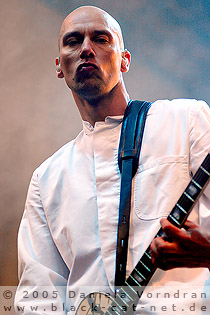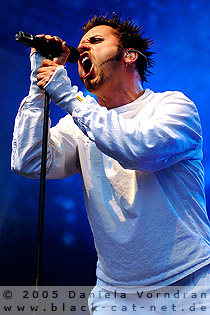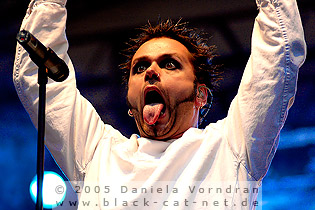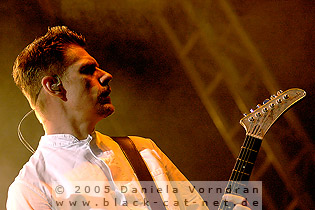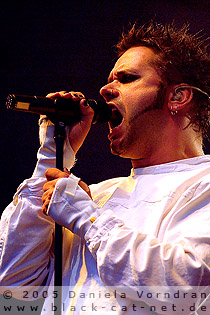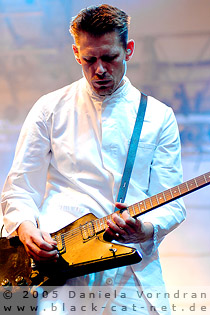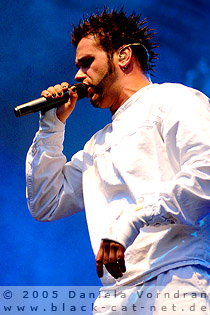 More pics on
Black-Cat-Net
More articles about Oomph!Band Info
Concert Review - Oberhausen 2004 (Festival)