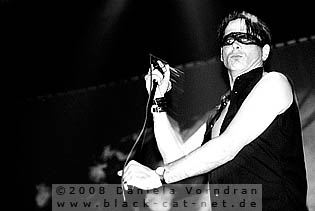 Hof ter lo, Antwerp, Belgium
20th December 2008
BIM Fest 2008: The Klinik, The Names, Vomito Negro, The Cassandra Complex, Signal Aout'42, No More, Plastic Noise Experience, Catholic Boys in Heavy Leather, The Arch, Psy'Aviah

December is not only the time, when a big guy with a white beard on a reindeer skid, delivers presents, it usually is also the month, where many fans of dark music travel to Belgium as it's time again for the Belgium Independent Music Festival, short BIM Fest. This year, the festival went into its 7th round and will came up with lots of highlights, leading the way with a performance of the absolute legendary formation THE KLINIK, who returned from the dead and presented a mixture of classics and brand-new material. But the fest did not stop there already. The organizers invited no one less than VOMITO NEGRO for the 7th issue of the festival, who're working on a new album right now and presented new material.
http://www.bimfest.be
The festival was anything you could wish for: A true independent location, nothing about style but all about music, very cheap prices for beverages and most important, very nice people. Even though they were a bit delayed, about 30 minutes, anything else ran very smoothly and anyone seemed to have a lot of fun. The audience was very international. Besides Belgians, you could spot lots of people from Germany, but also from Ireland, France, Netherlands or UK. I loved it from the first to the last second. The only thing I missed was something to sit down... As for the bands who were invited, you found a lot of "old heroes" of electronic music as well as of good old Wave.


Psy'Aviah

It was in 2003, when PSY'AVIAH formed in Antwerp and mainly focussed on playing live for the time being. When they won Belgium's national radio station Studio Brussel's demo poll they started performing all over Europe. Having built up a considerable reputation with their live performances, they focussed on recording their debut 'Creationism', released in 2007. In the following time, they're appearing on many compilations. For the recording of their second album 'Entertainment Industries', they teamed up with Len Lemeire (32 CRASH, ANNE CLARK). The album eventually was released in this year's August. PSY'AVIAH is Yves Schelpe (synths, programming, vocals), Emélie Nicolaï (vocals, visuals) and Kristof de Clerck (guitars).
http://www.psyaviah.be/
/
http://www.myspace.com/psyaviah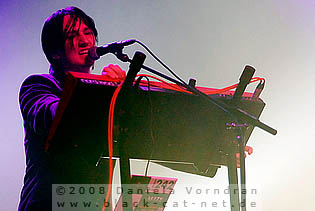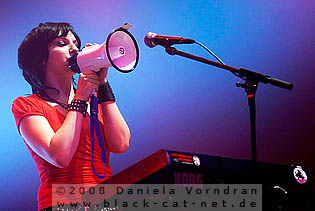 Music & Performance

The Belgian trio was up to open the festival... with a little delay of about 30 minutes... at half past two with the song 'Grace' from the recently released album 'Entertainment Industries'. Already much more people than I had expected had showed up at this early hour. The stage setting was very simple with a keyboard on the left for Yves; on the right side, there was Kristof standing with his guitar. Also a drum was placed there which was used during some of the songs. In the centre, there was a desk with a megaphone on it and Emélie behind it. The megaphone was of course used in several songs, so right for the second one of the set, which was 'In Silence' followed by the title track of the current album.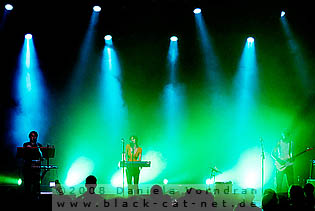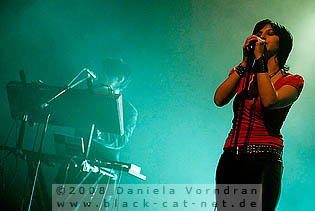 About in the middle of the set, Emélie left her desk to sing the remaining songs of the set much closer to the audience. The sound was already quite good at the beginning and also the light engineer gave a little sample of his abilities. All in all, good start of the festival day.
Setlist

01. Grace
02. In Silence
03. Entertainment Industries
04. Demons
05. Voltage
06. Never Fall Again
07. Mine
08. Tired
09. Shadows
Rating

Music: 7
Performance: 6
Sound: 7
Light: 7
Total: 6.8 / 10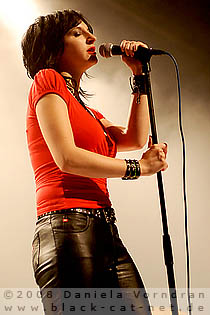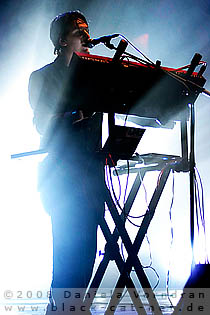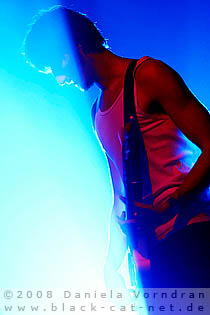 The Arch

In a small village, called Breendonk in Belgium, THE ARCH was born in 1987. Soon they sent out their first demo to the Body Records label. Subsequently, the track appeared on the 'Expo 87'. The following first EP 'As quite as…' was largely ignored by the press, so they decided to focus on other Countries and that's when everything started rolling with gigs in carious countries spread across Europe. 'Another Point of You', the debut album got released in 1988. In 1991 and after some subsequent releases, the band split up to suddenly re-appear with 'In Sofia' in 1997 followed by a couple of live gigs after which another silent period started during which new songs were written constantly and a new album is in the making. In the meantime they pulled out a compilation called 'The Arch of Noise'.
http://www.myspace.com/thearchbelgium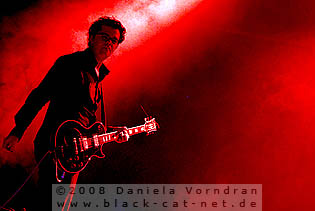 Music & Performance

With THE ARCH, we got the first Belgium veterans of Wave music. Who does not know their classic 'Babsi ist tot' which is still nowadays a guarantee for full dance floors? Of course, the band had to play this song within the set, no question! The set was full of the band's classics - and in more than 20 years of band history there are a lot of them - like 'Ribdancer' or 'No Noise'. But they also played a fantastic cover version, RED ZEBRA's 'I can't live in a livingroom' which brought them huge applause. There were some technical problems at the beginning as one amp failed with a loud bang, but soon the problems were solved and the band could go through their set. Dim mostly red lights were creating the right mood for this melancholic wave sound.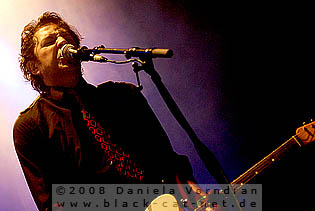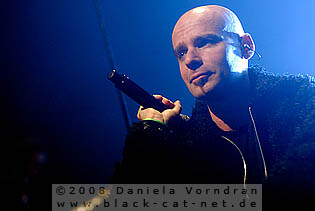 Setlist

01. No Noise
02. Coward
03. Wait
04. Containerpark
05. Derry Ann
06. Revenge revival
07. Layman
08. Ribdancer
09. Babsi ist tot
10. I can't live in a livingroom (Red Zebra)
Rating

Music: 8
Performance: 8
Sound: 6
Light: 6
Total: 7.3 / 10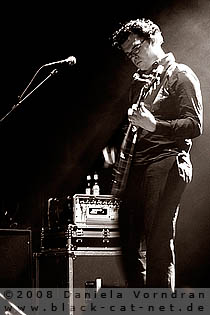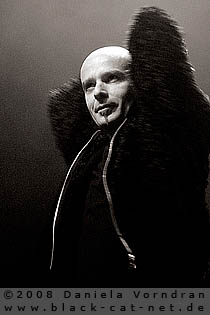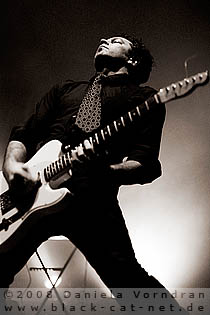 Catholic Boys in Heavy Leather

The two Catholic boys met in 1989, when they were recruits in the Swiss Guard in Vatican City. After quite some years they found out they shared a mutual fascination for loud music and heavy leather and that's when the project was born. From there on they would travel all across Europe on their missionary journey. The band is probably most notable for their uncommon cover of BONEY M's 'Daddy Cool'. So far they've only released one album 'Nobody Urged You to Get Canonized'. The Line-up consists of Joke Stryker & Rotor Siffredi.
http://www.catholicboys.ch/
/
http://www.myspace.com/catholicboysinheavyleather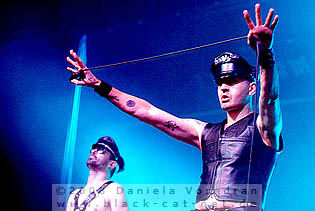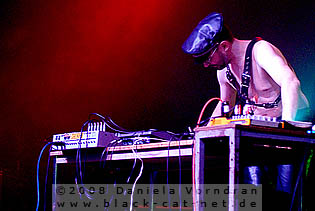 Music & Performance

THIS was surely a strange performance. There were two guys coming on stage in, let me call it over-gay image, dressed up in black leather boots, just leather straps on a bare body and leather caps... just how you really would picture a totally gay man. Musically, the band from Switzerland presents electro-industrial with a mass of sampling and industrial preaching. The lyrics deal especially with the two most important topics in modern civilization: sex and religion. As already said, the two guys are most famous for their hilarious "cover" of BONEY M's 'Daddy Cool' called 'Daddy Cruel' with which the band also started the set. Musically this was not my cup of tea, but people in the hall liked it and danced to the rhythmic beats. Visually this band was surely worth a look dealing extensively with their guy image; so they just started RIGHT SAID FRED's 'I'm too sexy' moving in explicit poses.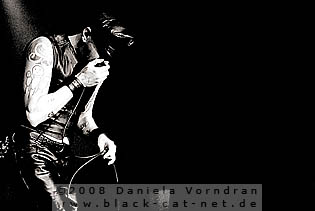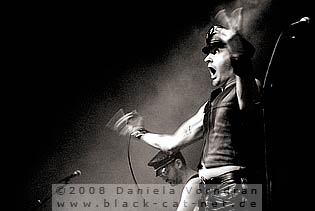 Setlist

01. Daddy Cruel
02. Nous Pissons
03. South of Fritzel
04. Human Fly
05. Cockwhore
06. No Sleep til Antwerp
07. Too Fucked to Drink
08. Verschwende Deine Jugend
Rating

Music: 6
Performance: 7
Sound: 7
Light: 7
Total: 6.7 / 10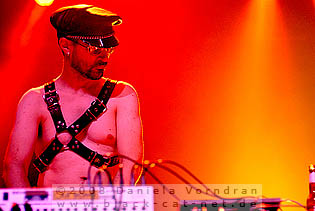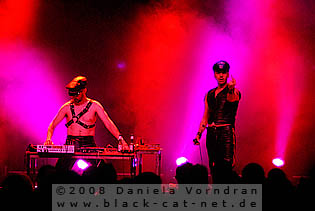 Plastic Noise Experience

PNE was brought to life by Claus Kruse in 1989. In 1992 he landed his breakthrough with the album 'Transmission' and henceforth was in the head of clubbers all over the world. The following releases, the second album 'String of Ice' and the subsequent EP 'Visage de Plastique' couldn't really link to the success of the debut, even though it featured club killers like 'String of Ice' and Dream Destructor'. When no one really expected it, PNE returned with the new album 'Rauschen' in 1997 followed by a string of releases, leading to the appearance of his most recent disc 'Reiz und Reaktion'. PNE is today the project of Claus Kruse (programming and voice) whereas he was supported on stage by Steffen Gehring of TECHNOIR.
http://www.myspace.com/plasticnoiseexperience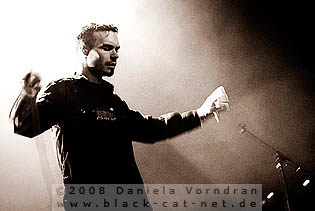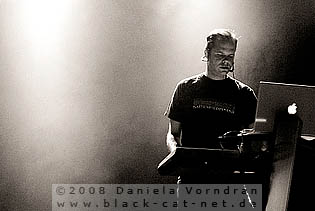 Music & Performance

The big stage looked pretty empty this time with just two people entering the stage, Steffen standing quite in the back behind his keyboard in front of a huge video screen which presented different animations during the songs and the band name in big letter in-between. Claus was acting in front never standing still and using the whole room he was given. Remarkable were his expressive faces during the songs showing a whole lot of emotions. Having just released the new album 'Reiz und Reaktion' on Alfa Matrix, of course several songs - like 'Ich bin nicht du' and 'Viel zu Viel' - found their way into the setlist. With their pushing old-school electronics in the best sense of THE KLINIK or LEAETHER STRIP they conquered the hearts of the present electronic lovers and made them dance and preparing them for the things to come during this evening.
Rating

Music: 7
Performance: 7
Sound: 7
Light: 7
Total: 7 / 10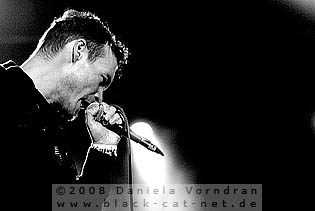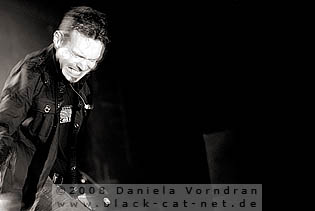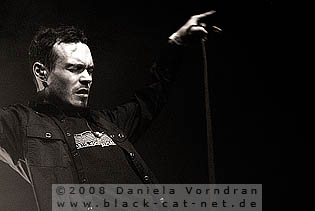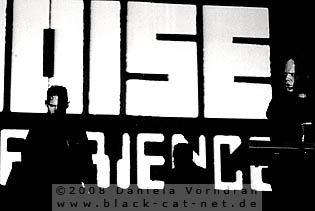 No More

This band, formed in 1979 in Kiel (North Germany), is responsible for the 1981 minimal wave hit 'Suicide Commando' after which Johan van Roy named his project. Their first release was the 7" EP 'Too Late' and the first mini album came out with 'A Rose is a Rose' in 1982 after which the band for a change in their musical style. The band called it quits in 1986 after finishing the album 'Hysteria'. In the course of working on an album with updated song versions 'Remake/Remodel' it was announced that a new album is in the making. Currently NO MORE is on tour presenting a set of old and new songs NO MORE is Andy A. Schwarz and Tina Sanudakura.
http://www.no-more-remake-remodel.com/
/
http://www.myspace.com/nomoreremakeremodel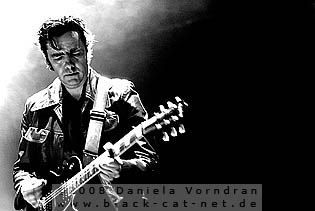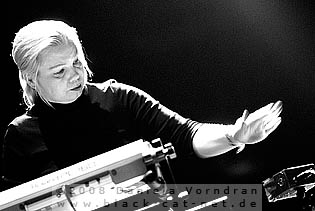 Music & Performance

Again, there were only two people in stage, but this time placed much closer to the audience. With NO MORE, we got now a journey from Wave and Gothic to minimalist electronic and back. That the two Germans had more to offer than just the famous hit 'Suicide Commando' - which probably anyone of the attendees knew - was proved during the show at BIM fest. Andy was just armed with the guitar bringing out warm Wave sounds while Tina was caring for the colder electronics. I was especially impressed by the sounds she brought out of the Theremin that was part of her equipment. Their attendance at the festival was just about the music, no big show was needed.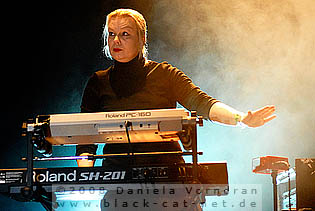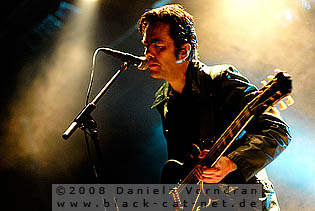 Setlist

01. Istanbul
02. Dim the lights
03. Quiet Days / On Celluloid
04. French Kisses
05. Esther Says
06. Waiting for the man
07. Suicide Commando
08. Sunday Mitternacht
09. Teenage Years
Rating

Music: 7
Performance: 7
Sound: 7
Light: 7
Total: 7 / 10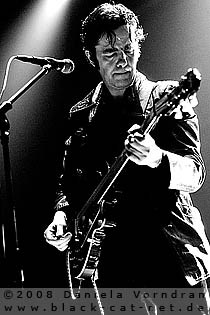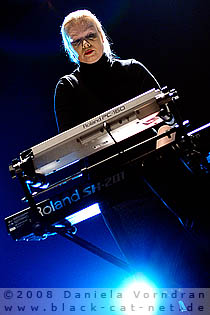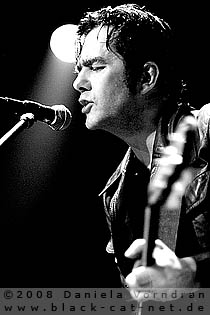 Signal Aout 42

The story of this project started back in 1986 with the two 12" singles 'Pleasure And Crime' and 'Girls Of Vlaanderen' and following another set of 12" during the following years which all became classics in the Belgian Underground, the debut album 'Pro Patris' hit the store shelves in 1989. The track 'Submarine Dance' off of the album is a classic nowadays. After his subsequent album releases 'Contrast' (1991) and 'Conviction' (1993), mastermind Jacky Meurisse turned his back on the electro scene for a while and focussed on more mainstream-ish techno and dance music. A new album of SIGNAL AOUT 42 wouldn't see the lights of day before 2007, actually a double album called 'Transmission'. SA42 is Jacky Meurisse (lyrics, compositions, vocals) extended by the live division Tcheleskov Ivanovitch (keyboards and additional voices) and Olivier T (drums and video).
http://www.myspace.com/SignalAout42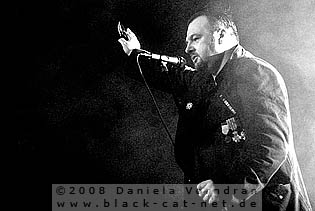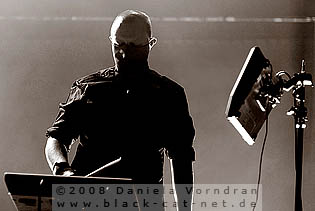 Music & Performance

After I had seen the band at this year's Wave Gotik Treffen already and was very happy with their show, I was curious how the live experience would be when SA42 were playing in their home country in front of a lot of dedicated Old-School electro lovers. And what shall I say? It turned out much better than I expected. The stage was decorated with big band banners in the back. Left side contained the desk and keys of Tcheleskov while Olivier with his drum pads was placed on the right side. Both were entering the stage first wearing welding goggles. Then, Jacky entered the stage wearing a long black coat looking as cool as cool can. Right from the start, the old-school EBM and the hard electronic sounds with recitative vocals made people move. In fact, very soon the floor became a mad house, a boiling pot full of moving bodies.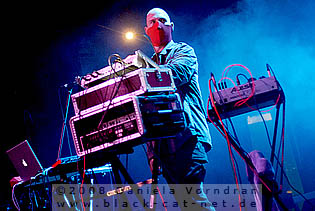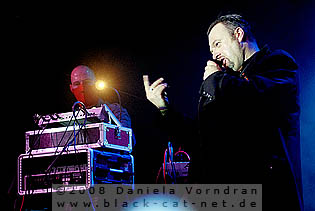 Jacky on stage had a lot of fun seeing people party that hard to songs like 'So Beautiful', 'Transformation' from the latest album or the last song of the set 'Pro Patria'. When the set ended, Jacky asked the people to make a lot of noise; otherwise they won't play anymore song because they were already late. And people made a shitload of noise. So, the last song 'Girls of Vlaanderen' was just played as "a special song for BIM fest".
Setlist

01. Submarine Dance
02. So Beautiful
03. To Talk Nonsense
04. Pleasure and Crime
05. Transformation
06. Last Kiss
07. Dead is Calling
08. Live Less
09. Pro Patria
---
10. Girls of Vlaanderen
Rating

Music: 9
Performance: 8
Sound: 8
Light: 8
Total: 8.3 / 10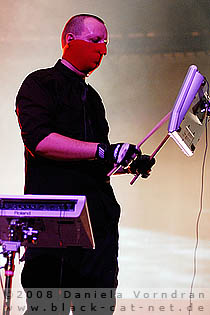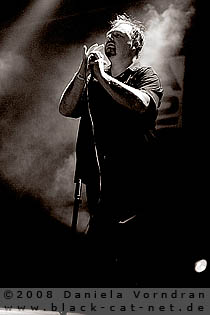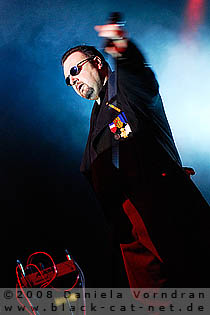 The Cassandra Complex

Rodney Orpheus and Paul Dillon gave birth to THE CASSANDRA COMPLEX in 1980. The world saw their first release coming up in 1985 with the self-financed single 'March' in March of that same year. A month later after the release of a live tape they signed to the local label Rouska. When the band released their second single, 'Moscow Idaho' (1985), it quickly soared the top of the indie charts all over the world, got played to death on alternative radio stations, and influenced an entire generation of bands to come. After two albums on the Rouska label, 'Grenade' (1986) and 'Hello America' (1987), they signed to the Belgian-based Play It Again Sam label to release what many fans call their all-time favourite album of the band: 'Theomania' (1988).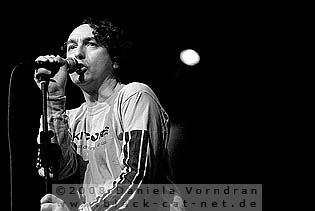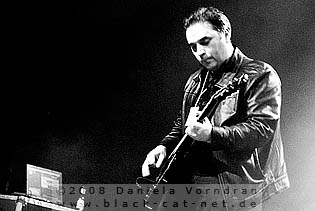 Rodney's relocation to Hamburg should turn out path-breaking for the future sound of the band. Volker Zacharias, whom Rodney had met while producing GIRLS UINDER GLASS, became the only constant member besides Rodney. Together they re-invented the sound and produced several successful albums, culminating in 'Sex & Death' (1993). Then it became silent until Rodney and Volker met in a club in 2000, resulting in the first regular album since 1993 called 'Wetfare' followed by a successful tour. After another silent period the original band members reformed in 2007 and played several shows in Europe and Brazil. They are currently working on a new album and planning more shows for 2009. THE CASSANDRA COMPLEX is Rodney Orpheus, Paul Dillon, Andy Booth and Volker Zacharias.
http://cassandracomplex.co.uk/
/
http://www.myspace.com/cx2k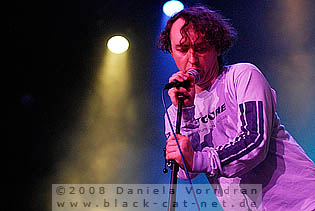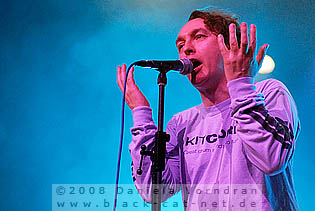 Music & Performance

The announcement on the festival website said "THE CASSANDRA COMPLEX will prove they're still alive and kicking...". And this wasn't promised too much. They were indeed very alive and kicking presenting a Goth-rock-wave-electro concert how you with it would be. Just one thing was missing: Volker with his guitar and bass. But also as a trio the band rocked! They did not need any big banners or video screens, how Rodney surprised stated after he was asked by the promoters... he just said on stage "We don't have a big banner or videos. We don't need that. We're THE CASSANDRA COMPLEX!" True, good music, dedicated musicians and an audience willing to party is all you need for a good concert. The setlist contained several true hits. So, we could enjoy 'What Can I Do for You', 'Satisfy Me' or the heavily requested 'Moscow Idaho'.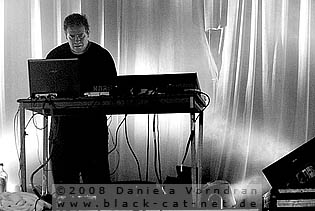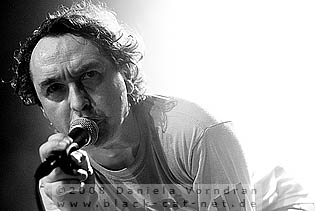 During 'Twice as good', two fens entered the stage to give Rodney a hug who was just heavily smiling. He was in a real great mood, having a big smile in his face all over the concert, shaking his hips and shaking hands. Later in the set, he got a piece of paper from a girl in the audience with a music request... 'Penny Century'. Unfortunately the band could not play this song because "Volker with his bass was missing" but anyway, we got one verse a capella. Great that there are still bands out there good for such spontaneous actions! Of course, THE CASSANDRA COMPLEX had to give an encore which consisted of 'No Quarter' and 'March'. Fantastic show! I loved it a lot.
Setlist

01. What Can I Do For You
02. Datakill
03. Presents
04. God John
05. Twice As Good
06. Bad Faith
07. Second Shot
08. Satisfy Me
09. War against Sleep
10. Moscow Idaho
---
11. No Quarter
12. March
Rating

Music: 9
Performance: 9
Sound: 8
Light: 7
Total: 8.5 / 10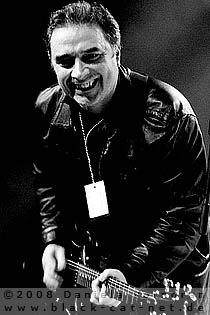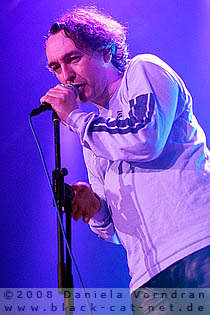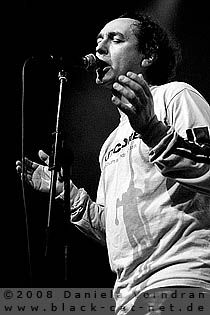 Vomito Negro

Incepted in 1983, VOMITO NEGRO built themselves a legendary reputation in the years to come, coinciding with a great following. The band name is Latin for 'Black Vomit' which is a phenomenon that arises in the last stage of the disease yellow fever, when the patient throws up his putrefied intestines and ultimately dies. Of you take a deeper look into their discography starting with the very first self-titled release back in 1985 and rolling forward to discs such as 'Dare & More' (1987) or 'Schock' (1989) yo9u can hear their music always was in a constant state of flux never sticking to any particular formula or following one scheme. After 'Fireball', an album mastermind Gin Devo wasn't really content with, VOMITO NEGRO was put on hiatus. In 2008, he decided that it was time to re-animate the project and together with new member Borg, he's currently working on a new album.
http://www.myspace.com/vomitonegro1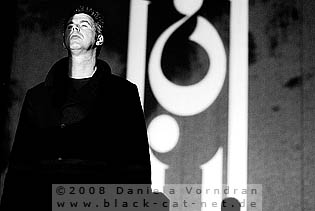 Music & Performance

Besides THE KLINIK and THE CASSANDRA COMPLEX, this was the show I was looking forward most. I had seen Gin Devo already this year at the Belgium Gothic Festival with his project PRESSURE CONTROL where he also presented some VOMITO NEGRO songs. This was already a very good teaser for what was coming up now. I was even more curious because it was promised that we get also some new songs, Gin Devo is currently working on. And that's really a surprise since it is years ago since the last album was released and maybe no one really expected that there would be something new. For the first time this evening, the stage was hidden behind a curtain during the rebuilding break. With the first sounds of 'Château des Amerois', the stage was unveiled and you had the view on two podiums, one with the electric drum pads for BORG, who already played with PLEASSURE CONTROL, and one with the keyboards, both decorated with camouflage nets.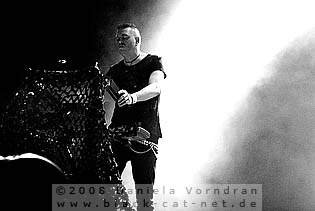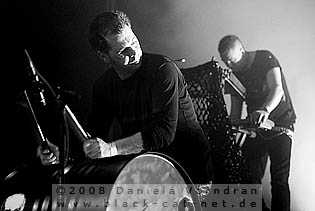 In front, there was a big oil barrel placed, which was used as additional drums later. For the first song, just Gin was sitting in the middle of the stage, the back towards the audience, fiddling around with some knobs. Then, during 'Dare' his two companions entered the stage. The whole set was very straight forward, very energetic, with some new songs, i.e. 'Black Tie White Shirt' or 'Blood, Sweat & Tears'. The new stuff was smoothly joining the old songs of the band and the hearts... and bodies... of all the old-school freaks in the room were jumping up and down. With an overturn drum construction and thrown down notebook, the set ended after 'United Fake', the curtain was closed and anything was over. No encore or such, but anyone including me was really happy about this show.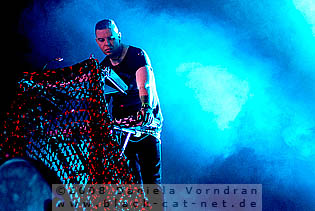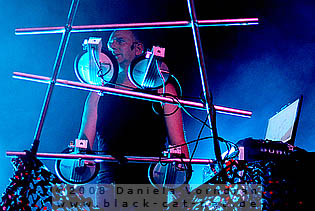 Setlist

01. Château des Amerois
02. Dare
03. Stay Alive
04. Baby needs Crack
05. Black Tie White Shirt
06. Black Power
07. Mongoloid
08. No Hope
09. Blood, Sweat & Tears
10. Nova Beat
11. Raise your Power
12. United Fake
Rating

Music: 10
Performance: 10
Sound: 8
Light: 7
Total: 9.4 / 10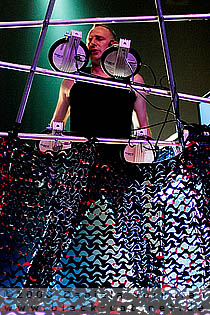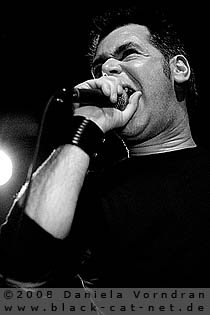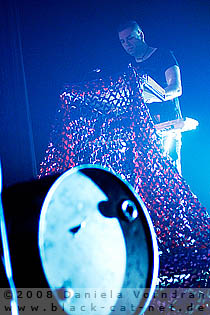 The Names

The band formed in 1978 around bassist and songwriter Michel Smordynia. After local gigs as THE PASSENGERS, they changed their name in time for their debut single, 'Spectators of Life' released by WEA in 1979 to test the market for home-grown new wave music. During a JOY DIVISION concert in 1980 they managed to get a demo in the hands of Ron Gretton, manager of legendary Factory Records label who signed them immediately after hearing the demo. Together with Martin Hannett, they recorded the second single 'Nightshift'. It was the start of a long and rewarding relationship with Hannett. With him they developed their signature sound which would make the following and still sole full length 'Swimming' that memorable. After the single 'The Astronaut' (1982), however the band split up. THENAMES are Michel Smordynia (vocals, bass), Marc Deprez (guitar), Christophe Den Tandt (keyboards), Eric De Bruyne (bass) and Laurent Lodenwijckx (drums).
http://www.myspace.com/thenamesofficialwebsite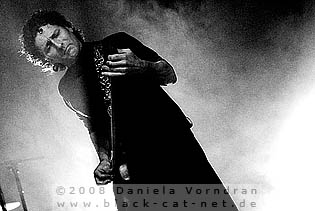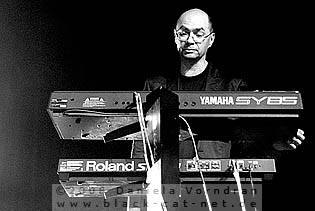 Music & Performance

Placed very high in the line-up, this band was still a white spot on my musical map. Someone said before the show, you could describe the band as "Belgian JOY DIVISION"; the band was even released on JOY DIVISION's label Factory Records. Because I like latter ones a lot, I was curious what was awaiting me now. And what I got was five people on stage presenting pure guitar based Gothic Wave with some electronic elements. The last real releases of the band date far back to the beginning of the eighties only followed by two compilations and a DVD. But now, the band was back on stage - after they already showed up on stage end of 2007 in Brussels - presenting several of their classics, such as 'Nightshift' or 'The Astronaut', and even new songs like 'Dreamless' which was written by Christophe, as singer Michel told us, or 'I am a Stranger here myself' which will be one of the 12 songs contained on the upcoming album 'Monsters Next Door'. This was really fantastic music and I am a bit sad that it took me so long to discover this band. But well, it is never too late...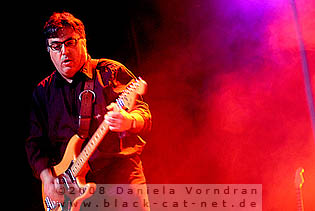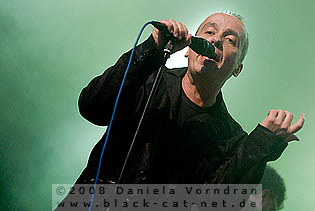 Setlist

01. Flesh Wounds
02. Discovery
03. Real Life
04. Calcutta
05. Friendly Fire
06. Zeroes
07. Traces
08. I wish I could speak your Language
09. I like you better when you were dead
10. Dreamless
11. Night Shift
---
12. I am a Stranger here myself
13. The Astronaut
Rating

Music: 9
Performance: 8
Sound: 8
Light: 9
Total: 8.5 / 10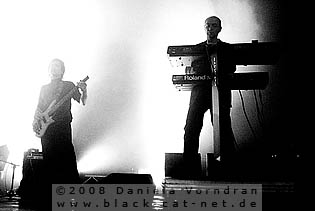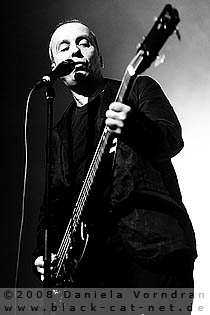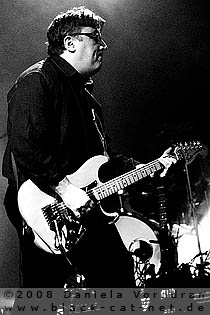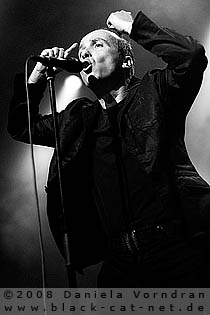 The Klinik

Absolute Controlled Clinical Maniacs, does that ring any bell? No? That's the initial name of the project subsequently changed to THE KLINIK, the legendary industrial music act, formed in 1982. Not only was their music something unheard-of and revolutionary at that time, Dirk Ivens hissing vocals and minimalist lyrics were complemented by a claustrophobic stripped down EBM sound enriched by distorted trombone play, their live performances also were something extraordinary, showing the protagonists wrapped in gauze and wearing black leather coats. Albums like 'Plague' or 'Face to Face' are unrivalled to this day. However, nothing lasts forever and o it happened that after the release of 'Time' neither of the members was satisfied with and the differences became too big, they decided to go separate way. Dirk Ivens focussed in his own project DIVE and Marc Verhaeghen continued under the name KLINIK without being able to link to the past successes of THE KLINIK. Both members briefly came back together for a few shows in 2003/04. THE KLINIK is Dirk Ivens (vocals, lyrics) and Marc Verhaeghen (synths).
http://www.myspace.com/dirkivens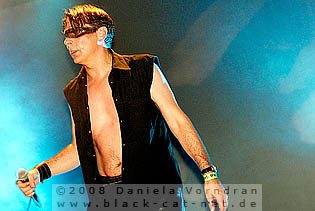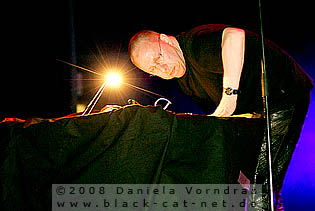 Music & Performance

Finally a KLINK show I was able to see in whole. During the last shows, I always missed parts because I had to work. But not this time! Nothing could keep me away and so, I very soon, long before the show started, I occupied a place in the first row. Very soon, the hall was packed and as soon as the show started with 'Surviving in Europe' I was pressed to the stage having hundreds of moving people behind me. But back to the beginning of the show. The curtain was still closed as when you could hear the first sounds, strange noises coming out of Verhaeghen's trumpet; just some notes extended with a reverb to create an atmospheric effect. Then, the curtain was removed and you could see Marc behind his desk in front of a big video screen and the vivid as always Dirk Ivens moving like a maniac on stage. It is incredible; this man is already long past his 40s, but still bringing more energy on stage as so many of the young electro bands.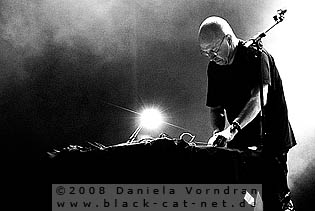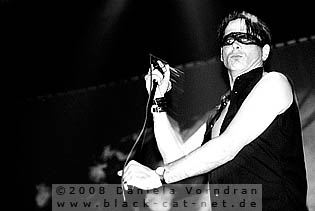 The setlist at BIM fest was exactly the same like on this year's Amphi festival, where two new songs - 'Mindswitch' and 'Stay' - were introduced. There was just one exception: there was even one more new song called 'In your Room'. Again, THE KLINIK were doing it slowly, musically and visually, teaching you electro bands that bpm and fast video cuts are not everything. Even though the songs did not break any speed records, the music moved you... literally spoken. As always, Marc stayed behind his desk during the whole show leaving the stage to hyperactive and charismatic Dirk Ivens whose bare presence fills the stage without the need of a fancy stage design. Besides the already mentioned three new songs, THE KLINIK played many of their old classics from their 1980s and early 1990s back catalogue such as 'Walking with Shadows' or 'Pain and Pleasure'... and then 'Moving Hands' came in like a sudden explosion where people freaked out once more. And once again I felt several people crushing into my back. But well, who cares... It was just great to be part of the moving crowd.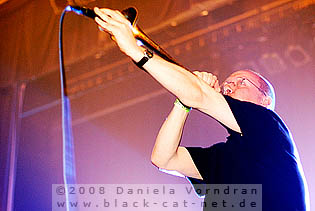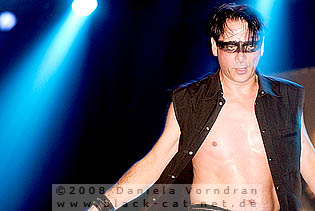 With 'Feel the Evil', the set ended. But THE KLINIK would not be THE KLINIK if there was no encore which contained the "Must" 'Black Leather' and the beat-driven 'Go Back' from 1987 as very last song. THE KLINIK definitely deserved to be the headliner of this festival which was going on with an after party for a while.
Setlist

01. Surviving in Europe
02. Braindamage
03. Walking with Shadows
04. Quiet in the Room
05. Talking to a Stranger
06. Pain and Pleasure
07. Mindswitch (new track)
08. Obsession
09. Stay (new track)
10. Moving Hands
11. Memories
12. Feel the Evil
---
13. In your Room (new track)
14. Black Leather
15. Go Back
Rating

Music: 10
Performance: 10
Sound: 9
Light: 8
Total: 9.4 / 10