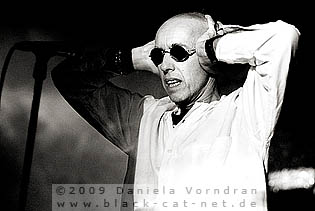 Zwischenfall, Bochum, Germany
9th January 2009
Vintage Electronic Festival: No More, Vomito Negro, Click Click

Belgium, Germany and the north of England were the centres of the New Wave, Industrial & EBM explosion in the 1980s. At the VINTAGE ELECTRONIC FESTIVAL in Bochum got a fine (well) vintage act from each of these alternative music strongholds. The Zwischenfall club in Bochum is probably for the Alternative/Goth scene in West Germany as essential as all those pioneering bands hailing from Central Europe and the UK. It was pretty much the first and for quite a while the only club in the area where you could listen to all the early heroes of Goth, EBM, Industrial and Wave. And see gigs of them! So it truly made sense that the VINTAGE ELECTRONIC FESTIVAL featuring CLICK CLICK, VOMITO NEGRO and NO MORE plus a whole bunch of DJs back from the day took place at this legendary club.



No More

Based in the very north of Germany, the city of Kiel, NO MORE were founded by Andy A. Schwarz (vocals, guitar, bass), Tina Sanudakura (synthesizers), Christian Darc (drums, vocals) and Thomas Welz (bass, vocals) as early as 1979. NO MORE unfortunately never had any major success but somehow their song 'Suicide Commando' (originally released 1981) has become an underground club hit by and by, with increasing success with every year that passed by. The song truly took a life of its own. From influencing late 1980s Electro bands to a certain Belgium band who named itself after this particular band to being cited as an influence by artists from the Techno / Electroclash scene this song has quite a way! In 2006, No More (condensed in the duo Tina Sanudakura and Andy A. Schwarz) released a new album called 'Remake/Remodel'. In Bochum, fans of vintage dark electro had the chance what NO MORE has to offer besides this one big classic.
http://www.no-more-remake-remodel.com
/
www.myspace.com/nomoreremakeremodel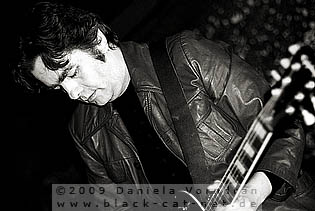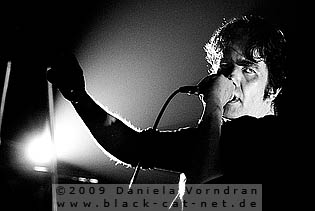 Music & Performance

While some people were still busy buying merchandise or welcoming friends and old mates (which can take a while if you happen to know half of the 300 attendees…) NO MORE entered the stage at the main hall of the Zwischenfall in the second level of the building. The duo, with Andy A. Schwarz at the guitar and the mike and Tina Sanudakura at the control desk and keyboards, proved that they have quite a variety of styles to offer. From dark Wave tunes to minimal Electro to more experimental or poppier stuff - it wasn't always as electronic as the name of the festival suggests but their material was still quite excellent. A pleasure for the ear while the eye got probably a bit bored - there was not much too look at, just the two musicians doing their thing. It took a little while until the audience, and perhaps the band as well, got into the show but in the end it was a fine performance. 'Suicide Commando' of course got the biggest applause but seeing people rushing to the merchandise stall after the gig to buy NO MORE CDs proved that they realized that there's so much more about NO MORE than this one single song.
Setlist

01. Istanbul
02. Dim the Lights
03. Quiet Days / On Celluloid
04. French Kisses
05. Esther Says
06. In a White Room
07. Waiting for the Man
08. Suicide Commando
09. Sunday Mitternacht
10. Teenage Years
---
11. Hands in the Dark
Rating
Music: 8
Performance: 7
Sound: 8
Light: 6
Total: 7.5 / 10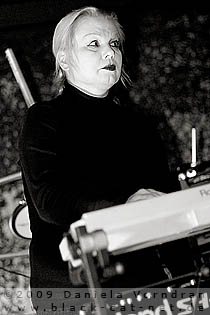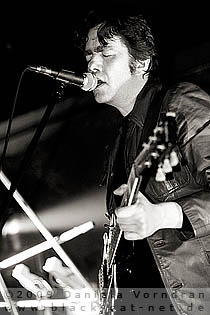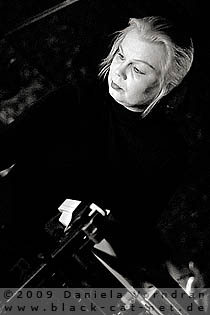 Vomito Negro

With high-profile names like FRONT 242, THE KLINIK, A SPLIT SECOND, THE NEON JUDGEMENT among others, Belgium is surely the motherland of Electronic Body Music. The small country in the heart of Europe had a vivid and creative scene for electronic music in the 1980s, which changed the face of electronic music worldwide forever. VOMITO NEGRO is one of these Belgian pioneers - never as successful as FRONT 242, never deploying other genres like THE NEON JUDGEMENT, as dark as THE KLINIK and heavier as A SPLIT SECOND. VOMITO NEGRO was and is a cult band, loved by every true EBM-head.
http://www.myspace.com/vomitonegro1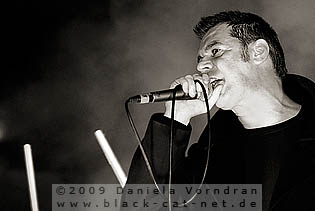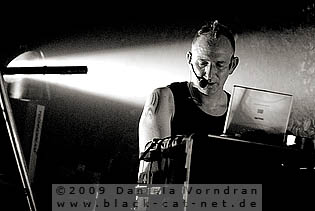 Music
Formed in 1983 by Gin Devo and Guy Van Mieghem, VOMITO NEGRO released a number of influential albums and singles from their self-titled debut in 1985 to 'Wake Up' in 1992. After a terrible road accident Van Mieghem's health didn't allow any further performances and VOMITO NEGRO ceased to exist - until 2002, when a new album called 'Fireball' was released. Six years later, Gin Devo teamed up with new member Borg to bring VOMITO NEGRO back to the concert stages and to record a brand new album which hopefully will be released soon in 2009.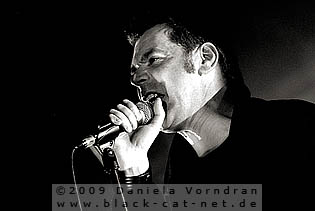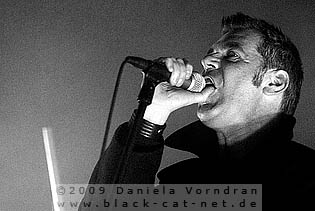 Performance

'Chateau des Amerois', a brand new instrumental, opened the show of VOMITO NEGRO - a dark and daunting piece of music which perfectly headed for what was to come. The title track of the 1987 album 'Dare' followed, and there was surely no mercy! VOMITO NEGRO is rough, edgy, dark, and cynical. And if you hear it it's too late for escape. Not that anyone at the Zwischenfall would have wished to escape - the co-headlining slot at this mini-festival was well deserved, and the club was pretty packed. After 25 years, Gin Devo is still an impressive front man. Here's a band which doesn't need any fancy makeup, no shocking show, no cliché or any kind of frippery - apart from the graphics on the backdrop it's just captivating sound and Gin Devo who would not let you go away. This is dirty EBM in the most wonderful sense of the word, and with new tracks like 'Black Tie White Shirt' alongside classics like 'Baby Needs Crack' or 'No Hope', VOMITO NEGRO proved that they haven't lost it. On the contrary! This was a great, great gig which makes it hard to wait for the brand-new album!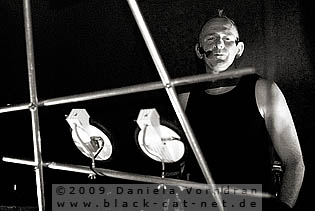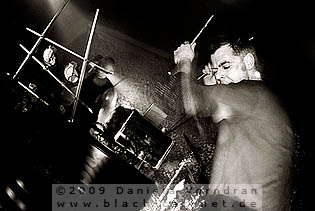 Setlist
01. Chateau des Amerois
02. Dare
03. Stay Alive
04. Baby Needs Crack
05. Black Tie White Shirt
06. Black Power
07. Mongoloid
08. No Hope
09. United Fake
10. Novabeat
---
11. Blood Sweat & Tears
12. Raise Your Power
Rating

Music: 9
Performance: 9
Sound: 8
Light: 8
Total: 8.8 / 10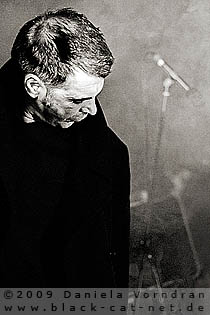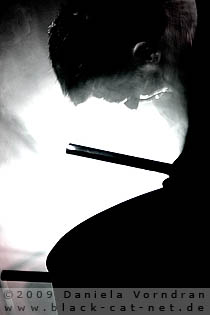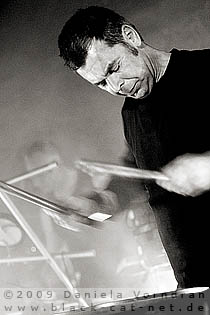 Click Click

Formed in 1982 by brothers Adrian and Derek E. Smith, CLICK CLICK from Sheffield has become one of the most productive outlets of the electronic underground. Most of the material though was never released, or released among the moniker of the Smiths' numerous side projects. CLICK CLICK released four albums and a couple of singles from 1986 to 1989 and had a comeback with the Breakbeat influenced album 'Shadowblack' in 1997. In 2008, CLICK CLICK returned to the stages in support of their re-mastered compilation 'Lung Function', available via iTunes.
http://www.click-click.eu
/
www.myspace.com/clickclickmusic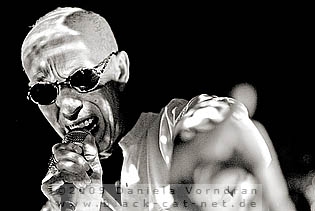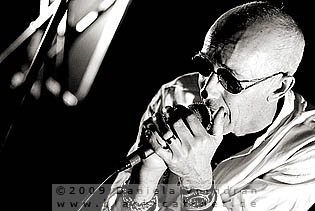 Music
Before the VINTAGE ELECTRONIC line-up was announced, I never really thought about a reunion of CLICK CLICK. Their last album was more than eleven years ago and even that one was a rather unexpected sign of life after six years without any new releases. Word is that the relationship between the two heads of this project is somewhat erratic, so that they soon split up again after 1997s 'Shadowblack' - which rather caused confusion than enthusiasm among their old fan base anyway. However, CLICK CLICK is a cult band with a cult following, owed largely to their releases in the 1980s. CLICK CLICK was never easy to pigeonhole, they managed to have a trademark sound and still their styles meander between avant-garde and pop, dark and beat-driven, psychedelic and melodic. It's neither EBM nor Industrial nor New Wave in the strict sense, yet their music has elements of it all.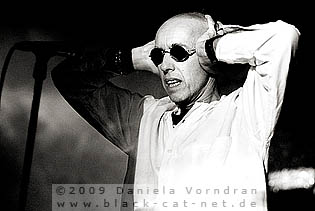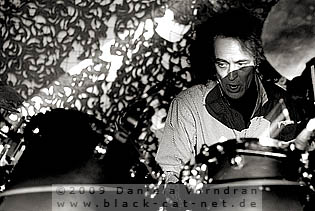 Performance

The first time I experienced CLICK CLICK live was in 1989 (geeezaz I'm old!) and it was a superb audio-visual trip. I wasn't much of a fan of their 'Shadowblack' period in the late 1990s so I was curious what the Smiths would have to offer in 2009. And just like 1989 it was just another superb experience! Again their show was backed up by some stunning visuals - unfortunately they just couldn't come to full effect at the low stage of this small club - and musically it was (almost) what I hoped for. They had a little field-trip back to their 1990s drum 'n bass day in the middle of the set (and this time I quite enjoyed it) but for the majority of their show they revisited their early and very early days. Many tracks from the first few releases made it into the setlist, like the old 12" b-side 'Red' or songs like 'She's Chewing Them', 'Damage' or 'Clang!' - stuff many collectors paid high prices for the respective vinyl. The (excellent!) 1989 album 'Bent Massive' on the other hand was unfortunately completely ignored - a shame!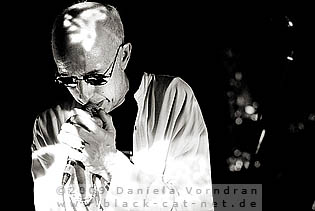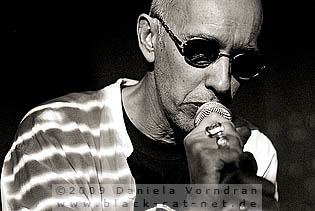 But nevertheless the performance by CLICK CLICK was great, they created an intense atmosphere and the vocal performance of Adrian Smith was simply amazing! His voice sounded exactly as in their studio works - something not every singer is able to accomplish live - and his voice on top over the very trademark CLICK CLICK bass lines and poly-rhythms really gets under your skin. Who would complain about the setlist when you are offered such an emotional, distinguished performance - and last but not least no one would have hoped for seeing CLICK CLICK live at all just a few months ago. For old and new fans, CLICK CLICK released the compilation 'Lung Function' featuring many of their old songs which weren't available on CD or vinyl anymore, and which were much sought after at Ebay and your local record fair over the last few years. The compilation is available via iTunes, Musicload and similar services. Best thing about it: It does not only feature unreleased material as well, all the old classics were re-mastered with a lot of love for the detail!
Setlist
01. Intro
02. Left for Dead
03. Rats in My Bed
04. Clang!
05. She's Chewing Them
06. Limb from Limb
07. Party Hate
08. Damage
09. Skripglow
10. Red
11. Playground
12. Stay Out of the Water
13. Sweet Stuff
14. Awake and Watching
Rating
Music: 9
Performance: 8
Sound: 8
Light: 8
Total: 8.4 / 10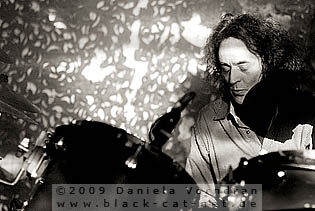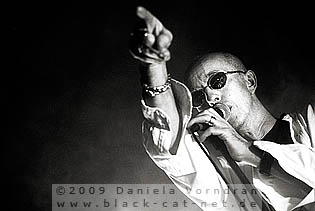 All pictures by Daniela Vorndran (
http://www.vorndranphotography.com/
/
http://www.black-cat-net.de/
/
www.myspace.com/vorndranphotography
)
{jos_sb_discuss:18}