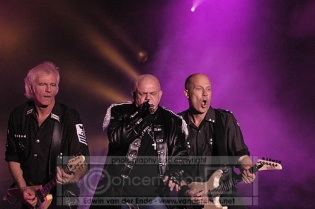 Wacken Open Air, Wacken, Germany
August 6th 2005
Zyklon, Suffocation, Dissection, Axel Rudi Pell, Holy Moses, Finntroll, Hammerfall, Kreator, Accept, Sentenced

The last day of this heavy festival. It was hard in many ways: struggling in the mud, rain and coldness. Sometimes tired or drunk. Short nights and long days, but the real metal head will survive. That is also the spirit of festivals: to share that feeling. Luckily the weather was better, so the good atmosphere came back. The sunshine was more then welcome. Also the coffee in the village was something who was very appreciated.
Zyklon


With their new album Aeon this Norwegian band combines black and death metal. The band consists of guitarist Samoth, drummer Trym, guitarist Destructhor and new vocalist/bassist Secthdamon.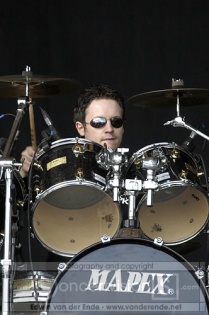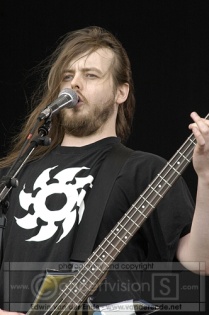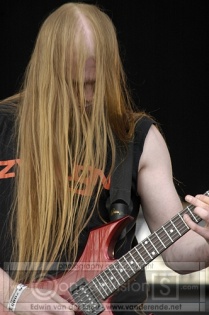 Suffocation
(by SD)
A kick off from this old school death-metal band: when you are not awake yet, then there is something wrong. They did a lot of festivals two years ago and now they are back. It is still amazing to see this band in action. This American band
Music
Vocalist Frank Mullen is really awake and starts very raw. His screams and grunts are powerful: it almost seems that he doesn't need a microphone. With bald head and tattoos on his legs he looks like a hardcore musician, but really can make some good 'noise.' An eye catcher is the sound of the drums: dry, clean and very fast. The backbeat is lovely to hear after all those German stuff on the camping side. They play a lot of songs from the last record 'Souls To Deny'(2004). When they play 'Funeral Inception' some Dutch guys are starting a big moshpit.
Performance
It was to look at this band, although they get boring after a while. That has nothing to deal with the sound, but it all too much on the same level. Perfect, but you miss the action. They don't move a lot and there is a lot of smoke on stage. Drum player Mike Smith has his own party in the back: head banging with his dreadlocks and full of concentration. Also the bass- and guitar rplayer are focused on the sound, but doesn't have that much interaction with the audience. Shame, but still a good gig.
Rating
Music 7
Performance 5
Sound 7
Light – (daylight show)
Total 7 (7,2)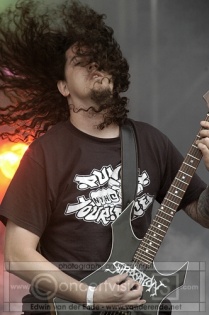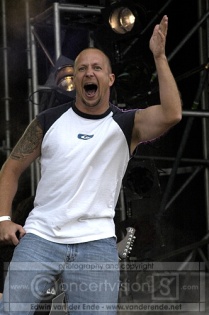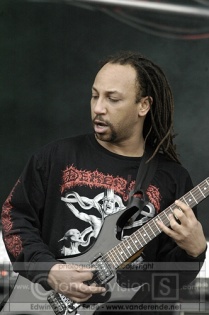 Axel Rudi Pell (by RG)

At the time I had never even heard of metal these guys already had released their first album 'Wild'. You'd think by now they won't be so wild any more…. well think again.
Music
These guys are tuned in to each other, they can have fun while still giving a great musical performance as well. When they play 'Strong as A Rock' the entire band sings along, it is a powerful song and the entire audience is compelled to sing along as well. This band is better at these power and energy full songs, when the emotional songs are played they don't attract your attention that much, the tension is gone.
Performance
Johnny Gioeli (vocals) covers all areas of the audience, he runs from left to right and sees to it that all get attention. Ferdie Doernberg (keys) is so into his keyboard he tilts is sideways and almost makes it touch the ground, he even leaves his keys alone at times to come to the front of the stage and make the audience clap along. It is fun to see the band enjoy them selves so much.
Rating
Music 6
Performance 7
Sound 7
Light 6
Total 7 (6,7)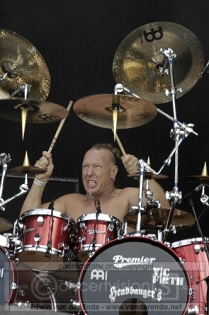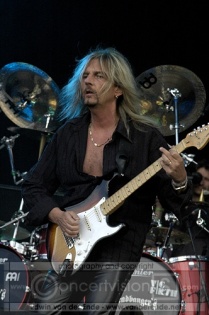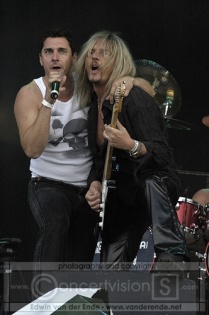 Dissection
(by SD)
In compare with a year before there weren't that much black metal bands on this festival. So we can say that this Swedish band was the black metal sensation of this festival. After a hectic period where guitarist/vocalist Jon Nödtvedt was in prison. Also there were some line-up changes in 2004, but they are back full of power.
Music
Where shall I start? It is almost a perfect show. In general the level of quality was very high this last day of the festival. This band made a lot of impact with their sound. Clean guitars and some real heavy vocals of Jon. They really create a good atmosphere with some dark songs. They play their last single 'Maha Kali' a midtempo song, but it is the face of the rebirth of this band. Also older songs like 'Frozen' and 'Where death angels lie.'
Performance
It is good to see the band enjoys it to stay on this festival with all those fans. They play a up-tempo set and there is a lot of interaction with the audience. When the front man Jon ask if they have a great time, everybody starts to scream. They even play an old demo song, not played for eight years.
Rating
Music 8
Performance 8
Sound 8
Light – (daylight show)
Total 8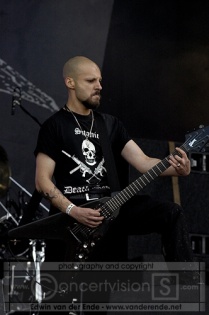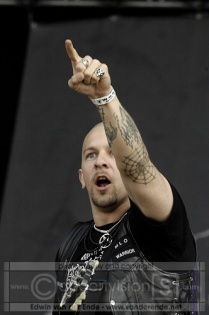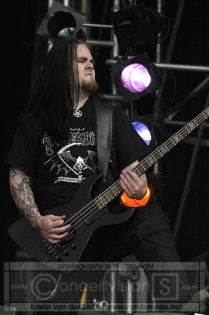 Holy Mozes


These German metal legends celibrate their 25th aniversary this year. A turbulent time with break-ups and line-up changes. When they got back together again for their 25th aniversary the line up was teh following: Sabina Classen (Vocals), Franky Brotz (Guitars), Michael Hankel (Guitars), Alex DeBlanco (Bass) and Julien Schmidt (Drums).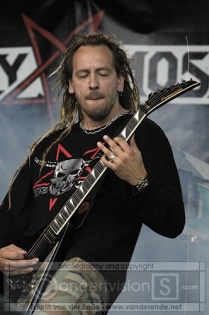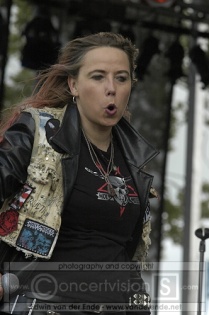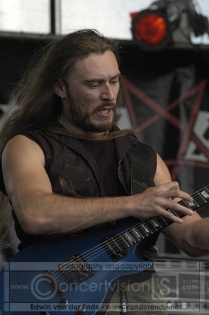 Finntroll
(by RG)
Why this band was playing at the small stage is still a big question for they attracted so much audience they could have easily played at one of the main stages. There were so many people (some even in the trees), I wondered if some could even see the stage. But hearing them was enough to have fun during this party performance.
Music
Besides the heavy metal tunes Fintroll brings some great folk tunes. You can bang you head or do the polka. It is great fun. No one understands the lyrics (well almost no one) but still they sing along. If you have heard them once you will always recognise these tunes, wherever you hear them. They stick! (in a good way).
Performance
This band knows it audience, and the audience knows them. When Wilska (vocals) tells them, you know what to do during the next song… the audience does, they shout the exact right lyrics and of course make a great pit. Many crowd surfers took their chance and they just kept on coming, security had a busy hour. There is not much to see on stage, the guitarists are mostly hidden behind their long hairs and Wilska is mostly standing with one foot on the monitor and singing his lungs out. But as he said so himself: "it's all about the music with Finntroll".
Rating
Music 8
Performance 7
Sound 6
Light 6
Total 7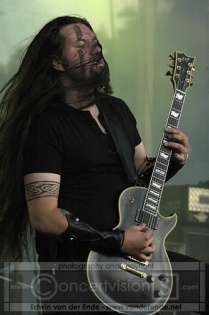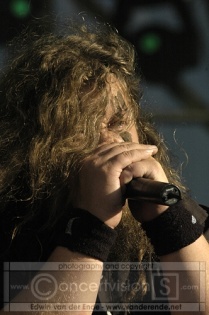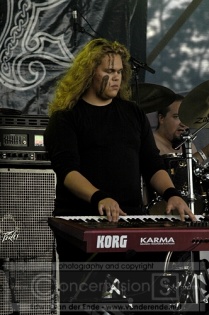 Hammerfall (by SD)

These power metal guys are back with a new record. Although they took their time with a very long sound check the show was good. When I came back from my diner the whole festival field was packed. Masses of people in front of the stage till the end of the festival area where the security stood: full with German metal heads.
Music
With their 'easy-to-sing-along' songs this band is very popular in the power metal scene. The recent product in the successful history of Hammerfall is the album 'Chapter V: Unbent, Unbowed, Unbroken.' Vocalist Joachim needed some time to get into the set, but after some minutes his voice is warm, strong and powerful. Also Oscar on the guitar, with his 'knight outfit' is even better then on the cd. There is more power in the songs and the whole band has a lot of fun on stage. That reflects in the sound. Songs like 'Let the Hammer Fall' or 'Riders of the Storm' and 'Harts on Fire' are played smoothly, with poses and funny faces, but with a crystal-clear sound.
Performance
The setting of some massice icebergs make the atmosphere a bit 'non-seriouse' but when the band enters the stage there is no comedy. There is really something to see: poses of both guitarplayers, with funny faces and a big smile of vocalist Joachim. With his friendly face he is a real icebreaker. The band doesn't need to prove anything. Everyone sings along and it is great to see the mass moving. A guy with a big silver hammer like on 'Renegade' is crowdsurfing and when the band gomes back for the second time with 'Templars of Steel' people are screaming and totally tired and statisfied the band says goodbye. It was an intensive gig for both sides.
Rating
Music 8
Performance 9
Sound 8
Light 7
Total 8 (8.1)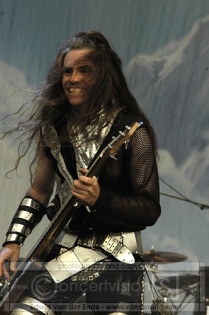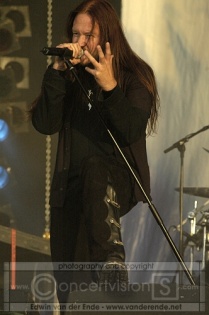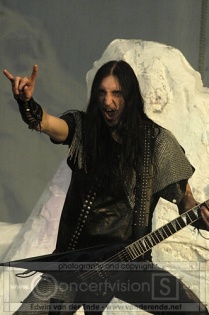 Kreator (by SD)
The Surprise act on the other stage is not Sodom (the band who's touring with Kreator at the moment) but Martin Kescici (winner of the German idols and returned to his roots). On the mainstage people were switching from the leftside to the right and rest a bit before the German trashmetalband would enter the stage.
It was a historical gig what Kreator played. They are always new and fresh, but this time it was massive. After all those years the band still got the spirit to be driven and devoted to their music. I still feel the energy in my bones when I see the images of that gig: a totally packed field (the biggest mass of the whole festival) and Mille on stage showing all his emotions, a perfect sound and a perfect show. The vibe was good from the beginning on, altough the setlist was very wellknown for many people who saw the 'Enemy of God'tour. It doesn't matter there is no other band who can play metal like they do. Feel honerd when you was there and remember this like it was the best gig of the Wacken Festival.
Music
Dark, smokey and the raw voice of Mille. That is Kreator. When the intro sets in some blue and red fireboxes are placed on the stage. Altough it is not very comfertable for the members the red and blue smoke looks great. It greats the good atmosphere for this special gig. It's in the air and frontman Mille knows like no one else how to work with the adreline in the audience. The sound is perfect: the bass- and guitarlines are clear and the drum is in front of the mix: it is a raw, but deep sound. Many songs are played the evening. Old ones like 'Flag of Hate' and new ones like 'Voices of the Death.' All those songs shows more then ever the history of Kreator. This is what they will be and it feels good. The raw sound has more impact live then on the albums. There is a lot of interaction with the audience and when the band finally ends their gig there it's totally dark, silent and a melancholic feeling.
Performance
Natural, with some aggressive elements. Kreator is not a band who has a big show on stage. There is Jürgen on drums, shame that you can't see him very well, because he is very active and totally focussed on the music. Also Sami (leadguitar) and Christian (bassguitar) are very concentrated on their guitar and doesn't move a lot. Luckly there is Mille who has a lot of interaction with the audience. When he screams: ,, Are you ready to kill?" Everyone replies 'yes!' and with a big smile he sets in 'Pleassure to Kill.' What Kreator shows is real emotion and the rawer the voice of Mille, the better the gig. He is broken and tired in the end, but they all gave more then 200 procent. This is the real headliner of the evening.
Rating
Music 10
Performance 9
Sound 9
Light 7
Total 9 (9.4)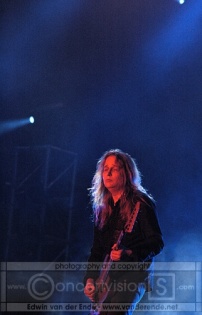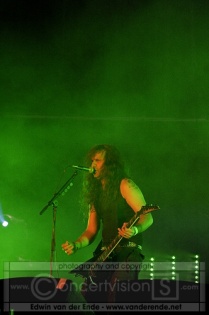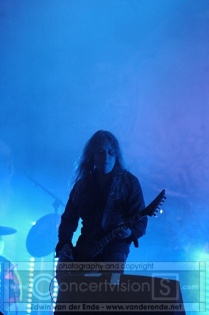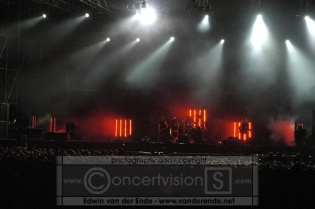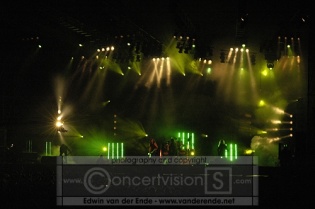 Accept (by RG)
The show time planned for Accept was so extensive that many doubted whether there might be an extra surprise act planned for this day. But no such thing, Accept just played for more than 2 hours, they kept on going and so did the audience. In the deep mud and cold night air the party went on and on.

Music
The musicians still sound great, that is because their instruments can be replaced (and they keep their skills up to date) but Udo Dirkschneider can't replace his instrument. His voice sounded broken some times, but even that has its charm for the does know how to use it. Most of the time lead guitarists are the ones to give solo's but at one point during the show Peter Baltes gave a solo, with a spot directed at him only he treated us to a nice deep solo. There was even a place in their show for some classical music: 'Hall of the Mountain King' was played with great enthusiasm. They've still got it.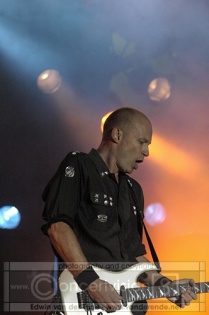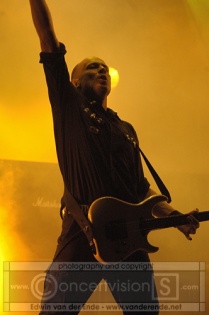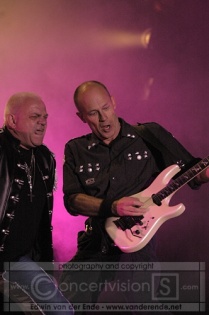 Performance
The show started with a bang of sparkles, everybody's attention was immediately drawn. They might be of age but these guys have some smooth moves, three guitarists making exactly the same moves at the same time, or Udo in-between two guitarists rocking together. It was great fun to hear the lines 'please turn me on' from someone who could have been my (grand)father. The lights were moving and flashing al the time, but it was right for this show. The spot lights were used well, whenever needed they were there at the right place at the right time. The show ended with some extra flames and of course the fireworks which closed many evening shows at the Wacken festival.
Rating
Music 8
Performance 8
Sound 8
Light 9
Total 8 (8,1)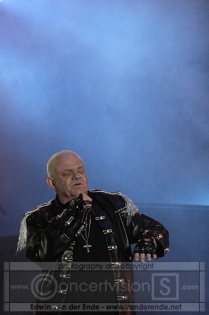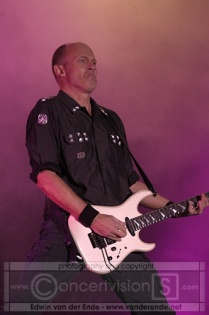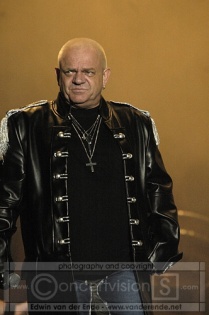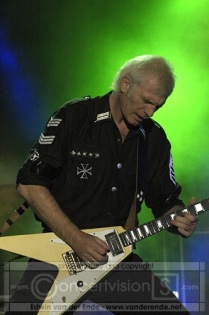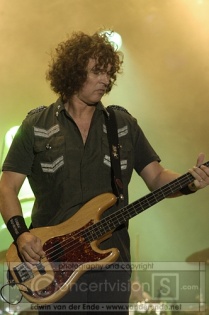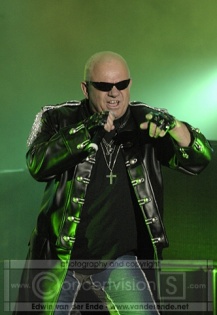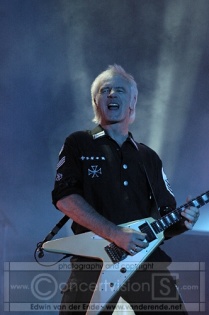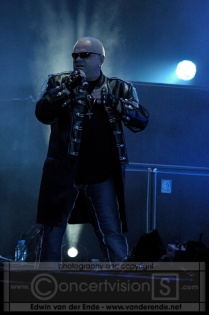 Sentenced

Where other bands reunite this Finnish band had decided to call it quits and plays their final gig at Wacken Open Air. Ville Laihiala (Vocals), Miika Tenkula (Guitar), Sami Lopakka (guitar), Sami Kukkohovi (Bass) and Vesa Ranta (Drums) already ended their studio career with the release of 'The Funeral Album', they found their eternal hunting grounds at Wacken 2005.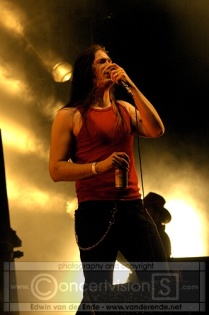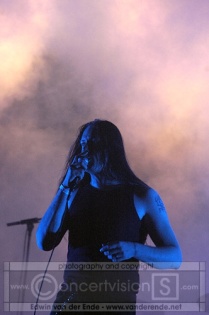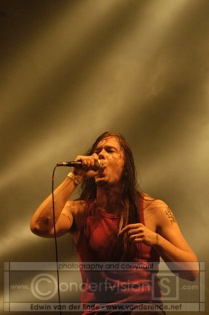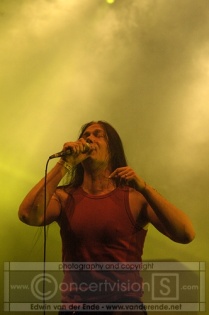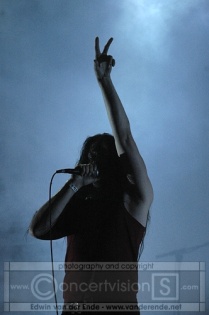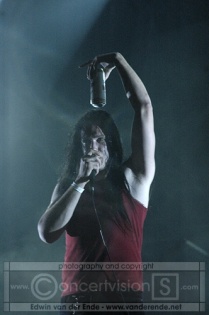 See also (all categories):