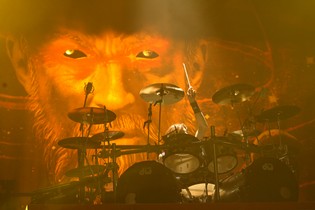 Priest Feast Europe 2009, Heineken Music Hall, Amsterdam, The Netherlands
23rd March 2009
Testament, Megadeth and Judas Priest
Tonight we have been preparing for a rough evening containing Heavy Metal in it's purest form with Testament, Megadeth and Judas Priest. Once we've arrived at the HMH we'd come to the conclusion that it has already began. Opening hour 19.30 the ticket announced but less is true. Unfortunately Testament has already started their show at 18.45. To bad because we really wanted to see them after the impression of Chuck we had at the Christmas Metal Symphony at the end of last year.



Testament
was one of the first thrash metal bands to emerge from the San Francisco Bay Area in the 1980's. Undoubtedly, they are the inventors of the thrash-metal wheel. TESTAMENT's powerful sound, influence, and longevity make them one of the Top 5 All-Time Legendary Thrash Metal Bands. After a rough period and some changes in the occupation of the bandmembers they've released their 10th studio album called "The formation of Damnation". With their almost original lineup including vocalist Chuck Billy, guitarists Eric Peterson & Alex Skolnick, bassist Greg Christian and friend and former member, Paul Bostaph on drums they're ready to kick as tonight.
Music and Performance
We have the luck that we can see some songs of which are left of the show of TESTAMENT before Chuck's announcing the last one "Rapid Fire". So we get in a real metal mood in a flip of a coin. The band makes a good impression on us and the audience tonight. They're going mad. Chuck's roaring voice sounds strong and powerfull. Musically it's powerfull and super tight. Hopefully we have the chance to see them again but than a bit longer. According to the legendary words of Chuck "Don't forget: Heavy Metal Forever".
Rating
Music: 8
Performance: 8
Sound: 8
Light: 8
Total: 8 / 10


Megadeth
MEGADEATH is an American heavy metal band led by founder, front man, guitarist, and singer - songwriter Dave Mustaine. Formed in 1983 by Mustaine and bass player David Ellefson on the following of Mustaine's departure from Metallica. The band has released eleven studio albums, six live albums, two EPs, thirty singles, thirty-two music videos, and three compilations. In succesion of their eleventh studio album "United Abominations" they're up to release their twelfth but "Untitled" studio album. The new song title for the album was named 1,320. Other confirmed track titles include "The Hardest Part of Letting Go". The new album is also set to include an instrumental track, similar to that of "Into the Lungs of Hell" from the album "So Far, So Good... So What!". As a pioneer of the American thrash metal movement, Megadeth rose to international fame in the 1980s, but experienced numerous line-up changes. The current line up with Mustaine on lead vocals, lead and rhythm guitars, Chris Broderick, lead/rhythm guitars and backing vocals (former member of Nevermore and Jag Panzer), James Lomenzo on bass and backing vocals and Shawn Drover on drums/percussion is ready to play as long as we've payed for tonight.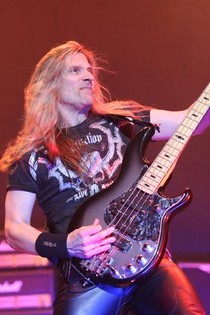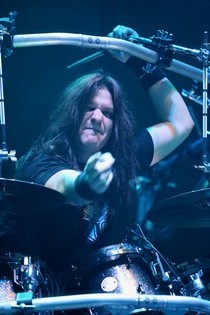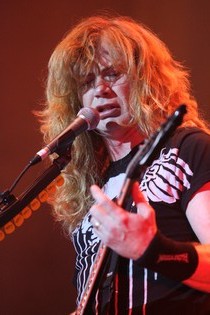 Music and Performance
Punctually 20.00 Mustaine and his crew entered the stage and start playing like their lives depend on it. Mustaine needs to get in to the vibe a bit but from the third song until the last one the set sounds super-tight, power full and clear as Heavy Metal should. It's there last show of this European tour. They seem to enjoy playing and being here in Amsterdam for there last gig. Mustaine's said on another show "You pay to hear music, we will play music from the minute we start to last second at the end, no bullshit talking or other stuff that isn't important" That's the vibe we're getting here in the HMH as well. There's a minimum of contact with the audience which respond in a good optimistic but no head banging crowd. Everybody seems to enjoy the show. We are certainly amazed by the short but strong set these guys played here tonight were they end with Holy wars!
Rating
Music: 8
Performance: 8
Sound: 8
Light: 8
Total: 8 / 10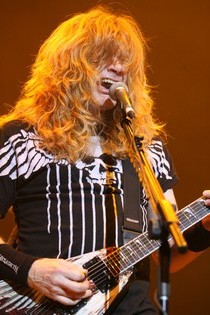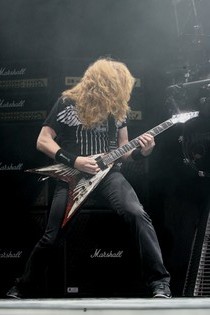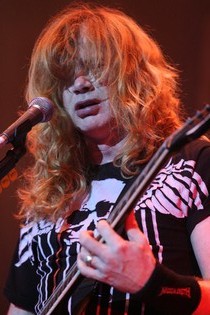 Judas Priest

Heavy Metalband and Icon JUDAS PRIEST from Birmingham England was formed in 1969. For 30 years JUDAS PRIEST's core line-up consists of bass player Ian Hill, vocalist Rob Halford and guitarists Glenn Tipton and K. K. Downing and their current drummer Scott Travis. Singer Rob Halford is been replaced by Ripping Owen after the Painkiller tour in 1991 but he has been back to the nest since 2003.They have been cited as an influence on many heavy metal musicians and bands like for instance Doro Pesch and her Warlock.Their popularity and status as one of the definitive heavy metal bands has earned them the nickname "Metal Gods" from their song by the same name. They have sold over 35 million albums worldwide. After al these years they're still extremely popular. To celebrate their 30th anniversary big they've released their 16th album "Nostradamus" in 2008.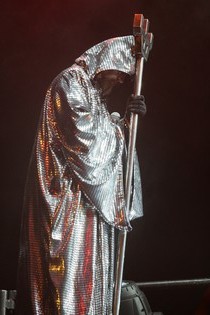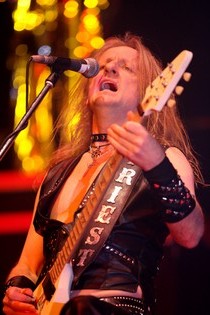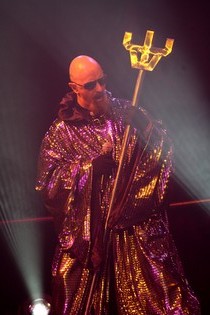 Music and Performance
Priest has a special stage design. The drums are on a decent increase in the middle of the stage which has sliding doors underneath it where Halford would come on stage riding a motor cycle. On each side are stairways with a plateau. Behind the drums is a big screen with the cover of the album Nostradamus's face with red lighted eyes. Everything is in red and black and has the Priest character. They have thought of everything to make their show unforgettable from lots of special effect until gadgets like a royal chair. The only down side to it all is that they will play the same show as June last year in Zwolle.
Punctual at 20.30 the band start playing and Halford enters the stage on the left side plateau wearing a mirror covered shining hooded long cape and holding a crosier with the Priest sign on top. He moves like a robot and looks like a "priest" from the future. It looks extremely impressive also because of the enormous good lightshow. They start of a super-tight set with many old songs including, Painkiller, Hell Patrol, Night Crawler, Excite, Sinner, The Ripper, The Green Manalishi, All Guns Blazing, A Touch of Evil and songs from their latest album "Nostradamus". Amazingly Halford is singing clear but unfortunately always with his head down so he can read his lyrics. Never the less it doesn't bother that much and his changes of wardrobe after almost every song makes it all right. "The Priest is Back and everyone in the audience is sure as hell ready to welcome him".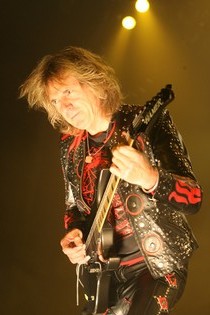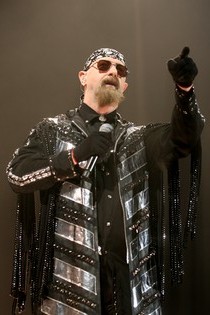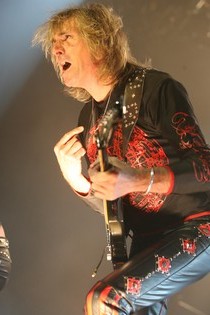 You can notice that guitarists Glenn Tipton and K. K. Downing are playing for so long toghether their ensemble is magnificent. They put down a hell of a show tonight. To bad that in their enthusiasm the decibels are to loud. Amsterdam is shaking at its foundations. Fortunately if we stay in the line behind the speakers towards the door it's okay. The show ends and Halford's wearing a Dutch Flag. It's the last show of the European tour so they say goodbye with a big thanks to everyone especially the fans. They can sing along with the last song with a JEHJEHJEH and than the light goes down.
Setlist
01. Dawn of Creation PROPHECY
02. Awakening REVELATIONS
03. The Four Horsemen WAR
04. Sands of Time PESTILENCE AND PLAGUE
05. DEATH
06. Peace CONQUEST
07. LOST LOVE
08. PERSECUTION
09. Solitude EXILED
10. ALONE
11. Shadows In the Flame VISIONS
12. Hope NEW BEGINNINGS
13. Calm Before The Storm NOSTRADAMUS
14. FUTURE OF MANKIND
Rating
Music: 8
Performance: 9
Sound: 7
Light: 9
Total: 8.3 / 10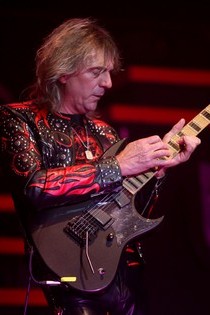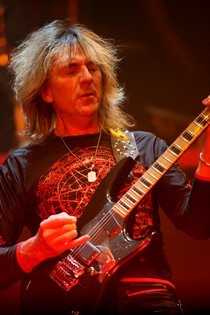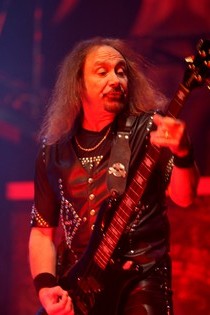 {jos_sb_discuss:18}