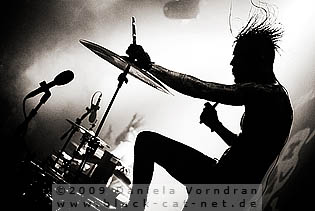 Kulturfabrik, Krefeld, Germany
3rd April 2009
CombiChrist, Zeromancer, Grendel, Scream Silence, Mina Harker


With the 7th and 8th Pluswelt festival, the same-titled promotion agency celebrates its 10th anniversary and for that has laced together a program of top acts for this occasion starting on Friday with the 7th issue and acts such as ZEROMANCER or COMBICHRIST for instance.



Mina Harker

Since the beginning of time, mankind has dreamt up, conceived and often feared the dark worlds, mysterious myths, folklore and utopias, due to their inconceivable and menacing nature. The dark of night, with its myriad creatures, often hard to spot for those that do not listen or watch attentively, holds a similar fascination. It is from these spheres that MINA HARKER gathers the inspiration for her tales, which are oh so surreal, outstanding and passionate. This is also reflected in the duo's musical basis which seems to have spawned from similar twilit worlds, though slightly easier to grasp with its gloomy digital aesthetics, elaborate song writing, hard guitar sounds, opulent electronics and the often powerful and sometimes heavenly voice of MINA HARKER. 'Tiefer', their debut album saw the light of day in October 2008.
http://www.myspace.com/minaharkerband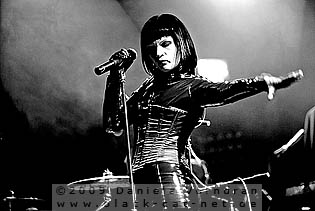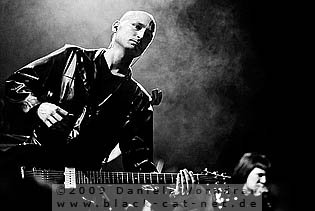 Music & Performance

The thankful job of the opener belonged to German newcomer band MINA HARKER playing for us a little selection of songs from their debut album 'Tiefer'. Everything began with the band members getting on stage. Again, the duet was supported by OOMPH! drummer Leo. Mina was wearing tight lacquer outfit and a girdle and as far as I could see that the guitarist wore lacquer as well under his leathern black coat. When everybody was in place, the set started with 'Letzter Kuss' and went on with 'Bis zum Tod', actually a duet with Dero of OOMPH!, as well as 'Wie im Traum' one a little more driving song with forceful drumming and overall was hovering the voice of Mina who's just as the guitarist used the limited space on the packed space she had to show a little movement to the songs. The audience on the other hand didn't show lots of that. Too early maybe? Or it just didn't match most people's taste, who knows. Anyway, the set ended with 'Tiefer' and then it was time to quit the field for the next band.
Setlist

01, Letzter Kuss
02. Bis zum Tod
03. Wie im Traum
04. Nacht
05. Engel
06. Tränen
07. Ohne Dich
08. Tiefer
Rating

Music: 5
Performance: 6
Sound: 6
Light: 5
Total: 5.5 / 10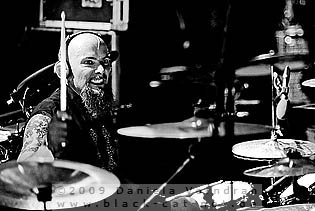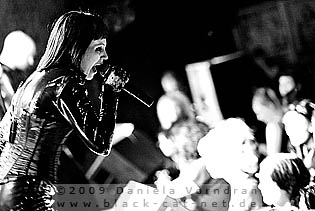 Scream Silence

Berlin-based SCREAM SILENCE was founded in 1998. Already the first album 'To Die For', released in 1999 became "CD of the Month" at German music magazine Orkus. Due to the success of the first album they were able to tour with the likes of CHRISTIAN DEATH and DREADFUL SHADOWS. The sophomore album 'The 2nd' (2001) and its follow up 'Seven Tears' (2003) became incredibly successful as well with great press reception and spread the name SCREAM SILENCE way beyond Germany's borders. In spring 2004, the band founded its own label Plainsong Records whose first release was the fourth album 'Elegy'. Rolling forward to 2009 they've released seven albums in total and are considered being the spearhead of the so called "Dark Rock" movement. The latest album is called 'Apathology' and hit store shelves in October 2008. SCREAM SILENCE is Hardy Fieting (vocals, keys, synth), Robert Klausch (guitar, acoustic guitar), René Gödde (guitar), Hagen Schneevoigt, (bass) and Heiko Wolf (drums).
http://www.screamsilence.de/
/
http://www.myspace.com/screamsilencemusic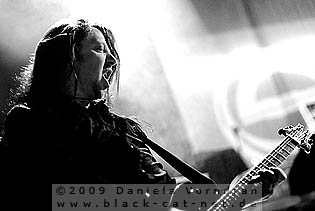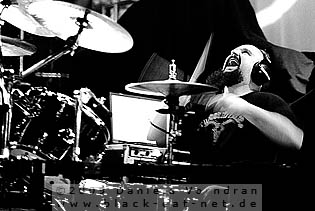 Music & Performance

SCREAM SILENCE was one of the bands I was personally waiting for as I'm a fan of their music for quite some time now. With an elegiac instrumental intro we could see already the band members coming on stage. The guitarists moved like in trance to the floating sound before it abruptly migrated into the strong 'The Vitriol' from the 'Aphelia' album and finally Hardy Fieting appeared and the band was complete. Right from the first song there was much movement on stage. Everybody was totally into the song they're currently playing and moved to its rhythm. After 'The Harvest' which especially our two guitarists really enjoyed playing it's up to the driving yet haunting 'Consolation' off the 'Seven Tears' album from 2003 to conquer the audiences hearts if not happened already. During that song, Hardy animated the people to clap along which didn't work out bad but could have been but luckily during 'Counterfeit', which has an ingenious bridge by the way, when he tried it a second time it was almost perfect.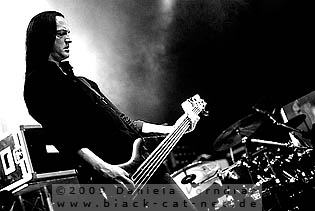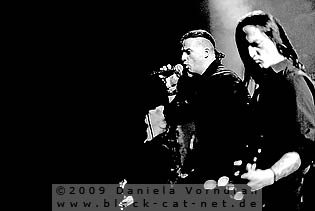 But before that happened, the swirling and rousing sounds of 'Creed' glided through the hall. That song was actually No.1 in Mexico but the band heard of that a few years too late. Still pleased and who wouldn't be. With the seventh song 'Athanasia', like 'Counterfeit' from the recent album 'Apathology', we've, much to my dislikes, reached the end of the set. Reason enough to enjoy the slow yet powerful song while it lasted. I just realized that I forgot to mention how impressed I was with Hardy's live vocals. Didn't think they would be so good. But actually all band members did a more than great job. Hope to see you again soon - with more than just 7 songs.
Setlist

01. The Vitriol
02. Harvest
03. Consolation
04. Kerosene
05. Creed
06. Counterfeit
07. Athanasia
Rating

Music: 8
Performance: 8
Sound: 8
Light: 6
Total: 7.8 / 10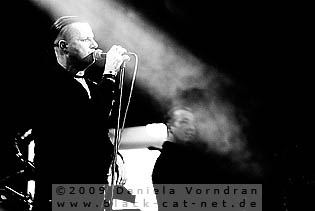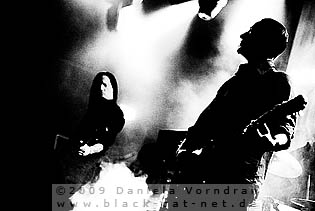 Grendel

After his former band split up, [VLRK] decided to continue making music under the new name GRENDEL, which originates from a character from the old Anglo-Saxon tale 'Beowulf'. Meanwhile grown to a duo, the project released its first promo with the club hit 'Strangers', followed by the first demo 'Inhuman Amusement' a half year later, which came to the attention of NoiTekk Records, who signed GRENDEL immediately. After some intensive re-work the demo became the first album. GRENDEL took their sound to new levels with each of the following releases such as the pretty melodic 'End of Ages EP' and the following album 'Prescription Medicide' which combines destructive beats with orchestral arrangements. In 2007, GRENDEL signed to the renowned German label Infacted Recordings and released their third album 'Harsh Generation'. GRENDEL is [VLRK] (vocals, synths, programming, sampling), [M4RC] (live drums/percussion, programming (studio)) and [MRKO] (live synthesis, engineering).
http://www.myspace.com/grendel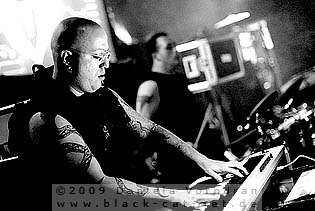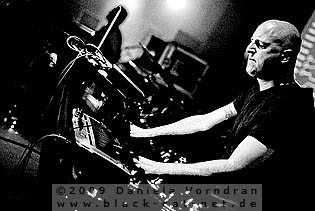 Music & Performance

With GRENDEL finally came something for those in the crowd eagerly waiting for something to get into the groove to and GRENDEL suited that purpose perfectly. Club tunes are their prime discipline. Mastermind Jos and his company then kicked things off with the hard-hitting 'Void Malign' one track from the extremely successful album 'Harsh Generation' which was the primary focus of the energetic set GRENDEL presented. Other tracks off of the album were e.g. 'Dirty', 'Hate This' or 'Remnants' but considered were also 'Soilbleed' with its military speech samples at the beginning and a tune from 'Prescription:Medicide' called 'Pax Psychosis' where the chorus is underlined by a violin sample.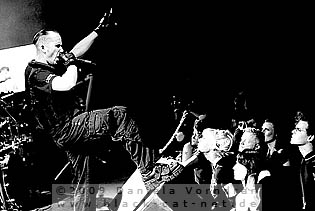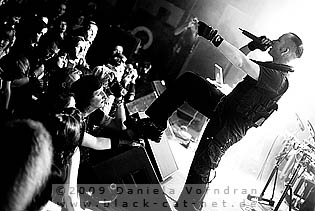 The whole show through Jos was jumping from one side of the stage to the other heating up the audience and screaming out his lyrics and he wouldn't slow down just a little bit while the show was running. The set ended as powerful as it started with GRENDEL's cover o the famous 'Zombienation' and left a sweaty audience.
Setlist

01. Void Malign
02. Pax Psychosis
03. Remnants
04. One Eight Zero
05. Soilbleed
06. Dirty
07. Harsh Generation
08. Hate This
09. Zombie Nation
Rating

Music: 6
Performance: 6
Sound: 6
Light: 7
Total: 6.2 / 10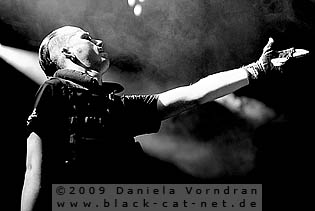 Zeromancer

Rising from the Ashes of their previous bands, Kim Ljung and Erik Ljunggren gave birth to ZEROMANCER in 1999 to create something that should be much more different. First time was spent with the composition of new songs. Soon the line-up was completed with a drummer, singer and guitarist and the search for a producer could start. Not as easy as you might think it is, but in the end they found the right one with James Saez and soon the debut 'Clone your Lover' was finished. In the following time they grew to a regarded live act with festival gigs at the M'era Luna as well as small club tours. After the less successful album 'Eurotrash' ZEROMANCER tried out a different path on their third album 'Zzyzx', playing with a more catchy approach. With their fourth album 'Sinners International' released in February 2009 they're going back to their dark industrial rock roots. ZEROMANCER is Alex Møklebust (vocals), Kim Ljung (bass, vocals), Noralf Ronthi (drums), Lorry Kristiansen (synths) and Dan Heide (guitar).
http://www.zeromancer.com/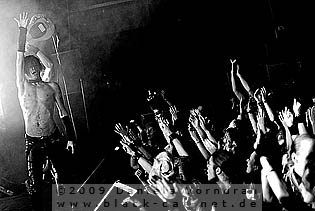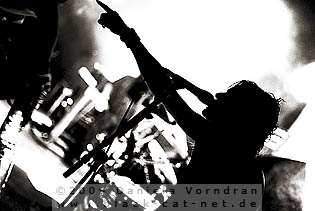 Music & Performance

Into that heated mood came Norwegian band ZEROMANCER with their intense mixture of industrial and rock a couple minutes later to allow the audience not too much respite and gladly I recognized the first chords of the new album's title track 'Sinners International' opening the set and now it didn't take long until Alex Møklebust came on stage and first thing he did was making encouraging gestures and screaming at the crowd to move to get them into the action right with the first song. Behind Alex in the middle of the stage stood sort of a live synth he was twiddling knobs at during that song which generated some interesting sounds. The next song from the album followed right away with 'Doppelgänger, I Love You'. Love that song and how its chorus crawls into the brain forcing you to sing "Doppelgänger, I love you / My pain is your pain…" Following this were 'Chrome Bitch' having such an exploding chorus and 'Clone Your Lover' commencing with bass player and songwriter Kim asking the audience "Do you know that one?" The answer was as loud as it was unambiguous as you can imagine.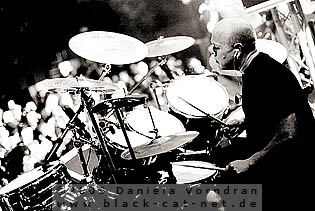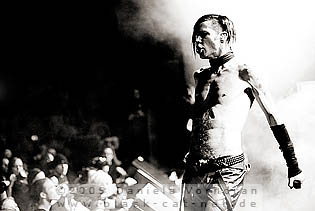 By that time front dervish Alex had already freed his upper body from all clothes. Must have been a little hot! ;-) For the next song 'Cupola' the tempo dropped and a wall of dark synth arose in the venue drifting around Alex's intense vocals and occasional outbursts of rocking aggression tore apart the mood time and time again. With 'Little Tragedy', 'It Sounds like Love (But it looks like Sex)' and 'Stop The Noise' the upbeat needs of everyone were pleased again coinciding with extensive dancing of the party hungry crowd. For the slow-grinding 'Ammonite' we got to see three of the guys maltreating the drums and Alex once again doing the frequency manipulating thing. An incredible cover version of DEPECHE MODE's 'Photographic' drove the band once more to give their all and concluded an emotional, energetic set.
Setlist

01. Sinners International
02. Doppelgänger, I Love You
03. Need you like a Drug
04. Chrome Bitch
05. Clone Your Lover
06. Cupola
07. My Little Tragedy
08. It sounds like Love (But it looks like Sex)
09. Stop the Noise
10. Ammonite
11. Fade to Black
12. Doctor Online
13. Photographic
Rating

Music: 8
Performance: 8
Sound: 8
Light: 8
Total: 8 / 10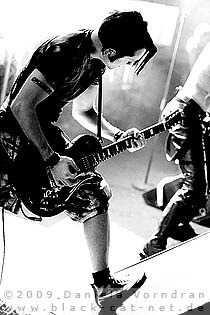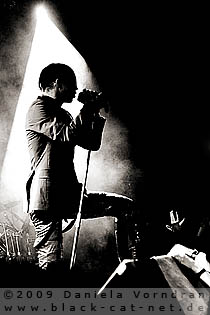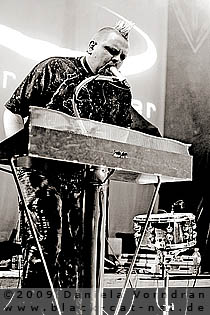 Combichrist

COMBICHRIST is one of the other faces of well-known singer and ICON OF COIL mastermind Andy LaPlegua who's presenting a much more hard-edged side of industrial with this project. The two first releases, the album 'The Joy of Gunz' and the limited Halloween special 'Kiss the Blade' both being released in 2003, conquered the clubs and dance floors in a storm. Only a year later Andy unleashed the next assault entitled 'Sex, Drogen und Industrial' which marks a change in the sound of COMBICHRIST to more electro and less distortion dominated sounds, yet the tracks remained as energetic as ever. In Spring 2005 it was finally time for the new album 'Everybody Hates You' whose description can be summed up as follows "A journey through hell and high water, through the eyes of a serial killer, sex, violence and plenty of Jack Daniels on ice." 2006 saw the release of a new EP that even took the project to the Hot Dance Billboard Charts and as Andy is a workaholic, he released the next album 'What The F*&$ Is Wrong With You People?' in March 2007. Right in time for the Summer, Andy released the 'Frost EP' at the end of June 2008 with new tracks as well as remixes. The most recent album is called 'Today we are all Demons' and came out in 2009. COMBICHRIST is Andy LaPlegua (vocals, lyrics, production), Joe Letz (live drums), Trevor Friedrich (live percussions) and z_marr (live keys, synths).
http://www.combichrist.com/
/
http://www.myspace.com/combichrist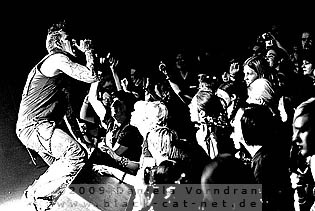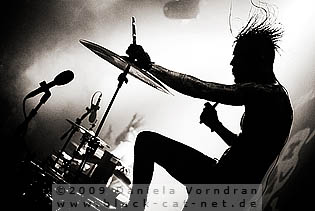 Music & Performance

Even before COMBICHRIST actually entered the stage we had to bear some really odd country music with partly naughty lyrics...means the intro of the new album. Don't know who came up with the idea. Anyway, sometime later it was finally time for the main event and after Joe Letz, z_marr, and Trevor Friedrich took their places behind their tools everything was ready, but one's still missing. Mr Andy LaPlegua, the stage devil in person, stormed the stage as last one and that was also the starting signal for everybody else to lay down all reticence and to enter an ecstatic rush of self-indulgent dancing and poging whereas some folks didn't really know what poging was and rather ran into other people and pushed them hard. Can really spoil the fun! Luckily, nobody did get hurt. Well, back to the events on stage where the aforementioned stage devil dashed over the stage like a madman never to slow down. I was wondering where he did get that energy from.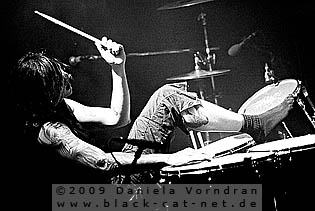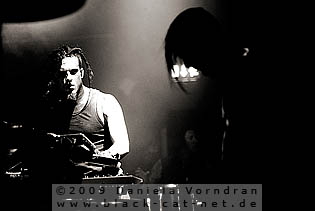 But not only Andy was the centre of attention. Both drummers and the synth demon didn't need to hide behind him in terms of unbridled aggression; especially Joe Letz who was just a few metres away from my place thrashed on the drums like a berserk and the whole show through he threw away the drum sticks and pushed over one of the toms. Sometimes I really thought he did that on purpose to keep the stage worker on his toes. Just like on the M'era Luna gig I saw them the last time he did 'water drumming'. It's simply an eye-turner when water is poured onto the drums and as soon as Joe starts to torture them again it's spraying upwards creating a very cool optical effect. The set that night left nothing to be desired with tracks such as 'All Pain is Gone', 'Electrohead', 'Get Your Body Beat' or 'Sent to Destroy' for instance, covering the whole bandwidth of brute-force electro sounds. Such a show of course demanded to be continued with a fair encore and so it wasn't long until the crew came back for another triple of unbridled energy culminating with 'What the Fuck is wrong with you People?'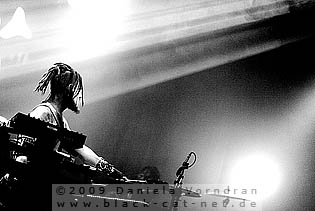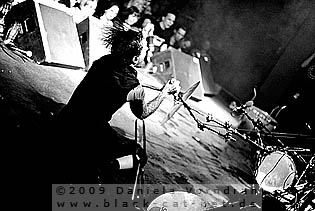 The party still continued afterwards on the dance floors. Some still had some energy left for dancing, really. We decided instead to get some drinks, chat a little and sometime around 3 left the venue to get home and some badly needed sleep.
Setlist

01. All Pain is Gone
02. Today I woke to the Rain of Blood
03. Electrohead
04. Scarred
05. Get Your Body Beat
06. I Want Your Blood
07. Sent To Destroy
08. Today we're all Demons
09. Get Out of my Head
10. Without Emotions
11. Blut Royale
12. Shut up and Swallow
---
13. Feed Your Anger
14. This Shit Will Fuck You Up
15. What the Fuck is wrong with you People?
Rating

Music: 6
Performance: 9
Sound: 8
Light: 8
Total: 7.7 / 10