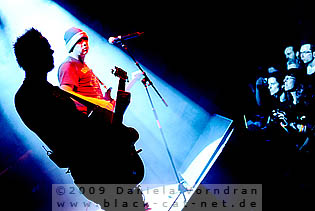 Kulturfabrik, Krefeld, Germany
4th April 2009
Mesh, De/Vision, Marsheaux, NuniQ, Tenek

Second day of the Birthday Celebration! MESH as headliners of the second festival day were returning to their self-proclaimed favourite German venue and they were performing some new songs during their set on Saturday. DE/VISION was crashing in Krefeld as well to celebrate their 20th anniversary with one of their electronic sets, presenting a representative cross section throughout their complete discography.
Tenek


TENEK were formed in 2007 by Peter Steer and Geoff Pinckey - known as the keyboard player of MESH. Their debut album 'Stateless' was released on the 20th March 2009; the first single from the album 'Where's The Time?' already was released in October 2008 and peaked the number two position in the Dutch Underground Charts. The current single 'Submission' was released on the 23rd February 2009. TENEK is Geoff Pinckney (vocals, programming, synths & bass) and Peter Steer (vocals, guitar, bass, synths & programming).
http://www.myspace.com/tenekuk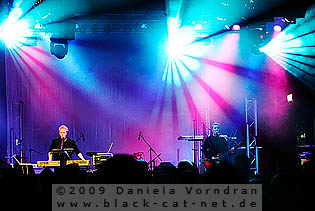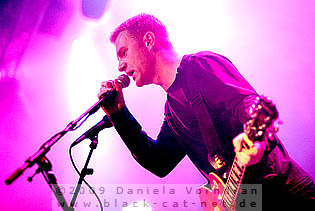 Music & Performance

Just in time, TENEK opened the stage and were welcomed by the crowd. They performed a set of seven songs in 30 minutes. The music of TENEK was easy listening synth pop, harmonic and danceable. Sound and light were good, even though in front of the stage it was much too loud. Altogether it was a good opener for the evening, but nothing too innovative.
Setlist

01. Where's the Time
02. I Don't Cry (For You)
03. If I Should Fell
04. State Of Mind
05. Submission
06. Stateless
07. No Time for Fighting
Rating

Music: 7
Performance: 7
Sound: 8
Light: 8
Total: 7.3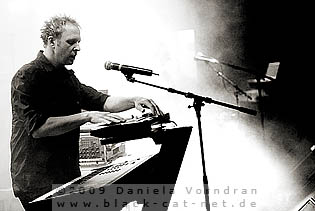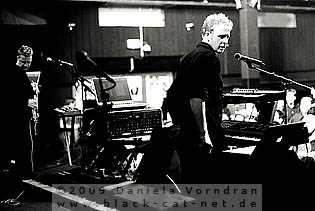 NuniQ


After a short change over, the evening went on with NUNIQ, formerly known as NUN. NUNIQ consists of Mg (vocals, compositions) and xOlaf (production, compositions, DJ). The duo made its debut on a compilation released by BMG Poland in 2002, at the same time two of their songs - 'Stop' and 'I Don't Know How' - appeared on the soundtrack of a SF movie called "Arche the Pure Evil". In June 2005, the band together with a Swedish label Substream released their debut album called 'Sunlight'. At the moment the band is working on their second album, which climate will revolve rather around club music.
http://www.nuniq.eu/
/
http://www.myspace.com/nun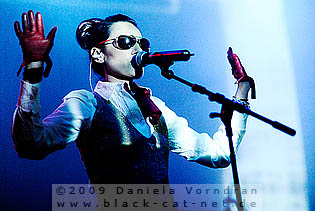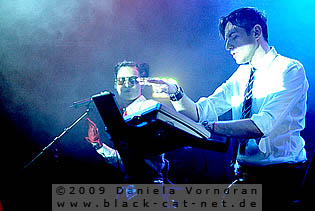 Music & Performance

The music was a kind of electro dance sound, like a house DJ-set. The performance seemed a little bit boring to me and the voice of the beautiful female singer to weak. She tried to animate the crowd but the spirit didn't go over really. The lightshow was supported by a nice background projection. The set consisted of 6 songs, highlighted by a cover version of 'Bizarre Love Triangle' by NEW ORDER.
Rating

Music: 6
Performance: 6
Sound: 8
Light: 8
Total: 6.6 / 10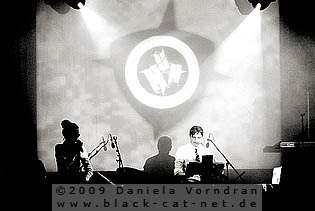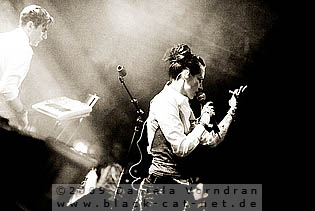 Marsheaux
After another short change over, MARSHEAUX from Greece entered the stage. This female electro pop duo from Thessalonica (Greece) moved to Athens in 2000 and in 2003 they founded MARSHEAUX in order to express their love for the electro pop of the 80's and the sounds of synthesizers and drum machines. The problem of naming the band was easily solved by combining the first syllables of their names, Marianthi and Sophie. Their first release was a cover of the classic HOT BUTTER's 'Popcorn' with a great success in Greece. They make synth pop music in the tradition that YAZOO, HUMAN LEAGUE, DEPECHE MODE and OMD did. The current album called 'peek a boo' and was released in July 2007. The upcoming third album 'Lumineux Noir' is ready and waiting for release. MARSHEAUX are Marianthi (vocals, synths) and Sophie (vocals, synths).
http://www.marsheaux.com/
/
http://www.myspace.com/marsheaux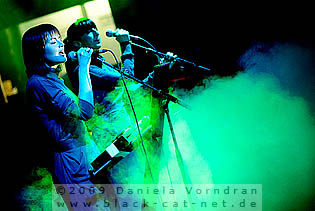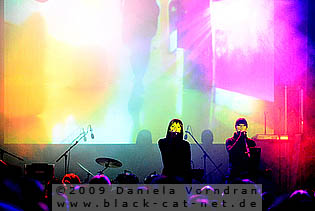 Music & Performance

Like usual MARSHEAUX were supported on stage by two guys who operated some synths. The beautiful girls and their musicians rocked the crowd with their powerful congenial electro sound and satisfied them with danceable rhythms combined with the pleasing voices of the singers. The set included older songs like 'Tonight' from their first album, songs from the last album like 'Dream of a Disco' or 'Lover under Pressure', a cover version of the HUMAN LEAGUE song 'Empire State Human' and two new unreleased songs from the upcoming album - 'Breakthrough' and 'Radial Emotion' - which was started by a sample of the typical sound of the well-known computer game "Pacman". The lightshow was perfected by background projections, the sound was good.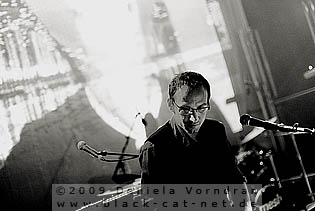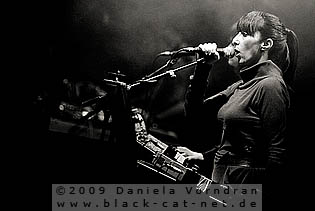 Setlist

01. Hanging On
02. What a Lovely Surprise
03. Tonight
04. Dream of a Disco
05. Love under Pressure
06. Radial Emotion
07. Ghost
08. Empire State Human (Human League)
09. Breakthrough
Rating
Music: 9
Performance: 8
Sound: 8
Light: 8
Total: 8.4 / 10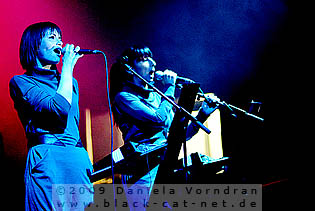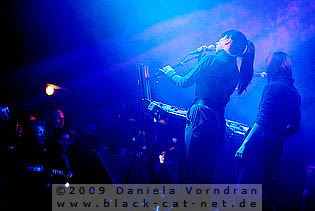 De/Vision
A further change-over and the stage was ready for DE/VISION. DE/VISION stems from the Darmstadt area and has been busy playing their predominantly electronic pop music with melodic English vocals since 1988. These professional musicians have long been considered a quantity to be reckoned with on the German music scene. They did their way over the years and had released a lot of albums and singles. The current album is called 'Noob' and was released in August 2007; an US edition of this album was released in January 2009. DE/VISION is Steffen (vocals, synths, composing) and Thomas (synths, backing vocals, lyrics).
http://www.devision-music.de/
/
http://www.myspace.com/devisionmusic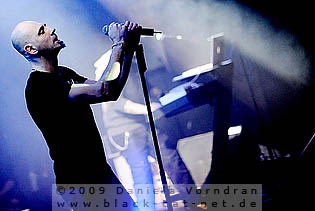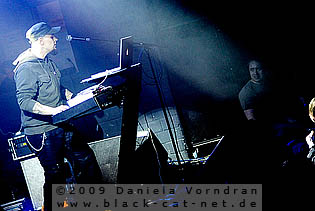 Music & Performance

DE/VISION was welcomed with rousing applause by the crowd; the hall was very well-filled meanwhile. DE/VISION performed their set only in twos without additional live musicians. As announced, it was an overall electronic set. They began the show with 'Star-crossed lovers' from the album 'Subcutan', followed by 'Love Will Find A Way' from the current album and quickly the spirit went over to the crowd and the people were dancing, clapping hands and singing along. Well-known songs like 'Moments We Shared', 'Blue Moon' or 'I Regret' pleased the crowd and the temper culminated at 'Your Hands On My Skin', as the crowd took over the main part of the vocals animated by the charismatic singer. After it the main set finished with a newer song 'Flavour Of The Week' and the band left the stage but they came back and performed an encore with two more songs and after the extensively celebrated 'Try To Forget' they finally left the stage.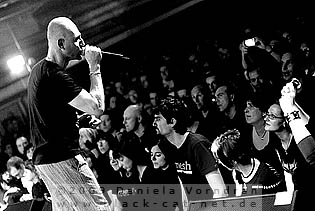 Setlist

01. Intro / Star-crossed lovers
02. Love Will Find A Way
03. Today's Life
04. Addict
05. What you deserve
06. Bleed Me White
07. Dinner without Grace
08. Moments We Shared
09. Blue Moon
10. I Regret
11. Your Hands on My Skin
12. Flavour of the Week
---
13. I'm not enough
14. Try to Forget
Rating

Music: 8
Performance: 8
Sound: 8
Light: 8
Total: 8 / 10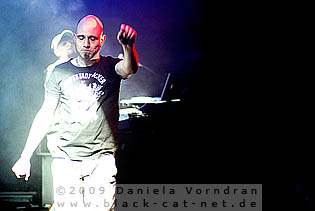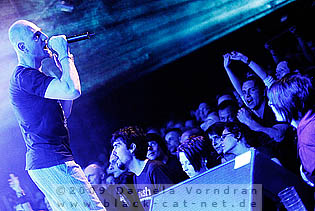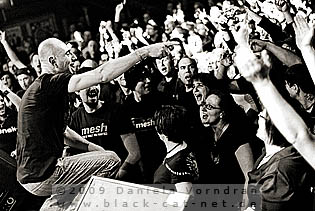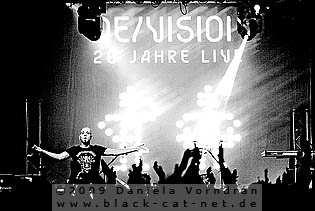 Mesh


At 20 to midnight, after the last change over and ten minutes earlier than announced, the stage was ready for the headliner MESH. The band from Bristol was founded in 1991 and consists of Mark Hockings and Richard Silverthorn nowadays. Neil Taylor, the third original member left the band in summer 2006 and was compensated by Geoff Pinckney. Live on stage MESH is usually supported by Sean Suleman as live drummer. MESH is still one of my favourite bands - it's ingeniously Synth pop with beautiful melodies, catchy refrains and significant lyrics. The last album called 'We Collide' and was released in 2006. The upcoming album is in progress and will be released possibly end of this year.
http://www.mesh.co.uk/
/
http://www.myspace.com/meshwecollide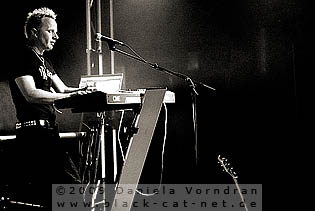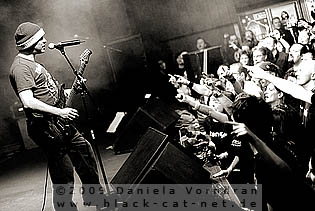 Music & Performance

Again the lights went down and now we could welcome the headliner. First, Richard took place behind this keyboard, followed by Sean and Geoffrey who already had played a show with his other band TENEK four hours ago, and last but not least Marc entered the stage. Right from the start the whole crowd was infected by the rousing show and all the people were dancing and singing along. Like usually, Richard switched between keyboard and guitar and Marc played an additional guitar too at several songs. During the set, one string of his guitar even broke. So, he took Richard's guitar what he commented with the words "He stole my guitar" what caused several laughs within the audience.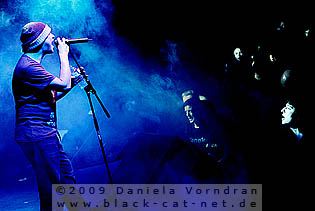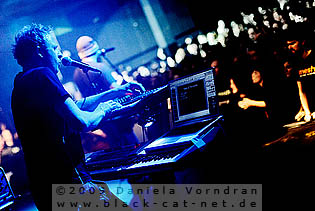 The setlist was started with 'Firefly', followed by 'People like me' and 'Open up the Ground' before the audience was surprised with a new song, 'Everything I Made' from the upcoming album. Furthermore, the setlist included well-known songs like 'Leave You Nothing', 'You Didn't Want Me' or 'Not Prepared', the rarely played 'Headstone', yet another new song 'If We Stay Here' and some more. The main set finished with 'Petrified', but there of course had to be encores. The band returned with 'It Scares Me' and 'Friends like these' before they again left the stage. Applause was so demanding that the band returned again to play the not planned song 'From This Height' and then MESH finally left the stage. Altogether once again a great show perfected by great sound and a wonderful lightshow and fabulous background projections.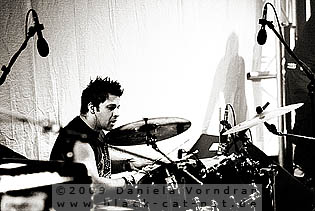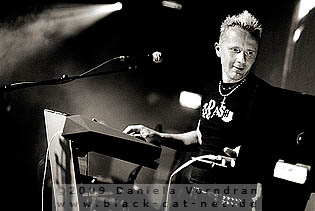 Setlist

01. Firefly
02. People like Me
03. Open up the Ground
04. Everything I made (new)
05. Not Prepared
06. Safe with Me
07. Headstone
08. If We Stay Here (new)
09. Purest People
10. What Are You Scared Off
11. Leave You Nothing
12. My Saddest Day
13. Can You Mend Hearts
14. You Didn't Want Me
15. Crash
16. Petrified
---
17. It Scares Me
---
18. Friends like These
---
19. From This Height
Rating

Music: 10
Performance: 9
Sound: 9
Light: 9
Total: 9.4 / 10