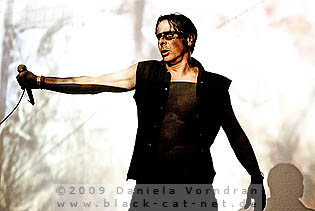 Münchenbryggeriet, Stockholm, Sweden
11th April 2009
Tinitus Festival Day 2: The Klinik, Die Form, Spectra*Paris, Northborne, Portion Control


It was another sunny spring day in Stockholm. Doors at that day opened already two hours earlier than the day before. But most people preferred still to enjoy the beautiful day, so the queue was rather short. Du to illness, DIE FORM sadly had to cancel their appearance on short notice. With only four bands to be performing, the schedule was modified a little and the first band was set to start at 20:00.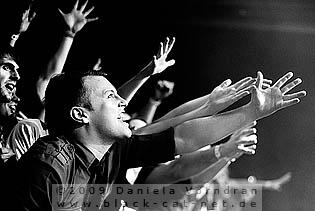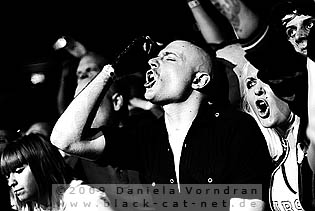 Portion Control

The British electronic and industrial project formed in London in 1979 and is considered one of the most influential harder electronic bands worldwide. They have been name checked by bands like DEPECHE MODE, SKINNY PUPPY or FRONTLINE ASSEMBLY. Until 1986, they constantly released critically acclaimed albums, but when they signed to the label London Records in 1987 they vanished; just to re-appear under the name SOLAR ENEMY, which existed from 1990 to 1993. About 17 years after the last life sign, the band surprisingly returned to the scene with a brand new album 'Wellcome' followed by a retrospective CD release 'Archive' containing a vast majority of their vinyl back catalogue for t he first time in a digital format. The newest album 'SLUG' was released end of May 2008. PORTION CONTROL is Dean Piavani (vocals) and John Whybrew (synths).
http://www.portion-control.net/
/
http://www.myspace.com/porcon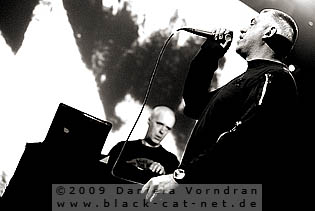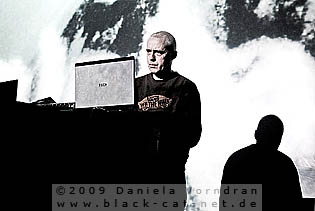 Music & Performance

Even though the opener of the evening entered the stage right in time, there were some minor problems with the visuals at the beginning. It looked quite funny to see the default Windows background image on the huge screen instead of the band's videos. But these problems were solved very soon during the first track, a yet untitled new piece, and the impressive videos found their way onto the screen supporting the hard beats of PORTION CONTROL. The set contained three more new songs, another yet untitled one and 'Amnesia' as well as 'Brain Scrapper Death Dive' which was ending the set. The rest of the show presented songs out off several albums whereas the 'SLUG' album was presented with a total of three tracks - 'Global', 'Sick Man' and 'Defend'.
Setlist

01. No title yet [new track]
02. Global [SLUG]
03. Sick man [SLUG]
04. Amnesia [new track]
05. Defend [SLUG]
06. Hardman [fwg]
07. More than just a nuisance [wellcome]
08. No title yet [new track]
09. Blind eyes [wellcome]
10. Chew you to bits [archive]
11. Brain Scrapper Death Dive [new track]
Rating

Music: 8
Performance: 6
Sound: 7
Light: 7
Total: 7 / 10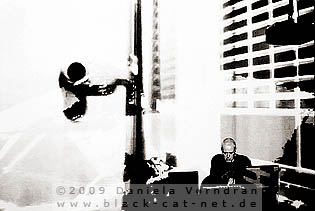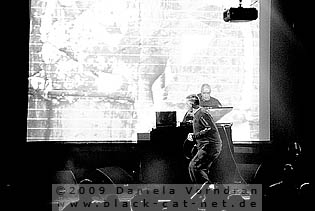 Northborne

"NorthBorne is all about electronic experiments, electronic beats, happiness, aggression, pleasure from pain and monotone grooves"
says a band info about the Norwegian project whose first musical life sign was a bonus CD to Vol.3 of the renowned 'Industrial For The Masses' series by German label Out of Line in 2006. The debut album 'Force It' was released in May 2007 and just one day after its release the project embarked on a tour together with COMBICHRIST and RREAPER which became an overall success. Currently the project's is working on new material for the sophomore album release. NORTHBORNE is Christian Lund (composing, programming, drinking, mixing, vocals) and Alex (live keys, mixing, drinking, vocals).
http://www.myspace.com/northborne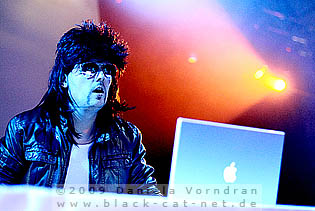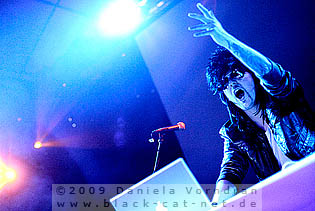 Music & Performance

There was just a desk built up on stage with all the technical stuff on it. Soon, it was also sure that the show was run by Christian alone. When he entered the stage I had to smile because of his look. He was wearing white pants and shirt, a black leather jacket, sun glasses and hockey hair wig. He looked like you would imagine a 70s (German, as the artist added) porn star, not that I really know how a 70s porn star looks like. ;) Christian was mostly standing behind the desk but every now and then he came closer to the audience to push them up. Not that this was necessary at all because anyone was already dancing. Besides some tracks out off the debut album 'Force it', such as its title track or 'The Pill' and 'Baby Needs Coke', there were also some new tracks presented like one with the funny title 'Frogs in Spain'. My favourite was a cool remix version of NITZER EBB's 'Let your Body learn' though.
Setlist

01. The Pill
02. Force It
03. Generator
04. Let Your Body Learn (Nitzer Ebb)
05. Airsoul (working title)
06. Baby Needs Coke
07. Brutal
08. Watt?
09. Frogs in Spain
Rating

Music: 7
Performance: 7
Sound: 8
Light: 6
Total: 7 / 10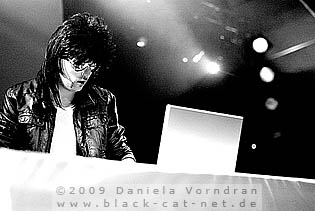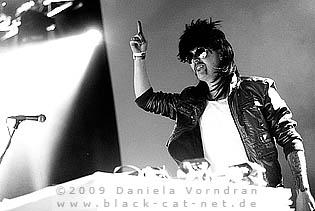 Spectra*Paris

SPECTRA*PARIS is the legal follow-up project to SIDERARCTICA initiated by no one less than KIRLIAN CAMERA vocalist and Angelo Bergamini's partner in crime Elena Alice Fossi. The debut album of the still young project titled 'Dead Models Society' came out initially in late 2007 and was re-issued in early 2008. It is known that Elena's working on a new album & single for several months which supposedly will see a release this year. SPECTRA*PARIS is Elena Alice Fossi (lead & backing vocals, electronics, bass, music, lyrics), Arianna Alfieri (guitars, bass), Alessia Cavalieri (backing vocals, synth) and Cristina Restani (guitars).
http://www.myspace.com/spectraparis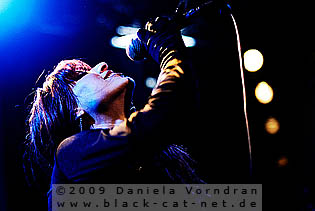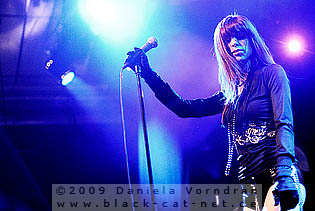 Music & Performance

The now upcoming band stood aside the other presenting less hard electronic with much more melodies and guitar sounds added. Of course, Elena was visually the focus of the performance with her skin-tight rubber outfit and hot pants. She really loves to show what she has. In the background was a mix of video clips shown on the huge screen, from models walking on the catwalk or posing for a photographer to excerpts from cheesy Hollywood movies to animated graphics and yet more posing models. The show presented eight Electro Pop songs with a dangerous, gloomy element. Sadly, at least on the balcony, the sound did not do justice to the brilliant voice of Elena.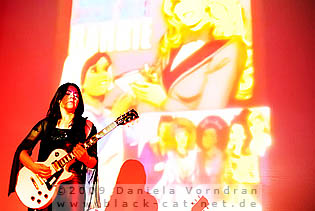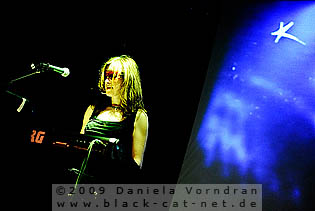 The setlist contained several songs out off the debut album, the cover version of the TEARS FOR FEARS classic 'Mad World' and 'Spectra Murder Show' being my favourites, but there were also some songs presented out off the upcoming album, such as 'License to Kill', originally named 'Murder 23', a collaboration with German-Italian project SENSORY GATE. Due to the fact that we had an audience of hard-electronic lovers, the reactions to the show were a bit reluctant, but anyway the band came back to an encore.
Setlist

01. Introfuture (music by Gioacchino Rossini)
02. Size zero
03. Glittering bullet
04. Mad World
05. License to Kill
06. Falsos sueños
07. Nitebreak 01
08. 007 Gold (Different James Bond Themes: 'You Only Live Twice', 'Golden Eye', 'Thunderball')
09. Spectra murder show
---
10. Explosive Die 2009
Rating

Music: 8
Performance: 8
Sound: 5
Light: 7
Total: 7.4 / 10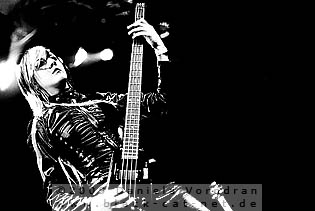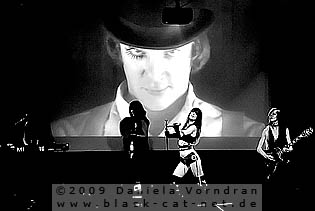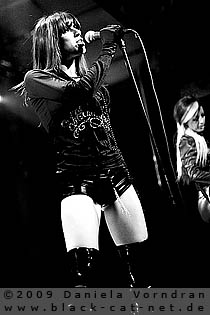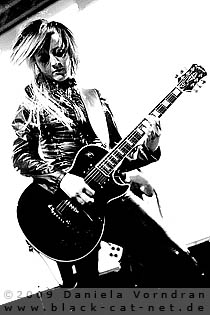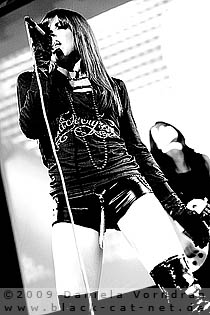 Die Form

This extraordinary project was formed in 1977 by Philippe Fichot, initially planned as BDSM live act, but DIE FORM evolved to an artistic synthesis of arts, blending photography, performance arts and music together and especially the live performances with their, let's call it an eccentric character weren't uncontroversial and had to be cancelled more than just once. S/M, Necrophilia and violence are recurring visual themes in their work. In 1982, the project debuted with 'Die Puppe', preceded by various mostly experimental tape releases. Two years later 'Some Experiences with Shock' was released. In the meantime, Eliane P. joined the line-up and was the new focus point during live performances. The album 'Poupee Mecanique' (1987) marks a turn of the project to more technoid yet still playful tunes.
The next DIE FORM releases saw the poetic, emotional side of their sound via 'The Trilogy of Passions', starting with 'Suspiria De Profundis' in 1994, followed by 'L'âme électrique' the following year. 1997's 'Duality' does not complete the trilogy, Phillipe Fichot choosing to leave the project open-ended. The next album 'Extremum/XX' appeared in 2000. Then followed the 'diptych' of 'InHuman' (2004) and 'ExHuman' (2006), continuing their release of interrelated concept albums. IN 2008, DIE FORM left their former label Trisol to join the ranks of renowned German label Out of Line. A new single 'Her(t)z Frequenz' and a collection with reworked and re-mastered songs of the past 30 years have been released in October. A new album is in the works and can be expected soon.
http://www.dieform.net/
/
http://www.myspace.com/dieformofficial
The act that was now on the schedule was one of the ones I was really eager to see. But… yeah, sadly the band had to cancel their appearance due to illness of Mr. Fichot. So, next and last one was Belgium THE KLINIK. But before the band entered the stage it was time for a little speech. A farewell speech so to say. Ten years of Tinitus festival and a whole era found its end now. Promoters behind the event, Daniel Jonasson and Henrik Good, entered the stage to thank anyone for all the years and the support. Even though I just understand little Swedish, I had a lump in my throat during the famous last words. Big applause rewarded all the efforts done in the past. Finally, Daniel announced the last band of the festival…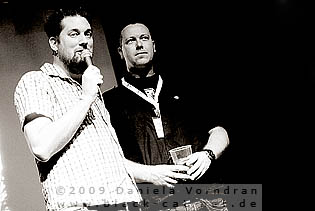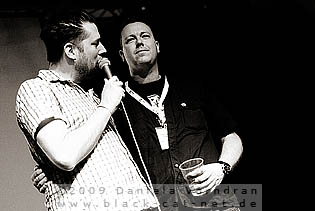 The Klinik

Absolute Controlled Clinical Maniacs, does that ring any bell? No? That's the initial name of the project subsequently changed to THE KLINIK, the legendary industrial music act, formed in 1982. Not only was their music something unheard-of and revolutionary at that time, Dirk Ivens hissing vocals and minimalist lyrics were complemented by a claustrophobic stripped down EBM sound enriched by distorted trombone play, their live performances also were something extraordinary, showing the protagonists wrapped in gauze and wearing black leather coats. Albums like 'Plague' or 'Face to Face' are unrivalled to this day. However, nothing lasts forever and o it happened that after the release of 'Time' neither of the members was satisfied with and the differences became too big, they decided to go separate way. Dirk Ivens focussed in his own project DIVE and Marc Verhaeghen continued under the name KLINIK without being able to link to the past successes of THE KLINIK. Both members briefly came back together for a few shows in 2003/04. THE KLINIK is Dirk Ivens (vocals, lyrics) and Marc Verhaeghen (synths).
http://www.myspace.com/dirkivens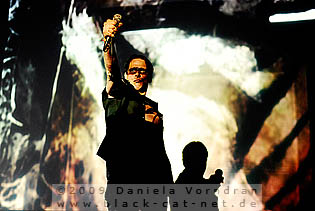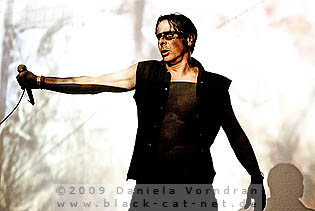 Music & Performance

Last band of the evening and also one of my festival favourites was following now with THE KLINIK I already had seen twice not so long ago in December last year. When the band entered the stage it was obvious that something was different. Marc Verhaeghen was missing; instead BORG, who's also known as drummer in VOMITO NEGRO, was operating the synths. Both, he and Dirk were wearing white masks when entering the stage; Dirk removed it after the first song 'Surviving in Europe' and revealed his usual "Make-up". The show was again accompanied by great visuals created by Francoise Duvivier being presented on a huge screen behind the band. Especially from the gallery this looked really impressive. Those very dark projections, nearly menacing, flickering fast lights and strobe flashes and in front of that all a maniacal moving Mr. Ivens. It is incredible; this man is already long past his 40s, but still bringing more energy on stage as so many of the young electro bands. I am always overwhelmed how different the effects of a THE KLINIK show can be. This time, I could not take my eyes away of the visual effects… seems the photographer in me was watching.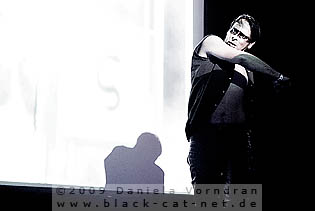 Besides old fan favourites, like 'Braindamage', 'Black Leather', 'Moving Hands' of 'Hours and Hours', we were presented again three new songs, 'Mindswitch', 'Stay' and my favourite out off then 'In your Room'. All the new songs are gloomy dark electro pearls and I am eagerly awaiting a new THE KLINIK release. Musically, the songs surely do not break any speed records and can compete with bands like COMBICHRIST in that matter, but the Belgians proved that you can do it slowly, teaching you electro bands that bpm and fast video cuts are not everything. People in front of the stage seemed vey excited as well. With 'Feel the Evil' and the already mentioned 'Hours and Hours', the main set ended, but for sure there was an encore given with 'In your Room' and the classic 'Go back' from 1987. And so, with this well-chosen headliner, the last Tinitus festival ended and even though it was my first one I was really sad that it was the last one in the same time.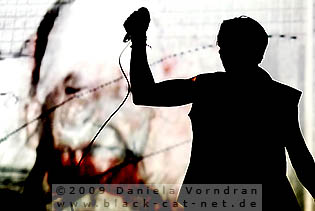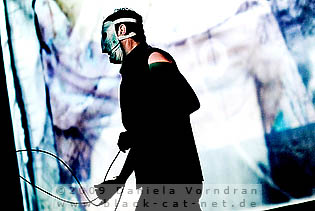 Setlist

01. Surviving in Europe
02. Braindamage
03. Murder
04. Walking with Shadows
05. Quiet in the Room
06. Black Leather
07. Pain and Pleasure
08. Mindswitch (Unreleased)
09. Obsession
10. Stay (Unreleased)
11. Moving Hands
12. Memories
13. Feel the Evil
14. Hours and Hours
---
15. In your Room (Unreleased)
16. Go Back
Rating

Music: 10
Performance: 9
Sound: 8
Light: 8
Total: 9.1 / 10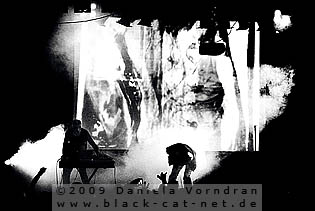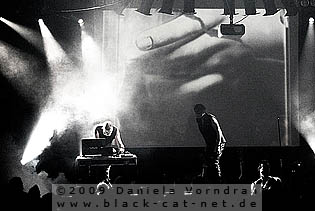 All pictures by Daniela Vorndran (
http://www.vorndranphotography.com/
/
http://www.black-cat-net.de/
/
www.myspace.com/vorndranphotography
)
Written by Daniela Vorndran, Band Intros by Sebastian Huhn
{jos_sb_discuss:18}