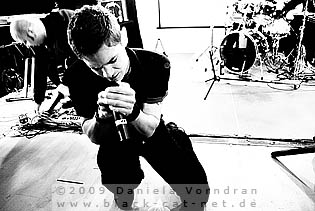 Live-Factory, Adelsheim, Germany
18th April 2009
Elekktroshokk Festival Day 2: Diorama, Welle:Erdball, Klangstabil, Noyce TM, X-Divide, Suicide Booth, Agapesis, Concrete/Rage, Skorbut


We started the Saturday very relaxed with sleeping and eating until 5:00 PM before we slowly headed to the Live Factory. Also there, our day started pretty relaxed with meeting friends and chatting. Besides that, we had a glimpse at the first bands before our favourites were up to enter the stage.



Skorbut

In 1993, Daniel Galda and Jörg Hüttner got to know each other in Bayreuth and eventually started working on demos with no intention of releasing any of it at that time. In 1998, the duo attracted the attention of Flatline Records who decided to place their song 'Fuel' on their legendary compilation. The song went on to be a hit in underground clubs in Europe and the US. Following more sampler contributions and the addition of a third member to the line-up was the debut album 'Log_in' in 2001. Because of the immense successor the record the project decided to record another album and to this date has released 3 albums in total. The single 'Phantom Pain' is the first output since the release of their most recent album 'Firewall' in 2007. The band's homepage reveals that work on further new songs is in full swing right now. SKORBUT is: Armin Küster & Daniel Galda.
http://www.skorbut.net/
/
http://www.myspace.com/skorbutgermany
Music & Performance

With green Punk punch we drank to the upcoming festival day and watched the last songs of the project SKORBUT which was right on schedule. Still there weren't much more people around than the other day. Consisting of Armin Küster and Daniel Galda, the project is already around since 1994. This afternoon was a premier: The first concert in Germany. With a mixture of EBM and experimental Electro sounds they made up for a decent performance. The little crowd in front of the stage danced wildly and singer Daniel made a good impression. The setlist comprised a cross-section of the entire band history and three albums as well as the title song of the current EP 'Phantom Pain' entering the EBM listeners' charts at #1. A real bother for all attendees was that they just turned off the power during the last song 'Nine Lives Later' to meet the schedule.
Setlist

01. Intro
02. Jerusalem Syndrom
03. You f**ked Up F**king F**k
04. One Of 47
05. De(ad)cibel
06. Antikörper
07. Fuel
08. 5 Minutes Rhythm
09. Phantom Pain
10. Nine Lives Later
Rating

Music: 6
Performance: 6
Sound: 7
Light: 6
Total: 6 / 10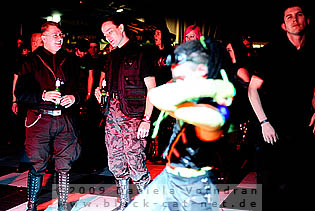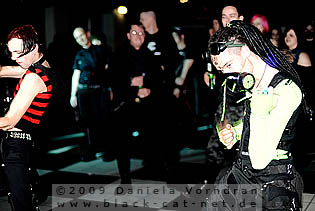 Concrete/Rage

Since 2005, Benjamin Sohns is working under the moniker CONCRETE/RAGE. The project gained public exposure in November 2006 when a song called 'World Destruxxion Unit' was played on a German web radio station. In August 2007 the project signed a record deal with Biohazard Records and released its debut '(Un)natural' in 2008.
http://concreteragemusic.com/
/
http://www.myspace.com/concreterage
Music & Performance

The solo project CONCRETE/RAGE started sharp at 6:30 PM. With dark EBM / Electro / Industrial, Benjamin Sohns seemed a bit lost on the big stage to throw his beats, speech samples, and Vocoder vocals from his debut album '(Un)natural' into the hall. It was a little too monotonous for my liking but also here you had people moving wildly to the music. It reminded me of a (bad) SOMAN copy.
Setlist

01. Chaos nation+intro
02. Kontrollverlust
03. Face to face
04. Machine
05. Catch my speed
06. Tortured soul
07. The hate you fear
Rating

Music: 5
Performance: 5
Sound: 6
Light: 6
Total: 5.3 / 10
Agapesis

AGAPESIS was founded in 2006. The name Agapesis comes from the ancient Greek word "Agapé" which means spiritual love. In September 2007 after cultivating and establishing a special fetish live performance which is their trademark, the duo signs a label deal with Biohazard Records and releases their debut 'Sacrilege' to be followed by their most recent album 'Mistress of Blood' and as the two of them don't seem to get tired a new album is already in the works and scheduled for a release in September 2009. AGAPESIS is Mélanie (lead vocals, songwriting, design) and Jean-Pierre (vocals, songwriting).
http://agapesis.com/
/
http://www.myspace.com/agapesis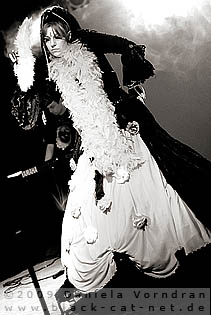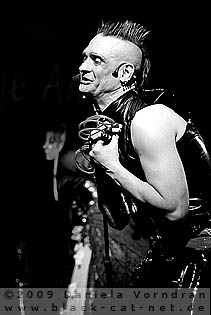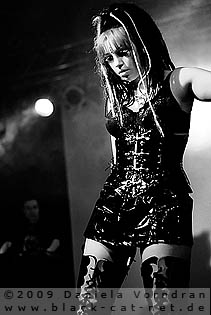 Music & Performance

With the Belgian duo AGAPESIS came some more diversity onto the stage. Since 1996, J-P and Mélanie are experimenting mainly with Dark / Cold Wave and EBM / Electro styles. Both were changing their positions as keyboardist and singer constantly and it didn't take long until Mélanie almost completely stripped down to the belt. This little detail and perhaps even the unusual sound of the mainly French-tongued songs made a lot of people stay. The pile of SM toys they brought might have been another reason for that. Further songs from the debut album 'Sacrilege' and its successor 'Mistress of Blood' followed. The danceable songs and the impressing show made the performance an experience, where the above mentioned toys were employed eventually as well.
Rating

Music: 7
Performance: 8
Sound: 6
Light: 7
Total: 7.2 / 10
Suicide Booth

The project SUICIDE BOOTH was founded in 2007 by Spif Anderson & Stefan Frenzel and ever since it has come to life has released the critically-acclaimed 'Aural EP' followed by the album 'Terror from the Sky' in 2008. As posted on their MySpace profile the second album is not far away anymore.
http://www.myspace.com/suicideboothmusic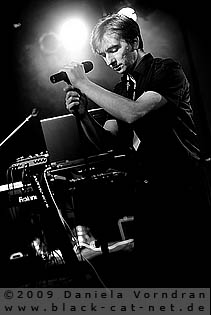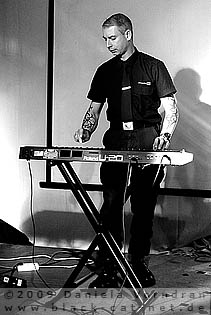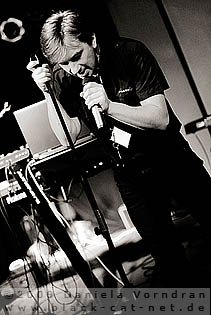 Music & Performance

Meanwhile we made our way to the lower stage where we'd stay the rest of the evening. Just in time to experience the last songs of the duo SUICIDE BOOTH. Singer Spif Anderson is no dark horse as composer and producer and recently found support in the keyboard player Spike. With analogue 80s synth sounds and very melodic songs the duo enchanted the audience. Tracks like 'I am Legend' from the debut EP 'Aura' or 'Spaceman's Return' from the first album 'Terror from the Sky' went down well with the audience. Catchy, minimalist, and diverse as they were the songs were rewarded with deserved applause.
Setlist

01. Son of Spaceman
02. Spacemans Return
03. I Am Legend
04. Raumpilot
05. Back in Time
06. Inside Out
07. Shapeshifter
Rating

Music: 7
Performance: 6
Sound: 6
Light: 6
Total: 6.4 / 10
X-Divide

Cologne-based band X-DIVIDE was founded in 2005 by Jens and Eric. Both already having some experience with the music biz. First demos were recorded in the following time and due to good promotion the band soon became an insider's tip. After gathering some live experience as X-DIVIDE, a promo EP was compiled in collaboration with MagMor Music and Vasi Vallis in 2007. The EP eventually entered the German Alterative Charts which roused the attention of Infacted Recordings label head Torben Schmidt who offered them a record deal. The duo's now working on their debut album together with Vasi Vallis and a release is said to be soon. X-DIVIDE is Eric (vocals, programming, synths) and Jens (second vocals, synths, lyrics)
http://www.myspace.com/xdividemusic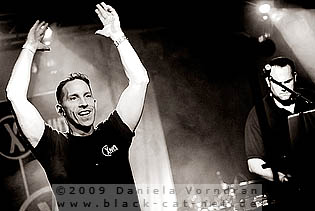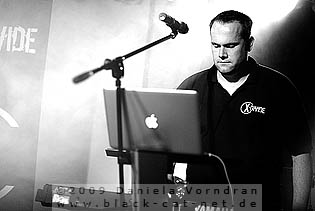 Music & Performance

Now we were taking our positions in front of the stage to watch the performance of Cologne-based band X-DIVIDE. Founded in 2005, Jens (keys and second voice) and Eric (vocals) had their 13th live show together tonight. The first impression was absolutely likeable and Jens welcomed us all. The first song 'Forever' directly made its way into the ears and legs and also Eric's great voice appealed. Finest synth pop followed with 'My Love is guaranteed'. In-between Jens catered for several big laughs with his native dialect and manner. As old NAMNAMBULU fan I was especially pleased by the cover of 'Now or Never'. But first Jens proudly announced that the upcoming album would be produced together with Vasi Vallis (FROZEN PLASMA, REAPER).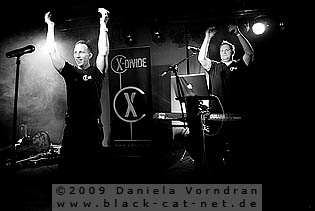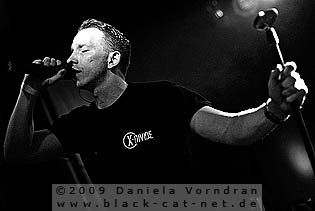 After more good-temper songs such as 'Calling' or 'So in Love', Eric grabbed the guitar and was tenderly called "Elvis" by his band colleague. With the acoustic cover of BILLY Idol's 'White Wedding' you could feel how comfortable Eric felt with the guitar and the singing with the audience worked out good as well. But it got much better then with the cover of DEPECHE Mode's 'Enjoy the Silence' which really everybody knew. Towards the end we got again some fresh, own material with the track 'Sympathy' and so show was over much too fast and whetted the appetite for more and especially for the upcoming debut album.
Setlist

01. Forever
02. My Love is guaranteed
03. Now or Never (NNB Cover)
04. Calling
05. Sometimes
06. So in Love
07. Billy Idol - White Wedding (Acoustic)
08. DM - Enjoy the Silence
09. Sympathy
Rating

Music: 8
Performance: 8
Sound: 7
Light: 7
Total: 7.7 / 10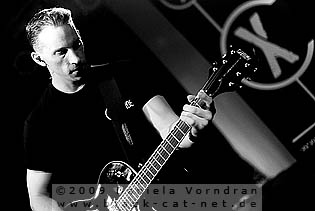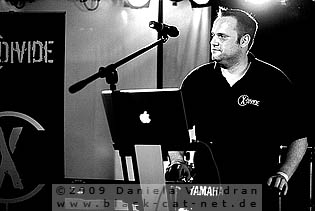 Noyce TM

The story of NOYCE TM started back in 1998 and already the first EP 'Panique', produced with Olaf Wollschläger and especially the title-giving track became an evergreen in the clubs and still is. In 1999, they've been invited by VNV NATION, whom they'd met on the Black Easter Festival in Gent, to support them on their "Empires Tour" and right in time for the tour start the first concept album 'The White Room' was released in September 1999 followed by the 'White Noise' EP intended to close the gap between 'The White Room' and the upcoming album 'Coma' but due to several circumstances the gap was longer than planned and it wasn't until 2006 that the German Electro pop project returned with 'Coma' and it was an impressive comeback celebrated by music critics followed by the 'Our World in Coma' EP in May 2007. After several push backs the third album 'Un:Welt' - again a conceptual work - was unleashed on 27th March. NOYCE TM is Florian Schäfer (vocals, lyrics, arrangements), Oliver Götz (production, Synths, arrangement), Thomas Krupatz (guitar, live drums), and Oliver Poshmann (synths, singing saw, bass).
http://www.noycetm.de/
/
http://www.myspace.com/noycetm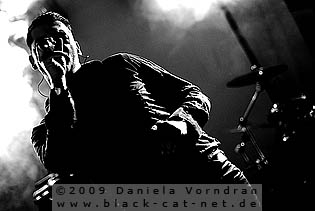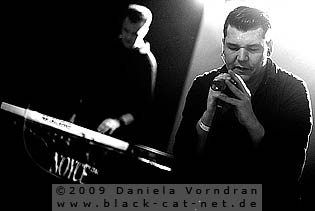 Music & Performance

Bursting with good temper we could hardly wait for the show of NOYCE TM, we got to know and love during last year's DIARY OF DREAMS tour. The very first show after the release of the brand new album was anxiously anticipated and so Mr. Schäfer (Vocals, Krupatz (Drums) and the newest band member Poschmann (Keys) were warmly welcomed when appearing on stage. Sadly Goetz (Keys) couldn't join the band this time around. The cool and ingenious new track 'Un:Welt', where spoken-word eventually erupts into a melodic and catchy chorus, opened the set. Schäfer's sonorous voice made my hairs stand on end right away. The danceable 'Headland' caused extensive dancing in the first few rows, while drummer Krupatz catered for lots of alarm while happily watching the hustle and bustle down here. Beautiful and deep Electro Pop followed with 'Sleepwalker'. The German-tongued 'Tagwerk' proved once more how impressively and expressively Schäfer can convey the songs with his voice. Then it's the time to just close the eyes and enjoy. The older track 'She don't love me' from the album 'The White Room' (1999) earned cheers and enthusiasm.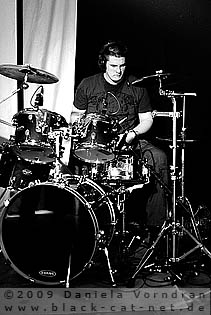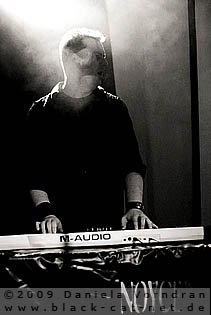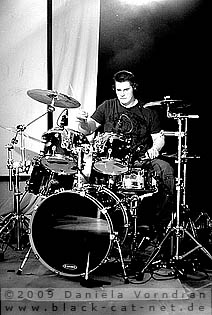 New songs like 'The Last Effort' and 'Inschallah' blended in fluidly with the string of well-known songs like 'Our World' or the classic 'Panique', so there was hardly any time to breathe and as the first notes of 'Year 03' sounded we loudly cheered and sand along to the chorus. The audience thanked the bands with risen hands and never-ending applause for the overall prolific performance and the wonderful song selection.
Setlist

01. Un:welt (Intro)
02. Headland
03. Sleepwalker
04. Tagwerk
05. She don't love me
06. The last effort
07. White noise
08. Our world
09. Inschallah
10. Panique
11. Year 03
Rating

Music: 9
Performance: 8
Sound: 8
Light: 7
Total: 8.3 / 10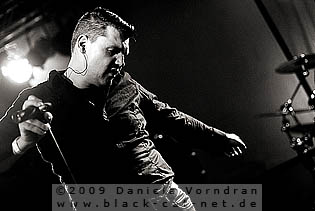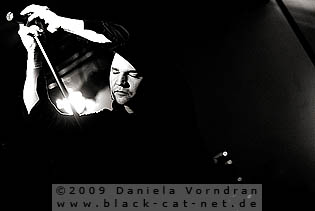 Klangstabil

KLANGSTABIL formed in 1994; the same year the two protagonists Maurizio Blanco and Boris May met as they soon realised they're communicating on the same level. Soon they started producing without ever having the intention of getting anything of the material released. Over the years, KLANGSTABIL created their own niche in combining elements of the very beginning of electronic music with modern means on albums like their 2004 release 'Taking Nothing Seriously' for instance and just recently on the artful concept album 'Math & Emotion' with which they caused rave reactions both by the alternative music press and their loyal fan-base. KLANGSTABIL is Boris May & Maurizio Blanco.
http://www.klangstabil.com/
/
http://www.myspace.com/klangstabil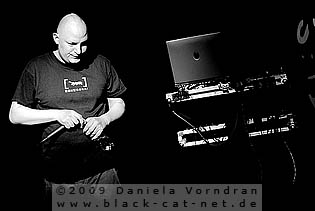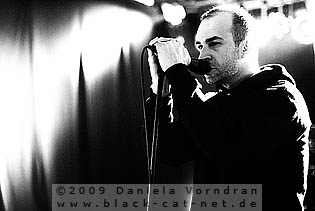 Music & Performance

A fairly unknown band for me so far was coming up now. The duo KLANGSTABIL, consisting of Maurizio Blanco and Boris May. A very intense hour started with loud and (for me) new, experimental sounds. Between instrumentals like 'Fighting Colours' took turns with the vocal duties. A really appealing mood full of emotionality spread with songs like 'Math & Emotion - The Square Root of One' or 'Twisted Words' taken from the current album 'Math & Emotion'. The songs appeared intelligent, direct and one felt the dedication and heart's blood in them. The ingenious sound made many people just dream and dance. Poignant and profound was also the moment when Torben Wendt (DIORAMA), who is close friends with the band, came on stage to play the keys on the track 'Love has too much audience'. A touched audience clapped and hailed this exceptional formation. This concert is sure to be remembered as real experience.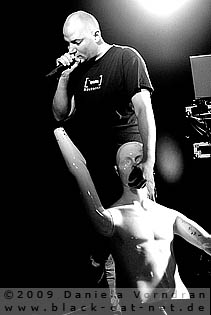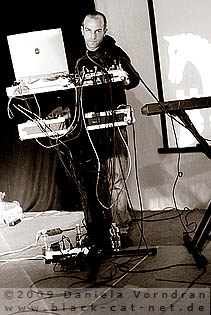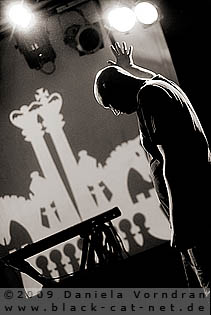 Setlist

01. Fighting Colours
02. You may start
03. Perdere per vincere (The Italian opening)
04. Math & Emotion - The square root of one
05. Push yourself
06. Gloomy Day
07. Beziehungsohr
08. Twisted words
09. Math & Emotion - The square root of three Remix
10. Vertraut
11. Love has too much audience
Rating

Music: 9
Performance: 9
Sound: 8
Light: 7
Total: 8.6 / 10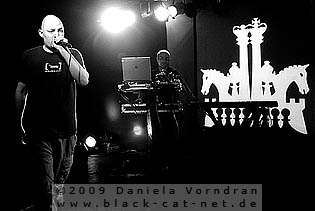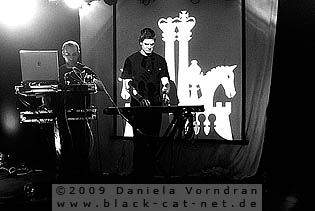 Diorama

DIORAMA was founded by Torben Wendt between 1994 and 1996. His long-time friend Felix Marc soon joined him as a co-producer and keyboard player. Sometime later, bass player Bernard le Sigue and guitarist Sash Fiddler, who were fellow students of Torben and Felix, gradually grew into the line-up and last but not least drummer Marquess became a member of the band. Unfortunately Bernard le Sigue left the Band in October 2006. The latest album 'A different life' was released in March 2007 sadly not followed by a real tour. Currently the devoted fan base is eagerly waiting for the new album 'Cubed' to be released some time in 2009. DIORAMA is Torben Wendt (words and music, vocals, keys, percussion), Felix Marc (co-production, keys, vocals), Sash Fiddler (guitars) and Marquess (drums).
http://www.diorama-music.com/
/
http://www.myspace.com/dioramamusic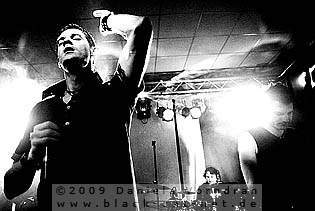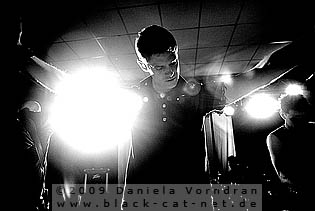 Music & Performance

After so many highlights, the headliner DIORAMA was the absolute climax. In best mood Torben Wendt, Felix Marc, Sash Fiddler and Marquess took the stage and started right away with 'Kein Mord', one of my favourites on the current album 'A Different Life'. The audience was fantastic and started the action right with the first sounds. Torben once again convinced with a great stage presence and discovered the left box on stage for him to climb up and sing from there. Fast and danceable songs like 'Erase Me' and the still unreleased 'Acid Trip' kept following. New for me was Sash playing the keys as I've only seen him on guitars so far. The mood stayed on a constantly high level even though the room wasn't quite packed. Band and audience pushed each other. After the classic club hit 'Advance' followed my absolute favourite of all time 'Someone Dies'. Like during the KLANGSTABIL performance where Torben supported the duo on one song, it was Boris May entering the stage to 'The Girls' to support the guys on vocals during the chorus.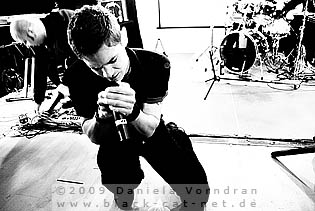 Now 'Synthesize Me' followed where Torben even wandered through the audience to sing amidst the crowd. Sash had so much fun at the stage rim he doused a beer over his head and with it also on some people in the first row. It was a big party and thus no wonder that people loudly demanded an encore after the last song. For 'Why' they came back on stage and all together we sang again and again "Oh oh oh…" even when the song had already faded but Felix always played short chords again. The club hit 'HLA' closed the set for good. After every DIORAMA gig I think it can't get better anymore, but once again I was put right. That was huge!!!
Setlist

01. Kein Mord
02. Erase Me
03. Acid Trip
04. Friends we used to know
05. Advance
06. Someone dies
07. Exit the grey
08. Klarheit
09. The Girls (with Boris May KLANGSTABIL)
10. Synthesize Me
----
11. Why
12. HLA
Rating

Music: 9
Performance: 10
Sound: 8
Light: 7
Total: 9 / 10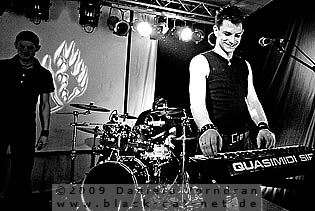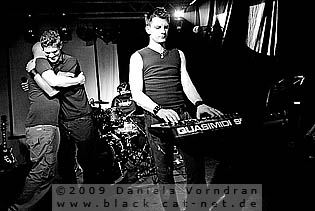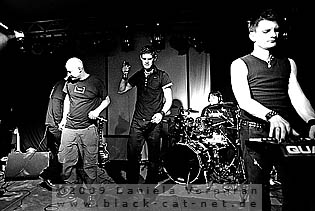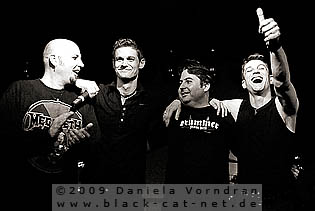 After the headliner on the main stage WELLE:ERDBALL had finished their set as well, DJs like DJ Gillian catered for musical accentuation. We danced and enjoyed ourselves for a little while and at around three in the morning headed back to the hotel. Despite the chaotic first day and the little audience the festival was much fun. The bands were close to their fans and all celebrated together. I got to know a lot of new bands and hope it wasn't too much of a losing game for the organizer, so there can be another Elekktroshokk Festival next year, where many new band get their chance to play their stuff live.
All pictures by Daniela Vorndran (
http://www.vorndranphotography.com/
/
http://www.black-cat-net.de/
/
www.myspace.com/vorndranphotography
)
Written by Cathie Niemann & Daniela Vorndran, Translation & Band Intros by Sebastian Huhn & Daniela Vorndran
{jos_sb_discuss:18}