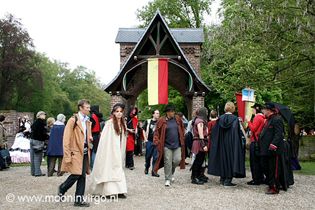 Castle de Haar, Haarzuilens, The Netherlands
25th and 26st of April 2009
Elf Fantasy Fair
The weather was looking good, not too hot, not too cold. The line-up was good and as every year improvements were made so the Elf Fantasy Fair was bound to be a success again this year.
We came somewhat later in the morning so there were no rows at the entrance. Buses were still bringing visitors in from the station. That is always taken care of at the Fair. This year the shops started immediately after the gate so you weren't bored for a minute. The usual stands were there like Mead and More and many many fantasy and gothic stands.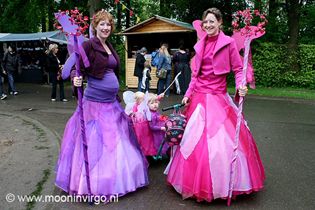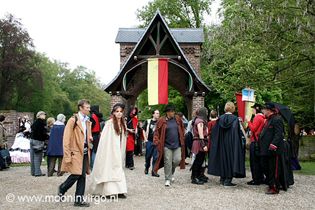 A new shopping lane was added though, with all German stores. In Germany medieval and fantasy festivals are much more common and these stands had great new things to offer. There were many kinds of food and drink as well. At the beginning of the lane you could bet on 'mice-roulette'. You could place money at one of the pictures, under each picture there was a little hole for the mouse. When at least three people had put down a Euro (or more) the mouse was let loose and whatever house he chose was the winner.
Many guests were invited. The always fun and informative Dr. Rotherham and this year James 'Spike' Masters was there. This to the enjoyment of many fans who could ask questions and even take a picture with the Buffy star and musician.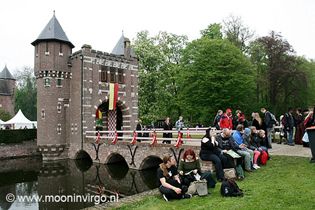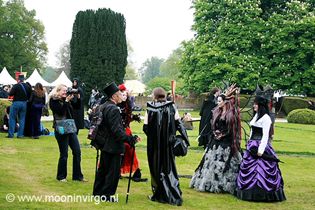 One of the many enjoyments of this festival were the incredible amount of beautiful costumes worn to the Elf Fantasy Fair. The not so beautiful costumes could be very enjoyable to by the way. Every once in a while "Horses!" was shouted and then a line of horses and dressed up people passed by. that seems like a great job, riding around in a costume all day! The toilets were well taken care of this year. There were even special toilets for invalids and big dresses! Very thoughtful. There were two stages. On the small stage there were some fun bands such as 'Die Piraten'. They played very cheerful songs and everybody who was watching danced to their music.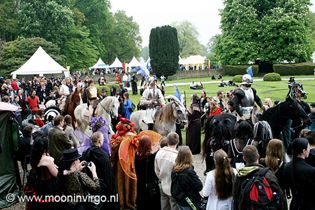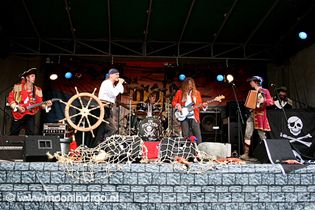 On the big stage there were many things to see such as Dandelion Wine. The sound was very bad but their performance and music were great. It was a shame that it was so deformed by the sound system. There were Japanese drummers as well, it sounded good and they would have given an impressive show if they would have brought twice as many drummers. Because it was outside the sound was blown away. Rapalje was a success as always, the audience knows them. They sing along, dance along and everybody was clearly enjoying themselves. Their show was a great ending to a great day.
Rating
Music: 7
Performances: 7
Sound: 4
Light: Very sunny!
Total Fair: 7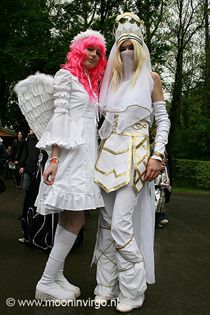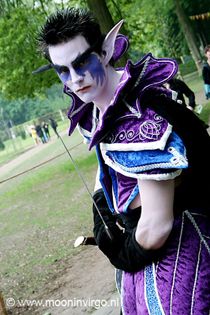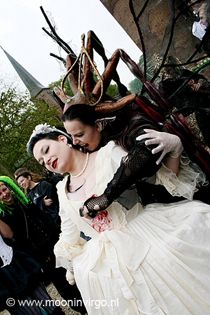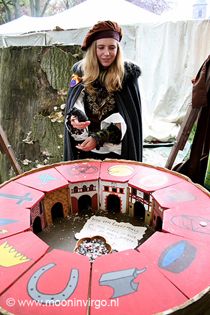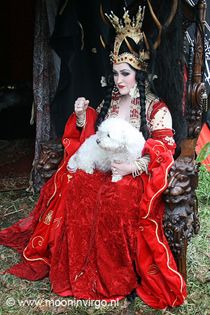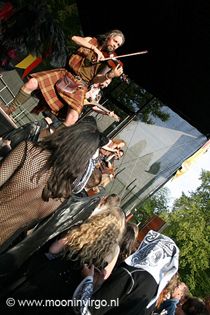 Photography and copyright: Monica Duffels -
www.mooninvirgo.nl
{jos_sb_discuss:18}