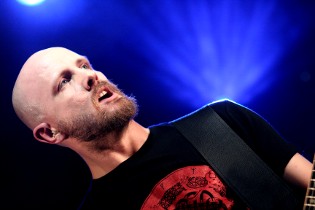 Lichtenfels, Germany
17th - 18th April 2009
Ragnarök Festival Day 2: Irrbloss, Yggdrassil, Alkonost, Cor Scorpii, Fjoergyn, Dark Fortress, Thyrfing and Einherjer


After a short and very cold night in the car, the second day of this year's Ragnarök Festival came way too soon. The weather was a little better than the day before but still pretty nasty. It was cold and wet. It didn't rain quite as much as it did on Friday but it still was uncomfortable (at least for me - it probably couldn't harm all the evil metal fans). The first day was over and we were looking forward to great bands performing this day such as FJOERGYN and EINHERJER. And also, during this day we took a look at the Viking camp on the festival ground. They showed some nice fight-shows and it was really a nice gimmick.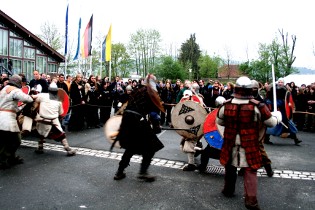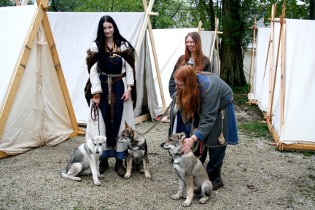 Irrbloss

IRRBLOSS was formed in early 2004 by the vocalist Irrbloss. He wanted to make a "one man band", but soon after he realized that he was a crappy guitarist, so he asked Frid if he wanted to make a "two man band". And so they did. They started to write some materials that became the recording of their first song 'Vandringssägen'. In September 2006, Irrbloss and Frid decided to make IRRBLOSS (the band), with a real line-up.
http://www.myspace.com/irrblossband
Music & Performance

Right before we took off to our first band this day IRRBLOSS, my boyfriend told me that this young black metal formation from Gothenburg was definitely worth seeing. And so, after we passed the security (who told us bands playing during soon afternoon weren't worth looking at), we entered the hall which was pretty crowded, to my surprise. IRRBLOSS started out with a raw, dark music which really persuade me. Unfortunately, they only had red light which was neither good for the photographers nor for the crowd. But all in all it was really a great start into this day! IRRBLOSS showed some of the bands from Friday how it is really done.
Rating

Music: 8
Performance: 8
Sound: 6
Light: 4
Total: 7.1 / 10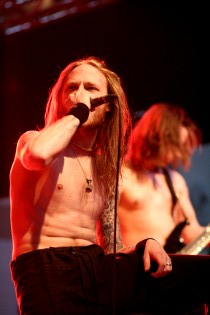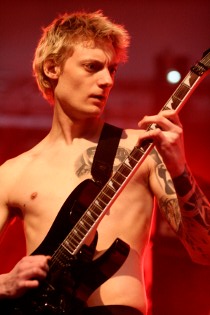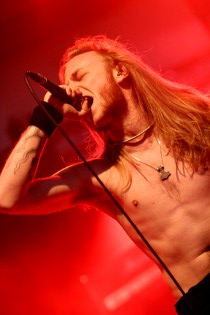 Yggdrasil

YGGDRASIL is a folk band playing mainly compositions by Kristian Blak and interpretations of ethnic material from the North Atlantic region: Faroese ballads, hymns, rhymes - Inuit songs - Shetland music. The band is named after the world tree Yggdrasil.
http://www.yggdrasil-sweden.com/
Music & Performance

Their band name seemed to be familiar. And then, I remembered ADORNED BROOD's song 'Under Yggdrasil' and I was excited how this band would do. Like friends told me, this band actually consists of two people and so, I was surprised so see four people standing on stage. They started out with a pretty good sound and really persuaded me. The lead guitar which is the carrying role in this band came out pretty good on stage which it doesn't on their album. So, it was a good, basic concert without anything special happening.
Setlist

01. Intro
02. Oskorei
03. Vedergällning
04. I Nordens Rike
05. Ekot Av Skogens Sång
06. Kvällning Över Trolska Landskap
07. Storm
08. Nordmark
09. Svälttider
Rating

Music: 7
Performance: 7
Sound: 7
Light: 6
Total: 6.9 / 10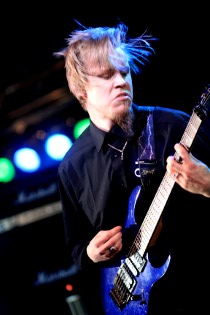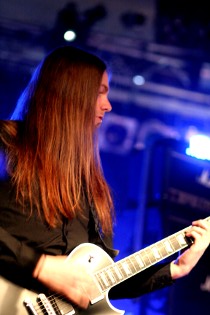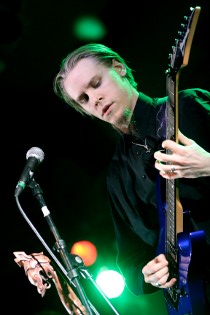 Alkonost

ALKONOST is a Russian folk metal band formed in Naberezhnye Chelny, Tatarstan, Russia in 1995. Starting small and gradually building a local Russian fan base, they are now known to rock fans throughout Europe. The band was the brainchild of bass guitarist Elk who was interested in the idea of fusing Russian folk music with Heavy Metal. The band's "big break" came with a record deal with the Northern European label Metalism Records and eponymous second album 'Alkonost' was released in July 2002. Albums 'Between the Worlds' and "The Path We Never Trod" followed at two-yearly intervals.
http://www.alkonost.ru/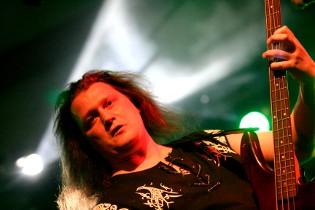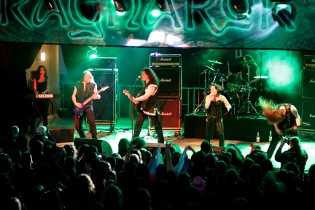 Music & Performance

After this band, we had a big discussion. Some said they were disappointed by this band, some said they were pretty good. On the one hand, people said the keyboard made all the melodies not the guitars, on the other hand, in my opinion the lead guitar was present, especially during the first songs when they didn't have their opera singer on stage. Talking from the singer, she didn't fit in the band, neither by looks nor by singing. She was good, no doubt, but she didn't support the sound of the band. She just made her thing (and I am usually a big fan of opera singers in metal bands). All in all, the concert was ok but nothing outstanding. The band should think about their constellation because if the singer would have fit into the band they definitely would have been way better.
Rating

Music: 5
Performance: 6
Sound: 6
Light: 6
Total: 5.6 / 10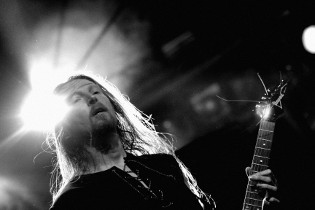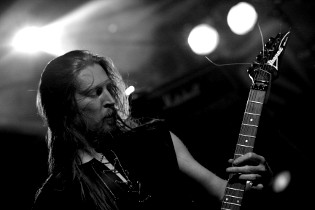 Cor Scorpii

COR SCORPII (Scorpion's Heart in Latin) is a black / death metal band from Sogndal, Norway, founded in 2004 by Gaute Refsnes, the former keyboardist of WINDIR. COR SCORPII is an alternative name of Antares, the 15th brightest star in the sky. The name was chosen because the band members felt that it conveyed a mysterious and atmospheric feeling, corresponding to the musical and lyrical content. In July 2007, the band commenced to record its debut full-length album, 'Monument', which was released on March 26, 2008. As of 2008, the band has participated in 4 Norwegian metal festivals, including the Inferno Metal Festival.
http://www.corscorpii.net/
Music & Performance

The band came on stage, looking pretty good with their matching outfits (I'm still asking myself how the lead singer managed to keep those strings up his sleeves). Starting out without any sound of the lead guitars, I was irritated if the sound would become better or not. But it eventually got better and then, the band really knew how to show their skills. They also showed some great performance on stage. You could see they definitely had some fun playing in front of a lot of metal freaks. I didn't know the band before but I sure do now!
Setlist

01. Ei Fane Svart
02. Når Enden Er God
03. Kjettar, Endesong
04. Attergangar
05. Oske Og Innsikt
Rating

Music: 8
Performance: 7
Sound: 5
Light: 6
Total: 7 / 10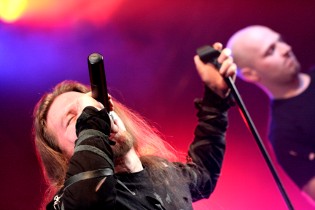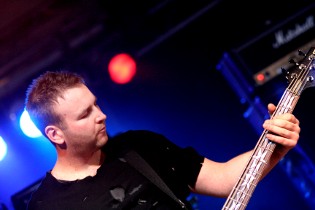 Fjoergyn

FJOERGYN is a German metal band formed in 2003. Currently it consists of three members. Their name comes from Fjörgyn, the name of a goddess associated with the earth in Norse mythology. In 2005, they released their debut album 'Ernte im Herbst' on the record label Black Attakk. Their second album, 'Sade et Masoch', has been completed and was released in Spring 2007. This album also saw the addition of a new member, who according to their website contributed to a large extent.
http://www.fjoergyn.de/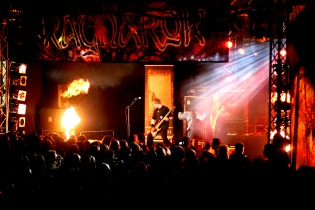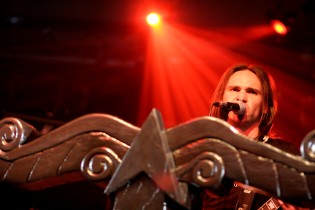 Music & Performance

FJOERGYN was definitely one of the bands I was really excited about. Since a lot of my friends are fans of the band, I couldn't wait to see how they would do live. The concert started with a great stage design. In front of Stephan L. (vocals, guitar, keyboard) there was a huge wooden Irmin-pillar put up which was, if you ask me, way too big for him. You couldn't see him at all, he just disappeared behind it. It was pity. Also, they had two banners put up: one matching to 'Jahreszeiten' and of course the good old 'Misanthropie in E-Moll'. Unfortunately, nobody told us that there would be flames on the sides of the stage and the security only had those little strings to protect the photographers from the flames. It was really dangerous and I just thought "how irresponsible!"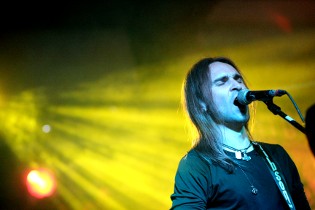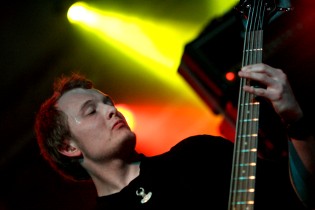 Anyways, the band showed a good performance. They played six songs, three new ones and three old ones. They showed a good preview of the upcoming album 'Jahreszeiten'. The sound wasn't that great but still ok. Unfortunately, the concert was interrupted by the tombola (Ragnarök had a tombola set up where you could win some prices). It kind of tore the whole concert apart. But a special highlight was definitely the appearance of Ivo (organizer of the festival) during the song 'Katharsis' and he really did a good job. Quite a surprise!
Rating

Music: 8
Performance: 7
Sound: 6
Light: 6
Total: 7.1 / 10
Dark Fortress

DARK FORTRESS is a black metal band from Landshut, Germany, formed in 1994. They have released five studio albums, a split album and a demo album. Their latest work is 'Eidolon' and was released in 2008.
http://www.thetruedarkfortress.com/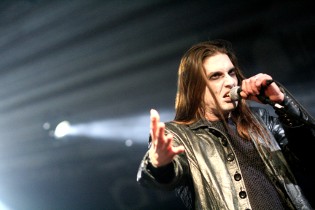 Music & Performance

The first thing everyone notices was the corpse paint the band was wearing. They looked like little pandas standing on stage. On the one hand, kind of cute, on the other hand kind of funny. Starting out with bad sound (you couldn't hear the keyboard at all) I wondered how the concert would develop. The concert turned out to be pretty good. Nothing special happening but I didn't expect anything huge. All in all, it was a good concert with a bad sound but good music.
Setlist

01. Poltergeist
02. Self Mutilation
03. Silver Gate
04. CataWomb
05. To Harvest
06. No Longer Human
07. Baphomet
Rating

Music: 7
Performance: 6
Sound: 4
Light: 5
Total: 6 / 10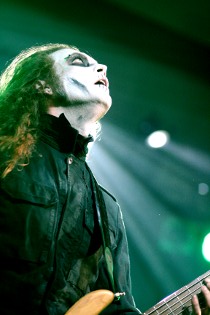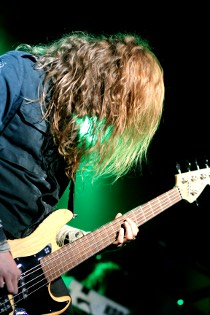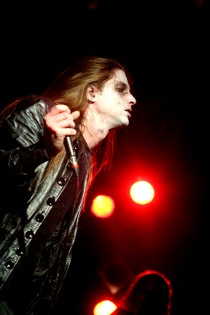 Thyrfing

THYRFING was formed in 1995 by Patrik Lindgren (guitar), Jocke Kristensson (drums), Peter Löf (keyboard) and Kimmy Sjölund (bass guitar). From the beginning, the band was meant to be a side project, as Patrik and Jocke put their main focus into their other band, PANTHEON. Northern mythology and the Viking age was an interest of all the members, so the lyrics and the concept were focused upon this subject.
http://www.thyrfing.com/
Music & Performance

THYRFING was one of the bands on Saturday I really liked. They played a good mixture of some old and some new songs. They really showed how great their music is, also on stage. I was really thrilled by this band. The sound was ok, too. They showed some fun on stage. And they definitely knew how to get the crowd banging. It was just a pleasure listening to them (and of course also looking at them). For me, one of the best concerts on this day! I will surely keep track of what they are going to do in the future!
Setlist

01. The Voyager
02. Kaos Återkomst
03. En Sista Litania
04. Från Stormens Öga
05. Far Åt Helvete
06. Ur Askan Ett Rike
07. Storms of Asgard
08. Griftefrid
09. Digerdöden
10. Mjölner
Rating

Music: 9
Performance: 8
Sound: 6
Light: 5
Total: 7.7 / 10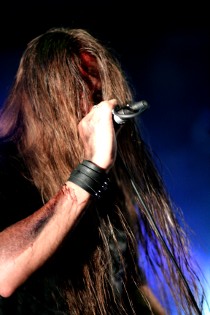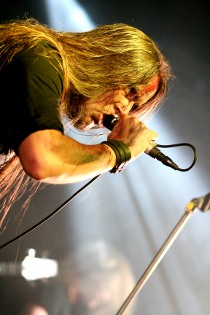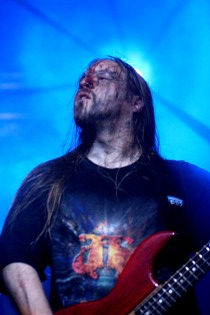 Einherjer

EINHERJER is a Viking metal band from Haugesund, Norway, founded in 1993. The band's name is taken from Norse mythology, where the term "Einherjar" describes the slain warriors that have gone on to Valhalla and joined Odin's table. Some of their albums are heavily Folk influenced, while other albums feature a more traditional black metal sound. Their lyrics retell Norse legends, and each of their albums has its own theme. The band split up in early 2004 after releasing their final album 'Blot' in December 2003. In 2008, Einherjer announced they had re-united.
http://www.myspace.com/einherjermusic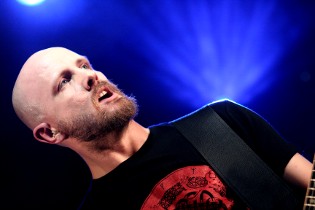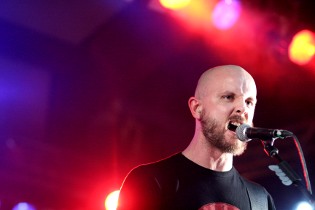 Music & Performance

EINHERJER played a re-union show at this year's Ragnarök Festival and so, everyone was excited to see how they would do. It took them 40 minutes to get the stage changed. They had this black curtain put up in front of the stage so nobody could see what's behind it. We were all wondering what could be behind this curtain: huge ship put up, some killing scenes or whatever? Well, no. They dropped the curtain and there was: nothing. It was just the plain stage with the instruments on it. So, my question: why the whole curtain-thing? The secret: they had their own sound engineer which really added to the sound. They surely had the best sound on this festival! And during the concert, the guys really showed they knew how to handle their instruments like no other band. Also the vocals knew how to persuade the people - and myself. They showed everybody their re-union was a great idea! Definitely one of the best concerts during the festival and for some, even the best!
Setlist

01. Hammar Haus
02. Dreamstorm
03. Hammeren
04. Berserkergang
05. De Sorte Sjøers Land
06. Crimson Rain
07. Ballad of the Swords
08. Ironbound
09. Dragons Of The North // Far Far North
Rating

Music: 8
Performance: 8
Sound: 8
Light: 5
Total: 7.6 / 10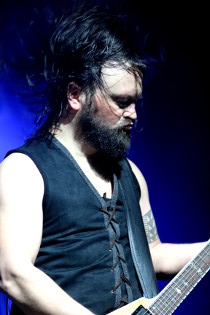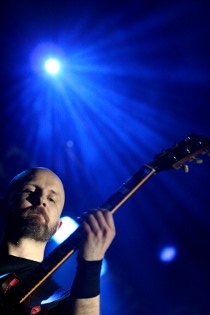 All pictures by Anne Kuhfuß
{jos_sb_discuss:18}