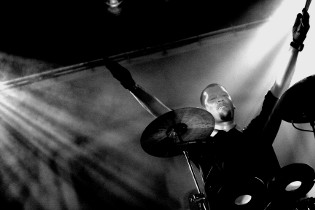 Leipzig, Germany
30th May 2009
Wave Gotik Treffen Day 2: Dissertation of Dr. Mark Benecke, Zin, Mono Inc., Eden Weint Im Grab, Die Art, Draconian, Eisbrecher, Hollenthon, Clan Of Xymox, Feindflug, VNV Nation, Current 93


This day one part of our team wanted to attend all bands' open air shows at the Parkbühne. With unsettling looks towards the skies we're heading there and enjoyed the atmosphere and looks in the cable cars, all crowded with black-dressed people and the walk through Clara-Zetkin Park. For the rest of the team, the second day started pretty early, due to loud music coming from all sites of the camp ground.


So, we got up early, had a nice breakfast and were in pretty good mood. The weather was good and so was the plan for today. But unfortunately, one of my lenses didn't survive the first day as I noticed on the second. It fell down before I took pictures of L'ÂME IMMORTELLE the other day and after I detected it was broken, my mood changed into really bad. But the outlook of a speech from Dr. Mark Benecke made it better and the weather was good, too. So, let's start the second day.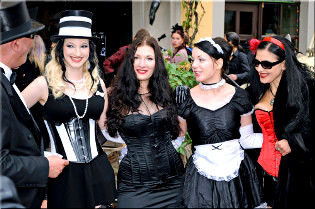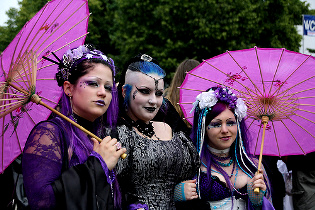 Dr. Mark Benecke - Werk II (Anne Kuhfuß)

Mark Benecke is a forensic biologist. Benecke was born in Germany in 1970. After receiving a Ph.D. at Cologne University in 1997, he worked in the Chief Medical Examiner's Office in Manhattan, New York from 1997-1999. As of 2008, he works internationally on forensic cases as a freelance expert witness. He also teaches at various police academies and acts as a visiting professor to universities in Germany, England, Vietnam, Colombia and the Philippines. Benecke has published several popular science books about the biology of aging, criminal cases and forensic biology. He is a member of the editorial board of the "Annals of Improbable Research" (Cambridge, USA), guest editor for "Forensic Science International", and scientific advisor to the German sceptic organization GWUP, where he publishes sceptical articles on various topics, including his attempt to explain alleged signs of vampirism.
http://www.benecke.com/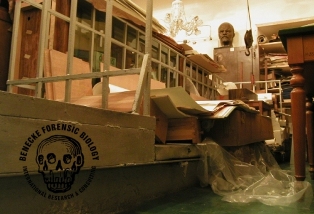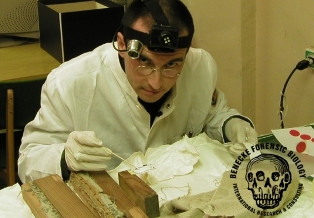 After we saw the huge line in front of the Werk II (we were one hour early), we hoped our friends (who came earlier) stood in line and so they did. We entered the Werk and were happy to see they had put up some chairs for the audience. Before the dissertation of Dr. Mark Benecke started, some of his favourite music was played like VNV NATION and FEINDFLUG. He probably wanted us to get prepared for the evening. After we decided to hear something about the topic "Hitler's teeth and skull", he started with an interesting and funny story about his travel to Russia and how he was the only one who was allowed to look at the teeth and skulls. He told us about Russian traditions and how Hitler's leftovers were stored. It was interesting to hear how Hitler died and what specialties he had. For example, he only had 4 teeth left and the rest of them were fake ones. The reason for that: he took so much cocaine that his teeth just fell out. So, all in all, it was something different and probably something nobody would expect to hear the Wave Gotik Treffen. I was happy, we got the chance to hear and see this great forensic biologist live in person.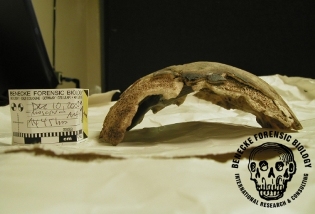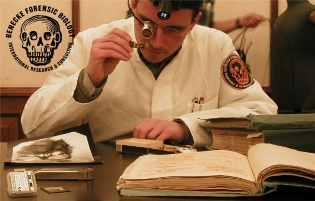 The Prostitutes - Parkbühne (Cathie Niemann)

The Prostitutes are an indie band formed in 2004 in Prague. In April 2005, the band recorded their first EP, named 'The Prostitutes' and ever since gained quite an amazing popularity in Czech Republic. The album 'Get me out of here' was released in September 2006 receiving wildly positive reviews in the press. A single 'Leave it like this' followed this year and a new album is announced as well.
http://www.theprostitutes.org/
/
http://www.myspace.com/theprostitutes
Music & Performance

The ungrateful job as opener fell on THE PROSTITUTES from Prague, performing their energetic set of Post Punk and Alternative songs before quite a little audience. In 2004, the current band members Adrian T. Bell (vocals), Martin Destroyer (guitar), Stevie LFO (keyboard), Luk Santiago (drums) and Smity (bass) found together. The band name reflects the member's attitude to give every audience a hot show. After one EP and the album 'Get me out here' (2006), the single 'Leave it like this' came out this year, also presented during the set with much energy and charm. The pretty dreamy and mellow number with catchy chorus put the deep and punchy voice of singer Adrian to the spotlights. But also faster and more Punk-oriented songs such as 'Get me out of here' or 'Thank You' could rouse the audience.
Setlist

01. Eject
02. She's a Prostitute
03. Thank You
04. Leave It like It Is
05. She's Dead
06. Sunshine
07. Holiday
08. Space Oddity 2009
09. Get Me Out Of Here
Zin - Parkbühne (Cathie Niemann)

Well, not a flood of information regarding this band but at least a little bit. ZIN is the name of a German electro project that released their debut album 'Tourists to this World' in 2007, preceded by the single 'Symbiosis'.
http://www.myspace.com/zinworld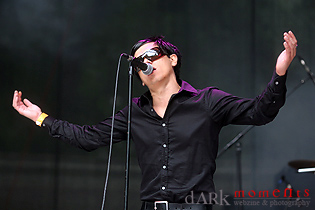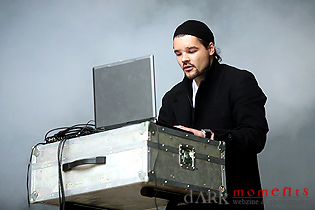 Music & Performance

Another newcomer was coming up next at the Parkbühne with the local Electro / Indie band ZIN. Despite many grey clouds it didn't start raining and the place in front of the stage filled by degrees. ZIN was formed in 2006 and comprises members Iven Cole (vocals), Vicent Oley (guitar), Markus Estbourg (keyboard) and Mika Arthate (drums). Singer Ivan came on stage wearing huge, stylish sunglasses reminded me instantly of the PLACEBO front man Brian Molko. The new songs such as 'Kiss the world goodbye' or 'Pilgrim' even revealed a sonic relation to the Britpop band. With songs sometimes rocking with roaring guitars or poppy with melancholic chant the four guys showed lots of joy of playing. From the debut album they presented the catchy 'Tourists to this World' which received much applause.
Setlist

01. Kiss the world goodbye
02. 2010
03. Pilgrim
04. Schizophrenia
05. We claim monarchy
06. Tourists to this world
Mono Inc. - Parkbühne (Cathie Niemann)

The group that would later be known as MONO INC. started in 1998 under the name MONO69. The name changes around the year 2000. Beginning of 2003 bassist Manuel Antoni completes the line-up. The self-released debut 'Head under Water' followed then in autumn 2003. The year 2006 ended with a bad surprise. The band departed from their former singer. But eventually they had an idea and put the drummer and songwriter Martin Engler behind the mic and for him Katha Mia took over drums. As it turns out, the idea to put Martin to the front wasn't a bad one at all; ever since the band has grown more popular than ever expected. 2007 sees the release of the next record 'Temple of the Torn' to be followed only one year later, exactly in June 2008, with the third album 'Pain, Love & Poetry'. MONO INC. is Martin Engler (vocals), Manuel Antoni (bass, vocals), Katha Mia (drums), Carl Fornia (guitar, vocals).
http://www.mono-inc.com/
/
http://www.myspace.com/monoincmusic
Music & Performance

The performance of Hamburg-based Gothic Rock formation MONO INC. was something I was anxiously waiting for. Since the release of their third album 'Pain, Love & Poetry', the band, active since end of the 90s, gained more popularity. On this late afternoon singer Martin Engler, guitarist Carl Fornia, bassist Manuel Antoni und drummer Katha Mia entered the stage with a good temper and started with 'This is the Day'. As usual drummer Katha Mia supported Martin with her wonderful vocals. The audience went along with it and you could hear the excitement of many people. Singer Martin told that this was the second show in the band's history and that they've not much good memories of the first one, but today that seemed to be different for the band played their songs into the hearts of the attendees with sympathy, who danced and sung to the rocking 'Temple of the Torn'. Sadly, the weather god meant no good for us anymore from there on and it started raining. However to the rocking 'My sick mind TV' no one really bothered anymore.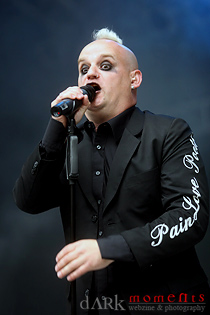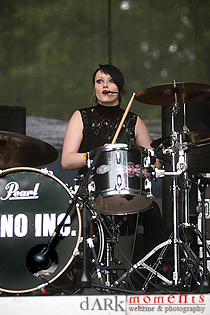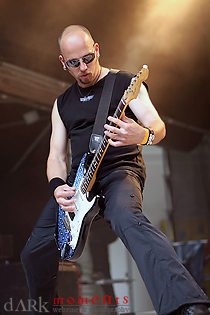 Being all alone on stage, drummer Katha Mia intrigued us with a powerful solo. The band seemed visibly happy about the reception of the audience and gave profuse thanks to the crowd. Together, we sang the choruses of 'Sleeping my Day away' and the last song 'Get some sleep', where Katha Mia's and Martin's vocals harmonized particularly well. A last applause was last proof how much the audience had enjoyed the show and as for me, the show to my personal highlights on this year's WGT.
Setlist

01. This is the day
02. The Temple of the Torn
03. In my heart
04. My Sick Mind TV
05. Sleeping my day away
06. Get some sleep
Eden Weint Im Grab - Kohlrabizirkus (Anne Kuhfuß)

In the year 2000 EDEN WEINT IM GRAB's protagonist Alexander Paul Blake already recorded a first demo called 'A Celebration in Black' as Dark Pride Retaliation. But due to the poor sound quality this demo was never released. The project was buried soon afterwards and it took long for it to resurge from the grave in 2004, this time with the promising name EDEN WEINT IM GRAB (German for "Eden is crying in the grave", the abbreviation "ewig" means "eternal") and with German lyrics. The official debut album 'Traumtrophäen Toter Trauertänzer' has been produced and performed by Alexander Paul Blake in his Winter Solitude Studio reclusively and only the bass guitar has been played by Sebastian Schult (Ex-Atrocity, Ex-From Thy Ashes). Subsequently E.w.i.G. chose an unconventional way on purpose and put the whole album and artwork online for free download to receive the broadest possible publicity and not to drown as a newcomer in the huge mass of new releases. Motivated by the great responses and euphoric reactions Alexander Paul Blake returned to his studio in Berlin to create the successor 'Trauermarsch Nach Neotopia'.
http://www.edenweintimgrab.de/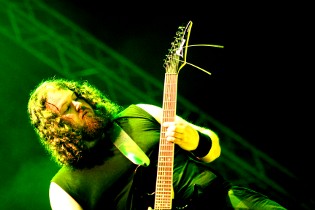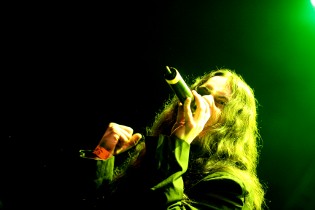 Music & Performance

Starting as a studio project, EDEN WEINT IM GRAB started playing shows live due to fan requests. And so they did this Saturday. And thinking of that fact, they did a really good show. The sound was harmonious, too. Well, it was nothing special but I didn't expect this band to do an awesome and unique show since they usually stand in the studio. Looking at the musical site, you can say that they performed pretty confident. It was nice to hear that they played that well. Thinking of the lyrics that are pretty vanguard, you probably expected something more from their performance but I don't know how many shows they had before, so it was not that bad. Maybe, they will improve that in the future. And they also had a different line-up than in the studio. So, maybe they just have to get used to the people on stage. They played songs from their two albums and gave a nice impression of their work. Surely, they are one of the bands that are worth to keep track of.
Setlist

01. Traum des Bösen (Intro)
02. Unter Dem Eis
03. Den Herbstlaubregen Tanzt Der Tod
04. An Die Nacht
05. Für Phantasus, Ein Traumsonett
06. Undine
07. Krieg Im Wunderland
08. Blutquell
09. Des Träumers Melancholie

Rating

Music: 8
Performance: 7
Sound: 6
Light: 7
Total: 7.3 / 10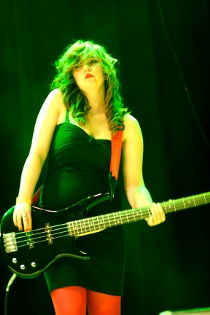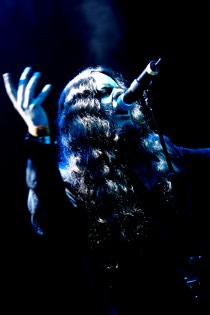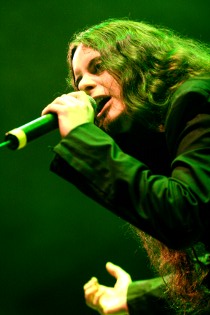 Die Art - Parkbühne (Cathie Niemann)

German band DIE ART was founded in 1986 and is the follow-up to DIE ZUCHT which had a rather short-lived existence with two years in total. The band quickly caught the attention of a bigger audience and having their song 'Chrome' played on the radio might have helped their popularity grow as well. After the German Unification the band has released their debut full-length 'Fear' which remains to be the most successful album of DIE ART up until now. After a concert in Leipzig's Moritzbastei in 2001 the band disbanded and left a back catalogue of nine album, various tapes and singles. In February 2007, the reunion of DIE ART was announced, ever since they've released two new studio albums with 'Funeral Entertainment' being the latest, released in October 2008.
http://www.die-art.de/
/
http://www.myspace.com/dieart007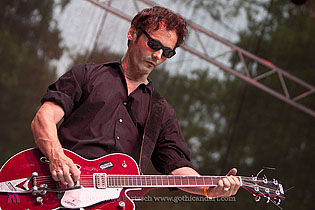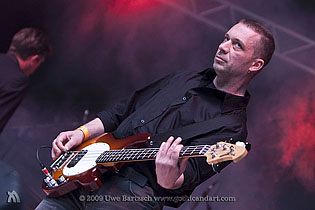 Music & Performance

It kept on raining and so there were many umbrellas to spot before the stage when DIE ART started their show at 6:30 PM. DIE ART are around since 1986 and formed in Leipzig in the former GDR. Already back then melancholy lyrics in German and English and a dark sound were trademarks of the band. The current line-up comprises Holger "Makarios" Oley (vocals), Thomas Gumprecht (guitar), Sven Löbert (drums) and Conrad Hoffmann (bass). 10 albums have been released in the long band history. After the band had disbanded several years ago, they reunited in 2007.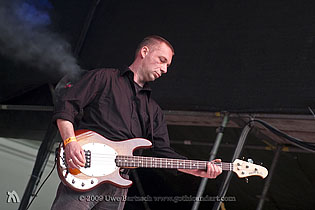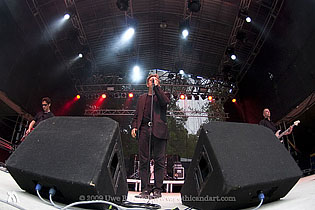 Currently the band is working on their Best-Of album Vol.1 which is supposed to include exclusively songs with German lyrics! Vol.2 will be the English counterpart. On this early evening they performed a mixed set. From the current album 'Funeral Entertainment', the band played the Goth Rock-laden 'Pale', 'Swimming in dirty Water' and the Wave infused 'Obsession is sad Passion'. But also older songs like 'Das Schiff' or 'Heimatlied' displayed the unique style of the band I have never seen live before.
Setlist

01. Pale
02. Swimming in dirty water
03. Obsession is sad passion
04. The 7th unneeded aborted start
05. In the gallery
06. Heimatlied
07. Heer Litz
08. Paradise
09. Eternal fall
10. Das Schiff
11. Alles was dein Herz begehrt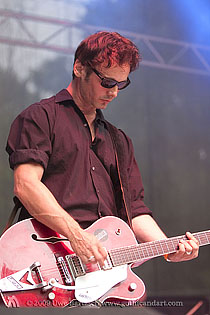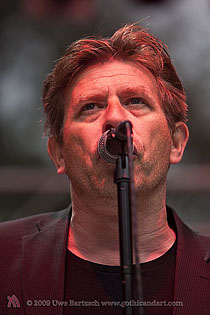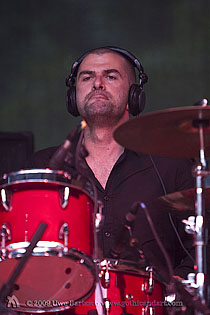 Draconian - Kohlrabizirkus (Anne Kuhfuß)

DRACONIAN is a gothic doom metal band, formed in Säffle, Sweden in 1994. The band consists of Anders Jacobsson (vocals, writing), Lisa Johansson (vocals), Johan Ericson (guitars, writing), Jerry Torstensson (drums, percussion), Daniel Arvidsson (guitars), Fredrik Johansson (bass), and Andreas Karlsson (keyboards, programming). Their first demo 'Shades of a Lost Moon' was recorded in 1995. The album was released in February, 1996. Both in 1998 and 1999, the band made concerts. After receiving positive reactions, they decided to enter the studio once more. In August of 1999, DRACONIAN recorded 'The Closed Eyes of Paradise', an album dealing mostly with the theme of Lucifer and his fallen angels. The band recorded their debut album, 'Where Lovers Mourn' in Studio Mega under the supervision of Chris Silver (former member of Sundown and Cemetary) in July 2003. In 2006 they began working on their third release. But due to myriad fan requests, the band decided to first deliver a bonus album to include remakes of old tracks from 'The Closed Eyes of Paradise' demo.
http://www.draconian.se/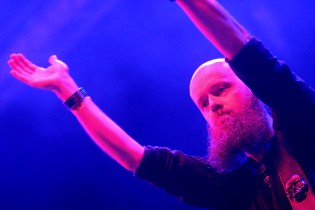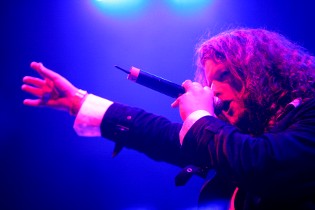 Music & Performance
DRACONIAN did an awesome show and they definitely could hold their standards from the CDs. Lisa Johansson (vocals) sounded exactly like she does on the records. Thinking of some missteps from big names like Tarja Turunen and Sharon den Adel (WITHIN TEMPTATION), she was just amazing in her singing. Anders Jacobsson (vocals & growls) completed the great music. His growls are one of the most differentiated ones I have ever heard. And especially in the last duet 'She dies' they created an indescribable atmosphere. Due to the length of their songs, they could only play 6 songs. Most of those songs came from the current album 'Turning Season Within' which came out pretty great because the sound was brilliant. And also the spoken passages from Andres Jacobsson worked out really well which I didn't think. I hope they will get some more time when I will see them again!
Setlist

01.Seasons Apart
02.Bloodflower
03.Heaven Laid In Tears
04.Morphine Cloud
05.When I Wake
06.She Dies
Rating

Music: 9
Performance: 8
Sound: 9
Light: 7
Total: 8.4 / 10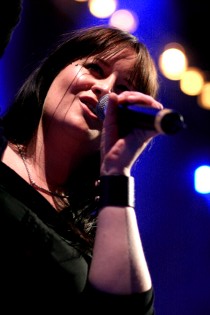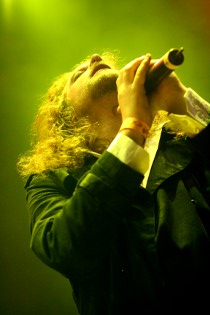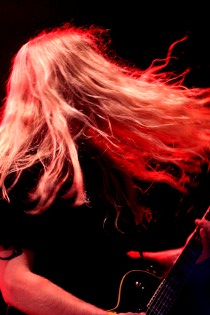 Eisbrecher - Parkbühne (Cathie Niemann)

After singer Alexx Wesselsky split up with his former band colleagues from MEGAHERTZ in 2003 due to artistic differences, he founded EISBRECHER together with another ex-member of MEGAHERTZ Noel Pix. The release of the first and self-titled album in 2004 caused a heavy stir, when the band added to blank CDRs to the release as an incentive to copy the album and as a statement against the criminalization of the end-customer through the music industry. Two years later, in summer 2006, it was finally time for the second album 'Antikörper' to satisfy the hunger of the fans for more material. This album even reached position 85 of the German Album Charts. Right now, the band is preparing for is very successful with their most recent album 'Sünde'.
http://www.eis-brecher.com/
/
http://www.myspace.com/eisbrecherkommando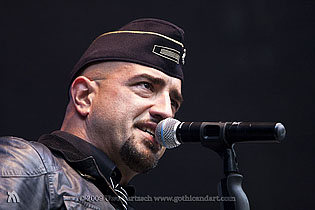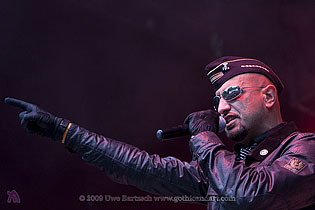 Music & Performance

Another reason for our day at Parkbühne was the band EISBRECHER around checker Alexx who had fully convinced me with his last WGT performance. The band members Noel (guitar), Jürgen (guitar), Max (keyboards), Martin (bass) and René (drums) entered the stage with Alexx and opened their set with 'Kann denn Liebe Sünde sein'. That these guys were crowd pleasers and would have deserved a headliner slot was proven by the countless masses wanting to party, despite the rain. With statements like "Umbrellas are Gay" and such he constantly caused laughs. The way he performed the songs was just infecting. The audience ate out of his hand and so we raised our fists to 'Antikörper' and sang loudly in unison.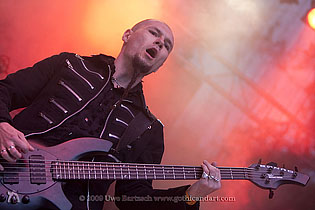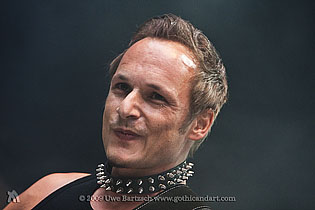 The mood kept on increasing and it was a pleasure to watch the people freaking out. Also the other band members gave their all. On the ground of being rather the cuddly type and the call "Let me see the lighters in the air", Alexx started the balladry 'Herzdieb' from the current album 'Sünde'. As usual we had some "Undress" shouts, kindly ignored by Alexx. Instead we all sang 'Leider', 'Ohne Dich' and 'Vergissmeinnicht' together. The mood wouldn't go down and ran high to the brachial 'Miststück' seeing Alexx performing his impressive rap and spreading roses with open short to the ladies. Considering that impressive performance, a headliner slot in the years to come should merely be a form.
Setlist

01. Kann denn Liebe Sünde sein
02. Nackte Angst
03. Antikörper
04. Kinder der Nacht
05. Herzdieb
06. Leider
07. Vergissmeinnicht
08. Schwarze Witwe
09. Heilig
10. Miststück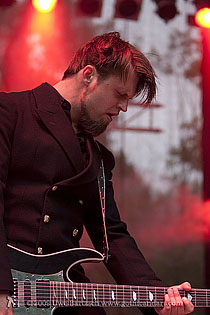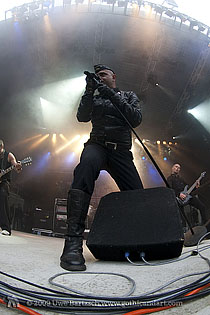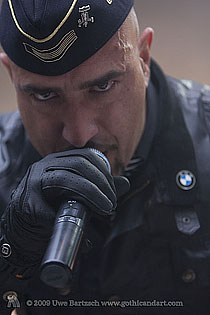 Hollenthon - Kohlrabizirkus (Florian Schürmann)

HOLLENTHON is a melodic death metal band from Austria. The band includes many symphonic elements in their work, while their earlier material contains some black metal influence. The band was formed in 1994. In June 2001, HOLLENTHON releases 'With Vilest of Worms to Dwell'. Not unlike its predecessor, it boasts of a superb soundtrack-like production, as well as a fierce and wicked atmosphere created by a perfect symbiosis of heavy guitars, symphonic interludes, thrilling choirs, and bewitching melodies. The following years saw Martin concentrating on PUNGENT STENCH although the writing of new material was never stopped. 2007 HOLLENTHON is meant to return and continue to walk the chosen path. Wanting a real band and not just additional live musicians Martin and Mike chose to recruit Gregor Marboe who Martin shared stages with since early 2006 in PUNGENT STENCH on bass and backing vocals and who has been active in the Austrian scene for years. In need of a second guitarist, Martin Arzberger was introduced to the band.
http://www.hollenthon.com/
Music & Performance

I actually haven't heard HOLLENTHON for quite a while and had something in mind. I thought of growls and female parts alternating with typical symphonic metal parts where the orchestra / keyboard compositions were in the foreground. But they were completely different live: it was an only-men group but this couldn't harm their great show. They played fantastic 50 minutes of the finest metal ranging from old school thrash to Viking metal-like pieces. HOLLENTHON were a likeable squad from Austria who did a great show. I had a lot of fun and so had the audience. Many people were banging their heads to the great music. And even the sound was pretty good. The communication between the band and the audience was great, too. You can say, the band had a lot of fun playing and the audience had a lot of fun listening to them. All in all, an unexpected but great show with good music!
Rating

Music: 8
Performance: 8
Sound: 8
Light: 7
Total: 7.8 / 10
Clan of Xymox - Parkbühne (Cathie Niemann)

There are bands, who seem to exist for an eternity and who seem to be timeless. Well, CLAN OF XYMOX surely doesn't exist for an eternity now, but they're one of the veteran bands of the scene, founded in the early 1980s by Ronny Moorings and Anke Wolbert and over the years they became one of the most important representatives of the Dark Wave genre, though their music never stayed inside the boundaries of that genre. Ok, maybe with their earliest work like the self-titled debut and the follow-up 'Medusa' they did, but in their later career, they combined their traditional sound with dance rhythms and techno elements or changed to more Rock orientated songs like on their comeback in 1997. A new album is close to its release now.
http://www.clanofxymox.com/
/
www.myspace.com/clanofxymox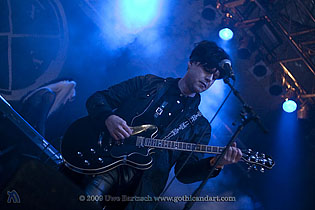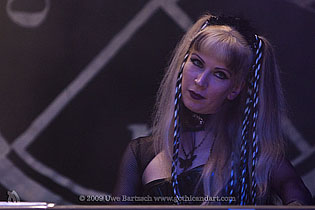 Music & Performance

After EISBRECHER, the rows cleared visibly and the average age of the remaining people increased. No wonder for the following headliner CLAN OF XYMOX was amongst the most influential bands of the Dark Wave scene in the 80s. The band from the Dutch Nijmegen was founded in 1984 by Ronny Moorings and Anke Wolbert. By the beginning of the 90s it had become very silent around the band that celebrated their comeback not before 1997. The current line-up comprises Ronny Moorings (vocals & guitar), Mojca Zugna (bass), Rui Ramos (drums), Denis Dijskstra (keyboard) and Paul Whittlesea (guitar). In the meantime Ronny had relocated to Germany and so many statements he made this evening were in German. But first he found much too little people were attending the show which was almost a little embarrassing.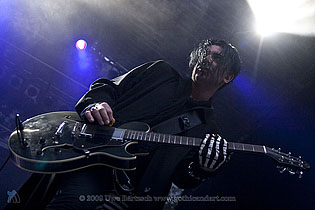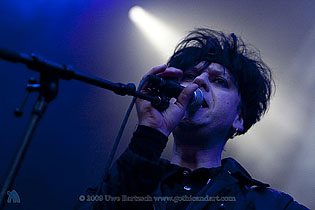 The rain might have been reason for that and the terrible sound. The vocals were much too low and overall the sound was just sludgy. However, some hardcore fans didn't bother and celebrated to classics such as 'Weak on my knees' or 'Jasmin & Rose'. Continually the stage would be drenched in fog, while Bassist Mojca cut a particularly fine figure. The DAVID BOWIE cover 'Heroes', just as 'Calling you out' and 'This World' were part of the set. In spite of the circumstances and little audience the band catered for a worthy and professional end of the evening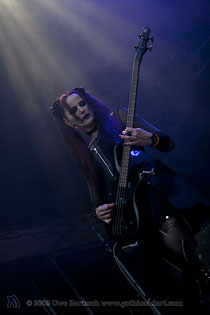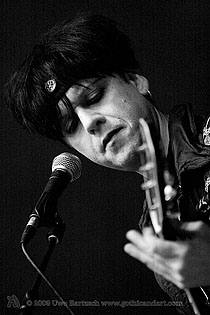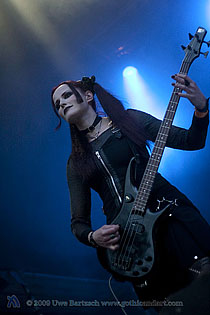 Feindflug - Agra (Anne Kuhfuß)

The project FEINDFLUG was founded between the years 1995 and 1996 by Banane and Felix. In 1997, the first CD 'Feindflug' was released, the others such as 'I. / St. G. 3', 'Im Visier', 'Hirnschlacht' or 'Volk und Armee' followed in subsequent years. In 2006, the project released the first DVD entitled '...hinter feindlichen Linien' (...behind enemy lines).
http://www.feindflug.info/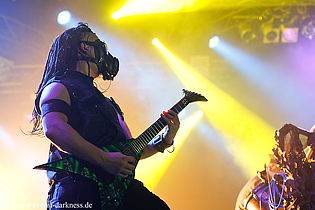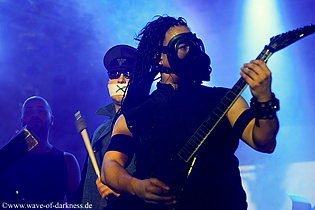 Music & Performance

Unfortunately, I was late to FEINDFLUG and so, I missed the beginning of the show. The Agra was crowded like hell and you sweat from only standing there doing nothing. But the mood was unbelievable and the people had loads of fun which was great because you got the same great mood within five minutes. FEINDFLUG did a great show like they always do. Wearing their typical outfits, they had the stage filled with their instruments. And of course, the whole stage looked like an army training camp, just like it always does when FEINDFLUG get their stuff out to do a show.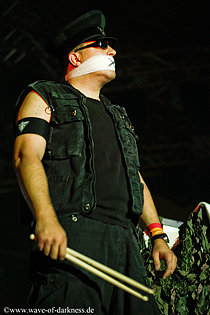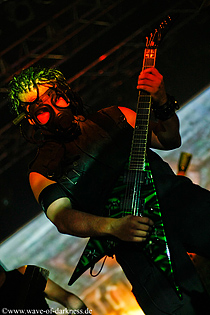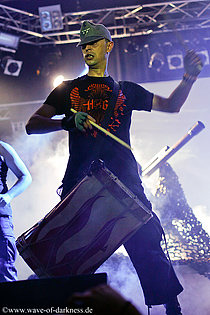 Their music was great although you have to get used to almost only sound without any singing. The only voices they had were from announcements they played. The sound was ok but again just too silent. I don't know why they put the volume down this year. The last years the sound of the Agra was way too loud. Unfortunately, the silent sound didn't really contribute to the show because FEINDFLUG just have to be loud with their aggressive music and performance. All in all, it was a nice concert with a great performance and an even better mood. And with ending it with the song 'Stukas im Visier' they just did the right thing because the people just couldn't stand still and wanted even more.
Rating

Music: 9
Performance: 8
Sound: 6
Light: 7
Total: 8 / 10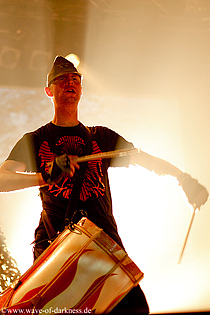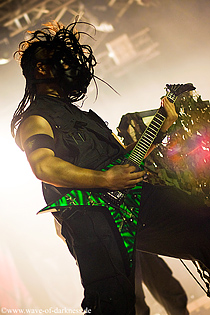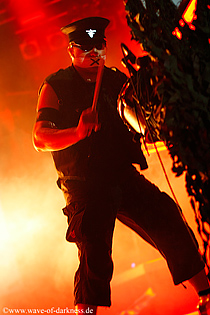 VNV Nation - Agra (Cathie Niemann)

Following a fast ride with the taxi from the Parkbühne to Agra Halle the masses that needed a break after FEINDFLUG came our way. Short time later we entered the hall we caught out breath because the air was so stuffy. It was so hot in there you already started sweating merely by standing around. Quickly the hall filled up again with people in anticipation for the headliner of today's evening VNV NATION, founded in 1990 by Ronan Harris. 4 years later Mark Jackson joined the line-up as live-drummer but quickly became a full-time member. The duo's popularity grew rapidly through their support of EBM legend NITZER EBB on their 'Ebbhead' tour in 1994/95. Legendary albums like 'Empires', 'Future Perfect', and 'Judgement' have been released in the band's history spanning nearly two decades.
http://www.vnvnation.com/
/
http://www.myspace.com/vnvnation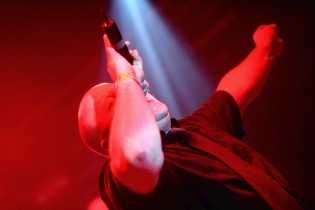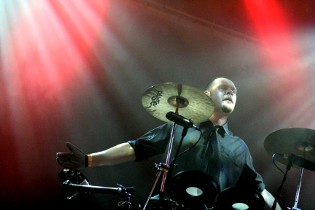 Music & Performance

Close to 22:30 the time had finally come and additionally to Ronan and Mark, two live-keyboarders (incl. Vasi Vallis from REAPER / FROZEN PLASMA) were on stage to support the duo. They started off with the classic 'Joy' catering for an explosive start. Ronan tried to push the masses even more, whilst singing and moving a lot on the big stage. Following this 'Tomorrow Never Dies', a brand new track from the upcoming new album 'Of Faith, Power & Glory' was announced. It tuned out as a typical VNV NATION number: Catchy, danceable and with a great melody. The thousands of people in the too well filled hall seemed to like it either and so they danced and listened to the beautiful vocals, before the well-known 'The Farthest Star' continued the set with 'Fearless' and 'Legion' following in line and here I couldn't see the point in Ronan's incessant calls to dance, clap, and sing because there was hardly any increase possible to the mood present in the hall.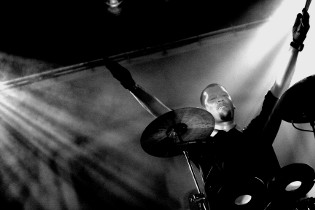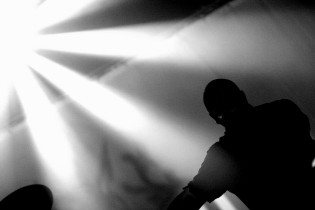 Another new piece, named 'Sentinel' allowed a short respite in which you could admire the wonderful lightshow. The chorus of the ballad 'Illusion' was performed solely by the audience for the most part. Everyone used the limited space to dance to the cult songs 'Standing' and 'Darkangel'. Regardless of passionate "Düpdedüp" choirs the wish for 'Perpetual' wasn't fulfilled, which couldn't stop anyone from continuing with singing these funny lines. Instead the show concluded with the highlight 'Saviour (Vox)' from the 2000 release 'Burning Empires' that hasn't been played in a long time. Thundering applause and cheers expressed clearly how much the audience had enjoyed the show. Many of them would have loved to see an encore which had to be skipped, supposedly for time-related reasons.
Setlist

01. Joy
02. Tomorrow Never Comes
03. Farthest Star
04. Fearless (incl. Cowgirl)
05. Legion
06. Sentinel
07. Chrome
08. Illusion
09. Standing
10. Darkangel
11. Beloved
12. Saviour (Vox)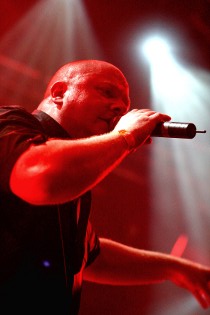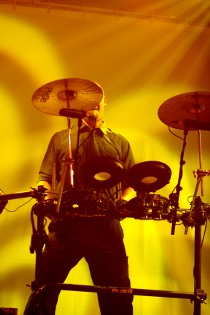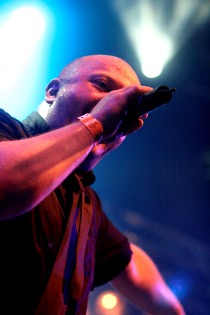 Current 93 as Anok pe Current 93 - Agra Midnight Special (Cathie Niemann)

The British project has been founded in 1982 by David Tibet who has been involved in the project PSYCHIC TV and 23 SKIDOO before, both having their roots in the early industrial movement and also the early works of CURRENT 93 and much of the group's early work was similar to late 1970s and early 1980s currents of that style while later works moved towards a more organic sound that has gotten the name "Apocalyptic Folk". Since their initial release, the 'LAShTAL' 12" in 1983, Tibet has been incredibly productive and the back catalogue is equally long the most recent release being 'Aleph at Hallucinatory Mountain', released on 22nd May 2009.
http://www.brainwashed.com/c93/
/
http://www.myspace.com/current93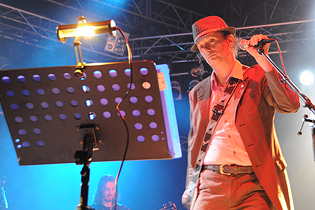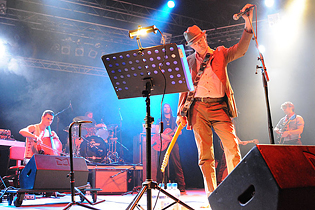 Music & Performance

After VNV NATION, the Agra Hall cleared and we used the two hours until the big midnight special with CURRENT 93 should take place for extensive shopping. It was way beyond 1:30 in the morning when the show finally started and I had a tough time bracing myself up again for their special performance after this really exhausting day. The British project was initiated by David Tibet in 1982 who's the only constant member ever since. The rest of the band consists of varying musicians. Their style changed from album to album, so the categorization into a specific genre is a tough task. Between Industrial, Noise, Folk, Neofolk und currently Psychedelic Rock the lyrics touch upon themes as occultism, religion and esotericism. With the recently released, rather rocking album 'Aleph at Hallucinatory Mountain', the marching route for the evening was pretty much set. Nine musicians + Tibet found their way on stage and started with a sound mix of acoustic guitar, piano, cello, drums, e-guitar, and vocals that seemed pretty unusual and complicated to me.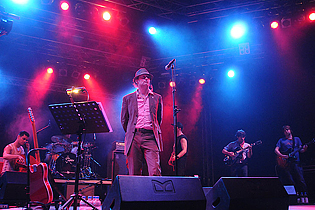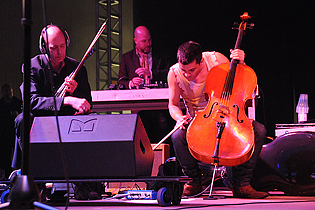 The hall was filled with maybe half of the people before what might have been due to the time or the band's degree of popularity. Heavy stuff for my liking with the pervasive vocals of David Tibet! Tracks from the new album followed such as 'On docetic Mountain' and spherical older cuts like 'O Coal-Black Smith', 'Murderer' or the mellow 'Niemandswasser' with domineering piano sounds by Baby Dee. The light show accentuated the special atmosphere that was in the air. AMOK PE CURRENT 93 is just a temporary name though as it stands for a trilogy, started with an exhibition in London, continued with the current album, and ended with an upcoming Vinyl edition. Afterwards it's just CURRENT 93 again. An interesting performance came to an end which surely made for THE highlight of the WGT for many of the attendees.
Written by:
Anne Kuhfuß (Dr. Mark Benecke, Eden Weint Im Gab, Draconian, Feindflug)
Florian Schürmann (Hollenthon)
Cathie Niemann (Zin, Mono Inc., Die Art, Eisbrecher, Clan Of Xymox, VNV Nation, Current 93)
Translations by Sebastian Huhn