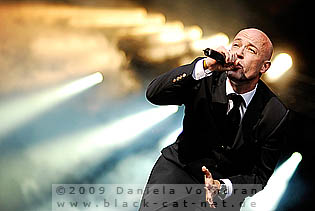 Zitadelle Spandau, Berlin, Germany
13th June 2009
Zita Rock Festival 2009: Unheilig, Oomph!, Project Pitchfork, Diary of Dreams, Zeraphine, Tanzwut

The Zita Rock Festival was back. Already for the first time, the motto was 'Let's get ready to Zita Rock!' After last year's phenomenal success, the Zita Rock tuned up again and presented you an exciting program inside the breathtaking renaissance scenery next to the Havel shores. Decorated with six top acts, the summer made sense again. So, welcome now to Zitadelle Spandau, the renaissance fortress in Berlin and the ever recurring festival grounds of the Zita Rock Festival. It's Saturday, 13th June 2009, where Honey (Welle:Erdball), as host, opens the festival at 3:00 PM sharp.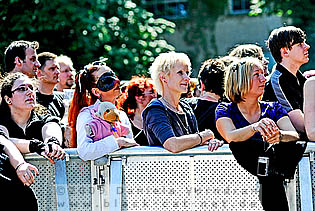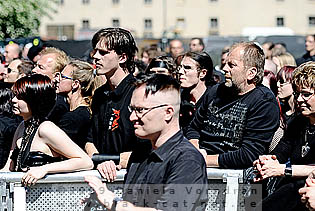 The introducing words even forced the dark clouds to stay away and to put the audience in the right starting position. The stage make-up with a catwalk for more free space and perspectives for audience and photographers was a surprise. Possibilities to quench the thirst and hunger on the festival grounds as well as the very special atmosphere and character of the same topped off the overall package. This year's billing featured the bands TANZWUT, ZERAPHINE, DIARY OF DREAMS, PROJECT PITCHFORK, OOMPH! and UNHEILIG. For signing sessions, there was a special, separated area, extensively used by Der Graf of UNHEILIG.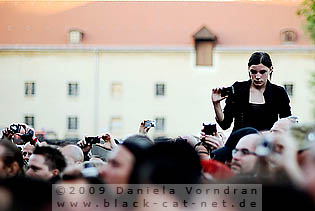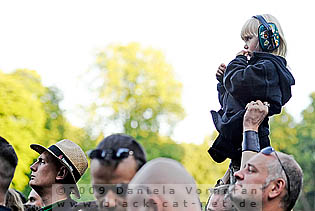 Tanzwut

You can call TANZWUT the electronically enhanced alter ego of the not so unknown medieval band CORVUS CORAX. The idea to not exclusively use medieval instruments already came up in 1996 but first in 1999 TANZWUT came to live. Many fans who especially liked the acoustic direction of CORVUS CORAX couldn't get used to the new style, gravitating towards a more industrial metal approach on the recent releases, incorporating the use of more down-tuned guitars, harsher vocals and darker atmospheres. However the band found other fans and now fill big halls, even in Mexico. The most recent output goes by the name of 'Schattenreiter', released in 2006. TANZWUT is Teufel (vocals), Wim (bass), Norri (drums), Hatz (electro drums), Ardor (bagpipes), Jordon (bagpipes) and Martin (guitar).
http://www.tanzwut.com/
/
http://www.myspace.com/tanzwutmusic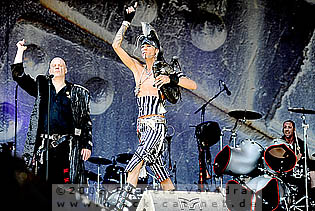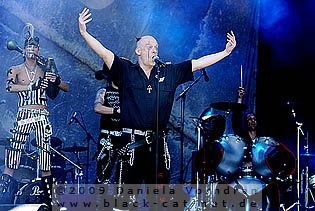 Music & Performance

TANZWUT, first band of the day, got lured on stage with a plane flying right across and made up a grandiose start. With 'Ihr wolltet Spaß', singer Teufel with his two red horns, announced a song everyone knows and in bright sunlight the party already started in early afternoon. A successful start of the upcoming day, making the mood running high! Announcements to participate and motivation clapping woke the spirits. Then well-known songs such as 'Meer', 'Vulkan' and 'Lügner' followed. No trace of partiality; the blend of medieval rock and with electronics, spontaneously created the first dancing chain in the audience. Also the DIE ÄRZTE classic 'Bitte, Bitte' couldn't be missed. Dancing, singing and sweating that's how we started the festival day and TANZWUT closed their set with 'Schattenreiter' from the current album of the same title.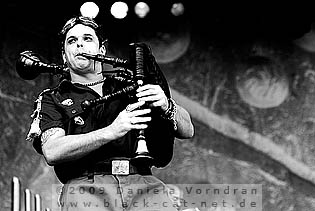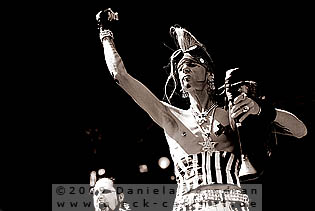 Setlist

01. Ihr wolltet Spaß
02. Meer
03. Vulkan
04. Lügner
05. Der Wächter
06. Bitte, bitte
07. Schattenreiter
Rating

Music: 6
Performance: 7
Sound: 7
Light: - (daylight)
Total: 6.7 / 10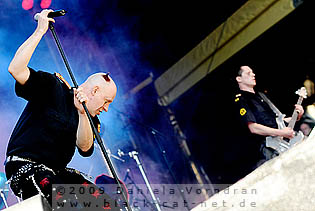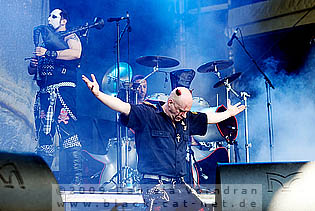 Zeraphine

ZERAPHNE rose from the ashes of the legendary DREADFUL SHADOWS, formed by two of its former members Sven Friedrich and Norman Selbig. Together with producer Tommy Hein, the first album 'Kalte Sonne' was recorded and then released in 2002. It was completely sung in German, contrary to second album 'Traumaworld' comprising of mixed German and English lyrics and a nice cover of the DEPECHE MODE track 'In Your Room'. The third album 'Blind Camera', released in 2005 left confided territory and turned to heavier guitar riffs and harder arrangements, still the dominating factor was Sven's charismatic voice.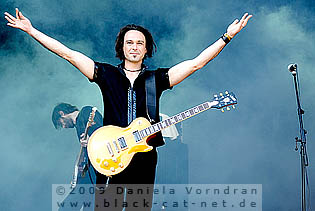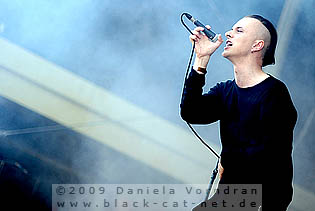 Their fourth album 'Still' was the first album, release by their own label, which the band founded after their previous record deal ended. In 2007 the band released a Best Of compilation, titled 'Years in Black' but what the fans are really waiting for is some new material right now and hopefully they don't have to wait that long anymore. ZERAPHINE is Sven Friedrich (vocals), Norman Selbig (guitar), Manuel Senger (guitar), Michael Nepp (bass) and Marcellus Puhlemann (drums).
http://www.zeraphine.de/
/
http://www.myspace.com/zeraphine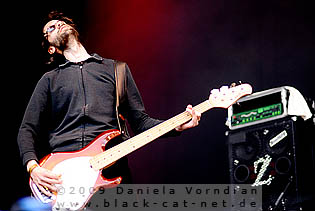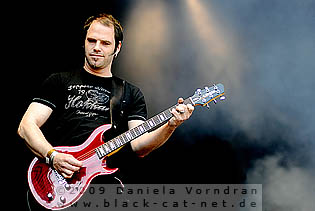 Music & Performance

Last year, Sven Friedrich and the DREADFUL SHADOWS stood on the Zita Pop stage; this time with ZERAPHINE on the Zita Rock stage. With mellow and soulful rock sound, now a time to enjoy and dream rather than to dance had come. Singer Sven, the two guitarists Norman and Manuel as well as bassist Michael and drummer Marcellus started with 'I never want to be like you' and afterwards presented the new and yet unreleased song 'I will be there'. The audience just listened to Sven's great voice. Only daylight and the bright sun disturbed a little. Always a highlight is the song 'Be my Rain' and a real crowd pleaser. As local act the band had the whole audience on their side.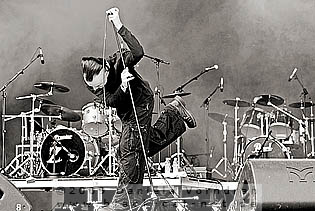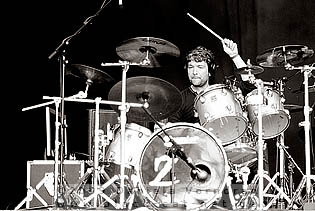 With wonderful songs like 'Still', 'Ohne Dich' and 'Licht', they proved that emotional ballads are their prime discipline and no one really bothered that Sven focussed on his vocals rather than his movements and didn't use the catwalk at all. The classic 'Die Wirklichkeit' from the debut album 'Kalte Sonne' ended the show with harsher guitar and powerful drum sounds.
Setlist

01. I never want to be like you
02. I will be there (unreleased)
03. No more doubts
04. Be my rain
05. United & Lost
06. I´ll follow you
07. Still
08. Ohne Dich
09. Louisa
10. Licht
11. I feel your trace
12. Inside your Arms
13. Die Wirklichkeit
Rating

Music: 8
Performance: 7
Sound: 7
Light: - (daylight)
Total: 7.3 / 10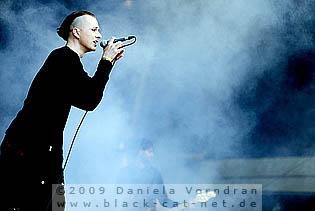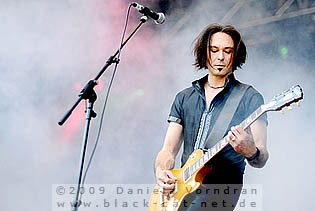 Diary of Dreams

Since its foundation in 1989 by Adrian Hates, this project or better band (project doesn't do it justice) enchants a still growing fan base all over the world with beautiful and at times fragile tunes, whose central element was and still is the deep melancholy. It's hard to describe what makes this music so intriguing, you just have to experience it yourself on one of their intense live shows or on one of the various album the band has released over the time with 'Nekrolog 43' released in October 2007.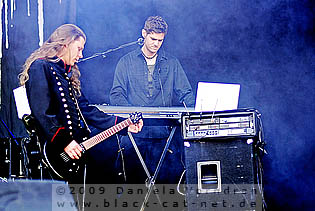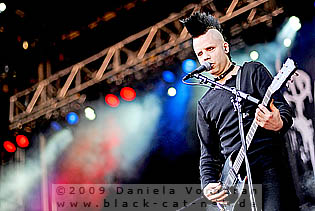 In 2009, the band turned over a new leave of the Diary of Dreams with '(if) - The Memento Ritual Project', released on 13th March 2009. The band has just finished the extensive Russian part of their 'G(if)t' tour in support of the new album and are now back on German ground again. DIARY OF DREAMS are Adrian Hates (vocals, guitar), Gaun:A (guitar), D.N.S. (drums) and occasionally Daniel Myer (keyboard) and Torben Wendt (keyboard).
http://www.diaryofdreams.de/
/
http://www.myspace.com/diaryofdreams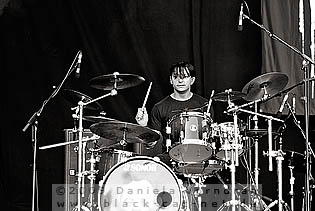 Music & Performance

After four-weeks of touring through Russia, we could finally welcome DIARY OF DREAMS back on a German stage again. I can't even recall when I've last seen them at daylight. Earlier than planned the show started at 5PM with 'The Wedding'. The chemistry between Adrian Hates, Gaun:A (guitar), D.N.S. (drums) and Torben on keys seemed harmonic; no wonder after such long time working together. Despite the exhausting weeks behind them followed an explosive and rousing concert. I'm likely not in a position to offer an objective view anymore but the masses around proved how much they liked it and how they've got intrigued by the power radiating from the stage. The band was in best temper and placed well-known hits like 'Chemicals' and 'The Curse' between new songs of the current album '(if)', namely 'The Chain' and 'King of Nowhere' the latter of which was a special treat for the fans not being performed live many times up until now.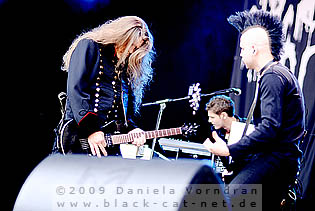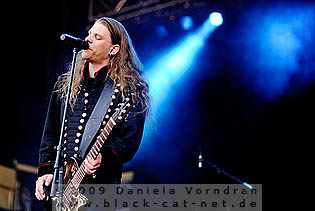 An all-time part of the show is 'Traumtänzer' causing frenetic cheers all around as usual. Adrian performed it as soulful as it can get and walked to the very end of the catwalk to see how all the arms would rise and to let the people sing the chorus on their own. A very special, intense moment before the next songs called for more movements amongst them being 'Reign of Chaos' and the closing 'Kindrom'. The performance was rewarded with frenetic applauses by the audience and made this one a prolific festival start for the band in their home country.
Setlist

01. The Wedding
02. Chemicals
03. The Chain
04. The Curse
05. King of Nowhere
06. Traumtänzer
07. Reign of Chaos
08. The Plague
09. Kindrom
Rating

Music: 9
Performance: 9
Sound: 8
Light: - (daylight)
Total: 8.8 / 10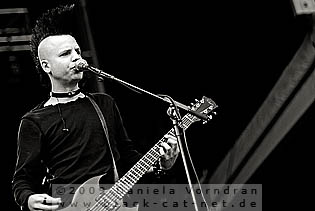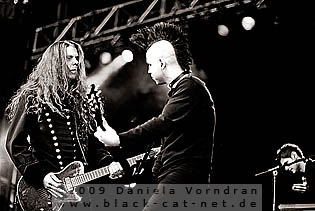 Project Pitchfork

PROJECT PITCHFORK is one of the spearheads in the alternative electronic music, initially consisting only of Peter Spilles and Dirk Scheuber. Later Jürgen Jansen and live members Achim Färber and Carsten Klatte joined the line-up. The formation wasn't just known for critically-acclaimed albums, successful tours and appearances on every conceivable festival but also for some prominent support acts like RAMMSTEIN or COVENANT. After some very successful years at the beginning of this millennium, the popularity decreased with the more introverted albums 'Inferno' and 'Kaskade' but nothing has changed in East Germany and in Russia, where a tribute to Pitchfork sampler has been created in 2005. In 2009 they eventually came back with a new full-length, titled 'Dream, Tiresias!'
http://www.pitchfork.de/
/
http://www.myspace.com/projectpitchfork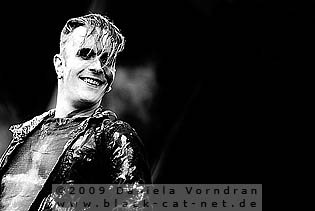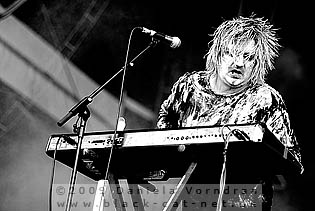 Music & Performance

Another veteran formation was the Hamburg-based electro act PROJECT PITCHFORK. Founding members Dirk Scheuber and Peter Spilles gave birth to the band in 1989 and just like on their recently finished tour stood on stage with Jürgen Jansen (keys), Achim Färber (drums) and Carsten Klatte (guitar). The body paintings and clothes sprinkled in flour were old hat unlike the song from the current album 'Dream, Tiresias' starting the set, impressing with the much-loved old Pitchfork style. We celebrated heavily to classics such as 'God Wrote' and 'Timekiller' and a well-tempered Peter Spilles came across the stage with such momentum that he fell and continued singing on his knees.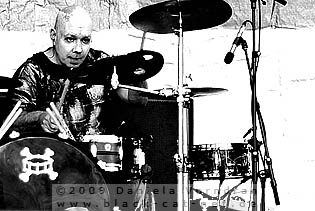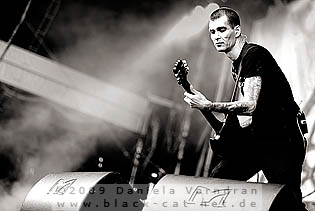 Even a lilac G-string found its way on the stage to Scheubi's keyboard. Hefty pogo dancing followed to songs like 'Alpha Omega' or 'Existence'. The powerful beats and Peter's vocals made the mood run on high. Slowly we've gotten used to seeing the bands in daylight and on the catwalk, encompassed by blue skies and green treetops. All in all it was nice to see how even the newer songs like 'Darkness' or 'Conjure' were going down well with Berlin's audience. The band concluded their show with the classic, sing-a-long smash hit 'Rescue'.
Setlist
01. Intro
02. If I Could
03. God Wrote
04. Requiem
05. Revolution Now
06. Carrion
07. Alpha Omega
08. En Garde
09. Existence
10. Darkness
11. Timekiller
12. Conjure
13. Rescue
Rating

Music: 9
Performance: 9
Sound: 8
Light: - (daylight)
Total: 8.8 / 10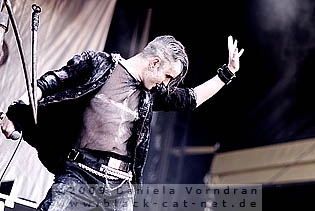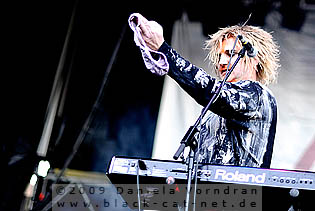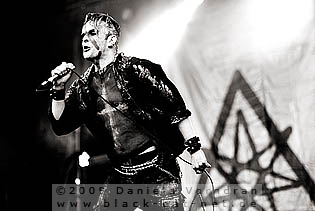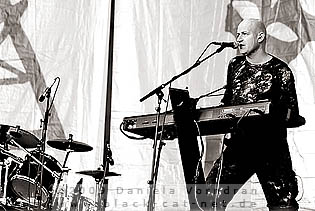 Oomph!

For almost 20 years, this band is a true force in the independent music scene. Albums like 'Defekt' (1995) and the unbelievably successful conceptual album 'Wunschkind' are milestones with their unique fusion of the electronic world with the unrelenting power. Every new album opened another door and critics overthrew themselves in trying to categorize the sound and with their 1999 output 'Plastik' they finally made their breakthrough in catapulting their music into the German Charts. 2003 was the year of change. OOMPH! signed to the Major label GUN Records and in the eyes of many old fans, they sound drifted into a more commercially and mainstream oriented direction from there on with the two albums 'Wahrheit oder Pflicht' or 'GlaubeLiebeTod', but maybe OOMPH! just sound like they wanna sound, whether you like that direction or not, it is and stays a matter of personal taste. With 'Monster', the newest album of the band was released in August 2008. OOMPH! are Dero (vocals, drums), Crap (guitar, keyboards) and Flux (guitar, sampling) plus live on stage Hagen on guitar and Leo on drums.
http://www.oomph.de/
/
http://www.myspace.com/oomph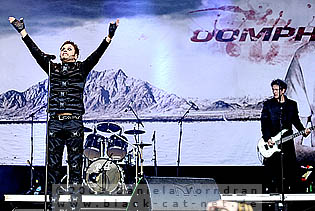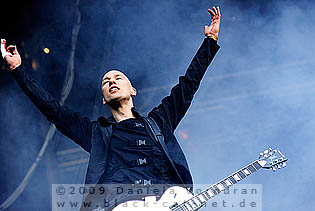 Music & Performance

Now it was time for my old heroes OOMPH! performing for 6,000 festival attendees and a still cloudless sky. The band has their 20th anniversary this year, but you wouldn't see that in the faces of Dero (vocals), Flux (guitar) and Crap (guitar) getting live support from Hagen (bass) and Leo on drums. Like on the past "Monster" tour, they started their set with 'Beim ersten Mal tut's immer weh' and had their audience under control instantly. After the Bundesvision Song Contest winning song 'Träumst du?' followed one of "my" hits 'Fieber', formerly recorded as duet with NINA HAGEN. Cunningly, they mixed old with new songs, gradually getting a better stand with the audience. Dero was eagerly seeking contact with his audience walking towards the crows across the catwalk.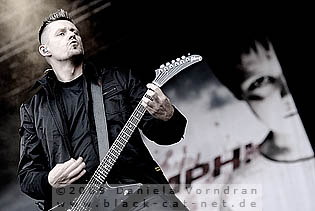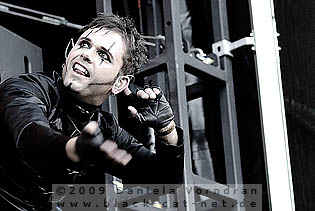 Crap and Flux animated to clap along from the sides of the stage. The classic 'Sex' from 1994 was a special treat. But also 'Mitten ins Herz' with loud "Hey, Hey" choirs, risen arms and a stage diving Dero making the crowd go mental. So we gave everything, jumping before the stage and sang along loudly. Dero even kept on doing his typical grimaces with eyes and mouth wide open on the newer songs and with a "Yes, we can!" he announced the next song 'Revolution'. Another treat for all old-school fans followed later with 'Gekreuzigt' seeing all the musicians going round in circles while jumping. The announcement "Open your mind for the real motherfucking Popstar" introduced 'Gott ist ein Popstar' followed by their hit song 'Augen auf!'.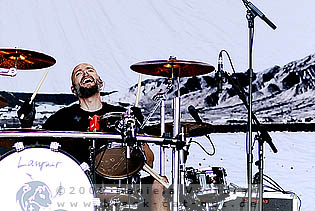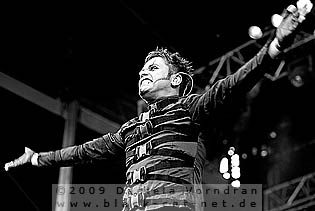 Dero insisted on calling attention to nuisances, especially child poverty. The following new single 'Sandmann' was supposed to bring that matter back to people's minds this evening. After the end of the set he gave a brief announcement that time was up and no encore possible nit without wishing us lots of fun with UNHEILIG
Setlist

01. Beim ersten Mal tut's immer weh
02. Träumst Du
03. Fieber
04. Wer schön sein will
05. Das letzte Streichholz
06. Sex
07. Mitten ins Herz
08. Revolution
09. Mein Schatz
10. Gekreuzigt
11. Labyrinth
12. Gott ist ein Popstar
13. Augen auf
14. Sandmann
Rating

Music: 7
Performance: 8
Sound: 8
Light: - (daylight)
Total: 7.7 / 10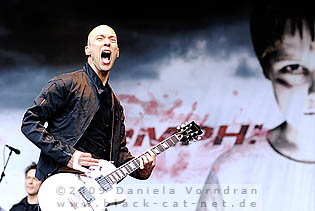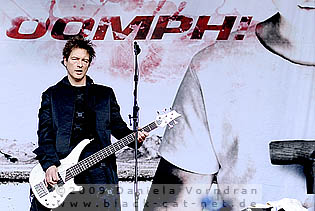 Unheilig

In 1999, UNHEILIG appeared for the first time on the musical stage with the first single 'Sage Ja!' which became a smash hit in the clubs and stayed in the DAC charts for several weeks. The first album 'Phosphor' was released in 2001, followed by live appearances on various festivals and open-air events. The second album 'Das zweite Gebot' was released in 2003 and was presented to the fans on a tour together with L'ÂME IMMORTELLE. 'Zelluloid', the third album, followed in 2004 together with a tour with Terminal Choice. In 2005, the time had come for the release of a Live CD and DVD. The next regular studio release was called 'Moderne Zeiten' and has been released in January 2006. UNHEILIG went on tour as a headliner for the first time to play the new songs live. In 2006, Der Graf (The Count) retreated to his studio to work on the new album 'Puppenspiel' released in February 2008, followed by the limited and meanwhile sold-out 'Spiegelbild EP'.
http://www.unheilig.com/
/
http://www.myspace.com/unheilig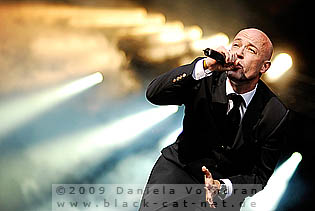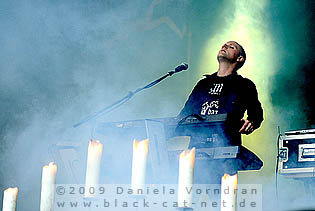 Music & Performance

This year's headliner UNHEILIG also had a slot on the last issue of the festival and was welcomed with blusterous applause and speech choirs accentuated with music; another proof that Berlin is a fan stronghold and so Der Graf held a 3h signing sessions hindering the whole schedule by that. The 60 minutes long performances was a usually solid show without surprises. Again Der Graf had his candle decoration and the live musicians Licky on guitars and Henning on keys with him on stage as well as something new a live drummer! You could see happy faces everywhere, just as risen arms and you heard cheers to the last row. The set contained the well-known hits like the balladry 'Astronaut' and 'An deiner Seite' people can never get enough of. Fitting to the mood trees, walls, and whole parts of the building were drenched into colourful light.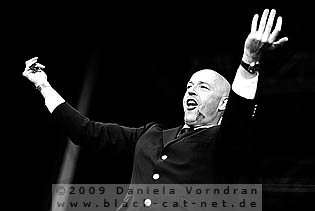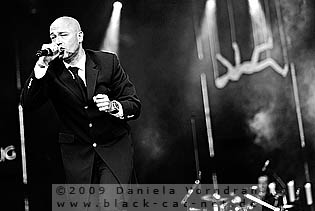 Der Graf gave his all once again and effectively used the catwalk to swiftly dance across and running back again not to neglect the audience on the right and left. The mood was kept on high the whole show through, so the audience was asked to swing their hands from left to right during 'Feuerengel'; an act that send shivers down the spine. But also the danceable classics such as 'Maschine', 'Freiheit' and 'Sage Ja' weren't dismissed. Until the show had to be ended around 10 PM! Disappointment spread among the attendees but there were clear restrictions from the organizer. So the third Zita Rock Festival ended much too soon. But laser beams guided the way to the after show party taking place on the festival grounds as well.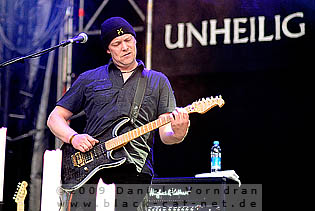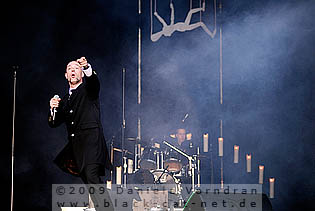 Setlist

01. Lampenfieber
02. Spiegelbild
03. Tanz mit dem Feuer
04. Astronaut
05. Kleine Puppe
06. An Deiner Seite
07. Feuerengel
08. Sage ja!
09. Maschine
10. Freiheit
Rating

Music: 4
Performance: 5
Sound: 8
Light: 9
Total: 5.7 / 10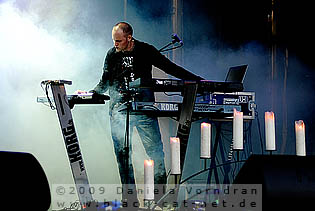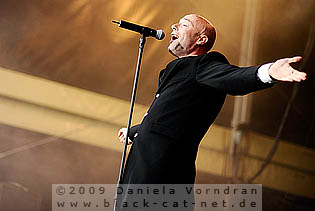 We, however, despite jackets were chilled to the bones, made our way back home and could watch the fireworks adjacent to the citadel from the Havelfest, which started at 11 PM and had a considerable volume. So, the effect of the temporal limitation of the festival went to zero. But it was nice to look at anyway! Farewell Berlin until next year when the festival is to be extended to two days.
All pictures by Daniela Vorndran (
http://www.vorndranphotography.com/
/
http://www.black-cat-net.de/
/
www.myspace.com/vorndranphotography
)
Written by Cathie Niemann, Nancy Rehse & Daniela Vorndran, Translation & Band Intros by Sebastian Huhn
{jos_sb_discuss:18}