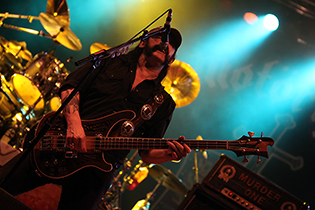 Landschaftspark Nord, Duisburg, Germany
28th June 2009
Devilside Festival 2009: Motörhead, Soulfly, Clawfinger, Bloodhound Gang, Sepultura, The Bones, Misfits, Dscipline, Sodom, Cro Mags, Hammerhead, Disco Ensemble, Millencolin, Elvis Jackson, All Shall Perish, Naeara, Peter Pan Speedrock, Carburetors, Anthrax, Hatesphere, Kamikaze Queens

It was a muggy Sunday morning as I made my way to Duisburg where the first Devilside festival was going to take place at the Landschaftspark Nord. Doors were supposed to open at 10 AM and the first band scheduled for 10:10 AM. Sounds close, doesn't it? It was nearly impossible due to the admission procedure taking much too long and when we finally reached the stage the first band already started with their last song, Would have been best to open doors one hour earlier to make this less stressful.
Kamikaze Queens (Hellstage)

The "International Berliner band that sprung out of the ashes of Sin City and survived in its Capital" has come up with their first release, a 7" named 'Don't Look Back' in 2007 and turned lots of heads with their unique style blend they're calling Berlin Punk Cabaret. Following up on this was the debut 'Voluptuous Panic' in this year's January: KAMIKAZE QUEENS are Mad Kate (vocals), Trinity Tarantula (vocals, percussion), Luscious Lloyd (upright Bass) and Nico Lipps (drums).
http://www.myspace.com/kamikazequeens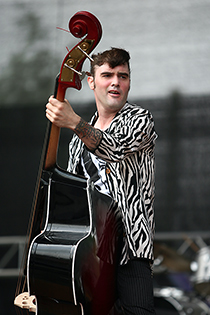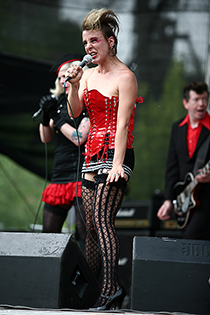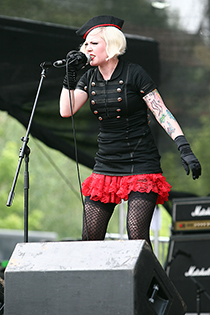 Music & Performance

So, we got to the stage and could at least catch something of the gig of the only female band on the festival, the KAMIKAZE QUEENS who, regardless of the early hour, laid down an adrenaline-drenched show in front of a weary-looking little crowd and not even the (accidentally?) opened corset you feared (guess, most males would say hoped) would fall down got wake them up, really. Nice, from the little sample I've seen.
Rating

Music: 6
Performance: 7
Sound: 6
Light: - (daylight)
Total: 6.4 / 10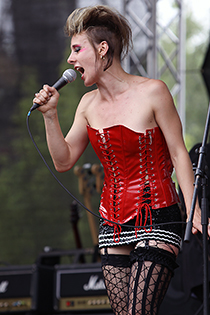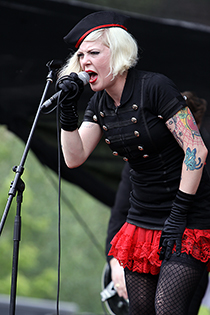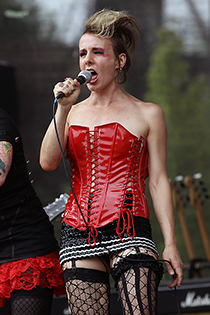 Hatesphere (Devilstage)

HATESPHERE emerged from the already existent precursor band NECROSIS in 2000. The self-titled debut album which needed only 11 days of production was finally released in 2001 after the former label, planning to release the record closed down. A couple of single shows with the likes of ANATHEMA or PARADISE LOST followed, before the band went back to the studio to stark working on the successor 'Bloodred Hate', eventually released in 2001 with a tour following up on the release. As of 2007, HATESPHERE signed to Steamhammer / SPV and released their fifth studio full-length 'Serpent Smiles and Killer Eyes'.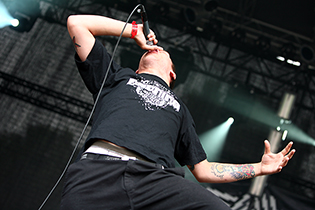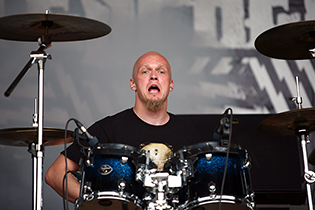 In September 2007 the band announced the departure from former singer Jacob Bredahl and that the vacant position would be taken by Jonathan Albrechtsen with whom they recorded the follow up 'To The Nines' which hit shops end of March 2009. HATESPHERE is Jonathan "Joller" Albrechtsen (vocals), Peter "Pepe" Lyse Hansen (guitar), Jakob Nyholm (guitar), Dennis Buhl (drums), and Mixen Lindberg (bass guitar).
http://www.hatesphere.com/
/
http://www.myspace.com/hatesphere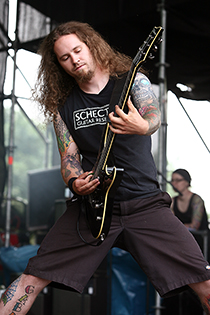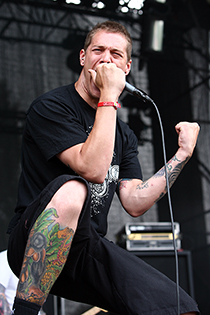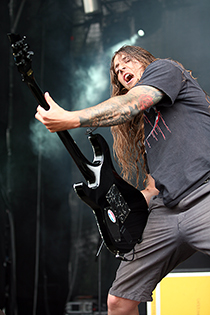 Music & Performance

Now we're heading over to the other stage (which would turn out being a serious problem later on) to see the Danish HATESPHERE but before that happened we had to wait a while and with a good delay they finally came on stage to right away establish this morning's motto "Kein Frühstück, Nur Bier" (No Breakfast, Only Beer) and after a "Good Morning, Devilside" started their thrashing attack on the hearing nerves and growled the best they could and it seemed a few of the metal heads could be infected enough to move a little. A short while later after 'The Coming of Chaos' swept away over us it was time for us to change stages already to see ANTHRAX
Rating

Music: 6
Performance: 6
Sound: 6
Light: - (daylight)
Total: 6 / 10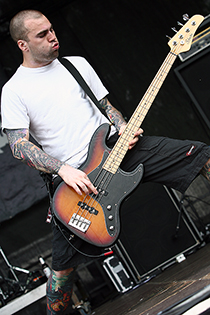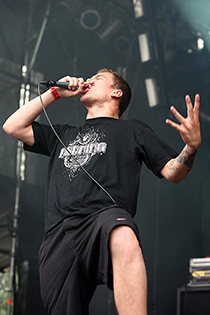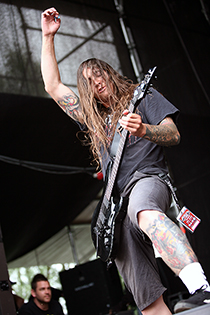 Anthrax (Hellstage)

The band, formed in 1981 by Scott Ian, released their first album 'Fistful of Metal' in 1983.The album reached #8 on the British Charts and garnered some international attention for ANTHRAX. During the course of their immensely long band history that international attention would grow significantly and today having unleashed 9 studio albums is classified as one of the "big four" of thrash metal alongside METALLICA, MEGADETH and SLAYER and deemed as an influential force in the creation of Crossover. The band's upcoming tenth studio release, going by the name of 'Worship Music' is slated for a release in October 2009. ANTHRAX is Dan Nelson (vocals), Rob Caggiano (lead guitars), Scott Ian (rhythm guitar, backing vocals), Frank Bello (bass, backing vocals), and Charlie Benante (drums, percussion).
http://www.anthrax.com/
/
http://www.myspace.com/Anthrax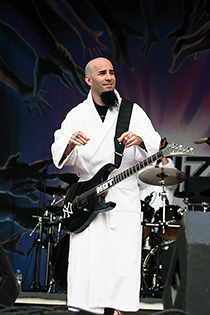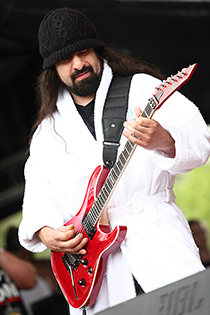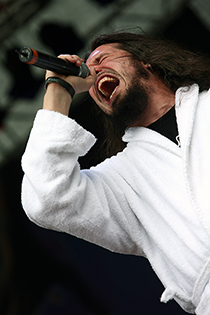 Music & Performance

So, there we were, waiting for ANTHRAX turning up on stage with a delay of 30 minutes. If I were a psychic I'd have known and stayed at the other stage to see the performance to the end. But enough of that now! When the band members came on stage they presented us a surprise with wearing bathrobes. They must've been seriously sweating with that on considering the temperatures. Anyway, the men started their set with one big hit from their portfolio 'Madhouse' and the quite packed space before the stage started to move and head bang and kept doing that for the following 'Anti-Social' even more a crowd-pleaser, it seemed. Taking their robes of in the further course, movements became more vivid and a solid action took hold on stage and with the song 'Caught in a Mosh' amongst the audience as well.
Rating

Music: 7
Performance: 7
Sound: 6
Light: - (daylight)
Total: 6.8 / 10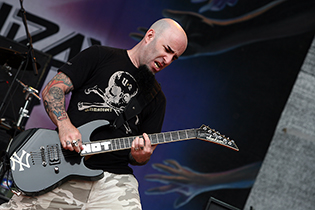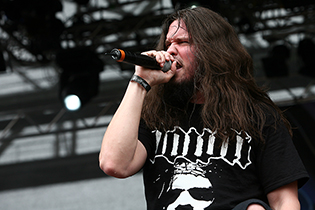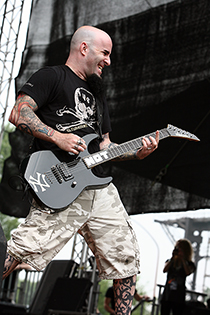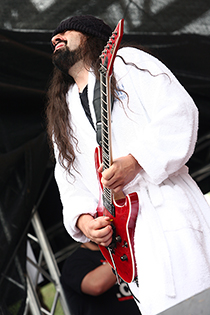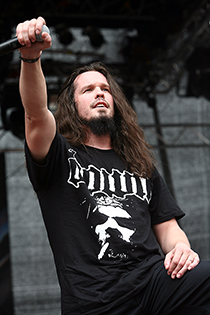 The Carburetors (Devilstage)

Hailing from Norway are THE CARBURETORS who've gained some considerable success with their debut release 'Pain is Temporary Glory is Forever' back in 2004 supported with a tour with 50 concerts played in their Native alone. Busy as they were it took them just a good year to come up with the e second strike 'Loud enough to Raise the Dead' in 2005 and in the following time shared the stage with the likes of MÖTLEY CRÜE or NIGHTWISH. After putting out a live CD in 2007, they came around the corner with their third and most recent full-length in 2008. It's called 'Rock'n'Roll Forever'. THE CARBURETORS are Eddie Guz (vocals), Stian Krogh (guitar), King'O Men (bass), and Chris Nitro (drums).
http://www.thecarburetors.com/
/
http://www.myspace.com/carburetors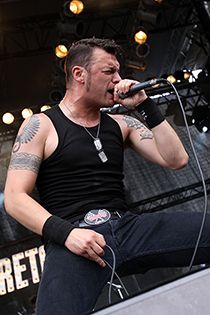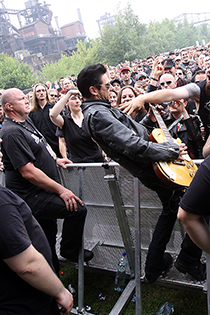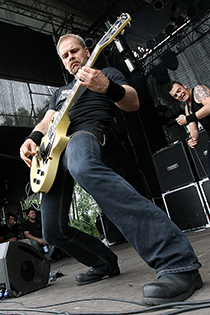 Music & Performance

That was one band I never even heard a bit of before so I was thinking about which style of Metal they'd present. In fact, none! The guys play almost classic Rock'n'Roll with a tinge of Rockabilly. Actually, that's also the way these lads look. Like arisen from a 60s movie or something with a plethora of grease in their hairs. But more importantly, it was much fun watching their acting on stage, how they posed for the photographers and just created an overall mood with such driving gems as 'Rock'n'Roll Forever', 'Whole Town is Shakin' or 'Terrified' and on the audiences side it was probably not the whole town that was shaking but it was definitely a good part of it, even if not so wild as I had anticipated. I found that to be a real entertaining little show and love to see more.
Rating

Music: 7
Performance: 8
Sound: 6
Light: - (daylight)
Total: 7.2 / 10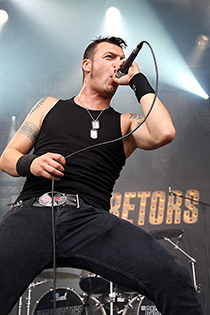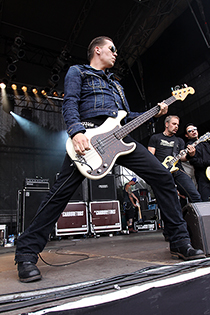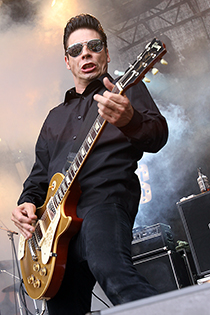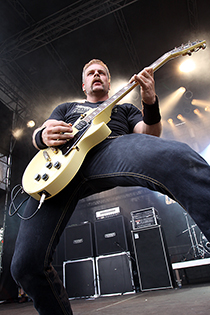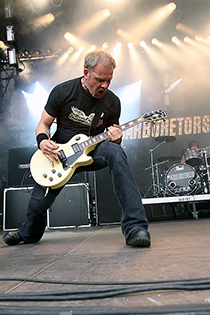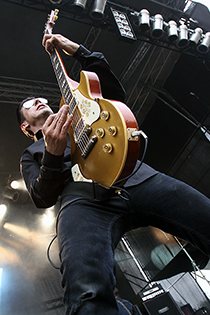 Peter Pan Speedrock (Hellstage)

PETETR PAN SPEEDROCK is a Dutch band from Eindhoven, founded in 1997. The one-man line-up was joined by drummer Bart Nederhand and bass player Bob Muileboom for the creation of the first self-titled album, released in the same year. The would continue to release studio albums in regular extends adding up to a total of 7 full-length studio releases by now with the latest one being 'Pursuit Until Capture' from 2007. Their real passion 'However' is to play live shows with which they built themselves up a good reputation among rock fans and intent to prove their qualities to the attendees of the Devilside Festival as well.
http://www.peterpanspeedrock.com/
/
http://www.myspace.com/peterpanspeedrock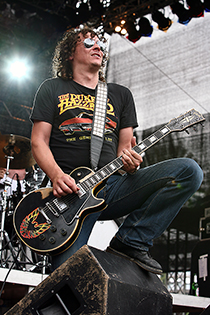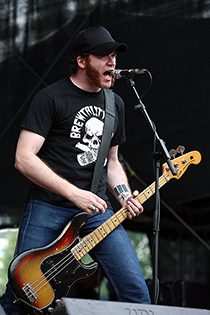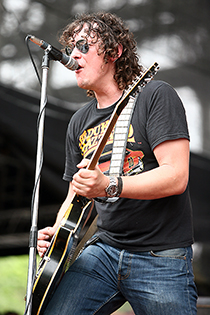 Music & Performance

When I say the name was program with a heavy emphasis placed on the "Speedrock" in their band name there's no exaggeration in these words. They were hardly on stage as they already rocked ahead and kicked up the recent tempo scale a few fair notches with their high-speed stuff basing mostly on galloping and / or rushing drum stuff and corresponding riffs with vocals more screamed than sung but still bearable for the ears. The action quite befitting to the music was sweat-driving, however, the audience received their chance to sweat too with the circle pit that was formed for the song 'Come on You'. Even though it was not the best I've seen so far it was all the more pleasant to listen to as what was coming up next on the stage across.
Rating

Music: 7
Performance: 7
Sound: 7
Light: - (daylight)
Total: 7 / 10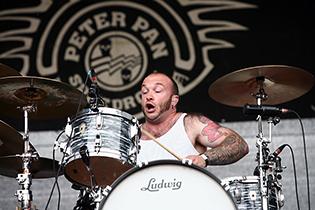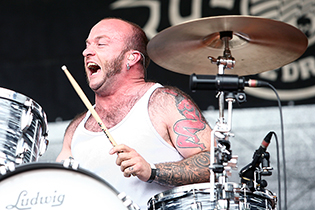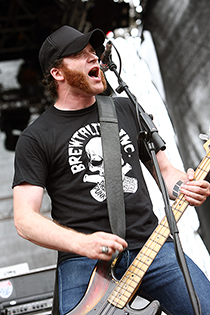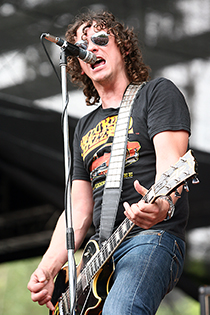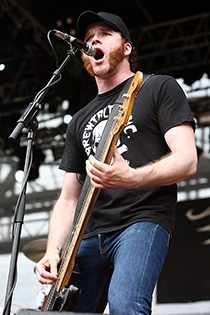 Neaera (Devilstage)

NEAERA is a melodic death metal band from Münster, Germany, currently signed to Metal Blade Records. Recently, they have completed their third album, 'Armamentarium' (including a DVD), which was released on August 24th, 2007 in Europe. Tobias Buck (guitar) started NEAERA to change the musical influence of the style he had played before with fellow Münster death metal band MALZAN. In August of the same year the new album 'Armamentarium' is released followed by the first headliner tour through Germany and many neighbour countries. Almost 2 years later, their fourth and most recent album, titled 'Omnicide - Creation Unleashed' came out in May 2009.
http://www.myspace.com/neaera
/
http://www.neaera.com/home/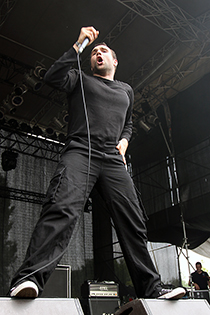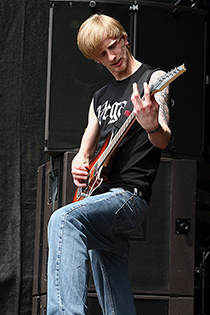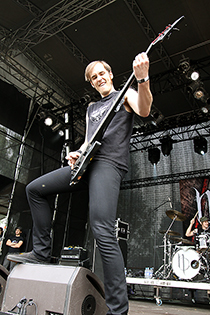 Music & Performance

Well, I wasn't really prepared for what happened when NEAERA from Münster hit the stage and started with their first song which was a jack hammer in the truest sense of the world. The drums were thrashing ahead as if they were to crush you instantly and singer Benny delivered the vocal equivalent to the music in growling and screaming all the way through while guitarist Tobias dishes out the riffs sometimes being rather chopped off and other times being more of a melodic kind. With the second song 'Armamentarium', the title track to their fourth album from 2007, the first wall of death was demanded by Benny and some of us took a few steps back not to get anywhere near the hell unleashed a few moments later and to 'Pray To Anguish' the first crowd surfers could be spotted. I admit NEAERA pulled a neat show but musically definitely too much for me.
Rating

Music: 3
Performance: 7
Sound: 6
Light: - (daylight)
Total: 5 / 10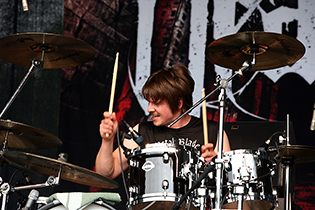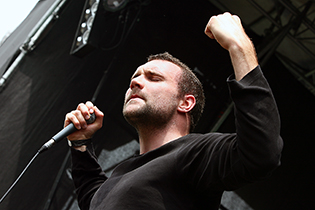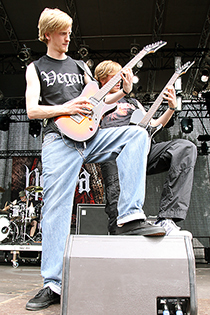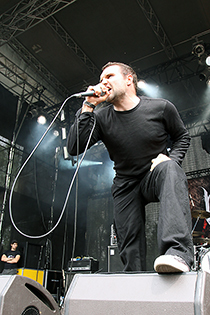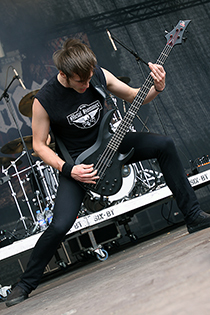 All Shall Perish (Hellstage)

ALL SHALL PERISH has been founded in 2002 with the intention not to fit into any musical drawers and in 2003 already debuted with 'Hate Malice Revenge' gaining mostly underground acclaim with it. When Nuclear Blast signed them eventually and re-released the debut the acclaim was kicked up to an international scale yet still remained in the underground. The second album 'The Price of Existence' followed pretty quickly in August with a single 'Eradication' lifted from it. The song's even been played. In the meantime their popularity had considerably increased reflected as well in the sales figures of the second disc. 'Awaken The Dreamers', their third and recent album came out in September 2008. ALL SHALL PERISH is Hernan Hermida (vVocals), Jason Richardson (guitar), Ben Orum (guitar), Mike Tiner (bass), and Matt Kuykendall (drums).
http://www.allshallperish.com/
/
http://www.myspace.com/allshallperish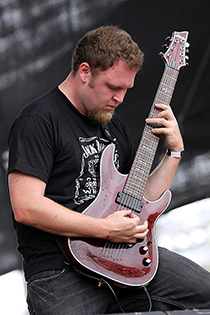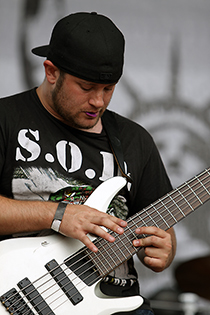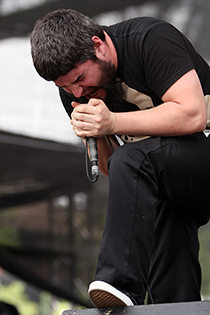 Music & Performance

Actually, I thought I wouldn't see a similar style so soon again. But if I think about it, it's not the same it's even harder than what NEAERA just presented for what singer Hernan generated, believe it or not, had nothing to do anymore with any human vocal sound no matter if he was grunting or screaming. Some will bash me for that but it was extremely similar to what Dani Filth does only here I couldn't understand a single word. The musical accentuation wasn't any less of a hard matter with drums that in spite of certain tempo changes within the songs came across raging and merciless. So, its perfect material to bang until the neck aches and several people displayed a lot of passion in doing that to sings like 'When Life meant more' and 'Never again' from their recent disc 'Awaken The Dreamers' or 'Deconstruction' off their debut 'Hate, Malice, Revenge'. It's not my usual brand of entertainment but still there was a certain, whimsical fascination about this performance.
Rating

Music: 6
Performance: 6
Sound: 6
Light: - (daylight)
Total: 6 / 10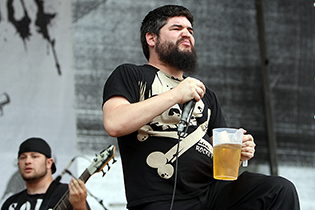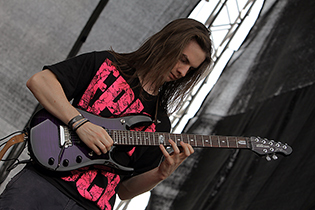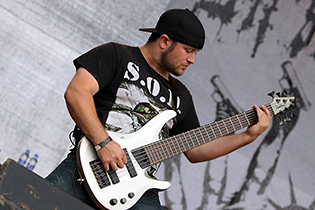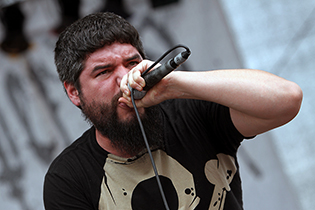 Elvis Jackson (Devilstage)
The band formed in Slovenia in 1997 and in 1999 their debut album 'Move Your Feet It's One O'clock' was exclusively released in their home country. Through various compilation contributions, they were exposed to a wider audience and a European tour was the consequence. 'Go Home and Practice', their second album, hit the market in 2001. Two videos have been shot for album tracks and only aired on Slovenian TV stations. Their third album 'Summer Edition' followed in 2004 and remained their latest release for a long time. But now, the new album 'Against Gravity' is ready, it just waits for a release inside the EU. ELVIS JACKSON is David "Buda" Kovšca (vocals, trumpet), Boštjan "Berto" Beltram (guitar), Erik "Slavc" Makuc (bass) and Marko Soršak (drums).
http://www.elvisjackson.com/
/
http://www.myspace.com/elvisjacksonband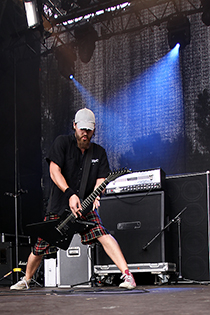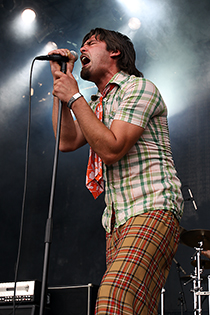 Music & Performance

The line-up thus far was largely filled with harder Metal stuff, except for THE CARBURETORS. But I appreciated the organizer's open-mindedness concerning different musical styles and so I welcomed the Ska-Punk stuff of ELVIS JACKSON as a refreshing diversion. When the band appeared on stage they brought the fun with them which not only was expressed through mimics but also in their pleasant urge to move to their music, while playing trumpet, guitars or doing the percussions. The audience's reaction was quite mixed. Soma partied wildly to the music and other's just didn't and preferred watching. As for me, I found this to be an exhilarating show; much more than of some bands to follow.
Rating

Music: 7
Performance: 7
Sound: 7
Light: - (daylight)
Total: 7 / 10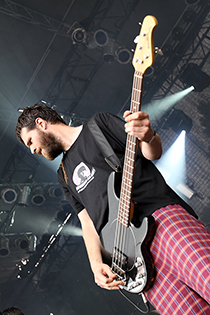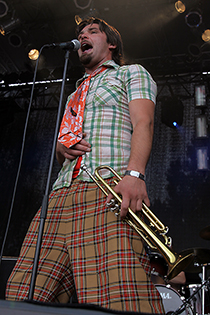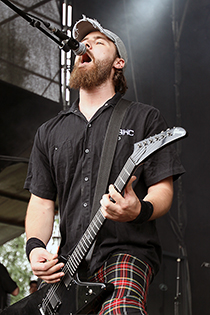 Millencolin (Hellstage)

All the four members of MILLENCOLIN have a passion: The skateboarding and sometimes fate rings together some like-minded people like in this case. So they founded MILLENCOLIN in 1993, named after the skateboard trick "melancholy". With the second demo tape 'Melack' the band sent out in 1993, they get signed with Burning Heart Records, a new record label formed earlier that year and put out their first major release 'Tiny Tunes' in 1994. Coinciding with the release of the second album 'Life on a Plate' in 1995, the band began to tour outside of Scandinavia.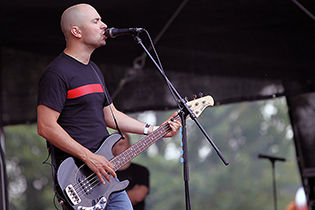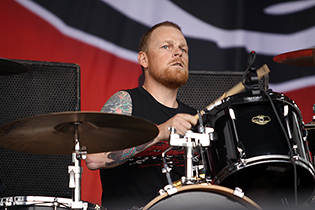 However, their popularity really burst with 'Pennybridge Pioneers', an album with more of a rock influence than the band's previous Skate punk sound, directly followed by the first world tour of the band. In this year's April, the band released their meanwhile 8th album 'Machine 15'. MILLENCOLIN is Nikola Sarcevic (vocals, bass), Mathias Färm (guitar, backing vocals), Erik Ohlsson (guitar, backing vocals) and Fredrik Larzon (drums).
http://www.millencolin.com/
/
http://www.myspace.com/millencolin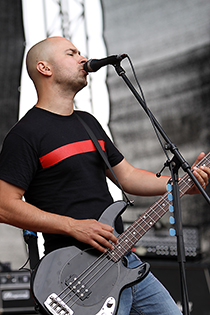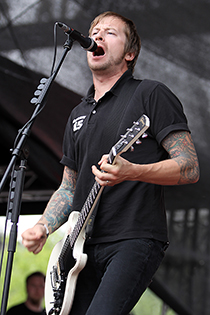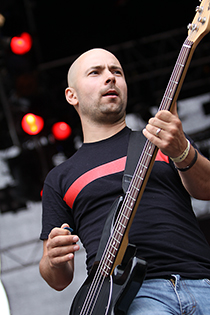 Music & Performance

Last time I saw these guys from Sweden, that was in 2008, their show was pretty much boring with not much movement and three guys mostly standing behind their microphones. To be honest, I didn't expect anything different this time and was positively surprised. They came on stage and instantly started to move around and rock over the stage with their instruments and several nodding heads were proof the action on stage was appreciated very much by the numerous crowd that had gathered up at the Hellstage to listen to some melodic Punk Rock out of seasoned hand. So after 'Penguins & Polarbears' off the 'Pennybridge Pioneers' album had opened up the set and warmed up everyone, it was up to songs such as 'Fox' and 'Twenty Two' to keep things going and they did in a fairly good way and became part of a good performance. Well done this time guys!
Rating

Music: 7
Performance: 7
Sound: 7
Light: - (daylight)
Total: 7 / 10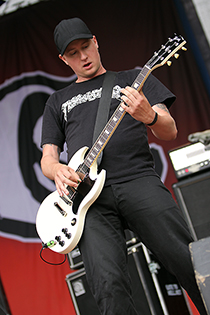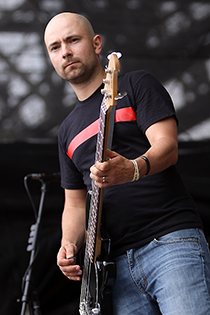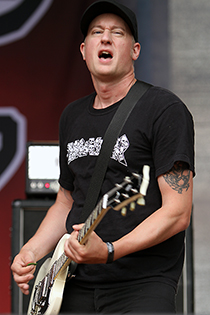 Disco Ensemble (Devilstage)

Mikko Hakila and Jussi Ylikoski came up with the band under the name DISCO in the late 90s. Later on they extended the name to DISCO ENSEMBLE due to the name equity with the finish pop duo DISCO. In 2000, Miikka Koivisto joined in as singer and keyboardist. Following the release of the first album 'Viper Ethics' which included a Top 20 chart hit in Finland with the single 'Videotapes' the band started touring intensively and in 2005, the second album 'First Aid Kit' was released. In 2006, they played on several European festivals like Rock am Ring/Rock im Park in Germany, Nova Rock in Austria or the Roskilde Festival in Denmark. In January, they supported LINKIN PARK on some gigs and at the moment they are on tour with the DONOTS. 'Magic Recoveries' is the newest album and was released in May 2008. DISCO ENSEMBLE is Miikka Koivisto (vocals, keys), Jussi Ylikoski (guitar), Lasse Lindfors (bass) and Mikko Hakila (bass).
http://www.discoensemble.com/
/
http://www.myspace.com/discoensemble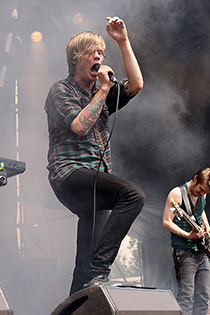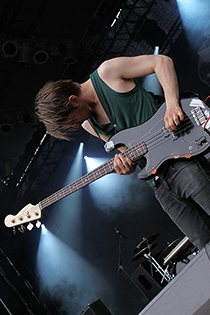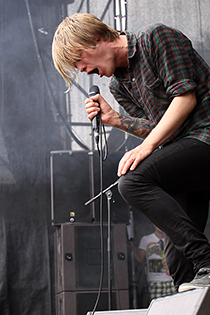 Music & Performance

That was one show I was so much looking forward to for when they're in the house they're usually setting it on fire. Only this time the temperature outside was already high enough to do it for them. But despite the increasing heat the guys went from zero to hero and Miikka Koivisto, framed by Lasse on guitars and Jussi on bass, shook a leg and soon sweat ran down their faces in torrents… 'Bad Luck Charm' was next and for that one Miikka put the seriously worn-out looking synth / piano to the front to lure melodic tones from the thingy during the song. With 'We Might Fall Apart' and 'Headphones', the Finnish whirlwinds continued their set and especially the latter one revealed splendid vocal parts showing Miikka's capability to sing as well.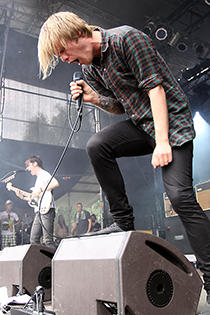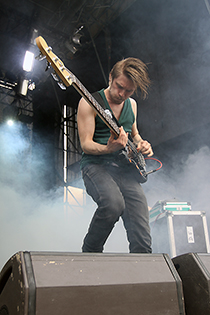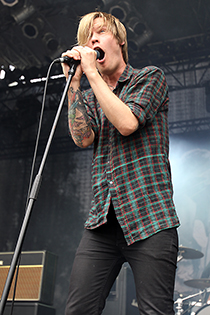 A pity that the audience didn't party the same way as the guys did on stage. Of course they went along with the music but compared to the last shows I've seen from them the response was pretty weak. With the seventh and last song of the set 'Stun Gun' the band expressed their wish to comply with the festival theme and Miikka commented that "This is the closest thing to Heavy Metal we can do" and it was definitely more Metal than anything else. The drums banged at an incredible speed an vocals were mostly screamed. Still a lot of (synth) melody was in that track. Call it DISCO ENSEMBLE metal! Once again a great performance but the audience could've done a bit more.
Rating

Music: 8
Performance: 8
Sound: 7
Light: - (daylight)
Total: 7.8 / 10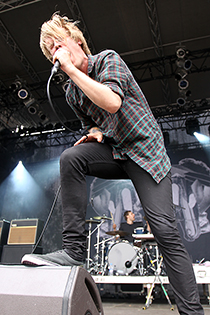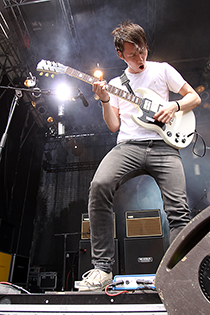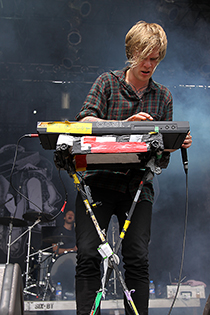 Hammerhead (Hellstage)

HAMMERHEAD founded around 1989/90 in Germany are a Hardcore Punk outfit and were an influential factor in the respective scene. Following numerous EPs their first album 'Stay where the pepper grows' came out in 1994 and the follow up 'Weisses Album' was being released in 1998. The also absolved some TV appearances at the music channel MTV and German Talkshow 'Arabella'. When in 2006 one band member produced an autobiographical documentary with the name 'Sterbt Alle' the band members would tour through cinemas across Germany with that. A re-release of their old records followed afterwards. As of 2008, the band has come back together to play selected live shows again. HAMMERHEAD is Tobias Scheiße (vocals), Headbert N. (guitar), Danilatore Minuti (bass), Ranen (gass), and Osche Engelhardt (drums).
http://www.hammerhead.de/
/
http://www.myspace.com/hammerheadpunk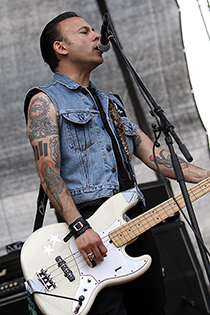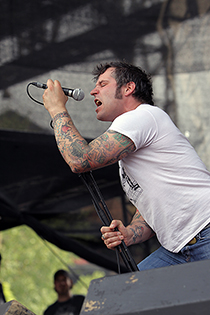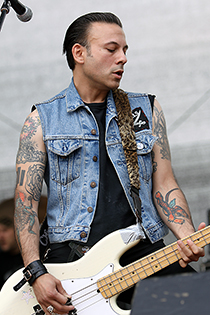 Music & Performance

HAMMERHEAD, the self-proclaimed "Best band of the World", was to enter the Hellstage next. I didn't expect anything and got nothing in return. It was just not a style of music that appealed to me very much. Songs they played were mostly fast and hard-hitting stuff with lyrics that I couldn't even understand. Could be that it was a technical problem as well yet I think it was due to the special vocal style of singer Tobias Scheiße, who shortly thanked the crowd for applause between the songs and then announced already the next one. Amongst them were titles like 'Handgranate', 'Spinne' or 'Köter' which as he told us goes about festival attendees. For that one, he placed the microphone sideways for whatever reason and for a certain time we couldn't hear anything coming from the microphone. Must've been a technical error or something! To sum up, absolutely not my cup of tea!
Rating

Music: 2
Performance: 5
Sound: 7
Light: - (daylight)
Total: 4 / 10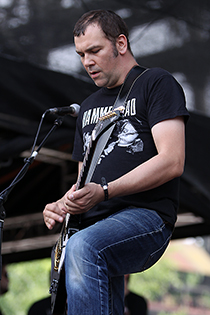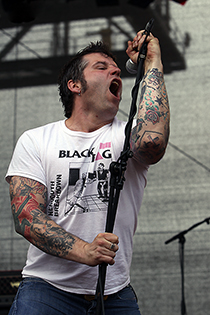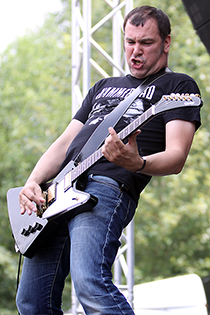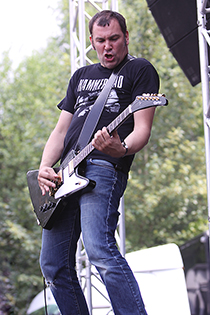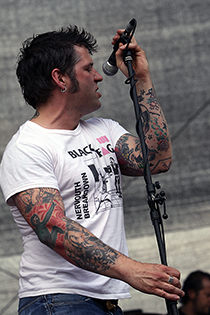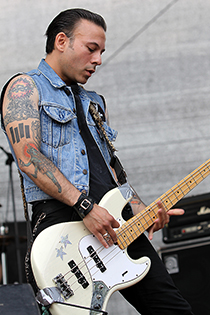 Cro-Mags (Devilstage)

The CRO-MAGS from New York are considered being godfathers of Hardcore by many people. They were among the first bands to fuse hardcore punk with thrash metal and were associated with the birth of a tougher attitude within the hardcore scene in the late 1980s. The first noted musical output was a demo tape in 1986 with the name 'Age of Quirrel' which would as well become the name of their first album, released one year later, followed by 'Best Wishes' in 1989. These two are today considered being their most influential records. The band history shows frequent break-ups, and line-up changes in-between releases. Today, their discography includes six albums in total the latest one being named 'Revenge' and released in 2006. It seems very unlikely that there will ever be a new record at this point with whatever line-up. The current line-up consists of John Joseph (vocals), Craig Scully (bass), A.J. Novello (guitar) and Mackey Jayson (drums).
http://www.cro-mags.com/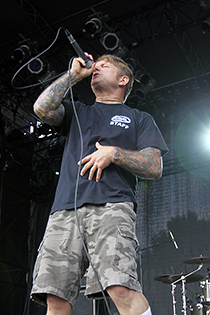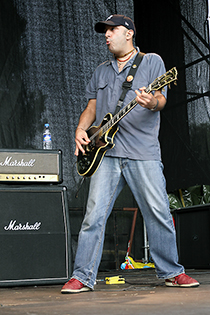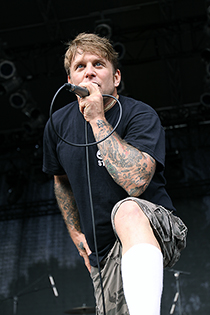 Music & Performance

Not only in front of the stage, also on the direct side-entrance from backstage were numerous people waiting for the performance of CRO-MAGS to start. And it did with an intro, quoting the score to legendary motion picture Clockwork Orange to lead into the first proper song 'World Peace' and just like the guitars and drum sounds, also singer John Joseph swept over the stage from the very moment you saw him and would be doing that for a while to come. Whilst playing a mixture of "Old shit" and rather current material. I only know because he said that for I've heard nothing more than the name before their show and now I'm sure there's someone out there wanting to punish me with contempt for that sacrilege. No reason to that, actually as I and my colleagues had fun watching that show and the audience visibly did the same thing.
Rating

Music: 7
Performance: 7
Sound: 7
Light: - (daylight)
Total: 7 / 10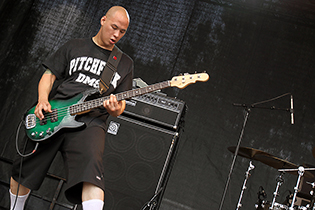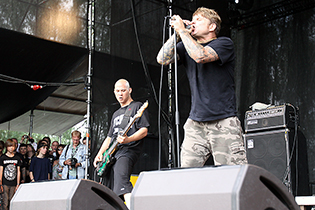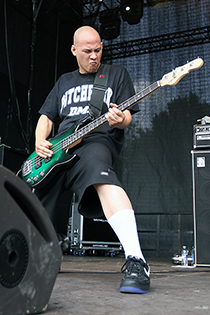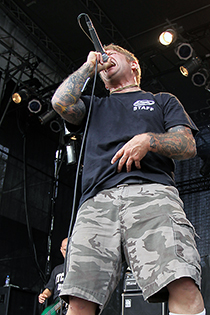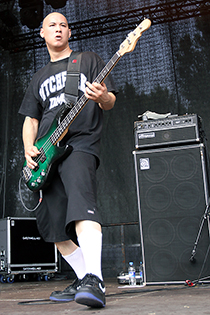 Sodom (Hellstage)

SODOM is a Thrash Metal band from the Ruhr Area founded in 1982 in the tradition of English bands such as VENOM or MOTÖRHEAD. In 1984, they inked their first record deal with the company Steamhammer and debuted with the album 'Obsessed by Cruelty' in 1986 followed by 'Persecution Mania', released one year later. The following years went along with a multitude of line-up changes mostly on guitar which couldn't prevent them from becoming one of the most renowned bands in the German Metal scene that released albums such as 'Agent Orange' (1989) bringing the first chart notation ever for a Thrash Metal band in Germany. With 'The Final Sign of Evil', they've already released their twelfth album in 2007 and there's no end in sight. SODOM is Tom Angelripper (vocals, bass), Bernemann (guitar), and Bobby Schottkowski (drums).
http://www.sodomized.info/
/
http://www.myspace.de/sodom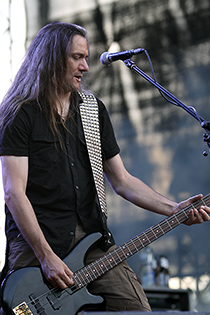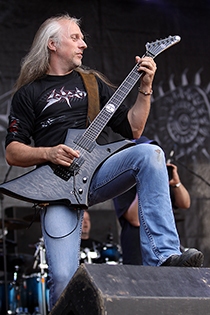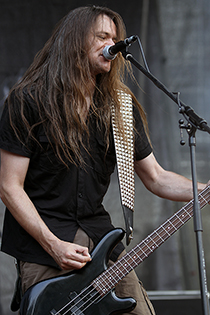 Music & Performance

Actually, SODOM had home advantage as the band's coming from Gelsenkirchen which is not as far from Duisburg as one might think it is and of course they were expressing how happy they're to be back home in the Ruhr area and it was clearly visible that they're happy with their immense joy of playing amongst the awe of fans, many of which for a long time, I guess. SODOM's style is marked by especially hard riffings, executed on a high technical level as seen with my own eyes at the show and pushing drums in various speeds. On the s second song 'Outbreak of Evil' that were galloping beat salvoes on which the guitars were virtually riding on, coupled with the distinct vocals of singer Tom Angelripper. Best part of the song for me was the guitar solo of Bernemann and as for the audience; they're all caught up in their web and hailed to their heroes at every possible opportunity. An overall prolific show for me!
Rating

Music: 6
Performance: 8
Sound: 7
Light: (daylight)
Total: 6.9 / 10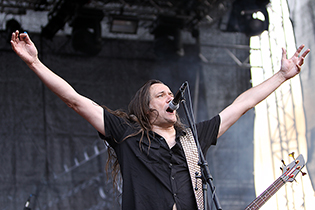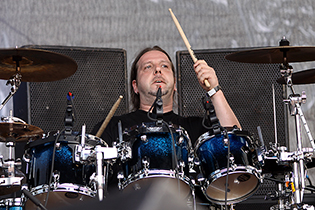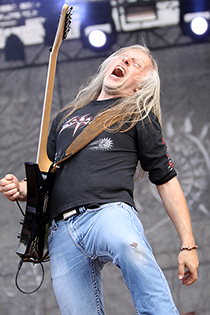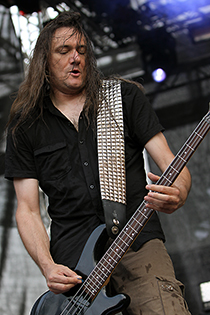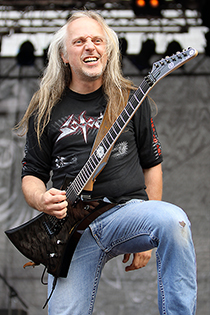 Discipline (Devilstage)

The Dutch band was formed in 1992 and the style they're playing was labelled by the band as Street Rock'n'Roll. The 'Stompin' Crew EP' from 1995 was their first release, followed by the debut album 'Guilty as Charged' in 1996 with various shows and a tour through Europe following to promote the release and with continuous hard work, the band built themselves up a good live reputation. Their audience, unfortunately, developed violent habits frequently ending up in huge fights at their live shows! The relationship between label and band significantly suffered due to that and the band ended up leaving to sign to I Scream Records in Belgium where they released their third album 'Nice boys finish last' in 1999.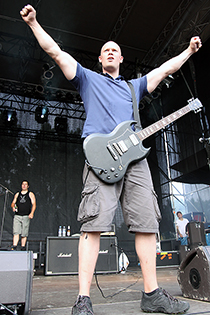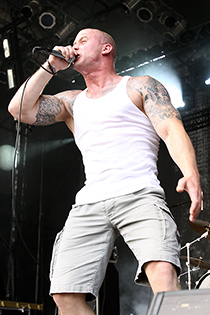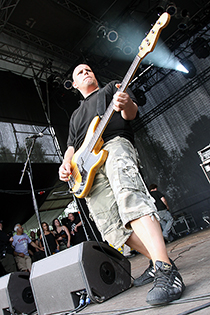 Ever since 10 years have passed and meanwhile they managed to play all major European festivals like Dynamo Open Air, Graspop, Holidays in the Sun, With Full Force and have pulled out a string of releases with the latest one being the Best Of 'Anthology' (2009). DISCIPLINE is Joost De Graaf (vocals), Carlo Geerlings (bass), Erik Wouters (guitar), and Joost Strijbos (drums).
http://www.discipline.nl/
/
http://www.myspace.com/disciplineband
Music & Performance

Time to head back for the Devilstage to see the Dutch four-piece DISCIPLINE who were accused in the past to spread radical right-wing mindsets and so my feelings about this band were a bit mixed up as you can imagine, but otherwise would an organizer really book this band if that were the case. I don't think so and their music later turned out not to be bad at all being very energetic hardcore punk carried by dominant riffs and drums with the barking vocals of the brawny singer Joost.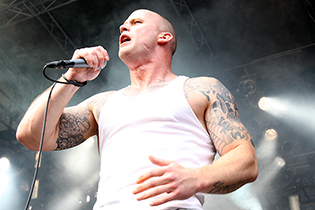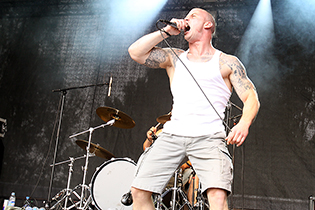 Due to his way of singing it was nearly impossible for me to catch some clear lines of the lyrics of such songs as 'Believe' announced as a "Tribute to Everybody" containing a few more melodic elements or 'Downfall of the Workingman' all of which people were dancing to. Meanwhile it had become so hot the security brought a water tube to give them at least some refreshment before anybody would pass out. Not a highlight but a respectable showcase of the guys.
Rating

Music: 6
Performance: 7
Sound: 7
Light: - (daylight)
Total: 6.5 / 10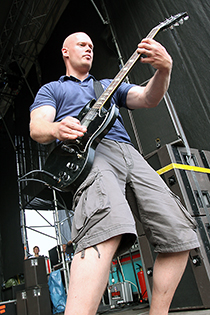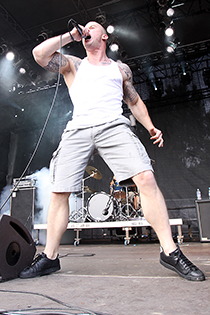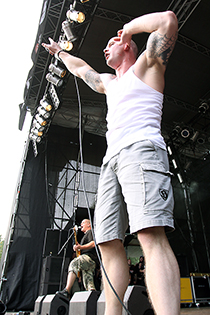 Misfits (Hellstage)

The formation of the MISFITS goes way back to 1977. The Name's derived from a movie of the same title starring Marilyn Monroe and Clark Gable. During the same year they recorded and released the first single 'Cough / Cool' and played first shows. Due to various reasons it took until 1982 fir the first album 'Walk among Us' to be released. Until then, a bunch of EPs had been released. After the album 'Earth a.D', the band already disbanded to reunite in 1995 and released 3 other studio albums. The latest one of which is 'Project 1950' from 2003!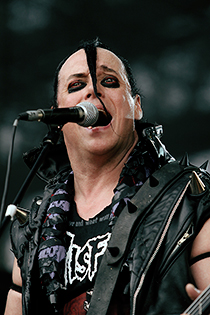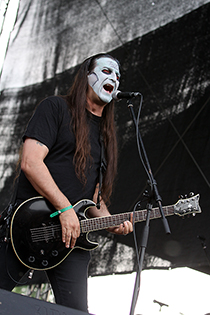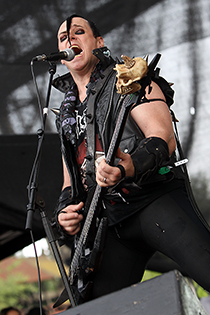 The band how it's existing today barely has anything in common with the past incarnation except for Jerry Only who's the only remaining member of the original line-up. A new album with the current line-up is said to be released some time in 2009. MISFITS is Jerry Only (bass guitar, backing vocals, lead vocals), Dez Cadena (guitar, backing vocals), and Robo (drums).
http://www.misfits.com/
/
http://www.myspace.com/themisfits
Music & Performance

Hooray, the MISFITS! Deemed as the inventors of Horror Punk and correspondingly high were my expectations about the upcoming show and looking at the masses here at the stage with some wearing MISFITS shirt I thought something big would happen within the next minutes. Wrong! The 'Helloween' movie theme serving as intro was the most original thing about their show.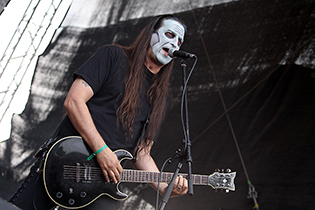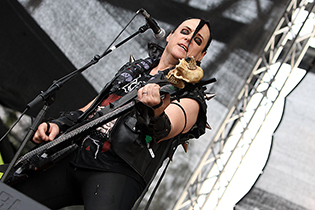 That should tell you enough about the quality. Songs approximately had all the same tempo and each included at least one "Ohh Oh Oh Oh" line. Announcements comprised the naming of song titles within one second before the next track started. Song names I could catch were 'Hybrid Moments' or 'Teenagers from Mars'. Others didn't even recognize the singer was saying anything. To cut a long story short: Boring and disappointing! I'd have expected much more!
Rating

Music: 2
Performance: 2
Sound: 5
Light: - (daylight)
Total: 2.5 / 10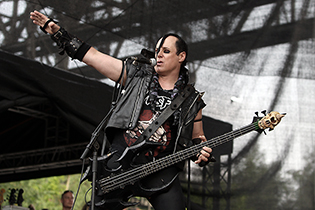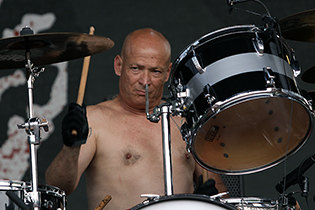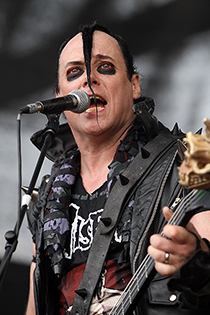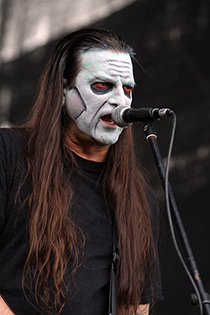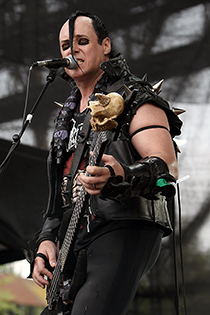 The Bones (Devilstage)

The Swedish band came about in 1996 after three of the future band members already met for mutual jam sessions a few years before. The one completing the line-up was singer and guitarist Marcus "Boner" Petersson and with that line-up the band exists to the present day. Their first official output was the self-released EP 'The Horrorway' in 1997 which was already sold-out a few months later. In 1999, the label "I Used To Fuck People Like You In Prison Records" signs the band and the second EP 'Six Feet Down, Two Fingers Up' was released that same year followed by the debut album 'Screwed, Blued, Tattooed' one year later.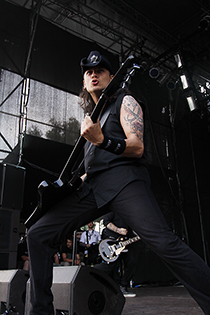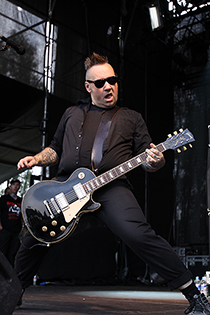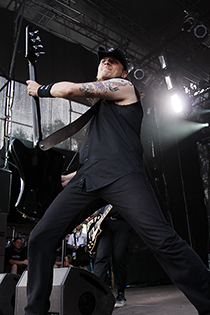 The band's success increased constantly through the years and by now they've released four full-lengths. The latest one is called 'Burnout Boulevard' and was released through renowned Century Media Records label in 2007. THE BONES are Marcus "Boner" Petersson (vocals, lead guitar), Beef Bonanza (vocals, guitar), Andi Nero (bass), and Spooky Fred (drums).
http://www.bonesrocknroll.com/
/
http://www.myspace.com/thebonesrockandroll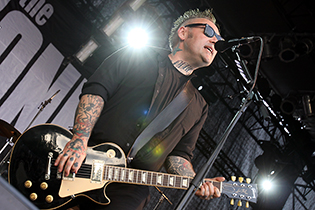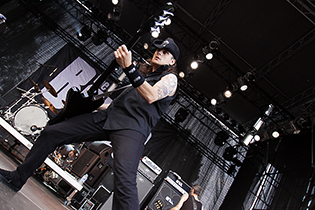 Music & Performance

Now it was really about time for at least some fun on stage and a band you should consider to attend a show of. The band knew how to bring some action on the hot stage and began their set with a nicely speedy tune but they had to fight with some little sound problems. Guitars were barely audible and it was mostly the loud bass drum and extreme bass lines making the music. Later it got better though, luckily. It is a mixture of punk and rather classic rock they're playing with cleaner and rougher vocals alternating and in between their entertaining stuff they always found the time to do some jokes such as "Now we're going to play a love song. It's called 'She Hates Me'" and such. As I said, worthy to keep an eye on them for the time they'll hit German stages again.
Rating

Music: 7
Performance: 7
Sound: 6
Light: - (daylight)
Total: 6.8 / 10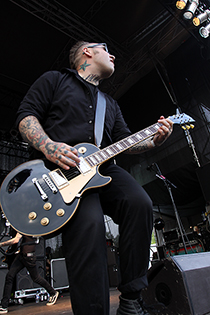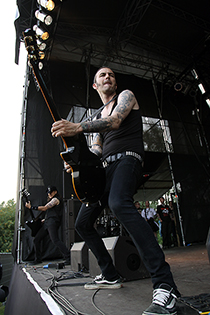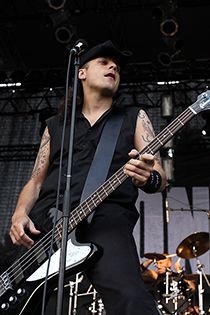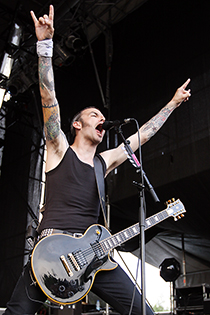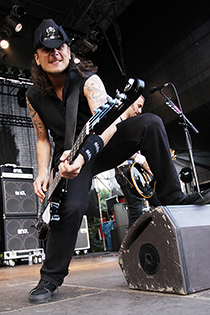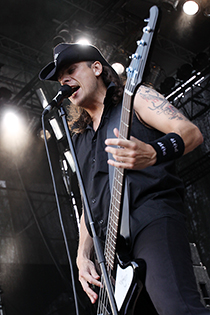 Sepultura (Hellstage)

The band whose name is the Portuguese word for 'Grave' came to live in 1984, releasing their first EP 'Bestial Devastation' the next year and the album 'Morbid Visions' another year later. Afterwards, the former guitarist left the band and was replaced by Andreas Kisser who's still holding that position. The band's second studio album, 'Schizophrenia', was released in 1987. It saw a stylistic change towards a more thrash metal-oriented sound, while still keeping the death metal elements of 'Morbid Visions' and became a success among critics. By 1991 and the release of their fourth album 'Arise', they'd become one of the most acclaimed bands of their genre.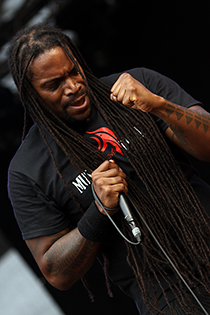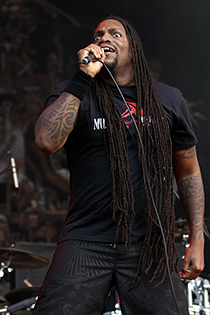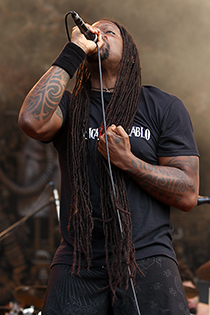 With the year 1996, also came the fateful break-up with founding member Max Cavalera. The real reasons for that remain unknown until today. His replacement came with Derrick Green and together with him; the band recorded the seventh album 'Against' which was commercially less successful than its two predecessors. With Derrick Green, as vocalist, another five albums have been released thus far with 'A-Lex' as the latest one. SEPULTURA is Derrick Green (lead vocals), Andreas Kisser (lead guitar, backing vocals), Paolo Jr. (bass) and Jean Dolabella (drums, percussions).
http://sepultura.uol.com.br/v6
/
http://www.myspace.com/sepultura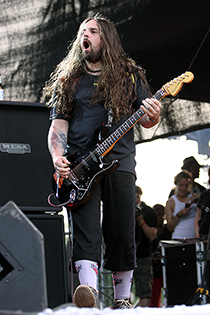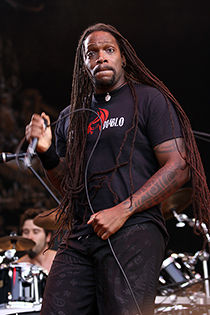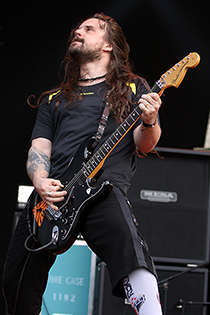 Music & Performance

SEPULTURA is surely is a big name in the Metal Scene and also I was highly curious about the show of the band, whose former front man and with founding member Max Cavalera would later play with his follow-up project SOULFLY on the other stage. Eventually the band members took their positions on stage and as the very last one came the front man Leon Derrick Green and began shouting and growling to the high-octane Thrash-Metal stuff. You could spot banging heads not only on stage whilst Green being comparatively passive. But honestly he didn't need to move that much. The man has charisma and with that made up for the lack of too extensive movement. But the guy plays percussion like a young God. During one song he's just stepping to the middle of the stage to treat that thing with a couple sticks. At this point I'd also like to give kudos to the sound guy (I suppose they brought their own) It was the best mix I've heard on the festival with everything being crystal clear.
Rating

Music: 7
Performance: 7
Sound: 9
Light: - (daylight)
Total: 7.4 / 10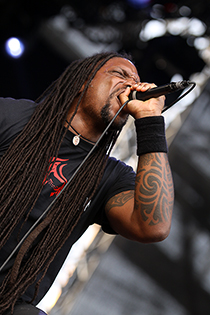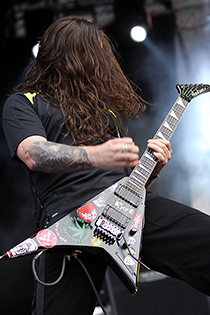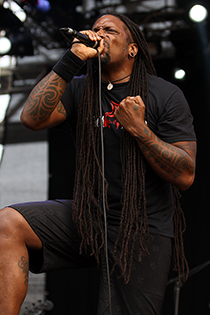 Bloodhound Gang (Devilstage)

Right from the start in 1993 when they started as a DEPCHE MODE cover band, the motto was fun. After releasing two demos, the band finally got signed by Columbia records in 1995 and released their debut album 'Use your fingers'. From there on their success story began with several releases and even more live appearances. The recent album 'Hefty fine' was released in autumn 2005 and brought again huge success to the band… including massive radio and video airplay and sold out shows. THE BLOODHOUND GANG are Jimmy Pop Ali (real name James Moyer Franks - vocals, guitar), DJ Q-Ball (real name Harry Dean Jr. - turntables, vocals), Evil Jared Hasselhoff (real name Jared Hennegan - bass), Lüpüs Thünder (real name Matthew Stigliano - guitar) and Willie the New Guy (real name William Brehony - drums).
http://www.bloodhoundgang.com/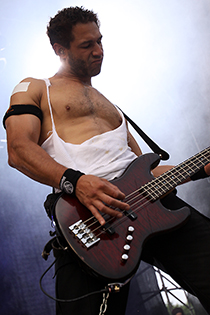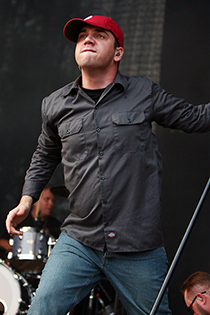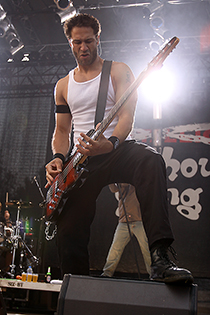 Music & Performance

Even if you haven't seen the BLOODHOUND GANG live before you somehow know what you'll get won't be an ordinary live show and you get to see things you actually never wanted to. Before the guys appeared a medley of samples from Michael Jackson songs was played but not even that you could take seriously as a tribute considering which band's you were attending. Well, eventually the set began with the hip-hop tinged 'Balls Out' and after settling that Jägermeister and Marihuana are the best combination it went on with the well-known 'Along Comes Mary' which everybody could sing along to.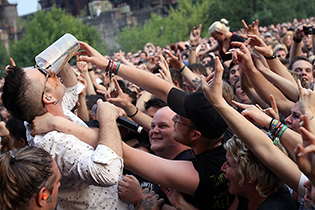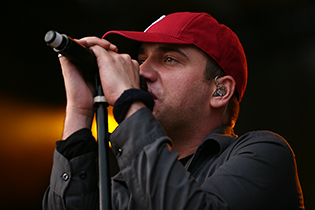 Other than his fellow band members, Jimmy Pop mostly stayed behind his mic standing more in the back part of the stage playing guitar or not. Later on a seemingly festival wide choir was started by the band calling "Jimmy Pop is homosexual", who just comments it with "I hope you die" a perfect entrée to the same-titled song which was followed by another hit 'Chasey Lane'. The doubtful highlight of the performance, that is, Jared Hasselhof showing his penis to the world and me who didn't even wanted to see it… ever. After that I rather chose to opt out than to get presented with other "revelations". Anyway, it was an in part disgusting but still funny show.
Rating

Music: 7
Performance: 7
Sound: 7
Light: 6
Total: 6.9 / 10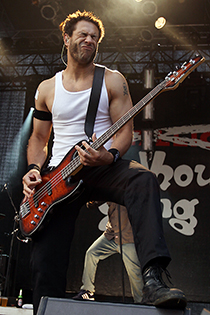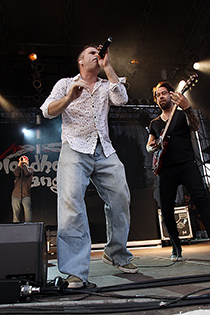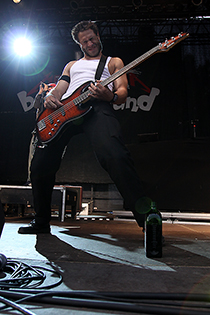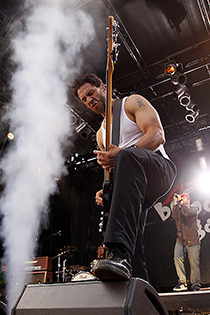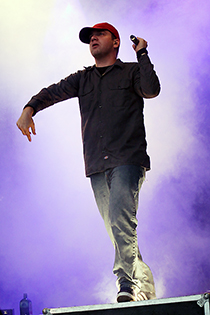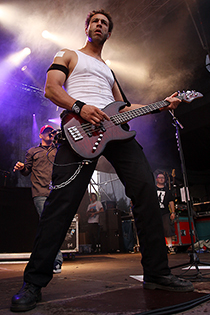 Clawfinger (Hellstage)

The band's origin dates back to the summer of 1989 when Zak Tell and Jocke Skog met while working together at the Rosegrove Hospital somewhere in the vicinity of Stockholm. After the line-up was complete, an intense period of writing and composing followed, resulting in the self-released debut 'Deaf Dumb Blind' in 1993 which sold over 600,000 copies and became a critical success. After touring, they went straight back in the studio to record their second album, 'Use Your Brain', followed by another tour. Until the present day, CLAWFINGER have released 7 studio albums that spawned a plethora of single releases. 'Life will kill you' is their newest album which came out in summer 2007. CLAWFINGER is Zak Tell (lead vocals, lyrics), Jocke Skog (keyboards, vocals), Bård Torstensen (rhythm guitar), Henka Johansson (drums) and André Skaug (bass).
http://www.clawfinger.net/
/
http://www.myspace.com/clawfinger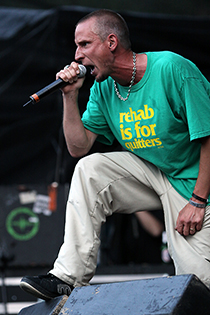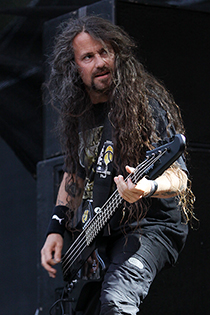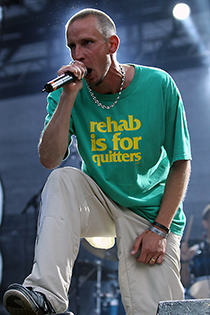 Music & Performance

Not even half as many people were present at the Hellstage waiting for the CLWFINGER show to start. But everyone who decided not to attend this show must now live with the knowledge of having missed the best show on the festival (Opinion!). A variation of the Goldfinger movie theme with altered lyrics made the opener before the band marched in and with singer Zak Tell appearing the party really started. That skinny guy jumped and moved around on stage to 'Prisoners' as if being still in the 20s, frequently performing on top and on the brink of the boxes so you feared he would fall down soon but nothing like that ever happened. Bassist André Skaug followed the lead sometimes even harder than the front man himself did, swirling around like a tornado. For 'A Whole Lot of Nothing', Zak demanded some audience participation and probably got more than expected. The mood was in such high regions; it was unbelievable and would've broken through the ceiling if there would've been any as 'Nigger' started.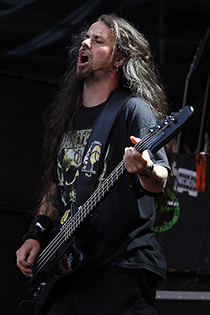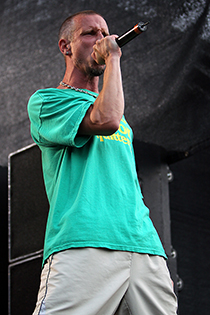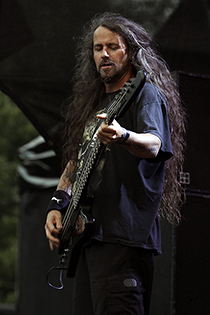 It was the heaviest mosh pit a band created that day. Later on the agile front man would climb up the stage's framework to "play a little game" with the audience and they loved to follow the instructions they're getting; that was so incredible to watch. The guitarist had another surprise up his sleeve, bridging the supposedly 4 metres to the audience with a running jump, spinning around and landing on his back atop the audience who carried him affair distance back and forth. If I may have dismissed some stuff they played, I'm truly sorry I'm doing it now. Amongst the stuff you probably missed were i.e. 'Rosegrove', 'The Price we Pay', 'The Truth' and 'Do What I Say', all coming up with tight riffs, full-grown beats and excellent socio-critical lyrics in rap form. Can't say it often enough; best performance on the festival!
Rating

Music: 9
Performance: 9
Sound: 8
Light: 7
Total: 8.6 / 10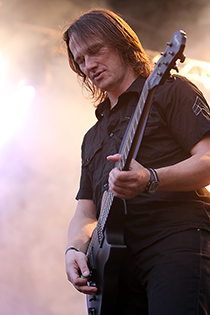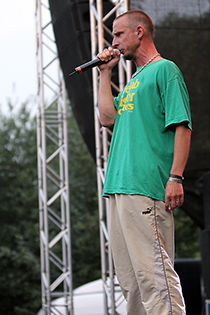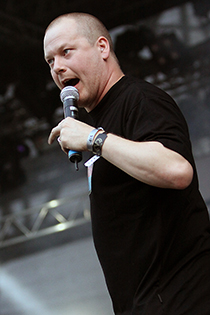 Soulfly (Devilstage)

SOULFLY exists since 1997. It was founded by Max Cavalera after he left his former band SEPULTURA due to internal band issues. Max Cavalera said that he founded the band "with the idea of combining sounds and spiritual beliefs". The first self-titled album 'Soulfly' was released in the spring of 1998 and reached number 79 on the Billboard 200. The sophomore release 'Primitive' followed in 200 and displayed many Nu-Metal elements, which was a very popular genre at that time. It became the most successful album in the band's history so far and peaked at 32 of the Billboard 200.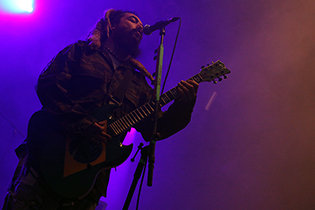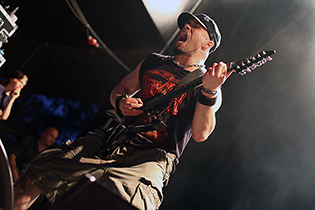 '3', the next SOULFLY album, was the first one to be produced by Max Cavalera himself and sound-wise contained many reminisces to earlier Trash works. To this date; and after some minor line-up changes, SOULFLY has released six studio albums all of which reached the Billboard 200 in the United States. The latest album is called 'Conquer' and was released on 26th July 2008. SOULFLY is Max Cavalera (vocals, guitar), Marc Rizzo (guitar), Bobby Burns (bass) and Joe Nunez (drums).
http://www.soulflyweb.com/
/
http://www.myspace.com/soulfly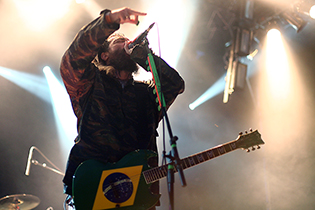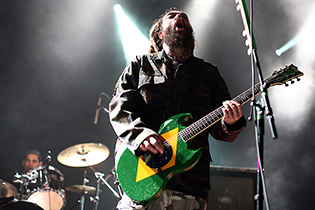 Music & Performance

On the Area 4 festival last year, where they took over for SLIPKNOT, I saw SOULFLY for the first time, where they delivered an average performance accentuated by a, admittedly, great light show. Turns out that performance back then was even better than the one I would see now. The space around the stage was packed with people wanting to see them. But even the fact that Cavalera was involving the audience as much as possible into the show i.e. on the opener 'Blood, Fire, War, Hate', couldn't compensate for, in my opinion too little action on stage. Bash me for that, call it blasphemy, it's how I see it. The show had some good moments for me though for instance the part with most of the band members playing drums or percussion on stage or when Cavalera did the song 'Unleash' together with his son. Musically, however, SOULFLY displayed more diversity than many of their peers did, thanks to Cavalera's refusal to sticking to any genre limitations.
Rating

Music: 8
Performance: 5
Sound: 7
Light: 6
Total: 6.7 / 10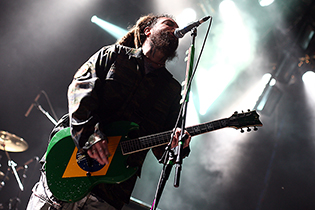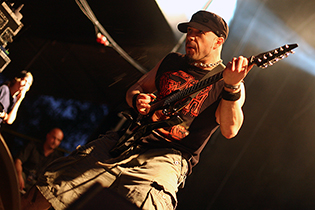 Motörhead (Hellstrage)

MOTÖRHEAD are a British Hard Rock / Heavy Metal band formed in 1975 by bassist, singer and songwriter Ian "Lemmy" Kilmister, who has remained the only constant member. Usually a power trio, MOTÖRHEAD had particular success in the early 1980s with several successful singles in the UK Top 40. The albums 'Overkill', 'Bomber', 'Ace of Spades', and particularly 'No Sleep 'til Hammersmith', cemented the group's reputation as one of Britain's foremost Heavy Metal formations. MOTÖRHEAD's approach has remained the same over the band's career, preferring to play what they enjoy and do best, their like for the early Rock'n'Roll is reflected in some of their occasional cover songs. The band's lyrics typically cover such topics as war, good versus evil, abuse of power, promiscuous sex, substance abuse, and "life on the road". Their latest release is the live album 'Better Motörhead than Dead: Live at Hammersmith' (SPV, 2007).
http://www.imotorhead.com/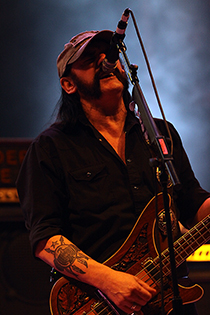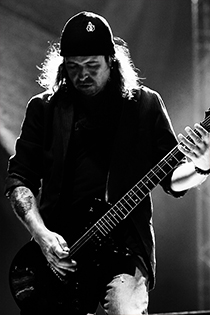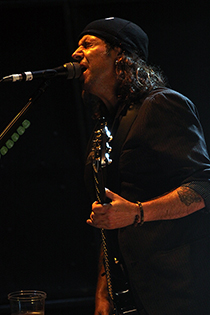 Music & Performance

MOTÖRHEAD, being the festival's headliner started with their show about one hour later than initially announced in the running order. It seemed that until then almost every festival attendee turned up at the stage. There was hardly any space to move anymore. What was clear for me at that moment, already was the I wouldn't see much of the show as I needed to catch my train home but regardless of the fret I felt, I tried to relax and enjoy what I could see but there wasn't so much to see. It was a seasoned performance but a little movement wouldn't have hurt even for such a legend like MOTÖRHEAD. Some songs I heard were 'Be My Baby' and 'Rock Out', actually that was the last one I heard before leaving the festival grounds tired and wasted.
Rating

Music: 7
Performance: 4
Sound: 8
Light: 8
Total: 6.4 / 10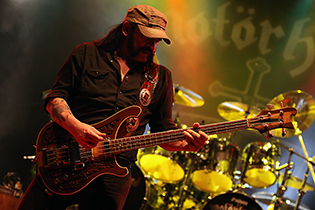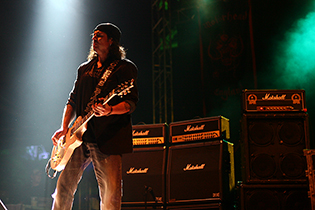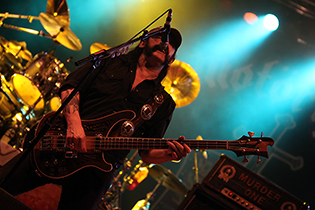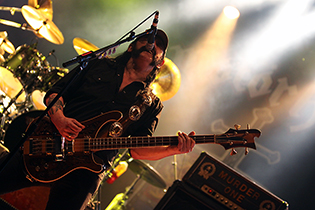 So, the first Devilside Festival had come to an end for us. For the next time though the organizers have to improve some things and might consider changing the location! If that thing would have been sold-out I could swear it would have become a disaster. The drinking situation already was one. If you're lucky you only had to wait 20 minutes for one. I was told some had to wait 45 minutes and something like this mustn't happen on a festival, especially at such temperatures and shrink the line-up next time would be an idea worth thinking about as well. Would make everything less stressful for everybody! I sincerely hope some of the expressed critics are being taken seriously, so we can all have a great second festival together next year for the second issue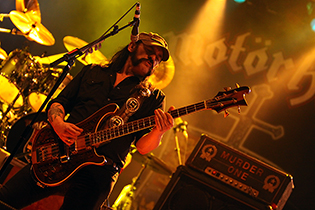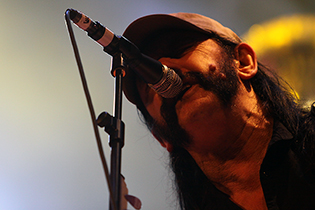 All pictures by Marcus Nathofer
{jos_sb_discuss:18}