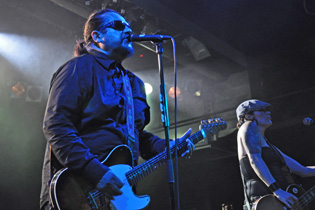 Backstage Werk, Munich, Germany
3rd and 4th July 2009
Backstage Open 2009 Day 1: Hassliebe, Benzin, The New Black, Tito & Tarantula

This year, the "Backstage Open" took place once more. Actually, it should become an open air festival, but the repeatedly bad weather arranged the organizer to move into the Backstage Werk. Because the bands could play longer indoors, the beginning times also got rid conformist and it started on the first day at 7:30 PM.
Hassliebe

HASSLIEBE is a newcomer band which was founded in 2006 close to Augsburg, but already the band has played more than 100 concerts. Who taps on account of the band name rather on sombre sounds, is completely quite wrong: They play a hard and violent style mix of Metal and Punk Rock, however, they also persuade with softer sounds; all the same what they play, it sounds always refreshing!
http://www.hassliebe.de/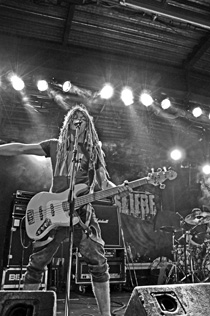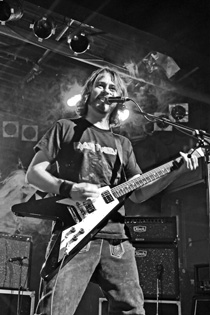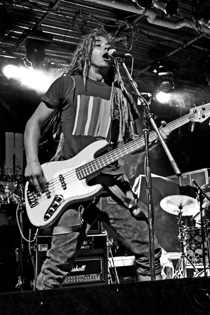 Music & Performance

As the first band in this evening HASSLIEBE appeared on stage. The band consists of singer and bassist Daniel Frisch, Manuel "Kurt" Gläser (guitar) and drummer Klaus Müller. For a short time they were supported by a brass section. Unfortunately, only approximately 250 people found the way to the Backstage in this evening, hard to say what the reason was, maybe it was based on the weather. Right at the beginning only a few people were there bit those who were present were into it with body and soul. HASSLIEBE sang in German and partly in Bavarian. The origin of HASSLIEBE cannot be denied thanks to leather trousers and dirndl. Also titles like the 'Loamsiader Blues' or 'Muhackl' in Bavarian dialect made it clear to the listener: Here are real Bavarians at work - and this really well...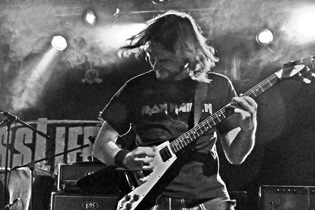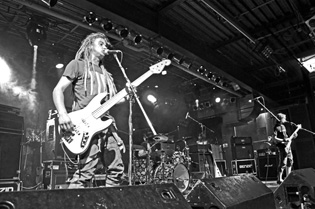 Setlist

01. Hört Ihr mich
02. Schöne neue Welt
03. Stop die Zeit
04. Niemandsland
05. Ein Herz in mir brennt
06. Wie ein Märchen
07. Loamsiader Blues
08. Nur Oamoi
09. Muhackl
10. Schwarzer Engel
Rating

Music: 7
Performance: 5
Sound: 6
Light: 5
Total: 6 / 10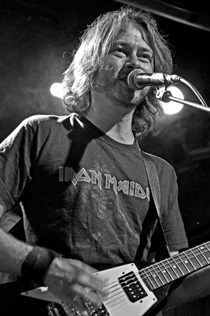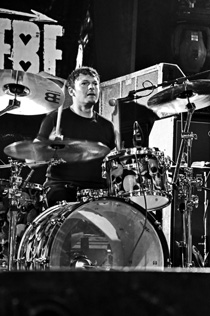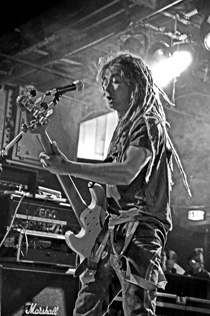 Benzin

Already in 1996 the Ulmer Punk Rock band BENZIN was founded. They have published albums in 2006 and 2008, the last one with a new record company and a third one should soon follow.
http://www.meinbenzin.de/
Music & Performance

As second band, BENZIN let it crash really violently after a short rebuilding break. Kalle Karacho (guitar/voice), Maitre Mich (bass/voice), Hutti (drums/voice) and Andrew Gonzales (guitar/voice) displayed a good serving of humour and got a loose mood into the hall with it and with their German spoken songs. Hardly imaginable that there is so much power behind a relatively unobtrusive outward appearance!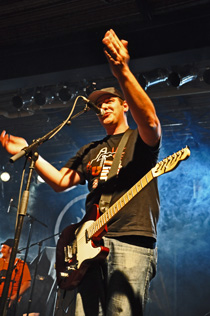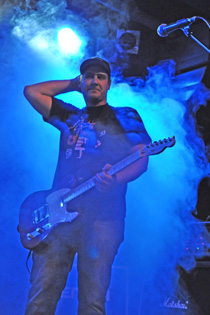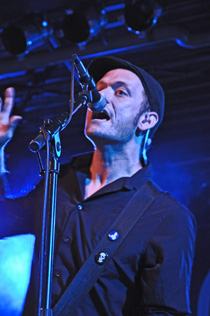 Setlist

01. Auf los geht's los
02. Tanzen
03. Cottbus im Regen
04. Kinder von Benzin
05. Digital sein
06. Wir sehen uns wieder in der Hölle, Baby
07. Maradona
08. Laut
09. Tijuana
10. Ton
11. Sonnenaufgang
Rating

Music: 7
Performance: 7
Sound: 6
Light: 6
Total: 6.7 / 10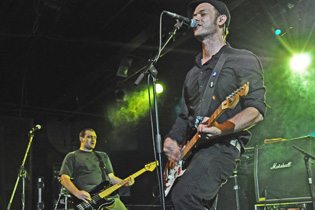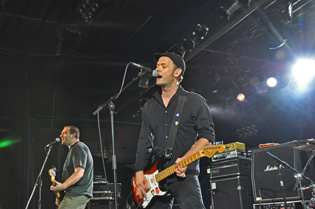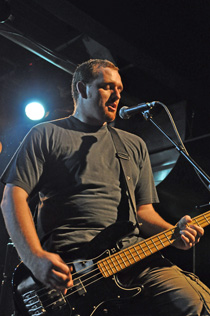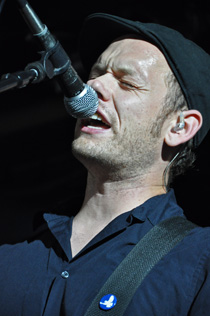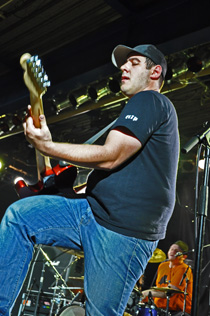 The New Black
THE NEW BLACK come from around Würzburg and have published their debut album 'Why I Burn' in January, 2009. Nevertheless, the band members are no music novices, they played already in bands like Abandoned, Sinner, Runamok and MCF.
http://www.myspace.com/thenewblackofficial
Music & Performance

To the song 'The Unknown Stuntman', Christof Leim (guitar), Fabian Schwarz (guitar), Markus Hammer (vocals), Günter Auschrat (bass) and Chris Weiss (drums) entered the stage. Their presentation sounded like traditional Rock not at all, but more like fresh, new and catchy Hard Rock. It was a coloured mixture of Metal, Classic Rock and with the 'Ballad of Broken Angels' a certain Southern Rock feel was brought into the now a little bit better filled hall. They were, by the way, the first band of the evening which has sung in English. After this experience I think we can be curious about the future output of THE NEW BLACK.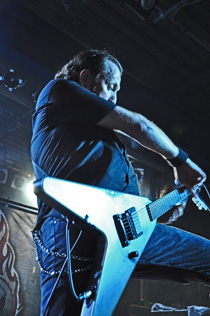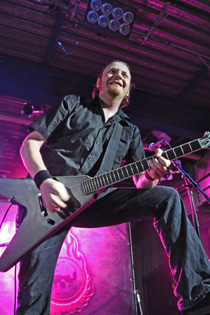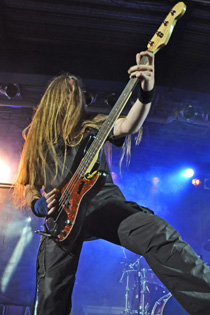 Setlist

01. Why I Burn
02. More Than a Man
03. Simplify
04. Drive
05. Welcome to Point Black
06. Love Is Blu
07. Ballad of Broken Angels
08. Coming Home
09. Everlasting
Rating

Music: 7
Performance: 8
Sound: 7
Light: 6
Total: 7.2 / 10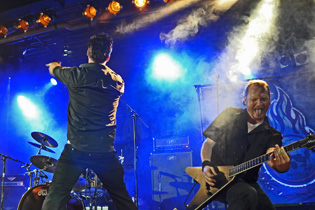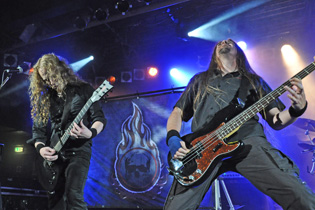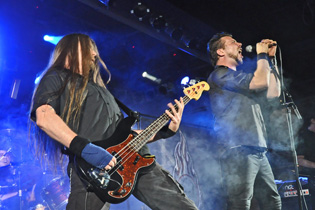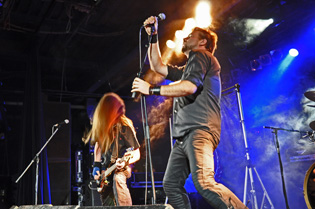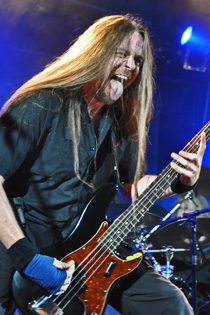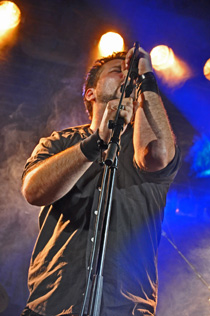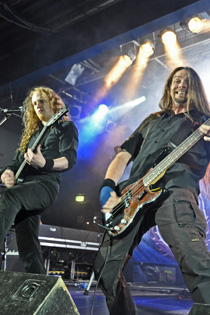 Tito & Tarantula
The US-American Rock band TITO & TARANTULA already exists since 1992. All around the world, the band around the Mexican foundation member Tito Larriva was known for the movie 'From Dusk of Till Dawn' as musicians and actors. Up to now they published five albums - 'Back into the Darkness' is their newest one.
http://www.titoandtarantula.com/
/
http://www.myspace.com/titoandtarantula
Music & Performance

It doesn't get any cooler: After a renewed rebuilding break it was time for Tito Larriva (voice/guitar), Steven Medina Hufsteter (guitar), Lucy LaLoca (bass) and Rafael Gayol (drums) to enter the stage.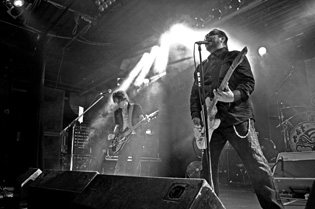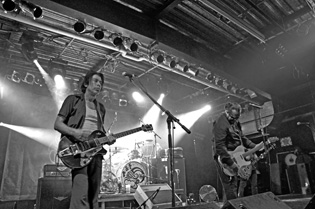 A gloomily seeming, dynamic mood fulfilled the smoke-waterlogged air and the spectators probably felt like being in the Titty Twister, the bar known from 'From Dusk of Till Dawn'! Hence, the probably best known songs of TITO & TARANTULA, 'After Dark' and 'Angry Cockroaches' were not being missed of course during their show. The mood reached yet another climax as Tito asked the audience to enter the stage during 'After Dark' to perform the legendary "snakedance" - what some also did right away. After some additions the evening which had to offer anything for every rock fan finally came to an end and we could be curious what would happen on day two of the festival…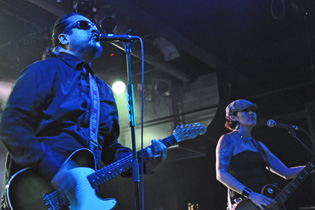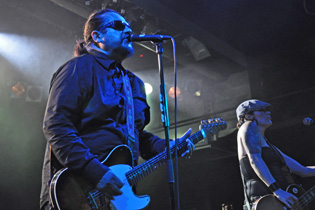 Setlist

01. In my Car
02. Effortless
03. End of Everything
04. Torn To Pieces
05. Machete
06. Murder
07. Pretty Wasted
08. Motorcycle Girl
09. Flor De Mal
10. Crime and Shame
11. Monsters
12. Clumsy
13. After Dark
14. Strange Face of Love
15. Dust and Ashes
16. Angry Cockroaches
---
17. Hombre Secreto
18. Come Out Clean
19. La Bamba
20. This House
21. Anarchia
22. Pistolero / Forever Forgotten
Rating

Music: 8
Performing: 8
Sound: 8
Light: 6
Total: 7.7 / 10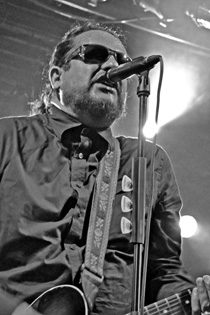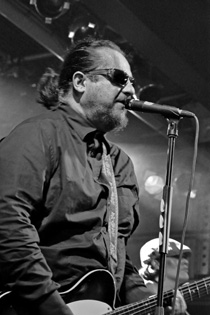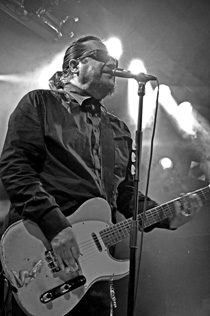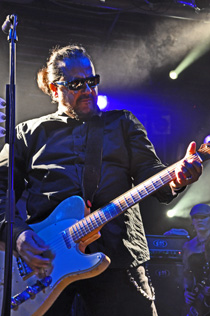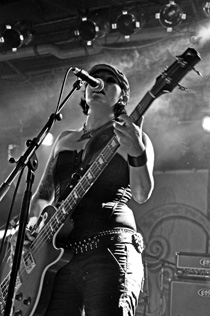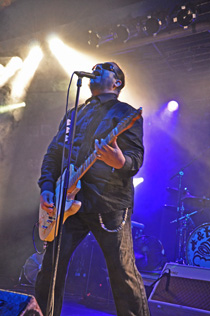 All pictures by Erika Knepper
{jos_sb_discuss:18}