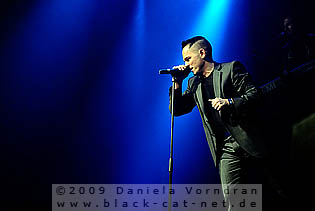 Expo, Waregem, Belgium
24th - 26th July 2009
Gothic Festival 2009 Day 1: And One, Vomito Negro, Diary of Dreams, Zeromancer, KMFDM, Noisuf-X, Rotersand, Ashbury Heights, Santa Hates You, FabrikC, Psy'Aviah, Twenty Six Tears

For the fourth time, the Black Cave crew invited to Waregem's Gothic Festival and Reflections of Darkness followed the call again. It is always a big pleasure for us to be part of this small festival with its familiar and friendly atmosphere and a usually great line-up. This year's billing also had great names like Sunday's headliner GARY NUMAN to offer. The first festival day was highlighted by performances of AND ONE, VOMITO NEGRO, DIARY OF DREAMS and several great bands more.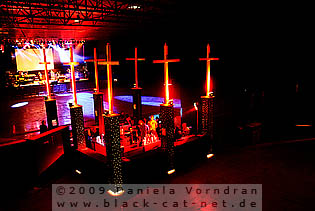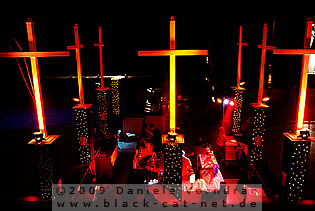 Twenty Six Tears (Club Stage - Sebastian Huhn)

Following the break-up of her former band CAINE, Reagan Kirkbride formed her own band with TWENTY SIX TEARS, who started developing their own sound for the following months. The first album 'Let's Split Up, It's Safer' is available since October 2008. The band consists of Reagan Kirkbride (vocals), Floch (guitar) and Daniel Caron (bass).
http://www.myspace.com/twentysixtears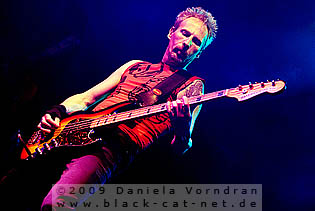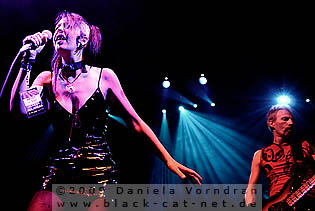 Music & Performance

Actually, we were expecting a band with the complicated name AHRAYEPH. But instead a guy from the crew came out on stage and said they won't be performing and that as a replacement they had the Belgian act TWENTY SIX TEARS bringing a compound of synth, electronic drums and guitars coupled with horror-inspired lyrics. The first song actually cited the Freddy Krueger nursery rhyme and other titles carried names such as 'Generation Fright' or 'Spooky Graveyard'. Pretty typical stuff so to say! Stage action hasn't been ground breaking and the singer's voice wasn't too much of a pleasure to listen to either. However, she had a bit of a cold as she told us and that's pretty much a good excuse, I think. So, in summary, it was nice but not more!
Rating

Music: 5
Performance: 4
Sound: 7
Light: 7
Total: 5.3 / 10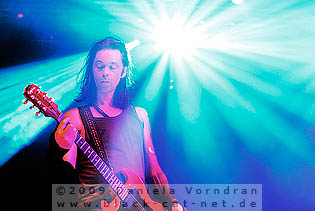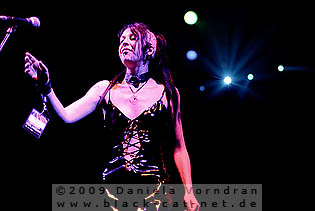 Psy'Aviah (Main Stage – Peter Smets & Katrin Renner)

The Belgian friends Emélie Nicolaï (vocals, lyrics), Yves Schelpe (machines, vocals, lyrics) and Kristof De Clerck (guitars) founded the Progressive Electro Rock project PSY´AVIAH in 2003. In the same year, the trio won the demo poll of the popular Belgian radio station Studio Brussels and went on touring Europe. The debut album `Creationism´ was released in 2007; the second full-length recording `Entertainment Industries´ followed up in August 2008. PSY´AVIAH's style features sensual female vocals as well as dark EBM beats and forceful Industrial Rock.
http://www.myspace.com/psyaviah
/
http://www.psyaviah.be/news/index.html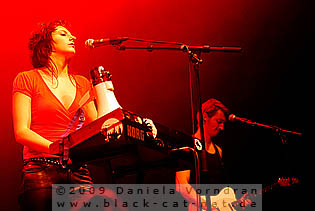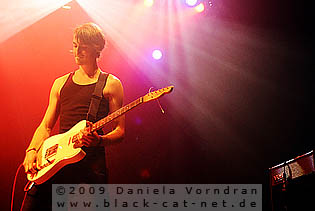 Music & Performance

PSY´AVIAH opened the main stage of the festival in a hall not even filled to a quarter of its capacity but didn't let that matter, it was early Friday. Starting with their usual sound of (dark) electro the first feet started to come loose from the ground and before you knew it, the first people were spotted dancing only one hour into the 2009 edition of the Gothic Festival. On the other hand not much moved on the stage, all being quite static with singer Emélie only moving away from the keyboard once to end up standing in a sea of feedback ruining the song. The use of a megaphone for effect later on did not really change a lot to this. If PSY´AVIAH did one thing it was to set a good mood for a festival with a quite good execution of their tracks, warming up the people for the upcoming 3 days of the festival.
Rating

Music: 8
Performance: 7
Sound: 7
Light: 8
Total: 7.6 / 10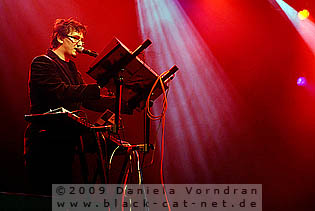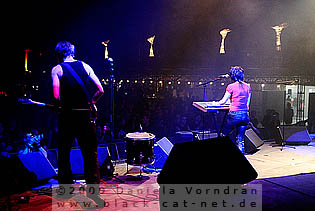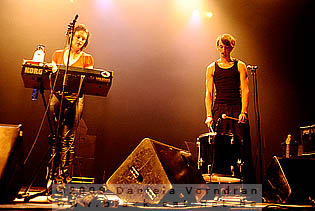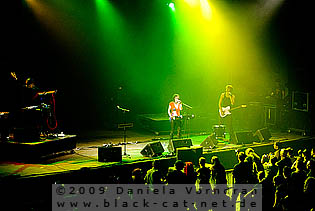 FabrikC (Club Stage - Sebastian Huhn)

The electro project FABRIKC rose out of the mind of Thorsten Berger and was given life in 2003. End of 2004, he self-released the EP 'Leidensweg' followed by the debut album 'Farblos' in 2005. One track off the album 'Der zweite Tod' was sent as a club promo to DJs and entered the DAC charts and peaked at #14. In 2005, he played on smaller festivals and as support for various acts. That was also the time when he signed his record deal with ProNoize who then released the first "official" album 'Gleichstrom' in October 2005. 'Impulsgeber', released in October 2007 is his most recent album.
http://www.fabrikc.de/
/
http://www.myspace.com/fabrikc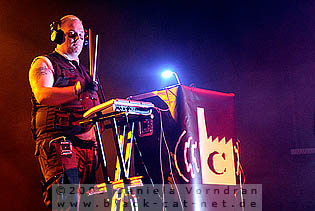 Music & Performance

OK, what am I supposed to write you about this? Frankly, there wasn't too much going on stage. We had two guys behind their tables, one banging on his e-drums and the other one twiddling the knobs and moving behind the synth most of the time. However, he left them couple of times to do some movements. That's pretty much it! The music was quite a harsh industrial type with no vocals but a lot of movie samples - and extremely danceable! Perfect fodder for the crowd going down to the hard beats at high volume! So, the music had served its purpose very well, I guess. For me, it wasn't that exciting.
Rating

Music: 3
Performance: 3
Sound: 7
Light: 6
Total: 4.1 / 10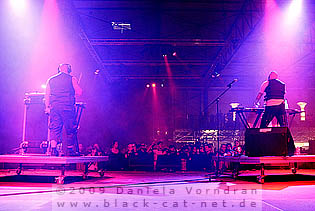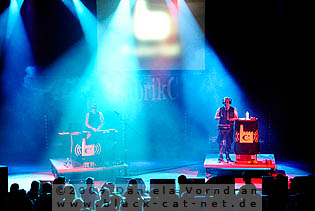 Santa Hates You (Main Stage – Sebastian Huhn)

As strange as the name sounds as strange is their appearance if one takes a look at the photos on their MySpace profile. The mastermind of this project should be fairly familiar to the creatures of the dark music scene. Peter Spilles (Project Pitchfork) created this project in 2007 with a woman called Jinxy. The debut release goes by the name of 'You're on the Naughty List' and was released by the end of October 2007. On the WGT, the project celebrated its live debut and ever since then played a string of shows mostly at festivals.
http://www.myspace.com/santahatesyou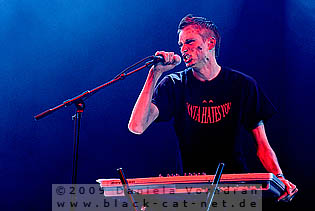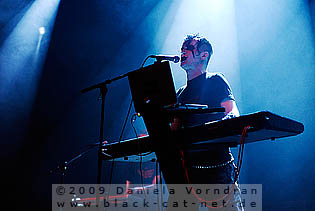 Music & Performance

Time for some fun now with the Peter Spilles side-project SANTA HATES YOU I had seen a good month before on the Blackfield Festival in Germany. As usual, he brought Jinxy, an eye-turner for the male audience, wearing a red-black corsage and the Gregsen, actually a member with REAPER. All together, they pulled an energetic show for a crowd that has been not as responsive as witnessed during the FABRIKC gig earlier, albeit still not abysmal. Just could have been a bit more action for my liking. The band definitely had a lot of fun on stage that's for sure! They're pretty much rocking their keys and synths and it was Peter Spilles striking all the attention. Of course, he didn't! I think never before I've seen so many guys constantly looking in the same direction. All eyes laid on Jinxy and her movements with a special emphasis on her head banging. Even that looks sexy. Musically, it was still the same blend of danceable electronic beats and a few melodies with alternating vocals by Peter and Jinxy. Cool Gig!
Rating

Music: 7
Performance: 7
Sound: 7
Light: 7
Total: 7 / 10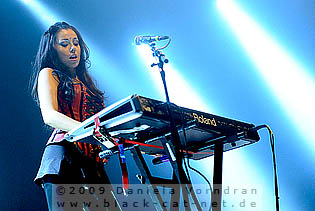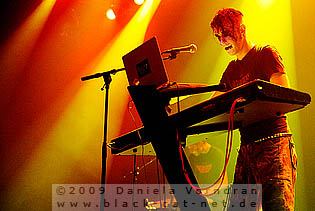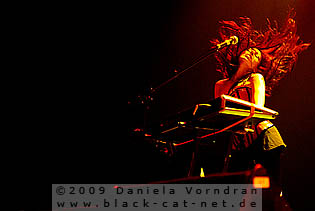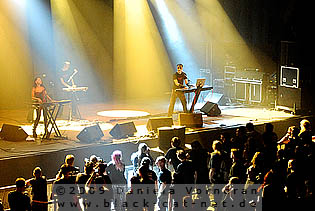 Ashbury Heights (Club Stage - Sebastian Huhn)

Back in 2005 when the Swedish duo released its first demo, the feedback was absolutely nothing and if it weren't for German label Out of Line contacting them after getting their hands on the second demo and signing them with one of the fastest deals in label history (It took them merely an hour) this excellent act probably had never come to our attention. The debut album 'Three cheers for the newly dead' released in 2007 was bombarded with positive critics; a fate the follow-up EP 'Morningstar in a Black Car' would have to share. Sad news came in November 2008 on the last concert of the Out of Line Festival Tour as second member Yasmine announced she would be leaving ASHBURY HEIGHTS to follow her own way. A new singer needed to be found and it was found quite quickly in Kari Berg whom the band had already met during the photo shoot for the last EP. ASHBURY HEIGHTS is Anders H (lead vocals, programming, synthesizers), Kari Berg (lead locals) and Johan Andersson (live keyboards).
http://www.myspace.com/ashburyheightsmusic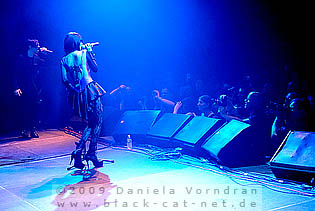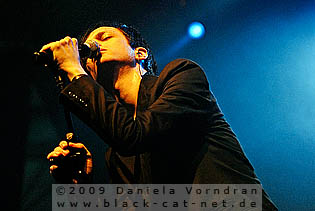 Music & Performance

That was one performance I was already looking forward to, especially with the project now having a new singer with Kari Berg now handling the vocal duties together with Anders and again they brought their "Metal" keyboard / synth guy with them. It still feels kind of weird to see that guy on stage with an electronic project. But let's start with the music and 'Monsters' which made the opening for the show. Catchy, and with fine melodies as is with all the stuff that comes from ASHBURY HEIGHTS! Now, you might ask how Kari was doing; well, pretty good actually. She has a more sonorous voice which complements Anders' pretty well if you ask me. If I think of the last performance there's been somewhat of an improvement to the current one, meaning that it is not looking so damn that uncoordinated as last time.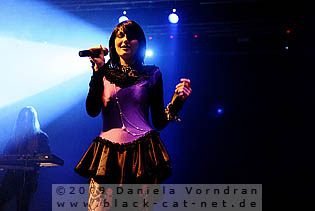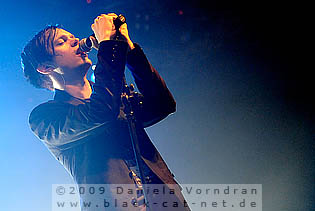 They have to make some improvements after all and at some points into the show it seemed they didn't feel comfortable up there and at times looked a bit lost. That was in stark contrast, however, to the rest of the time when both communicated with the audience a lot, animating them to clap and if it only was for them to get the rhythm as they had to fight with a bit of a monitoring problem during the gig. Having said that, everything went flawless and there was an exquisite mood amongst the audience, celebrating the chilly 'Smile', 'Spiders' or 'Eternity at an End'. Big credit here for Anders' vocal performance! Was incredible! So, all in all we can say it was a very nice performance!
Rating

Music: 8
Performance: 7
Sound: 7
Light: 6
Total: 7.3 / 10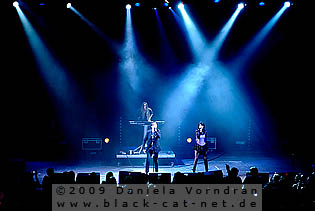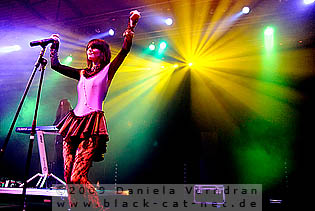 Zeromancer (Main Stage – Sebastian Huhn)

Rising from the ashes of their previous bands, Kim Ljung and Erik Ljunggren gave birth to ZEROMANCER in 1999 to create something that should be much more different. First time was spent with the composition of new songs. Soon the line-up was completed with a drummer, singer and guitarist and the search for a producer could start. Not as easy as you might think it is, but in the end they found the right one with James Saez and soon the debut 'Clone your Lover' was finished. In the following time they grew to a regarded live act with festival gigs at the M'era Luna as well as small club tours. After the less successful album 'Eurotrash', ZEROMANCER tried out a different path on their third album 'Zzyzx', playing with a more catchy approach. With their fourth album 'Sinners International' released in February 2009, they're going back to their dark industrial rock roots. ZEROMANCER is Alex Møklebust (vocals), Kim Ljung (bass, vocals), Noralf Ronthi (drums), Lorry Kristiansen (synths) and Dan Heide (guitar).
http://www.zeromancer.com/
/
http://www.myspace.com/zeromancerzentral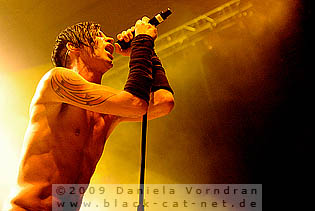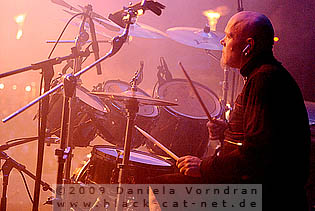 Music & Performance

Belgium loves ZEROMANCER! That could be the brief summary of their show at the Gothic Festival; it just wouldn't do it justice and wouldn't be fair against the guys. So let's start at the beginning with 'Sinners International', the sounds start circling, everything's still pretty calm. But as soon as singer Alex appears, the mood is like turning upside-down in the fraction of a second. The audience is immediately caught inside his web and he's not letting them go anymore. Picture it as an invisible connection which enables him to have them do exactly what he desires. I've seen a lot of concerts by now but seldom have I witnessed something on a level like this. The second track on the list is another one from the new album, called 'Doppelgänger, I Love You' and Alex' jacket already was missing and with the third song 'Need You like a Drug', he'd be half-naked. Much to the likes of the girls, I suppose! The track is a real axe and if anybody was still standing thus far they were dancing by now and contributing to upping the temperature in the hall significantly.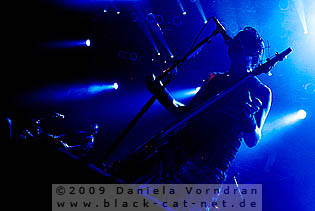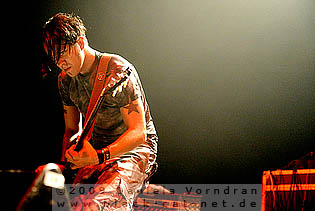 The set continued with unrelenting energy and found its preliminary peak with 'Clone Your Lover'. You might think other band members came off a little short in my review so far. Well, now I'll try to make it up to you, it's just a hard task to really focus on anyone else with such a front man. If I look at guitarist Dan Heide, he always had me thinking he was in some kind of trance. Seemed to be so far away, whilst doing his fluid movements but his kick-ass riffs proved he's absolutely there. Kim's bass as lazy as it might hang down is a weapon he's firing out deep bass waves and is doing a good job as animator as well. A treat for DEPECHE MODE fans and the initial spark for the band members to make music was the cover version of DEPECHE MODE's 'Photographic'. But the closer 'Dr. Online' had every restraints fall amongst the band and the audience which became a sea of twitching, moving bodies. After the performance had ended, the band was excised, the audience was and me too and that's how it's got to be. A mind-blowing show!
Setlist

01. Sinners International
02. Doppelganger, I Love You
03. Need you like a Drug
04. Clone Your Lover
05. Little Tragedy
06. It sounds like Love (But it looks like Sex)
07. Stop the Noise
08. Ammonite
09. Photographic (Depeche Mode Cover)
10. Dr. Online
Rating

Music: 9
Performance: 9
Sound: 8
Light: 7
Total: 8.6 / 10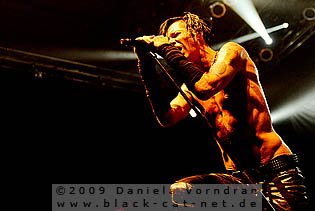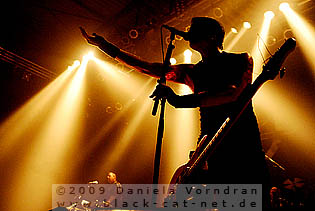 Noisuf-X (Club Stage – Peter Smets & Katrin Renner)

NOISUF-X is a homonymous Industrial / Electro brainchild of mastermind Jan L. who is also responsible for the project X-FUSION. Jan L. started with Acid House tracks and a C64 in 1988. Three years later, he finished the first X-FUSION demo tape `Syndromic Noise´ and extended his equipment more and more. In proportion to that, his darker and rougher style displayed more EBM influences. After he had produced ten albums on his own, he signed a contract at Scanner / Dark Dimensions in 2003 and released the album `Dial D for Demons´. Inspired by a track´s title on the album, the project NOISUF-X was born and signed at Pronoize / Dark Dimensions. The first long-player `Antipode´ (2005) was followed up by the EP `Tinnitus´ (2006). `The Beauty of Destruction´ (2007) even reached #2 of the German DAC-charts. This year, NOISUF-X released the recent album `Voodoo Ritual´.
http://www.noisuf-x.com/
/
http://www.myspace.com/noisufx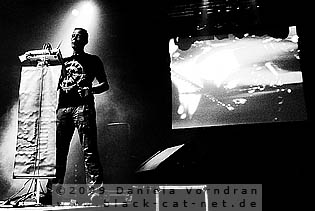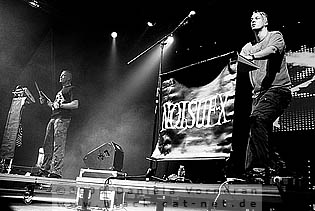 Music & Performance

NOISUF-X got on the stage behind their drum pads and synth-setup in a glow of fluorescent lights that lit up part of their suits and the drumsticks and equipped with led-lights in the rings on their fingers going thru the beats and samples and well, the usual. For more variation you would needed to look to the screen behind them. Yes it showed ants all the time but at least these ants were displayed with various visual effects: mirrored, quadrupled, pixelated, with optical stars attached to them. But still ants and nothing but ants… However, in the cliché of "save the best for last" the last track of the set was a remix of the new SUICIDE COMMANDO single and with Johan van Roy coming on to the stage, finally switching on the microphone and generally turning this into a mini SUICIDE COMMANDO concert - basically lifting the overall performance by a few, needed, levels.
Rating

Music: 7
Performance: 7
Sound: 8
Light: 7
Total: 7.2 / 10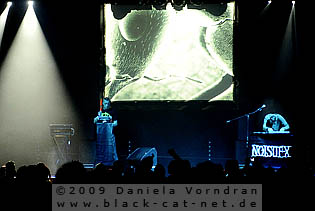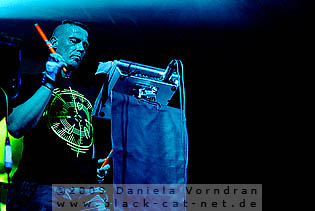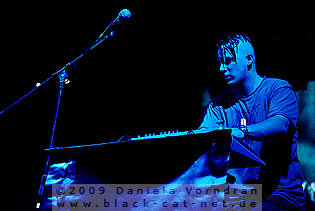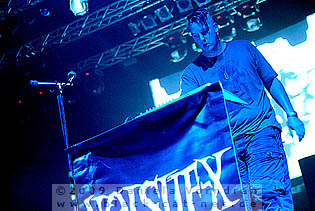 KMFDM (Main Stage – Sebastian Huhn)

KMFDM's foundation can be traced back to 1984 for a performance at the opening of an exhibition of young European artists at the Grand Palais in Paris. Some time later Raymond Watts and EN ESH would complete the line-up and they release their first three albums solely on European labels before signing to the famous Wax Trax! Brand and subsequently touring as support of THE MINISTRY and later as headliner in support of their sixth album 'Money' in 1992 due to the great feedback they received on the tour with THE MINISTRY. Another four quite successful albums will be released before KMFDM disband in 1999 and send an 'Adios' in the form of a farewell album of the same title. The break-up, however, only was a temporary affair and in 2002, KMFDM reformed with a line-up comprising part new and part former collaborators. The band's return was also marked with the release of a new album called 'Attak' in the same year. The most recent and sixteenth album 'Blitz' comes out in the year of the band's 25th anniversary in 2009. KMFDM is Sascha Konietzko (vocals, synths), Lucia Cifarelli (vocals, synths), Andy Selway (drums), Jules Hodgson (guitar) and Steve White (guitar).
http://www.kmfdm.com/
/
http://www.myspace.com/officialkmfdm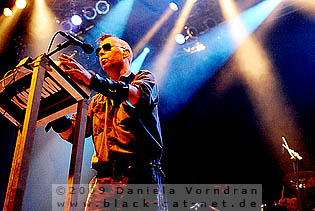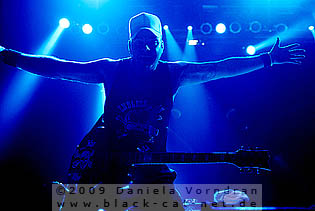 Music & Performance

"You guys suck!" screams Lucia some songs into the set and was she right? Hell, yeah she was! You have people dancing to all kinds of dull club stuff everywhere. I mean, you can see that in many clubs. But if there's such big name as KMFDM firing away one bomb after the other, then it's just a few little groups in the crowd and the rest is for the most part standing around? Or to put it with COMBICHRIST "What the fuck is wrong with you People?" Anyway, let's move on to what's happening on stage, where the main points of interest, Lucia and Sascha Konietzko, take places behind podiums equipped with synths and with the help of two guitarists and a drummer unleash a fireworks of energy. Starting with the opening track 'D.I.Y' and the KMFDM typical blend of industrial electronics and guitars, which I sincerely hoped would have a greater impact than the one I just described to you above.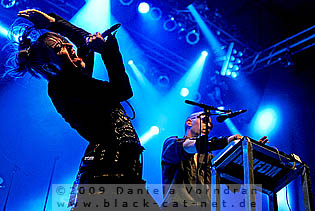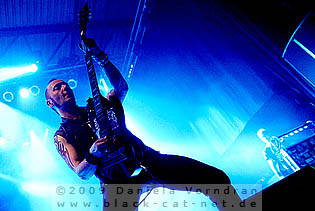 Well, it didn't damper the fun the band had with their music on stage. Jules and Steve rocked with their guitars, while Sascha and Lucia twiddled knobs or delivered vocals. Both did mostly stay behind their podiums but for one or the other song, especially Lucia left her place to deliver a sexy performance between them. A look here and a movement there and she could be sure to have all the attention focused on her. The rest of the set, they played in Waregem proved to be a cross-section through the discography with e.g. 'Son of a Gun' off the 'Xtort' album, 'Attak' or 'Saft und Kraft' or the club smasher 'Megalomaniac'. KMFDM laid down a pretty good performance in Waregem. Just for the next time I'd wish for some more enthusiasm in the audience!
Rating

Music: 8
Performance: 7
Sound: 7
Light: 6
Total: 7.3 / 10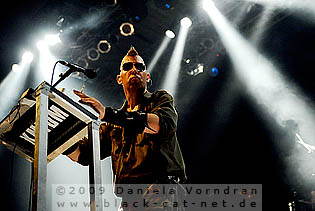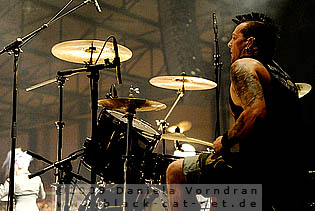 Rotersand (Club Stage – Peter Smets & Katrin Renner)

ROTERSAND is a German Electro band the producer Gun and the THE FAIR SEX-member Rasc formed in 2002. They had met due their collaborations on various projects and then emerged the band's sound by connecting brute beats to playful electronic sounds. While being on "Legends United Tour" in 2002, they were completed by the Techno producer Krischan E. Wesenberg who became the third man of ROTERSAND. In 2003, the threesome released the EP `Merging Oceans´ that straight entered the German Alternative Charts. Meanwhile, ROTERSAND can look back on three successful albums and many live performances that attracted a big following.
http://www.myspace.com/rotersand
/
http://www.rotersand.net/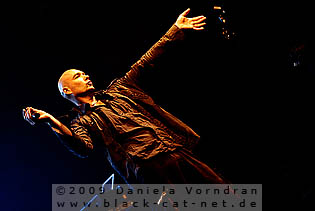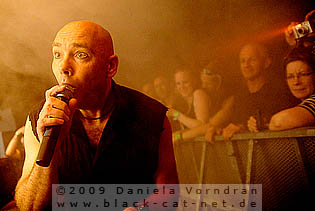 Music & Performance

When ROTERSAND entered the stage not many people seemed interested in the band - just staring at those three guys on the stage like cows looking at a train in the distance... Not that the guys on stage didn't try, but it took singer Rascal to jump into the crowd and start to interact with the people urging them to move and have fun for this show to get on the road. On stage the band opted for a live mix of the songs by DJ Krischan with additional noises on guitar or keyboards by Gun. Not a bad choice but it did not leave any room between the individual tracks for a break or even some applause from the people watching the show. Sadly the DJ mix not going that perfect all the time and with the power dropping on the mixer first and keyboard setup later it all had its little hick-ups. But nothing that some enthusiasm did not fix! To conclude, it took the band quite some effort to get the show going at a good pace and they got there in the end... The wait for ROTERSAND's 4th visit to Belgium will be too long for quite some people.
Rating

Music: 7
Performance: 8
Sound: 7
Light: 7
Total: 7.3 / 10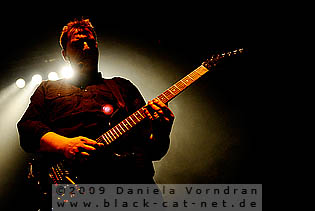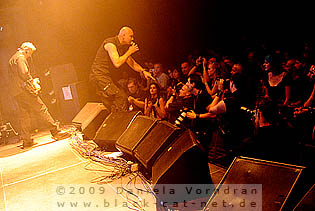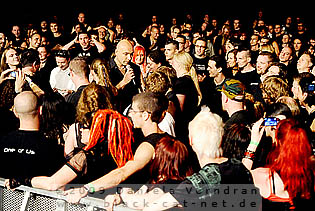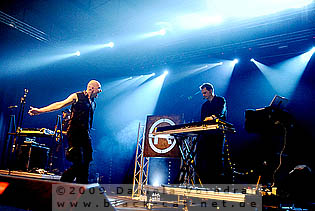 Diary of Dreams (Main Stage – Sebastian Huhn)

Since its foundation in 1989 by Adrian Hates, this project or better band (project doesn't do it justice anymore) mesmerizes a continuously growing international following with beautiful and at times fragile tunes, whose central element was and still is the deep melancholy. It's hard to describe what makes this music so intriguing, you just have to experience it yourself on one of their intense live shows or on one of the various album the band has released over the time with 'Nekrolog 43' being the latest one, released in October 2007. 2009 marked the turn of a new chapter with the release of the highly anticipated ninth studio album named (if) on 13th March 2009 massively promoted with countless shows taking place in nearly every part of the world. Stops on this tour were for instance in the UK and Russia which the band had been touring several weeks and in October the band finally travels through their home country together with three more bands. Don't miss it! DIARY OF DREAMS are Adrian Hates (vocals, guitar), Gaun:A (guitar), D.N.S. (drums) and Torben Wendt (keyboard).
http://www.diaryofdreams.de/
/
http://www.myspace.com/diaryofdreams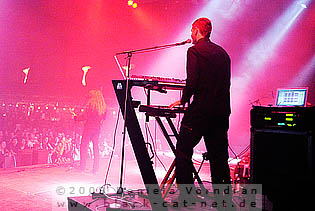 Music & Performance

You might have noticed that our crew has a "little" soft spot for this band and for that matter I'm no exception. They're one of my favourites, however including the show in Waregem; I've just seen them "only" three times. But I intend to catch up on the others here. I was just on the way to the stage when the first sounds of 'The Wedding' already floated through the hall, so I hurried to not miss anything special. This time I chose to take a centre spot in the crowd to get a total view on the stage. Turns out, it was the best decision I could make. With Adrian Hates appearing on stage the loudest of all cheers sounded and the front man and mastermind directly started the action together with his partner in crime Gaun:A, who hardly stood still for a split second most of the set. With 'Chemicals' another well-known favourite followed and as I haven't done that up until now I'd like to say I adore the more powerful, more rocking live sound, which was crystal clear by the way.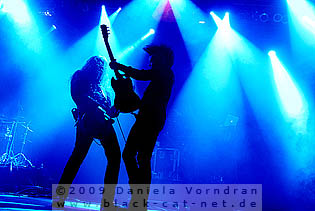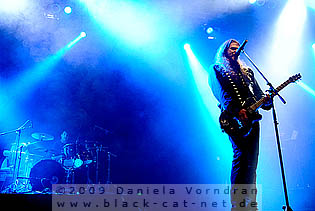 Big compliment to the sound guy for that! An equally big compliment follows for the tremendous light show. You could just stand there and watch it in awe how the stage got illuminated in different colours by a plethora of spots and stuff, while Adrian and Gaun:A moved through this kaleidoscope. With 'The Chain' and 'Reign of Chaos' two other energetic songs followed. Especially, I loved the part with Adrian and Torben Wendt, who's on the keys again screamed out the line "Die with me" with an intensity that's hard to explain. For the next few minutes it got a little calmer for it was time for the 'King of Nowhere'. One of my absolute favourites on the new album with its longing and plaintive soundscapes! Adrian put away his guitar then and focused on singing, using the entire width of the stage and interacting with the audience who was more than willing to comply with his wishes. For 'Butterfly: Dance!' this meant collectively singing the "Hello!" It was just a pity; Torben wouldn't join Adrian at the front this time but you can't have everything right? After another hardy pack of powerful rhythms and hard riffs with 'The Curse', 'Poison Breed' and 'The Plague', 'Kindrom' was chosen to be the grand finale and squeezed the last out of the audience, dancing and clapping the whole time.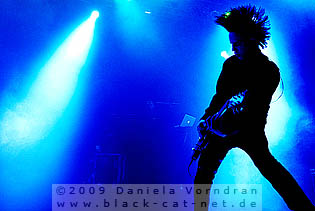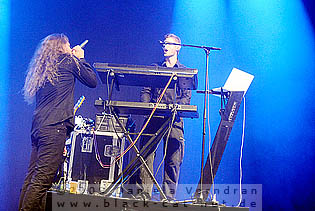 Really the last? No, they didn't want to let them go already and called them back for the final song, which was 'Traumtänzer' and this meant it was sing-a-long time! Usually with the help of the piano but even though Torben was playing, we heard nothing but the voices singing the chorus for Adrian in unison when the time had come. Turns out many felt this was much more of an intense experience than the other variation. Under huge applause, they're now leaving the stage and many excited and many happy and amazed people.
Setlist

01. The Wedding
02. Chemicals
03. The Chain
04. Reign of Chaos
05. King of Nowhere
06. Soul Stripper
07. Butterfly: Dance!
08. The Curse
09. Poison Breed
10. The Plague
11. Kindrom
---
12. Traumtänzer
Rating

Music: 9
Performance: 9
Sound: 10
Light: 10
Total: 9.3 / 10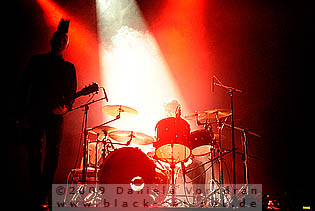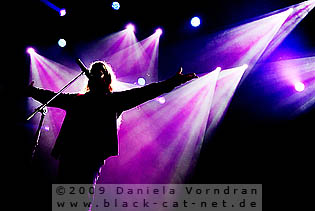 Vomito Negro (Club Stage – Sebastian Huhn)

Incepted in 1983, VOMITO NEGRO built themselves a legendary reputation in the years to come, coinciding with a great following. The band name is Latin for 'Black Vomit' which is a phenomenon that arises in the last stage of the disease yellow fever, when the patient throws up his putrefied intestines and ultimately dies. Of you take a deeper look into their discography starting with the very first self-titled release back in 1985 and rolling forward to discs such as 'Dare & More' (1987) or 'Schock' (1989) you can hear their music always was in a constant state of flux never sticking to any particular formula or following one scheme. After 'Fireball', an album mastermind Gin Devo wasn't really content with, VOMITO NEGRO was put on hiatus. In 2008, he decided that it was time to re-animate the project and together with new member Borg, he's currently working on a new album out soon on Out of Line label.
http://www.myspace.com/vomitonegro1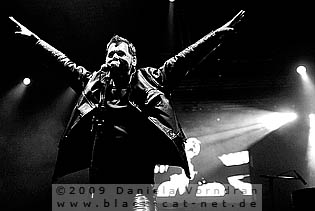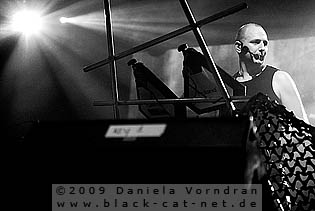 Music & Performance

Belgian people are likely to deem this as a severe sacrilege, but so far I haven't been dealing closely with the music of one of Belgians institutions VOMITO NEGRO before. That is not to say I didn't like it. Just didn't find the time thus far, but it's never too late right and this was a perfect occasion to take a deeper look into the abyss that is VOMITO NEGRO. First thing striking my attention was a big vintage synth, you know, some of those big boxes from the late 70s, and an oil barrel. If you were taking a look around you could see that the space in front of the stage was pretty packed. Even the gallery upstairs was well-crowded. Looking at the show which started very soon it became obvious that VOMITO NEGRO is not one of these bands that need any shocking make-up or gimmicks (If you need that, attend an AGONOIZE show). It's plain and straight delivery of dark, edgy music that is regardless of its lower BPM count more energetic and powerful than any of those wannabe copycats could ever be. All of this was thrown together with the 'Black Power' in front man Gin Devo's vocals, which were captivating you right away and put you under its spell once they've penetrated your brain.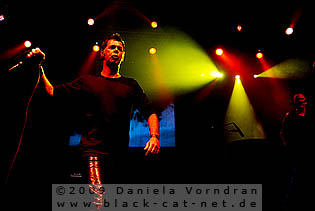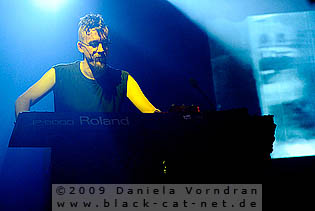 I was so fascinated by the performance that I just noticed almost everybody around me dancing a couple of songs into the set. Supports what I meant earlier, BPM is not everything! The visual backdrop of the show was made by black and white videos, impressively accompanying the songs and creating a vivid and gloomy imagery. The oil barrel I was talking about earlier turned out as alternate drum kit for Gin Devo for adding some additional rhythmic layers, which I found pretty impressive. Some songs that heated up the masses were 'Stay Alive', 'No Hope', 'Shockwave's Coming' and new stuff like 'Black Tie White Shirt' all of which addicted me to the band's music. All in all, this is amongst the top performances on the first festival day and now I'm just as excited as everybody for the new album that'll hopefully be out soon.
Rating

Music: 8
Performance: 8
Sound: 8
Light: 8
Total: 8 / 10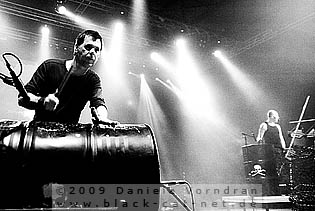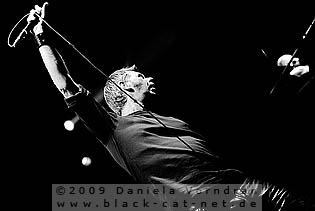 And One (Main Stage – Peter Smets & Katrin Renner)

Due to the debut single `Metalhammer´ (1990) - which has been a club hit up to now - the Synth Pop / Electro formation AND ONE became popular in the German Alternative music scene. At the beginning, the founders Steve Naghavi (vocals) and Chris Ruiz (keyboards) were strongly influenced by EBM heroes such as FRONT 242. Later on, they focused on melodic Synth Pop. Meanwhile, AND ONE released eleven studio albums that offer a combination of German and English (every now and then funny) lyrics, fancy cover versions and danceable Synth sounds. In 1994, the formation released `I. S. T.´ which is considered as its artistic climax. Besides the releases, Steve Naghavi, Chris Ruiz and Gio van Oli (keys) impress their following with lively performances that always guarantee a good mood among the listeners.
http://www.andone.de/
/
http://www.myspace.com/andoneofficial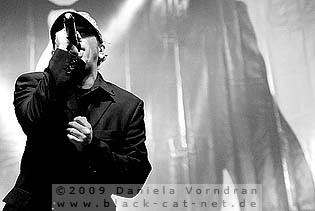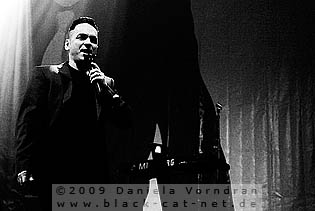 Music & Performance

AND ONE did not bring the big RGB-Led strings to the Waregem stage but instead opted for a smaller black and orange backdrop with the familiar suit-and-tie figure. Starting the show was 'Big In Japan', on an empty stage, in the ALPHAVILLE version followed by the band coming on stage in the dark, starting a couple of verses from 'Time Of My Life' immediately jumping into a higher beat starting the setlist with Steve Naghavi and Chris Ruiz running frantically up, down, left and right on the stage. Something that would be repeated on too many occasions during the set… On the other hand, something that you can take for granted is that when a) AND ONE starts 'Timekiller' and b) Peter Spilles is in the house he will show up on stage. Spilles performed earlier the day on the main stage with SANTA HATES YOU and appeared on the right side of the stage with a cold beer in his hand - starting of some kind of "duet" that quickly progressed into a situation with Spilles and Naghavi of just shouting towards each-other and well, basically having fun.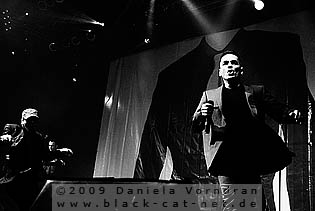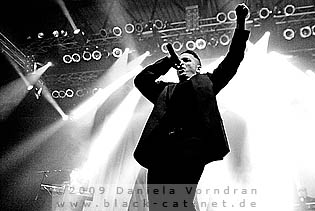 With the show going on, one clearly could recognize the skills that the band has on playing with the public. However maybe some things were taken for granted ending with what could be described as "mild arrogance" doing whatever AND ONE wants and getting away with it at the same time. Ok, it is part of the act the band puts together but still, too much is too much for me. And all of this semi-posing made the set seem a bit uninspiring. Yes, the set had its highlights with 'Military Fashion Show' and the hall really exploded when 'The Sun Always Shines on TV' (A-HA Cover) was performed with tons of energy. But this was sadly enough not a constant. In the end, when you ask yourself if this was a bad performance, the answer is most definitely "No, absolutely not". But could it have been much more? Absolutely!
Rating

Music: 9
Performance: 8
Sound: 9
Light: 8
Total: 8.5 /10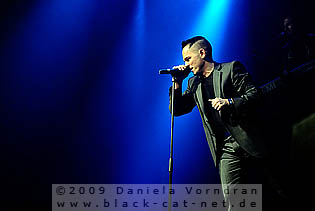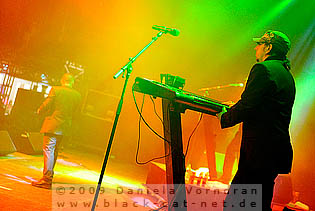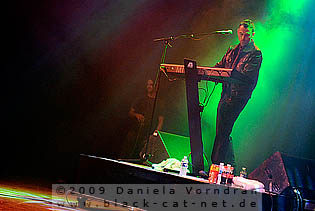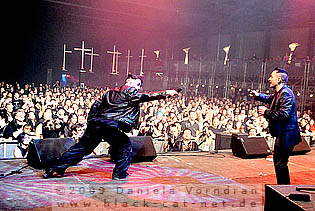 So, with AND ONE's performance, the festival day went towards its end… but no, not totally. There was an after show party running until the early morning hours and we decided to stay a while longer as well, have some chats and beers with friends we haven't seen for a while or people we newly met. Was a very nice and inspiring first festival day and so, we were already looking forward the things to come a lot.
All pictures by Daniela Vorndran (
http://www.vorndranphotography.com/
/
http://www.black-cat-net.de/
/
www.myspace.com/vorndranphotography
)
Written by Daniela Vorndran (common parts and overall editorial), Sebastian Huhn, Peter Smets and Katrin Renner (some band intros)
{jos_sb_discuss:18}