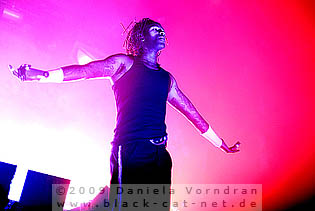 Flugplatz Drispenstedt, Hildesheim, Germany
8th & 9th August 2009
M'era Luna 2009 Day 2 Main Stage: The Prodigy, Subway to Sally, Tiamat, Alexander Veljanov, The Crüxshadows, L'ame Immortelle, Schelmish, Zeromancer, Scream Silence, Leichtmatrose

Against all weather forecasts, also the second festival day remained dry. Seems we were pretty lucky according the festival weather this year… so far. With THE PRODIGY, this day had a special highlight for me to offer. And it is for sure that a lot of people bought only day tickets for Sunday to see this band. But of course there were much more bands for any musical taste on the main stage starting with the surprising act LEICHTMATROSE.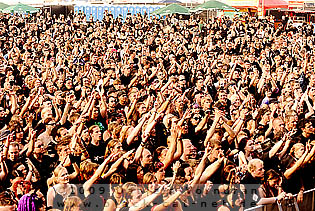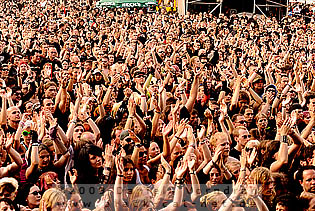 Leichtmatrose (Sebastian Huhn)

Hardly more than two weeks after he set up a presence at the popular social networking platform MySpace, LEICHTMATROSE aka Andreas Stitz was discovered by German musician Joachim Witt, who became his mentor and manager eventually. The first result of that collaboration was the single 'Sexi ist tot' with which he could garner more than just a little success and 3 months later in April 2009, the debut album 'Gestrandet' was released and if you take the time to browse through the reviews you'll see they're generally positive. LEICHTMATROSE is Andreas Stitz (words, melodies, lyrics), Dorian E. (backing vocals), Kay Lehmkuhl (guitar), Jan Richter (guitar) and Carsten Klick (drums). http://www.leichtmatrose.com/ / http://www.myspace.com/derleichtmatrose

Music & Performance
The seaman with his poppy but not simplistic songs and thought provoking lyrics impressed me a lot with his first album 'Gestrandet', released earlier this year. Thus, it was an absolute pleasure to see he had a little slot at this year's M'era Luna. He opened the Sunday at the main stage. A life belt had already been placed on stage, as well as the complete equipment and then, the ensemble stepped on stage and straightway began to proffer us the first song 'Der Mond trägt ein trauriges Gesicht', a dejected, slow song captivating with the pervasive vocal delivery of mastermind Andreas Stitz.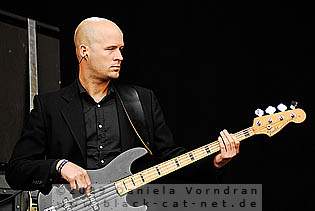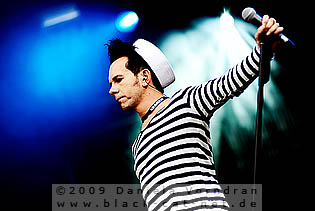 The album's preceding single 'Sexi ist tot' followed it up and confronted the audience with the difficult subject matter of anorexia. The song is admittedly danceable but who would want to do that anyway now? What the audience definitely wanted to do was giving applause after the song was over and they would do that after every of the following three songs. The last of those three was the utterly sad 'Herztransplantation' that once more generated emotions en masse and brought the much too short set to an end. I'm sure that at the M'era Luna he won over a few new fans with his little show and those, who he had already convinced just enjoyed to hear much loved songs live for the first time like me or wanted to experience him again. However, well done! Was a highlight at this early hour!

Setlist
01. Der Mond trägt ein trauriges Gesicht
02. Sexi ist tot
03. Studentenfutter
04. Junge von nebenan
05. Herztransplantation

Rating
Music: 9
Performance: 8
Sound: 9
Light: - (daylight)
Total: 8.7 / 10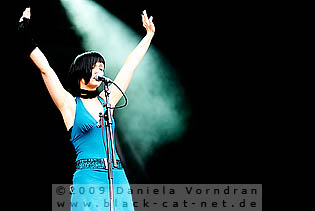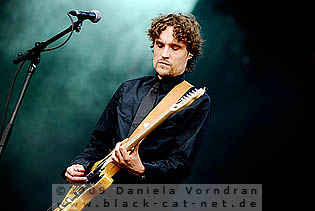 Scream Silence (Cathie Niemann)

Berlin-based SCREAM SILENCE was founded in 1998. Already the first album 'To Die For', released in 1999, became "CD of the Month" at German music magazine Orkus. Due to the success of the first album they were able to tour with the likes of CHRISTIAN DEATH and DREADFUL SHADOWS. The sophomore album 'The 2nd' (2001) and its follow up 'Seven Tears' (2003) became incredibly successful as well with great press reception and spread the name SCREAM SILENCE way beyond Germany's borders. In spring 2004, the band founded its own label Plainsong Records whose first release was the fourth album 'Elegy'. Rolling forward to 2009 they've released seven albums in total and are considered being the spearhead of the so called "Dark Rock" movement. The latest album is called 'Apathology' and hit store shelves in October 2008. SCREAM SILENCE is Hardy Fieting (vocals, keys, synth), Robert Klausch (guitar, acoustic guitar), René Gödde (guitar), Hagen Schneevoigt, (bass) and Heiko Wolf (drums). http://www.screamsilence.de/ / http://www.myspace.com/screamsilencemusic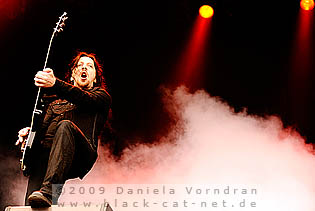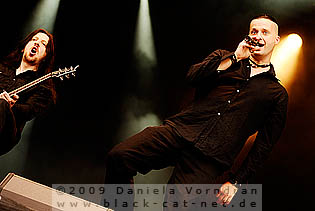 Music & Performance
Still too early, I was looking forward to the Berlin-based dark rockers of SCREAM SILENCE, I've seen already as opener at the main stage years ago. In marked contrast to this mentioned show, the weather now was sunny and dry. For over 10 years, the band around front man Hardy Fieting makes music together, but regardless of line-up changes the band consisting of Heiko Wolf, Robert Klausch, Hagen Schneevoigt and René Gödde formed a unified whole. The rocking 'The Vitriol' opened the set and instantly I was excited by the mellow, deep voice of front man Hardy. The space in front of the main stage filled up quite quickly now and also the second song 'The Harvest' went down very well. Now it's getting even more melancholic with 'Apathy' off the current album 'Apathology'. In spite of their brightness and width, the atmospheric sounds and emotions had a visible, impressing impact on the audience.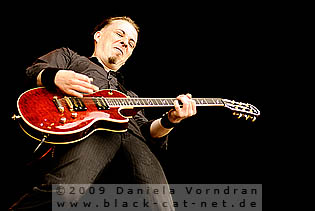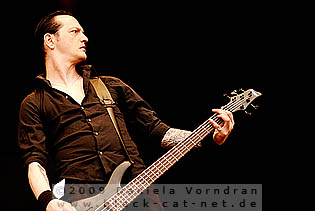 Most of the songs in the set came from the album 'Aphelia' like the following 'Kerosene'. The closing 'My Eyes' took over from the well-known, melodic 'Creed'. By the time the last song was played, I was already on my way to the hangar where FROZEN PLASMA was to play now.

Setlist
01. The Vitriol
02. The Harvest
03. Apathy
04. Kerosene
05. Creed
06. Above and Within
07. My Eyes

Rating
Music: 9
Performance: 8
Sound: 8
Light: - (daylight)
Total: 8.5 / 10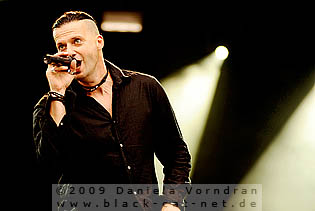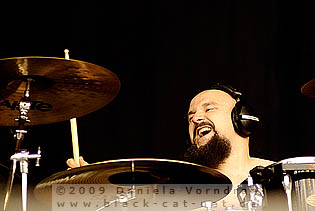 Zeromancer (Sebastian Huhn)

Rising from the ashes of their previous bands, Kim Ljung and Erik Ljunggren gave birth to ZEROMANCER in 1999 to create something that should be much more different. First time was spent with the composition of new songs. Soon the line-up was completed with a drummer, singer and guitarist and the search for a producer could start. Not as easy as you might think it is, but in the end they found the right one with James Saez and soon the debut 'Clone your Lover' was finished. In the following time they grew to a regarded live act with festival gigs at the M'era Luna as well as small club tours. After the less successful album 'Eurotrash', ZEROMANCER tried out a different path on their third album 'Zzyzx', playing with a more catchy approach. With their fourth album 'Sinners International' released in February 2009, they're going back to their dark industrial rock roots. ZEROMANCER is Alex Møklebust (vocals), Kim Ljung (bass, vocals), Noralf Ronthi (drums), Lorry Kristiansen (synths) and Dan Heide (guitar). http://www.zeromancer.com/ / http://www.myspace.com/zeromancerzentral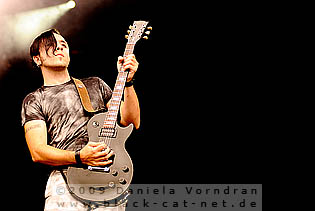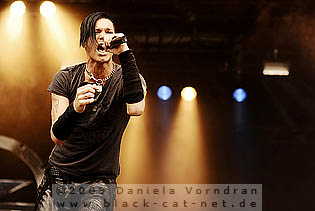 Music & Performance
No matter how often you get to see a gig of the Norwegian live wires of ZEROMANCEER, you'll never get bored. It's already been the third show of the guys I attended but still I was excited to see them again. As on the last dates, they began with the new album's opener 'Sinners International' and as soon as Alex stormed on stage they had the audience all under their control again. The energy came from the stage in showers and had a considerable crowd in front of the main stage dancing and partying wildly. The following 'Doppelgänger, I Love You' and 'Need you like a Drug' equally kept the audience in suspense. By that time, Alex had stripped down to his waist again and delivered some eye candy for the ladies, I suppose. Except the down-tempo tune 'Ammonite', ZEROMANCER only presented high energy stuff making sure that sweat wouldn't stop running down the bodies. The evergreen 'Dr. Online' then drained the last out off everybody and when ZEROMANCER left the stage, loud cheers and clapping hands accompanied them.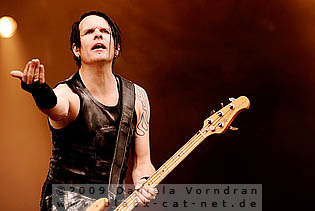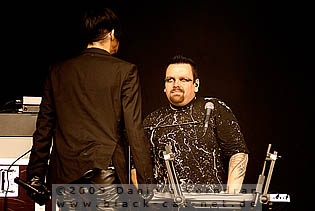 Setlist
01. Sinners International
02. Doppelgänger, I Love You
03. Need you like a Drug
04. Clone Your Lover
05. It sounds like Love (But it looks like Sex)
06. Ammonite
07. Photographic (Depeche Mode Cover)
08. Dr. Online

Rating
Music: 9
Performance: 8
Sound: 8
Light: - (daylight)
Total: 8.5 / 10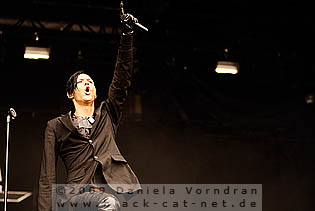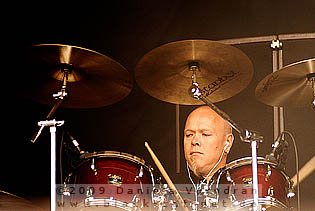 Schelmish (Carsten Leopold)

SCHELMISH are a German medieval rock band out of the town of Bonn. The band formed in 1999 due to a birthday celebration of band member Des Demonia's mother. The language of their songs varies between German, English, Latin, French and several ancient languages. SCHELMISH is Dextro (vocals, bagpipes, bouzouki, flute, symphonia, bombarde, shawm), Des Demonia (vocals, bagpipes, bouzouki, percussion) Rimsbold von Tiefentann (vocals, bagpipes, bombarde, flute, shawm and more) Luzi das L (bagpipes, shawm, trumscheit, bouzouki), Marquis de Guis (E-guitar), Samtron (drums, percussion), Picus von Corvin (percussions) and Alexis de la Vega (bass). http://www.schelmish.de/ http://www.myspace.com/schelmishband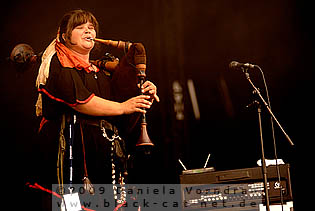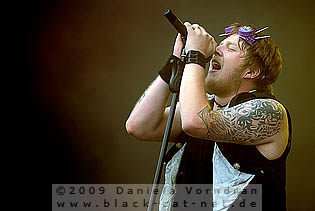 Music & Performance
SCHELMISH would be welcomed by the well-filled area in front of the stage with applause when they entered the main stage and began their show. They impressed the crowd with their powerful and dedicated performance and virtuously played their medieval instruments. And of course not to forget the funny moments during the show you usually get with SCHELMISH. The set ran about 40 minutes. I don't like this kind of music, but they did a good performance and the fans of medieval music were pretty satisfied and made a good party.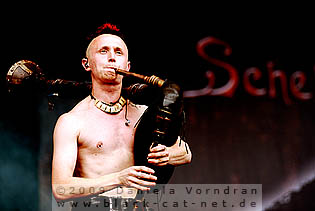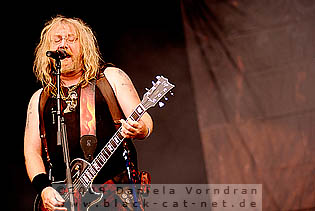 Setlist
01. Narr
02. Moor
03. Mente Capti
04. Andersland
05. Marionette
06. Kreuzzug gegen die Verlogenheit
07. Der letzte Kuss
08. Mehr Schein als Sein
09. Tanz mit mir

Rating
Music: 7
Performance: 9
Sound: 8
Light: - (daylight)
Total: 7.9 / 10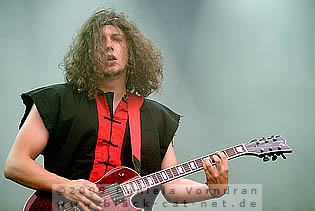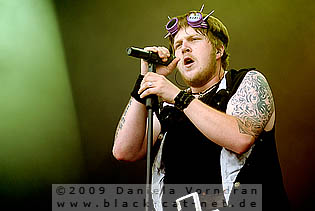 L'ame Immortelle (Carsten Leopold)

L'AME IMMORTELLE is probably Austria's most successful export when it comes to music from the dark side of life. Founded on a party in 1996 by Thomas Rainer and Hannes Medwenitsch, it doesn't take long for them to produce some first songs under the name TECHNOCRATIC CONQUEST, eventually changed to L'AME IMMORTELLE (The Immortal Soul). Later on, Sonja Kraushofer joins the band as singer and the first album 'Lieder die wie Wunden bluten' was recorded and released in 1997 and a year later the second one 'In einer Zukunft aus Tränen und Stahl' including the hit 'Bitterkeit' followed. Several very successful albums like the two very emotional outputs 'Wenn der letzte Schatten fällt' and 'Dann habe ich umsonst gelebt' were released, before they switched over to the Major Gun Records due to their immensely grown popularity and released two more or less successful albums there. For their newest release 'Namenlos' they've returned to their former home Trisol. http://www.lameimmortelle.de/ / www.myspace.com/lameimmortelle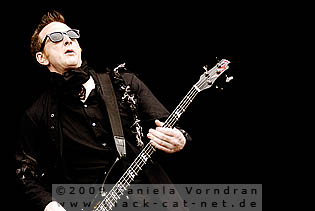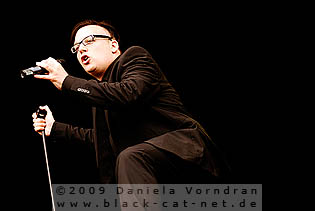 Music & Performance
Thomas Rainer, one half of L'AME IMMORTELLE, already played a show here at M'era Luna yesterday at the hangar stage with his project NACHTMAHR; today it was time for a show with his main project L'AME IMMORTELLE at the main stage. But first only Thomas and the usual live musicians entered the stage and started the show with '1000 Voices' which was sung by Thomas alone. For the second song, the female part of L'AME IMMORTELLE, Sonja Kraushofer, entered the stage and completed the line up. Sonja and Thomas sang the different songs in turns or together and the musicians virtuously played their instruments. The set list consisted of nine songs all in all and included newer songs like 'Requiem' as well as older songs like 'Aus den Ruinen' or the obligatory 'Bitterkeit' which finished the show after about 40 minutes.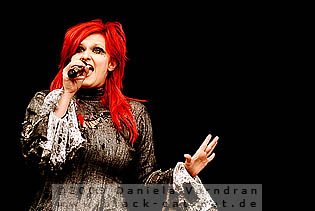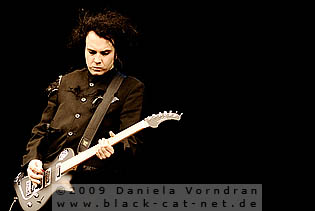 Setlist
01. 1000 Voices
02. Suffocating Endlessly
03. Voiceless
04. Stumme Schreie
05. Fallen Angel
06. Requiem
07. Aus den Ruinen
08. 5 Jahre
09. Bitterkeit

Rating
Music: 6
Performance: 7
Sound: 7
Light: - (daylight)
Total: 6.5 / 10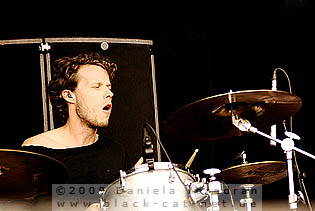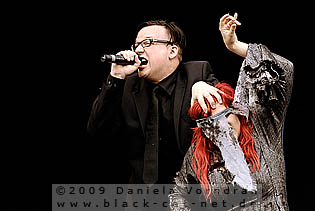 Crüxshadows (Carsten Leopold)

The band was originally formed in the early 1990s by Rogue, Sean Flannigan and Tim Curry in Florida. Soon afterwards, they came up with their first album '…night crawls in', a self-release under the "Black Widow Music" label. It took three years for them to release their first real CD 'Telemetry of a Fallen Angel' in 1996. It was at that time, when Curry and Flannigan left the band. Rogue assembled a new line-up and recorded the two next albums from 1998-2000. With every of the following releases - and not less because of extensive touring throughout the years, they reached global popularity, adding to this surely was the performance of the charismatic front man Rogue, who's barely standing still for a minute.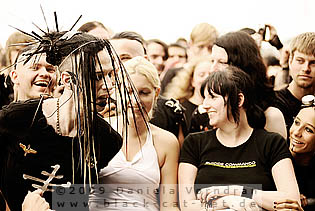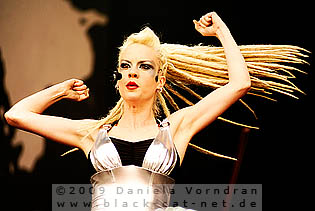 Today, the band can look back in an impressive discography of several singles and EPs, as well as eight albums with 'DreamCypher' being the latest one, released in 2007. The line up changed over the years several time, THE CRÜXSHADOWS currently is Rogue (vocals, violin, music), Pyromantic (keys, synths, backing vocals), Cassandra Luger (guitars), David Wood (violins), Johanna Moresco (violins), Jessica Lackey (lead dancer, backing vocals) and Nichole Tadlock (dancer, backing vocals). http://www.cruxshadows.com/ / http://www.myspace.com/cruxshadows

Music & Performance
THE CRÜXSHADOWS is still one of my favourite bands and I was very happy that I could enjoy them at M'era Luna once again. During the intro, Rogue entered the stage (of course) from the crowd and the show began. As always, THE CRÜXSHADOWS impressed the crowd with a rousing show. Rogue, the charismatic front man who never was standing still, was climbing the stage and entering the crowd several times.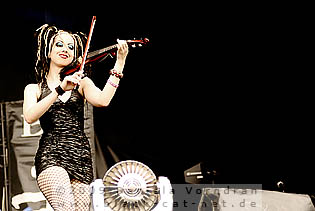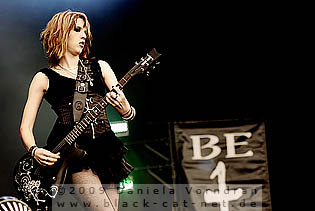 As usually, the beautiful female dancers performed a great fanciful choreography. Pyromantic behind her keyboard, the both violin players and last but not least the new guitar player did a great job too. The setlist consisted of a few newer songs like 'Quicksilver', the upcoming single, or 'Immortal', the last single, completed by some older and well-known hits like 'Deception' or 'Winterborn'. The crowd quickly was infected by the rousing performance and was dancing, clapping hands and singing along. Quickly, the time went over and too early the show finished with 'Birthday'. I have to add that the voice of singer Rogue did not sounds perfect today. Hope that will turn for the better during following shows…

Setlist
1. And I Believe
2. Quicksilver
3. Immortal
4. Deception
5. Sophia
6. Dragonfly
7. Winterborn
8. Birthday

Rating
Music: 8
Performance: 10
Sound: 8
Light: - (daylight)
Total: 8.2 / 10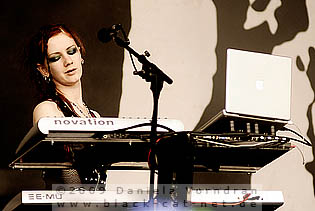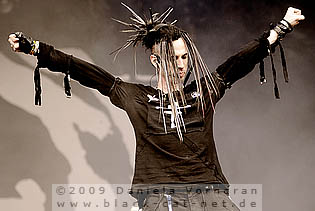 Alexander Veljanov (Carsten Leopold)

ALEXANDER VELJANOV became famous through singing in the dark wave band DEINE LAKAIEN which he founded with Ernst Horn in 1985.Veljanov studied theatre and film in Munich and Berlin; he cancelled his studies in 1991, so that he could fully concentrate on music, especially DEINE LAKAIEN. He is active as a singer and songwriter not only for DEINE LAKAIEN, but also for several side and solo projects. During his career, he has performed as a guest singer with many other artists and bands as well. ALEXANDER VELJANOV has lived and worked in Berlin, Munich and London. He guards his private life very carefully; in interviews, he rarely speaks about himself and the year of his birth still remains a mystery. His latest album 'Porta Macedonia' has covered and sampled songs from the iconic Macedonian group MIZAR.
http://www.veljanov.de/
/
http://www.myspace.com/veljanov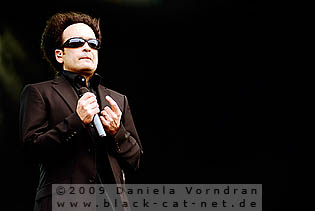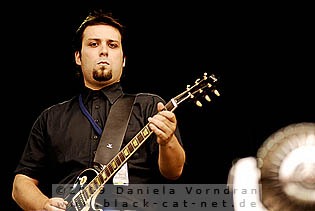 Music & Performance

I remembered some years ago, ALEXANDER VELJANOV played here at Mera Luna with his band DEINE LAKAIEN. This time, he enriched the line up with his solo project, supported by a live band with two keyboards, guitar, bass and drums. The show was started by 'His vita' and quickly he bewitched the crowd with his charisma and his wonderful voice. The set list included, besides songs from the current solo album 'Porta Macedonia', older songs like 'Black Girl' or 'The Man with the Silver Gun'. The audience was pleased by the melodic voice and the powerful performance even though bright light is not the best company for the moody and soulful performance. Anyway, Alexander asked the sun several times to shine… and it did much to his joy.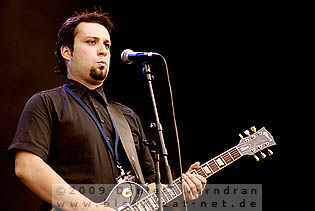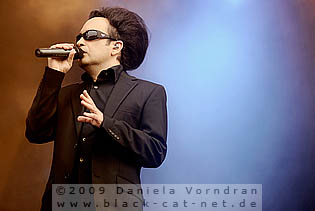 Setlist

01. His Vita
02. We can't turn back
03. Black Girl
04. The Man with the Silver Gun
05. Mein Weg
06. The Sweet Life
07. Fly away
08. Nie mehr
09. Dirt
Rating

Music: 8
Performance: 8
Sound: 9
Light: - (daylight)
Total: 8.2 / 10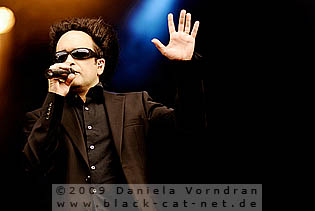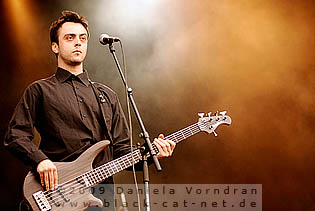 Tiamat (Sebastian Huhn)

TIAMAT started out in the late 80s in Sweden, emerging from the black metal band TREBLINKA. Under that name they released exactly one album 'Sumerian City' before the former band mates parted ways and singer/guitarist Johan Edlund subsequently changed the band's name to TIAMAT. Under his leadership, the band underwent a constant genre transition in the following years incorporating elements of progressive, doom, or also gothic into their music. That's why they're often deemed as another founder of the gothic metal genre besides British PARADISE LOST. TIAMAT are most prominent for 1994's 'Wildhoney' album which would be considered to be a landmark release within the progressive/doom metal genres, enabling them to play the Dynamo and Wacken open air festivals. To the present day, the band's released nine full length albums the newest one being 'Amanethes' released in 2008. TIAMAT is Johan Edlund (vocals, guitars, keys), Anders Iwers (bass) and Lars Sköld (drums).
http://www.churchoftiamat.com/
/
http://www.myspace.com/tiamat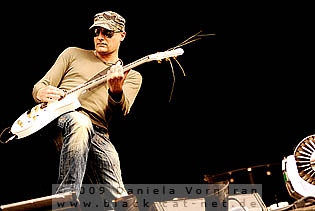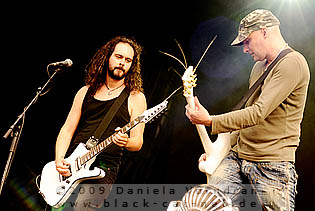 Music & Performance

I think it's been years since I've listened to a TIAMAT song for the last time and even back then, I only knew a handful of tracks from that Swedish icon. What I still know is that I did like them. It was high time for me to get an update and to expand my knowledge of their repertoire a bit and their appearance at this year's M'era Luna was the perfect opportunity to do just that. I couldn't spot quite as many people as I had expected when we arrived at the stage, which provided for a rather intimate atmosphere or something that somehow comes close to that term on a festival scale. The rocking yet sublime 'Vote for Love' made the opener and if you wanted or not, you just couldn't resist the magic attraction of the deep, baritone vocals of Robert Edlund. The following 'Raining Dead Angels' gave the show a more obvious metal touch and hard guitar walls towered up into the evening skies. 'Brighter Than The Sun' then would set the tone for the rest of the band's show bringing it into overall calmer and even more melancholic spheres for the people to sink in.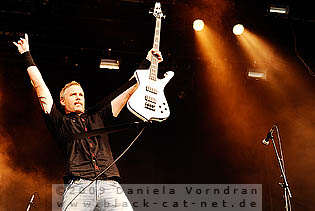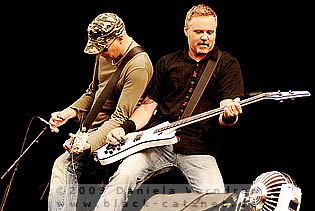 This wasn't one of those performances we had quite a lot of today at the hangar, where dancing and partying was the maxim. This was one show to watch attentively and awe the creation of the eclectic soundscapes coming off the stage with songs such as 'Cain', 'Divided' or the darkly rousing 'Cold Seed'. If I still needed an incentive to get myself a few TIAMAT albums this was it and I decided to that as soon as possible. A great show by a great band!
Setlist

01. Vote for Love
02. Raining Dead Angels
03. Brighter Than the Sun
04. Cain
05. Divided
06. Until the Hellhounds Sleep Again
07. Cold Seed
08. (Unknown)
09. Wings of Heaven
10. The Sleeping Beauty
11. Gaia
Rating

Music: 9
Performance: 8
Sound: 8
Light: 7
Total: 8.3 / 10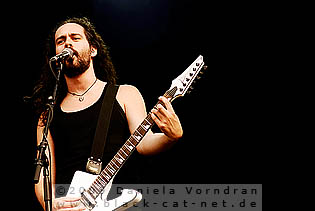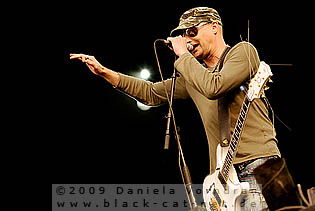 Subway to Sally (Sebastian Huhn)

The band was founded in 1992 and through various performances; they quickly build up a strong reputation and a devoted fan base. Their distinct sound - Harsh Metal and Rock, complemented with instruments like violin, bagpipe, flute, lute etc - attracted the attention of the Major label BMG in Munich and in 1996, the band signed a contract with the label and released their third album 'Foppt den Dämon' in the same year. Also the two following albums, the live release 'Schrei' and the Best-of collection have been released there, before they switch over to Universal in 2000 and release the new album 'Herzblut', which climbed the 15th position in the Media Control Charts. From 2003 -2007, the band released three more albums with 'Bastard' being the latest, released in last year's October. SUBWAY TO SALLY is Eric Fish (vocals, bagpipes, flute, shawm, oboe, wind-controller), Bodenski (vocals, acoustic guitar, symphonia), Simon (vocals, acoustic guitar, trumscheid), Frau Schmitt (violin), Ingo Hampf (E-guitar, lute, ud, mandolin), Sugar Ray (bass) and Simon Michael (drums, percussions).
http://www.subwaytosally.com/
/
http://www.myspace.com/subwaytosally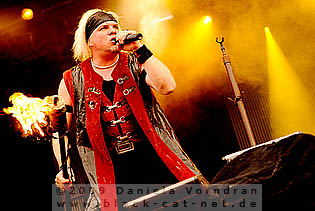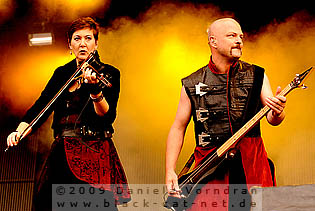 Music & Performance

It felt like half of the M'era Luna attendees had come to see one of the leading bands in medieval rock music SUBWAY TO SALLY. It took me quite a few minutes to find a free path where I could cross over to the other side of the stage to find a spot with a good view. Deafening cheers broke lose as the band entered the arena. One thing you have to hand to them if you like them or not, they know very well how to generate an extremely good mood in their audience. The people were with them right away and danced, clapped or to put it short had lots of fun and no matter when the agile front man Eric Fish asked them to do something, they followed the orders and not just a few people, I mean everybody at least as far as I could overlook that from where I was standing. Their show wasn't just energetic with the band members whirling upon the stage it was also a hot show.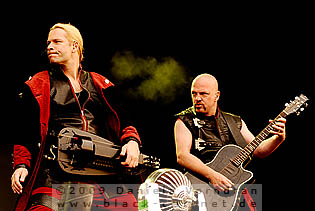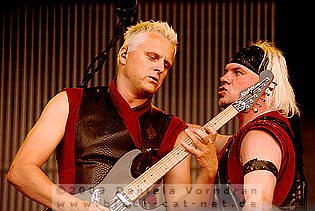 Don't take that as an allusion to a sexually-charged performance I really meant hot with the built-in pyrotechnical effects. If you were so "lucky" to be a photographer and in the pit by the time these pillars of fire went off I suppose the heat burned away the hairs on your skin. [Photographer's note: yeah, it nearly did!] Was still quite hot even if you stood 10 metres away! The band guided their dedicated followers through a programme including songs like 'Besser du rennst', Judaskuss' or 'Eisblumen'. There's a good cover version of the song out there from a band called EISBLUME by the way. Mood-wise, the show was a highlight but musically it still doesn't grab me. I was much more looking forward to THE PRODIGY, actually.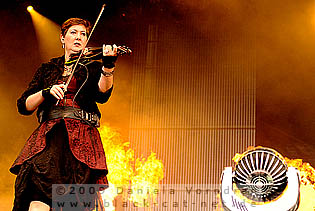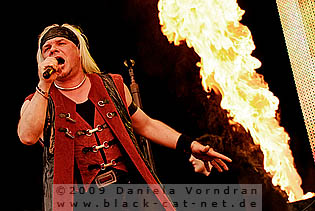 Setlist

01. Intro
02. Meine Seele brennt
03. Aufstieg
04. Besser du rennst
05. Knochenschiff
06. Judaskuss
07. Veitstanz
08. Eisblumen
09. Einsam
10. Falscher Heiland
11. Sieben
12. Tanz auf dem Vulkan
13. Auf Kiel
14. Zugabe:
15. Julia und die Räuber
Rating

Music: 6
Performance: 8
Sound: 7
Light: 7
Total: 6.8 / 10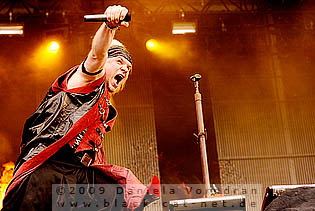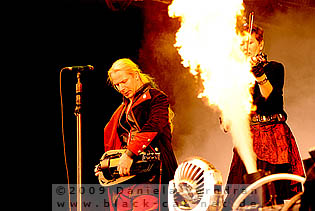 The Prodigy (Sebastian Huhn)

With such songs like 'Firestarter' or the insane 'Breathe', this British group around Liam Howlett has left indestructible marks in music history and albums like 'Music for the Jilted Generation' (1994) and 'The Fat of the Land' (1997) - which is in the Guinness book of Record as the fastest-selling album in the respective year btw - are considered milestones nowadays. In 1997 and due to extreme controversies revolving around the video clip to 'Smack My Bitch Up', Liam Howlett announced there would be no fourth studio album anymore and in the following 5 years there wasn't any musical life sign of THE PRODIGY until 2002 when the band appeared on many European Festivals and around that time presented a new song called 'Baby's Got A Temper'. The forth album eventually followed in 2004 with 'Always Outnumbered, Never Outgunned' which was torn apart by critics. The new opus 'Invaders Must Die' just came out on 20th February 2009. THE PRODIGY live is Liam Howlett (keys, synths), Keith Flint (vocals), Maxim Reality (vocals / shouts), Rob Holliday (live guitar) and Leo Crabtree (live drums).
http://www.theprodigy.com/
/
http://www.myspace.com/theprodigy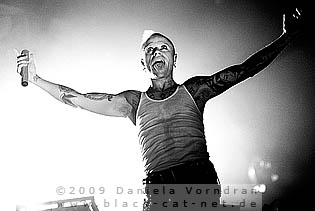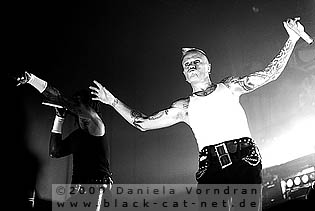 Music & Performance

THE PRODIGY as final act of the festival! Could they have made a better choice? No, I don't think so. Right from the first minute, when the two MCs Keith Flint and Maxim Reality hunted over the stage through fog and flashing cascades of light, there was energy floating around everywhere and people started to dance as soon as the first beats of the opener 'World's on Fire' pushed through to them. I didn't think they'd actually do that but they placed 'Breathe' on position #2 in the setlist and it was like a silent starting signal transferred to the crowd to go completely mental. Even though I couldn't really see it I think there was a pit in the middle of the people, too. But there were also people who rather enjoyed the show sitting and leaned against the fence - by that I mean one guy in particular. I don't even think he was fully awake or conscious but somehow the music must have reached him and in a certain way he grooved to the music. Sometimes, really strange things happen at concerts.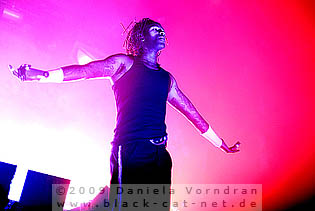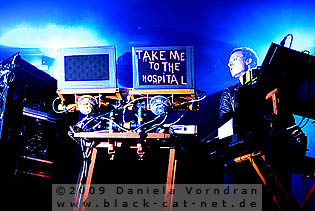 THE PRODIGY allowed the sweating mob no break and went on with club grenades of the likes of 'Their Law'; 'Omen 'or 'Poison'. Unfortunately, the time had come for us to leave now, even though we'd have loved to stay a little longer. The driving sounds of 'Warrior's Dance' were the last we noticed before getting into the car and make our way back home.
Setlist

01. World's on Fire
02. Breathe
03. Omen
04. Their Law
05. Poison
06. Warrior's Dance
07. Firestarter
08. Voodoo People
09. Poison
10. Diesel Power
11. Warrior's Dance
12. Stand Up
13. Run with the Wolves
14. Take Me to the Hospital
Rating

Music: 9
Performance: 9
Sound: 8
Light: 9
Total: 8.9 / 10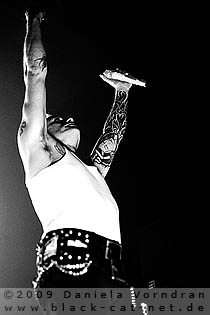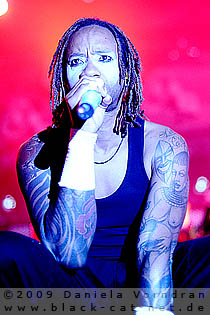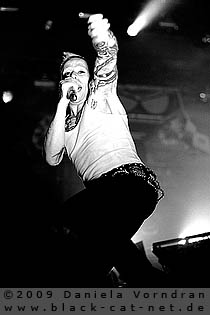 All pictures by Daniela Vorndran (
http://www.vorndranphotography.com/
/
http://www.black-cat-net.de/
/
www.myspace.com/vorndranphotography
)
Written by Daniela Vorndran (common parts and overall editorial), Sebastian Huhn, Carsten Leopold and Cathie Niemann with friendly support of Terrorverlag (
http://musik.terrorverlag.de/
)
{jos_sb_discuss:18}