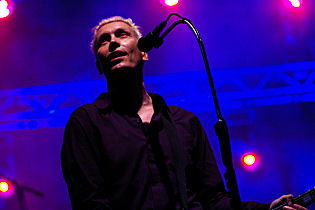 Eiswiese, Rothenburg ob der Tauber, Germany
07th - 09th August 2009
Taubertal-Festival 2009 Day 2 & 3 (Main Stage): Montreal, Asaf Avidan & The Mojos, The Subways, Flogging Molly, In Extremo, Farin Urlaub Racing Team, Sondaschule, Zebrahead

Could it be even hotter? When I arrived at the Eiswiese in the early afternoon, there weren't any clouds in the sky but closeness everywhere and the sun was burning down. Therefore, the beginning of the second Taubertal-day was very relaxed. Everyone seemed to suffer under the nearly tropical heat and many of the partly very young campers had to deal with the consequences of residual alcohol in their blood. Though I experienced the Taubertal-Festival as a peaceful and well-organized event, that obvious problem was my main point of criticism. Certainly, it's too difficult to make a completely successful check on underage drinking.

All in all, the staff was very helpful and friendly. There were some special agreements concerning photo accreditations on the second and third day that made it a bit more complicated for me and other photographers, but in general those three days guaranteed a lot of fun and offered an exciting line-up. Before the first act should appear on the main stage on 8th August, I took a walk around the shopping street where everybody could buy non-alcoholic and alcoholic beverages as well as tasty snacks. After I had had a cup of coffee, I went to the main stage and waited for the performance of the Hamburg based MONTREAL who should play at half past two in the afternoon.
http://www.taubertal-festival.de/
Saturday, 8th August 2009
Montreal

At the moment, the Punk band MONTREAL from Hamburg is looking forward to the release of its third album after `Alles auf Schwarz´ (2005) and `Die schönste Sprache der Welt´ (2007). The new long-player will be brought into the stores on 25th September 2009. According to that, Yonas (guitar, vocals), Max Power (drums) and Hirsch (bass, vocals) have just announced an upcoming tour through German clubs in this year's autumn. It's a respectable success, as MONTREAL was founded three years ago and has already toured many European countries. Furthermore, the guys from St. Pauli supported popular artists such as BLOODHOUND GANG, FALL OUT BOY or DONOTS.
http://www.myspace.com/montrealmusic
/
http://www.montrealmusic.de/start.html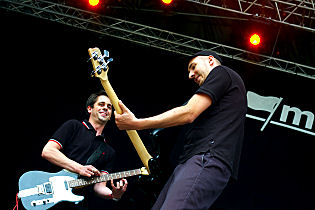 Music & Performance

The MONTREAL threesome was responsible for the second day's wake-up call. Due to its jolly Punk-Rock show, the firstly thinned out rows of tired listeners turned into a respectable boiling pot. According to lyrics and compositions, MONTREAL reminded me of the German formation DIE ÄRZTE. The audience mainly consisted of fans and friends who seemed to know the lyrics and melodies inside out. Dedicated to drummer Max Power, the same titled song ran in open ears in particular and resulted in extensive chanting along, as well as other songs such as `Solang die Fahne weht´ or `Ende der Ballonfahrt´ did. MONTREAL radiated a great party mood and was a pretty good opener of the second festival day.
Rating

Music: 7
Performance: 8
Sound: 8
Light: - (daylight)
Total: 7.5 / 10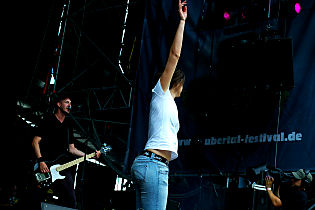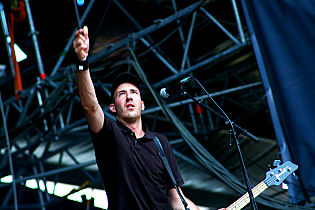 Asaf Avidan & The Mojos

Besides AVIV GEFFEN, another Israeli act performed at this year's Taubertal-Festival. The Jerusalem based Folk Rock band ASAF AVIDAN & THE MOJOS consists of Asaf Avidan (vocals, guitar), Ran Nir (bass), Roi Peled (lead guitar), Joni Snow (drums) and Hadas Kleinman (cello). The front man self-released his debut EP `Now that you're leaving´ in 2006. Joined by the recruited band, THE MOJOS, he toured Israel and other countries. Last year, the full-length debut `The Reckoning´ caused quite a stir and Avidan was chosen to be the support act of MORRISSEY in Israel. At the moment, the project is touring Germany, Austria and Switzerland including several festival appearances.
http://www.myspace.com/findlovenow
/
http://www.mymojolove.com/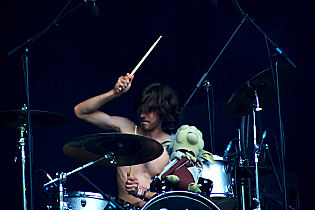 Music & Performance
ASAF AVIDAN & THE MOJOS would have deserved more listeners. Due to the early afternoon hour and the fact that the band's popularity in Germany is still growing, the place in front of the Main Stage wasn't filled up. The young Israeli singer has got an extraordinary voice similar to the one of the passed away JEFF BUCKLEY. Thus, ASAF AVIDAN was able to cover a wide range: Sometimes whispering the lines and other times screaming at the top of his lungs, he created a sophisticated Folk Rock that radiated a pinch of Woodstock and bonfire atmosphere; an unusual, but at the same time very interesting programme. His band THE MOJOS also performed with virtuosity; especially the female violoncellist attracted the listeners´ attention and was a fascinating antithesis regarding the entire performance. As that appearance was a very special one, I hope that the formation will convince more lovers of great handmade music on German territory.
Rating

Music: 8
Performance: 8
Sound: 8
Light: - (daylight)
Total: 8 / 10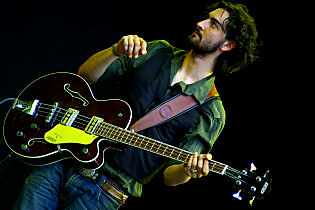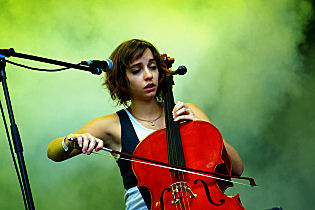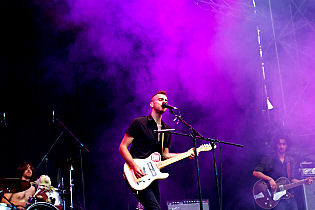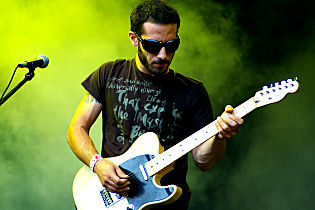 The Subways

When the brothers Billy Lunn (guitar, vocals) and Josh Morgan (drums) formed the band MUSTARDSEED at a pretty young age and they played NIRVANA songs at home, certainly they didn't know what would happen. Together with Charlotte Cooper (bass) and meanwhile under the name THE SUBWAYS, they began touring small London clubs. In 2005, the first long-player `Young for Eternity´ (2005) was released and reached #32 of the UK album charts. Thus, the young Alternative Rock trio didn't only arouse the interest of those who came to its concerts, but also the British media didn't miss any chance to write about the combination of amazing guitar driven Rock with a beautiful female bassist and two handsome guys.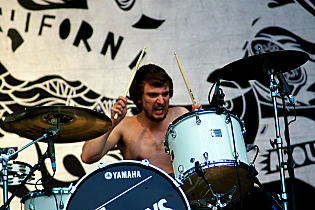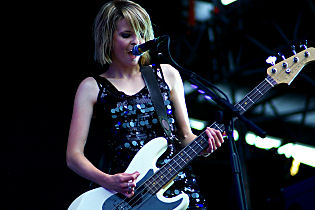 Therefore, it wasn't a big surprise that THE SUBWAY´s songs `Oh Yeah´ (2005) and `Rock'n'Roll Queen´ (2005) were used for several commercials and movies. Last year, THE SUBWAYS released the second full-length album `All or Nothing´ followed up by an extensive tour that lead them to many festivals, the UK, the USA, Japan and Germany.
http://www.myspace.com/thesubways
/
http://www.thesubways.net/
Music & Performance

In my opinion, THE SUBWAYS delivered the best performance regarding the complete line-up. While the stage was being decorated with a huge black and white backdrop and the crew was doing the sound check, thousands of people waited impatiently for Billy, Charlotte and Josh. When they finally appeared and performed their hits such as `Shake! Shake!´, `Mary´ and the eagerly awaited `Rock'n'Roll Queen´, hell broke loose and everybody - and I DO mean everybody - was jumping and shouting.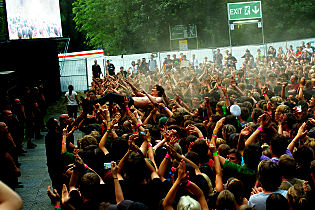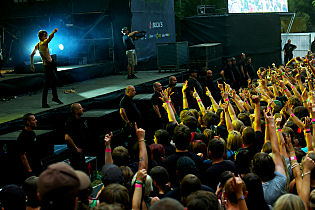 Particularly, the cute, slight built bassist Charlotte was a feast for the eyes. Though the bass was nearly as tall as the pretty Englishwoman, she managed to sing the backing vocals, to bounce and to bang her head wildly. The threesome was very likeable and interacted with its fans in an extremely friendly manner. Moreover, they even spoke some German announcements. Front man Billy did a breakneck crowd surfing and could be rescued by the security staff fortunately. Josh played the drums like a berserk and stroke some expressive poses for all photographers. Finally, there was a special German version of the enthusiastically celebrated `Rock'n'Roll Queen´.
Rating

Music: 8
Performance: 10
Sound: 8
Light: - (daylight)
Total: 8.7 / 10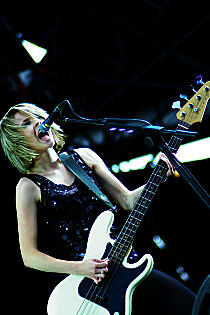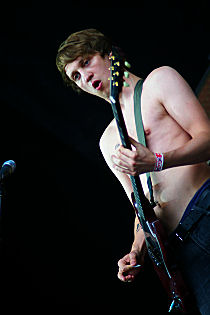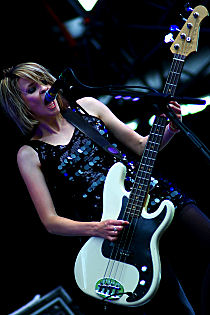 Flogging Molly

In 1997, The Irish-American Folk / Punk / Rock band FLOGGING MOLLY was founded in Los Angeles. As the band members´ origin may reveal, their music is a combination of Irish Folk music and Punk-influenced Rock. The recent line-up consists of Dave King (vocals, folk guitar, bodhrán), Bob Schmidt (mandolin, banjo), Nathen Maxwell (bass), Dennis Casey (guitar), Bridget King (fiddle, tin whistle), George Schwindt (drums) and Matt Hensley (accordion). Last year, FLOGGING MOLLY released the seventh album `Float´. At the moment, the seven musicians are intent upon touring big European festivals followed up by the "West Coast Tour" that will lead them through the Western part of the USA.
http://www.floggingmolly.com/
/
http://www.myspace.com/floggingmolly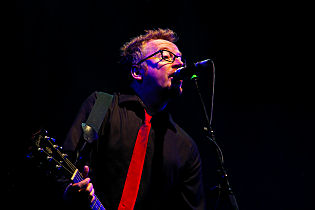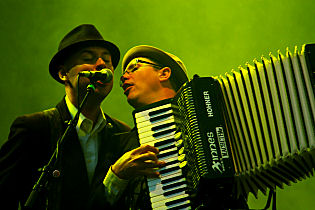 Music & Performance

I saw a lot of FLOGGING MOLLY T-shirts, as many people had come to watch their favourite band. Therefore, it was a lot of jubilation when the formation entered the stage and animated the crowd to clap the hands. Full of energy and conjuring up images of picture perfect Irish festivals, FLOGGING MOLLY made everyone smile. And so the musicians did, though they were dressed with coats and hats (just remember the heat!). Their songs such as `Drunken Lullabies´, `Whistles in the Wind´ and `Paddy's Lament´ invited to dance and to sway along. A spirited performance and a nice atmosphere!
Rating

Music: 7
Performance: 8
Sound: 8
Light: - (daylight)
Total: 7.5 / 10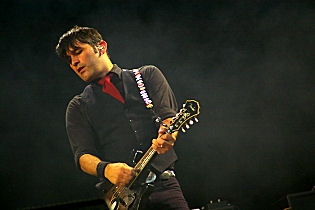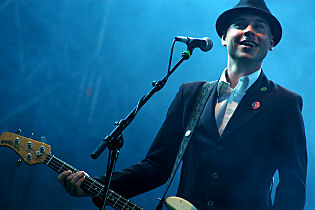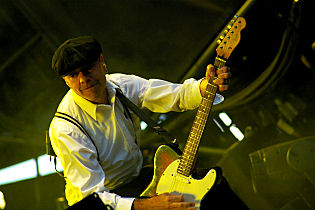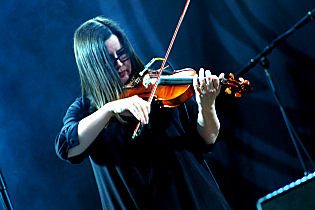 In Extremo

Actually, the German Medieval Rock band IN EXTREMO was a fusion of a nameless medieval music playing formation and a Rock band. Firstly, the two formations played separately, but in 1995 the front man "Das Letzte Einhorn" (aka Michael Robert Rhein) suggested the unifying name IN EXTREMO. Finally in 1997, one of the most popular German Alternative bands was born. The career was started with appearances at medieval markets and the first nameless album in 1996. Within some years, the band's style got harder by the usage of more guitars and drums. Nevertheless, the old-fashioned instruments such as bagpipe and shalm still played an important role. Thus, IN EXTREMO was able to attract not only the fans of medieval music, but also listeners of guitar-driven Hard Rock.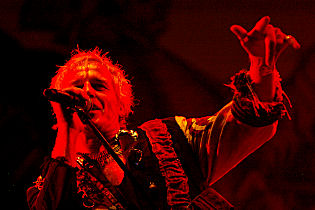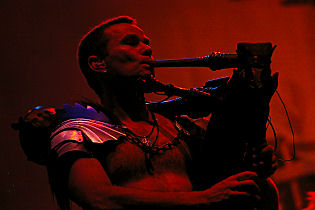 The commercially most successful eighth long-player `Sängerkrieg´ (2008) even reached the top of the German charts. Moreover, Das Letzte Einhorn, Van Lange, Der Morgenstern, Die Lutter, Dr. Pymonte, Flex der Biegsame and Yellow Pfeiffer have a good reputation for being an amazing live band.
http://www.inextremo.de/
/
http://www.myspace.com/officialinextremo
Music & Performance

Meanwhile, it was getting darker and a heavy shower should refresh the crowd that was waiting for the sweaty IN EXTREMO performance. When the band members walked to their instruments, the huge main stage seemed to be too small for them. For safety reasons regarding the pyrotechnical special effects the photographers had to leave after two songs. If you have ever been part of an IN EXTREMO concert, you will know that there is a very special atmosphere due to the combination of traditional medieval music and modern Rock sounds. Latest by the third song `Vollmond´, the band had its audience totally under control, as all the people danced ecstatically in the sudden rainstorm. The musicians were in good humour and offered an energetic show as usual.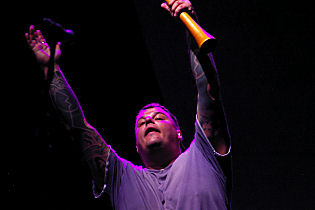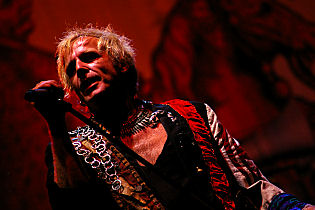 Setlist

01. Sieben Köche
02. Frei zu sein
03. Vollmond
04. Sängerkrieg
05. Poc Vecem
06. Ave Maria
07. Krummavisur
08. En Esta Noche
09. In diesem Licht
10. Flaschenpost
11. Mein Rasend Herz
12. Ai Vis Lo Lop
Rating

Music: 8
Performance: 8
Sound: 8
Light: 9
Total: 8.3 / 10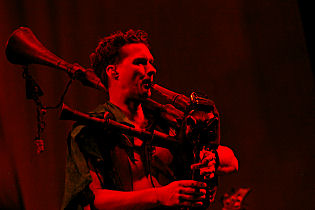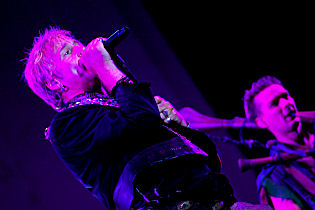 Farin Urlaub Racing Team

Since 2002, FARIN URLAUB RACING TEAM has been a further project of the DIE ÄRZTE-member Farin Urlaub (vocals, guitar). The band was formed after the mastermind's solo recording `Endlich Urlaub!´, as he needed a live band to support him live on stage. Meanwhile, FARIN URLAUB RACING TEAM can look back on four tours including many concerts and festival appearances. From 2008 to 2009, he went on "Krachgarten Tour" with Nesrin Sirinoglu (guitar), Rachel Rep (drums), Cindia Krüger (bass), Simone Witte, Vanessa Mason, Celina Bostic (backing vocals, percussions), Hans-Jörg Fischer, Peter Quintern (sax), Reinhard Appich (trumpet) and Robert Solomon Göhring (trombone). The long-player `Livealbum of Death´ (2006) reached the top of the German charts; the following album `Die Wahrheit übers Lügen´ made it on #2. The project's characteristics are funny and intelligent German lyrics mixed up with Jazz- and Punk-influenced Rock music.
http://www.farin-urlaub.de/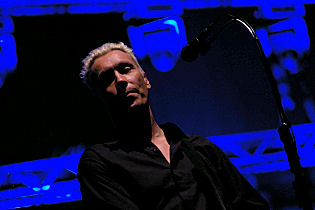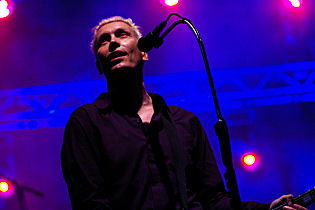 Music & Performance

After an extensive change over, FARIN URLAUB RACING TEAM, the headliner of the second festival day, was in the starting blocks. Maybe you know that feeling of "Now more than ever!" in concert situations like these: It was raining, everybody was dripping wet and the dusty Eiswiese had been turned into a muddy place. Nevertheless, the crowd's mood was still great. Thousands of people gathered in front of the main stage and were looking forward to the upcoming appearance. When the mastermind and his band began their performance with the first song `Unscharf´, the stage was as overcrowded as the venue. Fortunately, the second project of the DIE ÄRZTE singer and guitarist differs from his other one, as the soundscape is rather influenced by Jazz and Ska-sounds. FARIN URLAUB isn't only a brilliant musician, but also a fantastic songwriter and humorous entertainer who easily got in touch with the audience due to some funny announcements and his smart songs.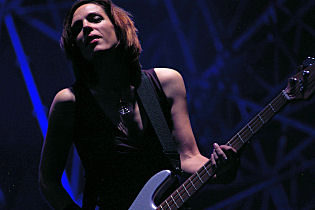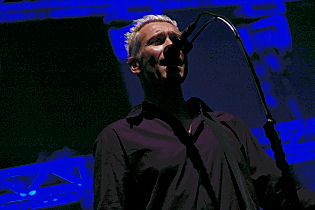 Setlist

01. Unscharf
02. Glücklich
03. Ich gehöre nicht dazu
04. Am Strand
05. I. F. D. G.
06. Der ziemlich okaye Popsong
07. Krieg
08. Worte fehlen
09. Porzellan
10. Niemals
11. Ok
12. Die Leiche
13. Sonne
14. Alle dasselbe
15. Zehn (1.)
16. Trotzdem
17. Wo ist das Problem?
18. Karten
---
19. Insel
20. Unter Wasser
21. Abschiedslied
22. Zehn (2.)
Rating

Music: 9
Performance: 8
Sound: 8
Light: 8
Total: 8.4 / 10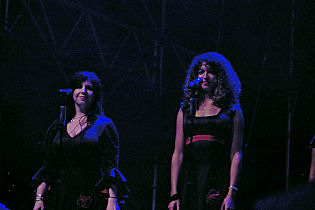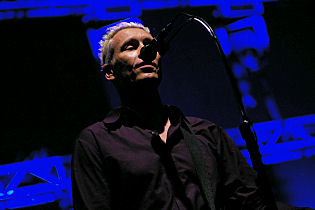 Sunday, 9th August 2009
Sondaschule

SONDASCHULE is a German Ska / Punk band from Oberhausen and Mülheim an der Ruhr. Founded in 1999 by the former bassist Marc Böhle and Mirko Klautmann (guitar, vocals), the band released its debut album `Klasse 1A´ that was followed up by an extensive tour. In 2005, Böhle left the formation and was replaced by Tobias Rauch. After the second album `Rambazamba´ (2006) and a same titled tour, the line-up changed again. Henceforward, SONDASCHULE consists of Tim Kleinrensing (vocals), Mirko Klautmann (guitar, vocals), Tobias Rauch (bass), Christopher Altmann (trombone), Simon Roesler (drums), Daniel Junker (guitar), Michael Spaet (sax) and Andreas Kiwitt (trombone). The year 2008 was an important one for the musicians, as they opened up Rock am Ring and won the Open Flair-festival contest. Furthermore, SONDASCHULE released the third long-player `Volle Kanne´ in September 2008.
http://www.myspace.com/sondaschule
/
http://www.sondaschule.de/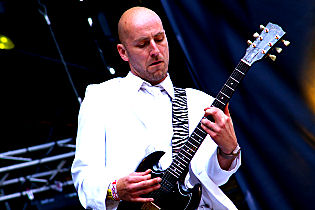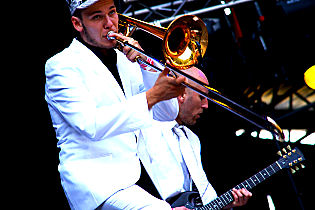 Music & Performance

The band members of SONDASCHULE proved a kick-ass show and only the dust on their white suits attested that they had already played at the Open Flair festival one day before. Presenting songs such as `Nur für dich´, `Sondaschule´ and `Nimm frei´, the hyperactively moving front man Tim Kleinrensing didn't miss any chance to animate the crowd to sing along the cheeky German language Ska songs. Although it was very hot again, the audience attended his orders to have a great celebration. Though the band had to deal with more difficult conditions (early afternoon, not that many listeners), they made a good show with a lot of self-mockery.
Rating

Music: 7
Performance: 8
Sound: 8
Light: - (daylight)
Total: 7.5 / 10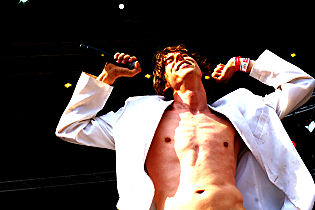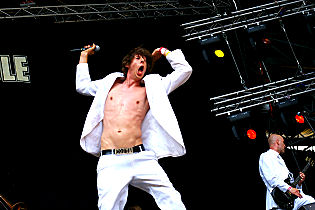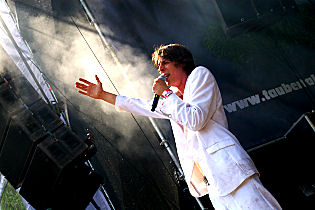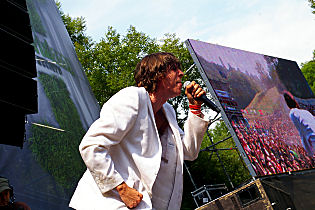 Zebrahead

ZEBRAHEAD is a Californian Punk-Rock band that was formed in 1996 by guitarists Justin Mauriello, Greg Bergdorf, bassist Ben Osmundson and drummer Ed Udhus. When they started to include Hip-Hop into their sound, they additionally recruited rapper Ali Tabatabaee (vocals). The first self-titled EP was released in 1998. In the same year and after signing at the major label Columbia Records, ZEBRAHEAD issued its full-length debut `Waste of Mind´. While the band was supporting GREEN DAY on their European tour leg, soon it was able to convince the audience. ZEBRAHEAD also attracted a big following in Japan where the record `MFZB´ (2003) went gold. In 2004, Justin Mauriello left the band and was replaced by Matty Lewis. Within the scope of the upcoming release of the new long-player `Panty Raid!´, ZEBRAHEAD is touring Europe right now.
http://www.myspace.com/zebrahead
/
http://www.zebrahead.com/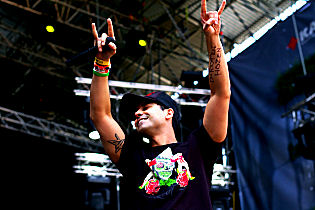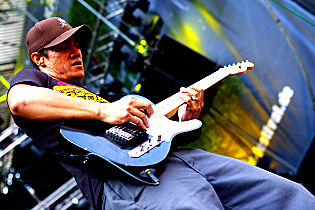 Music & Performance

I hadn't known ZEBRHEAD before that day, but its forceful Crossover style-related appearance was very impressive and pretty cool. Though the Eiswiese was only half-filled, the band members put their whole hearts into the show and totally involved the present people. Clouds of dust rose over the place when front man and singer Ali ordered everyone to jump up and down. He also set a good example, as he made those genre-typical gestures and stroke some top dog-poses that perfectly reviewed all clichés. Nevertheless or just because of that it was a highly energetic and musically interesting performance.
Rating

Music: 8
Performance: 8
Sound: 8
Light: - (daylight)
Total: 8 / 10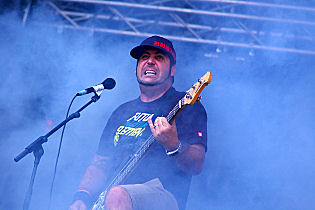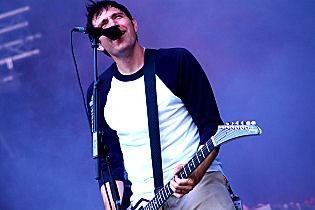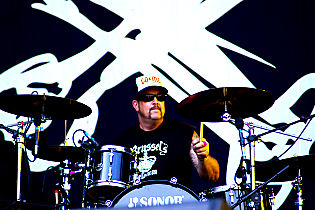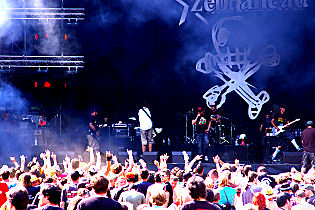 All pictures by Katrin Renner (
http://www.creavision-webdesign.de/
)
{jos_sb_discuss:18}