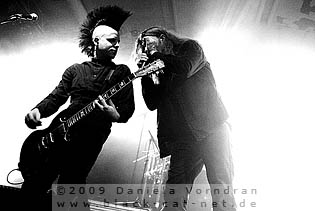 Essigfabrik, Cologne, Germany
10th October 2009
Diary of Dreams, Deathstars, Lacrimas Profundere, Dope Stars Inc.

The start of the Into Darkness festival tour wouldn't go down that smooth with a bomb thread mixing up the entire schedule and people having to wait outside the venue for nearly two hours in the freezing could. Well, I 'm glad we had no such incidents in Cologne. The entrance procedure went by quick and soon people streamed into the nice venue, got to the bar to have a drink or two or paid the merchandize booth a visit, because there were still 30 minutes to go until the first band would come on stage.
Dope Stars Inc.

Founded in spring 2003, this band has a rather short but nevertheless successful history. When they released their first EP '10.000 Watts of artificial pleasures', they attracted much attention from scene magazines even though it was initially published as a digital download only via Internet. In 2005 they signed a record deal with the German label Trisol. Short after that happened, the band entered the studio together with Thomas Rainer from L'AME IMMORTELLE and John Fryer who already worked for acts like NINE INCH NAILS or DEPECHE MODE, to produce their first full-length album 'Neuromance' which hit the stores at the end of August 2005. An EP called 'Make a Star' was the next musical sign of life released in august 2006 followed by the second album 'Gigahearts' at the end of 2006. The third one, entitled '21st Century Slave' followed just a year later and the next but limited assault 'Criminal Intents / Morning Star' just hit stores at the end of April.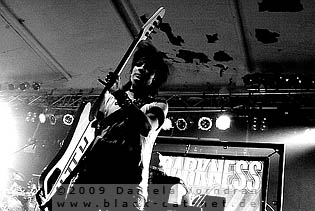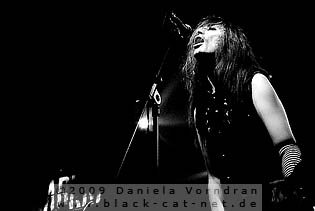 DOPE STARS INC. is Victor Love: (vocals, guitar, synths, programming), La Nuit (guitar, live backing vocals), Darin Yevonde (bass, live backing vocals) and during live performances Ash Rexy (live keyboards, live backing vocals) plus currently an extra live drummer.
http://www.dopestarsinc.com/
/
http://www.myspace.com/dopestarsinc
Music & Performance

Contrary to my expectations that not many people were to watch the Italian whirlwinds, the space was quite well-filled when Victor Love and company would hit the stage. The mixture of rock and electronics as always was very energetic. This time around, there was one exception to the line-up. While on previous shows the rhythms came solely from the laptop, they now had a drummer playing them which added to the impression of watching a real band. Victor shouted out the vocals as usual, while La Nuit and Darin roamed the stage with guitar and bass occasionally riling up the audience. They played a program mixing newer songs like e.g. 'Criminal Intent' with "Classics" such as '10.000 Watts of artificial pleasure', a quite punk effort, or 'Make a Star' and entertained the audience well.
Rating

Music: 5
Performance: 7
Sound: 6
Light: 6
Total: 5.9 / 10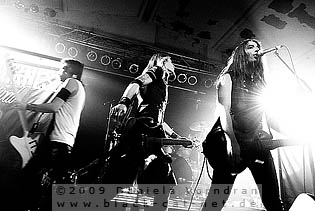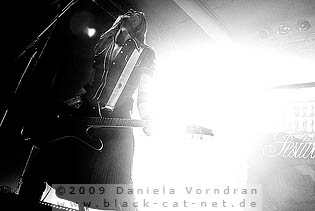 Lacrimas Profundere

LACRIMAS PROFUNDERE is a German band founded in 1993 by Oliver Nikolas Schmid. Short time later he was joined by his brother Oliver Schmid. But it was not before the entrance of vocalist Anja Hötzendorfer, they drew enough attention to themselves to be able to record their debut, entitled '...and the Wings Embraced us' which was released in 1995 followed by the second album 'La Naissance d'un Rêve' in 1997. Taking a look into the future now we'll notice there have been several substantial changes to the line-up and except for Oliver no one of the original crew remained. Same goes for the style of music which has become an emotive mixture of Dark, Rock, Gothic and Doom Metal. With 'Songs for a last view', they've released their most recent record at the end of June 2008. LACRIMAS PROFUNDERE is Oliver Nikolas Schmid (guitar), Tony Berger (guitar), Peter Kafka (bass), Karl Fuhrmann (drums) and Roberto Vitacca (vocals).
http://www.lacrimas.com/
/
http://www.myspace.com/lacrimasprofundere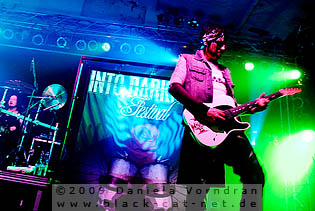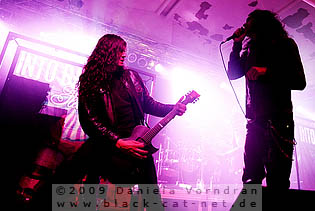 Music & Performance

The band from Swabia wasn't even supposed to play on this tour. They filled in for Canadian THE BIRTHDAY MASSACRE who cancelled their participation on this tour for various reasons. I had seen them last time in Belgium within the scopes of Gothic Festival, where they laid down a good performance. But could they really bring the audience in Cologne into action. I wasn't so convinced as they've a reputation of being quite reluctant, but obviously they couldn't stand against the charm of singer Roberto Vitacca intonating with his dark, sonorous voice songs such as the bitter 'Dear Amy' or 'Sweet Caroline' where he would employ a much deeper vocal technique than usual. The only remaining founding member Oliver Nicholas Schmid was a sensation of its own playing the guitar as if it's a literal part of him going with its vibration all the time, and rocking like a maniac.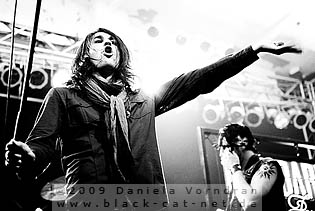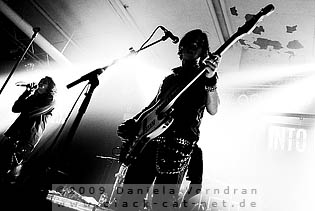 Anyway, we talked about the audience earlier. The music seemed hitting them really well, as they're enthusiastically clapping along when asked to, screaming included. Believe me that's quite an achievement in Cologne.
Setlist

01. We shouldn't be here
02. To Bleed or not to be
03. Dear Amy
04. Sweet Caroline
05. Sacrificial Lamb
06. Should
07. Amber Girl
08. I did it for you
09. My Mescaline
10. Ave End
Rating

Music: 6
Performance: 8
Sound: 7
Light: 6
Total: 6.8 / 10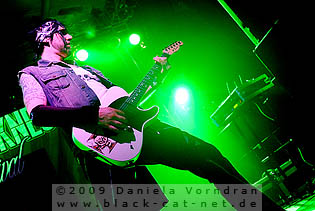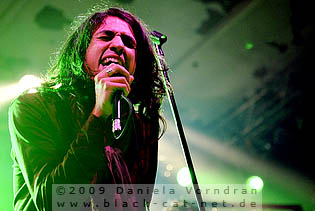 Deathstars

The DEATHSTARS founded in 2000 by band members from DISSECTION, SWORDMASTER and OPHTALAMIA. In 2002, they debuted with 'Synthetic Generation' which sold very well in Sweden first, but later also in the rest of Europe. During the recordings to their second album 'Termination Bliss' released in January 2006 eventually, their former bassist left the band and "Cat Casino" who's only played live until then became a full member of the band. In October 2007, the band started with the recordings for the next album. In spring 2008, they supported KORN and FLYLEAF on their mutual tour and finally in January 2009, 'Night Electric Night' saw the lights of day. DEATHSTARS is Andreas "Whiplasher Bernadotte" Bergh (vocals), Eric "Cat Casino" Bäckman (guitar), Emil "Nightmare Industries" Nödtveidt (guitars and keyboards), Jonas "Skinny Disco" Kangur (bass and backing vocals) and Ole "Bone W. Machine" Öhman (drums).
http://www.deathstars.net/
/
http://www.myspace.com/deathstars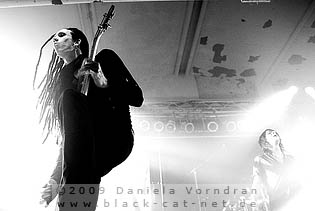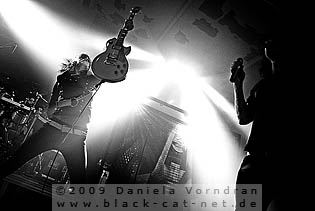 Music & Performance

Usually, when the DEATHSTARS are playing there's lots and lots of excited fans waiting in front of the stage and in Cologne it was exactly the same. Already with the first song 'Night Electric Night' from their latest album starting with a luxurious string section to segue into a straight fast axe afterwards, the hips were shaking, the heads banged and additionally also the horns flew into the air. Much to the likes of singer and front man Whiplasher Bernadotte delivering the vocals in a growl-like style! The set then continued soon with the speedy 'Semi Automatic' which saw the involvement of the audience with the lines "…the motherfuckers saying..." If you still needed proof how many DEATHSTARS fans were attending the show this was it! The merciless 'Motherzone' kept the crowd on their toes, screaming and dancing along to the songs, just like the war mood inflicted 'Blitzkrieg' that was sweeping away over the audience like a storm.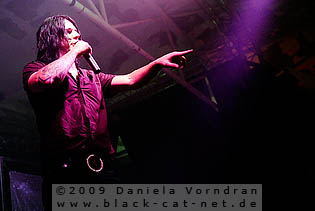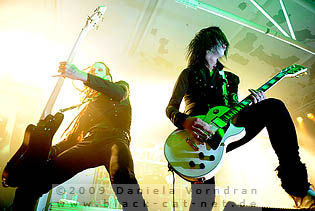 In the midst of this mighty mixture of orchestral pomp and metallic harshness, the band, particularly Whiplasher and his partner in crime Skinny Disco who also added some screeching vocals, fired up a dynamic performance dashing all over the stage outspending themselves completely for their audience. Well, to say that I'm a fan of the DEATHSTARS now would be a bit of a stretch, but they were fun from where I was standing.
Setlist

01. Night Electric Night
02. Babylon
03. Semi-Automatic
04. Mark of the Gun
05. Motherzone
06. Arclight
07. Chertograd
08. Blitzkrieg
09. Tongues
10. New Dead Nation
11. Trinity Fields
12. Blood stains Blondes
13. Cyanide
14. Death Dies Hard
Rating

Music: 5
Performance: 8
Sound: 7
Light: 7
Total: 6.5 / 10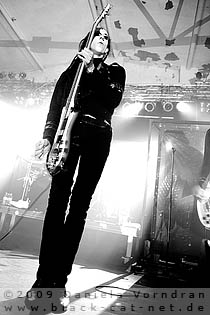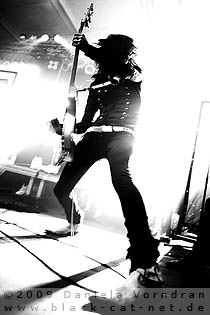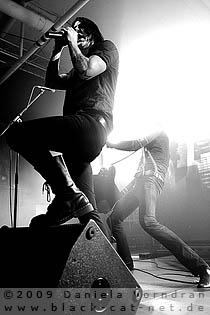 Diary of Dreams

I think there is no need for a detailed introduction of this band and RoD favourite anymore. Since 1989, DIARY OF DREAMS enchants a still growing fan base all over the world with beautiful and at times fragile tunes. Already 1.5 years after 'Nekrolog 43', the latest album '(if)' was released on 13th March 2009. In this release was going to be celebrated with this special concert today. Just the day before, the 'King of Nowhere' MCD including a brand new video clip has been released. DIARY OF DREAMS is Adrian Hates (vocals, guitar), Gaun:A (guitar), D.N.S. (drums) and Torben Wendt (keyboards). Because Torben could not make it to the tour, first two shows including the one in Cologne have been played by Mauri (STONED AGE) on keyboards while for the others, good old friend Taste was back.
http://www.diaryofdreams.de/
/
http://www.myspace.com/diaryofdreams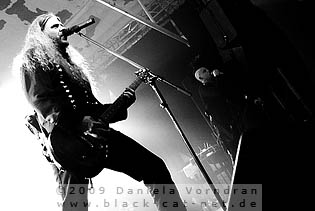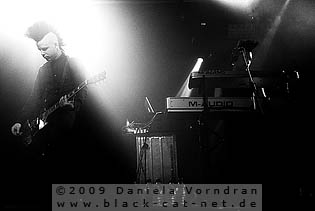 Music & Performance

This is not to disrespect one of the other bands, but this was the one I was actually looking forward to: DIARY OF DREAMS! Not planned as headliner initially but quite rightly upgraded to be one for us here and at all German dates of the tour. Anyway, sharp at 10:30 PM, the lights were killed and we were introduced to the show by the disquieting sounds of an instrumental track leading over to the real set opener 'Wahn!Sinn?' to which Adrian would be entering the stage as last one and directly start to rile up people only necessary with one part of the audience, I shall say. But you were astounded how responsive the audience in Cologne was this time, by Cologne-standards groundbreaking. I'm getting off-topic, so back to the music. 'The Plague' was next and demanded even more physical play from us with its faster, more driving rhythms. We were given no break with the next two tunes 'The Chain' and 'The Wedding' and also Adrian and Gaun:A allowed themselves no respite, duelled a little and besides that, tirelessly rocked the stage which was bathed in a mist of colours.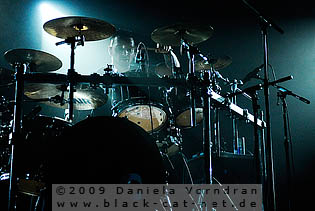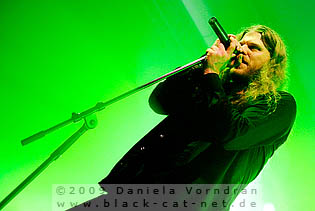 Just released as new single on Friday, 'King of Nowhere' was coming up now and its sentimental, melancholic piano melody embraced us right away, as the gently driving rhythm slowly pushed us further. Adrian now had put away the guitar and concentrated on singing with his great voice and interacting with the audience. The set went on with 'Hypo)crypticK(al', in a way hopeless and strong at the same time, and 'Soul Stripper'. I absolutely prefer the live version, especially with the splendid drum solo by D.N.S, apart from that all of the protagonists visibly enjoyed to perform the song. We went straight back now to the cryptic 'Nigredo' trilogy with the rousing 'MenschFeind', getting its mood amplified with thin multi-coloured light beams, and the even more furious 'Reign of Chaos'. It was also one song off this trilogy that closed the main set after 'Poison Breed' and that was one of THE crowd pleasers 'Kindrom' whose chorus we were all singing along, even after the song had already faded and the band had left the stage.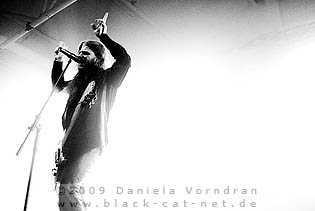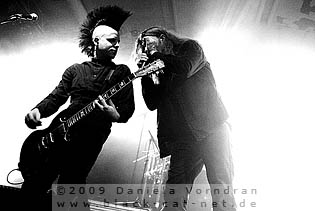 They would have to return two times to give us the rockier version of 'AmoK' and the classic 'The Curse'. Of course that wasn't even remotely enough and for a moment it seemed we could get them on stage for a third time, but then the stage crew appeared and we knew all clapping and shouting wouldn't give us another encore. Anyway, the show was great, even without that.
Setlist

01. Wahn!Sinn?
02. The Plague
03. The Chain
04. The Wedding
05. King of Nowhere
06. Hypo)crypticK(al
07. Soul Stripper
08. MenschFeind
09. Reign of Chaos
10. Poison Breed
11. Kindrom
---
12. AmoK
---
13. The Curse
Rating

Music: 10
Performance: 10
Sound: 9
Light: 8
Total: 9.6 / 10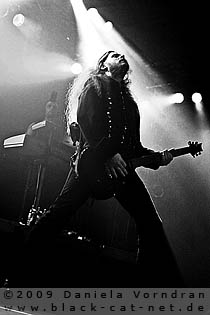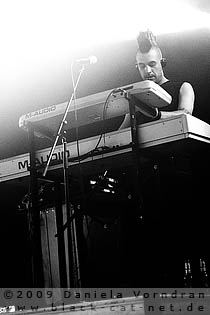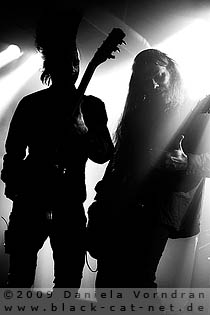 All pictures by Daniela Vorndran (
http://www.vorndranphotography.com/
/
http://www.black-cat-net.de/
/
www.myspace.com/vorndranphotography
)
{jos_sb_discuss:18}