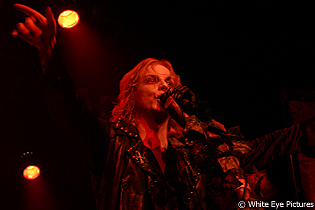 Gothtronic Festival, Leeuwarden, The Netherlands
November 26th 2005
Rosa Crux, Tantrum, The Vision Bleak, XP8, The Frozen Autumn, Katzenjammer Kabarett, Silent Stream of Godless Elegy, Misery

On a frozen and snowy night in November goths and some of their favorite bands gathered in Leeuwarden for the Gothtronic festival!
Misery
I had seen this band once before, in a venue which did not do them justice at all. It was hard to tell what their own qualities and failures were and which were the venues'. Today they were the opener of the festival. After a sound check they started half an hour late. But that was going to happen more this day.
Music
Misery performed songs from their demo album 'Nexus'. During two songs they were reinforced by Roeland of the band Prey, he has a warm voice and you can hear each word he sings. This is not always the case with Lies (vocals) but she has a pleasant voice as well. At times there is a childish sound in it which makes it distinct. The vocals overrule the other instruments in the sound mix. The guitar of Edwin is least audible. Alain takes care of the electric beats, which are great to dance to. All in all they provided a pleasant opening of this festival.
Performance
Your eye is immediately caught by Lies, she wore a very short pvc skirt and coloured dreadlocks. Besides this she is almost the only one moving on stage and she likes to jump sometimes which gives her a somewhat childish innocence which fits her looks (and voice) perfectly. Both men were dressed in black pants and a white shirt, which had a nice effect because the letters at the bottom of the projection-screen were now projected on to the shirt/head of Edwin. There is not a lot of movement on stage. It was hard to see Lies' face because there was no front light (or much other light) and thus you couldn't see the emotions on her face, a pity of course.
Rating
Music 7
Performance 7
Light 4
Sound 6
Total 6 (6,4)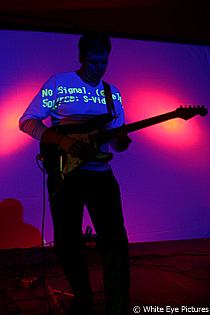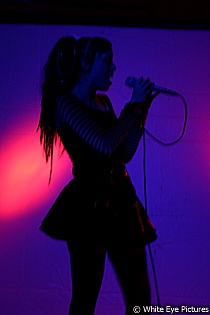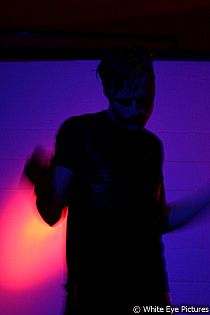 Silent Stream of Godless Elegy
This Czech band has been around since 1996. They have won several awards with their work and have performed all over Europe supporting many bands such as Anathema, The Gathering, Cradle of Filth and Skyclad which are not the least of names. The Silent Stream of Godless Elegy (SSOGE) has worked for three years on their latest album 'Relic Dances' which presents a mixture of metal and Moravian melodies, doom metal sorrow and melancholy and the grief of Moravian traditional ballads.
Music
The first thing I noticed were the many band members and the variety of instruments. Besides the usual guitars and drums there was also an electric cello and an electric violin. In addition to this they have two singers. Hanka Nogolová takes care of the female vocals, which are often soft and the lyrics are hard to understand. Pavel Hrnčíř is their male singer and grunter. In the beginning of the performance he wasn't audible in the mix but that was adjusted later. The music has little variation, the highs and lows were missing. At times a sudden impuls of the violin gave their songs an enegry boost, shame that didn't happen more often though.
Performance
It was great to see such a big band on stage, leather seemed to be the theme in their outfits for both of the women wore leather skirts and some of the men wore leather pants. Each had their own place on stage and they had fun amongst each other. Hanka, whom was wearing a folkloristic blouse which fit their music, was the only one who also made contact with the audience. The musicians seemed a bit to shy and Pavel was mostly hidden behind his hair. They did give us the feeling we were very welcome and they wanted to perform their music for us by the passion with which they played their songs. The lights were moving to the music but a little more colour would have been nice.
Rating
Music 6
Performance 7
Light 6
Sound 7
Total 7 (6,6)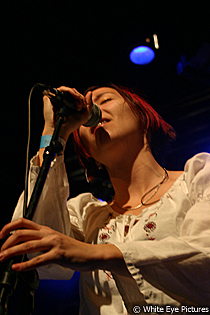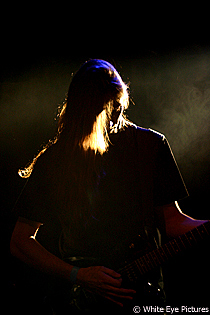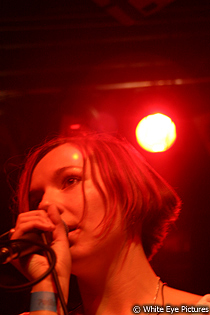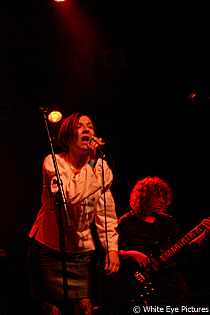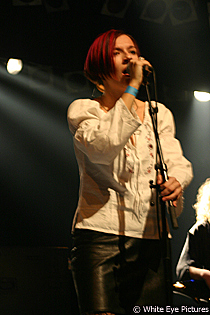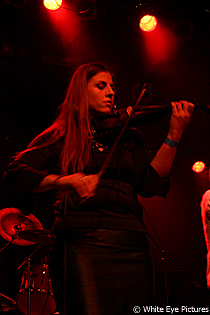 Katzenjammer Kabarett
If you go and see their show don't expect anything normal, if you go to visit their website, don't expect anything normal. As they say themselves: "Don't expect the unexpected, be open minded :)" ; Welcome to the world of the Katzenjammer Kids. I had no idea what to expect of this French band but I was pleasantly surprised. When I entered the venue after dinner there was quite a crowd gathered around the small stage and they seemed to be enjoying themselves. Even Olivier from Rosa Crux was watching.
Music
Mary Komplikated is the lead singer, although she is more than just a singer. Her lyrics are spoken, acted, sung, and cried. Sometimes even high squeals are part of her lyrics. She might not have the best of singing voices but her theatrical abilities make up for this completely. Most songs were from their latest EP which can be downloaded from their website. Besides this we were treated to one new song 'Down the Stairs' which seems to be a song fitting their tradition. On stage there are also a guitar and bass player and someone behind the pc, from which piano tunes and all additional beats come. They play songs in a wide variety of styles but still they all have the Katzenjammer Kabarett style. For instance a waltz is alternated by a more Chicago like musical/cabaret song or a more punk like song.
Performance
The stage is ruled by the leading lady, other band members only come in to vision when they are given attention by Mary. Wearing her cabaret outfit with a twist she is an eye catcher. A high black hat with butterflies on it completes her appearance. Her eyes speak to the audience. Sometimes she appears to be a robot or a doll, even going after her fellow band members as if she's going to kill them. The audience is concluded in the show, people are addressed. Even a kiss was brought to one of the men standing in front. Once an audience member screamed, to which Mary replied 'you have a good scream you should start a rock band'. When they played the 'Gemini Girly Song' the audience was asked to waltz along. There were some technical problems but these were solved with a smile and they finished their performance anyway which show they have a professional attitude. As with the other performances on the small stage there was unfortunately little light. Which I think also made it harder for the rest of the band to get any attention; your focus was placed on only one member, which was Mary.
Rating
Music 7
Performance 8
Light 6
Sound 6
Total 7 (7,1)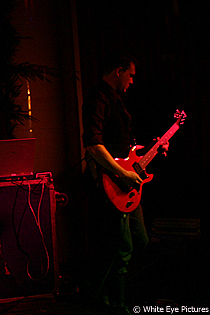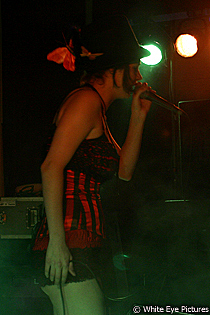 The Frozen Autumn
In 1993 the Frozen Autumn started out as a solo project of Diego Merletto (vocals, synthesizers, samplers, fx, programming and composing). In 1998 he formed Static Movement with Arianna a.k.a. Froxeanne (vocals, synthesizers, samplers, fx, programming and composing). Now the Frozen Autumn is a real group definitively formed by Diego and Arianna while Static Movement will exclusively remain their 'concept research project'.
Music
The first description which comes to mind is; pleasantly numbing hypnotising beats. These beats are sometimes accompanied by the warm voice of Diego or the voice of Arianna who's singing can be a bit out of tune at times or just on the verge of being so. Even though her face shows no emotion you do hear them in her voice. As their third song 'Guardian Angel' set in the music comes to live, high accordion like tunes give the music an extra dimension.
Performance
Both are dressed in outfits which seem to come from the eighties, which fit their hairdos. They are a great appearance. One of their first songs is 'Static Cold' which is very suitable for the entire band. There is hardly any movement on stage for most of the time both Arianna and Diego stand behind their synts and even the lights hardly move. That changes during the performance though. At times Diego or Arianna comes to the front, where there's a microphone to sing, giving the performance some extra energy, especially Diego who dances in-between his lyrics. This also caused some technical problems because the wire of the microphone got detached when he was dancing. Arianna sometimes posed for photographer's in-between her singing, but other from that she stood quite still, hardly even moving her face, no emotions. The lights also come to life during the show, colours start changing and lamps start moving, and with this the show was brought to life as well.
Rating
Music 7
Performance 6
Light 7
Sound 7
Total 7 (6,6)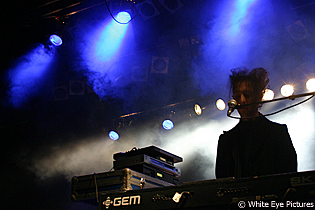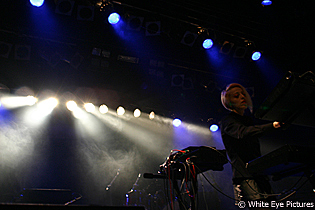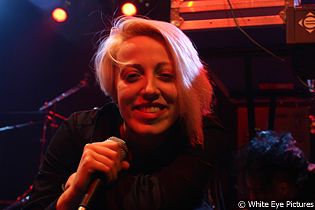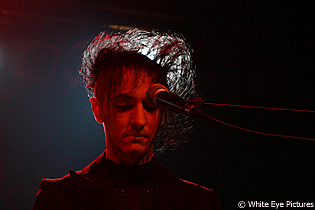 XP8
Another pleasant surprise tonight; XP8, all the way from Rome. This was their first performance for a Dutch audience and as was predicted on the Gothtronic website, they surely got people dancing. When checking their website it seemed they had enjoyed their show as much as the audience did "we love Holland and Holland loves us: the perfect combination)". Let's hope this means they'll be making a habit of coming over to perform here. For those who want to see them they'll be here in February to play in Zaandam.
Music
This is music which moves your feet. The 2 men behind the electronics create the most danceable beats. While their singer provides the lyrics with a very pleasant voice which sometimes just becomes one with the beats. The sound mix was very well done for both vocals and music were equally audible.
Performance
3 men on stage who seemed to have flour on their heads and shoulders making them look as if they had just been dug up from some old box in the attic, it had a surreal effect. With flashing lights and projections on the screen at the back of the stage they had a very energetic presentation. Both singer and musicians were having a great time. The energy and fun they had infected the audience who all started dancing and enjoying themselves. While singing you could see the emotions of the vocalists lyrics in his face, which I always find a pleasure to see.
Rating
Music 7
Performance 7
Light 7
Sound 7
Total 7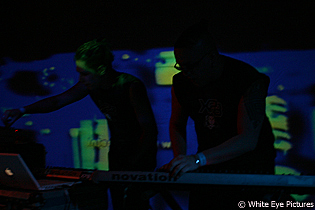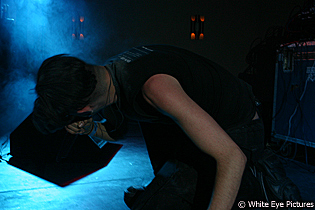 The Vision Bleak
This was one of the bands I was looking forward to seeing. Allen B. Konstanz and Ulf Theodor Schwadorf are the story tellers of 'Carpathia'. Their second album is the dark story of a businessman becoming heir of the old estates of his family in the far and strange Carpathia, which is self consistent but is also enhanced by the mysterious and grand music of The Vision Bleak.
Music
I was wondering how they would present themselves on stage with just the two of them. Fortunately they have found several men to support them with live music. Most songs they played were from their second album 'Carpathia' but they also played for instance 'Wolfmoon' of their first album 'The Deathship has a new Captain' This is one of the most catching songs of this album, the refrain is easy to remember. In the beginning of the show the sounds was a disturbed but this was adjusted and then the sounds was as it should be. The vocals were even more convincing then on the album, great live band.
Performance
The stage was decorated with 2 screens which had trees painted on them and the microphone standards for both Allen and Ulf were made of wood with ivy around them. Before even starting their show they had created their own atmosphere on stage. The band entered the stage while the intro of the 'Carpathia' album was playing. There was little reaction from the audience, few had heard of this band. Though I do think they have convinced a new audience, during their performance about half of the people left but those who stayed were dancing, banging their heads and sometimes even singing along. The band apologised for anything that might go wrong because they had little time for they arrived later then planned because of the weather. The audience was part of the show, we were asked to sing along to the refrain of 'Kuthulu' and clap along to other songs as well such as 'Dreams in the Withc House' which is their favourite song. Both Allen and Ulf often took place either on or in front of the monitors on stage; they were really performing for their audience.
Rating
Music 8
Performance 8
Light 7
Sound 7
Total 8 (7,7)

Setlist:
01. Intro
02. Secrecies in Darkness
03. Carpathia
04. Wolfmoon
05. Kuthulu!
06. Dreams in the Witch House
07. The Grand Devilry
08. The Curse of Arabia
09. The Charm is done
------------------------------------
10. The Lone Nightrider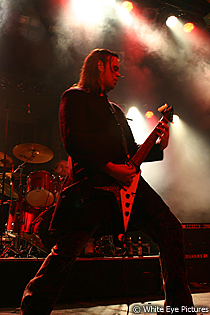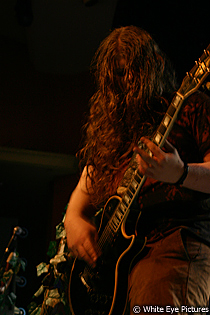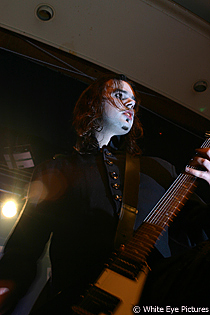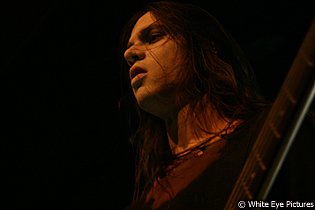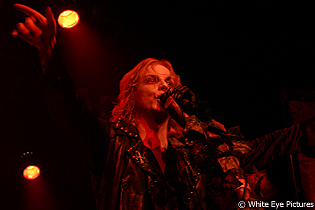 Tantrum

Immediately after The Vision Bleak, Tantrum hit the stage. They had their own audience, it was quite full in front of the small stage. A large crowd of wonderfully gothic dressed people were dancing to the beats of Tantrum.
Music
Tantrum is dark, hard and fast. Electronic drums make sure everybody moves their feet. And whilst everybody is dancing, aggressive vocals bring the lyrics of Tantrum. These are passionate musicians and that is heard in their music.
Performance
At first these men only had white stripes on their upper body, lighting up in the blacklight. But after a while they covered themselves in black paint as well. This fitted their aggressive music. Their stage act was well adjusted to the music. A microphone standard was broken, monitors flew over the stage. They were jumping and raging over the stage which was filled with flashing lights and a lot of smoke. One dark disco. Unfortunately the band didn't seem to enjoy themselves as much as the audience. They expected more screams and reactions from the audience and thus left the stage with one song left to play.
Rating
Music 7
Performance 7
Light 6
Sound 7
Total 7 (6,9)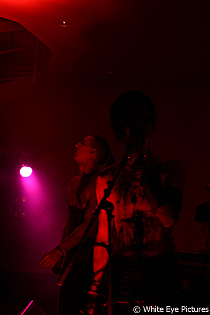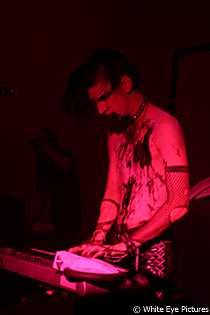 Rosa Crux

Olivier Tarabo (guitar, vocals) and Claude Feeney (piano, carillon, chord) are Rosa Crux but they are assisted on stage by; Armelle Payen (double bass), Rosa Chordis (choral ensemble), Chantal Dereigne and Adèle Rousseau (dance de la terrre) and B.A.M. which is a drum and percussion system which is designed by Olivier him self.
Music
If you have never seen or heard Rosa Crux be prepared for a new experience. They bring a mixture of Latin lyrics and Hebrew lyrics which are also alternated by meaningless phonemes. All is focused on bringing the right atmosphere to the audience. They use some extraordinary instruments for instance a carillon and a piano from which not only piano is heard but also an organ. But the most mysterious instrument is B.A.M. which is a collection of drums, kettledrums and cymbals which are automatically played. The choir added extra depth to the music; it gave the songs an extra layer.
Performance
Besides their instruments the stage is decorated with a large screen with deadheads on it and a projection screen on which video presentations take place during the entire performance. These range from the mass graves of Paris to the Latin lyrics of 'In Ternebis' and even an ancient dark ritual is shown in which a martyr is put in an iron cage and swung against a large plate. The projections are exactly timed to the music. There are also two racks with a huge amount of candles on stage, which enhance the medieval and mysterious atmosphere. The lightshow was very bright this time, which reduced the intimate atmosphere but it did enable the audience to see all that was going on on stage. At one point Olivier went and got his little rat which is then placed in a snare instrument. By walking in his treadmill he makes 'music', even though Olivier was very sweet to the rat he didn't seem that excited to do his job. After a few rounds he sat down to clean his paws and rest. Besides the musicians there are others on stage as well, for instance during 'Invocation' a man waving a flag took place on stage waving his long flag over the audience (hitting some members of the audience while doing so). When it was time for the final song 'Elio-Elo' Olivier had left the stage. A large table was placed in the middle of the audience and then Olivier and one of the Dance de la Terre dancers came out with a blanket still rapped around them and then took place on this table (usually there are a man and a woman doing this dance but today Olivier replaced the woman). They took of their blankets showing us their naked bodies which were covered in red clay, red clay dust in front of them. Both placed a knot of ropes in their mouth, the clay covered ropes hanging in front of them. Then they performed the Dance de la Terre, which seems to be a dance of self chastisement. After this there was unfortunately no possibility to given an encore, but it was a worthy end to this fantastic show; the perfect ending to a great day.
Setlist
01. Invocation
02. Abbrasax
03. In Tenebris
04. Terriblilis
05. Moritvri
06. Hel Hel
07. Aglon
08. Sacrvm
09. Omnes
10. Arcvm
11. Misericorde
12. Elio Elo
Rating
Music 8
Performance 9
Light 7
Sound 7
Total 8 (8,1)