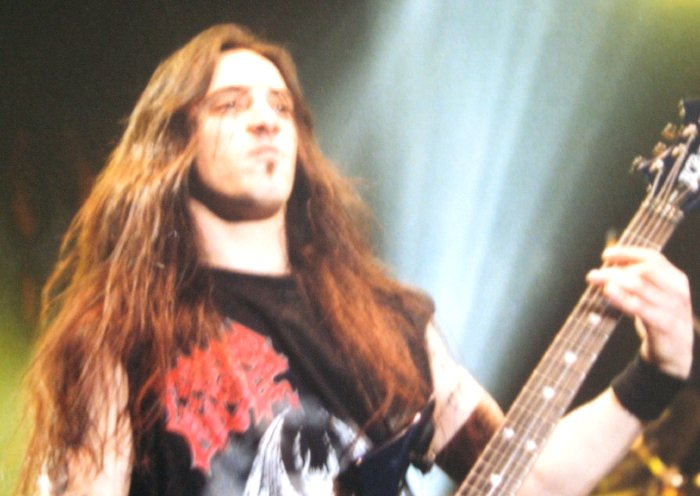 X-mass metalfest
edition Hardenberg, Nighttown and Tilburg - the Netherlands
February 2004
Morbid Angel, Chimaira, Orphanage, Epica, and support
Metalfest starts this year in Hardenberg with Epica, Chimaira and Morbid Angel; that'll promise a lot of metal!
The first band I see in Hardenberg is
Epica,
I was late because there were some trafficproblems.
People who know Epica will see a short set with as final song "
A phantom Agony
". After two weeks the band is for the first time again together on stage and maybe that is the reason why there were some little mistakes. Also the performance is not as good as usual and too many times the bandmemebers are standing for themselves and not playing together. It is Ad, the second guitarist, who is most powerfull person on stage. What makes that it is not so bad as it could be.
The next day in Nighttown it is Mark who has a strong connection with the public. Again there are some little mistakes and the perfomance is not impressive. There is no energy and the band plays like they are practising for a moment. I had almost the feeling that Epica lost their fire, but in tilburg, where they had their first gig too, the energy is back. Mark is so full of energy and the band plays better, with more feeling. Compliments to Simone, she was a bit ill, but she gave all what she had that evening. The feeling is back, but too late. Epica had to make new fans with this tour, but they felt away by Orphanage.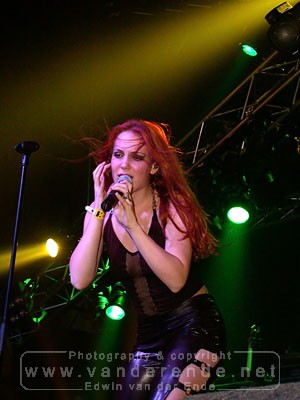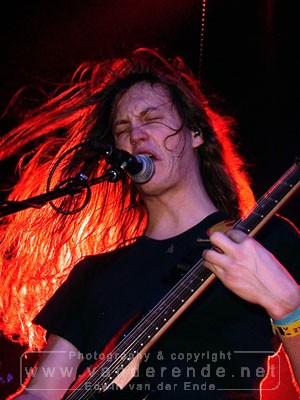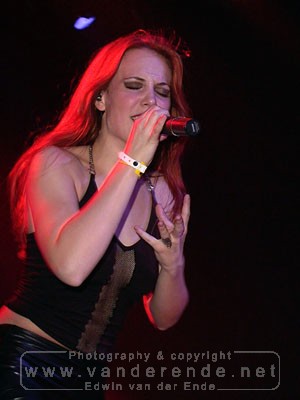 The next band on stage is
Orphanage
, a band who is is famous since their beginning in 1994. They did some shows with Within Temptation and after a silence from more than a year they are back with a new cd "
Driven
". All the tree days they made a strong impression. The performance was good, sound was great, the band had a lot of energy and they had new songs who sounds harder and even better than some old ones. Enough reason to say that Orphange prooved to be a great band who stands high in the Dutch metalscene.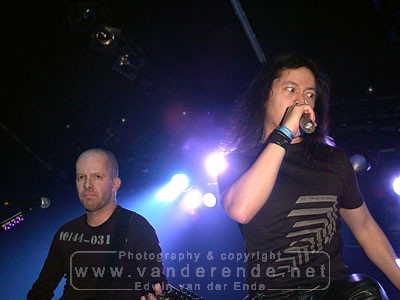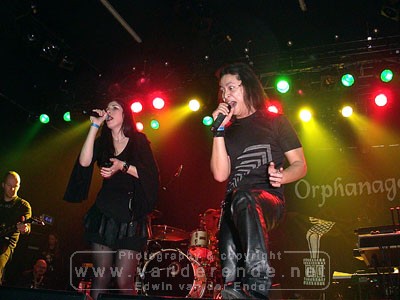 Chimaira
, a great nu-metal band, is touring in Europe with their new cd. They played the whole weekend a great show, with a lot of power. Also when it is not your kind of music the great energy of the singer will make that you listen. He is making jokes with the audience and seperates it to let them come together in a moshpit. In Hardenberg they showed that they are more than just a nu-metal band with a sound where you recognize Nirvana and the Deftones, but also be an new wave in the metalsound. In Nigthtown they played as well as before, but the audience wasn't as great as the day before. Also there were some problems with the ligth, but in Tilburg the audience was great again.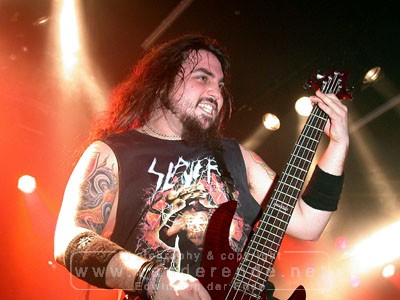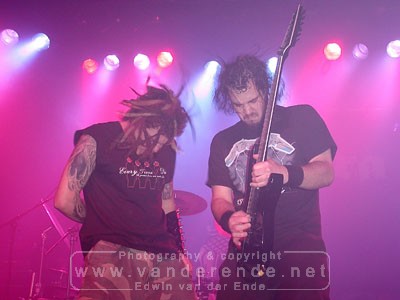 Morbid Angel
: a long time ago they stood at Dynamo. Now they have a new cd from a high quality "Heretique." The first time they toured with this show is in Hardenberg, and it is true that the record is a new chapter in their career. The old deadmetalband has put themselves on the list. Most people came this night for this band, to see them live on stage. It is the first show of a long tour and they haven't practice. The whole band has not a strong connection together, but Steve is a good performer; his grunts are very emotional and he has a great contact with the people in the front.
Trey stands alone in the right corner, playing like he is alone in his own world. With his hair that covered his face, he is a mystic artist, afread to look at the audience, focussed on his guitarparts. Pete in the back is also just focussed on his own play, hardly not intrested in the audience. On the left there is new face named Tony Norman, the guitarist from Montrosity. He knows how he has to play a game with the people, but he makes a good impression.
In Nighttown they played their best show of the tour. Trey had a great day and had more contact with Tony on the other side. Pete was given full power en Steve is as great as he always is. The show in Tiburg was good, but it was good to see that the band was tired, but the people in the front wouldn't notice that, for them it was just the first time they saw a great deathmetalband. After the show the band is broken: Sweaty Pete need soms rest and also grunter Steve is 'empty' in his own words. All together they managed to keep the show interesting.