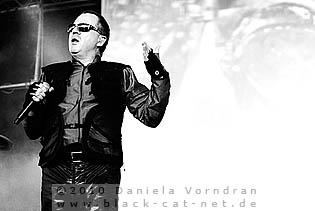 Amphitheater, Gelsenkirchen, Germany
12th & 13th June 2010
Blackfield Festival 2010 Day 1: Front 242, Covenant, Deathstars, Vive La Fete, Diorama, Zeromancer, Girls Under Glass, Aesthetic Perfection, Jesus On Extasy, Scream Silence
For the third time, the Blackfield Festival opened its gates. Taking place at the wonderful amphi theatre in Gelsenkirchen, right on the riverside, it promised to be again a festival experience extraordinaire. Even though the first day started with slight rain, the weather turned to be rather perfect in the course of the festival. With FRONT 242 and COVENANT, this day offered two first class electronic acts headlining the Saturday. But secret winner of the day definitely were Norwegian ZEROMANCER…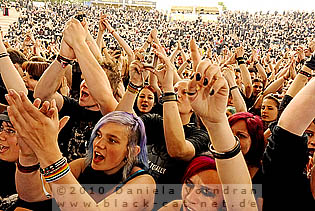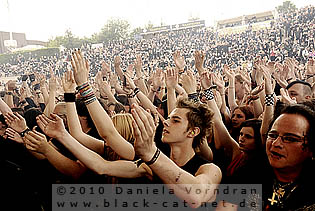 Scream Silence [Sebastian Huhn]
Berlin-based SCREAM SILENCE was founded in 1998. Already the first album 'To Die For' released in 1999 became "CD of the Month" at German music magazine Orkus. Due to the success of the first album they were able to tour with the likes of CHRISTIAN DEATH and DREADFUL SHADOWS. The sophomore album 'The 2nd' (2001) and its follow up 'Seven Tears' (2003) became incredibly successful as well with great press reception and spread the name SCREAM SILENCE way beyond Germany's borders, As would be all the following albums, the newest leap of which was 'Apathology' released in October 2008. SCREAM SILENCE is Hardy Fieting (vocals, keys, synth), Robert Klausch (guitar, acoustic guitar), René Gödde (guitar), Hagen Schneevoigt, (bass) and Heiko Wolf (drums).
http://www.screamsilence.de/
/
http://www.myspace.com/screamsilencemusic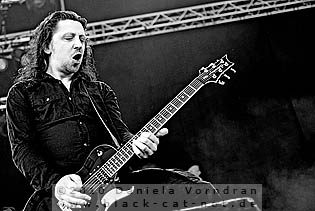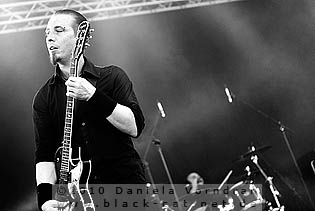 Music & Performance
SCREAM SILENCE definitely were catching the wrong time to open the festival, since it just had started raining. While such an event usually can spoil the mood in the fraction of a second, it didn't happen this time. Starting with the commanding 'The Vitriol', Hardy Fieting and his crew had the crowd under their control quickly, especially the one gathering under the roof not to get soaking wet in the end. Second one in line 'Harvest' saw the band initially taking off to its compelling rhythms and the crowd followed suit in singing, clapping or dancing along. Further highlights of the in my opinion far too short set were the slow, emphatic 'Athanasia' placing the emphasis rather on intense vocal performance and atmospheres than on danceable music, and the monumental closing that was 'Elegy'. Would've been a perfect start of the festival if it weren't for the weather! Musically it was after all.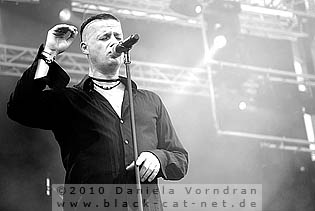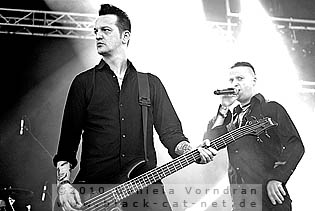 Setlist
01. The Vitriol
02. Harvest
03. Creed
04. Above And Within
05. Athanasia
06. Elegy
Rating
Music: 8
Performance: 7
Sound: 7
Light: - (daylight)
Total: 7.5 / 10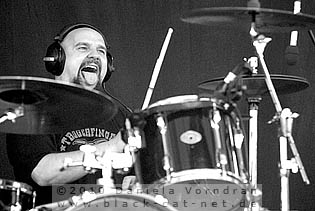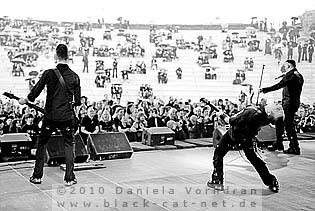 Jesus On Extasy [Sebastian Huhn]
JESUS ON EXTASY emerged in 2005 with the intention to breathe new life into the "dead" industrial genre and with their first album 'Holy Beauty' they literally took off and quickly became a hype in the Goth scene; but as opposed to other bands who laid down quite a similar career those guys and the girl have talent and are real musicians. With the second album 'Beloved Enemy' that came out in May 2008 they definitely proved they're no flash in the pan and presented an evolved and matured sound. 'No Gods', the bands upcoming album is scheduled for a late summer release. JESUS ON EXTASY is Dorian Deveraux (vocals, synths, samples) Chai Deveraux (guitar, synths, backing vocals, programming) Ophelia Dax (synths, keys), BJ (bass) and Dino (drums).
http://www.digital-dandies.com/
/
www.myspace.com/jesusonextasy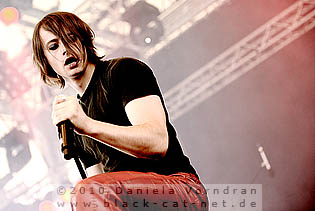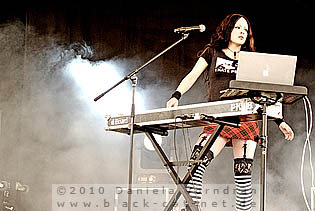 Music & Performance
The honour of being the second band of Saturday was given to JESUS ON EXTASY who flooded the stage with the equally propelling and dark compound of 'Change the World' to open their show. Dorian and Chai were sweeping over the stage as usual, supported by former drummer and new bass player BJ, adding the necessary deep tones. But this show was also the place for new things. Our host for the festival Jens announced the band with the remark that the new album 'No Gods' will be out in August, and the title track was right up next after well-known 'Beloved Enemy' and 'Assassinate Me' had unfolded their effects on the crowds. 'No Gods' is a typically driving and atmospheric piece, introduced by a classical piano motif from Ophelia Dax who of course was handling the keys again. The violent and harsh 'Neochrome' put an end to a performance that was neither extraordinary nor bad, but a good show nonetheless.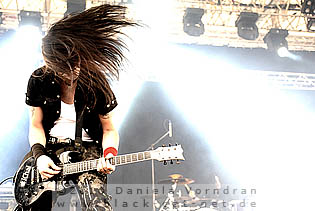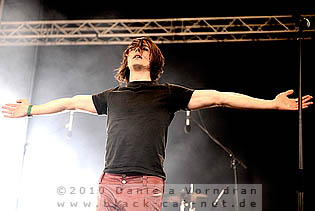 Setlist
01. Change The World
02. Beloved Enemy
03. Assassinate Me
04. Alone
05. No Gods (New Track)
06. Direct Injection
07. Church Of Ecstasy
08. Neochrome
Rating
Music:8
Performance: 6
Sound: 7
Light: - (daylight)
Total: 7.1 / 10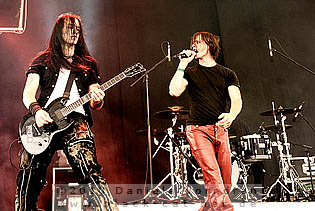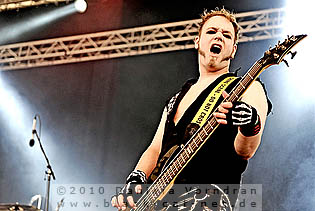 Aesthetic Perfection [Sebastian Huhn]


Facts about this project's history are rare except the one that Austrian-based Daniel Graves is the sole member behind this dark electro project and released two successful albums with 'Close to Human' in 2005 and 'A Violent Emotion' in 2008. Besides that, he's running a more melody-focused electro project called NECESSARY RESPONSE. AESTHETIC PERFECTION is Daniel Graves (all music, vocals and lyrics), David Dutton (live keyboards) and Tim Van Horn (live drums).
http://www.aesthetic-perfection.net/
/
http://www.myspace.com/closetohuman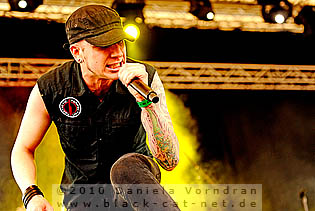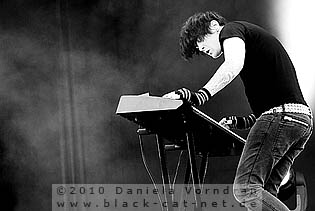 Music & Performance
Actually, I thought we were about to get a clean injection of electro right now and in fact we did, just a little different from what I expected. Daniel Graves had thought of something to spice up his clubby tunes a bit and what could be better than a live drummer to accomplish that? You're damn right? Hardly anything, but before we got to see his qualities, the introduction 'The Violence' opened the set, leading into the stomping 'The Great Depression'. That was the point when it really got stunning. The drummer, placed sideward to the audience, added a fair dynamic boost to the electronic backdrop and elevated the tune and following numbers over mere dark electronic mediocrity with this top notch playing.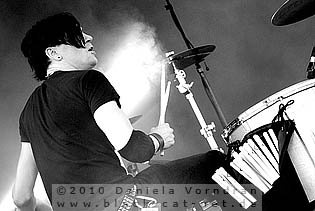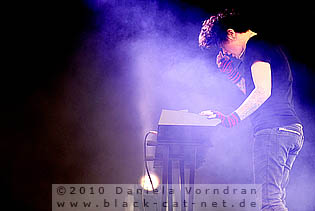 While he was drumming the devil out of his soul, the mentioned one seemed to have gotten into Daniel Graves, running from one side to the other, screaming at the top of his voice, and he wouldn't be turning down just a bit on following tunes like 'Schadenfreude', 'Pale', or the rousing set closer 'Spit It Out'. Definitely a live force to be reckoned with!
Setlist
01. The Great Depression
02. Schadenfreude
03. Pale
04. The Ones
05. The Siren
06. Living the Wasted Life
07. Spit it Out
Rating
Music: 7
Performance: 8
Sound: 7
Light: - (daylight)
Total: 7.4 / 10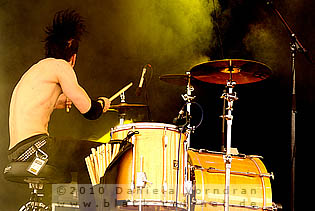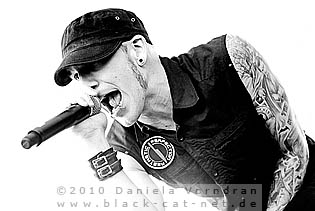 Girls Under Glass [Sebastian Huhn]
The start of the whole story goes way back to 1986. In May of the same year, they were already playing their first live show. Recordings for the first album 'Humus', which sold out rapidly upon release, commenced in 1987. The album eventually came out in 1988. With the third album 'Positive' a stylistic shift occurred and harder rock elements, as well as electronics found their way into the band's sound. Moreover, it was the first album to feature Volker Zacharias on vocals. Album number four 'Darius' sees them incorporating even Metal elements and features Peter Heppner as guest singer on two tracks. Until then they'd already build a reputation second to none inside the genre, which they had become an influential factor for and would be through all the years of their existence. The last aural proof of life came in 2005 with the album 'Zyklus' released on Cellar Door, a sub label of Dependent Records. A visual treat followed in 2006 with the 'Focus' live DVD. GIRLS UNDER GLASS is Volker Zacharias (vocals guitar), Axel Ermes (synth & digital treatment) and Lars Baumgardt (guitars). Hauke Harms (keys, drums, vocals) has left the band.
http://www.myspace.com/girlsunderglass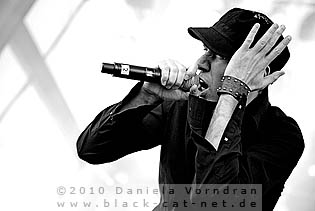 Music & Performance
A veteran formation, now appearing as three-piece, was about to enter the stage and maybe that was the reason why the crowd got comparatively little now, because people just didn't know them. Anyway, GIRLS UNDER GLASS enveloped in drifts of smoke entered the stage to their cover version of MADONNA's 'Frozen', which I still don't think was a good idea, since a set should be starting with an own song if you ask me. But after all it's the band's decision right? 'Ohne Dich', a driving yet soft piece of music, which is usually performed with Peter Spilles, continued and has to go without Spilles and actually did work pretty well. 'Never go' underscored the rocking character of the girls' sound and Volker did perform and rock with visible joy, while the crowd remained pretty hesitant towards it all. However, 'Die Zeit' got some life into that stiff creatures in front of the stage and had them at least dance a bit.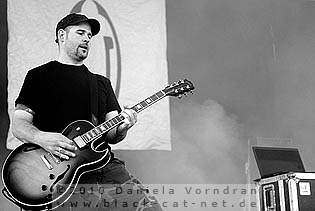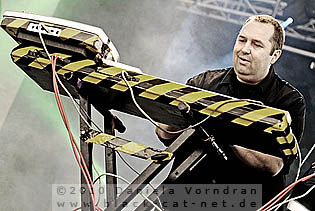 The best mood would, however, not come up over the duration of their 9 track set that was ended with 'Du Bist das Licht'. At least they got some applause. Actually a pity for a band having such history not to be recognized more at the festival.
Setlist
01. Frozen (Madonna Cover)
02. Ohne Dich
03. Never Go
04. Die Zeit
05. Feuerengel
06. Down In the Park
07. Erinnerung
08. We Feel Alive (New Track)
09. Du bist das Licht
Rating
Music: 7
Performance: 7
Sound: 7
Light: (daylight)
Total: 7 / 10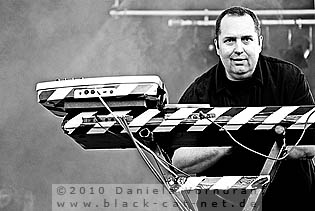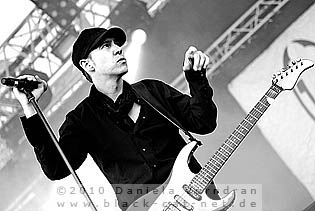 Zeromancer [J. "Niggels" Uhlenbruch]
Rising from the ashes of their previous bands, Kim Ljung and Erik Ljunggren gave birth to ZEROMANCER in 1999 to create something that should be much more different. First time was spent with the composition of new songs. Soon, the line-up was completed with a drummer, singer and guitarist and the search for a producer could start. Not as easy as you might think it is, but in the end they found the right one with James Saez and soon the debut 'Clone your Lover' was finished. In the following time they grew to a regarded live act with festival gigs at the M'era Luna as well as small club tours. After the less successful album 'Eurotrash', ZEROMANCER tried out a different path on their third album 'Zzyzx', playing with a more catchy approach. With their fourth album 'Sinners International' released in February 2009, they're going back to their dark industrial rock roots and currently they are back in support of their latest album 'Death of Romance'. ZEROMANCER is Alex Møklebust (vocals), Kim Ljung (bass, vocals), Noralf Ronthi (drums), Lorry Kristiansen (synths) and Dan Heide (guitar).
http://www.zeromancer.com/
/
http://www.myspace.com/zeromancerzentral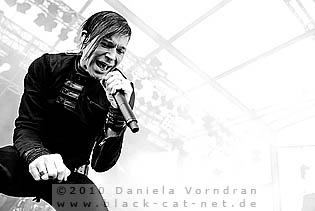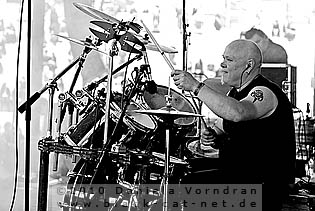 Music & Performance
Oh boy, these guys deserve much more success than they actually have! ZEROMANCER started their show around half past three in the afternoon, but their performance and their catchy Industrial Rock with irresistible Pop hooks were headliner-worthy. Plus, they are handsome chaps and singer Alex Møklebust is a true magnet for women. A pity that their support tour for the incredibly popular UNHEILIG earlier this year didn't bring a bit more stardom for ZEROMANCER but at the Blackfield, the Norwegian fiver didn't care about such details and went straight ahead with a Rock show full of glam and darkness alike. Starting with 'V' from their latest album 'The Death of Romance', ZEROMANCER followed up with three of their early club hits in one package: 'Doppelganger I love you', the brilliant 'Clone Your Lover' and 'Need you like a Drug'. The middle part of ZEROMANCER's set was dominated by songs from their last two albums, 'Sinners International' (2009) and 'The Death of Romance' (2010).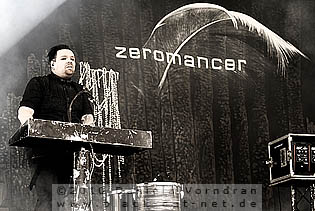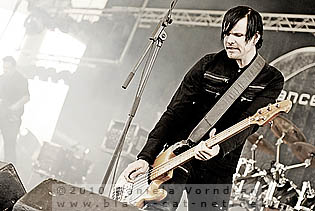 For the great finale, the Norwegians played a crazy Rock'n'Roll version of DEPECHE MODE's classic 'Photographic' - ZEROMANCER do love their 80s heroes for sure - which was followed by one of their most popular tracks, 'Doctor Online'. ZEROMANCER's show at the Blackfield was Synth Rock at its best and a very good performance - no surprise that a band who's been constantly touring for the last twelve months knows exactly what they are doing on stage. Both thumbs up!
Setlist
01. V
02. Doppelganger, I love you
03. Clone Your Lover
04. Need you like a Drug
05. Sinners International
06. Ammonite
07. Hate Alphabet
08. It sounds like love, but it looks like Sex
09. Photographic (Depeche Mode Cover)
10. Doctor Online
Rating
Music: 9
Performance: 9
Sound: 8
Light: (daylight)
Total: 8.8 / 10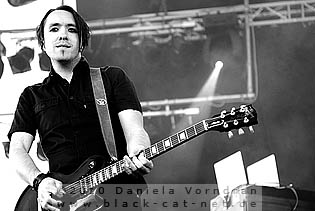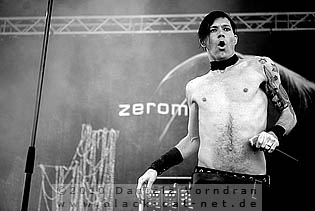 Diorama [J. "Niggels" Uhlenbruch]
DIORAMA was founded by Torben Wendt between 1994 and 1996. His long-time friend Felix Marc soon joined him as a co-producer and keyboard player. Sometime later, bass player Bernard le Sigue and guitarist Sash Fiddler, who were fellow students of Torben and Felix, gradually grew into the line-up and last but not least drummer Marquess became a member of the band. Unfortunately Bernard le Sigue left the Band in October 2006. In 2007, the band released their fifth and newest album 'A Different Life', preceded by the single 'Synthesize me'. The band played some extremely energetic and compelling festival shows to present the album and kept playing various shows in the following time. Eventually in February 2010 the silence was broken with the release of the new single 'Child of Entertainment', being the offspring of the long-awaited album 'Cubed', released in March. DIORAMA is: Torben Wendt (words and music, vocals, keys, percussion), Felix Marc (co-production, keys, vocals), Sash Fiddler (guitars) and Marquess (drums).
http://www.diorama-music.com/
/
http://www.myspace.com/dioramamusic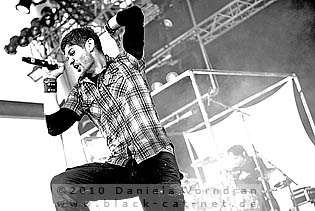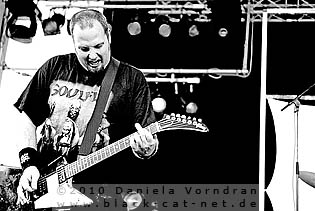 Music & Performance
Again we got a band which should be billed for a better spot on a festival like the Blackfield. DIORAMA just released the excellent 'Cubed', an album full of formidable and mature Electro Pop which has only few traces of the Dark Wave of DIORAMA's early works. The band's live sound is much rockier than its studio counterpart, thanks to the live drums and Sash Fiddler's more prominent guitar work. Those who had the pleasure to see one of DIORAMA's live shows early into their career will also notice how much they grew as performers, most notably the head of the band, Torben Wendt. He went from an introverted and shy singer to a charismatic, expressive performer. But that was no news for the Blackfield audience as DIORAMA already played at the first edition of this festival two years ago. Thus, Torben Wendt and his band mates received a very warm welcome by the crowd, and delivered a stirring performance, including all in all four songs out off the current album, which demonstrated that big melodramatic electronic anthems is what DIORAMA is best at.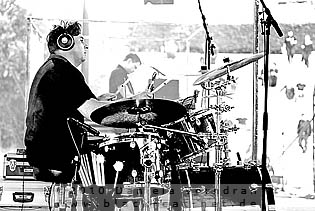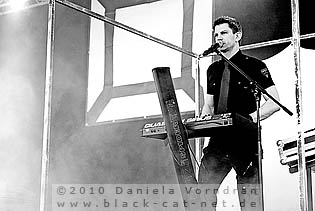 Setlist

01. Child of Entertainment
02. Kein Mord
03. Ignite
04. Record Deal
05. Stereotype
06. Advance
07. Why
08. Synthesize me
Rating

Music: 9
Performance: 8
Sound: 8
Light: (daylight)
Total: 8.5 / 10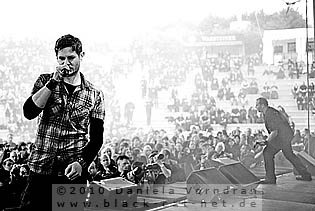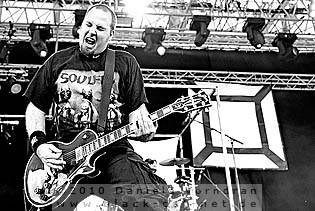 Vive La Fete [J. "Niggels" Uhlenbruch]
VIVE LA FETE, translated as "Long Live The Party", was brought to life in 1996. The first two albums 'Attaque Surprise', and 'Republique Populaire' roused the attention of Karl Lagerfeld who's become an outspoken fan of the project, which led to them doing some music for Chanel fashion shows and were invited by the Royal Family of Monaco. The next pack of albums followed, starting with 2003's 'Nuit Blanche' and continuing with 'Grand Prix' in 2005 and 'Jour de Chance' in 2007. By then, they'd gained an outstanding public attention. This day, they honoured the Blackfield Festival with a visit. VIVE LA FETE is Els Pynoo (voice), Danny Mommens (voice, guitar), Bart Buls (bass), Gino Geudens (drums) and Roel Van Espen (keyboard).
http://www.vivelafete.be/
/
http://www.myspace.com/vivelafete1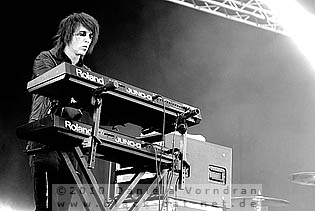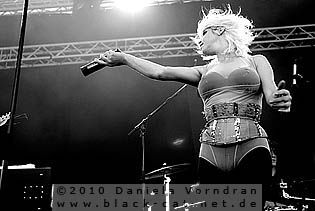 Music & Performance
The crowd in front of the stage was notably smaller than during the previous two performances - perhaps VIVE LA FETE is not as popular as the Blackfield organizers thought? However, their Electro clash version of trashy French(-tongued) Pop is alluring, last but not least because of the pulsating dance beats which lend more from GARY NUMAN and NEW ORDER than from contemporary Techno. The Belgian band has some coolness to them, spiced up with a weird sense of humour and a big portion of sexiness - first and foremost thanks to VIVE LA FETE's female vocalist Els Pynoo. At a festival which supposed to be a Goth event in some way or other, these stylish fusionists are somehow the strange fish in the pool but their 80s-induced synth beats - beefed up with a bigger share of straight Rock in a live situation - do appeal to a Goth crowd as well. While everyone at the Blackfield agreed on the visual perception of singer Els Pynoo - the exclamation "Wow, great tits!" coming from a girl(!) next to me made me laugh - the opinions on her singing qualities were a bit divided.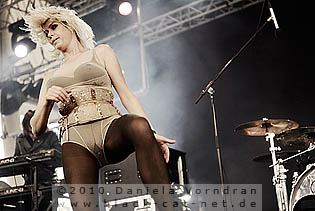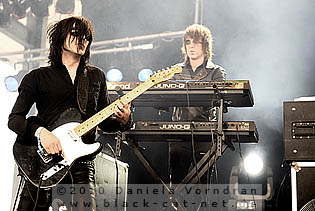 Not that Pynoo would be a bad singer, but apparently she likes to take it over the top at times, and her high-pitched screaming might be a little straining to some ears. However, I enjoyed the gig and all the hype around VIVE LA FETE is justified. Perhaps you should simply ignore that Karl Lagerfeld is a huge fan and that they perform at his fashion shows. VIVE LA FETE's playful, seedy Electro chansons have enough quality to impress on their own. And after all, it's always nice to have something which is a bit out of place at a festival like this.
Setlist

01. Nuit Blanche
02. ?
03. Schwarzkopf
04. La Vérité
05. Assez
06. Liberté
07. ?
Rating
Music: 8
Performance: 8
Sound: 7
Light: (daylight)
Total: 7.8 / 10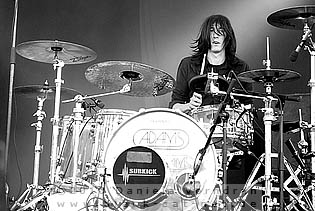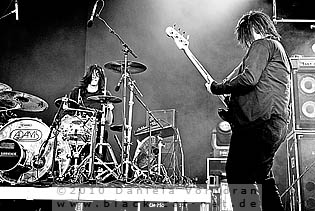 Deathstars [J. "Niggels" Uhlenbruch]
The DEATHSTARS founded in 2000 by band members from DISSECTION, SWORDMASTER and OPHTALAMIA. In 2002, they debuted with 'Synthetic Generation' which sold very well in Sweden first, but later also in the rest of Europe. During the recordings to their second album 'Termination Bliss', released in January 2006 eventually, their former bassist left the band and Cat Casino, who's only played live until then, became a full member of the band. In October 2007, the band started with the recordings for the next album. In spring 2008, they supported KORN and FLYLEAF on their mutual tour and finally in January 2009, 'Night Electric Night' saw the lights of day. DEATHSTARS is Andreas "Whiplasher Bernadotte" Bergh (vocals), Eric "Cat Casino" Bäckman (guitar), Emil "Nightmare Industries" Nödtveidt (guitars and keyboards), Jonas "Skinny Disco" Kangur (bass and backing vocals) and Ole "Bone W. Machine" Öhman (drums). For the Blackfield show, we saw yet another drummer than Bone; to be precise Oscar Leander was operating the stick, as he already did on parts of the "Into Darkness" festival tour in last year's autumn.
http://www.deathstars.net/
/
http://www.myspace.com/deathstars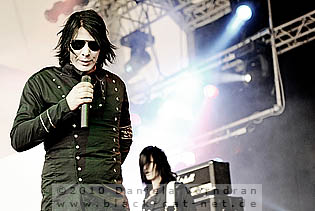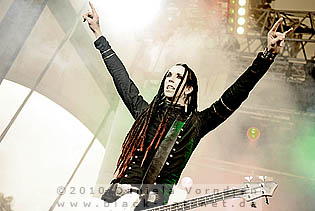 Music & Performance
While I wondered why ZEROMANCER and DIORAMA didn't get a later (that is, better) spot in the running order of the Blackfield, I was surprised that DEATHSTARS were graced with such a prominent slot on the Saturday night of the weekend. Okay, apparently I missed that DEATHSTARS considerably increased in terms of popularity since I checked last time. However, it was time for some Goth'n'Roll now, and DEATHSTARS started with the title track of their most recent long player 'Night Electric Night' to continue with a set which covered all of their three albums so far. Live on stage, the super-stylish DEATHSTARS sound clearly rougher than on their albums, but while they put on a pure Rock'n'Roll show my suspicion that they put style over substance was not exactly invalidated. They are not afraid of clichés, to put it friendly. And they put on a perfectly designed show with a very professional performance from a more technical point of view. No surprise that the masses love it, at least the black-clad masses at an event like this. And while it might be entertaining to watch a band like this, I surely wasn't the only one who missed something more substantial in DEATHSTARS' music.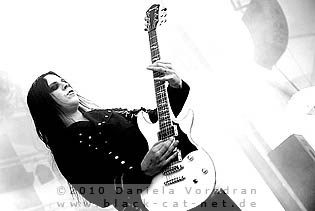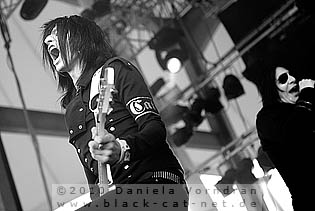 Their sound is like a best of Gothic and Industrial Metal. Take some RAMMSTEIN, some NINE INCH NAILS, some MARILYN MANSON (plus some styling ideas here!), some CRADLE OF FILTH, and let's hope that the fans of all these bands will like the result. That is, if they don't notice - or don't mind - that meat and meaning is extracted from the above mentioned ingredients. Or, as Andreas "Whiplasher" Bergh from DEATHSTARS puts it himself: "It's like group sex between Samantha Fox, the Village People and Satan." Good to see that DEATHSTARS don't take themselves too seriously. Nevertheless I wasn't too overwhelmed by their music….
Setlist

01. Night Electric Night
02. Motherzone
03. Semi-Automatic
04. New Dead Nation
05. Tongues
06. Chertograd
07. Blitzkrieg
08. Blood Stains Blondes
09. Genocide
10. Death Dies Hard
Rating

Music: 4
Performance: 7
Sound: 7
Light: (daylight)
Total: 5.6 / 10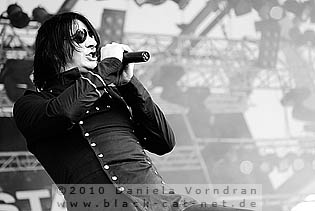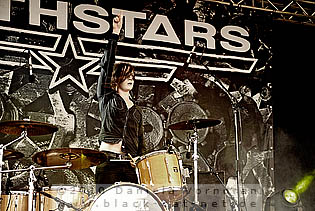 Covenant [Sebastian Huhn]
It's the year 1992 and the location is Sweden, where 3 friends have just decided to form a band which would eventually be known internationally as COVENANT with the aim of producing good electronic music. An honourable intention many other electronic acts should have today. With the year 1994, the first album 'Dreams of a Cryotank' arrived, whose track 'Theremin' would become a club hit, however, not as big as the following EP's title track 'Figurehead', still spinning in clubs until today. With the arrival of 'Sequencer' (1996) and 'Europa' 1998, the name COVENANT became an epitome for a sophisticated yet still club-compatible kind of electronic music and tours into every corner of the world made sure their following would grow considerably and still does it today. In 2000, the threesome presented their fourth album, 'United states of mind' ("Album of the Year" at SAMA), including the singles 'Tour de force' and 'Dead stars' followed by a tour and live album 'Synergy'. Their next regular offering would be 'Northern Light' in 2002. Now signed at subdivision of Sony 'Ka2', the album gained greater public exposure with videos of 'Call the Ships to Port' and 'Bullet' going on rotation on many music channels.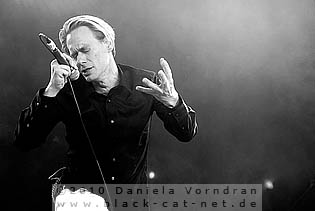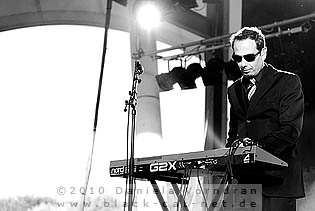 It takes 4 years before the fans can get their hands on the successor and current album 'Skyshaper'. Meanwhile, Clas Nachmansson left the band and sound-wizard Daniel Myer took his place, who had accompanied the band on several live shows before. Right now those sound freaks are working on their next strike. COVENANT is Eskil Simonsson (vocals, songwriter), Joakim Montelius (keyboards, songwriter) and Daniel Myer (keyboards, synths, production).
http://www.covenant.se/
/
http://www.myspace.com/covenant
Music & Performance
My second COVENANT show has been long time in coming. Nearly 3 years I needed to wait before getting a chance to catch them live again and was excited to say the least. When COVENANT entered the stage, the sun had already started setting and provided the perfect environment for such a show. Already with the first tunes of 'Stalker, the guys excited the audience with their ambitious electronic, but also very club-friendly stuff. Truly a proper opening! '20Hz' shifted towards the poppier corners of the repertoire and still is a favourite off their last album. It's widely known the trio's been working a long time on the successor to 'Skyshaper', entitled 'Modern Ruin' and I totally am with many others who finally want to see a release of the disc. So please guys, don't let us wait that long anymore. The next song was one coming from that album named 'Dynamo Clock'.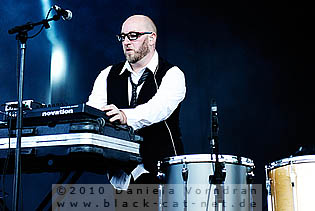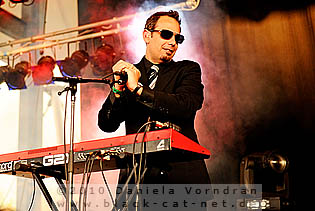 The track built good pressure and with one of Daniel's percussion sections also had some additional, kicking dynamics to offer. Dreaming atmospheres would be taking over now with Eskil's favourite ballad 'Invisible & Silent', followed by the next new offering 'If I Would Give My Soul', bringing a kind of otherworldly presence to the amphitheatre, and a thumping beat to dance to, which Eskil managed very elegant. "As the sun sets, as the day falls, we surrender to no one." That's how the gentlemen from Sweden introduced 'The Men' in whose course he got to jump happily together with the crowd. The mood on stage was very bright that day anyway. "We make ritual noise." a line from a song and a fact for these few minutes that had the crowd running loose completely. A little break with a live sound manipulation of Daniel led into the stomping 'Call The hips to Port' and it was jumping time again for everyone which is kind of hard not to do on a song like that.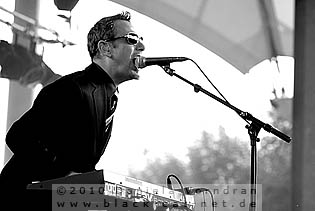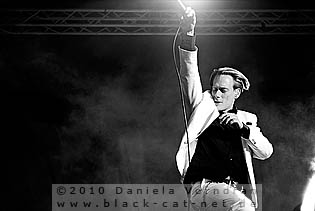 Actually that was supposed to be the end for the guys, but not if we still had something to say and we managed to get them back for one encore, a COVENANT evergreen and a special one at that since it's performed in German. Speaking of that it is absolutely obvious now that it's 'Der Leiermann' we're speaking of. One last time everyone could shake the hips and legs before the set was finished for good. Turns out I was quite right being excited. The band was in great shape and temper.
Setlist
01. Stalker Intro
02. Stalker
03. 20hz
04. Dynamo Clock (new song)
05. Invisible & Silent
06. If I would give my soul (new song)
07. The Men
08. Ritual noise
09. Improvisation
10. Call the ships to port
---
11. Der Leiermann
Rating
Music: 9
Performance: 9
Sound: 8
Light: 7
Total: 8.6 / 10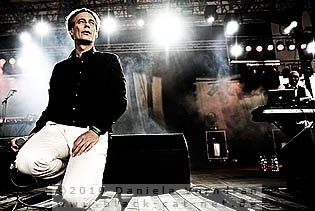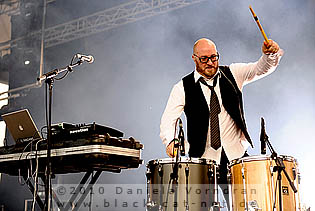 Front 242 [J. "Niggels" Uhlenbruch]
Front 242 was initiated in 1981 by Daniel Bressanutti and Dirk Bergen, who wanted to create music and graphic design using emerging electronic tools and in the same year, the first single 'Principles' was released. In 1982, Patrick Codenys and lead singer Jean Luc de Meyer would complement and complete the line-up and in that constellation they recorded and released 'U-Men' and the debut 'Geography', both are named as being influential for the works of many electronic music artists. But it's not before the release of 'No Comment' in 1984 that they'd earn their place in the annals of electronic music history by laying the foundation stone for the Electronic Body Music, a term that came up first with this album. The single 'Headhunter' taken off the accompanying album 'Front by Front' in 1988 should become a widely popular track and now is an absolute classic. Following releases couldn't remotely relate to the past success and started the slow decay of the band, peaking in Jean-Luc De Meyer's departure in 1995.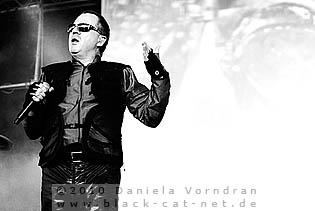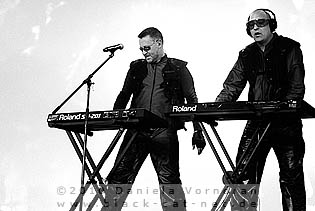 To the surprise of many, the band comes back together in 1997 but it still takes them another 6 years to release a new album with 'Pulse' which stylistically goes way back to their roots. Their most recent release is called 'Moments in Budapest'. FRONT 242 is Jean-Luc DeMeyer (vocals), Daniel Bressanutti (keyboards, programming, live mixing), Patrick Codenys (keyboards, programming, samplers) and Richard "23" Jonckheere (percussion, vocals).
http://www.front242.com/
/
http://www.myspace.com/front242
Music & Performance
FRONT 242's headlining spot on the first day of the Blackfield was well-deserved, not just because the Belgians are musical legends but also because they drew a massive amount of fans to the festival. So the expectations were high, and usually FRONT 242 start their show with a great intro and build-up, most of the time the classic 'Happiness' which we heard live a thousand times but which is still a killer and a great start of the show. At the Blackfield, FRONT 242 decided for a different approach, so to speak. The band just walked on stage and delved into the heart of the matter in no time, and a loud "Body to body! Body to body!" was yelled into the round.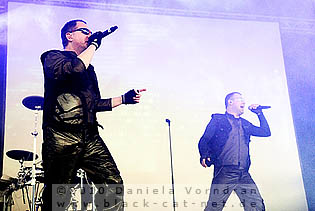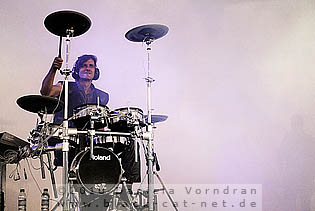 A kick-start into the show, which was promoted as a "best of" show! I'm not sure though if FRONT 242 was aware of that but for many fans any FRONT 242 show is some sort of a best of. 'Together', a mid-tempo track from the underrated 2003 album 'Pulse', followed before FRONT 242 travelled a bit more back into their own history. The massive hit 'Headhunter' came on surprisingly early - around mid-set instead of being the big show closer as usual - and old classics like the magnificent 'Lovely Day', a reworked 'No Shuffle', and the indispensible 'Welcome To Paradise' made an appearance. To the fans delight 'Quite Unusual' and 'Tragedy <for you>' (back then on heavy rotation on MTV - just imagine!) were also played, two classics which were abandoned from 242's live sets for quite a while but recently they pop up on a more regular basis in FRONT 242's shows. The show at the Blackfield proved FRONT 242's quality and magnificence once more. After almost 30 years, the band surely has aged but they aged well.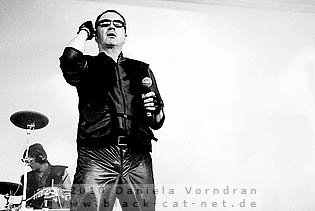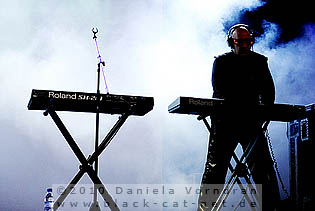 Their live performance of today does not have the same vibe and energy as in the days of the "Front By Front" tour in 1991, for example, but the energy level is still high when DeMeyer, Codenys and Jonckheere enter the stage. And many fans aged with them, as you could see in the crowd where people enjoyed one big dance fest, in place of the violent wrestling and pogo contest of the old days. ;-) Much of FRONT 242's appeal is all about rhythm, so it's no surprise that young people who were born after 242's pioneering works and who discovered EBM rather via COMBICHRIST or SUICIDE COMMANDO joined in into the dance fest. FRONT 242 proved that they not only invented this style of music but also that they still push the envelope and that they are, as a live band, still ahead of their young competitors. Not that I had any doubts about this before the show!
Setlist

01. Body To Body
02. Together
03. Moldavia
04. Tragedy For You
05. Circling Overland
06. No Shuffle
07. Headhunter
08. Triple X Girlfriend
09. Quite Unusual
10. Funkadafi
11. Lovely Day
12. 7 Rain
13. Religion
14. Welcome To Paradise
15. Take One
16. Im Rhythmus Bleiben
---
17. Kampfbereit
Rating

Music: 10
Performance: 9
Sound: 9
Light: 7
Total: 9.1 / 10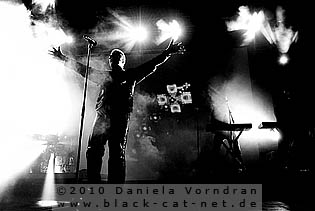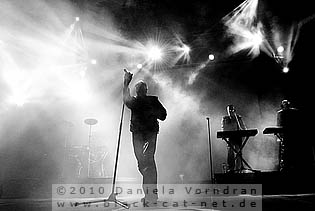 With the magnificent FRONT 242 show, the festival day ended for a part of our crew. After some chatting and a drink, we were heading home to sleep on our own bed. Rest of the team decided for a stay at the camp ground and joining the aftershow party taking place at a big tent at the festival ground where famous DJs were spinning records and to celebrate until the early morning hours.
All pictures by Daniela Vorndran (
http://www.vorndranphotography.com/
/
http://www.black-cat-net.de/
/
www.myspace.com/vorndranphotography
)
Written by Daniela Vorndran (common parts), Sebastian Huhn and J. "Niggels" Uhlenbruch
{jos_sb_discuss:17}