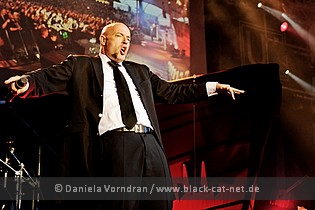 Amphitheater, Gelsenkirchen, Germany
12th & 13th June 2010
Blackfield Festival 2010 Day 2: Unheilig, Subway to Sally, Oomph!, [:SITD:], Saltatio Mortis, S.P.O.C.K, Tyske Ludder, Traumtänzer, XP8

Second day welcomed us with real good festival weather. Not too hot, some clouds, lots of sun and not a single rain drop. Also, the satellite connection backstage did finally work so we were also well informed about the German team joining in the World Soccer Championship. But main reason today to come to the amphi theatre were of course the announced bands with UNHEILIG headlining the day. Winner for me today: Sweden with lots of fun and entertaining Spock'n'Roll.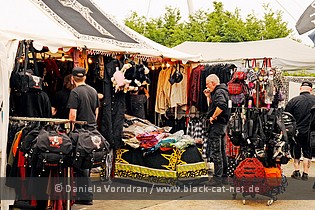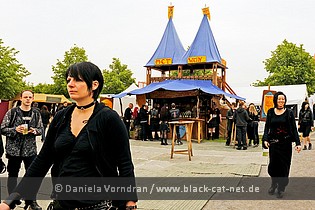 XP8 [Sebastian Huhn]


The story of the Italian project began in 2001. Following the release of their first demo, they earned positive feedback and eventually signed a record deal with the Polish label Black Flames Records who re-released it with an altered title. Some time later, they switched to German label Infacted Recordings to which they're signed to the present day. Their third and most recent album 'The Art of Revenge' has been released in January 2008. The single 'Want It' then was released as appetizer for the new album 'Drop the Mask', out since January. XP8 is Marco Visconti & Marko Resurrection. http://www.xp8.org/ / http://www.myspace.com/xp8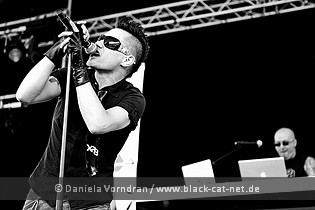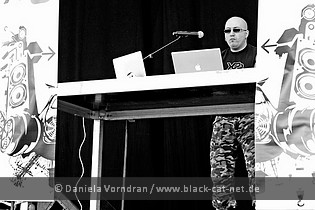 Music & Performance
12 AM in the "morning", eyes still half closed. I think that fitted many of the attendees, showing up in front of the stage at the time. But XP8 would make sure their eyes would be wide open soon - and that they wouldn't have to spend money on a cup of strong coffee. It left a bit of a lacklustre impression when Marko walked on stage. That he was anything but that would become apparent soon, when on the opener 'Download Me' he exploded in an impulsive fashion, screamed out the lyrics relentlessly and boosted a tired crowd to dance. On the significantly darker 'One True God' he would go on to do expressive stage acting, while more and more people could be spotted dancing wildly, and the count would increase over the course of the show. For the performance of 'Want it', he was joined by Daniel Graves of AESTHETIC PERFECTION and both kept pushing people and had the big stage looking small suddenly. Say what you want, but they did a good job that morning.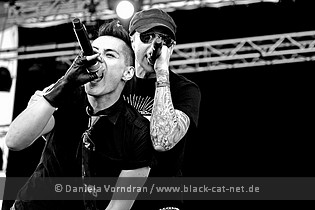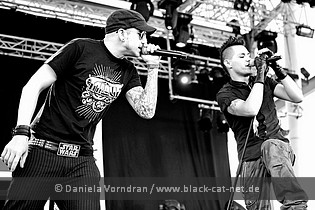 Setlist
01. Download Me (p2p Version)
02. One True God
03. Cuttin'n'Drinkin
04. Born Dead
05. Want It
06. Ready2Go
07. The Art Of Revenge

Rating
Music: 7
Performance: 7
Sound: 7
Light: - (daylight)
Total: 7 /10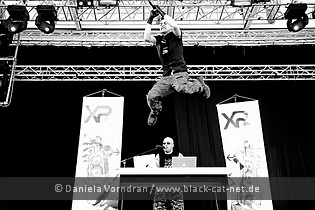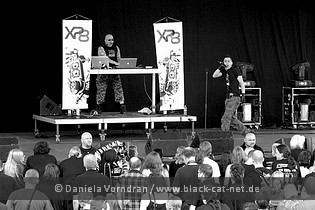 Traumtänzer [Sebastian Huhn]

TRAUMTÄNZER came to be in 2008. After completing the line-up, the record 'Der Weiße Raum' has been recorded in founding member Tom's own studio, starting in September 2008! The studio works were followed up by playing various concerts. The band has also been working on remixes for several bands already such as THE HOUSE OF USHER, ROOT 4 or DARK INSTANCE. TRAUMTÄNZER is Marco (vocals, lyrics), Eva (vocals, choir), Tom (guitar, keys, sound design) and Sandra (violin). http://www.myspace.com/traumtanzermusik

Music & Performance
TRAUMTÄNZER replaced SAVA on the Blackfield festival on short notice and brought a change from rather acoustic stuff they would've presented. One could be quite rightly wondering if they were going to drive people to similar ecstatic reactions than XP8, or maybe even blow us all completely away. In a way they did, but as far as it concerns me not in a positive way. A standard cocktail of Goth music with electronic and rock elements, enriched with German lyrics presented by both Marco and Eva, who hit the notes perfectly which is mention worthy because it's not a regular thing to happen.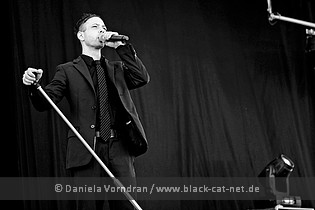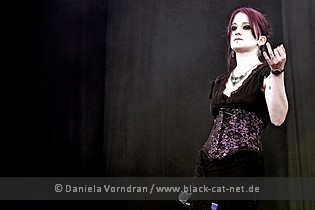 Sorry if I'm sounding harsh here but I've read like a thousand times texts of bands, stating they were avoiding typical clichés and if you then give them a listen they fulfil them a 100%. Unlike me, many others, in front of the stage or on the steps of the amphi theatre, liked it and clapped along and I suppose they've also won a few new fans.

Setlist
01. Die Maschine
02. Schattenspiel
03. Stigmata
04. Für die Nacht
05. Krieger
06. Die Wahrheit

Rating
Music: 3
Performance: 5
Sound: 7
Light: - (daylight)
Total: 4.5 / 10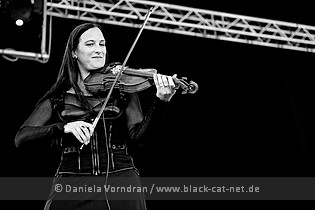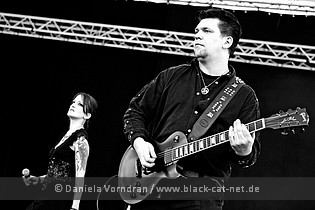 Tyske Ludder [Sebastian Huhn]

TYSKE LUDDER formed at the beginning of the 1990s. The phrase TYSKE LUDDER means German whore in Danish and Norwegian. Until the mid 90s, they pulled out the three albums 'Bombt die Mörder', 'Creutzfeld' and 'Dalmarnock' complemented by scarce live performances as the third leg of the TYSKE LUDDER concept. At the dawn of the new millennium, the project entered a silent period due to various artistic differences on the further development of the concept. In 2004, they started to work on new material coinciding with their live comeback in the same year. The new album 'Sojus' eventually was released beginning of 2006 followed by a re-release of the first three albums with additional bonus material in autumn. The album 'Anonymous' is their most recent release which came out in 2009. TYSKE LUDDER is Albert (vocals, performance), Olaf (synths) and Z67 (percussions, shouts). http://www.tyske-ludder.de/ / http://www.myspace.com/tyskeludder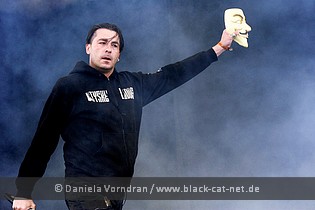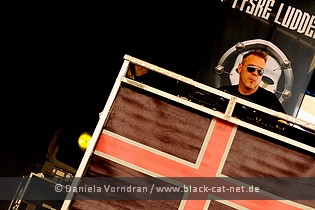 Music & Performance
TYSKE LUDDER now promised a radical change - with emphasis on the "radical", for they're known for hitting hot topics in their lyrics, embedded into fierce electronic cuts. 'Thetanen' made the start of the electro storm, centring the absurdity and danger of Scientology, giving the "Sugar Goths" something hard to swallow, before rolling them over with a tank on their comment on war politics on 'Panzer'. 'Canossa' had a few more melodies in stock for us, whilst vocalist Albert kept on stomping over the stage to hype up the sweating crowd in the heat of the sun. Afterwards, he had some "bad news" for us when he stated that UNHEILIG wouldn't be able to be there since Der Graf had an appointment with Musikantenstadl, a TV show offering exclusively Schlager music, a popular German style of music, typically shallow.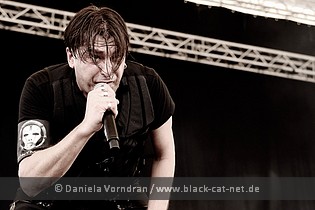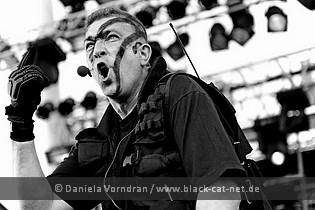 We had a good laugh and then the show continued with hard-hitting 'Shokz', followed by two further beat monsters, keeping the dance addicts on their toes. It's safe to say that TYSKE LUDDER left an impression and delivered a message. However I doubt many people understood more than "Dance, Dance, Dance!" I for one was very satisfied with what they put up on the Blackfield festival, lyrically and musically, and I was not the only one.

Setlist
01. Thetanen
02. Panzer
03. EUGENIX (new song from the forthcoming album)
04. Canossa
05. Shokkz
06. Manipulation
07. Bastard

Rating
Music: 8
Performance: 8
Sound: 7
Light: - (daylight)
Total: 7.8 / 10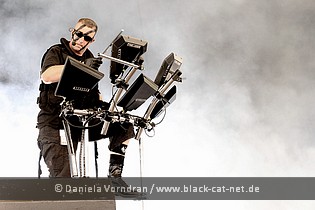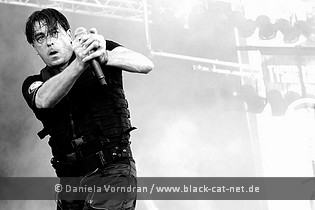 S.P.O.C.K [J. "Niggels" Uhlenbruch]

For a long time it was rather silent around Swedish act S.P.O.C.K (aka Star Pilot On Channel K), which was formed around 1988 and had quite some success with their Star Trek / Sci-Fi-themed Synth Pop in the 1990s. Every synth lover will know 'Never Trust a Klingon', and other S.P.O.C.K singles like 'Dr. McCoy' or 'Astrogirl' were considerable underground hits as well. Their last studio release is still '2001: A S.P.O.C.K Odyssey' (guess what year it was released!) but recently the live action has increased. After their gig at the Wave Gotik Treffen in Leipzig, the Blackfield Festival offered the second German S.P.O.C.K show in just a few weeks' time. http://www.subspace.se/spock / http://www.myspace.com/spockorbit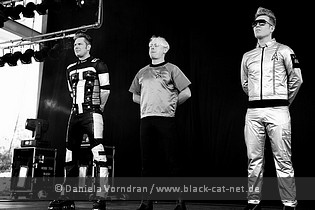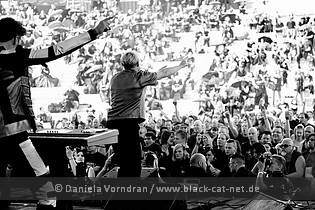 Music & Performance
There was a rather small crowd waiting for the Swedish heroes from outer space but those people got a special treat: A full sound check by the complete band, including some entertaining vocal exercises by Alexander Hofman aka Android. A bit of a strange situation but thanks to S.P.O.C.K's down-to-earth attitude and sense of humour an enjoyable one nevertheless. So Hoffman and his buddies vanished backstage and a few moments Mr Android and his band S.P.O.C.K entered the stage to start with the song 'Reactivated' - the song title seems almost like a comment on the band situation. The reactivated S.P.O.C.K continued with the classic 'E.T. Phone Home' and that was the moment when things took off. Starting with a rather small audience more and more people came to witness this band from outer space, and that Mr. Android proved his entertainer qualities between songs surely didn't hurt here. Quite the contrary!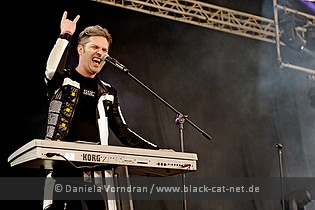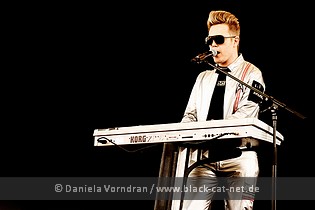 Although not too many felt sorry for him when he lamented that life as a Pop star from outer space is hard, especially when you have to perform at such an early time of day. "We had to start drinking at 11am already because we need to be drunk to do this!" Erm, yeah! Poor guys! But there were no dangers to health as S.P.O.C.K have 'Dr. McCoy' on their side and most likely they are 'Not Human' anyway. Mr. Android even defeats gravitation and demonstrated his amazing break-dance skills, plus some ultra-artistic Russian square dance. He probably didn't realize that his star ship landed in Germany, not Russia… but that's a small difference for someone from another galaxy, anyway! A stellar performance in its very own sense, absolutely 'E-Lectric' so to speak! The audience was so thrilled that they even didn't mind to be shot with a "vodka gun" Mr Android brought because 'All E.T.s Aren't Nice'. I was a little disappointed though, as the gun definitely didn't contain vodka but simple water.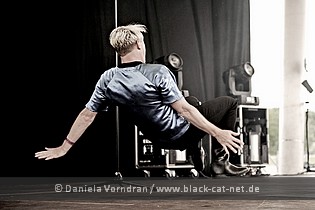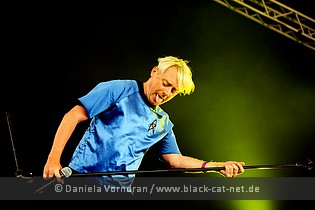 But I didn't feel bad about not having a shower in the morning anymore, so S.P.O.C.K get full points here as well. I give them also full points for their light show because it must have been S.P.O.C.K who made sure that we could enjoy the most wonderful sunburst since their gig. Well, S.P.O.C.K was the only band from outer space this weekend, so who else should I give credit for bringing sunlight?? And if you wonder why the heck this reviewer gives S.P.O.C.K 11 points in all his ratings you are just an earthling who does not understand! :P

Setlist
01. Intro / Reactivated
02. E.T. Phone Home
03. Dr McCoy
04. All E.T:s Aren't Nice
05. Not Human
06. Astrogirl
07. Astrogirl's Secret
08. Out There
09. E-lectric
10. Never Trust A Klingon

Rating
Music: 11*
Performance: 11*
Sound: 11*
Light: 11*
Total: 11*
(* they are from outer space, y'know?)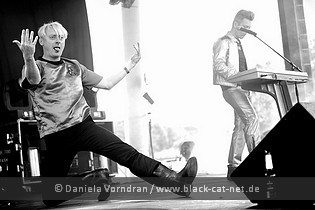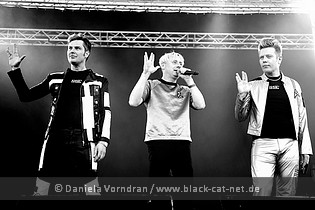 Saltatio Mortis [J. "Niggels" Uhlenbruch]

SALTATIO MORTIS is one of the many (and popular) German Medieval Metal bands, and they are surely among the leading bands of this genre. SALTATIO MORTIS define their style as "medieval Punk" though, to differentiate from the rest of the genre. Their name is by the way Latin and means "dance of death". Formed in 2000, it was SALTATIO MORTIS' second album 'Das zweite Gesicht' (2001) that was causing a wave of popularity that spread even beyond the boundaries of the medieval genre and people would name them in one breath with big names such as IN EXTREMO or SUBWAY TO SALLY. For a certain period of time, the band was incorporating synthesizer sounds into their music; but has abandoned those elements later to veer into more rock oriented territory with older tracks now being performed in the new sound as well. In October 2006, it was announced that four members of the band would leave the line-up, luckily for the band they quickly found some new minstrels. After the line-up changes, SALATIO MORTIS pushed their popularity with the album 'Aus der Asche' in 2007. Last year the band released 'Wer Wind Saet', to many fans their best album to date and actually a Top 10 hit in Germany, followed by the live album 'Manufactum II' this summer.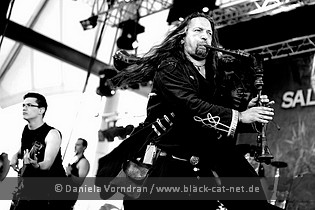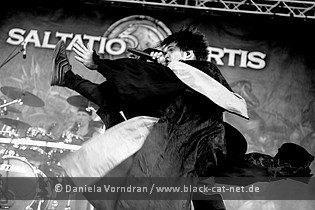 SALTATIO MORTIS are Alea der Bescheidene (vocals, bagpipes, shawm), Falk Irmenfried von Hasen-Mümmelstein (bagpipes, shawm), Lasterbalk der Lästerliche (drums, percussion), Magister Flux (modern equipment), El Silbador (bagpipe, shawm, flute), Mik el Angelo (guitars, flute, cittern), and Bruder Frank (bass). http://www.saltatio-mortis.com/ / http://www.myspace.com/mittelalterpunk

Music & Performance
Well, you can bet your life on it that a Medieval Rock band like SALTATIO MORTIS guarantees a great party mood when they play to a German festival crowd. The popularity of this style of music does not seem to drop, although it remains almost exclusively a German phenomenon. But before the show, there were bad news for SONO fans, and good news for fans of SALTATIO MORTIS. The Hamburg Electro trio SONO had to cancel their gig at the Blackfield on very short notice as they were stuck on the autobahn on their way to the gig due to a complete closure. So, SALATATIO MORTIS started earlier than planned - still bad news when you're a fan of them and still busy drinking mead at the camping site - and SALTATIO MORTIS were granted to play a bit longer. So the band started their show while some of their fans were rushing to the stage with a "What the f*ck?" expression in their faces.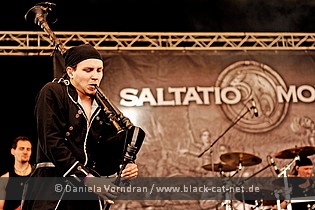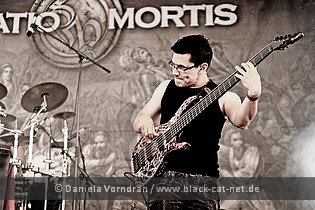 The semicircle of the amphi theatre was well-filled quickly and SALTATIO MORTIS started a big whoopee for everyone. This kind of music seems to be designed to be played live, and to be played live to start one big party! But the seven multi-instrumentalists also impressed with their musical skills. Although my heart beats rather for the more electronic side of music I have to admit that the musical mastery of SALTATIO MORTIS is pretty amazing. They know how to play their instruments. And let's be honest, too many musicians in the field of electronic music apparently know little more than pressing the right key at the right time. So SALTATIO MORTIS get a bonus point for musical prowess and a few bonus points for their front man and vocalist Alea. He is not just delivering a fantastic vocal performance; he is also simply bursting with energy and not afraid of pretty acrobatic stage action. And he surely knows how to get the crowd involved. Impressive! With songs like 'Uns gehört die Welt' or 'Falsche Freunde', SALTATIO MORTIS rocked the amphi theatre but they also offered more contemplative moments with songs like 'Prometheus'. But most of their songs are hard-hitting Rock played on medieval instruments - and people at the Blackfield loved that!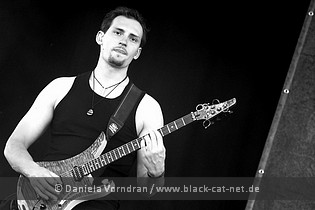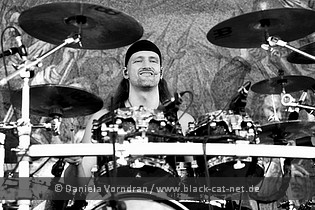 For the end of their set SALTATIO MORTIS picked up the pace and finished with the fan fave 'Spielmannsschwur', which simply invites singing along or rather chanting along. SALTATIO MORTIS left the stage but of course their fans craved for more, so the band came back on stage quickly and started where they stopped a minute before and played a reprise of 'Spielmannsschwur' - I've never seen something like this before, it was choreographed perfectly and raised the excitement level even a bit more. SALTATIO MORTIS finished with 'Tod und Teufel' from their successful 'Aus der Asche' album and left the audience happy and exhausted - and an impressed reviewer!

Setlist
01. Einzug (intro)
02. Rastlos
03. Tritt ein
04. Uns gehört die Welt
05. Worte
06. Salome
07. Koma
08. Wir säen den Wind
09. Prometheus
10. Falsche Freunde
11. Spielmannsschwur
---
12. Spielmannsschwur (reprise)
13. Tod und Teufel

Rating
Music: 9
Performance: 10
Sound:9
Light: (daylight)
Total: 9.4 / 10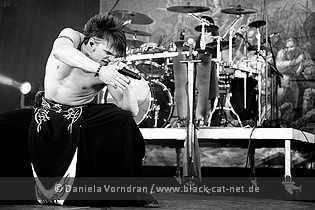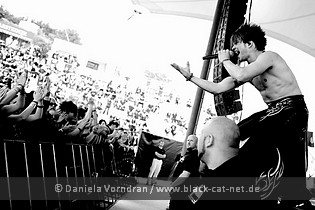 [:SITD:] [Sebastian Huhn]

In 2002, a new star arose on the firmament of the club landscape and its name was [:SITD:] which is short for "Shadows in the Dark" and a metaphorical expression for the music and lyrical content of the band. The band existed since 1996 though, but the big breakthrough came with the 'Snuff EP' with the hit track 'Snuff Machinery' which, from there on, couldn't be missed out on any DJ Playlist and is now a real classic. The first album 'Stronghold' continued the path of combining club orientated beats with hymnal melodies and dark vocals and was the most successful band album in 2003. With 'Coded Message:12', [:SITD:] released their second album showing the band's sound matured, containing several new club hits like the preceding single 'Richtfest' and the German-tongued 'Wegweiser'. The third album had to wait until 2007 aptly titled 'Bestie:Mensch'; the album shed some light on the deepest abysms of the human soul, even more than that the band opened their sound to new influences such as the break beats on the instrumental track 'Floating'.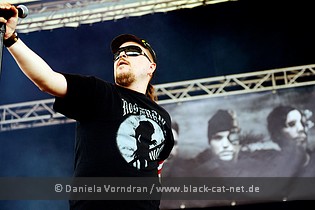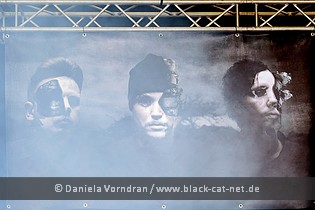 With a new album 'ROT', the trio soon unleashed its next strike on the clubs in October 2009. [:SITD:] is Carsten Jacek (vocals and lyrics), Thomas "Tom" Lesczenski (keyboards, programming, sampling and backing vocals) and Francesco "Frank" D'Angelo (keyboards and backing vocals). http://www.sitd.de/ / http://www.myspace.com/xsitdx

Music & Performance
One could argue if it was a twist of fate, but due to SONO not being able to attend the festival due to them being stuck in traffic (they played a how in Berlin the day before and could not leave earlier), which I still find a pity, [:SITD:] played earlier than initially planned and thus wouldn't suffer a crowd drain due to the UNHEILIG autograph session. I'm not even sure if [:SITD:] fans listen to UNHEILIG or vice versa but you never know. Anyway, the guys hit the stage to the intro, which was an edit of DEPECHE MODE's instrumental 'Mephisto', to start with 'Rot' immediately afterwards. Carsten Jacek controlled the audience from the very first minute. He doesn't even need any big gestures; he just sticks to moving around and enjoying himself to the music which once again infected people.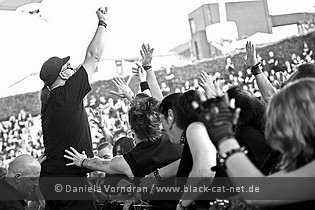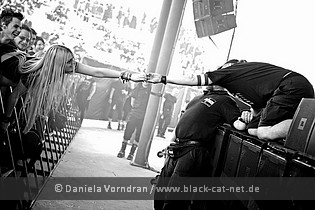 We went back to the first album with an altered version of 'Rose-Coloured Skies' next. The 'Pharamakon' bomb exploded afterwards and if you were not shaking your head already before, you were doing it then at the latest. A change at the front occurred for 'Redemption', sadly the only song with Tom on lead vocals, but I was glad they chose that one as it's one of the strongest and most soul-gripping on their current album 'Rot'. Some in your face, down-tempo zone fire came up with 'Frontal', hammering its message plainly into the heads of the crowd. When it was time for 'Richtfest', you could see a sea of moving hands at some point, initiated by Carsten. From above that just looked amazing. There was still one hit missing in the set. The gap was then filled with 'Snuff Machinery', an [:SITD:] classic to which we could see Carsten leaving the stage and climbing the barrier to the photographer's pit to animate people to wave their hands. A clear home victory for the sympathetic project!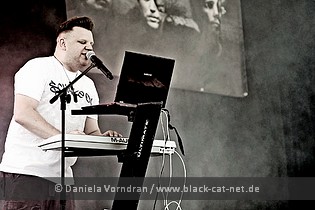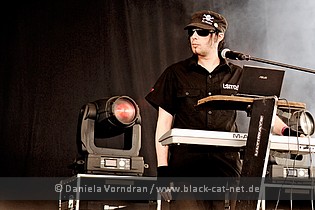 Setlist
01. Intro
02. Rot
03. Rose-Coloured Skies
04. Pharmakon
05. Kreuzgang
06. Redemption
07. Frontal
08. Laughingstock
09. Wegweiser
10. Richtfest
11. Snuff Machinery.

Rating
Music: 8
Performance: 8
Sound: 8
Light: - (daylight)
Total: 8 / 10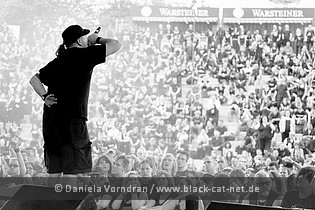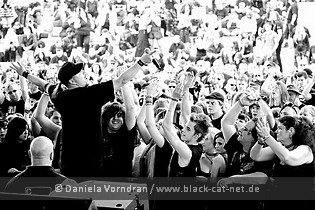 Oomph! [J. "Niggels" Uhlenbruch]

Dero, Crap and Flux aka OOMPH look back on a 20-year history and are one of Germany's most influential Rock bands. Starting with their self-titled electronic debut, they soon incorporated guitars and Metal influences as early as 1994 with their second album 'Sperm' and delivered the prototype of German-tongued Industrial Rock with which RAMMSTEIN became global stars. But OOMPH! also harvested the fruits of their pioneering work with their German number one single 'Augen Auf!' in 2004 but since this was after the massive success of RAMMSTEIN there are still people who think OOMPH! would copycat them while it's in fact rather the other way round.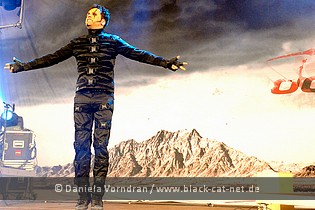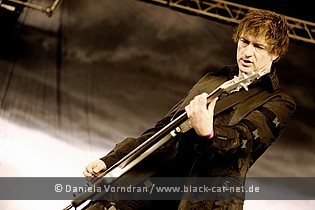 RAMMSTEIN surely offer the dodgier lyrics and a more simplistic version of what record companies like to label as "Neue Deutsche Härte" (New German Rawness) but since the success of 'Augen Auf!' (and the subsequent singles and albums) the old OOMPH! fans accuse the Wolfsburg trio of selling out and giving up the uncompromising quality of the earlier works. And in fact their last single hits like 'Sandmann' or 'Labyrinth' are a bit more polished and melodic and lack the complex and tough-minded nature of albums like 'Wunschkind' (1996) or 'Unrein' from 1998. http://www.oomph.de/ / http://www.myspace.com/oomph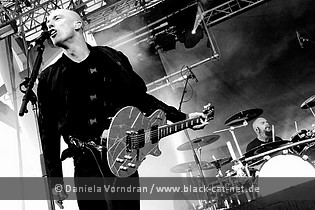 Music & Performance
Do they still have it? Or do they have it again? These were the questions in my head when OOMPH! performed their show at the Blackfield. I have to admit that I'm not too much of a fan of OOMPH!'s recent material, and it's been quite a while since I saw them live the last time. And then they stormed the stage in Gelsenkirchen and proved that they are a band with high professionalism, passion and attitude. And they were obviously aware that the audience at the Blackfield rather appreciates OOMPH!'s older material. 'Unsere Rettung', from 1998's 'Unrein' album, was a clear message to fans of earlier OOMPH! stuff. 'Fieber', 'Sex', 'Niemand' and 'Gekreuzigt' were further classics in the set, and the more recent stuff like 'Labyrinth' or 'Gott ist ein Popstar' sounded live much better than their studio counterparts. And the three guys from Wolfsburg - on stage backed up by Leo (drums, percussion) and Hagen (bass guitar) - definitely know how to perform for a crowd, and vocalist Dero absolutely knows how to wrap an audience around his finger.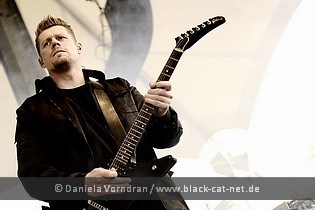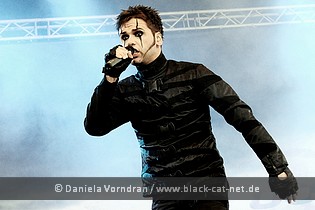 Speaking of vocals: Dero's qualities as a singer are simply amazing! From deep growls to pretty demanding melodic lines he displayed quite a range, and he managed this range perfectly. Perhaps the best vocal performance of the weekend! The second half of the set included more stuff from the last two albums but as mentioned above, I enjoyed it even though I'm not a big fan of the recent studio stuff. It was definitely a gig worth watching and revived my desire to see them live again.

Setlist
01. Beim ersten Mal tut es noch weh
02. Unsere Rettung
03. Fieber
04. Wer schön sein will muss leiden
05. Sex
06. Mitten ins Herz
07. Sex hat keine Macht (acoustic)
08. Auf Kurs (acoustic)
09. Revolution
10. Niemand
11. Gekreuzigt
12. Labyrinth
13. Gott ist ein Popstar
14. Augen Auf!
15. Sandmann

Rating
Music: 8
Performance: 10
Sound: 9
Light: (daylight)
Total: 8.9 / 10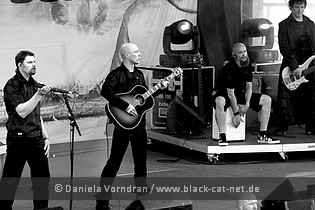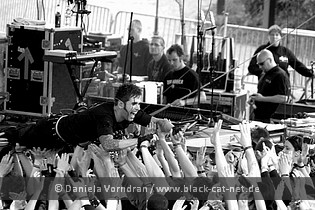 Subway to Sally [J. "Niggels" Uhlenbruch]

SUBWAY TO SALLY have been credited as the band "that set off the wave of what is known as Medieval Rock". The East German band was formed in 1992 as a Folk Rock band, singing in English and incorporating Irish and Scottish influences in their music. With their second album 'MCMXCV' released in 1995, the band adopted a "more traditional approach" and started singing in German. Taking SKYCLAD as an influence, SUBWAY TO SALLY performs a blend of Hard Rock and Heavy Metal enriched with medieval melodies enmeshed in the songs via bagpipes, hurdy-gurdy, lute, mandolin, shawm, fiddle and flute and combined with "romantic-symbolic German-speaking poetry" in their lyrics. In Germany, SUBWAY TO SALLY gained quite some chart success with their last few releases and is considered as one of the ringleaders of Medieval rock, even though their style is more based on traditional Rock as most of the other bands in this genre. SUBWAY TO SALLY are Michael "Bodenski" Boden (guitar, vocals), Michael "Simon" Simon (guitar, vocals), Ingo Hampf (guitar, lute), Silke "Frau Schmitt" Volland (violin), Silvio "Sugar Ray" Runge (bass), Simon Michael Schmitt (drums), and last but not least Eric Fish (vocals). http://www.subwaytosally.de/ / http://www.myspace.com/subwaytosally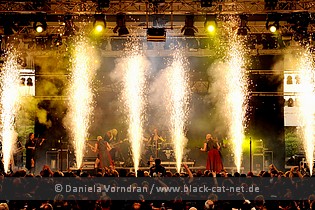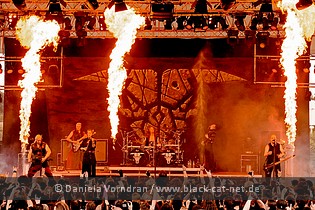 Music & Performance
SUBWAY TO SALLY were the second "somehow medieval" band on the second day of the Blackfield festival after SALTATIO MORTIS, so a comparison between the two groups should be admissible. Without a doubt, SUBWAY TO SALLY is the more successful band out of these two - hence the better slot as co-headliners with UNHEILIG - and like SALTATIO MORTIS the Potsdam based band knows how to celebrate a party with their fans. If SUBWAY TO SALLY were an American band you could say they are rather the redneck version of Medieval Rock but since they are German this comparison does not really work, but it might give you an idea. SUBWAY TO SALLY's "medieval" influence is rather a shtick than something that would deeply influence their music. Maybe that's why SUBWAY TO SALLY enjoys more success than most of their competitors - they are more common and conventional. Anyway, their fans at the Blackfield were ready to party and SUBWAY TO SALLY has enough routine as a live band to play on that.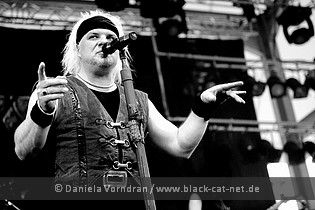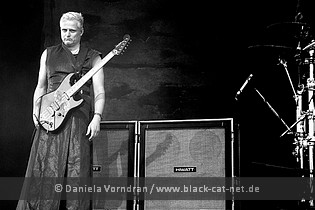 With fireworks, 'Henkersbraut' and 'Kleid aus Rosen' SUBWAY TO SALLY started with two of their biggest hits, and this choice served its purpose. It got the crowd going. The band on the other hand got their job done, well-rehearsed and experienced as they are, but at times I had the impression that they really just did their job and that it was a bit like going through the motions. Songs like 'Falscher Heiland', 'Veitstanz' and 'Sieben' were of course musts in the festival-friendly setlist and were surely well-received by the audience. Eric Fish, who still insists on sporting his huge bandana and a peroxide blonde hairdo, knows how to get the crowd going but his performance was never as passionate and dynamic as the one by Alea of SALTATIO MORTIS who by the way joined the stage with a few of his band mates to perform a song with SUBWAY TO SALLY playing bagpipes. But while SALTATIO MORTIS made me forget that I'm not a big fan of Medieval Rock earlier this day, SUBWAY TO SALLY reminded me of it.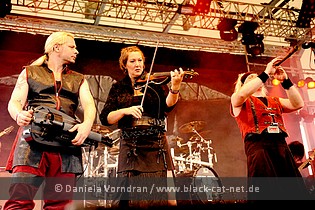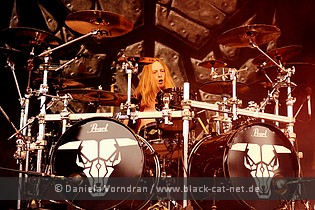 Setlist
01. Henkersbraut
02. Kleid aus Rosen
03. Feuerland
04. Puppenspieler
05. Unentdecktes Land
06. Judaskuss
07. Kruzifix
08. Besser Du rennst
09. Falscher Heiland
10. Veitstanz
---
11. Sieben
12. Räuber

Rating
Music: 7
Performance: 7
Sound: 9
Light: 8
Total: 7.5 / 10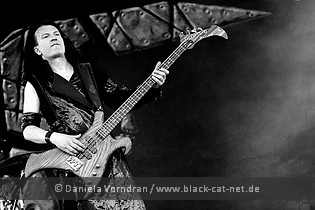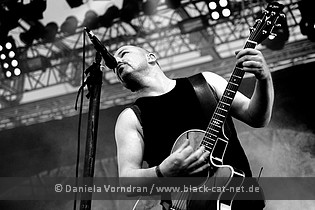 Unheilig [J. "Niggels" Uhlenbruch]

UNHEILIG is the most recent whizz-kids of Germany's Goth scene - that is, if you wanna label them Goth - whose career went absolutely through the roof earlier this year. 11 years after the band's inception, UNHEILIG reached number two in the German Media Control Charts in the first week with their single 'Geboren um zu leben', followed by the no. 1 album 'Grosse Freiheit'. The following tour this spring was nothing but a massive success and a complete sell-out, so that UNHEILIG's management booked big arenas only for the forthcoming tour in autumn. But before that UNHEILIG made a stop at the Blackfield Festival, and this made sure that the second day of the Blackfield was sold out. Before the UNHEILIG gig as the final one of the weekend good parts of the audience were replaced. While many people who dismiss UNHEILIG as a bastard between "Gothic lite" and German Schlager music left the festival to head home before Der Graf and his band hit the stage, more and more UNHEILIG shirts appeared in the crowd. UNHEILIG is quite obviously a case of love it or leave it…
UNHEILIG is Bernd Heinrich Graf aka "Der Graf" (vocals), Henning Verlage (keybopards), Christoph "Licky" Termühlen (guitars), and Potti (drums).
http://www.unheilig.com
/
http://www.myspace.com/unheilig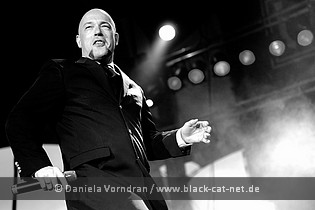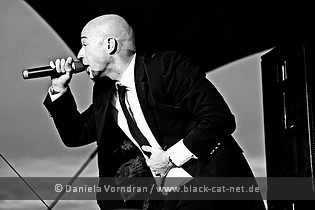 Music & Performance

Before the UNHEILIG show at the Blackfield my biggest concern was a proper English translation for the German word "Schlager". Pop does not hit home as it doesn't resemble the negative connotation "Schlager" has. Just think of cheesy, simplistic Pop / Folk music with a good portion of kitsch - something your grandma wouldn't mind to listen to, so to speak. Add RAMMSTEIN's guitars to it (but please not too prominent in the mix as it must not hurt!) as well as some Goth stereotypes (of course those who don't provoke too much) and there you go, you have UNHEILIG! At least by the definition of the many UNHEILIG haters but quite obviously there are even more people who actually love UNHEILIG and who celebrate a weird star cult around UNHEILIG vocalist Der Graf. I'm not a fan of UNHEILIG. In the last few weeks I even started to dislike them, to be honest. As someone who lives in Germany it has been simply impossible to avoid UNHEILIG, since their success with 'Geboren um zu leben' they were simple everywhere. From questionable TV shows your grandma would watch to "The Dome", a Pop spectacle your teenage sister would attend, to radio trailers, advertisements, high rotation on MTV Germany etcetera, etcetera. 'Geboren um zu leben' three times a day, at least!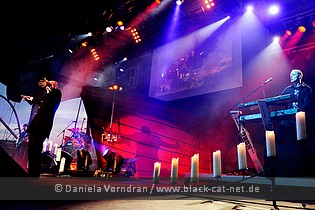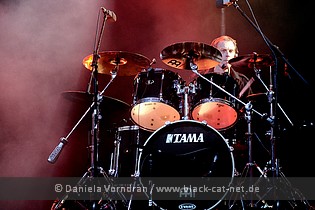 So the review of my first UNHEILIG live experience was bound to be a rather negative one. I spoke about honesty above, and so the surprise is that I will not bash UNHEILIG, as easy as it would be. But they put on a great and perfectly designed and choreographed show, which of course was pretty polished but I actually didn't mind that. UNHEILIG were the only band of the festival which actually had a full stage design (in contrast to simple backdrop with the band logo). The stage was divided by a ship's bow - a resemblance of the "maritime" imagery of the last album - and in front of it there were several beams with huge white candles. So much for the Goth clichés! The band members were placed so closely to the rearmost edges of the stage that you might be afraid they could fall down every moment. Most of the stage was exclusively for Der Graf, the star of the show, who entered the stage to frenetic applause during the first song 'Das Meer' (The Sea). The amphi theatre was well-filled although many people already left, but there were enough UNHEILIG fans who attended the Blackfield only to see "their" band. To the delight of old and new fans, the set of UNHEILIG did not just play the key tracks of their latest album but also a few older fan faves.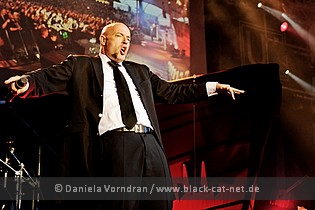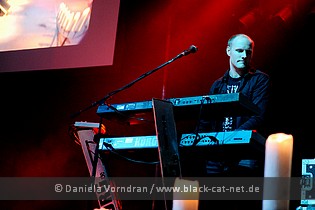 For example 'Sage Ja!', the very first UNHEILIG single and which wasn't played live during the spring tour, as I've been told. This song was surely one of the highlights of the show, with the other one being the classic 'Freiheit' which made the audience go nuts and sing every line of the chorus at the top of their lungs. Of course there were also the cheesy ballads and all the touchy-feely moments but people loved them and I for one didn't mind them too much. I just give UNHEILIG some respect for putting on a really good show and while the experience didn't exactly turn me into a fan of them I give credit where credit is due: UNHEILIG live was quite good!
Setlist

01. Intro / Das Meer
02. Seenot
03. Spiegelbild
04. Unter Deiner Flagge
05. Abwärts
06. An Deiner Seite
07. Freiheit
08. Astronaut
09. Sage Ja
10. Große Freiheit
11. Maschine
12. Für Immer
13. Geboren Um Zu Leben
---
14. Mein Stern
Rating

Music: 6
Performance: 7
Sound: 9
Light: 9
Total: 7.2 / 10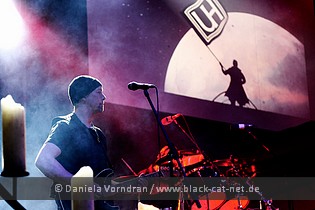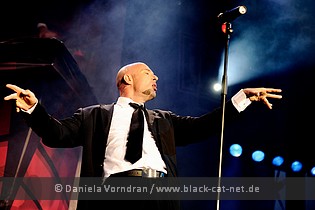 Since we all had to work the other day, we decided not to watch the whole UNHEILIG show but instead driving home not too late. To sum the whole festival up: it was fantastic once more even though the line-up surely was not perfect for everyone. But this location is simply too amazing! Besides that, the organisation was perfect once more and the whole crew and security very kind. So, we'll be coming next year again!
All pictures by Daniela Vorndran (
http://www.vorndranphotography.com/
/
http://www.black-cat-net.de/
/
www.myspace.com/vorndranphotography
)
Written by Daniela Vorndran (common parts), Sebastian Huhn and J. "Niggels" Uhlenbruch
{jos_sb_discuss:17}