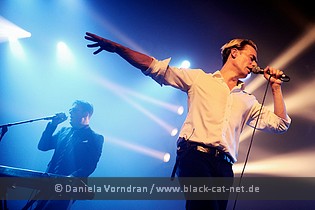 Expo, Waregem, Belgium
16th - 18th July 2010
Gothic Festival 2010 Day 1: Covenant, Sex Gang Children, Umbra Et Imago, Ordo Rosarius Equilibrio, Funker Vogt, Faderhead, The House of Usher, Triarii, Whispers In The Shadow, FGFC820, Mildreda, Void Of Sadness
Already for the 5th time, the Gothic Festival in Belgium Waregem opened its gates. Three days full of brilliant music and a line-up you rarely see these days awaited us. Starting off at Friday noon, already the first day had some great names to offer with Swedish Covenant headlining the festival. The mix of well-known acts and rather unknown ones was again one big plus of the festival making it possible to experience very new music and get surprised once more again.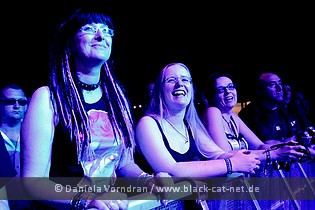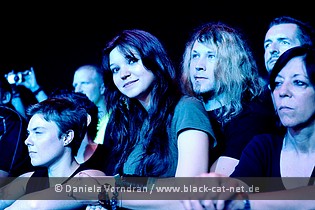 Void Of Sadness (Club Stage - Sebastian Huhn)
VOID OF SADNESS came about in Summer 2004 and soon started working on first songs. Up to 2007, there was just a fluctuating line-up, but as time passed by fluctuations started to get rarer and certain stability found its way into the band. Nothing beyond demo recordings has been released as yet. VOID OF SADNESS is Andy (guitars), Jona (vocals), Jonas (keyboards, drum programming) and Kris (bass guitar).
http://www.voidofsadness.be/
/
http://www.myspace.com/voidofsadness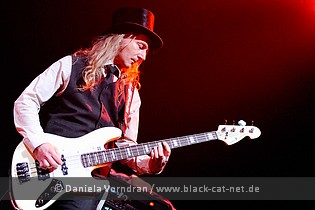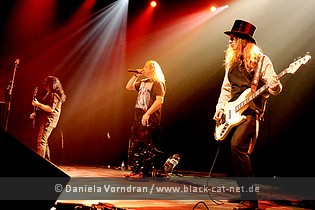 Music & Performance
The festival started the first day with a band, purely unknown to me up to this moment. The guys took the stage right on time and for those who were there delivered a musical wake-up call in the form of bombast-inflicted dark metal stuff with a mostly screaming, in-between singing vocalist. The picture was clouded by the fact that no drummer was present at the gig, even though, I do see it that way, a drummer belongs to such a kind of musical style. Also they still need to work on their stage performance. No, they didn't stand still, however the movements were looking still too constrained for me. Some moving heads could be spotted anyway and those people were obviously enjoying themselves to the music.
Setlist
01. Name Of The Rose
02. A Dead Lover
03. My Flesh
04. Liquid Fire
05. Razorsharp
06. Psycho
07. Devil's Dance
08. Void Out


Rating
Music: 6
Performance: 6
Sound: 6
Light: 6
Total: 6 / 10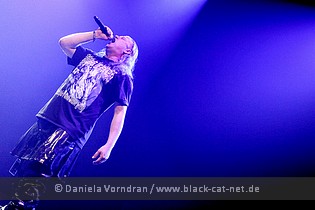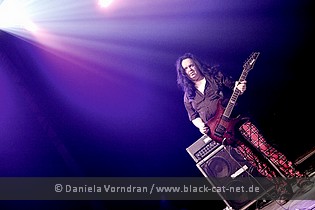 Mildreda (Main Stage - Sebastian Huhn)
Back in the days, MILDREDA was founded by Jan DeWulf who's most notable for working under the alias DISKONNEKTED today. The project focused on darker electronic music, gaining a lot of positive interest. Eventually, the project was put on hold for an indefinite time. Maybe it wasn't even supposed to be revived, but what was meant to be just one fun reunion gig in November 2009, led to the rebirth of MILDREDA. Dirk Ivens and some die-hard fans would play major roles getting the project back to live.
http://www.myspace.com/mildreda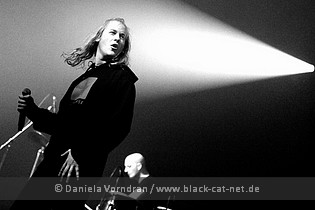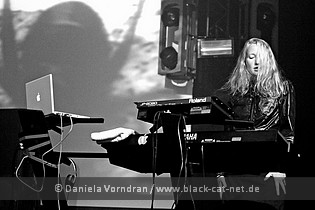 Music & Performance
I knew Jan DeWulf's project DISKONNEKTED of course and think it's got a pretty cool sound. Thus, I was very curious how the difference in sound would come to manifest within MILDREDA. Dramatic orchestral sections then introduced MILDREDA. The sound is more of a hybrid of dark electro and industrial, additionally not particularly dance-floor focused as the first tracks gave away. Nevertheless, they elicited a fascination that drew a lot of curious people to the main stage. What I was really astonished by at this early time was the extraordinary sound, swallowing not the slightest detail within the tracks.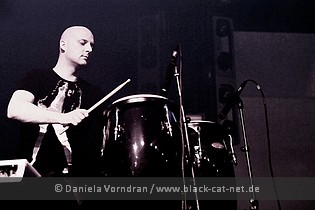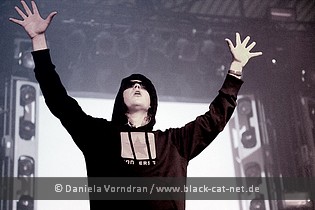 With track #3, it became danceable with a revamped DISKONNEKTED track if my ears didn't fool me. Was very welcome for the crowd of course! By the way, the guy who went totally mad on percussions was Mika Goedrijk of THIS MORN'OMINA. The very impressive set also included a trip back to the very first track, Jan's written. Seems he was quite angry while writing it judging by the force it had. Well, MILDREDA were the first surprise on the festival day. I'd love to see more of them in the future
Rating
Music: 8
Performance: 7
Sound: 9
Light: 7
Total: 7.7 / 10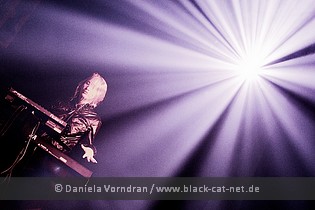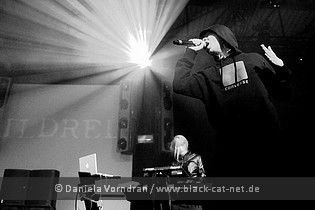 Whispers In The Shadow (Main Stage - Sebastian Huhn)
The Austrian formation WHISPERS IN THE SHADOW - the name was inspired by the H.P. Lovecraft tale "The Whisperer in Darkness" - was founded in 1996 by Ashley Dayour as a solo project, but soon a real band would grow out of the project and expanded to a trio; the first album 'Laudanum' was released within 1997. Until 2001, when their - for a certain time - last regular album 'Permanent Illusions' came out. The WHISPERS IN THE SHADOW had become an acclaimed live band with regular slots at the famous Wave-Gotik-Treffen and had toured with the likes of GARDEN OF DELIGHT. It was not before 2008, when the next studio album 'Into the Arms of Chaos' should see the light to be followed by a remix and rarities album 'Borrowed Nightmares & Forgotten Dreams' in 2009. The new album, titled 'The Eternal Arcane', second part of the cycle, was released in April. WHISPERS IN THE SHADOW is Ashley Dayour (vocals, guitars, E-bow), Fork (bass), Martin Acid (keyboards, piano) and Curt Benes (drums, percussions).
http://www.noizeart.com/
/
http://www.myspace.com/whispersintheshadow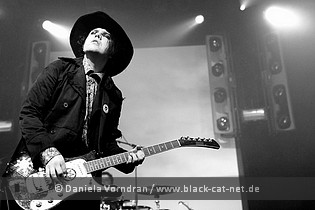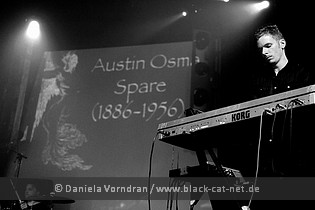 Music & Performance
Once I've seen them in broad daylight on another festival! Back then I figured that the show of the Austrian band would've much more impact in a darker environment which was given here at the main stage now. Opening with 'The Arrival' after 'The Babalonian Call' introduction had faded, the set got you moving right away if you wanted or not. The dress Ashley was wearing caught my attention. Think he's taken some inspiration for that of the FIELDS OF THE NEPHILIM, especially with that hat of his. Anyway, we go on to the next song and album with 'If Uriel Falls', a sinister ode to what happens when order vanishes all of a sudden. The rushing 'Lost Souls' continued from there on and brought straight Goth rock to the people and a band enjoying themselves a lot to their songs on stage. Blistering 'Damned Nation' hit more than well with the crowd as well! They looked like electrified by the powerful drums of the straight beat.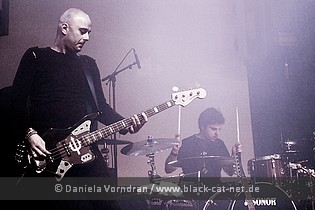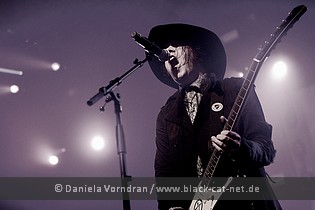 Utilization of gestures became a big part in the performance of hypnotizing 'Neither:Neither' whose rhythmic diversion alone sets it apart from typical Goth stuff. One of my favourites from the last album was chosen to be closing this set: 'Amenta Descending'. Its contained mystical spheres spread through the room initially and captivated wherever they crossed with a person in the crowd. The performance in fact did work better indoors, having a lot more intensity as I thought it would have.
Setlist
01. The Babalonian Call (Intro)
02. The Arrival
03. If Uriel Falls
04. The Lost Souls
05. Nothing Stays Forever
06. Damned Nation
07. Neither : Neither
08. Amenta Descending
Rating
Music: 8
Performance: 8
Sound: 7
Light: 7
Total: 7.7 / 10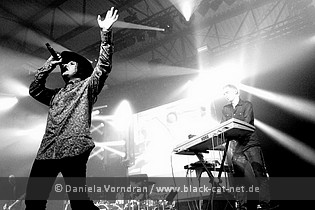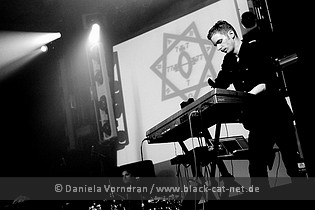 Triarii (Club Stage - Sebastian Huhn)
TRIARII is the form of expression, Christian Erdmann chose as the best one for hm. The first noted TRIARII release is the 'Triumph 7' from 2004 and ever since at least one time a year he would bless the world with a new body of work. Last time, the world got one was in 2008 with 'Muse in Arms'.
http://www.triarii.de/
/
http://www.myspace.com/triariiheadquarters
Music & Performance
From a band I could measure up to some that was a literal x-factor to me. TRIARII was up on my schedule now. The band's name comes from a term used for a veteran and very wealthy kind of men in the Roman army. They fought in the third battle line which is the reason for their name. That description here pictures aptly the subject matter TRIARII is dealing with: The Roman era, mostly its military part.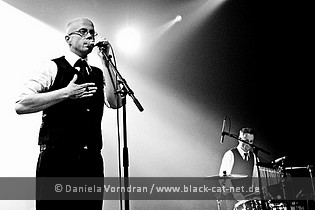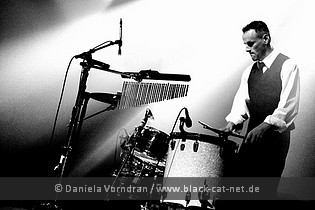 However the music isn't glamorising war; it's rather capturing the spirit, aesthetics and darkness of these times, casting them into sonic imagery. The music is combining rhythmic, martial drumming with walls of orchestral majesty and oppressing gloom. Christian Erdmann, head of the project, performs or to put it better narrates the lyrics with passion but also a cold timbre. This was of course nothing to dance to. It's made to watch and soak in the mood, and that's what people were doing. Watching and getting intrigued as it seemed. Mission accomplished!
Setlist
01. On Wings of Steel
02. Mother of Pain
03. Imperium
04. Roses 4 Rome
05. Overkill
06. Ode to the Sun
07. Heaven and Hell
08. Europa
Rating
Music: 7
Performance: 7
Sound: 7
Light: 6
Total: 6.9 / 10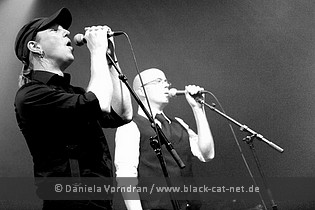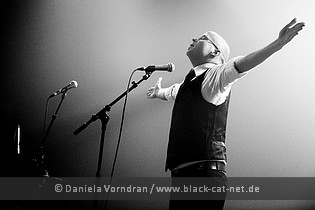 The House Of Usher (Main Stage - Sebastian Huhn)
In 1990, THE HOUSE OF USHER founded. Back then still without any drummer, so a drum computer would be taking over that job until 1994 after the release of the debut album 'Stars Fall Down'.1995 became a year of reformation and 1996 saw the release of the single 'Succubus' and in the following the album 'Zephyre', followed by a couple live gigs. Two years later in summer, The 'Black Sunday Chronology' was put out to the increasing fan base, who soon would be getting a self-released live CD of the tour they did with MIDNIGHT CONFIGURATION in 1999. Ten years later, they're still holding high the flags of a more classic direction of the Goth rock genre and have released their ninth album 'Angst'. THE HOUSE OF USHER is Jörg Kleudgen (vocals), Tom O'Connell (guitar), Georg Berher (guitar), Ralf Dunkel (bass) and Axel Burgard (drums).
http://www.the-house-of-usher.de/
/
http://www.myspace.com/thougothicrock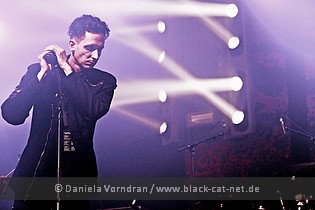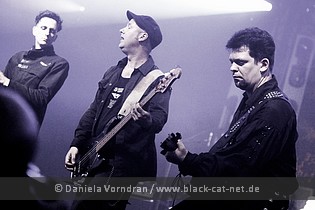 Music & Performance
A fairly different category of music was following up with THE HOUSE OF USHER now at the main stage. A compound of spheres and guitar driven rock hit my ears with the set opener 'I Wanna Know' and they seemed to really like it. The very clear and pervasive voice of Jörg Kleudgen made the centre of these compositions and he focused on performing them well, while the rest of the band, including Tom O'Connell of TRAUMTAENZER on guitar, took over big part of the motion on stage. 'Radio Cornwall' then scored with a minimalist rhythm work that all the more emphasized the vocal's permeating effect on everyone. It reminded very strongly of old heroes such as JOY DIVISION. A newer song 'To the Glorious Dead' had its arrangement drowned in all-encompassing textures while I felt vocals got presented with certain dignity.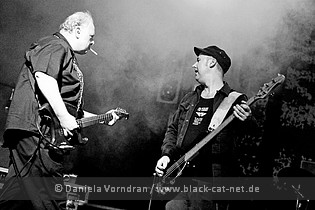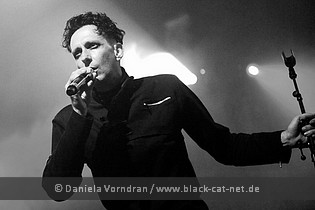 The quite big crowd in front of the stage, which must've contained at least some long-time fans, embraced the sound and partially transformed it into movement or loud screams the band gladly took as the compliments they were. To 'To Whatever End', they were going crazy and when THE HOUSE OF USHER closed their set for good with a cover version of the aforementioned JOY DIVISION, particularly that was the song 'Transmission', there was no holding back anymore for the people. "Dance, Dance, Dance, Dance to the radio" came out of the PA and everyone followed. After the song had faded and the band said goodbye, the applause was overwhelming. Was a rally cool show from a band I should keep an eye out for!
Setlist
01. I Wanna Know
02. Equinoxe
03. Radio Conwall
04. You're The Fire I'm The Ashes
05. The Floor She Walked Upon
06. To The Glorious Dead
07. It Doesn't Matter
08. To Whatever End
09. Transmission (Joy Division Cover)
Rating
Music: 8
Performance: 7
Sound: 8
Light: 7
Total: 7.6 / 10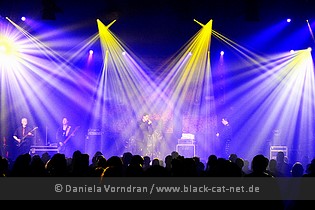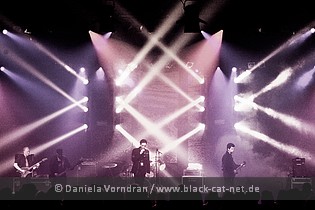 Faderhead (Club Stage - Sebastian Huhn)
After FADERHEAD from Hamburg / Germany was making music for about 17 years; he finally released his debut album 'FH1' on the Accession Records label in 2006. His musical influences are spread widely - OASIS, MARILYN MANSON, ICE CUBE, SLAYER, THE PRODIGY, PET SHOP BOYS and many others - over different genres. According to his own statements, he did not grow up influenced by the typical electronic bands (i.e. DEPECHE MODE or KRAFTWERK) and had very few electronic influences. He just likes "synthesizers and fat drumbeats". The second album 'FH2' was released in April 2007. After FADERHEAD and his former record company Accession Records parted ways, it wasn't so sure if a new FADERHEAD album would ever see the light of day (according to his own words). But with a new label (L-Tracks) the new album, surprisingly titled 'FH3' was hitting store shelves on 10th October 2008. The EP 'Horizon Born', holding only ballads came out in October 2009. This time FADERHEAD live consisted of Sami (song writing, production, vocals, guitars), Joe & Daniel of SAM (synths, keys).
http://www.faderhead.com/
/
http://www.myspace.com/faderhead666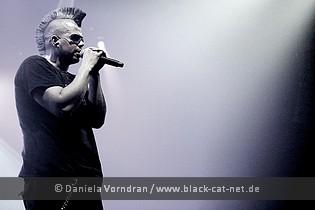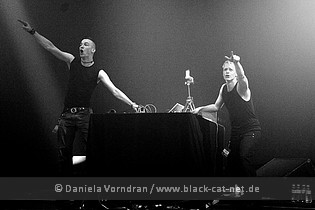 Music & Performance
Time flew as it was time for FADERHEAD already to bring some sweat-driving beats into the hall. Well, the first song wasn't really the dance floor hammer; still 'Girly Show' animated a few individuals amongst a huge crowd to dance. However following 'Break Apart Again' fulfilled all criteria to rip some cracks into the floor, especially with that murderous bass waves. As in the past, FADERHEAD brought Daniel & Sam on stage, supporting the main actor vividly on stage with rocking at the synth tables, occasionally one of them would leave that position to participate at the front where Sami scoured back and forth, making the crowd go mental. With 'Acquire the Fire' and 'Electrosluts Extraordinaire', the mood was fast approaching the max, seeing people dance wildly. Though 'Horizon Born' hit very well with the audience in its club incarnation, I still can't get really into it. I see there had to be a club version of this successful song, but I'm always missing the fragility that makes this song so special to me.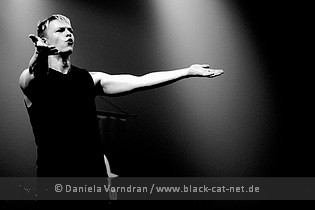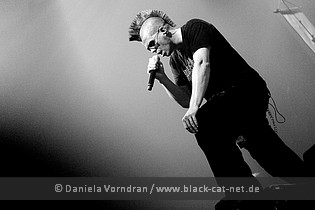 'Burning/Dancing', apart from being a song title, is portraying very pertinently the situation, if in a figurative way. The dance floor was burning and the people were dancing. A new song from the forthcoming album 'Black Friday' got presented as well with 'Destroy, Improve, Rebuild' and Sami was asking for a thumbs up or a fuck you, depending on whether the people would like it or not. The immediate reaction to the track spoke volumes and made any further comment redundant. The set was a few minutes overdue when 'TZDV' was played and the show subsequently had to be cut-off. A pity I thought, but anyway FADERHEAD showed again how it's done properly with getting people into action.
Setlist
01. Girly Show
02. Break Apart Again
03. Acquire The Fire
04. Electrosluts Extraordinaire
05. ZigZag Machinery
06. Horizon Born
07. Hammer Of The Gods
08. Burning Dancing
09. Destroy Improve Rebuild
10. Houston
11. O/H Scavenger
12. TZDV
Rating
Music: 8
Performance: 9
Sound: 8
Light: 6
Total: 8 / 10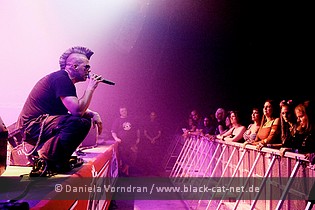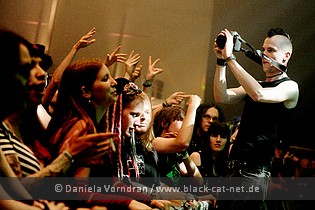 Funker Vogt (Main Stage - J. "Niggels" Uhlenbruch)
Hailing from Hameln, Germany, FUNKER VOGT is one of the more popular German EBM acts. The band was born in 1995. The name derives from a friend of the band who was a Radio Operator at the German Armed Forces at that time. Gerrit Thomas (composition, production, backing vocals) and Jens Kästel (lead vocals) actually started FUNKER VOGT in the mid-90s as a side-project of Gerrit Thomas' first band RAVENOUS, which had a poppier and more melodic approach than its EBM spin-off. The project has released several albums over the years, holding several of well-known scene club hits. The first DVD 'Warzone K17 - Live in Berlin' has been released in May 2009. The new album with the title 'Blutzoll' will be released in this year's October. FUNKER VOGT live is Jens Kästel (lead vocals), Gerrit Thomas (synths), Björn Böttcher (synths) and Frank Schweigert (guitar).
http://www.funkervogt.de/
/
http://www.myspace.com/funkervogt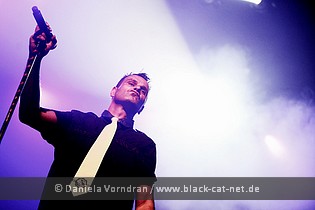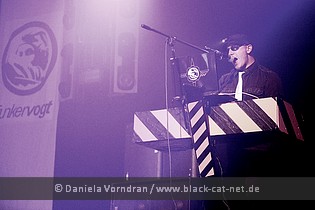 Music & Performance

The first FUNKER VOGT album was clearly influenced by harsh EBM acts like :WUMPSCUT: or LEATHER STRIP but in the course of their career - which includes eight studio albums and several singles and compilations - they opened up their sound for new elements from Future Pop and Trance for example. The basic recipe for FUNKER VOGT has stayed the same though. Straight, aggressive electro beats marching on to create dance floor anthems, well produced but rather simplistic and never running the risk of being overly original or even innovative. Lyrically and image-wise, FUNKER VOGT sticks to war and military as their major subjects. While combining a military image and military stage clothing with lyrics which are (more or less) anti-war is an antagonism which could provide an interesting approach to explore the theme of war and all its cruelties in a sophistic way, FUNKER VOGT too often fail when it comes to lyrics. Many of their song lyrics are too simplistic and too clichéd - and the most amazing thing about FUNKER VOGT is that they even need an outside person, Kai Schmidt, to write down such drivel!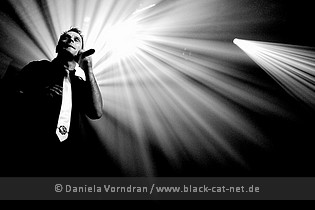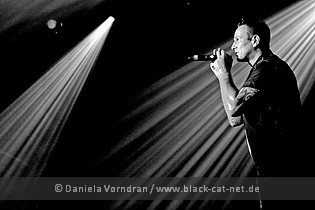 FUNKER VOGT put some effort into their live show when it comes to stage design, stage wear and war paint, but apparently they put considerably less effort in the musical side of things. A small technical glitch in the middle of the show indicated that the music is actually just playback - including the vocals! At least I don't have many reasonable explanations why I heard Jens Kästel's voice without seeing his lips moving in this moment. Anyway, FUNKER VOGT did what they do best and for what they are famous for. Rocking the house and creating quite some energy on stage, and in front of the stage. Good enough for dancing hard and jumping around, but if you look for an artistically challenging live experience you should rather look somewhere else. However, the FUNKER VOGT fans the band's show at the Gothic Festival and happily joined in into the party. Fair enough, but at the end of the day FUNKER VOGT live are for me like their studio works. That is, a bit stale and too standard and rather a lowbrow affair in my book.
Rating
Music: 1
Performance: 7
Sound: 9
Light: 8
Total: 5 / 10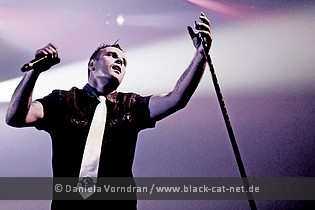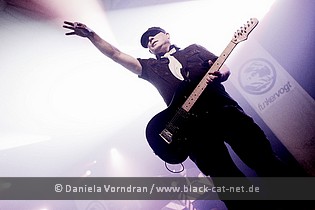 Ordo Rosarius Equilibrio (Club Stage - Sebastian Huhn)
ORDO ROSARIUS EQUILIBRIO is an aesthetic constellation situated somewhere on the illusive boundary between the impending apocalypse & the orgies of ancient Rome, besides that it's the sonic outlet of Tomas Petterson, who founded the project in 1993 after his former project ARCHON SATANI had ceased to exist and ORDO ROSARIUS EQUILIBRIO is his way to canalize his remaining creativity "…through the aesthetic portrayal of the undivided spiritual and intellectual kinship between Light and Dark, Life and Death, Male and Female, Love and Hate, Beauty and Depravity, War and Peace". With all of its works starting with the debut 'Reaping the Fallen, The First Harvest' from 1995 the project meanwhile grown to a duo enchanted his listener's every time anew. ORDO ROSARIUS EQUILIBRIO is Tomas Pettersson (music, lyrics, vocals) and Rose-Marie Larsen (vocals).
http://www.ordo-rosarius-equilibrio.net/
/
http://www.myspace.com/ordorosariusequilibrio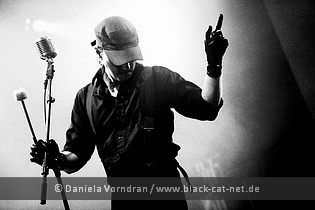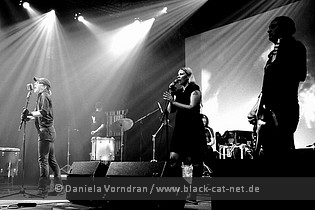 Music & Performance
In direct comparison to what FUNKER VOGT had just been laying down at the main stage, the works of ORDO ROSARIUS EQUILIBRIO must give the impression of being unspectacular and way too tranquil for an electro fan headed over to see what's happening. But where others do suffer from a lack of soul, it is just that what makes the core of this music. The lyrical embellishments and elaborations are soaking in passion, stirred up with a sense of erotica and like that cover the indeed serene compositions. 'Glory to Thee, Beloved Masturbator' for instance enchanted with its soft electronic undergrowth, covered by yearning choirs and the delicacy of the acoustic guitar. Following 'Mercury Rising' spread from the stage into the heads with vitreous sounding piano atop thick string textures, as well as powerful acoustic guitar, and soon a dreaming glance started covering eyes in the crowd.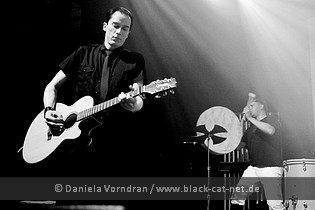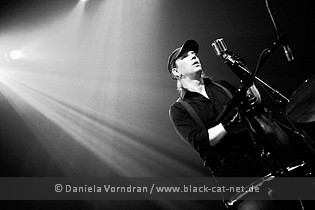 Though it wasn't necessarily dance music, very few found a way to move along with it by developing very fluid, slow movements that somehow fitted the music again. 'Singing for the Angel of the East' harked back sonically on past times and recalled a bit of a western flavour in its yearning winds of melancholy, reaching every corner. A 'Song 4 Hate & Devotion' marked the end point of this dreamscape and soon the crowd would wake and quite rightly give applause to this performance.
Rating
Music: 9
Performance: 8
Sound: 9
Light: 7
Total: 8.4 / 10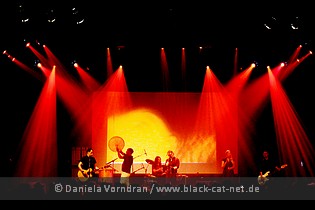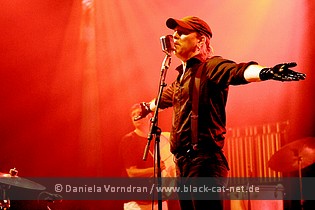 Umbra Et Imago (Main Stage - J. "Niggels" Uhlenbruch)
UMBRA ET IMAGO is a German Gothic-Metal / Neue Deutsche Härte band formed in autumn 1991. In picking up Sigmund Freud's idea that sexuality was the centre of our being they processed sadomasochistic fantasies though their cynical lyrics. The band is famous for incorporating BDSM acts and complex pyrotechnics into their live shows. The breakthrough came with the release of the second album 'Infantile Spiele' in 1993 and the song 'Gothic Erotic' became a club hit. With Lutz Demmler and Alex Perin, joining the line-up in 1995, the sound of UMBRA ET IMAGO developed into a more guitar oriented direction, firstly audible on 'Gedanken eines Vampirs'. The band decided never to play as a support act and after some fights this paid off. A remarkable lot of people come to their concerts. Besides countless singles, they've release album after album for instance 'Mystica Sexualis', 'Machina Mundi' or 'Dunkle Energie' After the release of their album 'Memento Mori' (2004), a DVD named 'Imago Picta' (2006) came out which includes rare material and an accompanying Audio CD. The band's literally last record 'Opus Magnus' is available since the beginning of July and is the very last studio album of the band. UMBRA ET IMAGO is Mozart (vocals), Sören (guitar), Migge (drums), Lutz (bass, production, vocals) and Nanne (vocals, show).
http://www.umbraetimago.de/
/
http://www.myspace.com/machinamundi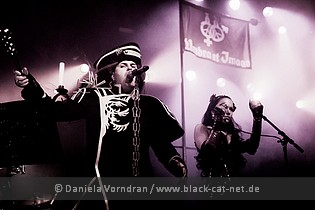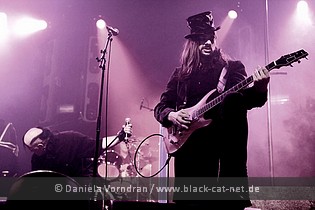 Music & Performance
UMBRA ET IMAGO started as a pretty electronic orientated act but soon developed into a Rock outfit. Their sound has been influenced by the Gothic Rock of the 1980s but also by Hard Rock, Symphonic Rock and Metal of the 1970s. A continuance is the focus on somewhat provocative and mostly sexual and sadomasochistic themes in lyrics and image of UMBRA ET IMAGO. This earned them some scathing criticism over the years but that's something which does not seem to affect the eccentric Mozart. You can say what you want about the leader of UMBRA ET IMAGO, he loves and lives what he does. It is no show effect or provocation for its own sake, or to generate some attention only. I suspect that UMBRA ET IMAGO secretly love scathing criticism, as they love to see themselves as underdogs of the scene. What could demonstrate your underdog status better than constant bullying from critics? In the past UMBRA ET IMAGO often offered pretty explicit shows with lots of naked skin and S/M imagery on stage, so to speak the visual counterpart of the explicit sexual content of their lyrics. These days are apparently gone. I hadn't seen UMBRA ET IMAGO live in a while, so I can't say exactly when they gave up bondage, dildo games and the likes on stage, all I can say that it's all for the better. Not because I'd be uptight or a straight-laced puritan but simply because I always felt it was cheap and rather vulgar, opposed to the artistically and aesthetically sophisticated exploration of human sexuality by a band like DIE FORM, for example.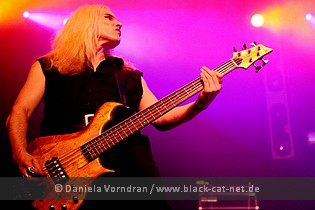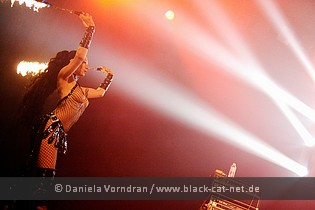 So much for scathing criticism, back to the show - the first thing singer Mozart did was checking out how many Germans are in the crowd, and the thirty or forty raised hands in answer to his question was reason enough to stick to German exclusively in all his chitchat in and between songs. To be honest, I found this a little disrespectful towards all the Belgian, Dutch, British, French (etc) people in the crowd. Anyway, UMBRA ET IMAGO went ahead with their straight Rock show and songs like 'Lieber Gott', 'Mea Culpa' or 'Dunkle Energie'. Madeleine Le Roy aka Nanne, dressed in a long black PVC gown, was responsible for erotic eye-candy and Bengal firework. Mozart and the other hand entered the stage in some sort of pirate's costume including a long black wig and a huge black hat, but as the show went on he got rid of the wig and hat to display his weird Goth haircut we all know so well. Mozart does like to be whimsical and witty when to be on stage and to see him poking fun at himself was actually a nice thing. UMBRA ET IMAGO's version of FALCO's 'Rock Me Amadeus' got the party vibe going as well as their own classic 'Kleine Schwester'.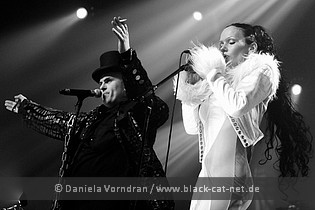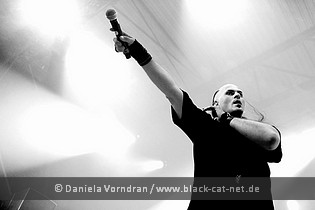 I'm not a particularly big fan of UMBRA ET IMAGO, still think their songs are a little plain and insipid, but I have to admit that the show was entertaining. Last but not least because Mozart does not take things too serious himself and because we saved from watching involuntarily shaved genitals and Mozart's bedroom exercises…
Setlist

01. .Liebeslied
02. Ales Schwarz
03. Memento Mori
04. Lieber Gott
05. Perfect Baby
06. Stalker
07. Dunkle Energie
08. Kleine Schwester
09. Mea Culpa
10. Ohne Dich
11. Rock Me Amadeus
Rating

Music: 6
Performance: 9
Sound: 9
Light: 8
Total: 7.7 / 10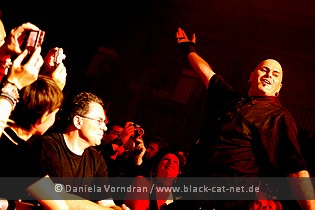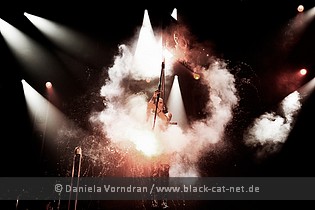 Sex Gang Children (Club Stage - Sebastian Huhn)
SEX GANG CHILDREN founded somewhere around the very early 1980s. The first release credited to them is a live album, solely released on tape with the name 'Naked' from 1982 followed in the same year by the EP 'Beasts'. The only official album, the band recorded and released in their original line-up is 'Song and Legend' from 1983. Soon afterwards in 1984, the band already called it quits and lead vocalist Andi Sex Gang started pursuing a solo career. The band reformed with a different line-up still fronting Andi Sex Gang in 1991 and released a new album with 'Medea' in 1993 and 'Bastard Art' in 2002. The newest release, the EP 'Salamun Child' has seen the lights of day in 2009 and is an appetizer for the upcoming new album. SEX GANG CHILDREN is Andi Sex Gang (vocals), Kevin Matthews (drums), Matthew Saw (bass & guitar) and Adrian Portas (guitar).
http://www.sexgangchildren.com/
/
http://www.myspace.com/sexgangchildren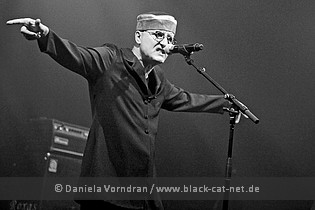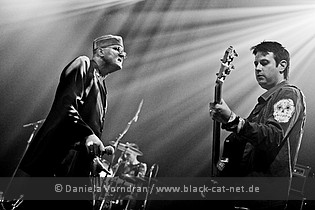 Music & Performance
Welcome to the weirdo cabaret, welcome to a play of seeming madness, starring your friendly guys from next door of SEX GANG CHILDREN. I guess something like that could be an introduction, though it's tough right now to find proper words for what you're getting to see. If you've been attending a show of CINEMA STRANGE once, you have an idea how it is watching this band. But while the show of the before mentioned utilizes very strange costumes, the dresses of SEX GANG CHILDREN are rather unspectacular for that matter. What's really adding the bit of weirdness and fascination is Andi Sex Gang's performance that was way beyond anything I've seen this far, concerning its theatrical and exaggerated character and was casting a spell that was freezing my motions on the spot. Frankly, I couldn't take my eyes off of the stage for a second. A song like the new 'Salamun Child' for example was a bit more of an ethereal and down-tempo effort with a slight Americana influence, which is already good enough for me but the vocal performance in combination with the mimics and gestures he made while delivering them made it an experience.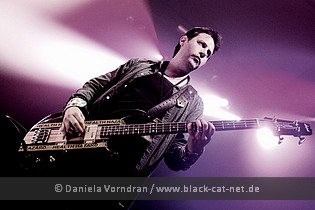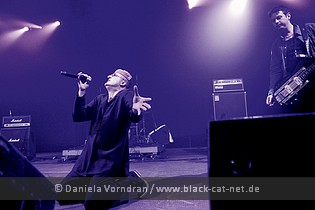 The gloomy 'The Dying Fall' had kind of a surging rhythm, subtly shifting tempos and an underlying current of desperation, piercing marrow and bone. 'Die Traube', coming a while later in the set, started out like a musically-underlined narration, calm in timbre and kind of relaxed, yet completely out of nowhere there was a rock outbreak that cut the calm into pieces. Also, German words had been woven into the lyrics. After 'Song & Legend' then had closed the set already, Andi returned briefly due to loud clapping and gave a spoken-word performance, spraying a very own charm. What can I say now in the end? I was baffled, surprised but moreover enthusiastic about this show that was so otherworldly.
Setlist
01. Barbarossa 2
02. The Bormann Chain
03. Bang!
04. Genocide Trend
05. Salamun Child
06. Dying Fall
07. All American Heart
08. Ecstasy & Vendetta
09. Death Squad Diva
10. Die Traube
11. Arms of Cicero
12. Song & Legend
Rating
Music: 9
Performance: 9
Sound: 8
Light: 8
Total: 8.7 / 10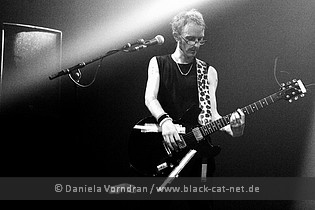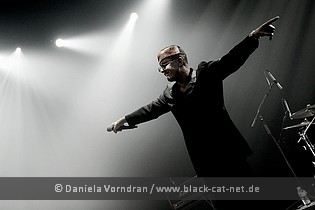 Covenant (Main Stage - J. "Niggels" Uhlenbruch)
It's the year 1992 and the location is Sweden, where 3 friends have just decided to form a band which would eventually be known internationally as COVENANT with the aim of producing good electronic music. An honourable intention many other electronic acts should have today. With the year 1994, the first album 'Dreams of a Cryotank' arrived, whose track 'Theremin' would become a club hit, however, not as big as the following EP's title track 'Figurehead', still spinning in clubs until today. With the arrival of 'Sequencer' (1996) and 'Europa' 1998, the name COVENANT became an epitome for a sophisticated yet still club-compatible kind of electronic music and tours into every corner of the world made sure their following would grow considerably and still does it today. Greater public exposure came with 'Northern Lite' (2002) as well as the videos of 'Call the Ships to Port' and 'Bullet' going on rotation on many music channels. It took 4 years before the fans could get their hands on the successor and current album 'Skyshaper'. Meanwhile, Clas Nachmansson left the band and sound-wizard Daniel Myer took his place. The trio is currently working on the follow-up 'Modern Ruin. COVENANT is Eskil Simonsson (vocals, songwriter), Joakim Montelius (keyboards, songwriter) and Daniel Myer (keyboards, synths, production).
http://www.covenant.se/
/
http://www.myspace.com/covenant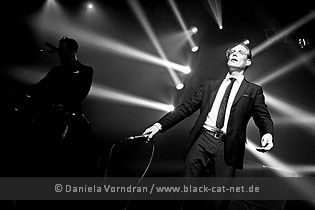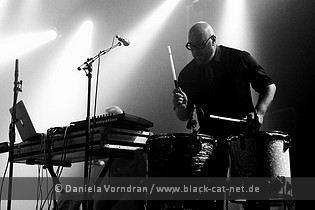 Music & Performance
To be honest, I had mixed feelings before the show because of the reports from COVENANT's performance in Berlin at the E-tropolis festival, which indicated that this particular show was rather a low point in the band's career as a live act. And because the last few COVENANT shows I witnessed were good and solid, but they didn't electrify me as earlier performances by the Swedish boys once did. But I blamed that on seeing COVENANT perhaps too many times, and on the fact that I saw them since the last club tour mainly at open air festivals. So whatever was to come, the absence of daylight at the Expo in Waregem was a benefit either way. So what was to come in Waregem? A good and solid but not overly electrifying show? A disaster? A brilliant one? The first surprise was that founding member Joakim Montelius wasn't in Waregem because of other duties, so Daniel from Stockholm Electro band DUPONT replaced him for this show. So there were two Daniels on stage, as Daniel Myer (of HAUJOBB fame) replaced Clas Nachmanson on a permanent basis a few years ago. This made vocalist Eskil Simonsson the only founding member of COVENANT on the stage of the Gothic Festival 2010.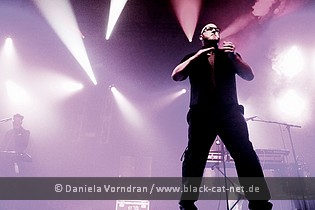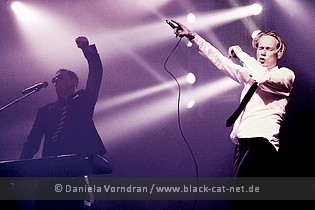 The show started with the classic club tune 'Stalker', including an extended remix intro, which indicated that we might get the standard festival setlist of this summer, like at the Blackfield Festival a few weeks before. But no! The smashing beats of 'Figurehead' came in next, the first of quite a few surprises of the set. The show started good, and it got better and better. Also thanks to a great, unhesitant crowd which was ready to suck in COVENANT's beats and soundscapes to have one big party. 'We Stand Alone' - which never was a single but always is a live fave - heated up the vibe before Covenant offered yet unreleased 'Dynamo Clock'. The only new song of the set but many of the old songs sounded a bit revamped and altered to my ears. 'Bullet' marked the only "moodier" point of an otherwise beat-driven and energetic set, followed by tracks which brought the vibe to a boil again like 'The Men', 'Der Leiermann', the unexpected and brilliant 'I Am', or 'Ritual Noise'. Newbie Daniel (yes, the DUPONT one!) by and by shook off any nervousness he might have had before his first gig with COVENANT and delivered some backing vocals and extra shouts and even left his keyboard to join the other Daniel (the Myer one!) behind his rack. The atmosphere was fantastic already but when the encore came, things got mad!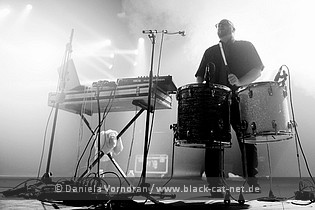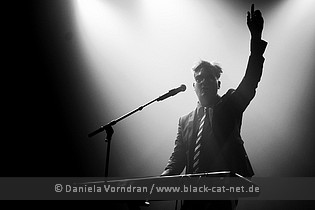 It was great to hear 'Dead Stars' in front of a festival crowd again, this song can work wonders when it meets a willing crowd, and the audience in Waregem was more than willing and even created some sort of football stadium atmosphere by singing the key melody of the sing with long "oooohooo"s - that sent me shivers down the spine, I happily joined in. 'Call The Ships To Port' is as inevitable as much as it is a crowd pleaser and a worthy closer of the show which rocked the house big time. Three seemingly happy musicians said goodbye to a very happy audience, and all I can say is that COVENANT's show at the Gothic Festival was truly electrifying. To all doubters, they still have it!
Setlist
01. Intro
02. Stalker
03. Figurehead
04. We Stand Alone
05. Dynamo Clock
06. Bullet
07. Go Film
08. Brave New World
09. The Men
10. I Am
11. Der Leiermann
12. Ritual Noise
---
13. Improvisation
---
14. Dead Stars
15. Call The Ships To Port
Rating
Music: 9
Performance: 9
Sound: 9
Light: 9
Total: 9 / 10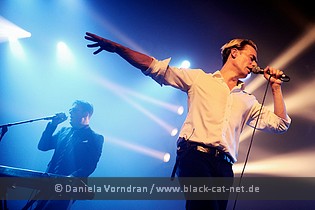 FGFC820 (Club Stage - J. "Niggels" Uhlenbruch)
FGFC820 is the common playground of renowned New York-based DJs Rexx Arkana and Dräkos. Rexx Arkana also might be known for setting up electronic super project BRUDERSCHAFT. The project was given life to in 2004 and in 2005 spawned the first release, titled 'The Hanging Garden'. Having signed to renowned electro label Noitekk, the project released the second instalment 'Urban Audio Warfare' and in 2008, let follow the newest strike 'Law & Ordnance'!
http://www.fgfc820.com/
/
http://www.myspace.com/fgfc820
Music & Performance
That FGFC820 performed as the final act of the first day of this year's Gothic Festival wasn't planned and is a strange story: The ordered power converters [note: North America has a different voltage level so US bands need a converter when they play in Europe] were simply not there. Unfortunately the band noticed this only a few minutes before their scheduled gig at 2 pm as they received a confirmation that the converters were available on location. Well, somebody forgot them at the backline company's storehouse, nevertheless! Bad luck, but the organizers of the Gothic Festival were so accommodating to let FGFC820 perform as the very last band of the night, just minutes after COVENANT finished their performance at the main stage. This meant, by the way, that the planned after show party at the club stage was cut off some time!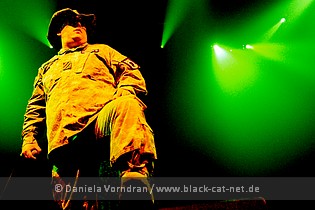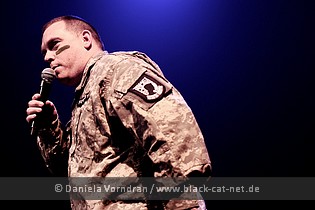 Somehow this turned out to be a blessing in disguise, as this wee mishap guaranteed FGFC820 a much larger audience than they would have had at 2pm! After COVENANT heated up everybody it was nice to have another band performing rather unexpectedly, so it was pretty crowded in front of the club stage and there was a lot of hard dancing in the audience. I have to admit that I didn't enjoy FGFC820's gig as much as I should have but that's perhaps just because I was exhausted and my mind was still in COVENANT modus after the glorious gig of Eskil & Co. Unfortunately FGFC820's sound was mixed rather badly, not too surprising considering the circumstances but still a pity. Rexx' vocals were just too loud and muddled, so it seemed to be just some screaming over some noise. Maybe I wasn't in the right mood for it, maybe FGFC820's Hellectro style is just a little too stereotyped and standard for my taste. Anyway, many people danced and enjoyed the show quite obviously, and with this "pseudo-headlining" position FGFC820 surely reached more people than at their originally scheduled time.
Rating

Music: 6
Performance: 6
Sound: 6
Light: 7
Total: 6.2 / 10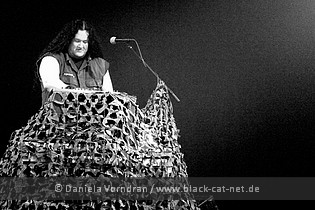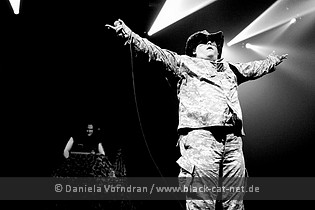 If you were up for it, you could join in the after show party at the club after Rexx Arcana finished the gig. I rather decided to leave for my hotel even during the show since it was a very long and exhausting day for me and a shower and my bed sounded much more tempting than the party, especially since I wanted to be in good shape for the day to come with its extraordinary line-up...
All pictures by Daniela Vorndran (
http://www.vorndranphotography.com/
/
http://www.black-cat-net.de/
/
www.myspace.com/vorndranphotography
)
Written by Daniela Vorndran (common parts), Sebastian Huhn and J. "Niggels" Uhlenbruch
{jos_sb_discuss:17}