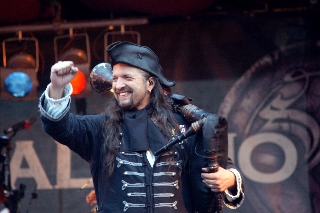 Mittelalter Phantasie Spectaculum, Speyer, Germany
29th August 2010
MPS Speyer: Saltatio Mortis, Metusa, Schelmisch, Vermaledayt, Rapalje

In 1994, a gentleman by the name of Edwin Ball started a very special thing. It occurred to him to harness the vast love affair that Germany has with the Middle Ages and create an event that would brings fans and aficionados together to celebrate their interest, with stalls, markets, role play, spectacle and bands. As it happens it was a damned good idea and his 'Mittelalter Phantasie Spectaculums' (Medieval Fantasy Spectaculars) have grown in both number and stature ever since until they are a really fun, exciting and gigantic affair.


In total over twenty-two weekends a ribald group of musicians, performers, stall holders, circus acts, re-enactors and role players tour the countryside north, south, east and west recreating a medieval fantasy at every town they visit making this the largest touring medieval culture festival in the world. Not only that, this has not simply become a huge moneymaking machine, it's stayed true to its roots, with customer satisfaction paramount and offering such things as free child admission up to the age of 15 on the last day of each town visit. That's something you don't see every day, and is testimony to the fact that this is as much a love of the Middle Ages as it is a business. Brilliant!

So do I want to go and see people fire-breathing and juggling with flaming torches? Yes I do. Do I want to watch handsome Knights jousting? Yes I do. And do I want to see some of the best Medieval Metal bands in Europe to top it all off? What do you think? Oh and you can dress up as well!


Rapalje (Every hour for 30 minutes)

RAPALJE are just a little fantastic. They put their heart and soul into every song they perform, taking classic Irish, Scottish and Dutch folk songs and making them their own in a truly authentic style. They performed on a small wooden stage very close to their audience and all of the performances have a fantastic intimate feel to them and there was some very pretty foggy lighting despite it being daylight. They all have really great voices and do Celtic ballads with delicacy and sensitivity whilst never forgetting to really kick the place apart for the more hectic songs. 'Wild Rover' springs to mind. One particularly hilarious moment came when the four of them sang a song about what men wear beneath their kilts with much posing and flashing of legs and kilt lifting, all the time managing not to laugh (too much) and sing in perfect harmony. The ultimate set stealers for me was 'Loch Lomand' and an awesome version of Christy Moore's 'Ride On' though which was truly beautiful. http://www.rapalje.com/ / http://www.myspace.com/rapalje

Rating
Music: 9
Performance: 9
Sound: 9
Light: - (Daylight)
Total: 9 / 10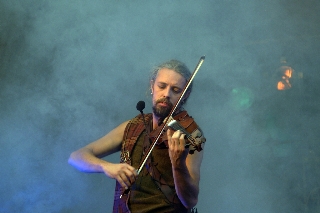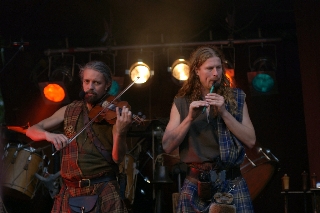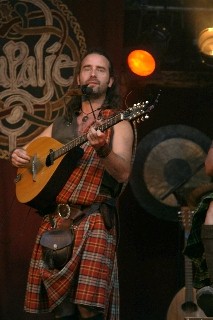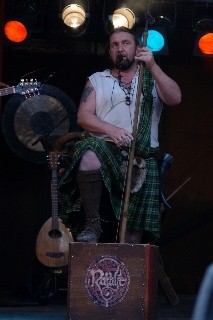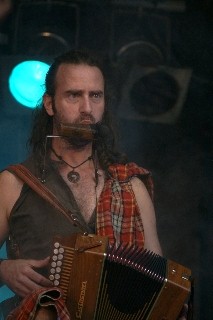 Vermaledayt (Every hour for 30 minutes)

It's nice to find a class bagpipe band you've never seen before and these seven guys and girls are certainly that and a whole lot more with a very varied repertoire and a male singer, Johann Lasterzunge, with a really strong yet mellow voice. Hailing from Bavaria, this was the first time that I've seen them and they didn't fail to impress loving every minute of their performances and acquitting themselves really well throughout the whole day. They are visually interesting and certainly a band that I'll be on the lookout for in the future having recently released and excellent album 'Relikt', blending perfectly the traditional with carefully choreographed arrangements to make them a really exciting offering comparable to the very best of medieval bands. http://www.vermaledeyt.de/ / http://www.myspace.de/vermaledeyt

Rating
Music: 8
Performance: 8
Sound: 9
Light: - (Daylight)
Total: 8.3 / 10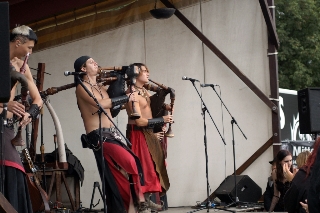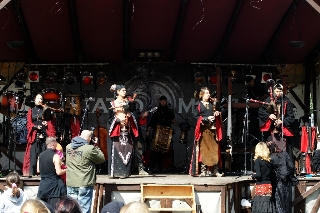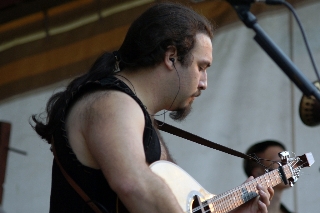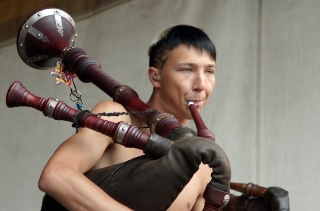 Schelmish (Every hour for 30 minutes)

Masters of Medieval mayhem are SCHELMISH, who need no introduction being pass masters within their chosen genre. As ever the performance was slick, relaxed and happy, with the band looking entirely at home in what is clearly very comfortable surroundings for them. 'Saltarello 6661/2' was a performance of genius. They never disappoint in all the times I've seen them and the audience clearly loved them in their more acoustic and toned down version of themselves with great sound and good lighting on a small dark stage. They are so well suited to a more basic approach that MPS' offer and it's nice to see such a large, well known band not afraid to still play in the raw offering a series of setlists of total quality. http://www.schelmish.de/ / http://www.myspace.com/schelmishband

Rating
Music: 8
Performance: 8
Sound: 9
Light: - (Daylight)
Total: 8.3 / 10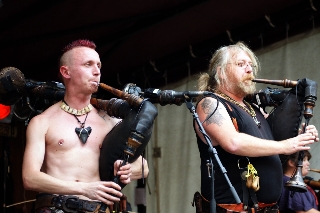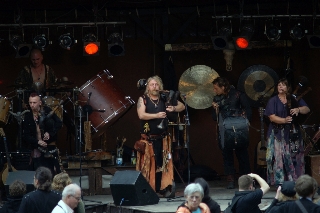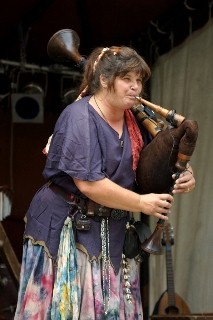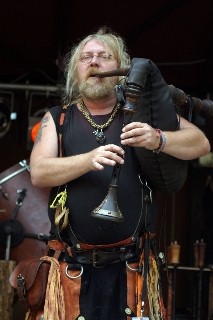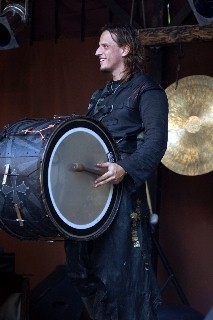 Metusa (Every hour for 30 minutes)

From Baden-Württemberg in south West Germany come METUSA, a five piece outfit offering simple songs done well. You can't really knock that as they strip away all pretensions and just sing and perform with a clear cut beauty as medieval music really should be. There are some accomplished musicians here and some great voices too with Anja's standing out as particularly beautiful. They are energetic, well practised and pretty flawless in their performance. I was pleasantly surprised to find that they are just so damned listenable to managing to pull off both ballads and heftier work with aplomb. Certainly a band to watch if you get the chance. http://www.metusa.de/ / http://www.myspace.com/metusa

Rating
Music: 8
Performance: 9
Sound: 9
Light: - (Daylight)
Total: 8.5 / 10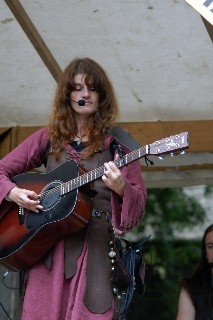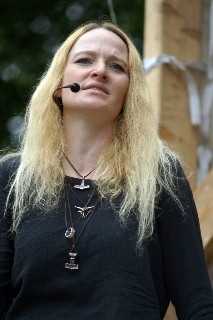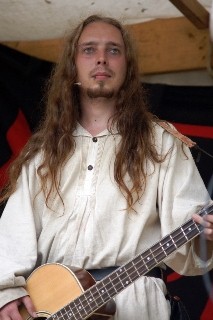 Saltatio Mortis (every hour for 30 minutes and final hour long concert)

The Karlsruhe posies were on form as ever lapping up the audience's enthusiasm for their more acoustic set. I've seen their rock show and I've seen their medieval market set and to be honest it's hard to say which is preferable for each is equally good. Lead singer Alea never misses a beat and always looks as though he's having the time of his life as he trundles merrily through the likes of 'Pirates Life', 'Drunken sailor' and the gorgeous 'Prometheus'. Comparing is done by the amusing Lasterbalk whose also one of the best drummers this side of Neil Peart (Rush) during their rock shows. Falk does a nice turn on hurdy-gurdy and vocal for 'Dessous le Pont de Nante' whilst the remainder of the band are never far away in terms of being in the limelight with jokes going back and forth like a ping pong ball.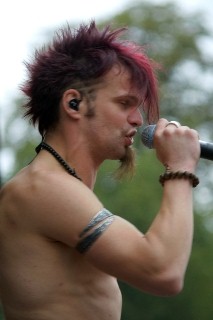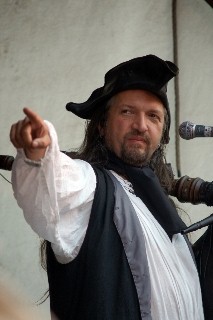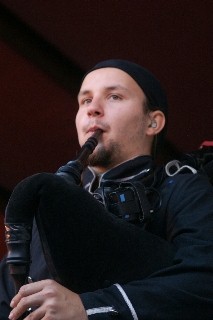 To say the crowd love these guys is somewhat of an understatement, I could hardly get near the stage to photograph, and that's because they have such a great repartee and a generally friendly demeanour spending almost the whole time between sets chatting to fans, signing autographs and having pictures taken. It's nice to see a band who has really made it (recent top ten albums) still with their very talented feet firmly on the ground. Were they awesome? You bet they were! http://www.saltatio-mortis.com/ / http://www.myspace.com/mittelalterpunk

Rating
Music: 10
Performance: 10
Sound: 9
Light: - (Daylight)
Total: 9.8 / 10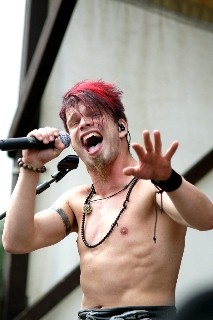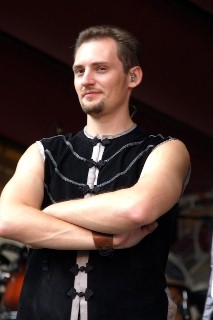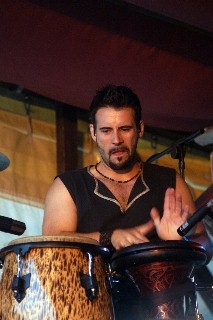 All pictures by Maddi Isaacs
{jos_sb_discuss:18}