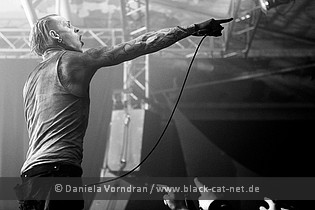 Essigfabrik, Cologne, Germany
5th February 2011
Combichrist, Mortiis, Vomito Negro, Blitzmaschine, Centhron

Very soon after the last Pluswelt Festival at the end of last year's October, the tenth incarnation followed, this time emphasizing the harsher side of electronic music, offering performances of bands like CENTHRON or VOMITO NEGRO. Also the festival relocated to a new location in Cologne where a larger queue of people was already waiting to get in.



Centhron

CENTHRON has been founded in the winter of 2001 and soon afterwards took the opportunity to tour together with established act FEINDFLUG. One year later, the debut album titled 'Lichtsucher' that gained favourable reviews. The project has released two further albums to this date, the latest one being 'Roter Stern' from 2009. http://www.myspace.com/centhron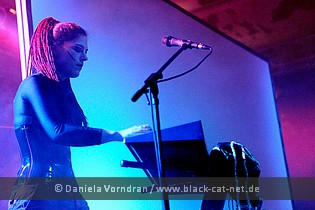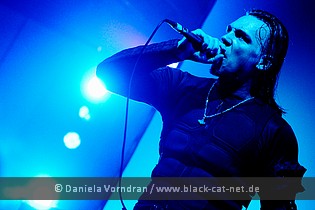 Music & Performance
Choosing for the basics, a synthesizer a string instrument and a screaming vocalist. Equals what? CENTHRON! They could've dispensed with the bass player completely however. Couldn't be heard at all! The thing you heard the most were distorted pummelling beats and vocals, screamed in a manner that you couldn't begin to catch a word of the lyrics. During the second song, vocalist Elmar performed with a creepy gas mask with a microphone attached to it. That was actually the most spectacular thing except the waving of the red flag on 'Roter Stern'. Well, how am I supposed to sum it all up? With a whole lot of nothing I guess, and certainly I wasn't the only one who saw it that way. But on the other hand, there've been people who enjoyed it a lot and perhaps it was the best start of the festival for them.

Rating
Music: 0
Performance: 2
Sound: 7
Light: 5
Total: 2.7 / 10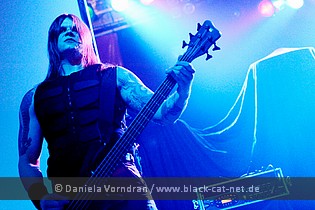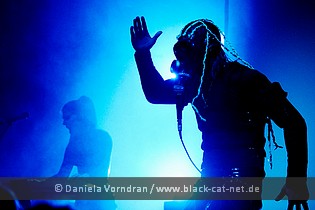 Blitzmaschine

BLITZMASCHINE started in 2009 with both the future members meeting in the financial business. Turns out they both got along well on musical territory as well and the project was born. The debut album called 'Faustrecht' is supposed to be released in March. http://www.blitzmaschine.com / http://www.myspace.com/blitzmaschine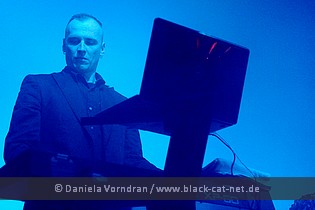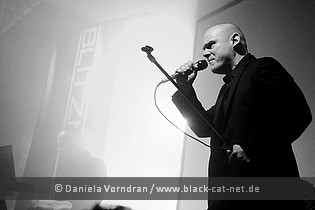 Music & Performance
So now I'd come to see what the next act would hold for me after the last one wasn't such a blessing for my ears. BLITZMASCHINE summoned old-school EBM sounds in the vein of DAF on the first track, and I mean 'Liebe auf den ersten Blick' really sounded like DAF, and in a slightly different fashion it actually was one track of the guys. Next track was in the wake of NITZER EBB with commanding vocals on top of bouncing fabrics of beats. The whole thing was kind of swinging between those poles but what got lost here on the way was a signature sound. You could completely lose yourself dancing within those tracks and they were inarguably well produced, but it wasn't something you hadn't heard with one or the other band before. So what remains is the impression of a band that catered for some minutes of fun but who in my opinion lack an own identity.

Rating
Music: 5
Performance: 5
Sound: 8
Light: 6
Total: 5.8 / 10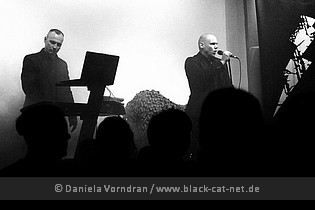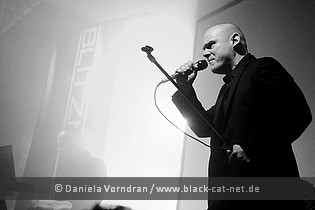 Vomito Negro

Started in 1983, VOMITO NEGRO built themselves a legendary reputation in the years to come, coinciding with a great following. The band name is Latin for 'Black Vomit' which is a phenomenon that arises in the last stage of the disease yellow fever, when the patient throws up his putrefied intestines and ultimately dies. Of you take a deeper look into their discography starting with the very first self-titled release back in 1985 and rolling forward to discs such as 'Dare & More' (1987) or 'Schock' (1989) you can hear their music always was in a constant state of flux, never sticking to any particular formula or following one scheme. Following a dormancy period after the album 'Fireball', it was decided to bring the beast that was VOMITO NEGRO back to life. This would eventually result in a new album called 'Skull& Bones' released in January 2010. Almost exactly one year later, in January of 2011, a new EP was released with 'Slave Nation'. http://www.myspace.com/vomitonegro1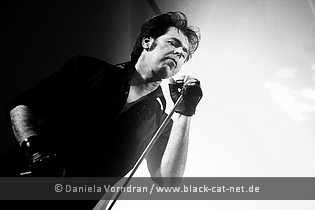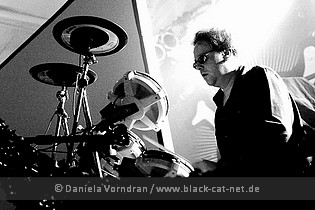 Music & Performance
VOMITO NEGRO first had to fight with the pitfalls of technics in trying to get their visual backdrop up and running. Eventually they had to go without it, so it was just "Rock'n'Roll EBM" this evening. But the intro, opening the performance had enough imagery in its sounds to work without any visual help. Gloomy, disquieting collages unfolded, occasionally broken by the sound of a bomb crashing in; then the band were offering something danceable, less sinister, enriched with lively percussion work and were rewarded. Straight from the new record now came 'Slave Nation' whose stomping beat was a little wake-up call for those thinking that would be the best they'd get before. A next excerpt followed right away with 'We Did It Again' and the title put it quite well. The mixture of EBM, Industrial and dissonances hit with almost everyone in the hall.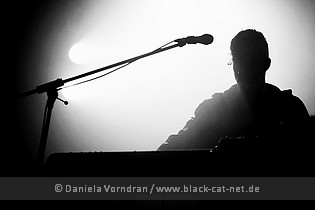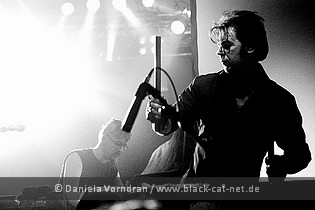 In the following we would be served with stuff from the recent album 'Skull & Bones' revoking themes of abyssal blackness in its purest form, a discipline VOMITO NEGRO have always been at the top of. The peak of it within the scopes of this performance was 'Burning Man'. It's rare that you hear such atmospheres floating around somewhere, and definitely not every band uses oil barrels as a means of rhythm creation. Sadly, the song marked the end of VOMITO NEGRO's performance. Seemed like the tight schedule of the festival didn't allow any more songs! No mercy for those suffering from technical malfunctions that weren't their fault. Anyway, at this point of the evening it was simply the best performance.

Rating
Music: 9
Performance: 8
Sound: 8
Light: 5
Total: 8.3 / 10


Mortiis

MORTIIS first appeared on radars in 1993 with the release of the demo tape 'The Song of a Long Forgotten Ghost'. The debut album 'Født Til å Herske' followed already in 1994. In the early days of MORTIIS, the songs had a considerable influence of, or were completely ambient with lengths of 15 minutes and beyond, and were mostly kept in Norwegian language. The album 'The Stargate' was to be the last one displaying those. It closed what is now known as the 'Era I' of MORTIIS. The transition towards a different form of the project became first audible with the release of 'The Smell Of Rain' in 2001, having a significantly more poppy vibe. Another shift happened with following 'The Grudge' which saw MORTIIS turning into a real band with a style close to Industrial Rock. A new album 'The Great Deceiver' is not so far from being released and supposedly will continue that style. http://www.mortiis.com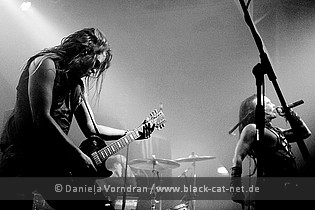 Music & Performance
With all the shows I've seen, I've never attended one of Norwegian MORTIIS, who're currently on tour with this evening's headliner COMBICHRIST. Must've seemed fitting to add them to the line-up as a little diversion from the usual, because that's what they were. Guitars, "real" drums and stuff were quite unusual before but now would come to full advantage for the first time here on the set opener 'The Ugly Truth' to explode on the following 'Way Too Wicked' that utilized hefty rock staccato and cutting riffs, combining them with sweat-driving performances of the band members, literally rotating up there. With 'Closer To The End' coming up, the tempo slowed and cold drum figures with atmospheric sprinkles prevailed to be topped off by a rousing chorus.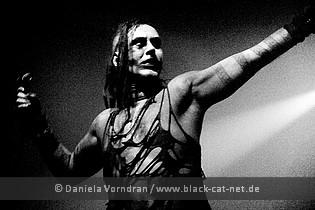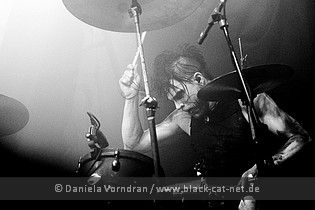 While all of that was going on stage, you could spot every kind of reaction amongst the audience from enthusiastic to sceptically observing. Perhaps it was too much rock for one or the other. Anyway, the atmospheric was put to the backyard now as the upbeat and straight-rocking took over with 'Decadent And Desperate' rising. Well, I couldn't say that it was completely up my alley, but considering the good show they put up here one can't possibly give it a too bad rating.

Rating
Music: 7
Performance: 8
Sound: 7
Light: 6
Total: 7.2 / 10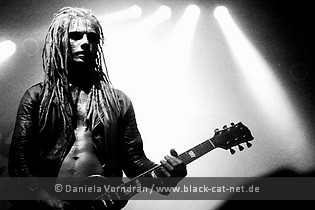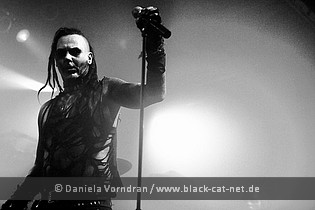 Combichrist

COMBICHRIST is one of the other faces of well-known singer and ICON OF COIL mastermind Andy LaPlegua who's presenting a much more hard-edged side of industrial with this project. The two first releases, the album 'The Joy of Gunz' and the limited Halloween special 'Kiss the Blade' both being released in 2003, conquered the clubs and dance floors in a storm. Only a year later Andy unleashed the next assault entitled 'Sex, Drogen und Industrial' which marks a change in the sound of COMBICHRIST to more electro and less distortion dominated sounds, yet the tracks remained as energetic as ever. In Spring 2005 it was finally time for the new album 'Everybody Hates You'. 2006 saw the release of a new EP that even took the project to the Hot Dance Billboard Charts and as Andy is a workaholic, he released the next album 'What The F*&$ Is Wrong With You People?' in March 2007. Right in time for the summer, Andy released the 'Frost EP' at the end of June 2008 with new tracks as well as remixes. The most recent album is called 'Making Monsters' and came out in 2010. COMBICHRIST is Andy LaPlegua (vocals, lyrics, production), Joe Letz (live drums), Trevor Friedrich (live percussions) and z_marr (live keys, synths). http://www.combichrist.com/ / http://www.myspace.com/combichrist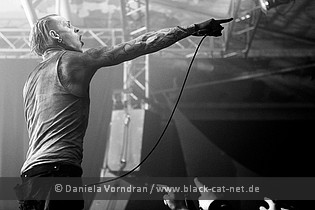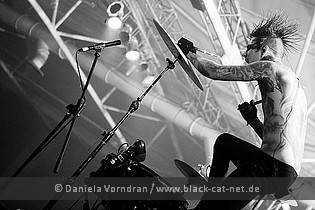 Music & Performance
Tension was on a peak in the venue right now for COMBICHRIST's performance was coming closer, and when it arrived, no encouraging measures needed to be taking anymore. Everything took off with 'Just Like Me' and afterwards got pushed into extreme regions on 'Follow The Trail Of Blood'. Extreme as in extreme reactions of the audience since one gets used to the adrenaline steeped show on stage. But the audience here freaked out in a way you rarely get to see, especially in Cologne. With the full violence it harbours, the blistering 'Today I Woke To The Rain Of Blood' broke out of its cage to roam the venue with fury. The group recently have released a new album with 'Making Monsters' and with 'Throat Full Of Glass' it was time for something from that record, and you can only say it benefits from the live treatment, gaining an extreme punch with the double action of percussions and drums, where Joe once more found great pleasure in keeping the stagehand busy for a big part of the show. Next up it was time to 'Get Your Body Beat' with the pulse rising equally to the level of adrenaline. Everywhere you looked were jumping, screaming and sweating bodies and for one or the other the middle of the crowd became an even more dangerous place to be. One particular track that reminded me so much of ICON OF COIL on 'Making Monsters' was 'Slave To Machine'. Within the live environment it lost that sound to a certain extent, getting pushed into even harsher and more organic regions.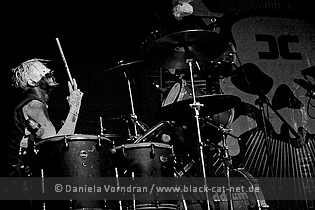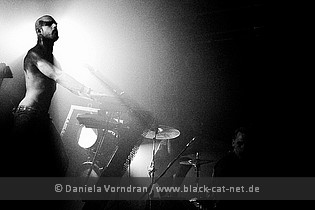 When the clock struck the end of the set it was time to say 'Never Surrender' and everyone in there took that literally. An encore was a matter of form here and the group returned for 'Fuck That Shit' to get the hearts pumping fast another time. Nope, still not the end. Everyone wanted more and so the guys turned up one more time. First to serenade z_marr, who celebrated his birthday that evening, and then to wrap the show off with 'What The Fuck Is Wrong With You People'. COMBIHRIST really never fail in delivering a good show and with their show at Pluswelt Festival X, they can add another one to the list.

Setlist
01. Just Like Me
02. Follow The Trail Of Blood
03. Today I Woke To The Rain Of Blood
04. Electrohead
05. Throat Full Of Glass
06. Get Your Body Beat
07. Deathbed
08. Slave To Machine
09. Fuckmachine
10. Blut Royal
11. They
12. Never Surrender
---
13. Fuck That Shit
---
14. What The Fuck Is Wrong With You People

Rating
Music: 8
Performance: 9
Sound: 9
Light: 6
Total: 8.2 / 10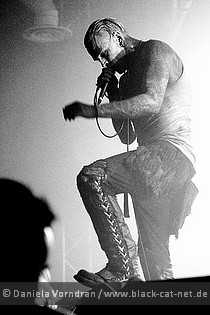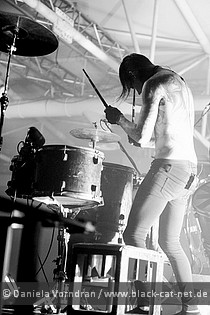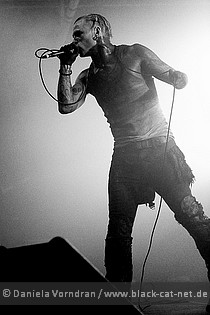 All pictures by Daniela Vorndran (http://www.vorndranphotography.com/ / http://www.black-cat-net.de/ / www.myspace.com/vorndranphotography/ http://www.facebook.com/blackcatnet)