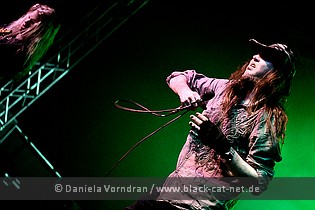 Turbinenhalle, Oberhausen, Germany
26th February 2011
Power Of Metal 2011: Nevermore, Symphony X, Psychotic Waltz, Mercenary, Thaurorod

Again this year, there's the double-headlining tour under the established name POWER OF METAL taking place, travelling several countries like Germany, Switzerland or Italy and bringing them a well assorted line-up of metal bands headlined by SYMPHONY X and NEVERMORE. This Saturday they were guesting in Oberhausen.



Thaurorod

The band having been founded in 2002 already, you come to think they must have quite a few albums under their belt up to now. No they don't. In the years following their inception the band released three demos with varying line-ups. The current line-up, which took shape in 2008, started recording the first full-length, entitled 'Upon Haunted Battlefields', and released it in September 2010. http://www.thaurorod.com / http://www.facebook.com/thaurorod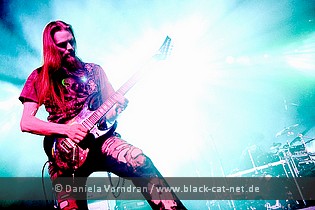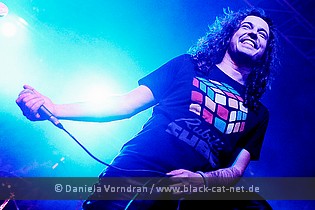 Music & Performance
The opening act from Italy entered the stage sharp at the anticipated time to provide the comparatively little crowd some symphonic metal type of music. The thing is the keyboard didn't come off as much as it should. For most of the time it couldn't be cleanly separated, or for that matter, couldn't even be heard, while that was depending on the position you had to the stage to remain fair. But the anthemic character of those pieces that were mostly located in an upbeat realm came over just as good without, and some people already there responded quite well to the music and the good mood on stage, when the guys were kidding around and then thrashed out again a song. While I see that there was technically no flaw regarding playing it's been a rather standard opening for an event.

Rating
Music: 5
Performance: 6
Sound: 7
Light: 6
Total: 5.8 / 10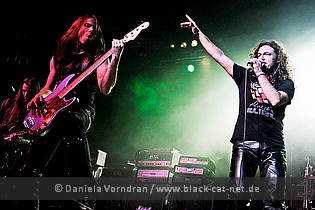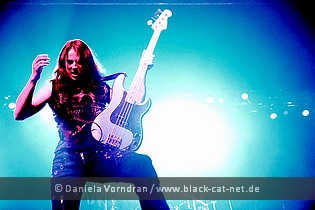 Mercenary

History of the Danish four-piece started back in 1991. The next three years would see the releases of a couple demos and an EP. Not before 1998 the band would be releasing the first full length by the name of 'First Breath', followed up by 'Everblack ' about four years later. It was with their third instalment '11 Dreams' that they would catch the most international attention and recognition at the time. The album being a commercial breakthrough, the touring schedule became much bigger and they secured a slot at Wacken Open Air in 2005. By now the band has gone through quite a lot of line-up alterations while releasing three more albums. 'Metamorphosis' is the currently newest and was released on 25th February. http://www.mercenary.dk / http://www.facebook.com/pages/Mercenary/44708746481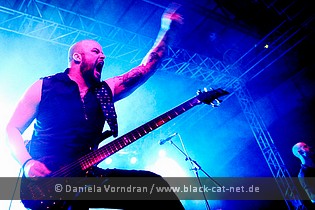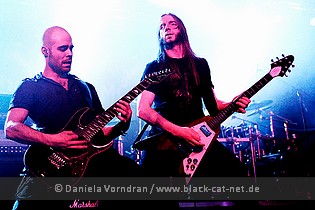 Music & Performance
Time during changeover flew and soon it was MERCENARY's turn to play the hall, introduced by the orchestral tones of 'Into The Sea Of Dark Desires'. Their approach can be described as being somewhat more technical in terms of tonal colour that was much colder and darker than that of the opening act. The vocals were alternating between piercing screams and clean sections. Also, the overall characteristic of the sound was harsher and to a certain extend tinged with violent bursts. Here, the audience's reaction already was somewhat more euphoric since many seemed to know the band already from the past and appreciated what was presented. Others, like me who hadn't encountered the band as yet, observed and tried to figure out if they liked it now or not. My conclusion neither is devastating nor euphoric; it's been a good performance altogether, but there was something missing, it didn't kick, really.

Setlist
01. Into the Sea of Dark Desires
02. World Hate Center
03. The Endless Fall
04. Through The Eyes Of The Devil
05. In A River Of Madness
06. The Follower
07. In Bloodred Shades
08. Firesoul

Rating
Music: 6
Performance: 6
Sound: 7
Light: 6
Total: 6.2 / 10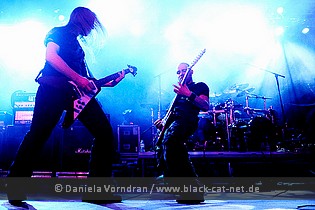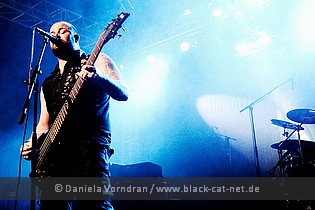 Psychotic Waltz

In the late 1980s, 5 guys gave life to PSYCHOTIC WALTZ. Their first two albums 'A Social Grace' and 'Into The Everflow' became an overall success, mostly in European realms and the band's popularity was on a rise. With their album 'Mosquito' getting released in 1994, the popularity flawed a bit. Many fans are said to regard it as their least popular due to the change of direction taking for that record. The album proved to be the last one with the original line-up with their bass player getting replaced sometime after. 1996 was the year for releasing 'Bleeding', the album that would be the last for PSYCHOTIC WALTZ for a long time as the band split up over a court battle and various other reasons. Fourteen years later, they're actually back on track with touring and plans for a new album have surfaced as well. http://www.psychoticwaltz.com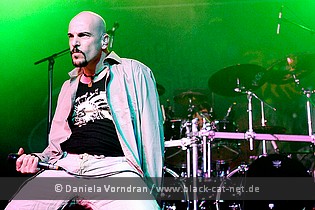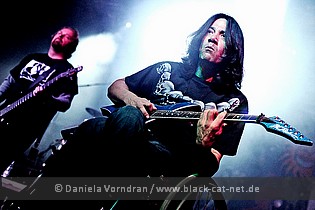 Music & Performance
They've been gone for 14 years, and they just met again the day prior to the show in Oberhausen. PSYCHOTIC WALTZ's performance has been anticipated highly by many who still knew them from their first active period in the 90s. As for me, this was again one of the situations I couldn't do anything but waiting for the things to come. I had heard the name the first time in conjunction with the event. Then there was the opener 'Ashes' and with it came sheer excitement and ecstasy; me being baffled about the unrivalled technical proficiency, the intricate structures of the song and the inarguable performance of Devon Graves that was second to none to everything that we experienced this evening already. Riffs blowing your brains out were just one thing. 'Spiral Tower' was made a highlight through its solos and the quite unorthodox use of Grave's vocals who sounded like a mad prophet while displaying that heartfelt style of dancing.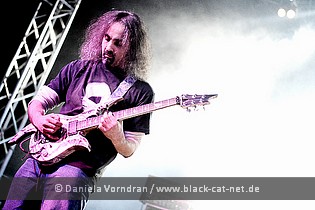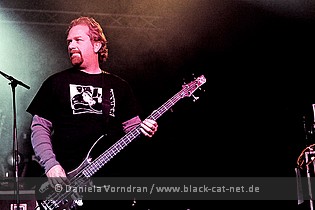 The title track of one their earlier albums 'Into The Everflow' just impressed with its hard yet creeping rhythm section and sinister moods throughout, and in terms of a passionate performance Graves went one better even. Afterwards, he finally got to live out his second passion that is being a stand-up comedian to bridge the gap caused by technical problems. Did pretty well and contributed to making this performance even more enjoyable than it already was. 'Morbid' and 'Cold' let follow some rather straight endeavours before with 'Halo Of Thorns' a composition followed that delved into the balladry realm with  lots of acoustic flourishes, never to disregard the unexpected twists and turns making a short foray into hard metal regions and a completely different rhythm section. To crown this thing, let's call it a show, 'Nothing' was offered as the sets closer and you could one last time convince yourself of these guys greatness. 14 years ladies and gentlemen, 14 years apart and upon coming back together they played as if that never happened. So let's all hope that this rumoured album for 2011 comes out fast. The first blast of the evening!

Setlist
01. Ashes
02. Spiral Tower
03. Haze One
04. Into the Everflow
05. Morbid
06. Cold
07. Halo of Thorns
08. Nothing

Rating
Music: 9
Performance: 9
Sound: 9
Light: 8
Total: 8.9 / 10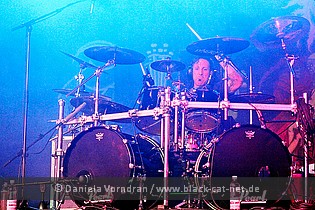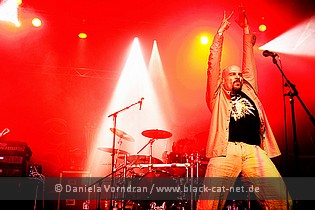 Symphony X

The band was formed in 1994 and in the same year started recording their debut full-length album, only released in Japan, but worldwide after the second album 'The Damnation Game' came out. Around that time, their former singer had already left the band and was replaced by Russell Allen. The third album 'The Devine Wings Of Tragedy', issued in 1997, became a fan's darling and highlights lot prog elements with two tracks of an epic length. 'Twilight In Olympus' would be its follow-up in 1998, part continuing that vein part returning to a more compact approach. Signed to Century Media since 2009, the release of 'Iconoclast', the band's eighth album is set for release in spring. http://www.symphonyx.com / http://www.facebook.com/symphonyx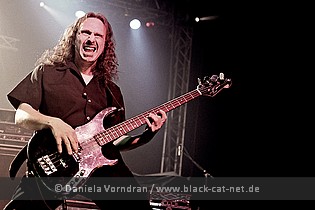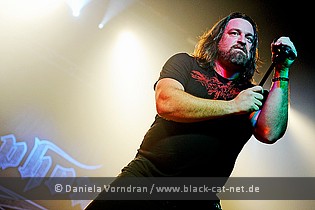 Music & Performance
It quite surprised me to see that SYMPHONY X would be playing before EVERMORE. Thought it was announced the other way around. Anyway, with the performance drawing closer more people gathered in the area close to the stage, soon to receive the first current of energy, unleashed when the band entered the stage to 'Of Sins And Shadows'. Soon it turned out that SYMPJONY X singer Russell Allen had equally as much entertainment capabilities as the previous band's front man. Also, he displayed a similar attitude in presenting the lyrics dancing and moving a lot with increasing excitement. Then it was already time for 'Domination' to blast out of the PA in a prog manner with plenty of anthemic moments, mostly through Allen's powerful vocal style. Having a front man like that on stage you can consider yourself lucky.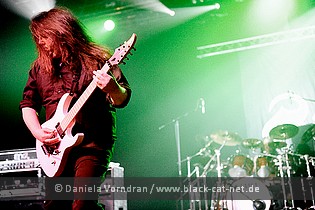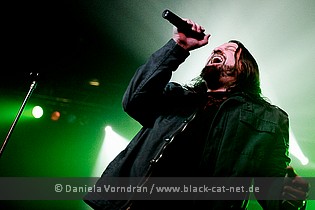 In no time he had the audience on his side and when asked to clap along they did it with passion and joy. The announcement to 'Paradise Lost' was requited with sheer happiness. Initially, a very tranquil and classically arranged track it gains momentum and power in the further course to take you away. For 'Inferno', the mood drastically changed towards a more angry and merciless kind. The song was relentlessly pushing forward and kept you on your toes while lasting. Close to the end of the set, the band played one new song from their upcoming album which they're putting the finishing touches on. 'Dehumanized' became a fireworks that much I can tell you. At the end of it all the band chose to 'Set The World On Fire' and did the same to the audience's hearts. Thumbs up from me!

Setlist
01. Of Sins and Shadows
02. Domination
03. Serpent's Kiss
04. End of Innocence
05. Paradise Lost
06. Inferno (Unleash the Fire)
07. Smoke and Mirrors
08. Dehumanized (New Song)
09. Set the World on Fire (The Lie of Lies)

Rating
Music: 8
Performance: 8
Sound: 8
Light: 8
Total: 8 / 10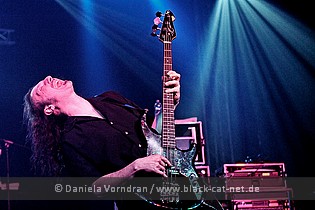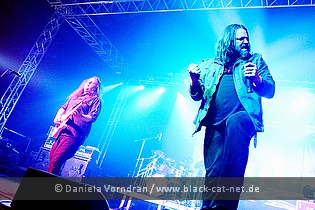 Nevermore

NEVERMORE rose from the ashes of SANCTUARY in 1991. After inking a label deal, the first self-titled album was released in 1995. They spent the following time with touring and releasing an EP, containing tracks that didn't make the cut on the debut album. The release of the second album 'The Politics of Ecstasy' dates back to 1996 and contains a lot of progressive material. It is named after a novel of Timothy Leary. 'Dreaming Neon Black' followed it up in 1998 and became a highly acclaimed release, followed by a long tour. Having that much of a good reputation didn't save them from earning criticism for the poor production of their 'Enemies Of Reality' album, which received a remix at a later date. The band's latest collection 'The Obsidian Conspiracy' was released in 2010. http://www.facebook.com/nevermorefans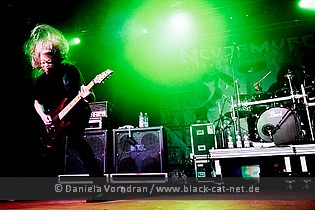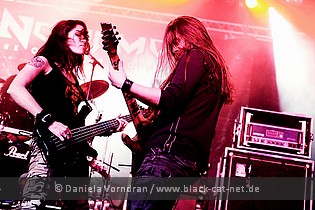 Music & Performance
The people in Stuttgart, I assume, probably were not really amused over the NEVERMORE show not taking place there. Here it actually happened and everything was quickly set up for the band to start, which they did quite forcefully with 'Moonrise', lacking a drum section initially, probably a technical problem, an issue we will elaborate on further soon. First it was Warrel Dane attracting the attention with not sounding as good could as he could through statements I heard, and for some unknown reason he was shaking like a leaf. Later we could see many people leaving shaking heads, really not looking very happy. The thing that really made everything unbearable was the sound mix of the NEVERMORE show.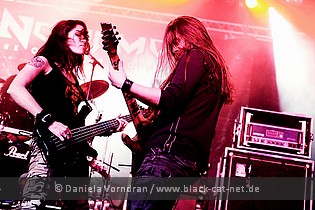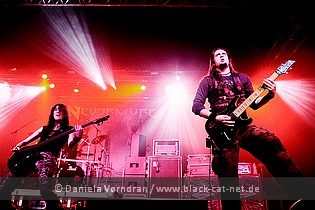 It mostly was loud, which wouldn't be a biggie if it at least sounded good, but here you couldn't quite separate the instruments from each other, the bass getting completely drowned in the mix, and when moving farther away from the stage it just got messy. Nothing that comes close to a good mix! I couldn't say if it was bad acoustics in the hall or the sound engineer having a bad day, but this was unacceptable. I hope that was an exception and that if I ever get to see them again everything's fine again. Not really a good first impression.

Setlist
01. Moonrise (Through Mirrors of Death)
02. The Termination Proclamation
03. Your Poison Throne
04. Born
05. The Heart Collector
06. Emptiness Unobstructed
07. The River Dragon Has Come
08. This Godless Endeavor
09. Narcosynthesis
10. Enemies of Reality

Rating
Music: 5
Performance: 4
Sound: 0
Light: 8
Total: 4.4 / 10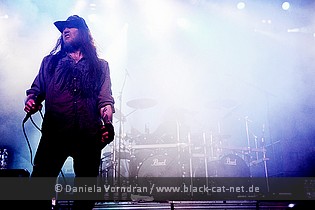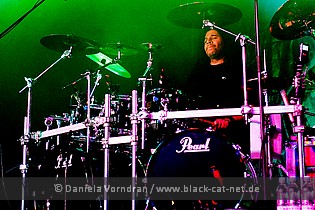 All pictures by Daniela Vorndran (http://www.vorndranphotography.com / http://www.black-cat-net.de / www.myspace.com/vorndranphotography / http://www.facebook.com/blackcatnet)