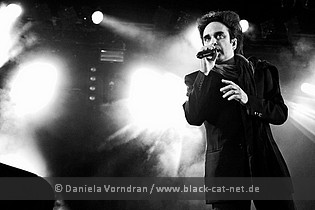 Tanzbrunnen, Cologne, Germany
16th & 17th July 2011
Amphi Festival 2011 Day 1 Main Stage: Deine Lakaien, Die Krupps, Tanzwut, Samsas Traum, Zeraphine, Melotron, Staubkind, [X]-RX

Pasta2Go. Now in case you're wondering if the author of this text is completely nuts I can assure you he is and he's not ashamed of showing it. Well, during our preparations for Amphi festival we encountered Pasta2Go and figured it should be part of the introduction and a recommendation to the Amphi organizers to keep such little lunch packages for busy photographers at the press tent. Anyway, that and a few other things set the right mood for this first day of Amphi festival that we hoped would go with as little rain as possible.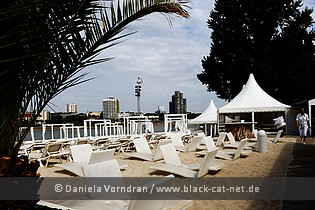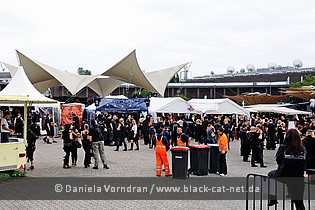 [X]-RX (Sebastian Huhn)

Founded in 2006, the German project already landed an early club hit with 'Social Distortion'. Quickly that aroused interest of the industrial label Pro Noize who went on to sign the project for the release of their debut 'Unmöglich Erregend'. Their latest offering is the album 'Update 3.0' released in 2010. http://www.myspace.com/xrxindustrial

Music & Performance
Actually the first thing raining down on the audience was [X]-RX who, I suppose, were chosen to rip the entire area out of sleep. The side effect was the cyber Goth fraction dancing heavily at this early hour to the torturing bass drums of the two guys on stage. Offering tracks with titles such as 'Tanz Schlampe' or 'Virus Infect' they kept that particular group on their toes, while people like me tried to figure out how the hell someone could actually and voluntarily listen to that stuff. Which, for me, lacked any sort of content.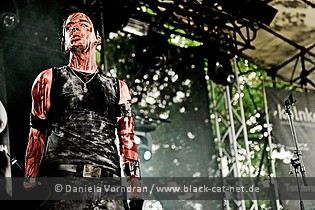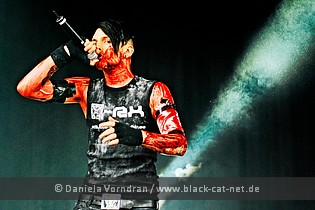 Setlist
01. The Update
02. Push It!
03. Tanz Schlampe
04. Virus Infect
05. (New Song)
06. The Doll Underground
07. Stage 2

Rating
Music: 3
Performance: 4
Sound: 5
Light: - (daylight)
Total: 3.7 / 10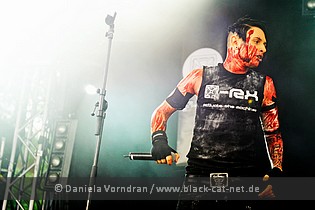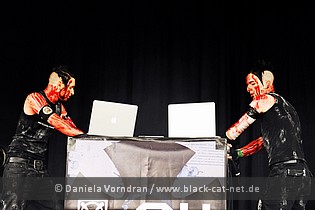 Staubkind (J. "Niggels" Uhlenbruch)

STAUBKIND hails from Berlin and is led by singer Louis Manke who started STAUBKIND as a solo project in 2003. In Chris Pohl (of BLUTENGEL fame) he found a mentor for his musical visions and the singles and the debut album, titled 'Traumfänger', were all released on Chris Pohl's own label Fear Section Records. STAUBKIND soon evolved to a fully-fledged four-piece band, released a few more singles and a second album, 'Zu Weit', in 2007 and toured as a support of acts like BLUTENGEL, UNHEILIG, ZERAPHINE and ASP. 'Zu Weit' was the last release of STAUBKIND apart from several compilation appearances and remixes for other bands. STAUBKIND are working on their third album which is to be released later this year. The current line-up of STAUBKIND is Sven 'Louis' Manke (vocals), Rico Meerheim (guitar), Friedemann Mäthger (drums), Sebastian Scheibe (bass), and female vocalist Ulrike Goldmann for some guest appearances. www.staubkind.de / www.myspace.com/staubkindsite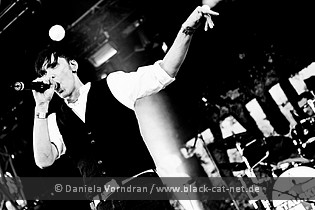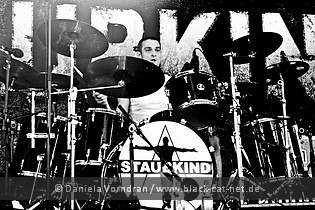 Music & Performance
It's funny what they sell you as "Goth" these days, as STAUBKIND are rather conventional Rock / Pop with German lyrics and, admittedly, a slightly melancholic undertone. But then STAUBKIND never claimed to be Goth, yet they find their approval of certain parts of this scene. Perhaps the presence of handsome boy Manke plays a role here... STAUBKIND look like a Pop act and sound like a Pop act, nothing wrong about that but on the other hand their music is hardly inspiring or overly remarkable. On the plus side of things, STAUBKIND delivered a very professional and routined performance at the Amphi at this festival. Songs like 'Königin' or 'Ein Traum der nie vergeht' are pure, guitar-driven and radio-friendly Mainstream Pop with touchy-feely lyrics. STAUBKIND did have their own audience at the Amphi festival, which just proves that sometimes anything is accepted as "Goth" or "Dark" as long as image and marketing are right. Technically very good performers but what was the point again?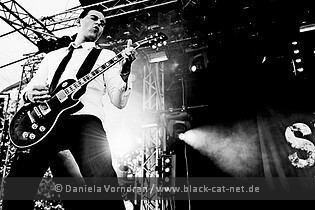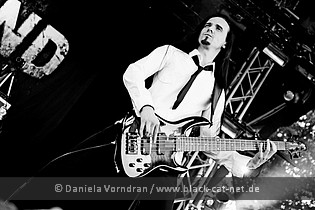 Setlist
01. Intro
02. Königin
03. Viel mehr
04. Halt mich
05. Zu weit
06. Dein Engel schweigt
07. Meine Lügen
08. Ein Traum der nie vergeht
09. Mein Herz

Rating
Music: 6
Performance: 9
Sound: 7
Light: - (daylight)
Total: 7.2 / 10


Melotron (J. "Niggels" Uhlenbruch)

After leaving their former band THE VERMIN, Andy Krüger (vocals), Edgar Slatnow (synths) and Kay Hildebrandt (synths) formed MELOTRON in 1996 in their East-German hometown Neubrandenburg. Musically and personally strongly connected with the likes of AND ONE, they quickly had a club hit with their debut single 'Dein Meister' and gained further recognition with the first album 'Mörderwerk'. MELOTRON produce slick Synth Pop with mostly German lyrics, and while MELOTRON often tend to the tacky and cheesy side of things they have proven with an album like 'Weltfrieden' (released in 2002) that they are capable of doing more complex and challenging things. Since their 2007 single 'Das Herz', the band's contribution to the Bundesvision Song Contest, and the following album 'Propaganda', which featured English lyrics for the first time in the band's history, there were no further releases by MELOTRON. However, they've kept on performing live including festival appearance as this year's Amphi and a new album will be out soon finally. http://www.melotron.de / http://www.myspace.com/melotronmusic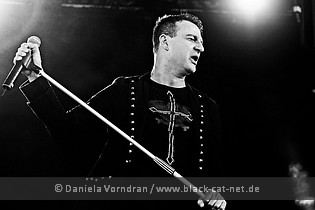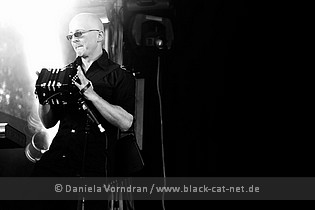 Music & Performance
MELOTRON vocalist Andy Krüger is somehow "East Germany's Dave Gahan". There's a striking resemblance between Krüger and the famous DEPECHE MODE front man, and watching Krüger live makes clear where he got his inspirations for his dance moves. Anyway, MELOTRON's version of synthesized Pop is surely glossier, neater, and less Rock than DEPECHE MODE. Instead, MELOTRON often combine their catchy Pop tunes with the heavy dance beats of Future Pop, and live they spice up their synth sound with additional live percussions and little gimmicks like an accordion. Their cover version of RIO REISER's 'Menschenfresser' demonstrated that MELOTRON is not only influenced by electronic pioneers and songs like 'Der Anfang' or 'Das Herz' show that they have the right touch for a good melody. On the other hand there are songs like 'Kindertraum' where the cheese factor is on an absolute maximum, which spoils the fun if you ask me. Sound-wise, MELOTRON's music wasn't that well mixed - surely not their fault as it was the same for many bands of the festival - and Andy Krüger unfortunately didn't have his best day in regard to his vocal performance. But those who were strong enough to withstand the high cheese factor were rewarded with an entertaining gig and two new and yet unreleased songs from the forthcoming album.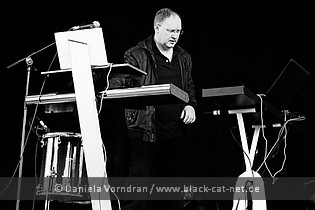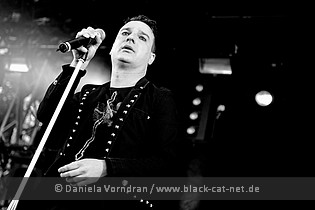 MELOTRON finished their set with a slow version of their club hit 'Brüder', a somehow bold step as they could have played it safe by doing the anthemic club version of this song. All in all MELOTRON was surely not a highlight of the festival but at least a nice addition to the line-up for all lovers of catchy Synth Pop.

Setlist
01. Intro
02. Love is calling
03. Der Anfang
04. Menschenfresser
05. Das Herz
06. Stuck in the Mirror
07. Vaterland
08. Kindertraum
09. Brüder

Rating
Music: 7
Performance: 7
Sound: 7
Light: - (daylight)
Total: 7 / 10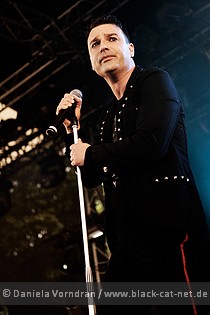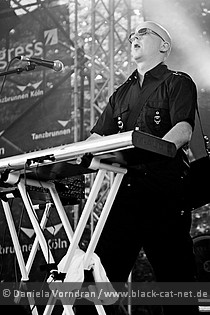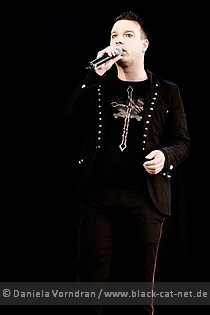 Zeraphine (Sebastian Huhn)

ZERAPHINE has been formed by Norman Selbig and Sven Friedrich. Together with producer Tommy Hein, the first album 'Kalte Sonne' was recorded and then released in 2002. It was completely sung in German, contrary to second album 'Traumaworld' comprising of mixed German and English lyrics and a nice cover of the DEPECHE MODE track 'In Your Room'. The third album 'Blind Camera', released in 2005, left confided territory and turned to heavier guitar riffs and harder arrangements, still the dominating factor was Sven's charismatic voice. Their fourth and current album 'Still' was the first album, release by their own label, which the band founded after their previous record deal ended. 'Whiteout' is the name of ZERAPHINE's latest album, released in June 2010. ZERAPHINE is Sven Friedrich (vocals), Norman Selbig (guitar), Manuel Senger (guitar), Michael Nepp (bass) and Marcellus Puhlemann (drums). http://www.zeraphine.de/ / http://www.myspace.com/zeraphine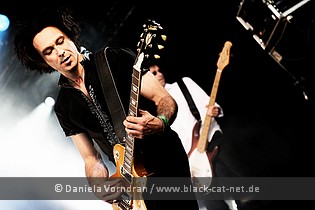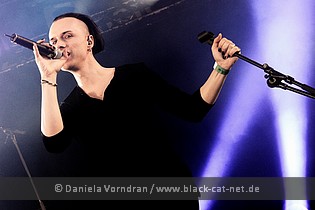 Music & Performance
My next appointment at the main stage was ZERAPHINE who were just about to start their show with the recent album's opener 'Nie Mehr Allein', by ZERAPHINE terms a quite harsh effort. I just discovered something during their show. I still like the music, I really do. Not the most ambitious ever heard, but its rock solid and still better than many other bands. The thing is though that the show really lost its fascination and that is due to it being devoid of any surprising elements. It's you know what you're getting when attending a ZERAPHINE show. For some that's a good thing because it proves reliability. On the other hand it's just getting boring over time. They hardly ever deviate from their scheme. They should consider becoming a little more unpredictable when it comes to their performances. Otherwise I fear people will stick to their CDs in a long run. But maybe I've become a dinosaur clinging to the old virtue of diversity. So what's the bottom line: Music: Great! Performance: Expandable!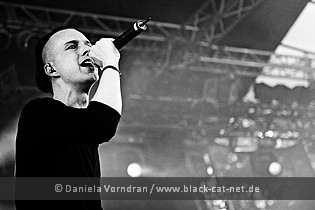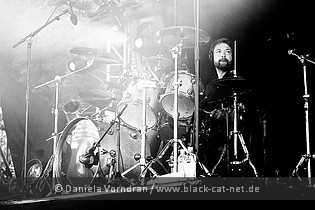 Setlist
01. Erwachen
02. Lieber allein
03. Be My Rain
04. No More Doubts
05. Out Of Sight
06. Rain Falls
07. Inside Your Arms
08. Still
09. Tomorrow Morning
10. Louisa
11. I'll Follow You
12. Ohne dich
13. Die Wirklichkeit

Rating
Music: 9
Performance: 6
Sound:6
Light: - (daylight)
Total: 7.4 / 10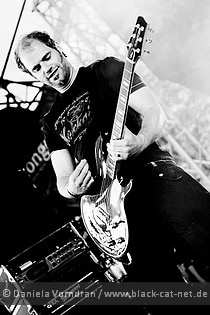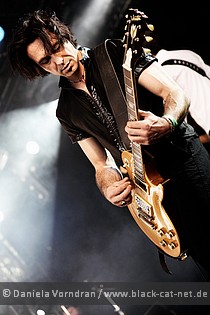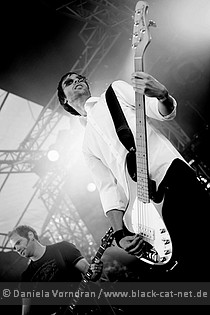 Samsas Traum (Sebastian Huhn)

Many of you will probably know SAMSAS TRAUM due to the often very provocative and direct statements of its eccentric creator Alexander Kaschte, who founded SAMSAS TRAUM in 1996. He produced some demos and exactly three years after its foundation, the band signs a record deal with the Trisol Music Group through which the three albums 'Oh Luna Mein', 'Die Liebe Gottes' and 'Utopia' were released in the years to come. After a tour as support for ATROCITY and PAIN in 2000, Kaschte took a creative break to return with a new album 'Tineoidea oder: Die Folgen einer Nacht' in 2003 on which he collaborated with several well-known artists like ASP and BLUTENGEL. Only one year later, the double album 'a.Ura und das Schneckenhaus' was released, followed by two albums 'Heiliges Herz' and 'Wenn schwarzer Regen fällt'. Just a few weeks ago the band released 'Anleitung zum Totsein'. http://www.samsas-traum.info/ / http://www.myspace.com/samsastraum

Music & Performance
So Alexander Kaschte and SAMSAS TRAUM were up now at the main stage. With them came a kind of humour you either like or not. The music seems to share an equal fate with most people and the genre hopping of Mr. Kaschte surely isn't up everyone's alley either. Before we get to the interesting part but we start off with a little of the music being played, because that's what this is about after all, isn't it? 'Ein Name im Kristall' opened the show in the current metal fashion, whereas 'Fick Mich Noch Fester' roused quite some AGONOIZE associations with me.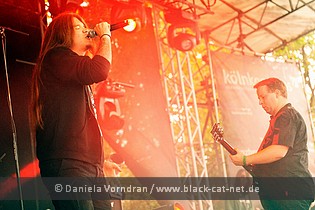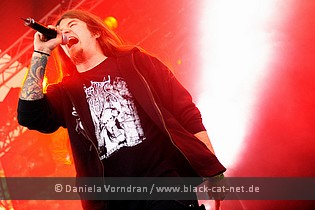 In-between songs, Alexander would revive an old tradition of throwing stuff into the audience or utilizing anything but subtle irony. The peak of disgust he reached when he would throw a sweaty T-shirt into the audience. A sweaty t-shirt in itself isn't the disgusting part. He would give the t-shirt to a girl, asking if she wanted a little more sweat in it. She obviously gave the wrong answer since Kaschte really enjoyed rubbing the thing in his armpit. I'm going to leave it up to you to judge the mind-set of audience and artist here. Musically, apart from that, it was a flawless show with a good amount of audience participation, as well as old and newer songs.

Setlist
01. Ein Name im Kristall
02. Fick Mich Noch Fester
03. Für Immer
04. Stromausfall im Herzspital
05. Endstation Eden
06. Heiliges Herz
07. All die toten Spiegel (New)

Rating
Music: 6
Performance: 6
Sound: 6
Light: - (daylight)
Total: 6 / 10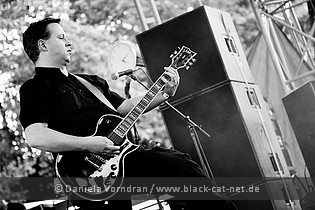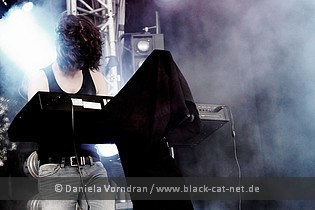 Tanzwut (Sebastian Huhn)

TANZWUT is a German Rock and Medieval Metal band composed of members from the folk band CORVUS CORAX. TANZWUT are known for their heavy use of bagpipes, an unusual instrument for a metal band. The group has achieved international success, filling concert halls as far away from their home country as Mexico. The band's recent releases have been gravitating towards a more industrial metal approach, incorporating the use of more down-tuned guitars, harsher vocals and darker atmospheres. TANZWUT is Teufel (vocals, bagpipe), Martin Ukrasvan (guitar, davul), Der Zwilling (bass, bagpipe), Ardor (bagpipes), Thrymr (bagpipes), Jagbird (keyboard, e-drums, drums) and Shumon (drums). http://www.tanzwut.com / http://www.myspace.com/tanzwutmusic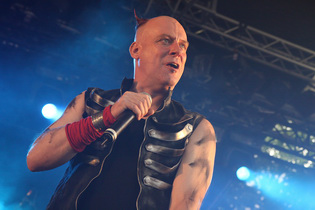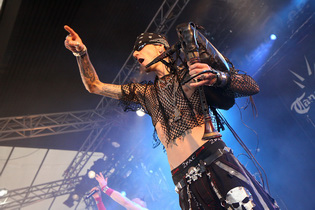 Music & Performance
It is an open secret, really that I'm not much of a fan of the bagpipe-inflicted stuff TANZWUT are exhibiting during their concerts usually. Also it's still a mystery to me what the fascinating bit about all this is, but one thing's a fact: It works, and it works really well. Otherwise there'd be no rational explanation for all those people in front of the main stage at the time and hanging on the words of front man Teufel, bringing the devil into the paradise of Cologne to bring the healing over everyone with the following show. That guy always keeps running from left to right and if the audience had their way they would've done the same thing. But there was this little problem of colliding with people who just wanted to pass. Anyway, for those interested in this kind of music it was definitely the place to be and they visibly enjoyed every second.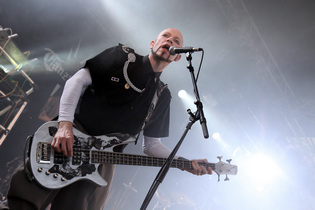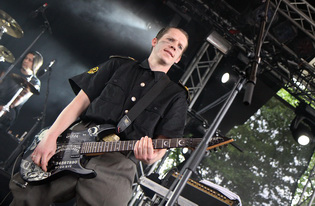 Setlist
01. Toccata
02. Ihr wolltet Spaß
03. Im Labyrinth
04. Meer
05. Merseburger Zaubersprüche
06. Lügner
07. Wächter
08. Bitte Bitte
09. Vulkan
10. Teufel im Paradies
11. Arzt
12. Nein Nein
13. Schattenreiter

Rating
Music: 6
Performance: 7
Sound: 7
Light: - (daylight)
Total: 6.5 / 10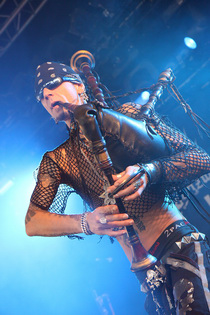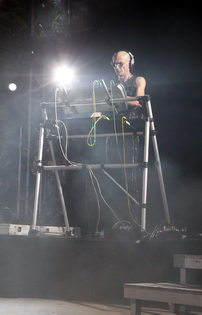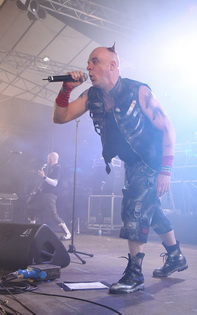 Die Krupps (J. "Niggels" Uhlenbruch)

Hailing from Düsseldorf - just like KRAFTWERK, CAN and NEU! by the way - DIE KRUPPS were founded by Jürgen Engler and Ralf Dörper in 1981. While their first release, 'Stahlwerksinfonie', was an experimental piece close to the concept of EINSTÜRZENDE NEUBAUTEN, DIE KRUPPS soon opted for a straighter, dancier and more electronic sound which heavily influenced the emerging EBM scene of the late 1980s. After a short hiatus, in which Dörper gained international success with the Pop group PROPAGANDA, DIE KRUPPS reformed in 1989 and re-recorded their second single 'Wahre Arbeit Wahrer Lohn' with NITZER EBB and opened a new chapter in the band's history with the 1992 album 'One', which introduced heavy guitars to their electronic sound. The marriage of EBM and Electronica on the one hand and Metal and Rock on the other was DIE KRUPPS' mission during the 1990s but the new millennium saw another break for the band. After some years of silence DIE KRUPPS returned with their 25th anniversary tour in 2006, and after a number of re-releases the band released new material finally in December 2010 in form of the 'Als wären wir für immer' mini-album. DIE KRUPPS are Jürgen Engler (vocals), Ralf Dörper (keyboards), Rüdiger Esch (bass) plus live members Marcel Zürcher (guitar) and Oliver Röhl (drums). http://www.dkay.de/krupps_index.html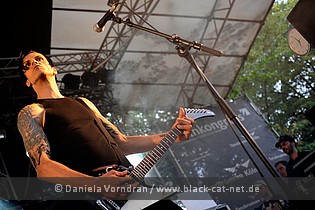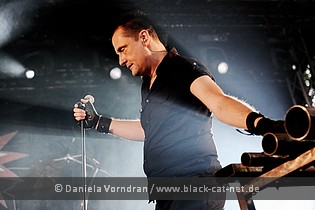 Music & Performance
I was a little surprised that DIE KRUPPS got the co-headlining slot at the main stage of the Amphi on the first day of the festival. Brilliant band, so I'm happy for them, but to be honest I would have guessed that a band like TANZWUT, who played before DIE KRUPPS, would be more popular among German Goth crowds. However, this is surely no complaint - that the gig of DIE KRUPPS was overlapping with the ones of LEAETHER STRIP and SUICIDE COMMANDO at the Staatenhaus was on the other hand indeed a little frustrating. Anyway, after a short intro Jürgen Engles and his band mates rushed on stage and started with the energetic 'Hi Tech Low Life'. There was a good fan crowd in front of the stage who was into it from the start, and with smashers like 'Isolation' and 'Crossfire' DIE KRUPPS quickly won over those who just were to take a glimpse at the Düsseldorf legend, and also those unlucky SUICIDE COMMANDO fans who weren't allowed to enter the packed Staatenhaus. The sound left a bit to desire for (again!) but the energy of DIE KRUPPS and Jürgen Engler's engaging stage presence made up for it. 'Als Wären Wir Für Immer' and 'Beyond' represented the new material from the latest EP, while the rest of the set was dominated by the band's output from the 1990s.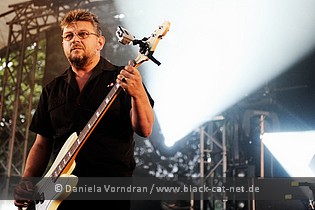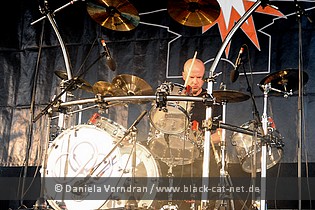 As a best-of set was announced, some fans might have hoped for very old gems like 'Volle Kraft Voraus' but the classic 'Germaniac' and the VISAGE cover 'Der Amboss' were just as captivating. 'To The Hilt' and the hymnist 'Fatherland', probably the biggest DIE KRUPPS hits, saw an audience in high spirits before we got to hear 'Wahre Arbeit Wahrer Lohn' for the first time this weekend, though this wasn't clear yet when DIE KRUPPS performed it. There was a surprise in store for all those who would also attend the NITZER EBB show the next day but not even DIE KRUPPS knew that when they hammered the high-speed beats of 'Bloodsuckers' into the round to finish their fabulous performance. The gig does get a few points off for a rather average sound (as mentioned before, a general problem at this year's Amphi) but in the end it was one of my personal highlights of the festival.

Setlist
01. Intro
02. Hi-Tech Low-Life
03. Isolation
04. Crossfire
05. Als Wären Wir Für Immer
06. Beyond
07. Der Amboss
08. The Great Divide
09. Germaniac
10. The Dawning Of Doom
11. Metal Machine Music
12. To The Hilt
13. Fatherland
14. Wahre Arbeit Wahrer Lohn
15. Bloodsuckers

Rating
Music: 9
Performance: 9
Sound: 7
Light: (daylight)
Total: 8.7 / 10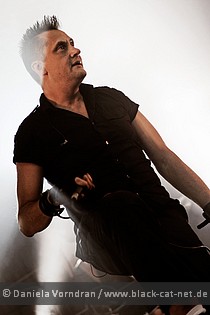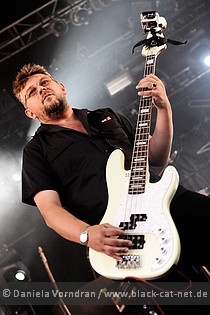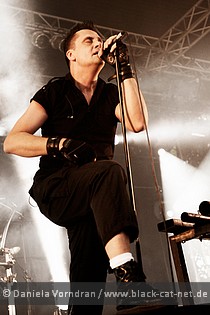 Deine Lakaien (Sebastian Huhn)

DEINE LAKAIEN, consisting of Ernst Horn (composition, arrangements) and Alexander Veljanov (lyrics, vocals), bless us with their compositions between electronic and classic avant-garde beyond all borders for over 25 years now. It all started out with a newspaper ad from Ernst Horn in a city magazine that pretty much sounded like this: "Looking for open-minded singer". Alexander Veljanov reacted on the ad and met Ernst. During this encounter they found out that they shared a common spirit and musical preferences. Their shimmering discography, created in all those years bred evergreens such as 'Mindmachine'' and 'Dark Star' on albums of matchless creativity and artistic merit. Following a phase of recollection and pursuing other projects after the release of 'April Skies', Veljanov for example released another solo album in the meantime, their paths crossed again and gave life to the newest album 'Indicator'. http://www.deine-lakaien.com/ / www.myspace.com/deinelakaien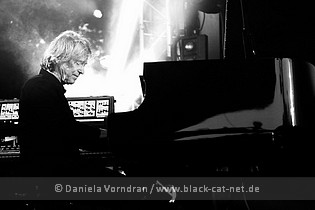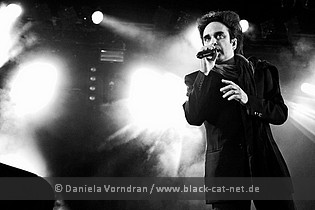 Music & Performance
Right in time for this day's headliner on main stage the weather god had decided to open heaven's floodgates and dress the environment in an autumnal fashion. Nothing to hinder anyone from enjoying every single bit of the DEINE LAKAIEN show, starting with 'On Your Stage Again' off the new album 'Indicator'. The big open air stage had its advantages for their show, especially when it comes to Alexander's expressive performance that didn't suffer a bit from the summer flu he caught. Next they switched to an earlier effort with 'Into My Arms', an equally fascinating and haunting pleasure, just as 'Where You Are' or a classical of their repertoire 'Forest' that made you almost forget it was raining. The rain didn't make it particularly easy for you to make any notes at all. But in situations like that the texting feature of your mobile really comes in handy. Well, it's easier to handle than a notebook while you're holding an umbrella, isn't it?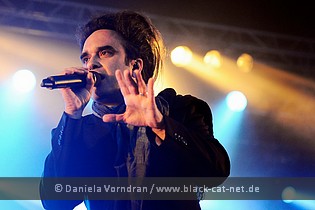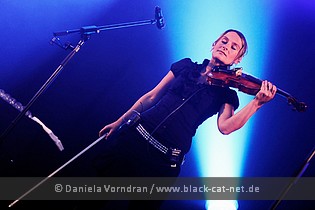 As on the last shows I've seen the guys were supported by a few guest musicians on stage (Tobias "B.Deutung" Unterberg on violoncello and Yvonne Fechner on violin) who were showing as much commitment as the main actors on stage. As much as I loved the show I needed to get somewhere warm and dry, which made the Staatenhaus the perfect place. Apart from that I could catch a little bit of the HOCICO performance as well who were just playing at the same time.

Setlist
01. On Your Stage Again
02. Into My Arms
03. Over And Done
04. Where You Are
05. Gone
06. Europe
07. Forest
08. One Night
09. Blue Heart
10. Return
---
11. Colour-Ize
12. Fighting The Green
13. Reincarnation
14. Love Me to the End

Rating
Music: 9
Performance: 8
Sound: 8
Light: 6
Total: 8.1 / 10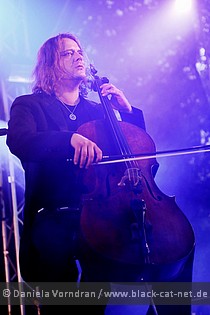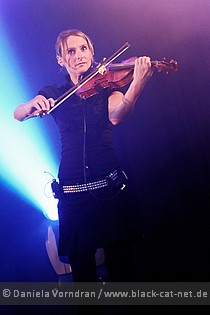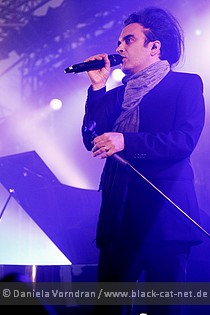 With the show of DEINE LAKEIEN; the first day at the main stage had found its end. It's been a mixed day, regarding the choice of bands playing there. Seriously, we really need some new bands appearing on festivals. Why is it so hard to just take a risk and invite over one or two rather unknown bands that could bring a fresh wind into the dark scene's musical landscape? More than the ever rotating line-up carousel.

All pictures by Daniela Vorndran (http://www.vorndranphotography.com / http://www.black-cat-net.de/ / www.myspace.com/vorndranphotography / www.facebook.com/blackcatnet) and Daniel Horlbogen (Pictures of Tanzwut)



See also (all categories):