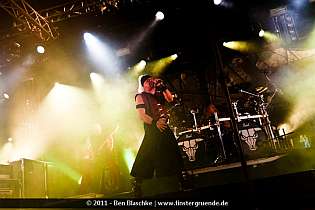 Tanzbrunnen, Cologne, Germany
16th & 17th July 2011
Amphi Festival 2011 Day2 Main Stage: Subway to Sally, Nitzer Ebb, Saltatio Mortis, Agonoize, De/Vision, Dreadful Shadows, Funkhausgruppe, She's All That

The second day of Amphi festival welcomed us with a shitload of rain and honestly we thought of staying in the car the entire day instead of putting just one toe out in this mess. Fortunately, the weather god had mercy with us and told the rain to get lost now and sunshine cut through the clouds soon. Looked like a wonderful day with bands such as SHE'S ALL THAT, DREADFUL SHADOWS or DE/VISION.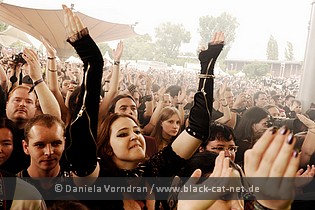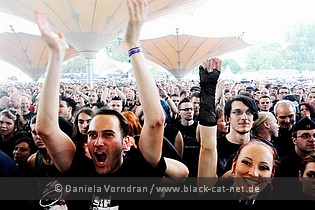 She's All That (J. "Niggels" Uhlenbruch)

SHE'S ALL THAT is a Electro / Rock crossover band from Cologne which released the debut album 'Extra Fruity Disgusting' in 2010, although the band has been active for a couple of years already. SHE'S ALL THAT played numerous club shows, also as the support act for EISBRECHER, and a number of festivals, including Rheinkultur Open Air in Bonn, the Electronica festival SonneMondSterne and this years Wave Gotik Treffen. The diversity of the events SHE'S ALL THAT played indicates the variety of their crossover sound - from Alternative and Rock to darker and somewhat punk-ish tunes to electronic dance beats. The band members stay anonymous, appearing on stage and on press pics win overalls and "old-faced" rubber masks. Surprisingly enough, the "Grandpa" vocalist of SHE'S ALL THAT sounds pretty feminine, and word has it that it's actually the popular German comedian Mirja Boes in disguise. http://www.shesallthat.de / http://www.myspace.com/shesallthatmusic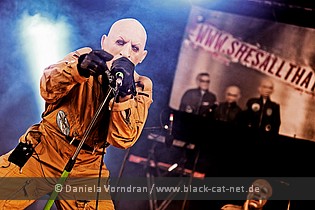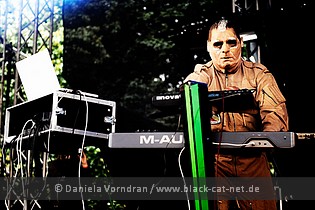 Music & Performance
Though not an act you would expect at a Goth / Industrial oriented festival like the Amphi, SHE'S ALL THAT nevertheless played a captivating performance. Given that SHE'S ALL THAT was the "breakfast gig" of the day it was quite a sweaty affair and the band was quite serious about the title of their opening song: 'Dance Yourself To Death'! I'm sure that most people in attendance were as unfamiliar with the band as me, and in this light the feedback from the crowd was quite good actually. A little less electronic than on their album, SHE'S ALL THAT reminded in some moment on the likes of GUANO APES; while in some other moments THE PRODIGY lurked around the corner. SHE'S ALL THAT were a quite colourful spot in the line-up, and they used their thirty minutes well to reach out to sceptical bystanders, curious watchers and adoring fans alike.

Setlist
01. Dance yourself to Death
02. Rat Race
03. Jump
04. Nik's Fertilizer
05. Headless Case
06. Superkid
07. Mash it up
08. Punch You
09. Outro

Rating
Music: 8
Performance: 8
Sound:7
Light: (daylight)
Total: 8.8 / 10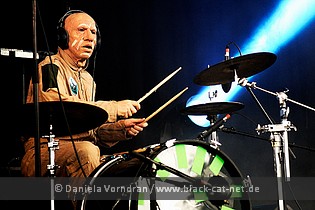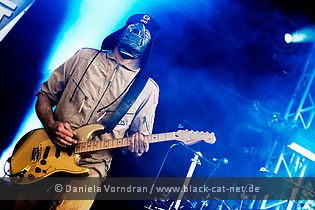 Funkhausgruppe (J. "Niggels" Uhlenbruch)

Four bands for the price of one - FUNKHAUSGRUPPE is the "happy hour" of all bands, a mega-band consisting of the members of WELLE:ERDBALL, HERTZINFARKT, SONNENBRANDT, and DIE PERLEN. The foundation stone for this project was laid in 2007 at a WELLE:ERDBALL fan club event, resulting in a song released as a bonus on a DIE PERLEN single in 2009 and the debut album 'Mono-Poly', which hit the shelves in June this year. The gig at the Amphi was the first and so far only live performance by FUNKHAUSGRUPPE. http://funkhausgruppe.eu / www.myspace.com/funkhausgruppe

Music & Performance
It got cramped on the stage! FUNKHAUSGRUPPE was easily the band with the most musicians on stage of the entire weekend. Not less than twelve musicians crowded the stage to present the upbeat and quite 1980s-influenced music of FUNKHAUSGRUPPE! Vocalist Honey of WELLE:ERDBALL did his best to promote the FUNKHAUSGRUPPE gig the other day when he was one of the moderators of the first day of the Amphi. And of course it were mostly WELLE:ERDBALL fans who gathered in front of the main stage to see FUNKHAUSGRUPPE, as this Minimal Synth Pop group is by far the most popular of the four involved bands. And sound-wise FUNKHAUSGRUPPE isn't too far away from WELLE:ERDBALL either - a combination of analogue electro sounds, impulsive dance grooves, a strong retro feel and German lyrics. But FUNKHAUSGRUPPE also adds guitar Pop, and there is a strong reminiscence of Neue Deutsche Welle, the German answer to New Wave in the early 1980s, in the music of FUNKHAUSGRUPPE.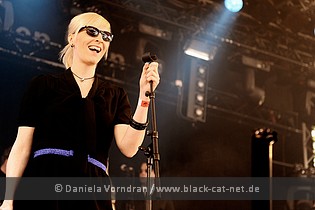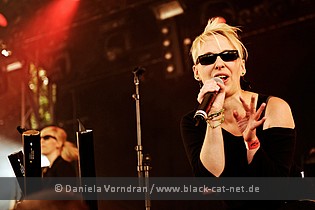 So it was going to be a very interesting and fun-filled show of this all-star band. Starting with the HERTZINFARKT song 'Wir trauen uns was', FUNKHAUSGRUPPE presented a set with selected songs from their debut album and one song from each involved band. This first gig ever had a few glitches and technical problems here and there but this is quite forgivable. Especially as twelve musicians on stage must be quite a challenge for the technicians at the FOH! With live drums and guitar the music got a more organic feel, and a song like 'Stadtflucht' even breathes some 1950s Rock'n'Roll. The single release 'Die Physiker' of course relies on the well-known minimal Electronica of WELLE:ERDBALL. 'Der Sommer ist da' ("Summer Is Here") on the other hand is a dreamy Indie Pop track with one of the ladies doing the lead vocals - quite a gaudy mix which FUNKHAUSGRUPPE had to in store for the Amphi audience, so no surprise that their fun-filled gig was very well received despite the technical problems. Let's wait and see if this was just a one-off show or if there will be further gigs.

Setlist
01. Wir trauen uns was
02. Monopoly
03. Stadtflucht
04. Der Computer Nr. 3
05. Radio
06. Die Physiker
07. Geiz
08. Space Odyssee
09. Der Sommer ist da
10. VW Käfer
11. Tanzpalast

Rating
Music: 7
Performance: 8
Sound: 7
Light: (daylight)
Total: 7.4 / 10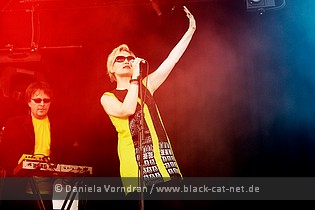 Dreadful Shadows (J. "Niggels" Uhlenbruch)

The DREADFUL SHADOWS were founded in 1993 in Berlin. Their style was initially counted to the Gothic Rock and Dark Wave genre, but later considered a part of the Gothic Metal. This is due to the constant development of the band by the time of the release of their debut album 'Estrangement' in April 1994, where they integrated elements of metal and modern electronic into their sound. The band split up in 2000, and band members Sven Friedrich and Norman Selbig founded their new project ZERAPHINE subsequently. Seven years after the split DREADFUL SHADOWS returned for some special live concerts, and since then the band played festivals occasionally without producing new music. The line-up of DREADFUL SHADOWS is Sven Friedrich (vocals), Norman Selbig (guitars), André Feller (guitars), Jens Riediger (bass) and Ron Thiele (drums). http://www.dreadful-shadows.de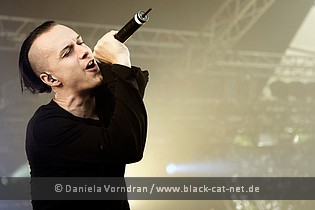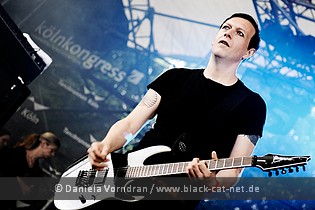 Music & Performance
After several live shows of the semi-reunited DREADFUL SHADOWS their gigs don't have the same sensation level as their live comeback in 2007 but yet their still rather rare shows are much anticipated events for all fans. After performing with ZERAPHINE on Saturday it was the second gig of the weekend for singer Sven Friedrich, and all the more he delivered a well-versed and professional performance with DREADFUL SHADOWS. His voice is one of the most impressive and recognizable of the Gothic Rock scene anyway, and he proved this from the start when DREADFUL SHADOWS opened the show with two of their most popular songs, the hymnist 'Chains' and the single hit 'Burning The Shrouds' from 1997.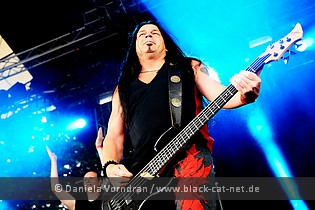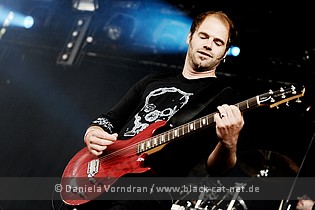 It might be a bit surprising that a band with such a long back catalogue decides to play two cover versions in an eight-song set but DREADFUL SHADOWS master NINE INCH NAILS' 'Hurt' perfectly, and the show closer 'True Faith', originally performed by NEW ORDER, is a burst of energy and simply makes the show perfect.

Setlist
01. Chains
02. Burning the shrouds
03. A sea of tears
04. New day
05. Dead can wait
06. Hurt (Nine Inch Nails cover)
07. Desolated Home
08. True Faith (New Order cover)

Rating
Music: 8
Performance: 8
Sound: 7
Light: (daylight)
Total: 8.8 / 10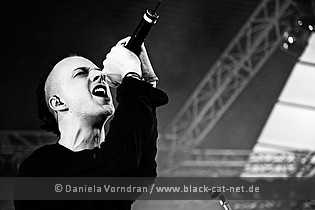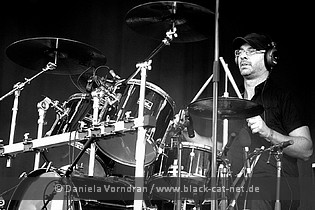 De/Vision (Sebastian Huhn)

DE/VISION are making music for almost 20 years now and belong to the leading representatives in the synth-pop genre. Their style constantly evolved during that large time-span. First it was just ordinary synth pop, but soon they started to integrate new elements into their sound which culminated up in the release of 'Void' in 2000 which was a very unusual DE/VISION release. It was upon that time, that founding member Markus left the band. Steffen and Thomas continued with the band and returned to their old strengths with the release of the album 'Two' in 2001. The album 'Noob' was the first album, where DE/VISION equally collaborated with their producers Schumann & Bach. 'Popgefahr', released in 2010 continued with that collaboration. DE/VISION is Steffen Keth (vocals, synth, composing) and Thomas Adam (synths, backing vocals, lyrics). http://www.devision-music.de / http://www.myspace.com/devisionmusic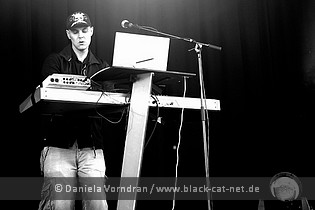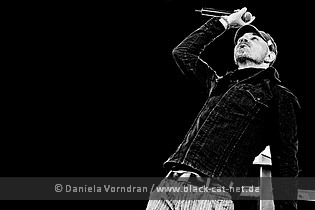 Music & Performance
Ever since I started listening to music there was always some DE/VISION and I was more than just looking forward to seeing them again at Amphi. The weather was good, enough people showed up as well and the show started with 'Until The End Of Time'. As this was a comparatively calm way to begin with I hoped they'd fire out something with a bit more groove now. They did so with 'mAndroids' seeing Steffen indulging again with his typical way of dancing while getting the audience involved at the same time. Right before jumping back to their own past with 'Foreigner', remnant of a time of brief sonic experimentation on the album 'Void' which to this day is sorely underrated in my opinion. Fortunately 'Your Hands ON My Skin' and 'I Regret' didn't share that fate and are everlasting crowd pleasers. With 'Time To Be Alive' followed one of the current album's standout tracks before the time loop took us almost to the band's beginnings with 'Try To Forget'. Really loved revisiting some of the old tracks here, united in a club-driven set. This is me wondering when they're going to be playing with a full band again. So many possibilities in that approach!

Setlist
01. Until the end of time
02. mAndroids
03. Foreigner
04. Ready to die
05. Your hands on my skin
06. I regret
07. Time to be alive
08. Try to forget
09. Rage
10. Flavour of the week

Rating
Music: 8
Performance: 8
Sound: 7
Light: - (daylight)
Total: 7.8 / 10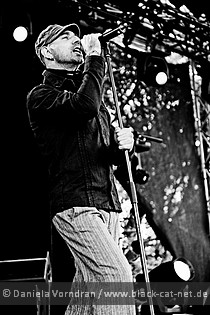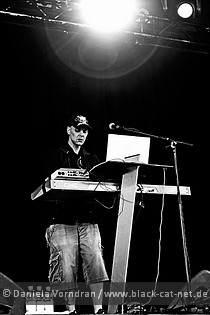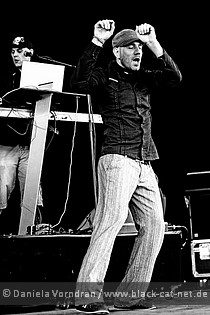 Agonoize (Sebastian Huhn)

Berlin based AGONOIZE is surely the most popular Aggrotech / Hellectro act of the German scene. Since AGONOIZE started in 2002 / 2003 their following is ever growing, and the industrious trio released six albums and six EPs in the last seven years. Last year's AGONOIZE album, a double CD with the unpronounceable title ´Hexakosioihexekontahexa`, was just another success in the German Alternative Charts and spawned several club hits like 'Bis das Blut gefriert'. AGONOIZE is Chris L (lyrics & vocals), Mike Johnson (composition, programming, production & mastering), and Oliver Senger (composition & programming). http://www.agonoize.de/ / www.myspace.com/agonoize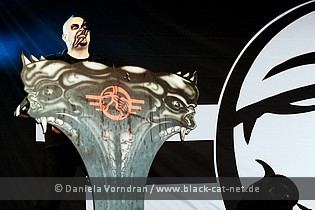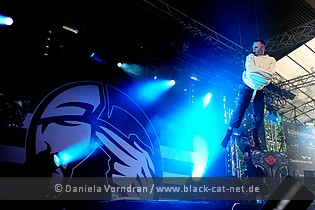 Music & Performance
So now we're going to take a deep dive to the bottom of taste and music where bands and projects are gathering that attract more attention through gore and violent shows than actual musical content. That's where AGONOIZE comes in. Some hail them as one of the leading artists of the hard electro genre. Doesn't make the music better at all for me! But still the space in front of the main stage was as crowded as if they were giving away something for free while at the far end of the grounds inside the Staatenhaus where IN THE NURSERY were playing the crowd was merely a handful of people, figuratively speaking. The show made a different start as usual. To the sounds of the opener 'Open the Gate', Chris was hanging from the ceiling, wearing a straitjacket. You've got at least hand it to them they've got a sense for what is getting people's attention right away.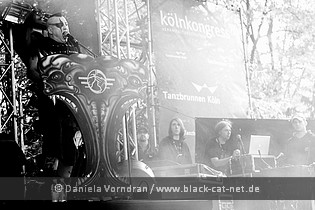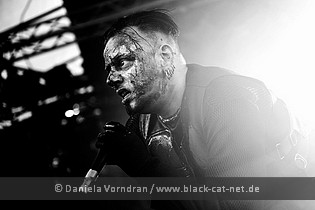 The next thing you remember was a blast of booming beats coming off the PA to the next song 'Opus Dei' and the show went on in a similar fashion with the ever same patterns in varying tempos. Surprisingly though they were keeping back with the blood this time. Suppose they'd have gotten their asses kicked if one of the cameras was getting messed up. As much as I despised the whole thing, the crowd loved it equally as much. Each to their own, but for me AGONOIZE is one of those bands, standing for everything what's wrong with the scene. The craving for shallow bullshit! Appearance has become more important than anything of substance. For closings I just want to say one thing. This text here represents my personal opinion and not the magazine's. If you still feel like starting a raid because you see this as an insult to your tastes, bring it on.

Rating
Music: 2
Performance: 5
Sound: 6
Light: - (daylight)
Total: 3.8 / 10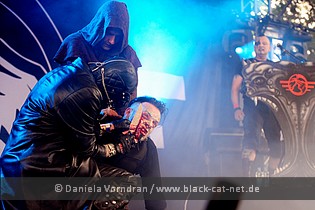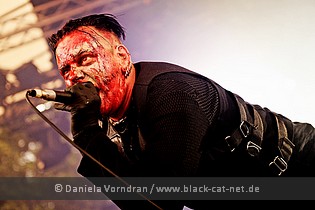 Saltatio Mortis (Sebastian Huhn)

SALTATIO MORTIS is one of the many (and popular) German Medieval Metal bands, and they are surely among the leading bands of this genre. SALTATIO MORTIS define their style as "medieval Punk" though, to differentiate from the rest of the genre. Their name is by the way Latin and means "dance of death". Formed in 2000, it was SALTATIO MORTIS' second album 'Das zweite Gesicht' (2001) that was causing a wave of popularity that spread even beyond the boundaries of the medieval genre and people would name them in one breath with big names such as IN EXTREMO or SUBWAY TO SALLY. SALATIO MORTIS pushed their popularity with the album 'Aus der Asche' in 2007. Last year the band released 'Wer Wind Saet', to many fans their best album to date and actually a Top 10 hit in Germany, followed by the live album 'Manufactum II' this summer. SALTATIO MORTIS is Alea der Bescheidene (vocals, bagpipes, shawm), Falk Irmenfried von Hasen-Mümmelstein (bagpipes, shawm), Lasterbalk der Lästerliche (drums, percussion), Magister Flux (modern equipment), El Silbador (bagpipe, shawm, flute), Mik el Angelo (guitars, flute, cittern), and Bruder Frank (bass). http://www.saltatio-mortis.com / http://www.myspace.com/mittelalterpunk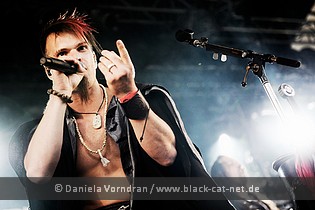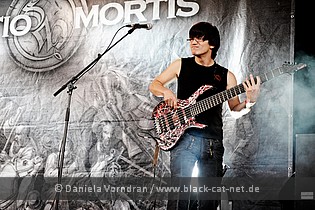 Music & Performance
Being not an outspoken supporter of the medieval music genre I always felt fascinated by the way whose bands are mobilizing their fans and keeping their excitement at a high level. One of the bands standing out the most in that regard for me is SALTATIO MORTIS. 'Rastlos' (Restless) they started with a dark symphony, leading into a propulsive climax with Alea running in on stage to tumultuous applause. While not having as many fans present as AGONOIZE before, those attending were still making a lot of noise, letting their enthusiasm be heard. 'Tritt ein' then opened the last gate to the real party, seeing rocking guitars flirting with medieval instruments. You've got to say there's a lot of strong musicianship in what they do and most likely as much hard work, but on stage they're making it look like pure fun with the enthusiasm they're bringing in themselves. That's what's getting the spark across and making people form an alley, closing it right after Alea passed people with a flag or jump like mad to the beats. Both thumbs up again for an entertaining show guys!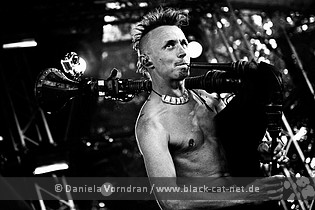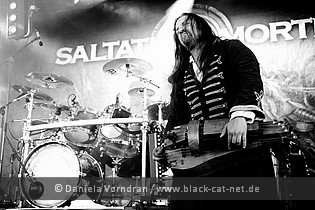 Setlist
01. Rastlos
02. Tritt ein
03. Tod und Teufel
04. Wirf den ersten Stein
05. Uns gehört die Welt
06. Eulenspiegel
07. Wir säen den Wind
08. Koma
09. Prometheus
10. Manus Manum Lavat
11. Falsche Freunde
12. Spielmannsschwur

Rating
Music: 6
Performance: 9
Sound: 7
Light: - (daylight)
Total: 7.3 / 10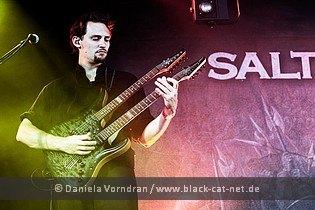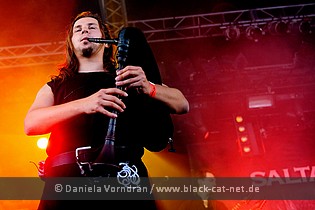 Nitzer Ebb (J. "Niggels" Uhlenbruch)

British music legend NITZER EBB hardly needs an introduction, as their albums like 'That Total Age' (1987), 'Belief' (1989) or 'Ebbhead' (1991) are groundbreaking releases which influenced a plethora of young bands. Despite a 11-year long break from 1995 to 2006 their popularity wasn't dropping a single bit. Quite the contrary, there was even an increase of popularity, last but not least as their singles like 'Let Your Body Learn', 'Control I'm Here' or 'Join In The Chant' have persisted as key tracks in the set lists of the DJs of the EBM underground as well as the Techno scene. In 2010 NITZER EBB released their first new material in 15 years with the album 'Industrial Complex' and embarked on a European tour with their former label mates DEPECHE MODE. This year saw more touring for the band, including a co-headlining concert series with DIE KRUPPS, who are brothers in mind since the two bands worked together on the 'Machineries Of Joy' EP in 1989. NITZER EBB is Douglas McCarthy (vocals), Bon Harris (synths, drums, production) and Jason Payne (drums, percussion). http://www.nitzer-ebb.de / http://nitzerebbicp.com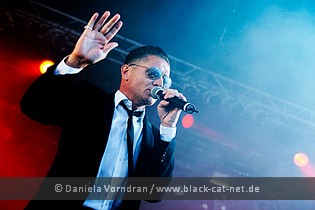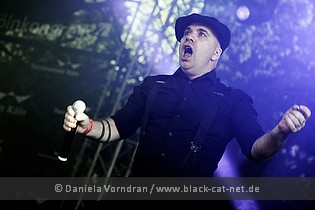 Music & Performance
I've seen so many NITZER EBB shows so far that it might run the risk of becoming a boring experience to see yet another NE gig. But it never gets boring - not just thanks to the commanding nature of their killer songs but also thanks to vocalist Douglas McCarthy, who manages to turn every performance into a home run. When you see NITZER EBB several times you start to wonder how McCarthy is able to keep up his energy level all the time, even in cases when NITZER EBB play to a rather lethargic crowd, as witnessed in Dortmund a few months before the Amphi festival. But when NITZER EBB meet a hungry crowd there is no way to stop the frenzy, and the crowd at the Amphi was hungry indeed. Starting with the classic smasher 'Getting Closer' the audience was truly up for it, and even the little sound problems during the show (which weren't as bad as during some other gigs at the Amphi, though) couldn't change this at all. The first half of the show was dominated by the usual suspects, that is a bucket-load of iconic NITZER EBB stompers like 'Let Your Body Learn', 'Hearts & Minds' or 'Lightning Man'. In the second half there were a few more mid-tempo tracks from NITZER EBB's most recent album 'Industrial Complex' which I for one absolutely love but which cooled down the crowd a bit. I was particularly surprised to hear 'I Am Undone', a pretty gloomy and dramatic ballad which I surely didn't expect in a festival set.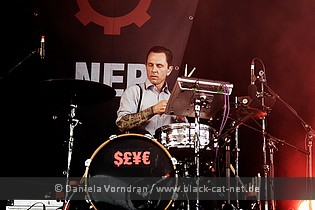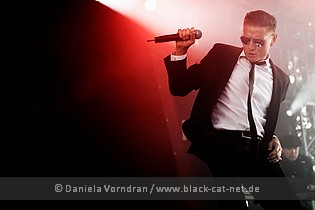 After it McCarthy shouted at the crowd "Where are you? Where are you?" as if he wanted to wake them up, and with the first bar of the swirling sequencer sound of 'Murderous' hell broke lose. This 1986 single is always a winner and one of the "big ones" in NITZER EBB's back catalogue. McCarthy did his best to cover all of the stage, running from one corner to the other, now screaming the key line of the song at the crowd! "Where is the youth?" For the attendee there were only two options: Run and safe your little ass, or join the mosh pit. The mosh pit was of course the better option, and during the subsequent 'Control I'm Here' there wasn't a single body in front of the stage which was NOT moving! With this track NITZER EBB concluded their main set but it was crystal-clear that an encore was indispensable. However, no-one was prepared what was to come, and the die-hard fans got a clue when the stage hands heaved a keyboard rack and a steelophone onto the stage: DIE KRUPPS were to join NITZER EBB, and when Jürgen Engler and Ralf Dörper entered the stage with McCarthy, Harris and Payne they were welcomed with a massive roar from the crowd. It was just the other day, after the gig of DIE KRUPPS, when Engler, who was still impressed by the superb feedback of the Amphi audience, decided to perform 'Machineries Of Joy' with NITZER EBB the following day. More than just a nice surprise for the fans, and truly a highlight of the entire weekend. Even though it wasn't exactly the best rendition of the song ever.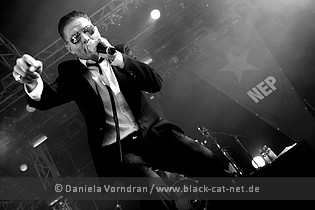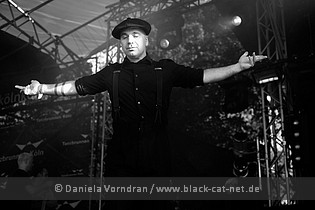 Apparently there was a little misunderstanding which version of the song NITZER EBB and DIE KRUPPS were to perform together, so there were a few hick-ups, but in the end nobody cared about that and the fans were screaming "Lohn! Arbeit!" at the top of their lungs and with big happy smiles in their faces when the song was long over. A formidable end of an impressive and immensely energetic NITZER EBB show!

Setlist
01. Getting Closer
02. Down on Your Knees
03. Shame
04. Hearts and Minds
05. Let Your Body Learn
06. Once You Say
07. Lightning Man
08. Hit You Back
09. Blood Money
10. Payroll
11. Godhead
12. I Am Undone
13. Murderous
14. Control I'm Here
---
15. Machineries of Joy (with Die Krupps)

Rating
Music: 9
Performance: 9
Sound: 7
Light: 8
Total: 8.5 / 10


Subway To Sally (Sebastian Huhn)

SUBWAY TO SALLY have been credited as the band "that set off the wave of what is known as Medieval Rock". The East German band was formed in 1992 as a Folk Rock band, singing in English and incorporating Irish and Scottish influences in their music. With their second album 'MCMXCV' released in 1995, the band adopted a "more traditional approach" and started singing in German.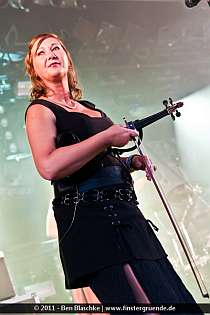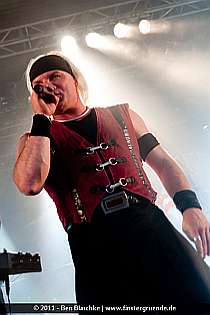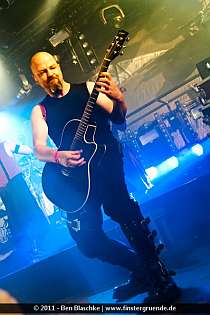 Taking SKYCLAD as an influence, SUBWAY TO SALLY performs a blend of Hard Rock and Heavy Metal enriched with medieval melodies enmeshed in the songs via bagpipes, hurdy-gurdy, lute, mandolin, shawm, fiddle and flute and combined with "romantic-symbolic German-speaking poetry" in their lyrics. In Germany, SUBWAY TO SALLY gained quite some chart success with their last few releases and is considered as one of the ringleaders of Medieval rock, even though their style is more based on traditional Rock as most of the other bands in this genre. SUBWAY TO SALLY is Michael "Bodenski" Boden (guitar, vocals), Michael "Simon" Simon (guitar, vocals), Ingo Hampf (guitar, lute), Silke "Frau Schmitt" Volland (violin), Silvio "Sugar Ray" Runge (bass), Simon Michael Schmitt (drums), and last but not least Eric Fish (vocals). http://www.subwaytosally.de/ / http://www.myspace.com/subwaytosally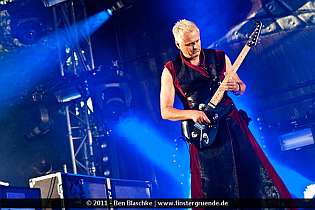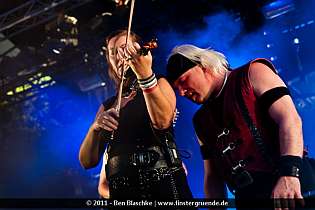 Music & Performance
Another medieval grandmaster was going to headline the main stage on Sunday: SUBWAY TO SALLY! And they were bringing their pyro show along again. And a few of those fire pillars were lighting up again right in the beginning with the introduction. As soon as 'Henkersbraut' hit the crowd and Eric Fish was entering the stage, they couldn't hold back any longer and 'Feuerland' let all hesitations fall in front of the stage. Usually I'm also all in for some action on stage but Eric's jumping, looked a bit - how am I putting this right? - hilarious and painful. Couldn't be too good for his knees, and I wasn't the only one seeing it that way. On 'Knochenschiff' the audience gave their all in screaming parts of the song's chorus at the top of their lungs.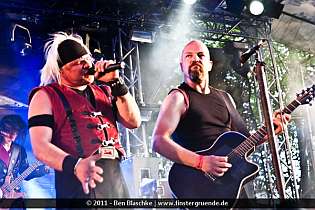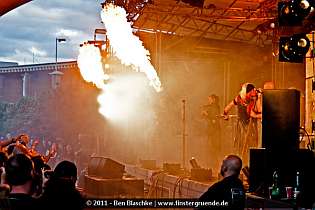 Even though the song 'Kleine Schwester' dealt with a serious topic, sexual abuse, it didn't manage to drag the mood down from its throne which I suppose didn't happen for the entirety of the show. For me it was time to say goodbye already for COVENANT were waiting at Staatenhaus.

Setlist
01. Intro
02. Henkersbraut
03. Feuerland
04. Knochenschiff
05. Kleine Schwester
06. Die Schlacht
07. Kleid aus Rosen
08. Maria
09. Meine Seele brennt
10. Judaskuss
11. Das Rätsel
12. Sag dem Teufel
13. Besser du rennst
14. Falscher Heiland
15. Veitztanz
---
16. Sieben
17. Räuber

Rating
Music: 5
Performance: 5
Sound: 7
Light: 7
Total: 5.6 / 10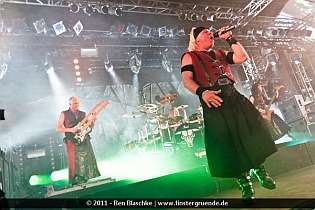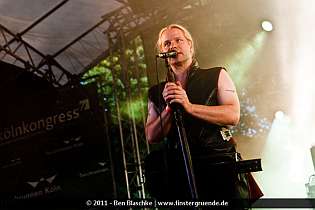 All pictures by Daniela Vorndran (http://www.vorndranphotography.com / http://www.black-cat-net.de/ / www.myspace.com/vorndranphotography / www.facebook.com/blackcatnet) except Subway to Sally by Ben Blaschke (www.finstergruende.de)



See also (all categories):