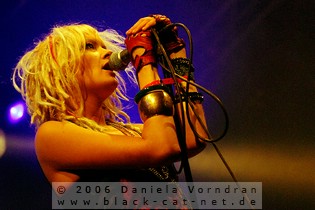 Interview with
Toril & Alex (Alice in Videoland)


It's finally done. The new and third ALICE IN VIDEOLAND 'She's a Machine' is finished and about to be released in a few weeks, so we had some questions about the album of course, but also about their influences as well as upcoming live shows…


Reflections of Darkness (RoD)
: 'She's a Machine' is actually your third album, but the people in Germany haven't heard anything about you yet. Why is that?
Alex (A)
:
We got signed to Swedish label National after just 6 months, and we were so excited! We didn't really think about a European release back then, and National doesn't work at all outside Scandinavia! We thought that if we're successful here the rest of the world will come! And it did, but the wait was kind of long! We just got signed to German record label Prussia, so they are doing the promotion and tour schedule for us in rest of Europe! We are very excited to come outside Scandinavia to play! About 80% of our fans on MySpace are NOT from Scandinavia so we know we have a very good start!
RoD
: Do you think that you and the German label Prussia records will be able to change the situation for Germany and maybe the rest of Europe?
Toril (T)
:
We think so! Since we have a good fan base already thanks to MySpace, we just need a little push to make it here! The guys at Prussia seems very dedicated and it's so much better than if we would sign to a major label where there's too many people and to much money involved, that's just scary! The underground way is the only real way for us! We love it!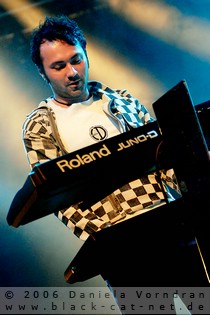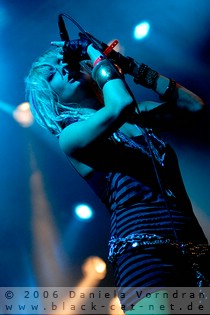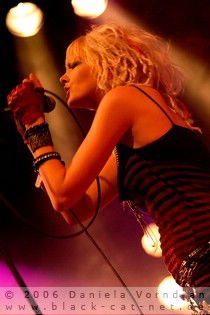 RoD
: Do you think your music will actually work in the rest of the world?
A
:
Well, we know it will. Not that we think we will have top chart hits, we don't make music for the charts! But there's such a big crowd out there who loves real music and don't care about what's on the charts. Us is the country where we have the biggest fan base by large!
RoD
: There are some 80s influences in your music; and there are many bands from Sweden and Norway with similar influences. What do you think is the secret of your success?
A
:
Well I think our music is kind of timeless; it doesn't sound "1984" or "2008" or anything like that. Music that has a date will also run out of date! And I also think that Toril's voice is a big part of the success; I mean how many synth bands are there with a front guy trying to sound like Dave Gahan? And I must say that playing live, with the live drums and bass and all has helped us!
RoD
: Your songs combine great guitars and very melodic synth lines. Do you think your music will work in maybe 10 years or more too?
T
:
As Alex said, our music is kind of timeless so yeah it will work.
RoD
: What can you say about your two first CDs? Will people here in Germany have the chance to buy them as re-releases in the months to come?
A
:
It's up to Prussia; I think so but ill have to check this out.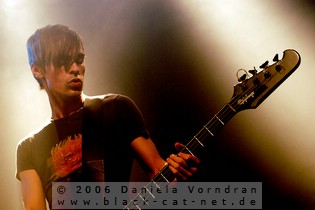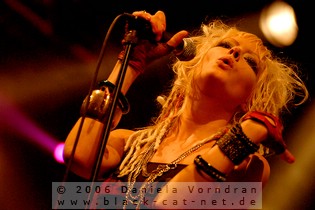 RoD
: Where do you think is the best place people should listen to your songs?
A
:
At the club, at the party or on autobahn doing 240!

RoD
: Your new CD only has 8 tracks. Is that the reason why you added a Bonus CD to the package?
T
:
The reasons why it only has eight tracks is 1. We wanted to release the CD quick. We couldn't wait longer 2. we can sell the CD at a lower price and 3. it might not take 3 years to make the next record. 4. we sell most downloads and having 10-12 songs on a CD is just an unwritten law since the days of the vinyl and CDs. The bonus CD wasn't something we had in mind when making the album, but now we think its an brilliant idea!
RoD
: The bonus CD features some remixes... What are you thinking about remixes? Do you think it's a great way to present your music in a new way?
A
:
First of all, I love making remixes myself. You have totally free hands and you don't have as many limits as when making your own album. I think a good remix can turn an unknown song to a club hit, and a lot of good songs might not really fit the dance floor, but with a remix it might. Not all remixes are good tough, just putting a four in the floor bass drum won't do it!
RoD
: Do you think a remix works better than an original song in some ways?
A
:
The remix can put a vibe into a song that you didn't know it had when you wrote it yourself, and that's the dream scenario. It gives your own song writing a positive kick. Like "hey I didn't this song I wrote was so good!" Haha!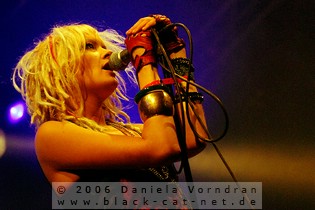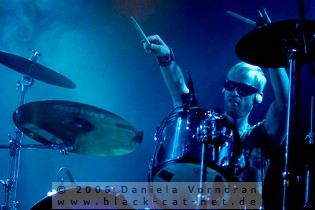 RoD
: The album starts with very fast and nasty songs...is that's the best way to start an album?
T
:
We been away for almost three years and we wanted to make a come back that's in your face, so yes in this case it was!
RoD
: The first really great track on the new album is track 3. How easy for you is it to set the perfect setlist?
A
:
Well I think the first great track is the first one hahaha! Setting the track list is something we do together with the guys at our record label. Its not so easy to do it yourself after you just heard the songs for the 5000th time!
RoD
: Track 4 is one of the best songs on the album. The refrain and the melodies are really great. What is the story of the song?
T
:
Actually that song almost didn't make it to the pressing, it was the last song we wrote and the time was running out. The melody came to me when I was on the local bus on my way home and I called Alex and told him we had to catch up in his studio. I sang the melody to him and just seconds later he came up with the synth lines. A couple of days later we called Maja Ivarsson, who is the singer in THE SOUNDS to make a duet and so she did! This song pretty much wrote itself, it went so fast from idea to finished, so we didn't really think twice about anything in it!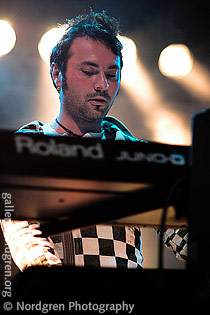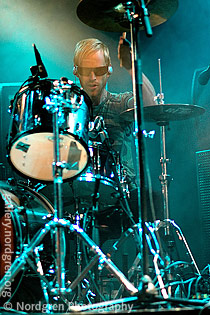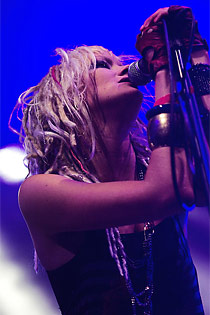 RoD
: In 2004-2006, you've played more than 200 shows. What's the best thing about playing live for you?
T
:
It's the whole vibe with being on stage, and playing in front of people who actually sing along to the little melodies you woke up with one morning in bed at home haha!

A
:
And just letting go of everything, the only thing that matters when you're on stage is what your dong right now! It's like there is no "after the show!" one big part is to meet the fans, before under and after a show!

RoD: You will play some shows in Sweden in the next 3 months. When will people see you live here in Germany?
T: Hopefully as soon as possible! We are sooo excited to play your country. To be realistic I would say this autumn/winter. Be there!!!!

{jos_sb_discuss:21}