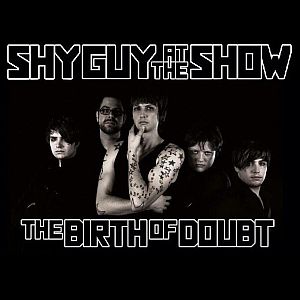 Artist: Shy Guy at the Show
Title: The Birth of Doubt
Genre: Indie / Industrial / New Wave
Release Date: 7th January 2011
Label: Danse Macabre
Album Review

SHY GUY AT THE SHOW, a German quintet, draws their lyrical inspiration from Ezra Pound, William Carlos Williams and Wallace Stevens, musically they feel as a marriage of SISTERS OF MERCY and DEPECHE MODE with some NINE INCH NAILS, CAMOUFLAGE and even 69 EYES influences included, which would lead one to ask if they are unique enough, and the answer is a resounding yes!
The band's title comes off as quite ironic as the compositions are sure of themselves and strong, there is a theatrical element to several tracks as in the album titled 'The Birth of Doubt' to name but an example, especially in the vocal interpretation and also strongly present in the synth's produced piano accompaniments, which is one of the many sonic joys found here. 'Skin' is representative of the album's most danceable songs and it's also one of the most remarkable tracks in terms of lyrics, the refrain is very memorable and it'll make you not only want to dance but also sing as well. What will persistently strike the listener is the band's great feel for tempo and rhythm - they hit it perfectly every single time.
I will mention the SHY GUY AT THE SHOW lyrics again because they're excellent in each track of the album and impart a compact impression of a great skill; biting intellect and a very apt feel of timing in terms of creating effect, they just refuse to be ignored, you will listen to them as keenly as to the music whether you want to or not. Many are befitting, ironic mirrors to the way things are with people, take 'Beverly Hills' for instance, its social satire somehow reminds of John Carpenter's film 'Escape from LA', albeit its address is wider than the film's. The last 'Death Is the Mother of Beauty' is very cinematic and its instrumental ending is superb - somehow creating a lingering goodbye that you'll find yourself not wanting to say to this brilliantly "shy" experience.
'The Birth of Doubt' is their third album and will be released with a new label Danse Macabre in the post-Christmas period and if you managed to save any money this album is a definite pull to get them out and get this excellent, compelling, lively, highly enjoyable and clever album, a pull you should by no means resist!
Tracklist

01. Prologue – 0.49
02. The Birth of Doubt – 3.44
03. Skin – 5.05
04. Paris in Flames – 3.11
05. Death Valley Love Affair – 3.28
06. Tha Dance – 3.49
07. Beverly Hills – 4.46
08. House of Elsewhere – 3.30
09. Meditation – 2.42
10. All My Friends – 2.49
11. Surrounded by Knives – 2.56
12. Your Church Is Grotesque – 3.12
13. Death Is The Mother of Beauty – 4.31
Line-up

Sebastian Emling – vocals
David Emling – guitar
Sebastian Hellmann – drums
Jonas Schira – keyboards
Sven Schiffler – bass
Websites

http://www.shy-guy-at-the-show.de/
/
http://www.myspace.com/shyguyattheshow
Cover Picture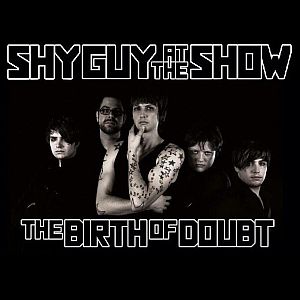 Rating

Music: 9.5
Sound: 9.5
Total: 9.5/10
{jos_sb_discuss:19}