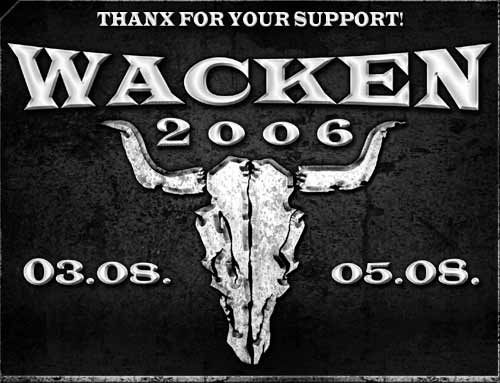 Running Order 2006 Online!
A preview version of the Running Order 2006 is online now! Please beware, nothing is set in stone, so changes are most likely! Link:
Running Order 2006
SENSATION: CARNIVORE : "WE ARE COMING!"
the sensation is finally perfect - CARNIVORE is coming for two exclusive gigs in Europe, one of them at the W:O:A - Aug 4.
Peter Steele quote "Carnivore": "WE ARE COMING! The first time ever on the European Continent. Say your prayers for the future. Punishment now for all men through computers. WE ARE COMING!"
Carnivore is: Peter Steele - Vocal / Bass, Paul Bento - Guitar / Vocal, Joey Zampela - Guitar / Vocal, Steve Tobin - Drums / Vocal
Morbid Angel are confirmed for the W:O:A 2006
The deathmetal band from the US will play with the following line up:
Trey Azagthoth (Gitarre, Keyboard), Pete Sandoval (Drums), David Vincent (Bass, Vocals), Tony Norman (live Gitarre)
Soulfly confirmed!
The brasil combo of the singer and songwriter Max Cavalera are confirmed for the first time to play at the W:O:A 2006!
Billing W:O:A 2006
One great band after the other are filling the billing for the W:O:A 2006. Besides the great bands like the ones already mentioned, acts like SCORPIONS, MSG, MINISTRY, WHITESNAKE, MOTÖRHEAD, CELTIC FROST, CHILDREN OF BODOM and EMPEROR will rock the stages!
You'll find more infos about the billing here:
Billing W:O:A 2006
And the party goes on..... - Advance sale
W:O:A 2006 17 years Wacken Open Air - 03. - 05.08.2006
From now on the 3 days ticket excl. camping 03.08 - 05.08.06 are available.
HINT: Pre-payment is the cheapest and safest solution!
More information and tickets here:
Ticketinfo
Merch & Shop

You´ll be able to get hold of loads of interesting things around Wacken under fair conditions. Audio, video, DVD, outdoor and more merchandise you´ll find at the following link:
Merch & Shop
May it be some more?

A must for every metal and rock fan is the onlineshop from METALTIX! Here you can not only just order the newest concert tickets but loads of media and merchandise articles. Easily from your home pc. The order will be send quickly, professionally and safely to your home adress. Have fun! Link:
http://www.metaltix.com/
Further information about the W:O:A and more you´ll find at the W:O:A homepage
http://www.wacken.com/
Source: Newsletter