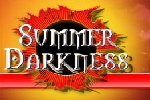 Get ready for the fourth edition of Summer Darkness An Underground Lifestyle Event!
Summer Darkness
An underground lifestyle weekend
10-11-12-13 August 2006
CONFIRMED ACTS FOR SUMMER DARKNESS 2006 ARE:
Bauhaus – Moonspell - VNV Nation - Combichrist - Front Line Assembly - The Birthday Massacre Reaper – Welle:Erdball - Clan of Xymox - Frozen Plasma – Star Industry - Diorama GOR/Francesco Banchini - Corde Oblique – Volksweerbaarheid - FabrikC – Chamber - Faderhead - XPQ-21 – XMH - Embolus – Soman – Grendel - Elis - Chants of Maldoror - :Of the Wand & The Moon: - The Peoples Republic of Europe - Omnia
This year the festival will be extended to four days! All the way from back in the days the legendary and fabulous Bauhaus will kick off Summer Darkness 2006 in true old-school gothic rock style at Muziekcentrum Vredenburg. Over the course of the following weekend the festival will take place across Utrechts four major venues: Tivoli, Tivoli de Helling and EKKO. Also expect some special, intimate and acoustic concerts at one of the citys most beautiful churches - the Domchurch and also several other activities throughout the city itself.
Even a quick glance at this years line-up, plus the ones from previous years, will show that Summer Darkness brings together a varied array of bands and genres that todays underground has to offer. gothic rock, retro-wave, gothic-metal, avant-garde, electro, mediaeval, neo-folk, EBM, darkwave, synthpop, industrialrock, futurepop, neo-classical or noise; take your pick, its all there at Summer Darkness.
Although the main focus of the festival lies with the musical side of the undergound lifestyle, Summer Darkness also features various other special events. Expect the gothic-picnic, citywalks, lectures, movies, fashion shows and much more! Special attention for our mediaeval market at the Dom square, set up by the people who organize the Elf Fantasy Fair which is the biggest fantasy fair of the Benelux!
The ticket sales has started. Festival tickets including Bauhaus are 80 euros, tickets for three days are 60 euros. Excl. service costs.
http://www.ticketservice.nl/
Day tickets will go on sale in June.
For Germany: exclusive ticket presale via 24h tickethotline, 01805- 997060 or
http://www.dark-ticket.de/
or Germany wide TICKET ONLINE presale boxes.