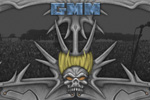 The bill for GMM 2006 is complete!

With the addition of Darkane our homework for the 11th edition of the Graspop Metal Meeting is at last complete. A grand total of 71 bands will beplaying the Graspop Metal Meeting this year, spread across 4 podiums and 3 days!

Unfortunately DEICIDE and SEVENDUST have been forced to cancel. Belgian band ANCIENT RITES is now scheduled to play in the marquee on Saturday instead of on Friday in the Metal Dome, where AXAMENTA will fill the vacant slot. DIE KRUPPS have been confirmed for Friday in the marquee.



GUNS N' ROSES gearing up for the Graspop Metal Meeting!

GUNS N' ROSES fans can breathe a sig of relief. Axl and his musical entourage have kicked off their European tour! From what we've been hearing from the fans and the press, the set mainly consists of older material like opener Welcome to the Jungle, November Rain. Paradise City concluded the set, which also included a couple of songs from the new album Chinese Democracy. So we know what to expect on Saturday 24 June on the Boeretang pasture!


Friday, 23 June


WHITESNAKE - LACUNA COIL - SATYRICON - DIE KRUPPS - MOONSPELL - MICHAEL SCHENKER GROUP EVERGREY - EDGUY - TRIVIUM - Y&T THE GATHERING - LEAVES' EYES STREAM OF PASSION - GOJIRA - SOILWORK - 36 CRAZYFISTS - ANVIL - SENGIR - DARKANE
"METAL DOMESTAGE"
THE MAPLE ROOM – BATTALION – ICONOCLASM - PANCHRYSIA – CALLENISH CIRCLE - LENG TCH'E – AXAMENTA
Saturday, 24 June


GUNS N' ROSES - KORN - SOULFLY - ALICE IN CHAINS - STONE SOUR - OPETH - MY DYING BRIDE - DEATH ANGEL - AVENGED SEVENFOLD - JON OLIVA'S PAIN – ILL NINO - OBITUARY - THE NEW YORK DOLLS - NILE - BULLET FOR MY VALENTINE - ANCIENT RITES - THE DATSUNS - AKERCOCKE - BLOODSIMPLE - CALIBAN
"TRIBUTE TO MONSTERS OF ROCK"
NUTELLICA – PURPLE STRANGERS – OZZY OZZ - UP THE IRONS – ACTION IN DC
Sunday, 25 June


MOTORHEAD - SAXON - HELLOWEEN - IN FLAMES - CRADLE OF FILTH - ARCH ENEMY - AFTER FOREVER - EXODUS - ARMORED SAINT - AGNOSTIC FRONT - DEVIL DRIVER - AS I LAY DYING - DRAGONFORCE – BEYOND FEAR - IGNITE - ENTHRONED - ENSIFERUM - INQUEST - MACHINE MEN
Source: Newsletter
http://www.graspop.be/