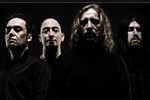 British heavy rockers PARADISE LOST have issued the following statement regarding their upcoming U.K. tour with OPETH:
"There seems to be a lot of confusion on various forums about this forthcoming OPETH/PARADISE LOST tour. PARADISE LOST is NOT a support band for OPETH, they are special guests and therefore will be playing a full one-hour set. Not 30, or 40 minutes as some people assume."
PARADISE LOST will be the "special guests" at the following OPETH U.K. dates:
Nov. 05 - Portsmouth, UK @ Pyramid
Nov. 06 - Glasgow, UK @ ABC
Nov. 07 - Nottingham, UK @ Rock City
Nov. 08 - Manchester, UK @ Academy
Nov. 09 - London, UK @ Roadhouse
Nov. 10 - Birmingham, UK @ Academy
Nov. 11 - Exeter, UK @ Great Hall
PARADISE LOST's latest album, entitled "Paradise Lost", was released in the U.S. last November via Abacus Recordings. The CD features the regular 12 tracks and two bonus tracks taken from the limited-edition "Forever After" EP.
"Paradise Lost" was recorded primarily at Chapel Studios in Lincolnshire, England under the guidance of producer Rhys Fulber (FEAR FACTORY, FRONT LINE ASSEMBLY). The follow-up to 2002's "Symbol of Life" is the group's first CD to feature drummer Jeff Singer (ex-BLAZE).
Source: Blabbermouth.net