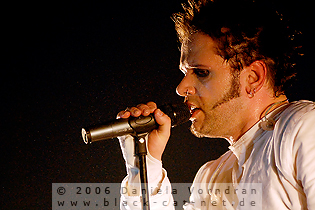 In the wake of their extensive club and festival tour, Dero, Crap and Flux are recharging their batteries to hit the road again at full speed in September. This coming Saturday, July 22ndis your last chance to see OOMPH! this summer at the Battle Of Metal Festival in Geiselwind! So get moving, enjoy the summer and start looking forward to the Fall, because the tour itinerary has now been extended by three shows in October. The limited-edition 5-track of "Die Schlinge", which you can already have a sneak listen to here at
http://www.oomph.de/
, will help you from August 4thto get through the tour break. Along with the atmospheric A-side, you'll also find two mega-cover versions of 80's German classics "Polizisten" by Extrabreit and "Zauberstab" by ZSA ZSA, as well as "God Is A Popstar" – an English version of the controversial German single – plus the new video, shot in classic movie style to transport you to the darker side of the Wild West!
Since it was too cool to keep a secret, last week a special announcement went out from
http://www.oomph.de/
. The quickest, most hardworking fans to verifiably spread the video for "Die Schlinge feat. Apocalyptica" to every corner of the digital world are securing a top OOMPH! packet for themselves!
The campaign is still underway, so get on board and continue sending your verification mails to the following address:
This email address is being protected from spambots. You need JavaScript enabled to view it.
Here's a list of the current Fall Live Dates at a glance
03.09.2006 L-Esch Alzette Terres Rouges Festival
30.09.2006 F-Strasbourg Le Molodoi
01.10.2006 F-Lyon Le Ninkasi Kao
03.10.2006 F-Toulouse Le Havana Café
04.10.2006 F-Paris Elysee Montmartre
05.10.2006 F-Nantes Olympic
07.10.2006 Karlsruhe Durlacher Festhalle
08.10.2006 A-Wien Planet Music
09.10.2006 A-Graz Orpheum