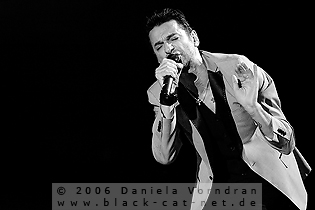 Depeche Mode Collector's Edition Remasters of 3 Classic Albums "A Broken Frame", "Songs of Faith and Devotion" and "Some Great Reward"

Released on Mute 2nd October 2006
On 2nd October, Depeche Mode and Mute release the eagerly anticipated second instalment of their acclaimed remasters series. As the trio celebrate their 25-year anniversary, the three classic LPs - '
A Broken Frame
', '
Songs Of Faith And Devotion
' and '
Some Great Reward
' - will be available as special edition, collector's items - complete with exclusive bonus material, lovingly revived artwork and incredibly rare footage.
The second part in a series that sees the band's entire album catalogue digitally re-mastered and remixed in 5.1 surround sound, they follow '
Speak and Spell
', '
Music for the Masses
', and '
Violator
' which were released earlier this year to critical acclaim and described by Q as "œlavish, loving re-issues".
Each deluxe double-disc collector's edition contains the re-mastered stereo album, the new surround mix, all the B-sides from the singles and a specially commissioned 30 minute short film featuring new interviews with band members past and present, chronicling that period of the Depeche Mode's hugely influential career. The redesigned 16-page booklet includes original LP art, new photos, lyrics, and sleeve notes by Daniel Miller.


These reissues present one of the most significant catalogues in electronic music in a remarkable and exciting new light.


Formed in 1981, Depeche Mode - Dave Gahan, Andy 'Fletch' Fletcher and Martin Gore - have spent over 400 combined weeks on the UK charts and continue to win critical and commercial acclaim across the world. Their first thirteen albums (released between 1981 and 1998) all reached the UK Top Ten, as did 2005's '
Playing The Angel
'.
On September 25th they released '
Live In Milan
' - a special edition 3-disc set, featuring the full-length 'Touring The Angel' concert and a host of exclusive extras on two DVDs and a live audio CD. And on 13th November, Depeche Mode release their first ever Best Of collection, 'The Best Of Depeche Mode, Volume 1'. This inspired package of 18 classic Depeche songs features their most definitive work to date - including the hits 'Just Can't Get Enough', 'Everything Counts', 'Personal Jesus', 'Enjoy The Silence', 'Precious' and the brand new track, 'Martyr'. The remaining albums, Construction Time Again, Black Celebration, Ultra and Exciter will be released in the new year.
Source: Newsletter
http://www.depechemode.com/
http://www.mute.com