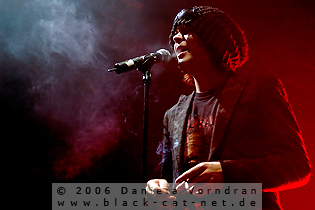 HIM have announced the cancellation of their fall tour. The band will not be playing scheduled U.S. shows in favor of entering the recording studio (see canceled dates below).
HIM hope fans will not be let down, but rather will look forward to seeing them back on the road with new songs to share. The band have been steadily writing material for their forthcoming album and are eager to start preliminary rehearsal of very early tracks. HIM have not been able to test any new material due to their busy touring and promotion schedule. This fall will be the first opportunity for the band members to talk and work out new HIM material for a 2007 release!
Singer Ville Valo explains the band's decision:
"Our dearest fellowship of the Heartagram, you haven't seen the last of us yet. We just want to keep it fresh for you and stump you with new material. I didn't feel that I could do that without rehearsing some of this stuff that's stuck in my heart. We're happy to have new fans come aboard the ship, but I feel we've got to keep it exciting and new. We've started writing and I can't wait for you guys to hear what we're working on."

The band have spent the last year touring non-stop behind Dark Light. Most recently completing a successful spring U.S. headlining tour with stops at Jimmy Kimmel Live and Last Call With Carson Daly along the way.
To ticket holders: please contact or visit the point of purchase for information on ticket refunds.
Cancelled HIM tour dates

WED 10/18 Lowell, MA Tsongas Arena
THU 10/19 NY, NY Hammerstein Ballroom
FRI 10/20 NY, NY Hammerstein Ballroom
SAT 10/21 Camden, NJ Tweeter Center at the Waterfront
MON 10/23 Rochester, NY ESL Sportcenter
TUE 10/24 Toronto, ONT Ricoh Coliseum
WED 10/25 Chicago, IL Aragon Ballroom
THU 10/26 Des Moines, IA Val Air Ballroom
SUN 10/29 San Jose, CA Event Center at San Jose University
MON 10/30 San Diego, CA SDSU
TUE 10/31 Universal City, CA Gibson Amphitheatre
heartagram.com
Source: Newsletter