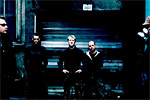 On this weekend's Tinitus Festival it will be made public that next year, on February 3, Sonic Havoc will re-emerge on the Swedish festival scene. It will naturally be announced on this event, since the two festivals share the same organizer.
Feindflug will headline the festival, returning to Sweden after a few years absence since their appearance at Tinitus a couple of years ago. In the line-up we also find EBM veterans Tyske Ludder, Sweden's Run Level Zero, newcomers Supreme Court and finally Cyborg Attack.
Sonic Havoc is held at the Stockholm University and the tickets are 180 Swedish crowns (about 20 Euro).
Source:
Release Music Magazine
Watch the
Tinitus
homepage for more information.