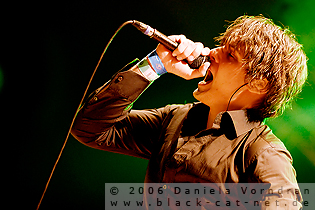 Hi, we want to say THANK YOU for all! The rock´n´sad year 2006 was great! So, if you had the cance, visit the Backstage Club at the Friedenheimer Straße in Munich at the 27th of December. We play at the HELLFEST and the entrance is completely for free! Please check out the brandnew FREE E-CARD at this link:
www.lacrimas.com/e-card
here you can listen to the whole GOTHROCK songs of the new album and watch the last videoclip! If you like GOTH Music you´ll love it! Another present is waiting: If you send the e-card to 5 friends you´ll get the link to an non-album downloadtrack for free! You have only to send a mail to
This email address is being protected from spambots. You need JavaScript enabled to view it.
including your friends and you´ll get the link at the same day! So don´t wait-see you! ROCK ON bye the rock´n´sad crew.
Source: Newsletter