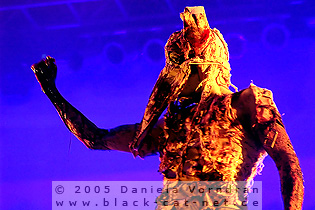 Skinny Puppy returns with MYTHMAKER, their most ambitious record ever. As dark, beautiful, twisted and angry as always, Skinny Puppy take the listener on a roller coaster ride through their Industrial/Techno/Prog world. Look for the Skinny Puppy song "politikiL" Featured on "Jackass - The Video Game" out March 2007!
QUOTES:

"….The band who kick-started the industrial revolution, influencing NIN, Ministry and Manson….come across more contemporary and vital than Manson himself ever has." KKKK – Kerrang! (UK)
"The names Pitchshifter, Nine Inch Nails and Rammstein are often bandied about in this company, but here's a tip: Skinny Puppy have rendered them once again irrelevant." Logo (UK)
"The Vancouver duo's explorations in aural onslaught pioneered modern 'industrial', welding together cast-iron beats, blast chamber noise and avant-garde theatrics, and while many bands have since shouted louder, none have shone brighter nor climbed higher." Rocksound (UK)
"…If aggression this strong is coming from Vancouver, imagine the wrath we'd feel if Skinny Puppy had been from New York." Brave Words & Bloody Knuckles (CAN)
"With Skinny Puppy you see the world for what it is through soot-tinted spectacles: cold, abject, amoral." Terrorizer (UK)
"Twenty years on, Ogre and cEvin's puppy can still bite and draw blood." Alternative London (UK)
Line-Up:

Ogre (voice)
cEvin Key (synthesizers/ electronics /percussion)
Mark Walk (synthesizers/guitar /electronics)
With Guests: Otto Von Shirach, Databomb, Saki Kaskas, Traz Damji
Produced by: Mark Walk and Scaremeister 05/06
Additional Production and Mix by: Ken 'hiwatt' Marshall at hiwattlabs
Mastered by: Steven Marcussen
Artwork: Steven Gilmore
Cover Image by: world renowned painter Manuel O'Campo
TOUR DATES

Mythmaker World Tour will begin in March 2007!!!!
Source: Newsletter