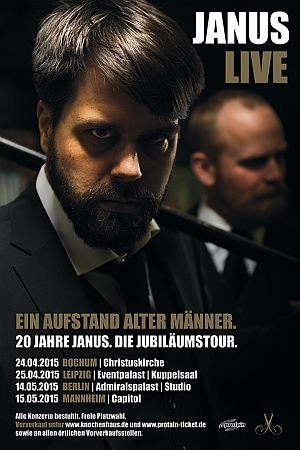 Unbelievable! Janus are touring again! And they will celebrate the 20th band jubilee with a special tour. Together with their amazing live band, Toby and RIG will give four concerts in exclusive German venues. The opening concert will take place in a sacred surrounding: the Christ church in Bochum on 24th April 2015. Further destinations are the "Kuppelsaal" of the event palace in Leipzig, the Admiral's palace in Berlin and the Capitol in Mannheim. Four different places, four different moods, but one thing unites it all: anyone will have an unforgettable evening. 2015, when the rebellion of old men happens.
All dates
24.04.2015 BOCHUM | Christuskirche
25.04.2015 LEIPZIG | Eventpalast Kuppelsaal
14.05.2015 BERLIN | Admiralspalast, Studio
15.05.2015 MANNHEIM | Capitol
Regular pre-sale starts today, 12th December 2014, at
www.knochenhaus.de
and
www.knochenhaus.de
as well as on all known pre-sale offices. Especially for the concert in Leipzig, tickets are already tight due to exclusive pre-sale. So be fast and secure your tickets.